Cairncross review: Google and Facebook news need regulation to restore trust | UK News
Google and Facebook should be made to improve trust in the content they host, a review has found.
The Cairncross review, commissioned by the government, recommended that tech giants should have a "news quality obligation" which would be overseen by a regulator.
The wide-ranging report examined the future of the UK news industry.
It made a number of recommendations, including encouraging tax breaks for "public interest" journalism and direct funding from taxpayer and private sources for local public interest news.
The review concluded that a lack of market interest in the public interest news, such as reporting on local courts and councils, may mean government intervention may be the sole solution.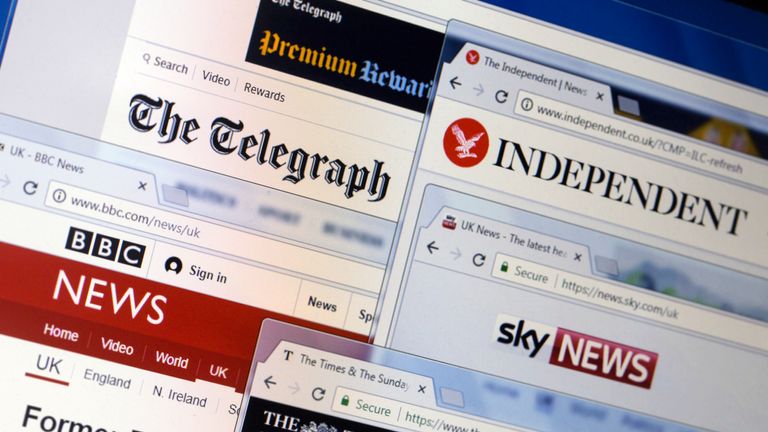 It also recommended that broadcasting regulator Ofcom should conduct an exploration of the market impact of BBC News.
The review said tech companies such as Google and Facebook absorb the lion's share of online advertising revenues, which makes it difficult for traditional publishers, such as newspapers, to compete.
To combat this, the review suggested the creation of new codes of conduct, including rules such as not imposing their own advertising software on news publishers. It would be overseen by a regulator.
"While each platform should devise solutions which best fit the needs of their particular users, their efforts should be placed under regulatory scrutiny – this task is too important to leave entirely to the judgement of commercial entities," the review said.
It continued: "If it becomes clear that efforts have not increased the reach of high-quality news, or had a measurable impact on the quality of people's engagement with online news, it may be necessary to impose stricter provisions."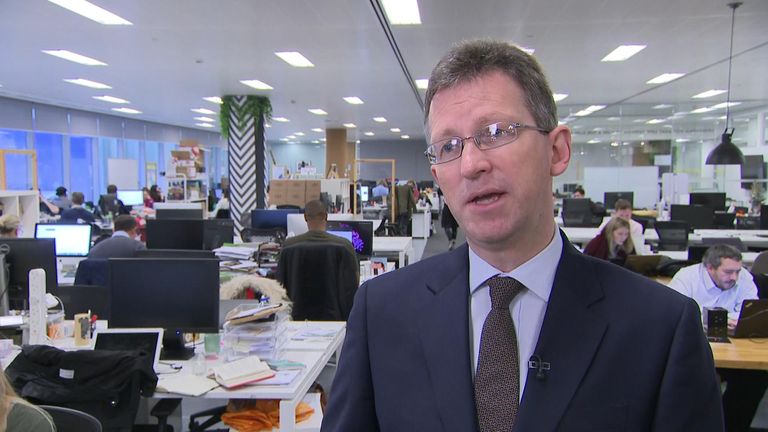 Chaired by former senior journalist and academic Dame Frances Cairncross, the review was commissioned by Prime Minister Theresa May to detail the sustainability of quality journalism as industry revenue falls.
Culture Secretary Jeremy Wright welcomed the findings. He said a number of the recommendations could be acted on immediately, while others would need "further careful consideration".
He added: "A healthy democracy needs high quality journalism to thrive and this report sets out the challenges to putting our news media on a stronger and more sustainable footing, in the face of changing technology and rising disinformation."
Facebook, Instagram and WhatsApp all experiencing outages | Science & Tech News
Facebook, Instagram and WhatsApp are all experiencing outages, with users across Europe and Asia reporting issues.
Thousands of people have logged complaints on the website downdetector.com, with those using the main Facebook website and app having trouble loading their newsfeed and even logging in.
Facebook Messenger and WhatsApp are both failing to send and receive messages, and are also running into other connection issues. The Instagram newsfeed is also struggling to load and update for some users.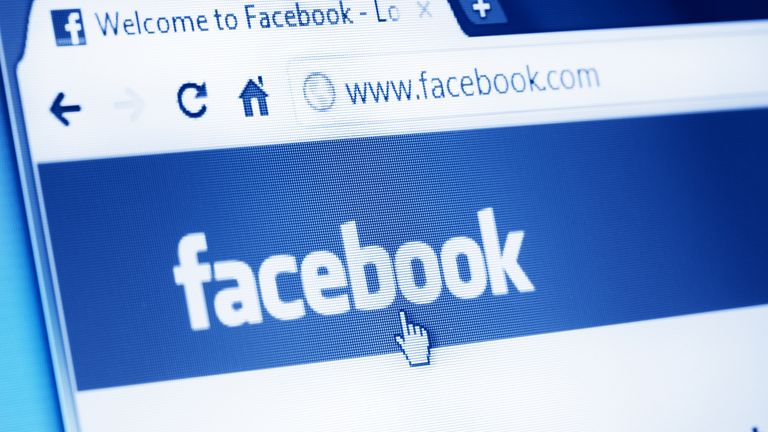 All of the apps and services are owned and run by Facebook, which almost a month ago to the day experienced one of its longest ever outages.
Users across the world including the US, Japan, New Zealand and parts of Europe were affected, with some unable to access any of Facebook, Instagram and WhatsApp for almost 24 hours.
As was the case on that occasion, many have turned to Twitter to voice their frustration, where global trending topics currently include #FacebookDown, #instagramdown and #whatsappdown.
Facebook, which bought Instagram in 2012 and WhatsApp in 2014, has not yet commented on the issues.
More follows…
Seychelles president wants more protection for oceans | Ocean Rescue News

The Seychelles president has called for more marine protection for the "beating blue heart of our planet".
Danny Faure's country is one of many island nations threatened by global warming and whose waters are at risk from plastic pollution.
He made his global plea from inside an underwater submersible, which was used last month by Sky News during the first-ever live news broadcast from hundreds of metres down in the Indian Ocean.
Wearing a Seychelles T-shirt and short, Mr Faure said: "This issue is bigger than all of us, and we cannot wait for the next generation to solve it.
"We are running out of excuses to not take action, and running out of time."
Oceans cover more than two-thirds of the world's surface but largely remain unexplored.
Small island nations are among the most vulnerable to sea level rise caused by climate change.
Land erosion, dying coral reefs and the increased frequency of extreme weather events threaten their existence.
:: Sky's Ocean Rescue campaign encourages people to reduce their single-use plastics. You can find out more about the campaign and how to get involved at www.skyoceanrescue.com.
Three children and woman killed in storms in southern US | US News
At least four people have reportedly been killed, including three children, in powerful storms that hit the southern United States, bringing strong winds and heavy rainfall.
A three-year-old and an eight-year-old died after a tree fell onto the back of their family car in Lufkin, Texas, NBC News said. Their parents who were in the front were uninjured,
In West Monroe, Louisiana, a 13-year-old boy drowned in a drainage canal in what officials believe was a weather-related incident, the report said.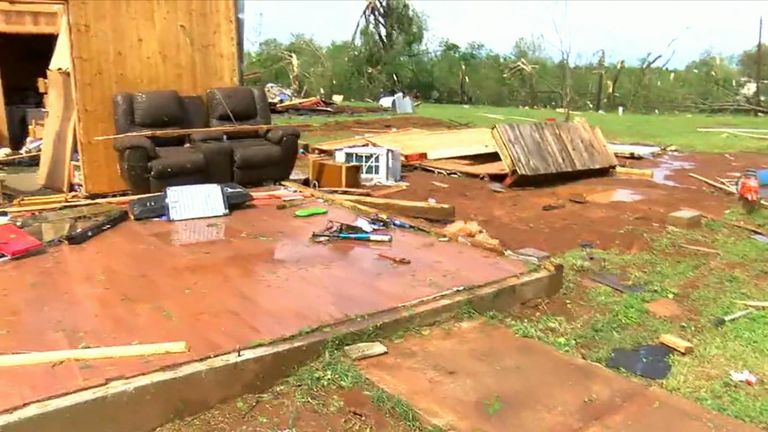 Streets had been closed in the city and a flood warning was issued for the area.
A fourth person who died in the storms was a woman killed by weather-related debris near Weches in Houston County, Texas.
On my way to Franklin with my youngest son for his Select Ball tournament, which turned into a storm chase. Was too far behind to get to the Franklin tornado, but did see some funnel clouds w/another supercell that blew up SE of the Franklin storm. Pray for those impacted. pic.twitter.com/2DqDEHA9Ys

— Neil Sanger (@Doc_Sanger) April 13, 2019
In Franklin, Texas, a tornado with winds up to 140mph overturned mobile homes and damaged other properties, injuring about a dozen people.
NBC quoted Robertson County emergency management coordinator Billy Huggins as saying: "A strip of homes on the other side of town over here are completely gone, just gone, everything is gone."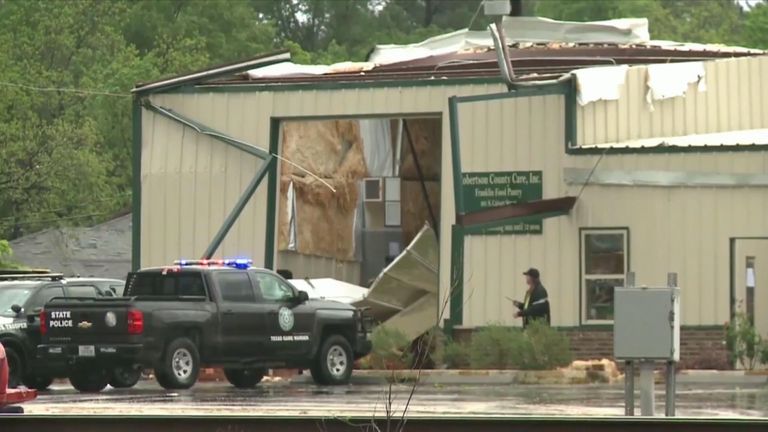 He added: "To this small town of Franklin, it's very devastating. How we're going to get people help to restore their homes that don't have insurance or what have you, it's going to be pretty difficult.
"It's going to be a little difficult putting it back together, but we'll do it."
There was also a suspected tornado in Alto, Texas, which injured several people.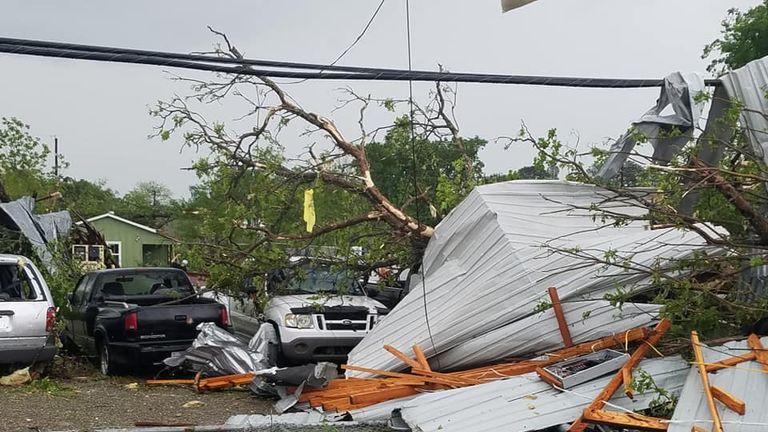 The storms were part of a large system that was moving through the southern US, knocking out power to thousands of homes and causing some flash flooding.
The US weather service said the system was expected to shift to the Ohio Valley and the southeast US on Sunday.
More than 140,000 customers remained without power in Texas, Mississippi, Louisiana and Arkansas late on Saturday.