UK and Bulgaria examine whether 2015 poisoning has links to Salisbury attack | UK News
The UK and Bulgaria are investigating possible connections between the Salisbury nerve agent attack and a 2015 poisoning in Bulgaria.
One of the three Russian suspects linked to the poisoning of ex-Russian spy Sergei Skripal is alleged to have been involved in the poisoning of the Bulgarian owner of an arms factory three years earlier.
Russian citizen Sergei Fedotov made three trips to Bulgaria in 2015 – including once in April, which is when Emilian Gebrev was poisoned, Bulgarian chief prosecutor Sotir Tsatsarov said.
Mr Gebrev survived the attack, but a Finnish laboratory has been unable to identify the poison that was used.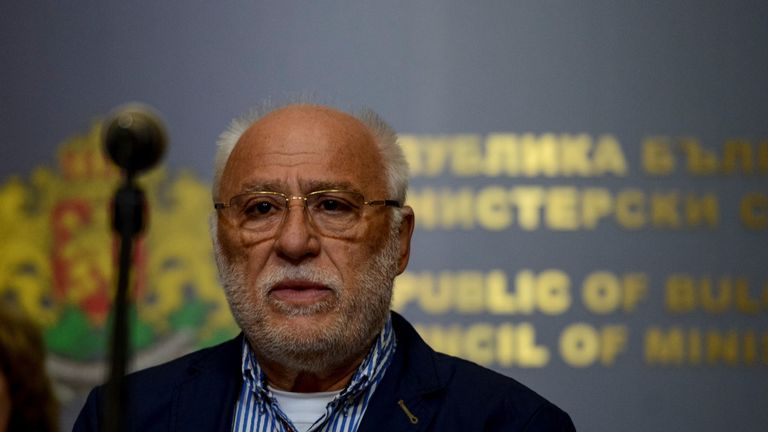 Britain's ambassador to Sofia, Emma Hopkins, said she had discussed the possible poisoning of Mr Gebrev in a meeting with Bulgarian Prime Minister Boyko Borrissov.
She told reporters on Monday: "We are working in a joint team and a close partnership, and we are going to find out the facts in this case.
"All questions about the national security of the UK and Bulgaria are of paramount importance to us, and we will continue this investigation even after Brexit."
Investigative group Bellingcat said Fedotov was also suspected of being involved in the novichok nerve agent poisoning of Mr Skripal and his daughter Yulia in Salisbury last year.
Fedotov is said to have arrived in the UK two days before the March 2018 attack, on the same day as the two suspected attackers.
"Significant" data had been gathered on Fedotov's trips to Bulgaria as part of an investigation into the poisoning, Mr Tsatsarov added.
He said: "We are establishing all moments while he was on Bulgarian territory, the hotels, the vehicles he used, contacts with Bulgarian citizens.
"Since then, we have been working in full co-operation and co-ordination with the British services.
"They have full access to all documents and all the materials in the case and the results of all investigative actions."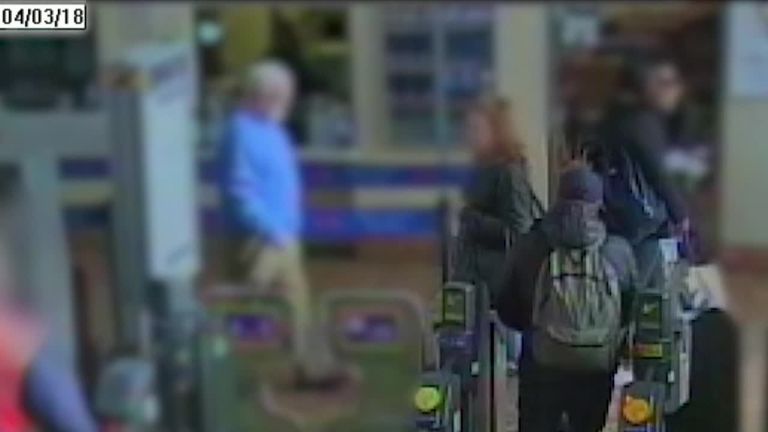 Mr Tsatsarov said that Mr Gebrev had written to him in October to say he had reason to suspect he may have been poisoned by a substance from the same family as novichok.
However, he acknowledged there was no scientific evidence to back his claims.
Blood and urine tests confirmed the presence of organophosphorus compounds in Mr Gebrev's system, which are used in some pesticides.
Mr Gebrev's condition improved and he was discharged from hospital a month later.
Laboratories previously confirmed that novichok was used in the Salisbury poisonings, with the Skripals surviving after weeks in hospital.
UK officials have blamed the attack on the Russian military agency GRU and charged two Russian suspects, who went by the names Alexander Petrov and Ruslan Boshirov.
Russian authorities have denied involvement and Moscow refused to extradite the men to the UK.
Dozens die from tainted alcohol in India | World News
Another 84 people have died after drinking tainted alcohol in India.
The latest victims were mostly from the tea plantation areas of Golaghat and Jorhat districts in Assam state, northeastern India.
It is one of the deadliest bootleg liquor-related incidents to hit the country.
But it comes less than two weeks after more than 100 died in northern India.
Assam state officials said at least 200 people remain in hospital after consuming the illicit drink.
Most of the victims were workers on the tea farms.
Methyl alcohol, a chemical that attacks the central nervous system, is thought to have been added to the alcohol.
People who had fallen sick started being brought in to health facilities on Thursday after falling unconscious.
Several of those in hospital are in a critical condition. NDTV said police expect the number of dead to increase.
Manab Gohain, a doctor at the Jorhat Medical College Hospital, said 34 patients have died in the past 24 hours.
The owner of a local brewing unit and eight others have been arrested, police have said.
Police official Mukesh Agarwal said other people believed to be connected to the racket are being pursued as part of an ongoing investigation.
"We shall not spare anyone involved in manufacture and distribution of the tainted liquor," Himanta Biswa Sarma, Assam's health minister, said.
At least 3,000 suspected bootleggers were picked up after the deaths two weeks ago in Uttarakhand and Uttar Pradesh.
Deaths from illegally made alcohol – often referred to as "hooch" – are common in India because licensed brands are often out of the reach of the poor.
The outbreak two weeks ago was believed to be the deadliest since 2011, when a batch of bootleg alcohol killed 172 people in West Bengal.
Meghan's baby shower flowers given to child cancer patients | World News
Flowers designed by the Duchess of Sussex and her best friends at her baby shower were donated to child cancer patients and elderly men.
Meghan, who is seven months pregnant, flew to New York last week for a five-day celebration of the impending arrival of her first child with her celebrity friends, including tennis star Serena Williams and human rights lawyer Amal Clooney.
The 37-year-old's former Suits co-star Abigail Spencer, Meghan's best friend Jessica Mulroney, pilates instructor Taryn Toomey, fashion designer Misha Nonoo and her wedding makeup artist Daniel Martin were all seen arriving for the shower.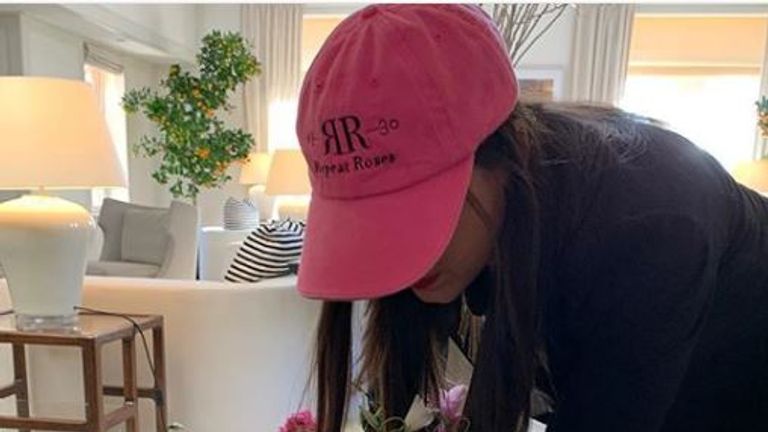 Williams, who was the host, hired celebrity events planner Jennifer Zabinski Events to organise the celebration in The Mark hotel's 10,000 sq ft (929sq m) penthouse overlooking Central Park.
As part of the privately-funded event, the friends took part in a flower arranging class, with florist Lewis Miller saying Meghan was "So sweet! So engaged! A class act!".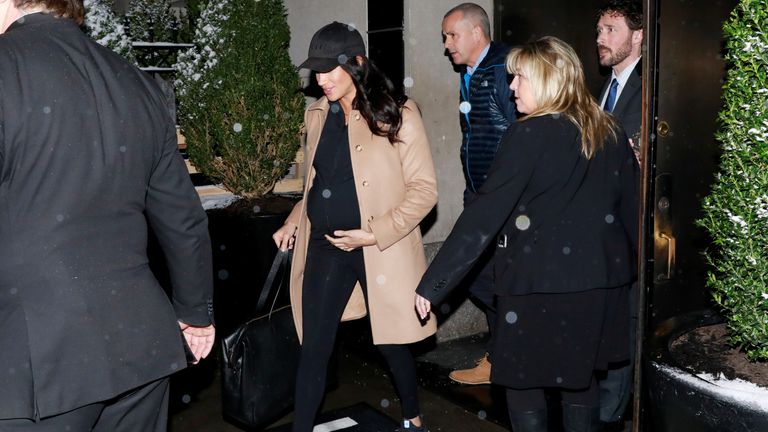 But guests did not take their designs home, and instead donated them to Repeat Roses, a charity which gives used floral arrangements to people in hospital or assistance homes.
The organisation shared some photos of their staff picking up the bouquets from The Mark and revealed they gave them to child cancer patients at Ronald McDonald House New York, where sick children can be with their families during treatment.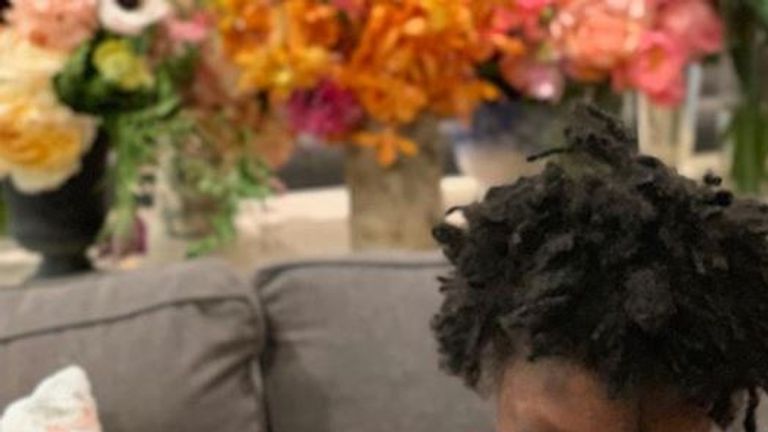 Their flowers also went to cancer patients at Hope Lodge, an American Cancer Society home for patients travelling for treatment, and to "behaviourally and medically fragile men" at Unique People Services, where people denied treatment due to disability, criminal or substance abuse history are accepted.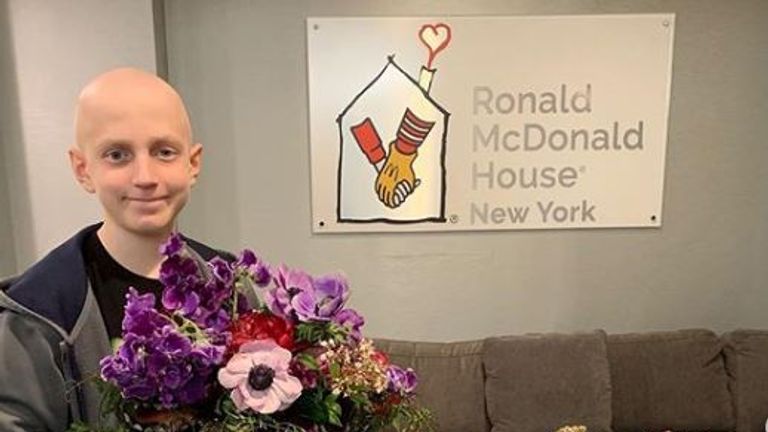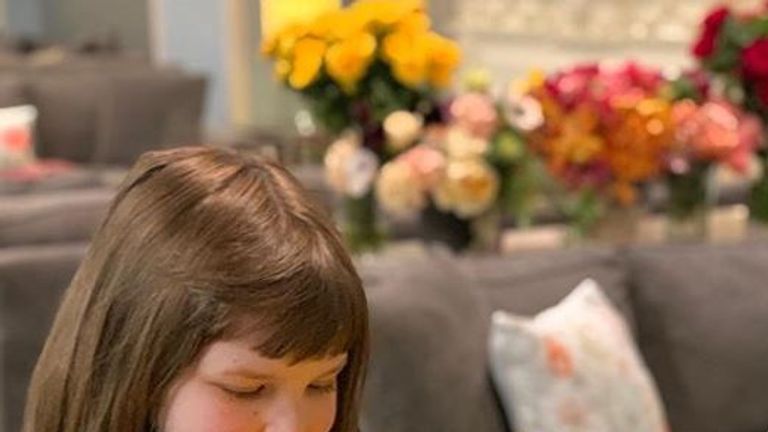 An Instagram post from Hope Lodge, said: "One of our guests from London, who is in NYC for breast cancer treatment, nearly cried with excitement."
Repeat Roses added: "We were honoured to match the beautiful floral arrangements designed by the Duchess of Sussex and her guests, including host @serenawilliams, to a few of our very favourite NYC neighbour organisations.
"The flowers brought a ray of sunshine on a cold winter day, and will be greatly enjoyed for the week ahead."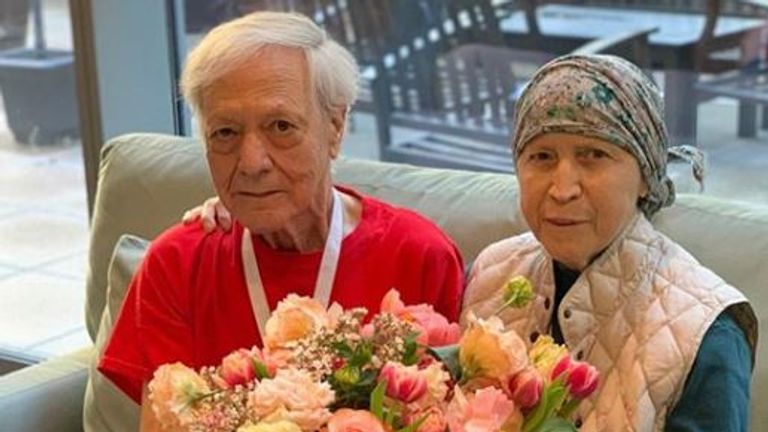 The charity will collect the flowers and vases later on for composting and recycling, it added.
Revealing that she had organised the baby shower, Ms Zabinski said on Instagram: "OH BABY! We're so honoured to have had the opportunity to plan a beautiful, intimate baby shower for Meghan Markle."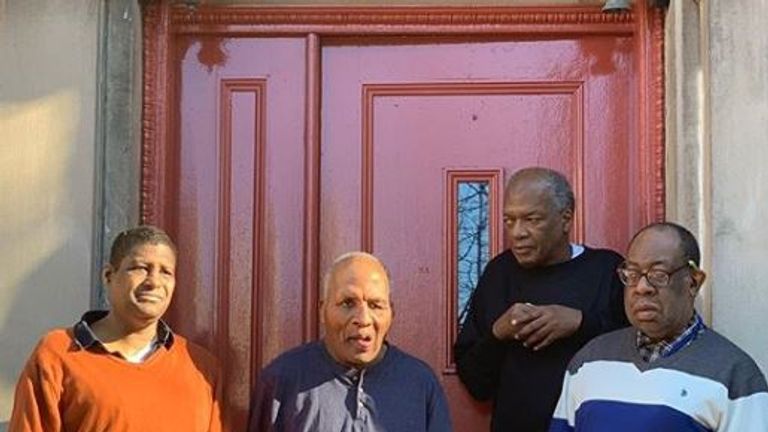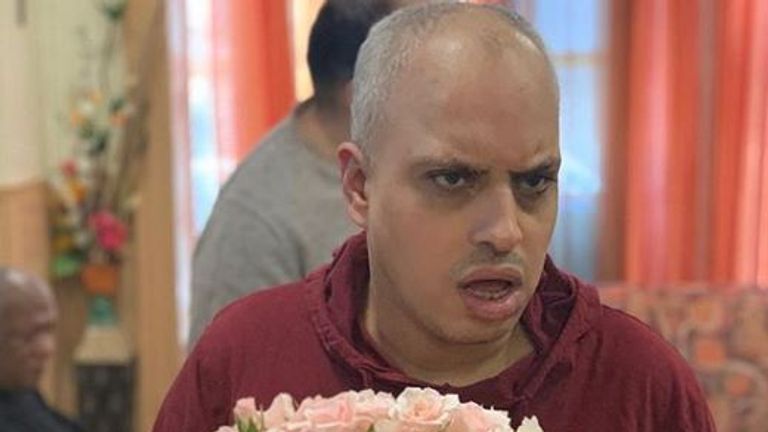 While Meghan and her friends have been quiet about what they did during the baby shower, florist Mr Miller gave some further insight into the event in his post on Friday.
He said there was a "dessert buffet" and the "chicest baby shower games ever invented", as well as his flower arranging lesson.
Meghan returned home to London on Wednesday before flying to Morocco on Saturday for a three-day official tour with Prince Harry.
The Favourite: How a story in a London newspaper led to 10 Oscar nominations | Ents & Arts News
They say fact is stranger than fiction and that is certainly true of the film The Favourite.
The plot revolves around the real life relationship between Queen Anne and two women – Sarah Churchill, the Duchess of Marlborough, and Abigail Masham.
Both women vied not only for Anne's affection but for political power in her court.
Starring Olivia Colman as Queen Anne, Rachel Weisz as Sarah and Emma Stone as Abigail, The Favourite, directed by Yorgos Lanthimos, leads the Oscars race with 10 nominations along with Roma.
One of the film's writers, Deborah Davis, came across the story in a London newspaper more than 20 years ago. She was surprised by the suggestion of a lesbian relationship between Queen Anne and Sarah Churchill and felt compelled to look into the veracity of the story.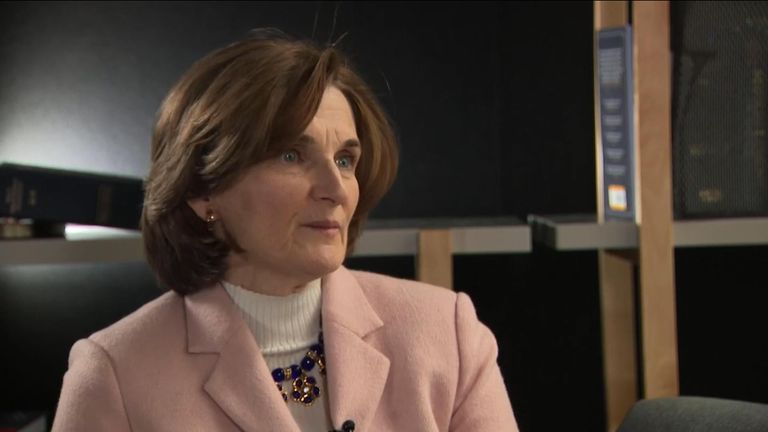 She found original letters between Anne, Sarah and Abigail and was so convinced it would make a wonderful film that she went to film school to learn how to write a screenplay.
Fast forward two decades, she and fellow writer Tony McNamara have been nominated for the best original screenplay Oscar.
Davis told Sky News she found this period in history fascinating partly because of the potent relationship between the women which "never ceased to interest and puzzle" her, with the female triangle shifting "all the time in your mind so you never give up thinking about it".
But she said it was also a unique time because so much power was controlled from Queen Anne's bedchamber.
"I think this is the first reign and maybe the only reign where you have a Queen who is actually being guided and controlled by her female advisers and they're not just advisers, they are favourites in the sense that she's in emotional thrall to them," said Davis.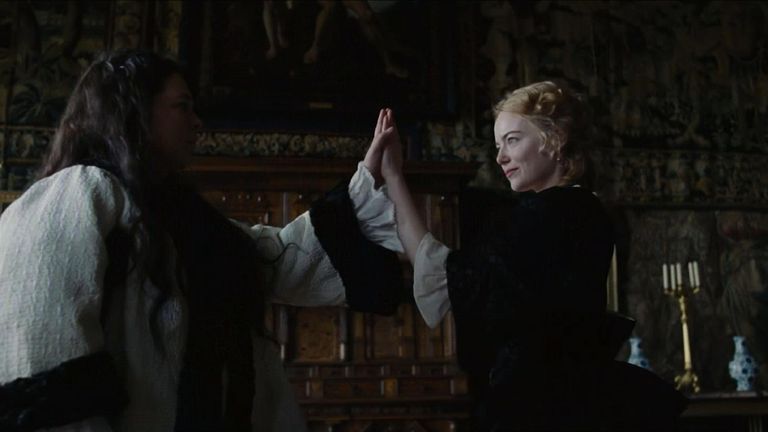 Queen Anne's original letters to Sarah are held in the British Library and show first-hand the relationship between the three.
One letter from Queen Anne to Sarah reads: "You poor unfortunate faithful Morley," which is how the Queen referred to herself. "Loves you dearly, passionately, and sincerely, and knows the world too well… ever to be charmed with anybody but your dear self."
According to the historian Kate Williams, the letters are "a treasure trove" which show the intensity of the fight for Anne's affections.
Although they do not betray whether there was "an intimate sexual relationship", Ms Williams said there was "no reason as to why there might not have been".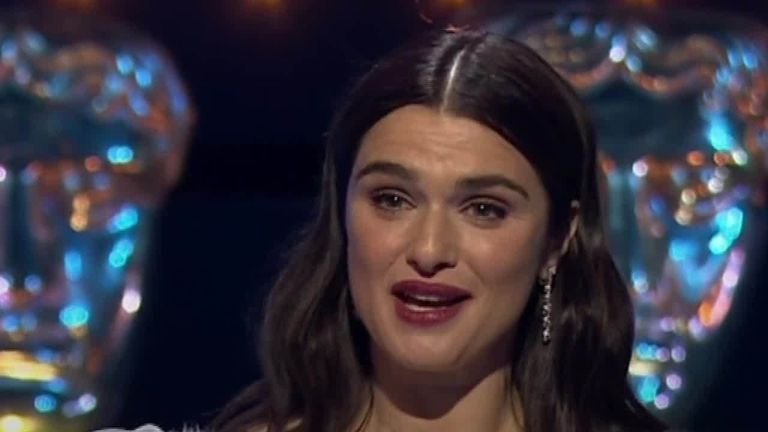 She said: "We can actually see the reality of these women's lives in these women's letters and they are real bombshells. I've just been looking at them and they're incredible… they show the relationship was a very, very intense, excitable, very emotional one."
Agreeing with Davis, Ms Williams said that this period in history was quite extraordinary because of the power the women had.
The ladies of the bedchamber who normally would have been expected to brush hair and sort out the Queen's dresses were "all powerful and all controlling".
:: You can watch the whole of the Oscars ceremony on Sky Cinema Oscars from 10pm on Sunday 24 February starting with red carpet arrivals
:: Get Sky Cinema to watch the Oscars live ceremony and over 1,000 movies on demand. Find out more here