Thailand election: Princess banned from standing days after becoming a candidate | World News
A Thai princess has been banned from standing in elections next month three days after she announced her candidacy.
Princess Ubolratana Rajakanya Sirivadhana Barnavadi has been disqualified from standing for the Thai Raksa Chart party in the 24 March ballot by the country's election commission.
The sister of King Maha Vajiralongkorn shocked Thailand on Friday when she announced she would be a candidate.
The 67-year-old princess, the eldest child of Thailand's beloved late king Bhumibol Adulyadej, has starred in several soap operas and films.
She would have become the first member of the Thai royal family, which has always kept itself above politics, to enter the fray.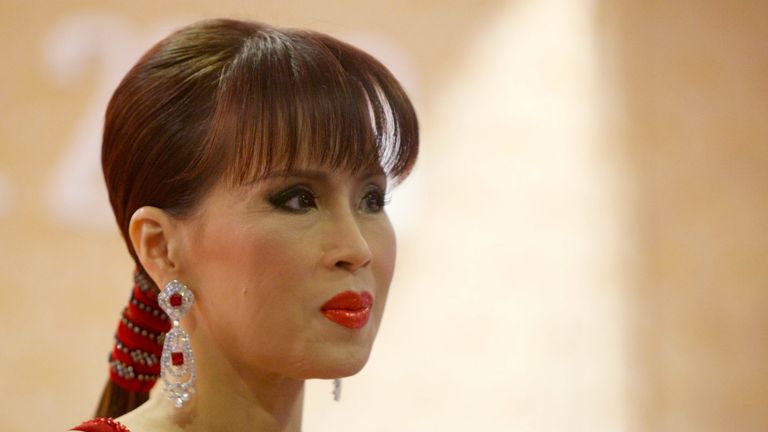 But her hopes were quickly dashed by her brother, King Maha Vajiralongkorn, who declared later that day that her candidacy was "inappropriate" and unconstitutional.
The word of the monarch carries much weight in Thailand, where the royal family is revered as semi-divine, and it was no surprise that election officials chose to endorse his view.
The Thai Raksa Chart party, which she was planning to run for, is loyal to ousted prime minister Thaksin Shinawatra, whose allies have won every national election since 2001.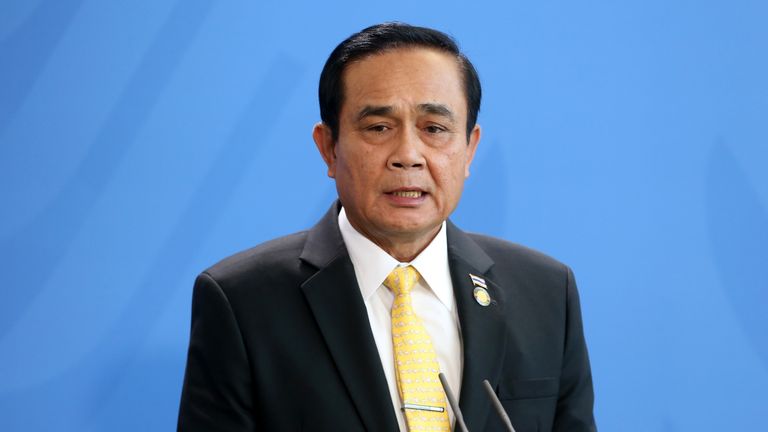 The populist party is attempting to defeat Prayuth Chan-ocha, leader of Thailand's military junta, in the polls.
By nominating Princess Ubolratana Rajakanya Sirivadhana Barnavadi, it was hoping to tap into the pro-royal sentiment of the people.
Whilst its plan has been foiled, it may still benefit, according to Anusorn Unno, dean of the faculty of sociology and anthropology at Thammasat University.
"For Thai Raksa Chart supporters, this has created more sympathy to the party … These would see the party as a victim in this situation," he said.
But he warned that Thaksin's opponents are also likely to be motivated by what they will see as an attempt to manipulate the monarchy.
It will be the first election since a pro-royalist military coup in 2014 overthrew the remnants of a government that had been led by Thaksin's sister Yingluck.
Gunfire and explosions at start of Nigeria's presidential election | World News
Nigeria's delayed election began with gunfire and explosions as President Muhammadu Buhari seeks a second term.
Delays at polling stations across the West Africa country have also marred the election which is widely seen as too close to call.
Police say they carried out the blasts in Maiduguri, the capital of Borno state, just before polls opened in a show of force to deter Islamic extremists who have been a scourge in the north east.
Security sources said a rocket hit a displaced persons' camp, while an explosion at an army garrison killed one soldier and injured four others.
It was also confirmed by the army that a "futile" attack on a security outpost in Geidam in Yobe state had been carried out.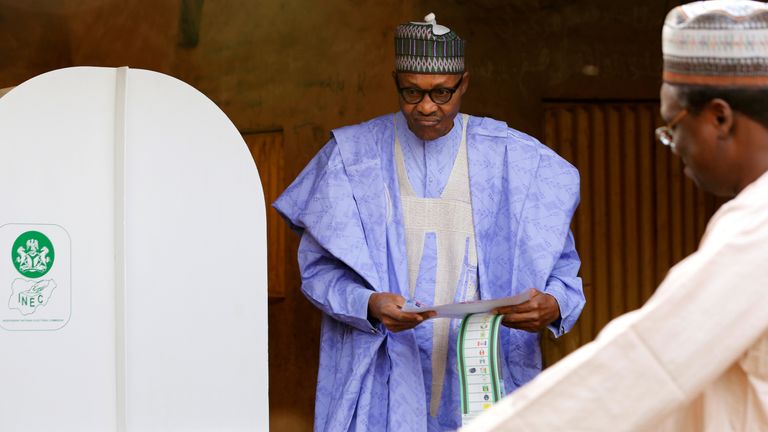 Gunfire was also heard in Port Harcourt in Nigeria's restive south where the presence of the army was heavier than in previous elections.
:: Your guide to the Nigerian election
A military convoy in Delta state contained more than 25 vehicles full of soldiers on standby.
Soldiers in Rivers state fired on suspected ballot snatchers and arrested four people.
Mr Buhari refused to answer questions on whether he would accept a loss to top challenger Atiku Abubakar, a billionaire former vice president.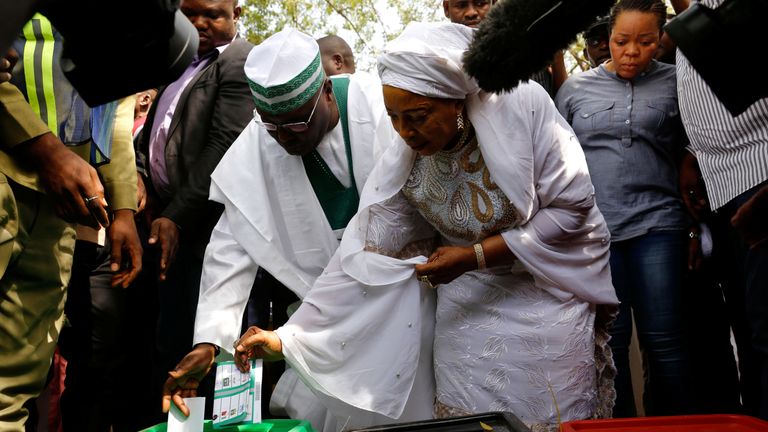 As he went out to vote in his northern hometown of Daura, the president jokingly checked the name on his wife's ballot.
Nigerians "are behaving themselves", the president said.
After voting in his hometown of Yola in the north east, Mr Abubakar said: "I look forward to a successful transition".
He previously pledged to accept the results provided they are credible.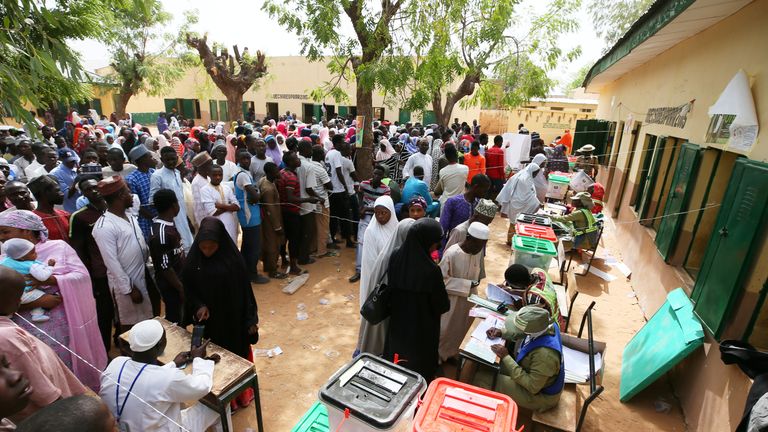 Mr Buhari said the voting process had been smooth but a coalition of civic groups said many polling stations had not opened more than four hours after voting was due to officially start.
Delays were reported in Delta, Anambra and Akwa Ibom states as well as in Nigeria's largest city Lagos.
Observers say preliminary results of the election are expected within two to four days.
Running battles on Venezuela border over aid after Branson concert | World News
Running battles between protesters and Venezuela's national guard are taking place on the border with Colombia.
Smoke was seen billowing from burning barricades, built to block aid from getting into the troubled country, and demonstrators have been throwing rocks at heavily armed police.
Tear gas has been fired at those trying to clear the blockade on the road up to the Francisco de Paula Santander bridge in the Venezuelan border town of Urena.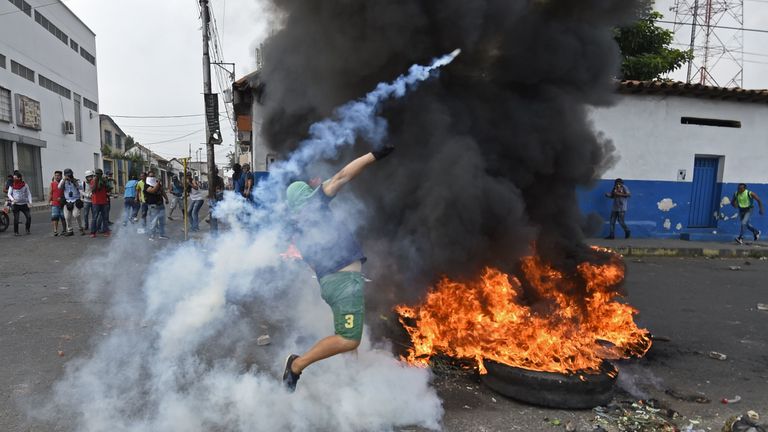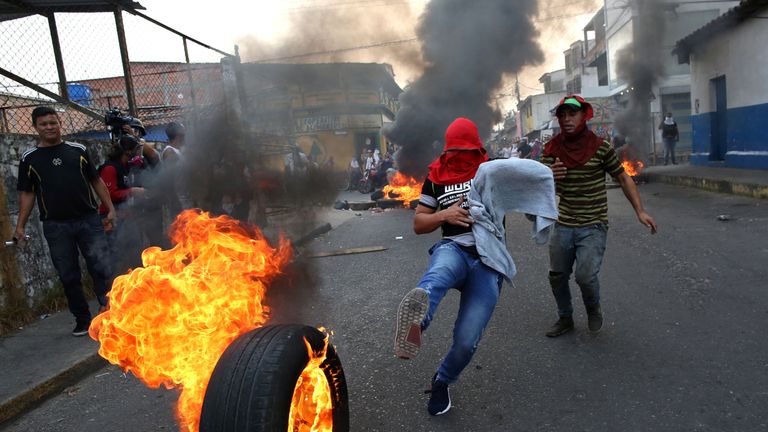 Opposition leader Juan Guaido has vowed to bring humanitarian aid into Venezuela from Colombia.
He says it is needed to help people left struggling by the government of President Nicolas Maduro.
But Venezuelan officials have closed the border with Colombia, Brazil and the island of Curacao and have been cracking down on those trying to keep them open.
Nearly 200 tonnes of aid has been waiting to cross several border bridges into Venezuela.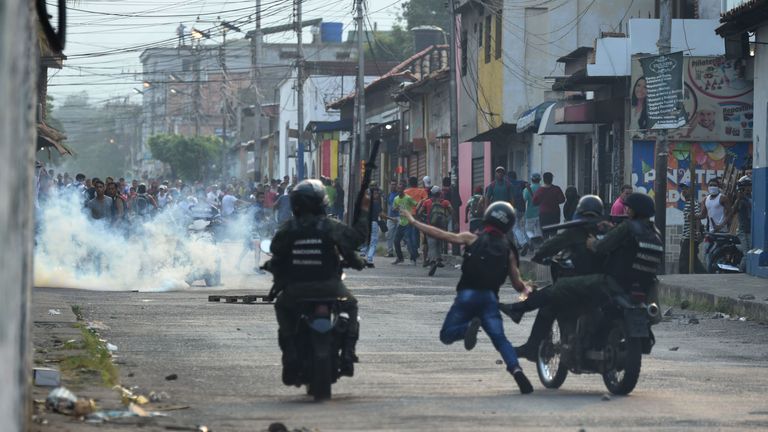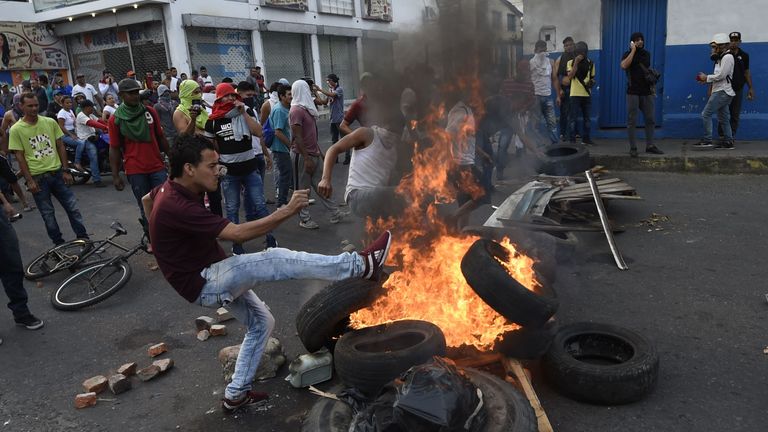 Most of the aid has been provided by the US which has recognised Mr Guaido as the interim president, despite Mr Maduro refusing to stand down.
Venezuelan authorities regard the plan to bring in aid as a veiled US-backed invasion.
Tensions flared at dawn, when residents in Urena began removing yellow metal barricades and barbed wire blocking the Francisco de Paula Santander bridge.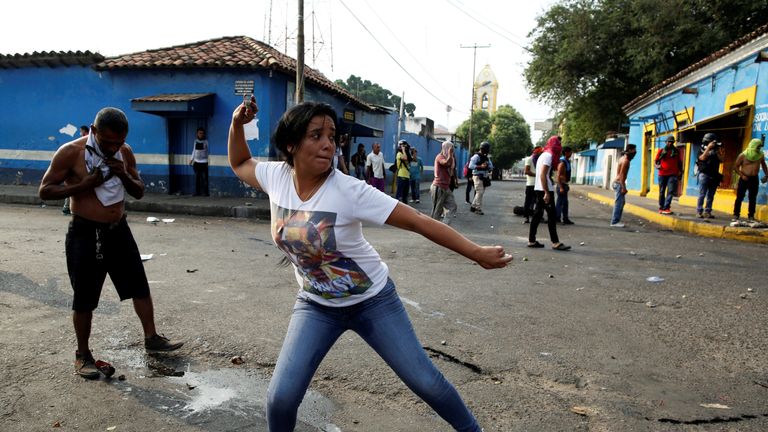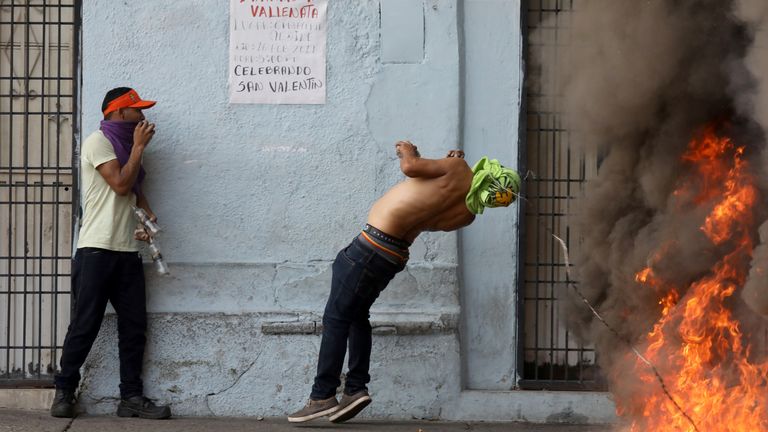 At another border crossing, the Simon Bolivar bridge, about 10 miles (15km) to the south, Colombian migration authorities said four National Guardsmen had deserted their posts and asked for help.
Mr Guaido, a 35-year-old president of Venezuela's National Assembly, declared himself interim president under the constitution on 23 January.
He has been backed by dozens of countries, including the UK.
On Friday, he attended a concert staged by British founder of Virgin Records Sir Richard Branson, in Cucuta, on the Colombian side of the border, opposite Urena.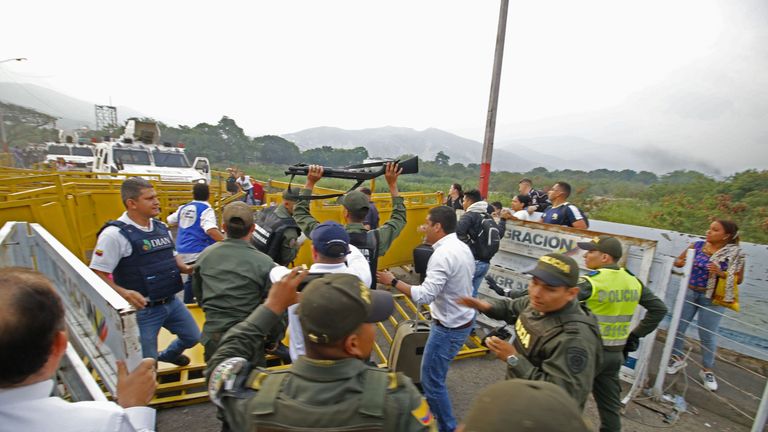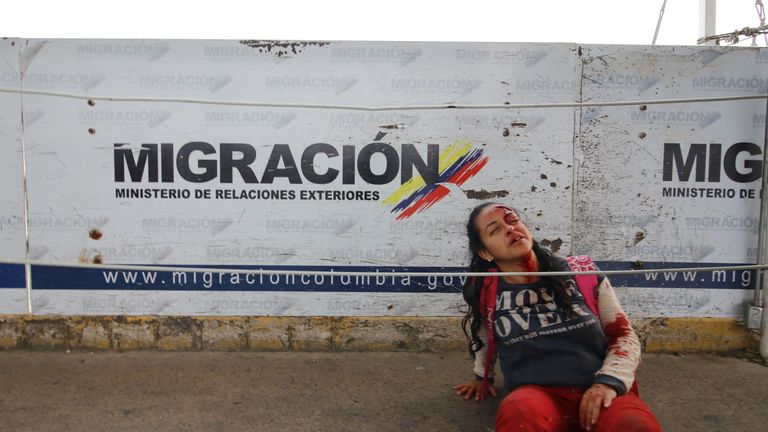 Mr Guaido met Colombian president Ivan Duque at the Live Aid-style event, despite Mr Maduro forbidding him from leaving the country.
Sky's Cordelia Lynch, who is at the scene in Cucuta, said hundreds of people who attended the concert are planning to join the battle to get the trucks across the border.
She says Mr Guaido has been talking to the authorities to get permission to bring across 14 trucks, each laden with about 20 tonnes of aid in a shipping container.
Pictures showed the men said to have deserted the Simon Bolivar crossing struggling to get through a crowd, holding their assault rifles and pistols above their heads in a sign of surrender.
The young troops were then ordered to lay on the ground as migration officials held back onlookers.
Dozens die from tainted alcohol in India | World News
Another 84 people have died after drinking tainted alcohol in India.
The latest victims were mostly from the tea plantation areas of Golaghat and Jorhat districts in Assam state, northeastern India.
It is one of the deadliest bootleg liquor-related incidents to hit the country.
But it comes less than two weeks after more than 100 died in northern India.
Assam state officials said at least 200 people remain in hospital after consuming the illicit drink.
Most of the victims were workers on the tea farms.
Methyl alcohol, a chemical that attacks the central nervous system, is thought to have been added to the alcohol.
People who had fallen sick started being brought in to health facilities on Thursday after falling unconscious.
Several of those in hospital are in a critical condition. NDTV said police expect the number of dead to increase.
Manab Gohain, a doctor at the Jorhat Medical College Hospital, said 34 patients have died in the past 24 hours.
The owner of a local brewing unit and eight others have been arrested, police have said.
Police official Mukesh Agarwal said other people believed to be connected to the racket are being pursued as part of an ongoing investigation.
"We shall not spare anyone involved in manufacture and distribution of the tainted liquor," Himanta Biswa Sarma, Assam's health minister, said.
At least 3,000 suspected bootleggers were picked up after the deaths two weeks ago in Uttarakhand and Uttar Pradesh.
Deaths from illegally made alcohol – often referred to as "hooch" – are common in India because licensed brands are often out of the reach of the poor.
The outbreak two weeks ago was believed to be the deadliest since 2011, when a batch of bootleg alcohol killed 172 people in West Bengal.