Thailand election: Princess banned from standing days after becoming a candidate | World News
A Thai princess has been banned from standing in elections next month three days after she announced her candidacy.
Princess Ubolratana Rajakanya Sirivadhana Barnavadi has been disqualified from standing for the Thai Raksa Chart party in the 24 March ballot by the country's election commission.
The sister of King Maha Vajiralongkorn shocked Thailand on Friday when she announced she would be a candidate.
The 67-year-old princess, the eldest child of Thailand's beloved late king Bhumibol Adulyadej, has starred in several soap operas and films.
She would have become the first member of the Thai royal family, which has always kept itself above politics, to enter the fray.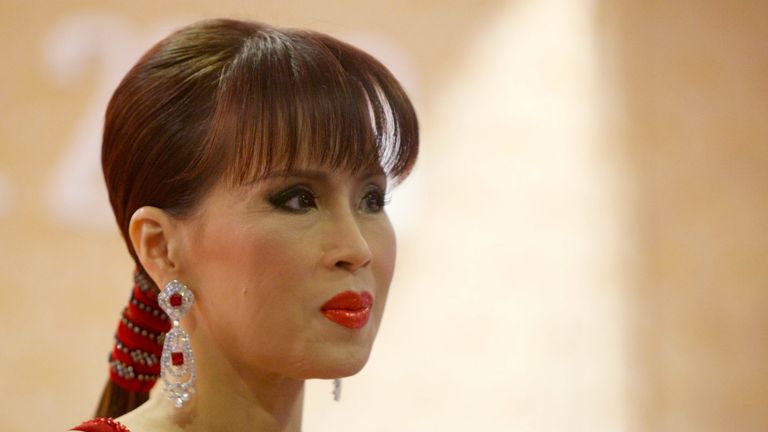 But her hopes were quickly dashed by her brother, King Maha Vajiralongkorn, who declared later that day that her candidacy was "inappropriate" and unconstitutional.
The word of the monarch carries much weight in Thailand, where the royal family is revered as semi-divine, and it was no surprise that election officials chose to endorse his view.
The Thai Raksa Chart party, which she was planning to run for, is loyal to ousted prime minister Thaksin Shinawatra, whose allies have won every national election since 2001.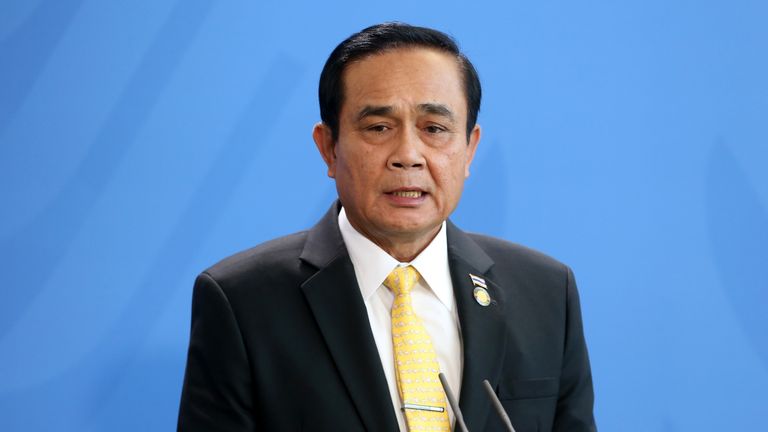 The populist party is attempting to defeat Prayuth Chan-ocha, leader of Thailand's military junta, in the polls.
By nominating Princess Ubolratana Rajakanya Sirivadhana Barnavadi, it was hoping to tap into the pro-royal sentiment of the people.
Whilst its plan has been foiled, it may still benefit, according to Anusorn Unno, dean of the faculty of sociology and anthropology at Thammasat University.
"For Thai Raksa Chart supporters, this has created more sympathy to the party … These would see the party as a victim in this situation," he said.
But he warned that Thaksin's opponents are also likely to be motivated by what they will see as an attempt to manipulate the monarchy.
It will be the first election since a pro-royalist military coup in 2014 overthrew the remnants of a government that had been led by Thaksin's sister Yingluck.
Sudan military promises to hand over power after uprising and coup | World News

The military council that has removed Sudan's president has said it has no intention of staying in power.
In a news conference, the council indicated it was only acting as caretaker while a solution was sought after the army arrested President Omar al Bashir yesterday.
The solution, they said, will come from protesters and the military council promised it would not interfere with any new government, saying it expects the transitional period to be two years at the most.
But it insisted that could be as little as one month if the handover is managed "without chaos".
The council's chief said that any new government would be civilian and that the country's now-deposed ruling party would be given the freedom to run in planned elections.
More follows…
Retired pope Benedict XVI blames swinging 60s for Catholic Church's sex abuse scandals | World News
The swinging 60s and laws that protected priests are to blame for the Catholic Church's sex abuse scandals, retired pope Benedict XVI has said.
In an essay, the former pontiff traces the start of the clergy abuse crisis to the sexual revolution of the 1960s and cites the appearance of sex in films in his native Bavaria.
He also blames the crisis on failures of moral theology in that era and slams church laws that gave protection to priests accused of abuse.
The essay has been been described by a church historian as "catastrophically irresponsible" because it conflicts with efforts by his successor Pope Francis to lead the church out of the sex abuse crisis.
Benedict says that during the 1980s and 1990s "the right to a defence (for priests) was so broad as to make a conviction nearly impossible".
As Cardinal Joseph Ratzinger, Benedict reformed the law in 2001 to make it easier to remove priests who abused children.
He clamped down on clerical sex abuse and when he became pope, defrocked hundreds of priests accused of raping and molesting children.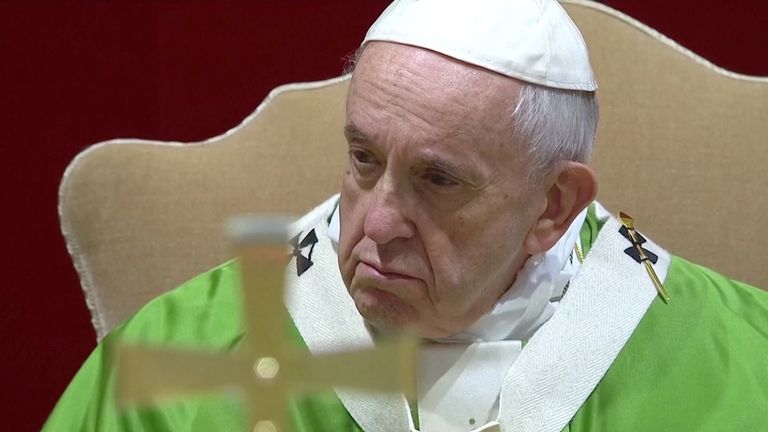 In his essay, he writes: "Why did paedophilia reach such proportions? Ultimately, the reason is the absence of God."
Benedict, who retired in 2013, also blames the scandal on a clerical culture in the church that raises priests above worshippers.
The essay has been criticised by church historians, including Villanova University theologian Massimo Faggioli, who said it was thin on analysis.
He said it omitted key cases, such as sex abuse carried out by the founder of the Legion of Christ, which began well before the 1960s.
Mr Faggioli said: "If a pope emeritus decides to stay silent, it's one thing and can be defended. But speaking and telling a tiny part and a very personal version of the story, it's hard to defend.
"Everything we know in the global history of the Catholic abuse crisis makes Benedict XVI's take published yesterday very thin or worse: a caricature of what happened during in the Catholic Church during the post-Vatican II period – with all its ingenuities and some tragic mistakes."
Church historian Christopher Bellitto questioned if Benedict, who turns 92 next week, was being manipulated by others and said the essay undermined Pope Francis's efforts to to clean up the church.
He added: "It is catastrophically irresponsible, because it creates a counter-narrative to how Francis is trying to move ahead based on the 2019 (sex abuse) summit.The essay essentially ignores what we learned there."
David Gibson, from Fordham University's Centre on Religion and Culture, said: "For a retired pope to try to undo the critical work of a sitting pope and on such a crucial issue seems… bad."
Former Nissan boss Carlos Ghosn has detention extended | Business News

Former Nissan boss Carlos Ghosn has had his detention extended as he awaits trial on financial misconduct charges.
Tokyo District Court extended Ghosn's detention by eight days after a judge refused prosecutors' requests for the maximum 10 days, a decision that public broadcaster NHK said was rare.
It had been due to expire on Sunday but the extension gives prosecutors until 22 April to bring formal charges against the 65-year-old or set him free.
Ghosn was arrested for the fourth time last week, accused of trying to enrich himself to the tune of $5m (£3.8m) at Nissan's expense.
He is awaiting trial on other financial misconduct and aggravated breach of trust charges. He was arrested for those in November and bailed early in March after 108 days in jail.
Ghosn denies all allegations against him and his defence team has described his latest arrest as "illegal".
On Tuesday, his lawyers published a video on social media that he had made after his release on bail last month, in which he lashed out at ex-colleagues, accusing them of backstabbing and conspiring against him.
In the eight-minute video, he claimed some "selfish" executives had "really played a very dirty game".
Ghosn led the Japanese automaker for two decades and was once celebrated as its saviour but he has been ousted as chairman of Nissan, Renault and Mitsubishi since his arrest.
That decision was made by thousands of shareholders at a meeting in Tokyo earlier this month, replacing Ghosn on the board with Renault chairman Jean-Dominique Senard. Renault owns 43% of Nissan.
At the meeting, Nissan chief executive Hiroto Saikawa told shareholders that the company would stick by the alliance with Renault, fix governance problems and make the ousting of Ghosn "a turning point".
"We had allowed a system in which wrongdoing could be carried out without detection," he said.