Tainted alcohol kills more than 100 in India – including 36 at a funeral | World News

At least 3,000 suspected bootleggers have been arrested after a batch of illegal alcohol killed more than 100 people in India.
According to NDTV, the alcohol was first drunk at a funeral in the city of Haridwar, where 36 people have been confirmed dead and a further 18 remain in hospital.
It is believed the drink had been laced with methanol – a highly toxic substance commonly used as anti-freeze.
A further 69 people are feared to have died after sachets of the alcohol were then taken to the neighbouring state of Uttar Pradesh.
Many of those killed had complained of stomach pains and respiratory problems.
This is believed to be the deadliest outbreak since 2011, when a batch of bootleg booze killed 172 people in West Bengal.
Deaths from illegally made alcohol – often referred to as "hooch" or "country liquor" – are common in India because licensed brands are often out of the reach of those in poverty.
Bootleg alcohol is cheap and often has chemicals added to increase its strength.
In some states, like Bihar, the sale of alcohol is banned.
Israel Folau: Australian rugby star to be sacked over anti-gay social media post | World News
An Australian rugby star who said "hell awaits" gay people will have his contract terminated, officials have said.
Israel Folau has been found to have committed a "high-level breach of the professional players' code of conduct" over the offending Instagram and Twitter post, which the Wallabies fullback made last week.
The Rugby Australia (RA) integrity unit said it warranted termination of his contract.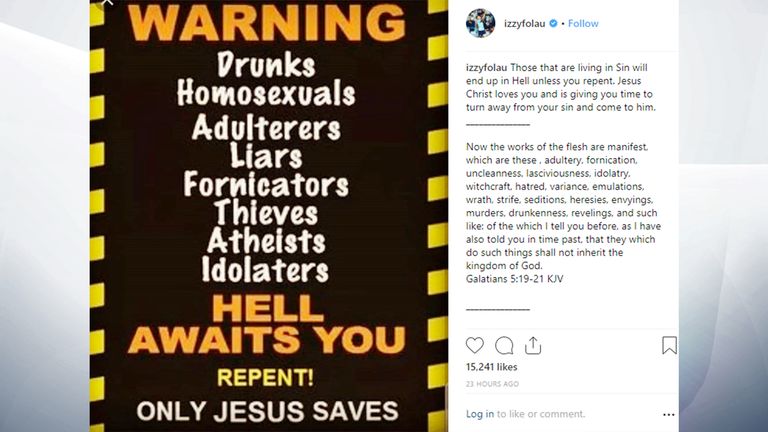 It comes a year after Folau, a staunch Christian, received a warning for making other homophobic comments on social media, but on that occasion he escaped with a warning.
This time the 30-year-old was deemed to have gone too far, having said on his accounts on 10 April that "hell awaits" for "drunks, homosexuals, adulterers, liars, fornicators, thieves, atheists, idolaters".
The cancellation of his contract – a four-year deal signed last year – means he is set to miss out on the Rugby World Cup in Japan this summer, which he would almost certainly have been selected for otherwise.
He has won 73 caps for Australia and was a key member of the squad.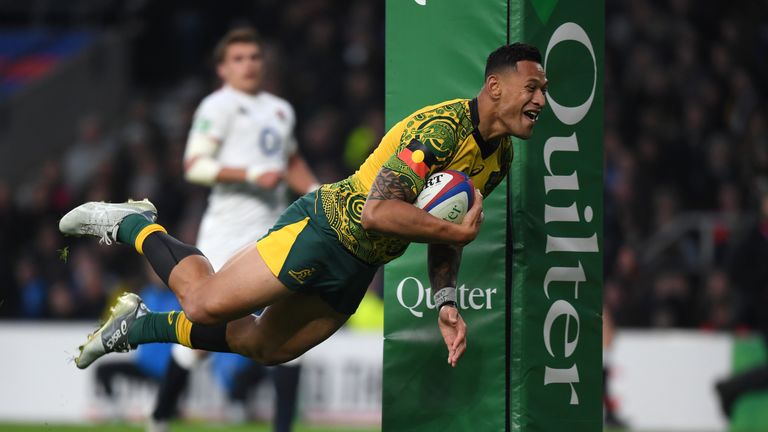 RA chief executive Raelene Castle said she and New South Wales Rugby Union chief Andrew Hore made "repeated attempts" to contact Folau last week, but he failed to communicate with them.
Ms Castle said the way he had expressed his religious beliefs was "inconsistent with the values of the sport" and described the language used in the post as "unacceptable".
The announcement last week that RA intended to cancel his contract was welcomed by Pride in Sport, which aims to make Australian sport inclusive for LGBT people.
Andrew Purchas, founder of the Sydney Convicts, the first and most successful gay rugby club in Australia, said the decision "sends a strong message of what will and will not be tolerated in rugby".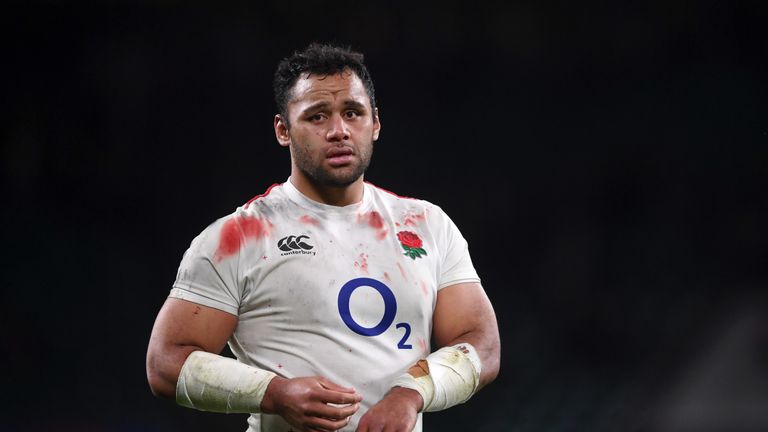 Over the weekend, England number eight Billy Vunipola was booed during an appearance for Saracens after he sparked controversy by defending the post made by Folau.
Vunipola, 26, wrote on Instagram last week that what Folau said "isn't that he doesn't like or love those people", but only that "how we live our lives needs to be closer to how God intended them to be".
He said "I don't HATE anyone", but added: "Man was made for woman to pro create that was the goal no?"
England rugby bosses said they would speak to Vunipola over his post, and he was booed by fans every time he touched the ball as Saracens suffered a 23-21 defeat at Bristol on Saturday.
Millennial mayor Pete Buttigieg to run for Democrat presidential nomination | US News
Millennial mayor Pete Buttigieg has formally launched a bid to become the 2020 Democratic presidential nominee, after a rapid rise from obscure Midwestern politician to top-tier contender.
The 37-year-old is the youngest entrant – after 77-year old Bernie Sanders and 69-year-old Elizabeth Warren also launched their campaigns – and is also the first openly gay major presidential candidate.
He has been mayor of South Bend, Indiana, since 2012 and was credited for turning round the industrial town's struggling economy.
He told crowds at his launch event in the town: "I recognise the audacity of doing this as a Midwestern millennial mayor.
"More than a little bold – at age 37 – to seek the highest office in the land."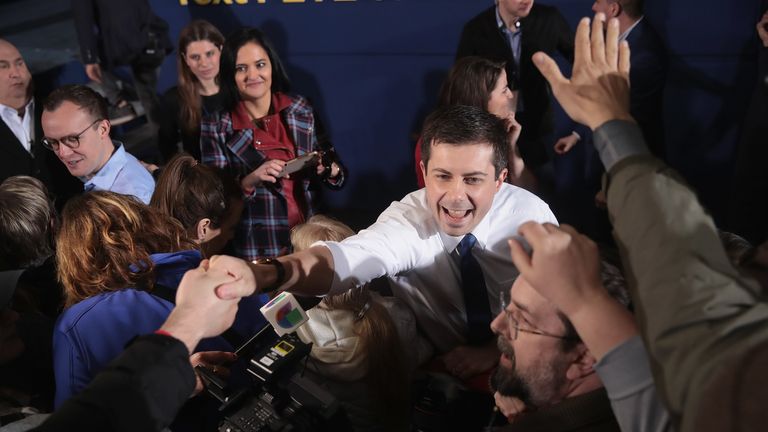 Polls in Iowa and New Hampshire last week put Buttigieg in third place in both states, behind Bernie Sanders and Joe Biden.
In the first quarter of this year, he raised $7m (£5.3m) – which outstripped more established rival US Senator Elizabeth Warren.
The Midwestern mayor has received a torrent of media coverage and surged in opinion polls.
Mr Buttigieg said he has taken a "long view" approach to issues and is seen as a voice for the millennial generation.
"I come from that generation that grew up with school shootings as the norm, the generation that produced the bulk of the troops in the post-9/11 conflicts, the generation that is going to be on the business end of climate change for as long as we live," he said.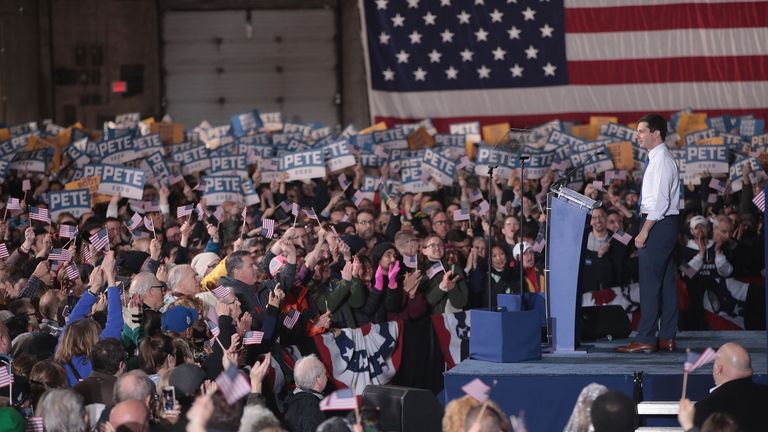 He added, "It is time to walk away from the politics of the past and toward something totally different."
The potential contender could appeal to both moderates in progressives in the party, as he is a former Rhodes Scholar, consultant for the firm McKinsey and Co and US Navy reservist who served in Afghanistan.
More than a dozen Democrats have put themselves forward to take on Republican President Donald Trump in the November 2020 general election.
The Democratic nominee will be chosen early next year following a series of contests.
Tiger Woods' comeback the most stirring I've ever seen | World News