Manhunt as murderer who killed his mother on the run in Bosnia | World News

An "armed and dangerous" man is on the run in Bosnia after killing two people.
Police are looking for Eden Gacic who is suspected of killing a grocery shop owner new Konjic, a week ago, and shooting a policeman on Saturday in Suhodol.
Gacic, 42, has previously served two prison terms for murder and was released in 2017, after serving two-thirds of his 20 year sentence.
He was convicted then of killing his mother, and a man who served with a battalion of Muslim volunteers during the 1992-95 war in Bosnia.
According to Bosnian media, Gacic served in the same unit as the man he killed, which fought alongside Bosnian army soldiers under the country's wartime Muslim-led government.
Aljosa Campara, the country's interior minister, said: "We are checking any information we get. All police agencies have been engaged.
"We are doing all we can to protect the citizens."
Police said 1,200 officers have been deployed in the manhunt and they are prepared to ask the army to step in if necessary.
Heavy snow has made the search in mountainous regions more difficult.
Bosnians have expressed fears about the gunman on the loose.
One villager in Suhodol admitted people may flee, saying: "Of course I am scared, I won't just sit here and wait for him to kill me."
Capital Gazette: Newspaper wins Pulitzer for reporting on massacre in its newsroom | US News
A US newspaper has won a Pulitzer Prize for its reporting on a mass shooting in its own newsroom that left five journalists dead.
The Capital Gazette, based in Annapolis, the capital of Maryland, published on schedule the day after the attack and covered the shooting with help from staff at its sister publication, The Baltimore Sun.
Pulitzer board members acknowledged "their courageous response to the largest killing of journalists in US history in their newsroom" and for an "unflagging commitment to covering the news and serving their community at a time of unspeakable grief".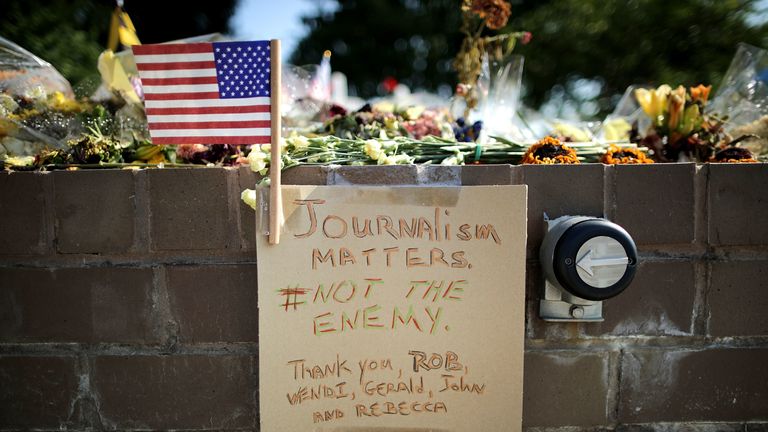 The paper was given a grant of $100,000 (£76,369) to further its journalism.
Gazette editor Rick Hutzell said staff, who gathered in the newsroom to remember colleagues who were shot and killed last June, were conflicted over the award.
"Clearly, there were a lot of mixed feelings. No one wants to win an award for something that kills five of your friends," he said.
Reporter Chase Cook said: "It's definitely bittersweet. Since it's so connected to something so tragic, there was no euphoric pop-off of excitement."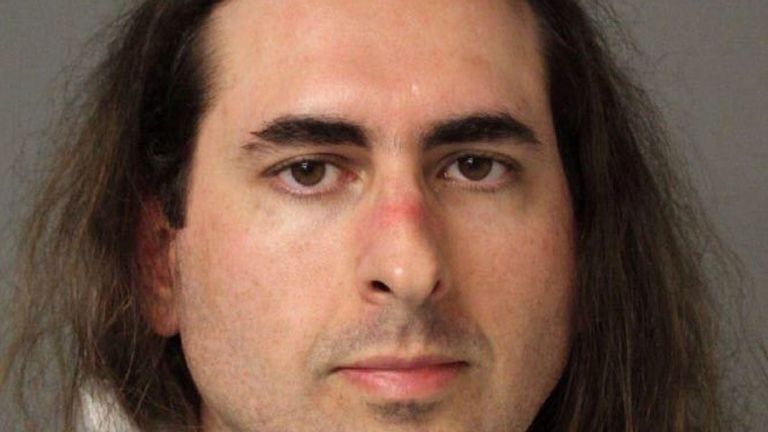 Photographer Joshua McKerrow said people were "stone silent" for about a minute after learning about the award, which reporter Rachael Pacella said provided a "big sense of validation for the staff".
"It's been a challenge returning to work. It lets you know that the additional stress you've endured going back to work has been worth it and appreciated," she said.
Features reporter Selene San Felice said she had to compose herself in a toilet before the prizes were announced and was initially unsure how to react to the special grant.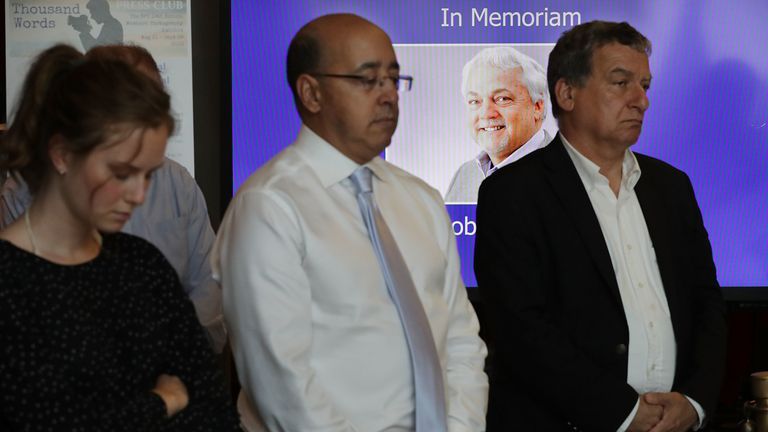 "At first, I thought that meant they just feel bad for us. And that's not true, because there are a lot of people you can feel bad for right now. We've really earned this," she said.
John McNamara, Wendi Winters, Rebecca Smith, Gerald Fischman and Rob Hiaasen were killed in the attack.
Jarrod Ramos has been charged with five counts of first-degree murder and goes on trial in November.
Notre Dame: Fate of gothic masterpiece's priceless treasures | World News
Firefighters risked their lives to save Notre Dame's priceless historical artefacts of religious and cultural significance from the raging inferno that engulfed the 12th century cathedral.
Paris mayor Anne Hidalgo confirmed most artworks and several of the most sacred relics had been saved from the fire which ravaged much of the building's roof and caused its iconic spire to collapse.
Culture minister Franck Riester posted photos on social media of people loading art onto trucks and said other treasures were being held under lock and key at city hall.
Here are some of the most famous items associated with the towering jewel of Western architecture which has survived wars and revolutions:
:: Crown of Thorns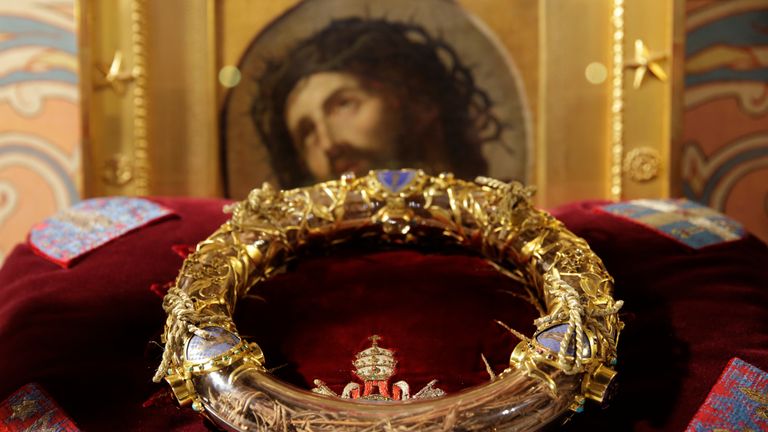 Purported to be a relic of the wreath of thorns placed on the head of Jesus Christ at his crucifixion, it was brought to Paris in 1238 by French monarch Louis IX.
The hallowed object was contained in an elaborate gold case which was stored in the cathedral's treasury.
Ms Hidalgo said the Crown of Thorns had been taken into safekeeping.
:: Tunic of Saint Louis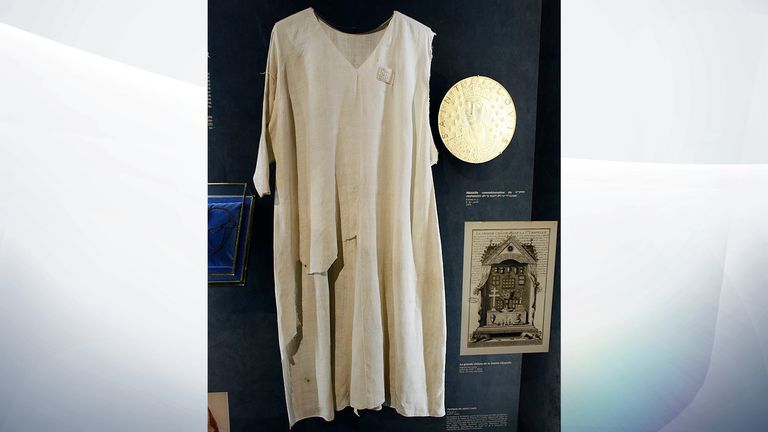 The garment was said to have been worn by Louis IX as he brought the Crown of Thorns to Paris.
The mayor said it had also been saved from the flames which devastated the Parisian landmark.
:: Rose Windows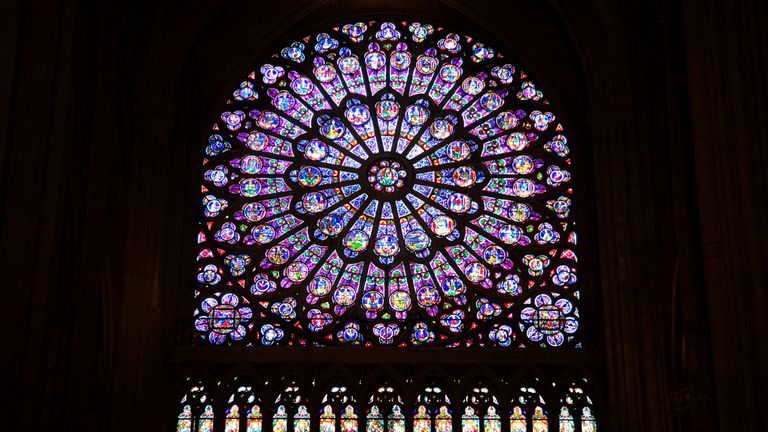 These are among the most famous architectural features of the Gothic masterpiece – the construction of which began in 1163, during the reign of King Louis VII – and was completed in 1345.
The three stained glass rose windows, which date back to the 13th century, are treasured artworks in their own right.
They adorned the north, south and west facades of the cathedral.
There are hopes that they have escaped catastrophic damage after firefighters managed to stop the blaze from spreading.
:: Great Organ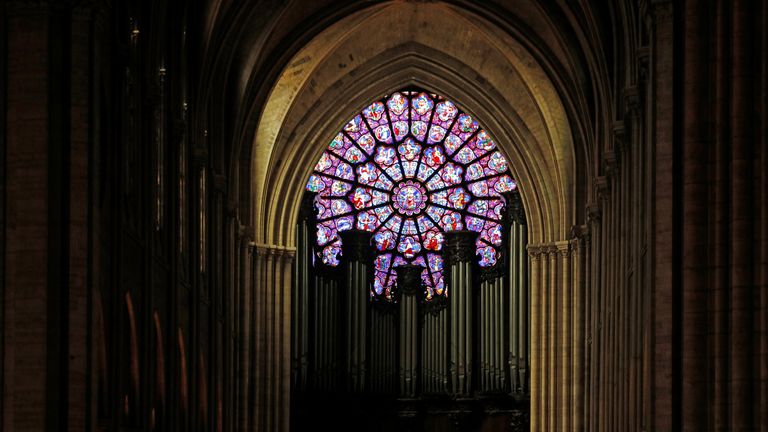 Notre Dame's master organ is one of the largest in the world with nearly 8,000 pipes, some dating back to the 1700s.
Each individual pipe of the monumental instrument, the largest in France, was cleaned when the organ was fully restored six years ago.
:: Bells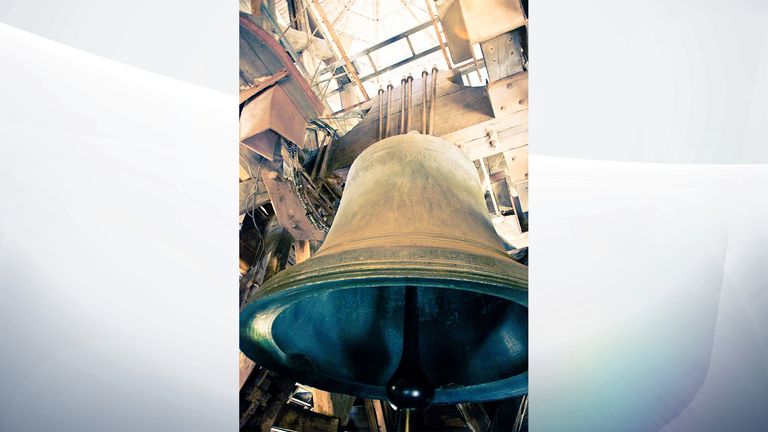 The bells that have rung out at key moments in France's history are thought to be safe, after the fire was prevented from spreading to the cathedral's two western towers where they are housed.
Emmanuel, the largest bell, weighing more than 23 tonnes, was lifted into the south tower in 1685.
Victor Hugo's Hunchback of Notre Dame, Quasimodo, was the cathedral's bell-ringer.
French Billionaire gives 100 million Euros to rebuild Notre-Dame | World News

One of France's richest men is to donate 100 million Euros (£86.3m) towards the rebuilding of Notre-Dame.
In a statement given to the French newspaper Le Figaro, billionaire François-Henri Pinault, who is married to the actress Salma Hayek, said he hoped the money would help to "completely rebuild Notre-Dame".
Pinault is the chairman and CEO of the Kering group, which owns such brands as Gucci, Yves Saint Laurent and Alexander McQueen. He is also president chairman of Artemis, the holding company that controls the assets of the Pinault family.
He is thought to be worth more than £19bn.
In the statement he said: "This tragedy strikes all the French and beyond all those who are attached to spiritual values. Faced with such a tragedy, everyone wants to revive this jewel of our heritage as quickly as possible.
"My father and I have decided to release from the funds of Artemis a sum of 100 million Euros to participate in the effort that will be necessary for the complete reconstruction of Notre-Dame."
France's Fondation du Patrimoine, a private organisation which works to protect French heritage, said it would be starting an international appeal.
It tweeted: "For our Lady to be reborn from her ashes we are launching an international appeal. All donations received will be paid in full to the restoration site."
The cost of rebuilding the cathedral is expected to run into the billions of Euros.
At the time of the fire the 850-year-old building was undergoing a multi-million Euro restoration project.
The cost of trying to maintain Notre-Dame has spiralled over the years and in the past the French government has looked to the private sector to help finance its upkeep.