Minnesota Senator Amy Klobuchar is latest Democrat to join 2020 US presidential race | US News

Minnesota senator Amy Klobuchar has become the latest Democrat to bid to take on Donald Trump in the 2020 presidential election.
Ms Klobuchar positioned herself as the most prominent Midwestern candidate as her party tries to win back voters in a region that helped put Mr Trump in the White House.
She is the latest to launch her bid in an increasingly crowded field of Democrats vying to challenge Mr Trump.
The current frontrunners for the Democrat nomination, according to bookmakers, include California senator Kamala Harris, former Texas congressman Beto O'Rourke and former US vice president Joe Biden.
Mr O'Rourke and Mr Biden have not yet announced whether they will run in 2020, although Mr O'Rourke said he would make a decision this month.
Announcing her candidature, Ms Klobuchar told an audience on Sunday: "For every American, I'm running for you.
"And I promise you this: As your president, I will look you in the eye. I will tell you what I think. I will focus on getting things done.
"That's what I've done my whole life. And no matter what, I'll lead from the heart."
Ms Klobuchar's announcement comes a day after Elizabeth Warren, a Massachusetts senator, announced she would run for the presidency and makes her the ninth Democrat to launch their White House campaign.
Tsunami warning in Indonesia after strong earthquake


A tsunami warning has been issued and parts of the Sulawesi region of Indonesia have been evacuated after a magnitude 7 earthquake struck.

Source link
Sudan military promises to hand over power after uprising and coup | World News

The military council that has removed Sudan's president has said it has no intention of staying in power.
In a news conference, the council indicated it was only acting as caretaker while a solution was sought after the army arrested President Omar al Bashir yesterday.
The solution, they said, will come from protesters and the military council promised it would not interfere with any new government, saying it expects the transitional period to be two years at the most.
But it insisted that could be as little as one month if the handover is managed "without chaos".
The council's chief said that any new government would be civilian and that the country's now-deposed ruling party would be given the freedom to run in planned elections.
More follows…
Retired pope Benedict XVI blames swinging 60s for Catholic Church's sex abuse scandals | World News
The swinging 60s and laws that protected priests are to blame for the Catholic Church's sex abuse scandals, retired pope Benedict XVI has said.
In an essay, the former pontiff traces the start of the clergy abuse crisis to the sexual revolution of the 1960s and cites the appearance of sex in films in his native Bavaria.
He also blames the crisis on failures of moral theology in that era and slams church laws that gave protection to priests accused of abuse.
The essay has been been described by a church historian as "catastrophically irresponsible" because it conflicts with efforts by his successor Pope Francis to lead the church out of the sex abuse crisis.
Benedict says that during the 1980s and 1990s "the right to a defence (for priests) was so broad as to make a conviction nearly impossible".
As Cardinal Joseph Ratzinger, Benedict reformed the law in 2001 to make it easier to remove priests who abused children.
He clamped down on clerical sex abuse and when he became pope, defrocked hundreds of priests accused of raping and molesting children.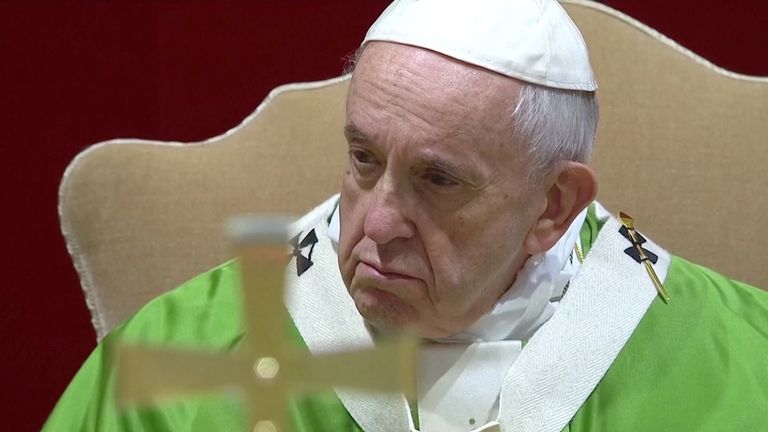 In his essay, he writes: "Why did paedophilia reach such proportions? Ultimately, the reason is the absence of God."
Benedict, who retired in 2013, also blames the scandal on a clerical culture in the church that raises priests above worshippers.
The essay has been criticised by church historians, including Villanova University theologian Massimo Faggioli, who said it was thin on analysis.
He said it omitted key cases, such as sex abuse carried out by the founder of the Legion of Christ, which began well before the 1960s.
Mr Faggioli said: "If a pope emeritus decides to stay silent, it's one thing and can be defended. But speaking and telling a tiny part and a very personal version of the story, it's hard to defend.
"Everything we know in the global history of the Catholic abuse crisis makes Benedict XVI's take published yesterday very thin or worse: a caricature of what happened during in the Catholic Church during the post-Vatican II period – with all its ingenuities and some tragic mistakes."
Church historian Christopher Bellitto questioned if Benedict, who turns 92 next week, was being manipulated by others and said the essay undermined Pope Francis's efforts to to clean up the church.
He added: "It is catastrophically irresponsible, because it creates a counter-narrative to how Francis is trying to move ahead based on the 2019 (sex abuse) summit.The essay essentially ignores what we learned there."
David Gibson, from Fordham University's Centre on Religion and Culture, said: "For a retired pope to try to undo the critical work of a sitting pope and on such a crucial issue seems… bad."