Hard Irish border could cost UK a trade deal with the US, Democrats warn | Politics News
Any prospect of a hard Irish border after Brexit could cost the UK a trade deal with the United States, according to Democrats in Washington.
Congressman Richard Neal, the new chair of the committee responsible for trade, has been hosting Ireland's Foreign Minister Simon Coveney on Capitol Hill.
With Democrats now controlling Congress, Irish-Americans say any Brexit deal that undermines peace could have economic consequences for the UK.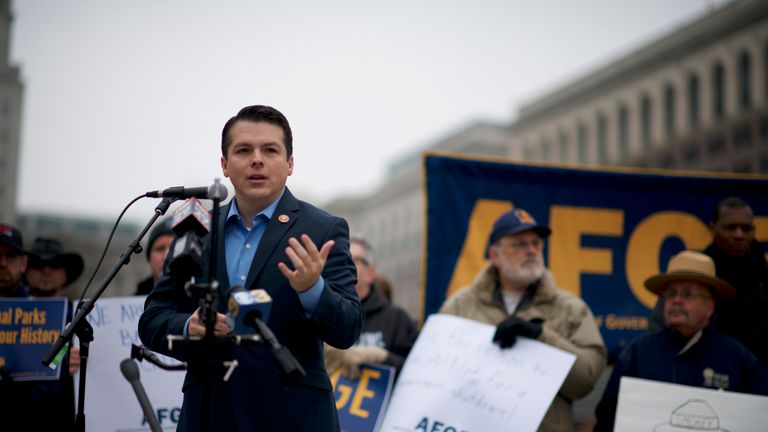 "I think it would incredibly naive for anyone to think that there would be no impact if there was in any way backsliding from the Good Friday Agreement," said Democratic Congressman Brendan Boyle.
"Just as the United States was pivotal in the 1990s, we're prepared again to make sure that we preserve the peace that has been achieved on the island of Ireland," he added.
Simon Coveney honoured Richard Neal, a prominent Irish-American himself, and the foreign minister told Sky News he believed London knew that the influential congressman had very real concerns.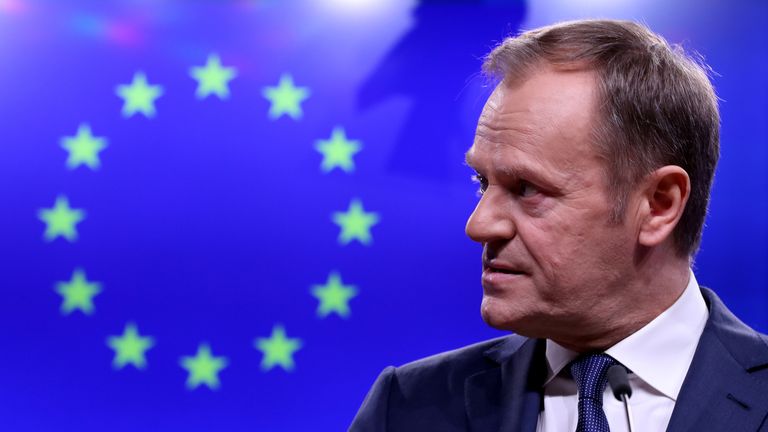 "He has been very clear, as have many others in Congress, that it is not acceptable that a peace process would potentially be undermined as an unintended consequence of Brexit," he said.
"And they have made known that view I suspect to the British government in a very firm way."
There is no disputing the influence of the Irish in America – an estimated 45 million of them. Nineteen of the 45 US Presidents have claimed Irish ancestry.
It is no secret that some Irish-Americans bankrolled the IRA but it is equally true that there would not have been a peace process without them.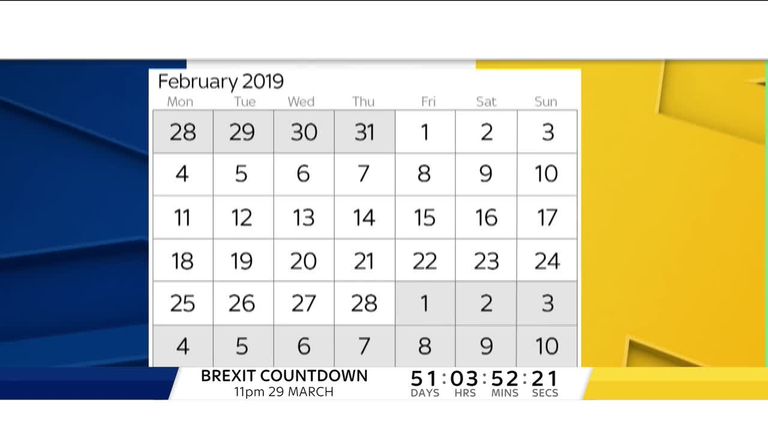 From Capitol Hill to the plethora of Irish pubs in New York, they are talking about Brexit and the border.
Daniel O'Connor, who manages Connolly's bar in Midtown New York, said people were "concerned about the border and about trade agreements."
"Irish-Americans are keeping a very close eye on Brexit," he added.
Customer Marty Appel said: "I just hope that somehow the pieces fall into place where that important free movement between the two Irelands is a reality that doesn't fade."
Daniel James McCabe, a playwright and author sitting further along the bar, takes more interest than most in his ancestral homeland.
"The difficulty and the possibility of a return to a way of life that should never resume would wake a lot of people up," he said.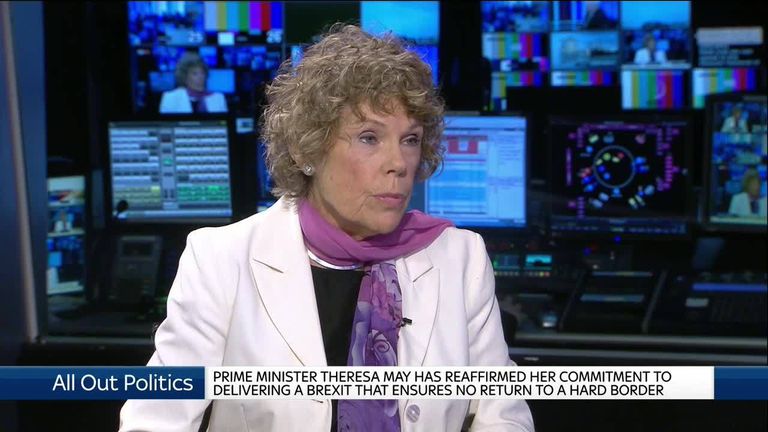 Their ancestors built the Brooklyn Bridge and Empire State Building but this generation of Irish-Americans helped build peace back home.
Ensuring Brexit does not pose any threat to it is high on their agenda and they hold considerable sway here.
Scientists prove bathing 90 minutes before bed helps sleep | Science & Tech News
Scientists have proven that taking a bath 90 minutes before going to bed can help you get a better night's sleep.
Researchers at the University of Texas in Austin analysed thousands of studies on "water-based passive body heating" or bathing and showering with hot water.
The biomedical engineers found that bathing between one and two hours before bedtime in water between 40C (105F) and 42C (109F) can significantly improve sleep.
"When we looked through all known studies, we noticed significant disparities in terms of the approaches and findings," said Shahab Haghayegh, a PhD candidate and lead author on the paper.
"The only way to make an accurate determination of whether sleep can in fact be improved was to combine all the past data and look at it through a new lens."
The team published its paper in the journal Sleep Medicine Reviews after analysing 5,322 studies.
A lot of the science proving how a bath or shower improves sleep is already established.
Both sleep and core temperature in humans are regulated by something called the circadian clock, which is located within the brain's hypothalamus which sets the pattern for our bodily functions.
Our body temperature is closely involved in regulating our sleep, and our temperatures can be up to three degrees Fahrenheit higher in the late afternoon and early evening than when we sleep.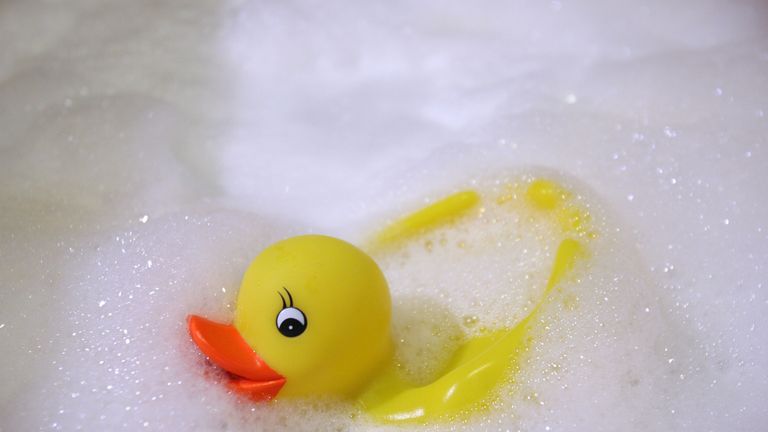 As our temperature rises during the night it works like a kind of biological alarm clock which ultimately disrupts our sleeping.
According to the researchers: "The temperature cycle leads the sleep cycle and is an essential factor in achieving rapid sleep onset and high efficiency sleep."
They discovered that perfect timing between having a bath and our core body temperature cooling down to improve sleep quality is 90 minutes.
"Warm baths and showers stimulate the body's thermoregulatory system, causing a marked increase in the circulation of blood from the internal core of the body to the peripheral sites of the hands and feet, resulting in efficient removal of body heat and decline in body temperature," according to the researchers.
"Therefore, if baths are taken at the right biological time, 1-2 hours before bedtime, they will aid the natural circadian process and increase one's chances of not only falling asleep quickly but also of experiencing better quality sleep."
India launches rocket to far side of moon – just days after aborted take-off | World News
India's space agency has launched an unmanned spacecraft to the far side of the moon just a week after aborting the mission due to a technical problem.
The Chandrayaan rocket lifted off from a site in Sriharikota, off the Bay of Bengal, as scheduled at 2.43pm local time (10.13am UK time) on Monday.
Named after the Sanskrit word for mooncraft, Chandrayaan is designed to land on the lunar south pole in September and send a rover to explore water deposits that were confirmed by a 2008 mission which orbited the moon.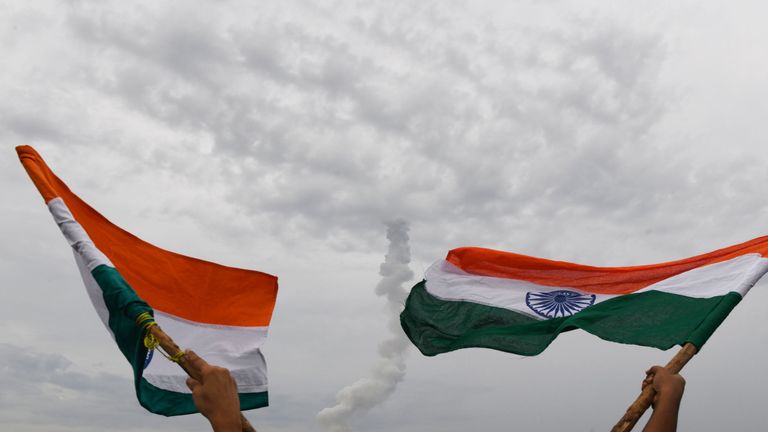 Last week's launch of the $141m (£113m) mission was called off less than an hour before lift-off due to a "technical snag".
Media reports said it was aborted after a leak was discovered while filling helium in the rocket's cryogenic engine.
The space agency neither confirmed nor denied the reports, saying instead that the problem had been identified and corrected.
The spacecraft is carrying an orbiter, a lander and a rover that will move around on the lunar surface for 14 earth days.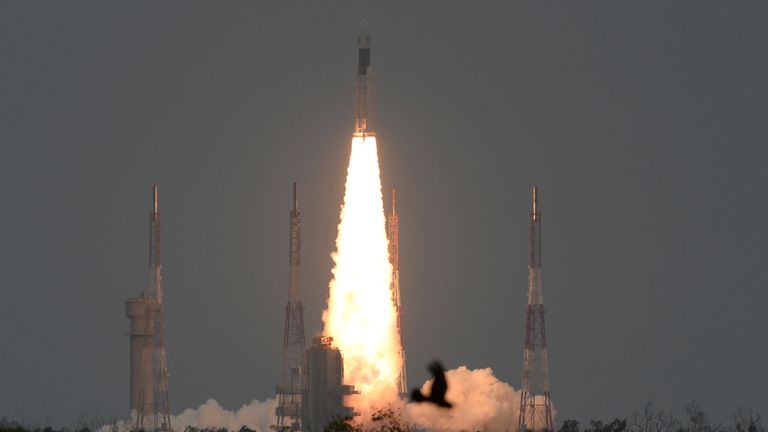 It will take about 47 days to travel before landing on the moon in September.
India, which put a satellite into orbit around Mars in the nation's first interplanetary mission in 2013 and 2014, plans to send its first manned spaceflight by 2022.
Stena Impero: Crew seen in first pictures from inside UK-flagged oil tanker seized by Iran | World News
The crew of a British-flagged oil tanker seized by Iran in the Gulf have been pictured inside the vessel for the first time since armed soldiers took control.
Some of the 23 personnel stationed aboard the Stena Impero are seen working in the kitchen and assembled around a table, while others are visible near the windows on one of the decks, looking up towards an official stood in-front of them alongside a large pile of shoes.
Tehran had already released video footage of the moment on Friday that members of the Iran Revolutionary Guard rappelled on to the vessel, which is now being held at the Bandar Abbas port.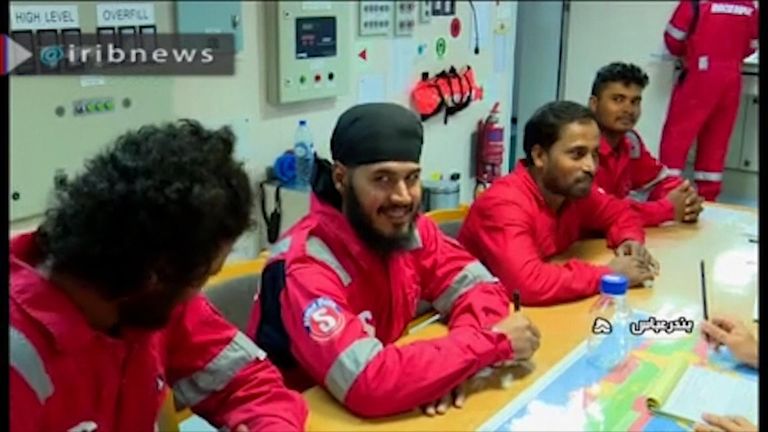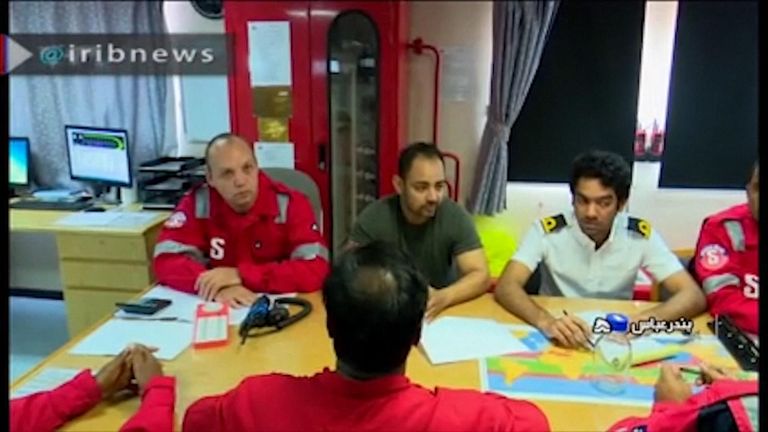 Those on-board the Swedish-owned, European-operated tanker are from India, Latvia, Russia and the Philippines – and all are said to be in "good health".
Among the crew is Dijo Pappachan, from Kochi, India, whose parents have said they are "shocked" by the situation.
His father, TV Pappachan, told the Khaleej Times newspaper: "He called and spoke with his mother on Thursday morning saying he is on his way to Saudi Arabia from Dubai. To our utter shock, we got a call from his company the next day saying the ship is under Iran's custody.
"I am not speaking only for my son. All the 23 crew members set sail to foreign countries for work. They are on-board to make a living. We are all praying for the entire crew's safe return."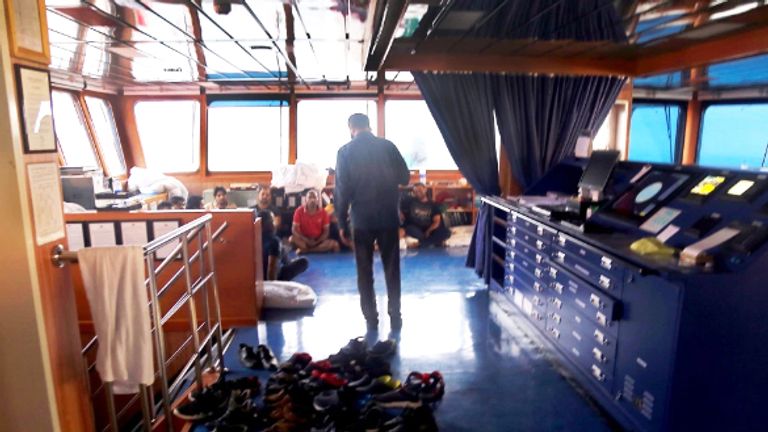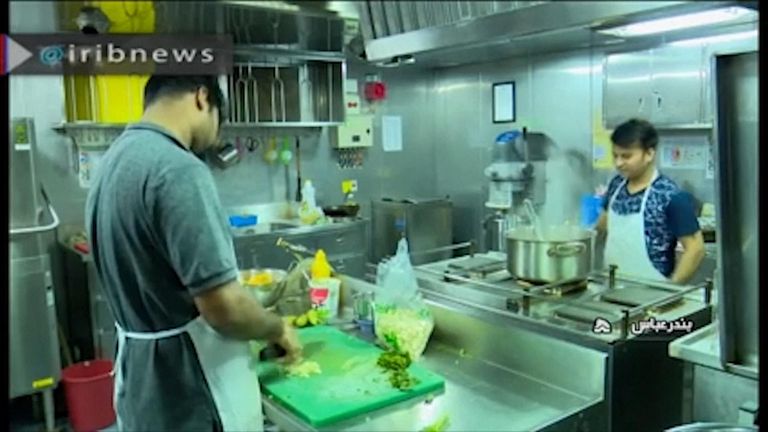 The crew had been expecting to arrive in the Saudi Arabian industrial city of Jubail on Sunday, having departed Fujairah on the east coast of the United Arab Emirates on Thursday.
As it passed westward through the Strait of Hormuz on Friday, it was approached by unidentified small crafts and a helicopter, from which troops from the Iranian Revolutionary Guard rappelled on to the vessel to seize control.
The vessel's course shifted north towards the Iranian coast.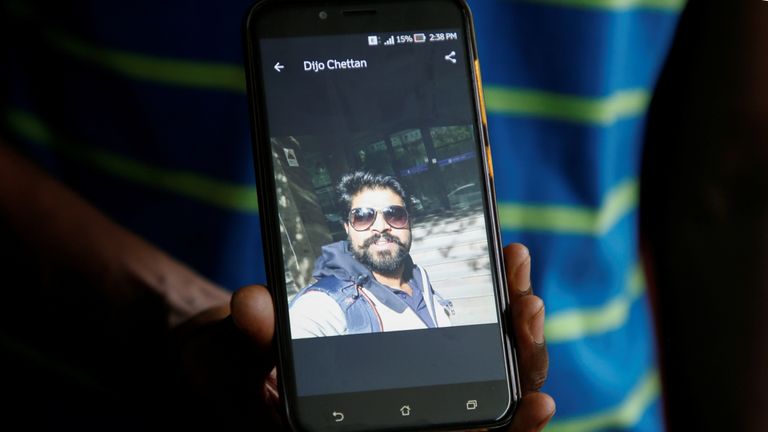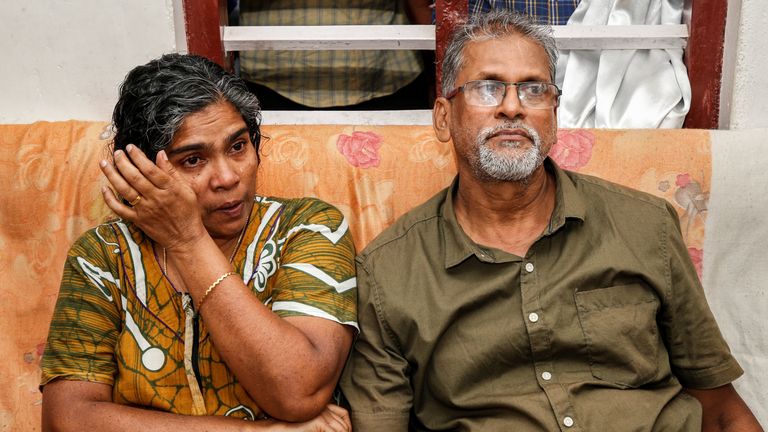 Some 40 minutes later, there was a similar course shift by the UK-operated, Liberian-flagged Mesdar.
That crew was allowed to continue their voyage a few hours later after the ship was boarded by armed guards.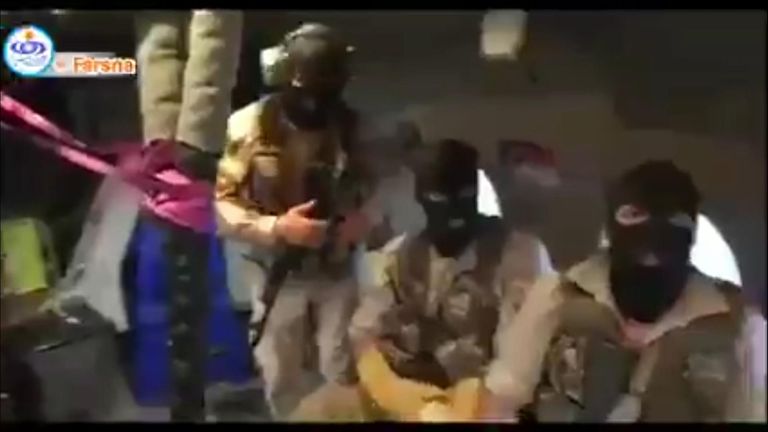 The seizure of the Stena Impero in the Strait of Hormuz has sparked widespread condemnation in the UK, with a Cobra emergency committee meeting chaired by Prime Minister Theresa May.
Foreign Secretary Jeremy Hunt has said it looked like Iran was choosing a "dangerous path of illegal and destabilising behaviour", but wants a "diplomatic solution" to the dispute.
He is due to update the House of Commons on the situation, with sanctions against Iran for its "illegal interference" said to be on the cards.
Ministers are reportedly considering freezing Iranian regime assets, which will exacerbate tensions that have been on a rapid rise since US sanctions came into effect at the start of May.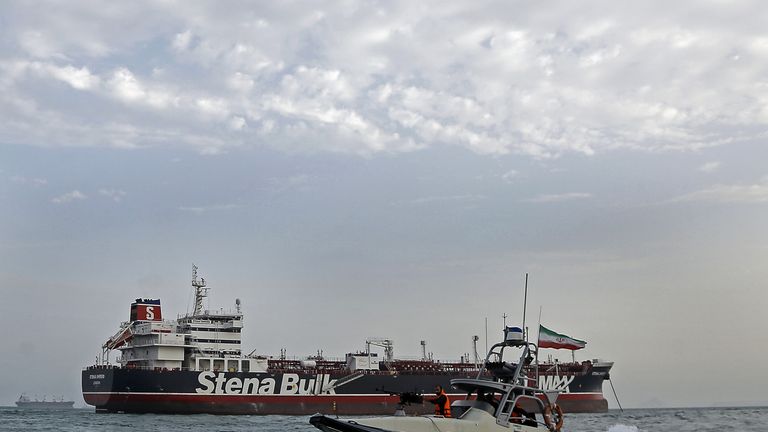 It began when two US oil tankers in the region were attacked on 13 June, with Iran denying it was to blame after the regime was accused by Donald Trump.
Britain has since become embroiled in a tit-for-tat of its own, starting with the involvement of Royal Marines in the seizure of an Iranian supertanker near Gibraltar due to suspicions it was carrying oil to the Syrian regime.
Bob Seely MP, from the foreign affairs committee, has said the situation constitutes a "massive crisis" that will only grow unless there is "an Iranian nuclear deal that gets the US back in it".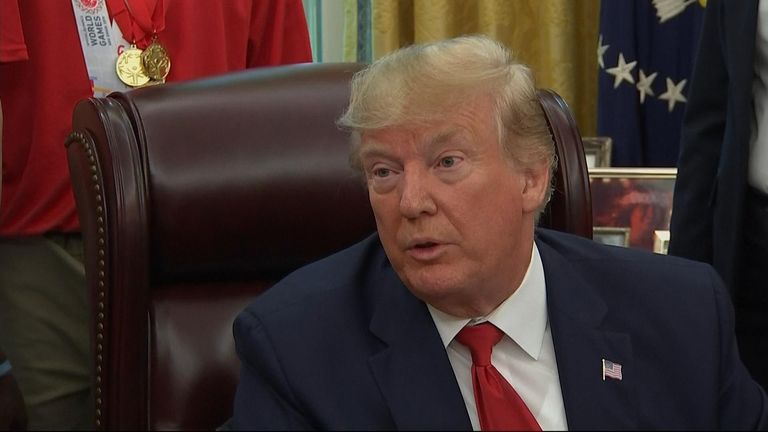 Mr Trump took the US out of the international agreement earlier this year, and its remaining Western backers fear it will soon collapse.
The deal – considered one of the most significant foreign policy achievements of the Obama administration – was designed to see Iran eliminate its stockpile of medium-enriched uranium, cut its stockpile of low-enriched uranium and reduce the number of its gas centrifuges for 13 years.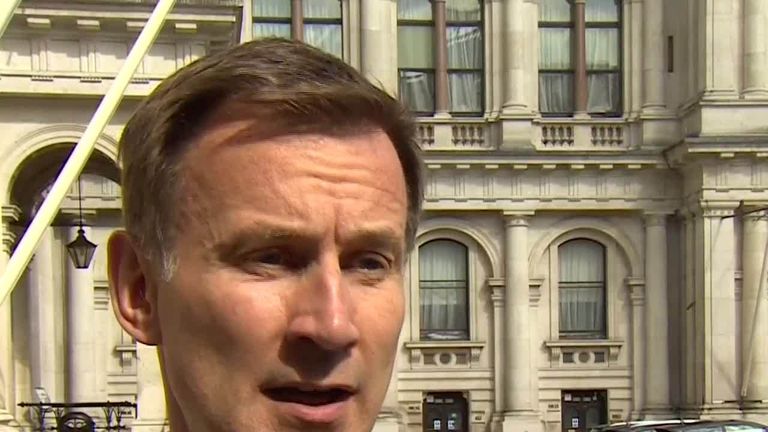 Iranian Foreign Minister Javad Zarif has blamed the US for the current situation in the Gulf, saying Washington wants to drag the UK "into a quagmire".
Meanwhile, Iran claims it has broken up a CIA spying ring and sentenced some of the 17 suspects to death.