Donald Trump: 100% of Islamic State caliphate to be reclaimed next week | US News
US President Donald Trump has said he expects to announce that 100% of the Islamic State (IS) caliphate has been reclaimed next week.
He said the US-led coalition fighting the militant group had "liberated virtually all of the territory previously held by ISIS in Syria and Iraq".
"It should be formally announced sometime, probably next week, that we will have 100% of the caliphate," Mr Trump told a meeting of coalition members in Washington.
"But I want to wait for the official word. I don't want to say it too early."
US officials say IS has lost 99.5% of its territory and is holding on to fewer than two square miles in Syria in the villages of the Middle Euphrates River Valley, where the bulk of its fighters are concentrated.
IS has been using women and children as human shields as US-led coalition forces battle to rout the extremists from their final pocket of land.
Coalition soldiers have suspended attacks temporarily to try to encourage civilians inside the IS enclave to come out through a humanitarian corridor they have created in the desert.
Thousands have been streaming out in the last few weeks – several hundred each day, and as many as 3,000 in one 24-hour period.
Mr Trump announced in December the withdrawal of more than 2,000 US troops from Syria.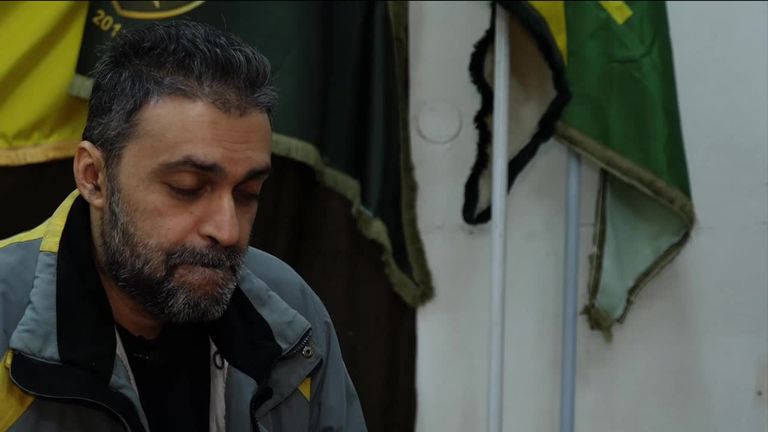 The decision was criticised by the US-backed, Kurdish-led Syrian Democratic Forces, who said it had "dangerous implications" for stability and would create "a political and military vacuum".
The move also prompted the abrupt resignation of US defence secretary General James Mattis and rattled allies around the world.
Mr Trump's latest remarks come after a government minister said British journalist John Cantlie, who was taken hostage by IS in Syria more than six years ago, is still alive.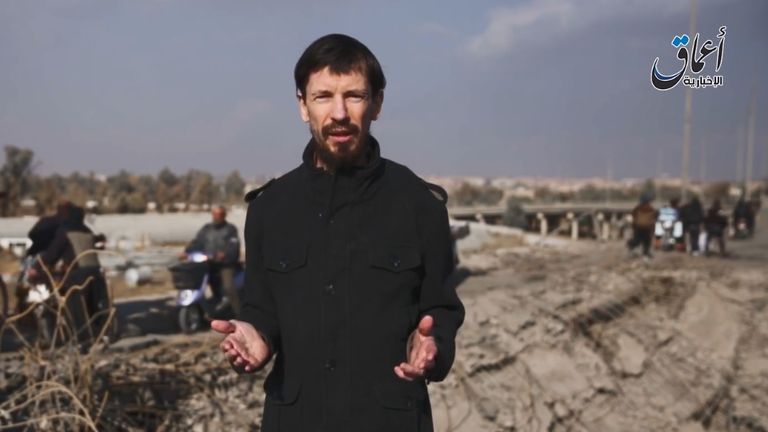 Security minister Ben Wallace gave no further details but it was highly unusual for someone in his position to comment on an ongoing hostage case.
Mr Cantlie, who fronted a number of English-language propaganda videos for his captors, has not been heard from in more than two years.
The UK government is giving £33m to help Iraqis whose lives have been affected by conflict, including those whose homes, livelihoods or communities have been hit by Islamic State.
Cash is being provided to rebuild cities like Mosul, which were left shattered after IS fought a bitter battle with coalition forces, including the UK.
Running battles on Venezuela border as aid trucks from Colombia set alight | World News
Battles between protesters and Venezuela's national guard are taking place on the border with Colombia as trucks try to deliver tonnes of emergency aid.
People scrambled to save boxes of food and medicine from burning vehicles, with claims national guardsmen set them alight as they crossed into Venezuela.
Smoke billowed from barricades, built to stop the aid getting in, and demonstrators threw rocks at heavily-armed police.
Tear gas was fired at people trying to clear the blockade to the Francisco de Paula Santander bridge – in the Venezuelan border town of Urena.
Two protesters have also been killed and 18 injured in Santa Elena de Uairen, near the border with Brazil, according to a doctor at the scene.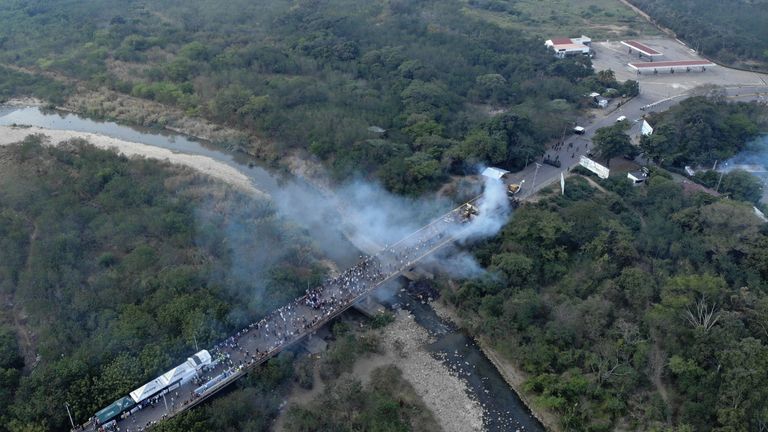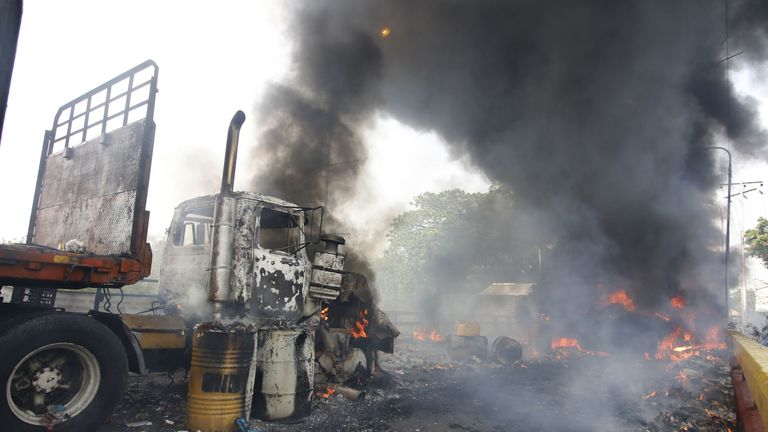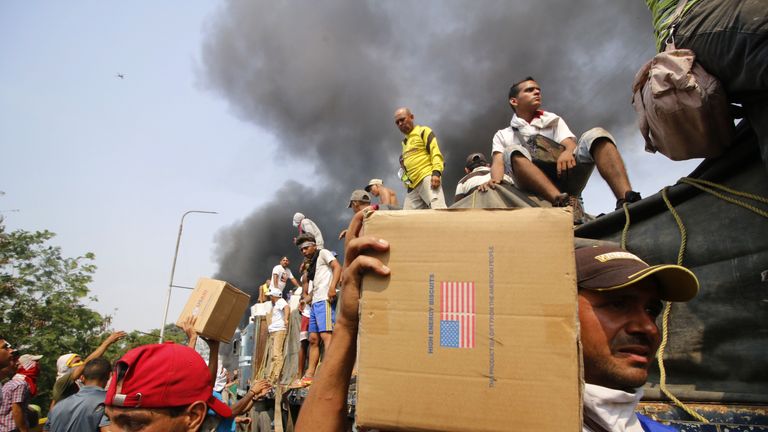 The clashes come after opposition leader Juan Guaido vowed to bring humanitarian aid from Colombia.
Nearly 200 tonnes of aid in a convoy of trucks has been waiting to cross several border bridges.
Mr Guaido says the supplies are vital to help people left in a dire situation by the government of President Nicolas Maduro.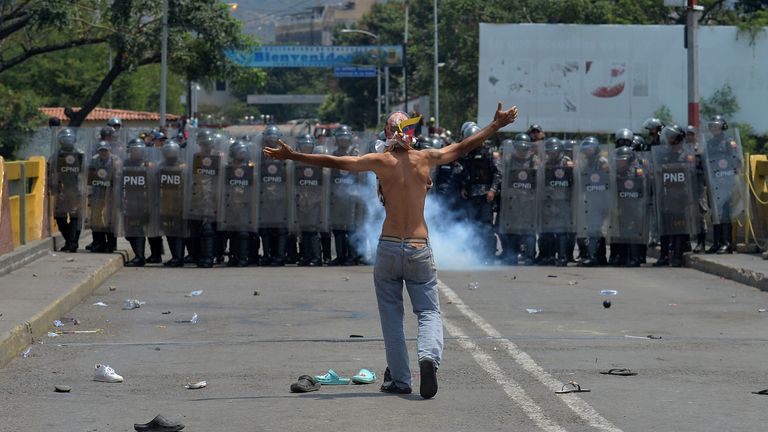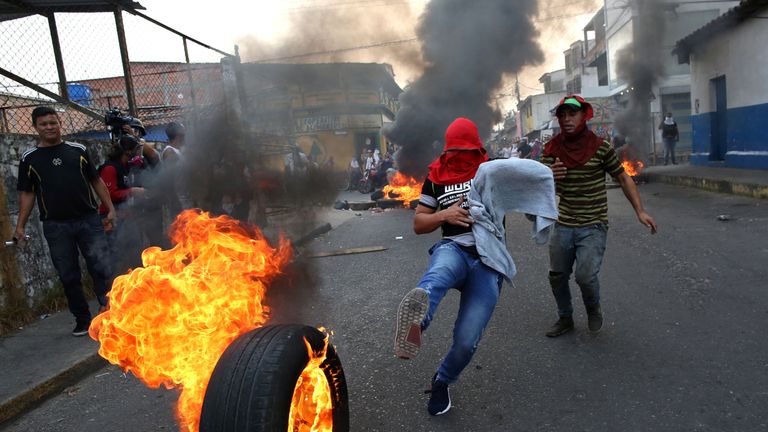 Venezuelan officials have closed the border with Colombia, Brazil and the island of Curacao and have been cracking down on those trying to keep them open.
President Maduro said he had cut all diplomatic relations with Colombia's "fascist government" and was expelling its diplomats in response to its support for Mr Guaido.
"Patience is exhausted, I can't bare it anymore, we can't keep putting up with Colombian territory being used for attacks
against Venezuela," Mr Maduro told supporters in Venezuelan capital Caracas.
Opponents claim he presided over a fraudulent election and has let the economy go to ruins with rampant inflation and people struggling to get food and medicine.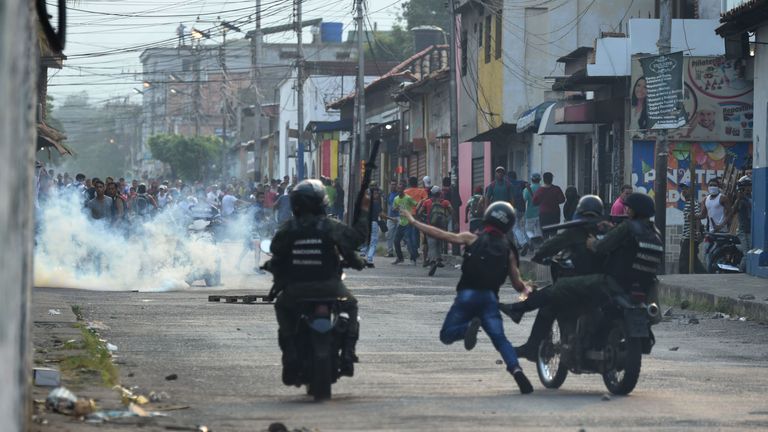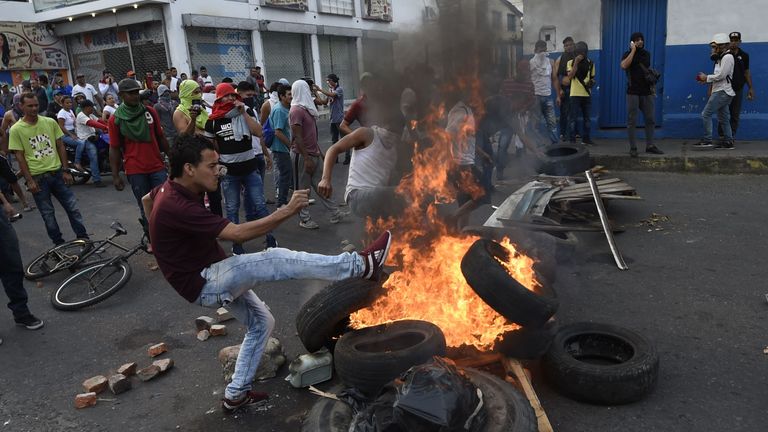 Most of the aid at the Columbia border has been provided by the US which has recognised Mr Guaido as the interim president, despite Mr Maduro refusing to stand down.
Venezuelan authorities regard the plan to bring in aid as a veiled US-backed invasion.
Tensions first flared at dawn, when residents in Urena began removing yellow metal barricades and barbed wire blocking the Francisco de Paula Santander bridge.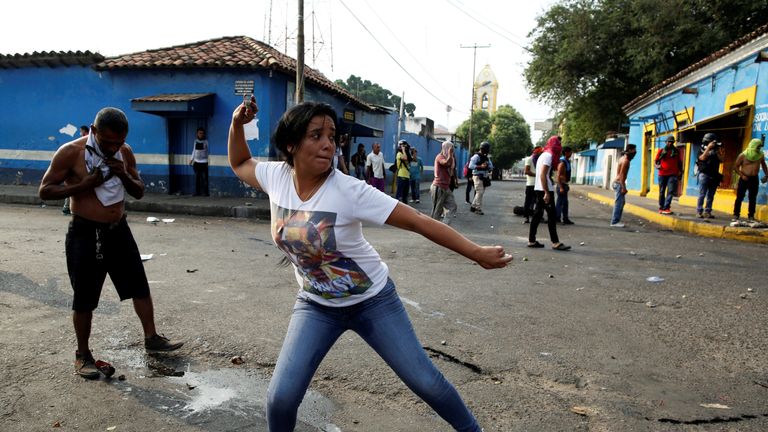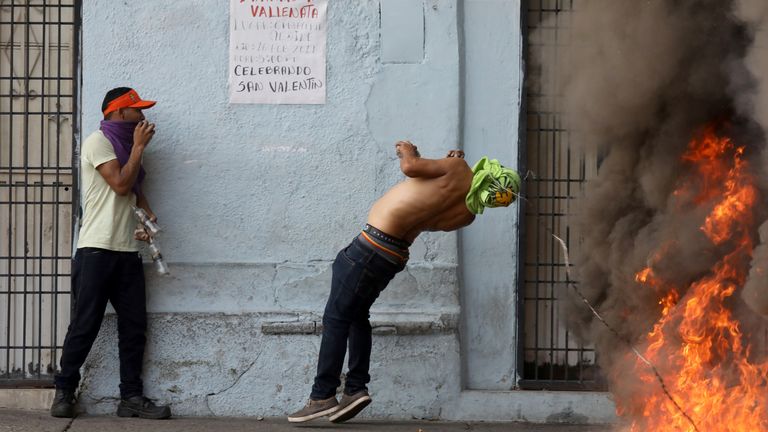 At another border crossing, the Simon Bolivar bridge, about 10 miles (15km) south, Colombian migration authorities said four National Guardsmen had deserted their posts and asked for help.
Pictures showed young men struggling to get through a crowd, holding their assault rifles and pistols above their heads in a sign of surrender.
They were then ordered to lay on the ground as migration officials held back onlookers.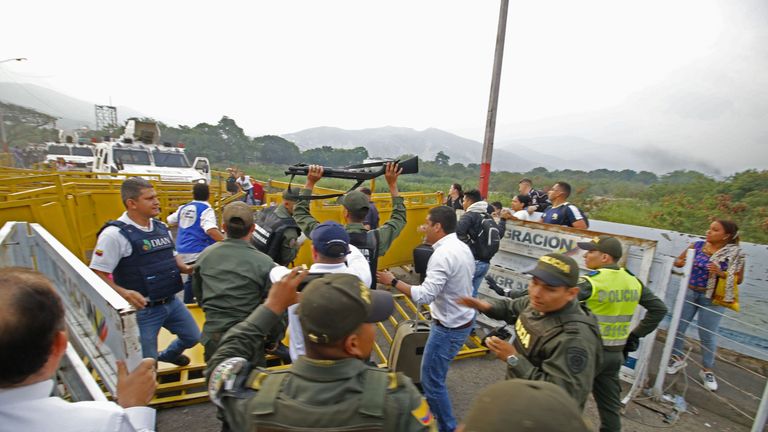 Juan Guaido, the 35-year-old head of Venezuela's National Assembly, declared himself interim president under the constitution on 23 January.
He has been backed by dozens of countries, including the UK.
On Friday, he attended a concert staged by Sir Richard Branson, in Cucuta, on the Colombian side of the border, opposite Urena.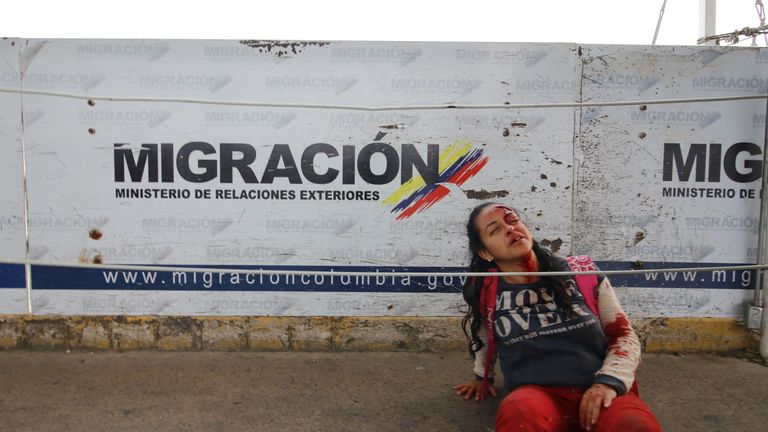 Mr Guaido met Colombian president Ivan Duque at the Live Aid-style event, despite Mr Maduro forbidding him from leaving the country.
Sky's Cordelia Lynch, who is in Venezuela, said hundreds of people at the concert were planning to join the battle to get the trucks across the border.
She said Mr Guaido had been talking to the authorities to get permission to bring across 14 trucks, each laden with about 20 tonnes of aid in a shipping container.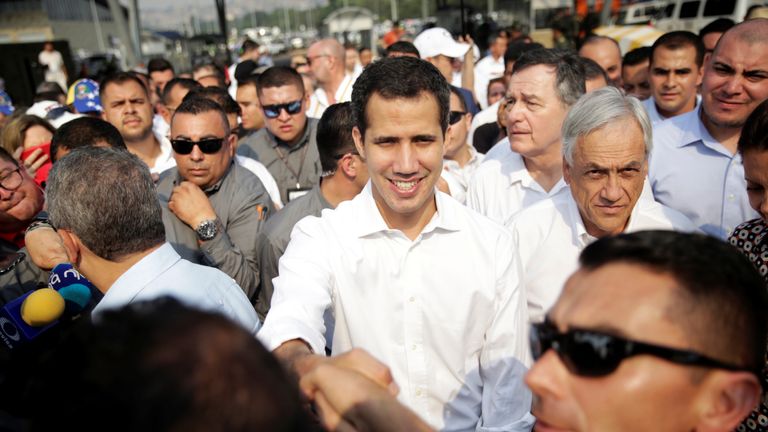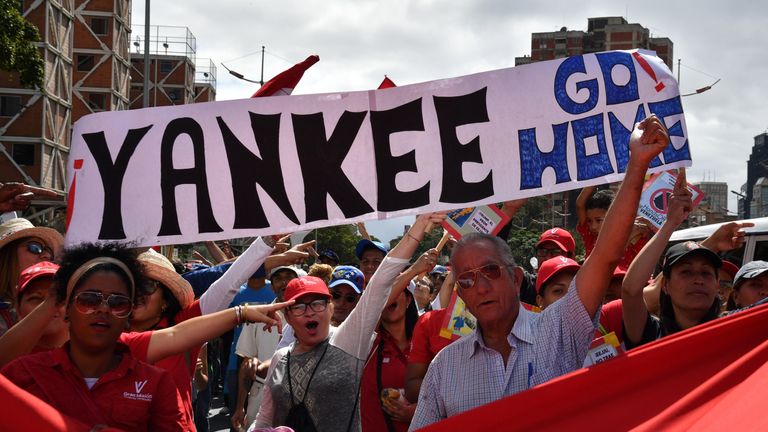 Protests also took place on Saturday in Curacao and in the capital Caracas – where a protest was held by President Maduro's supporters.
Mr Maduro told the crowds he was ready to defend Venezuela's independence with his life if necessary.
Harry and Meghan given guard of honour as they arrive in Morocco | UK News
The Duke and Duchess of Sussex have been greeted by a guard of honour as they arrived in Morocco for a three-day tour.
After a 90-minute delay, Harry and Meghan flew into Casablanca, famous for the romantic Hollywood film.
But this is a business trip for the royal couple, and their second major overseas tour, as they visit Morocco on behalf of the government and the Foreign Office.
With Meghan's baby due in April or May, the Palace confirmed that medical provisions had been made. It is not unusual for doctors to travel as part of the royal party, although officials did not go into detail.
The couple are staying privately as guests of the king of Morocco in a royal residence.
They will use the visit to highlight their interest in issues around female empowerment, inclusivity, education for women and girls, and encouraging young entrepreneurs.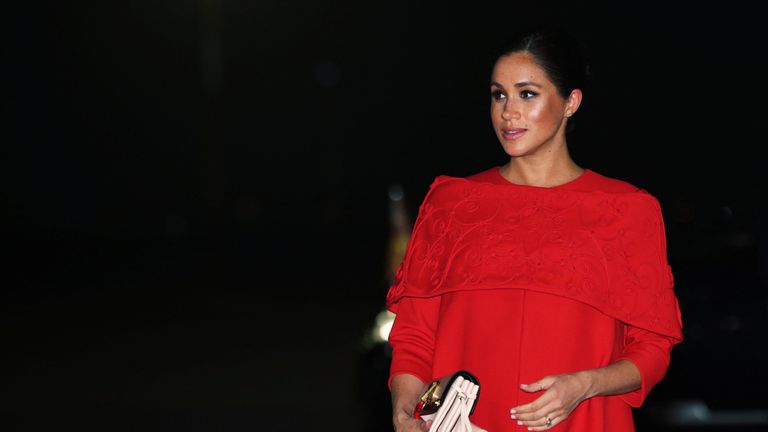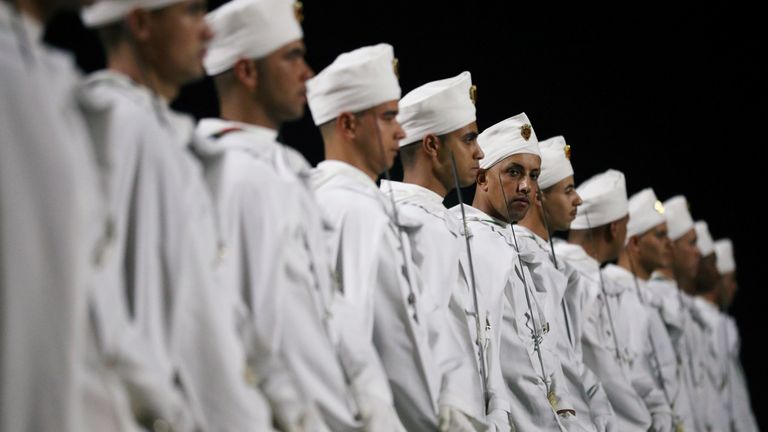 Morocco is seen as a key focus for UK foreign policy, as a gateway to Africa.
Speaking ahead of the visit, ambassador to Morocco Thomas Reilly said: "It is hugely exciting to have The Duke and Duchess of Sussex here for the next few days, and I am delighted to have this opportunity to showcase the vital roles that girls' education and youth empowerment are playing in shaping modern Morocco.
"When we began planning for this visit, I had a very clear view in my mind of the story we wanted this visit to tell.
"It is the same story that we have been telling consistently at this embassy about Morocco since my arrival here 20 months ago, and in a fortunate stroke of serendipity, we have found that this story fits with interests close to their hearts."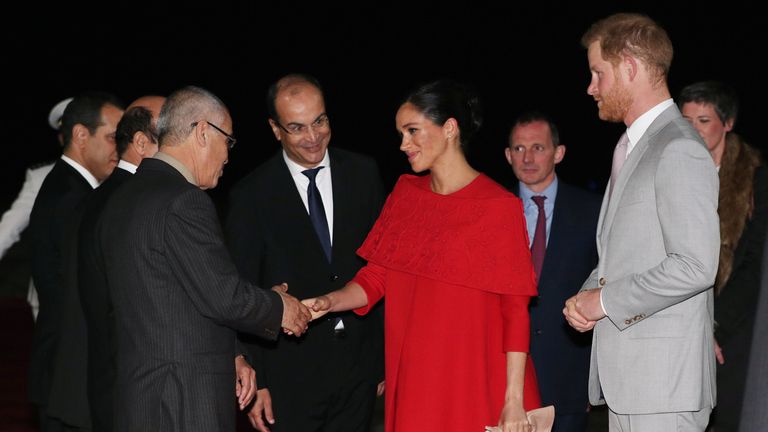 In the medina in Rabat, Sky News met 18-year-old Loubna Ouraich.
She is from a Berber family that live in a village near the Atlas Mountains. Her father is a teacher and encouraged her and her sisters to study.
She is the first woman in her family to go to university and is studying French literature in Rabat.
She told Sky News she admires what Meghan stands for: "I saw some pictures of her in all the world, doing a lot of things, a lot of beautiful things for humanity, humans, helping poor people and that was so great.
"And when I see her I just remember the Princess Diana, she's wonderful."
It comes at the end of a busy few days for the duchess who spent most of last week in New York with her friends, who put on an opulent baby shower.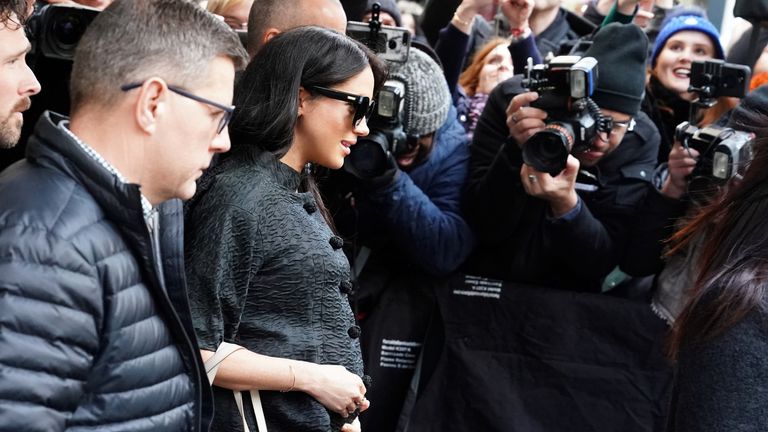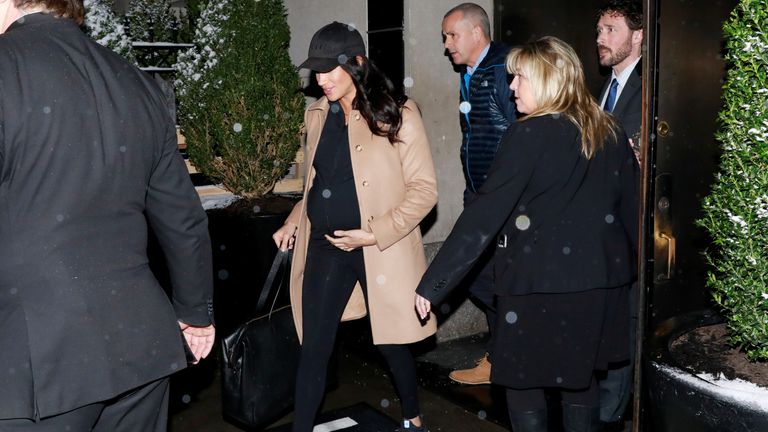 However, the private baby shower became a very public event with journalists tipped off about the event.
Her friends reportedly paid hundreds of thousands of pounds to spoil Meghan and cover the cost of penthouse suites and private jets.
The cost and the way it was managed has come in for some criticism.
Arthur Edwards, royal photographer for The Sun, said: "I remember going to New York with Princess Diana, and she used to stay at the Carlisle, very sort of small hotel, but beautifully smart.
"And there used to be about four of us waiting outside for her to come and go, you know completely different, and she'd come out and give us a smile and get into the car – but I mean Meghan it was a massive showbiz event.
"She's become America's Diana, she's so massive now."
The Duke and Duchess of Sussex will fly into the Atlas Mountains on Sunday to carry out engagements in Asni town where they will visit the Education For All boarding house that houses girls aged 12 to 18 to make sure girls in rural communities get access to secondary education.
Gunfire and explosions at start of Nigeria's presidential election | World News
Nigeria's delayed election began with gunfire and explosions as President Muhammadu Buhari seeks a second term.
Delays at polling stations across the West Africa country have also marred the election which is widely seen as too close to call.
Police say they carried out the blasts in Maiduguri, the capital of Borno state, just before polls opened in a show of force to deter Islamic extremists who have been a scourge in the north east.
Security sources said a rocket hit a displaced persons' camp, while an explosion at an army garrison killed one soldier and injured four others.
It was also confirmed by the army that a "futile" attack on a security outpost in Geidam in Yobe state had been carried out.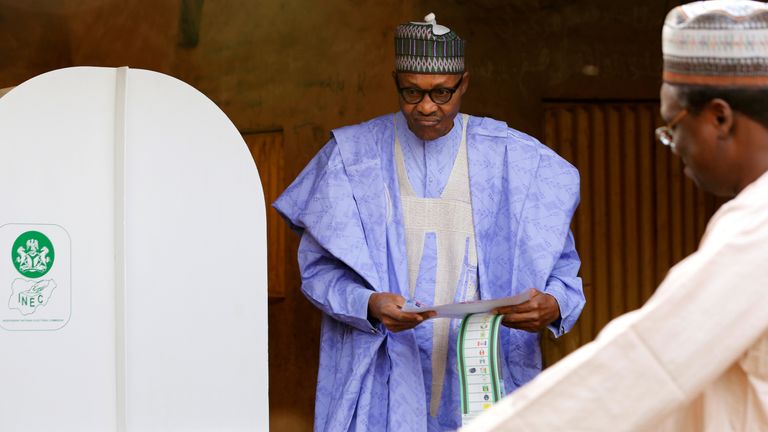 Gunfire was also heard in Port Harcourt in Nigeria's restive south where the presence of the army was heavier than in previous elections.
:: Your guide to the Nigerian election
A military convoy in Delta state contained more than 25 vehicles full of soldiers on standby.
Soldiers in Rivers state fired on suspected ballot snatchers and arrested four people.
Mr Buhari refused to answer questions on whether he would accept a loss to top challenger Atiku Abubakar, a billionaire former vice president.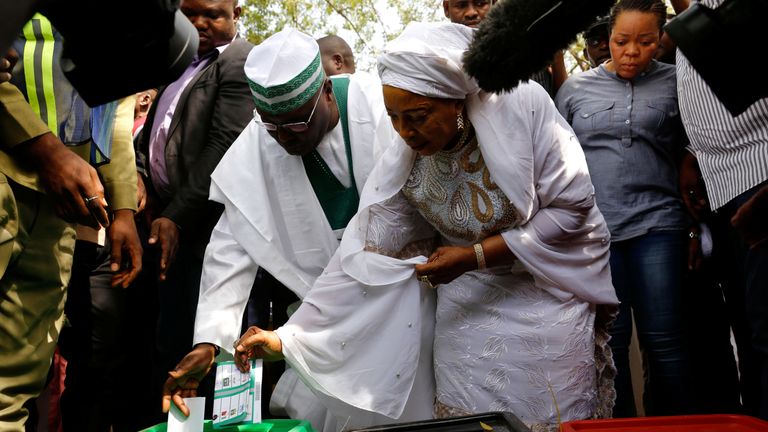 As he went out to vote in his northern hometown of Daura, the president jokingly checked the name on his wife's ballot.
Nigerians "are behaving themselves", the president said.
After voting in his hometown of Yola in the north east, Mr Abubakar said: "I look forward to a successful transition".
He previously pledged to accept the results provided they are credible.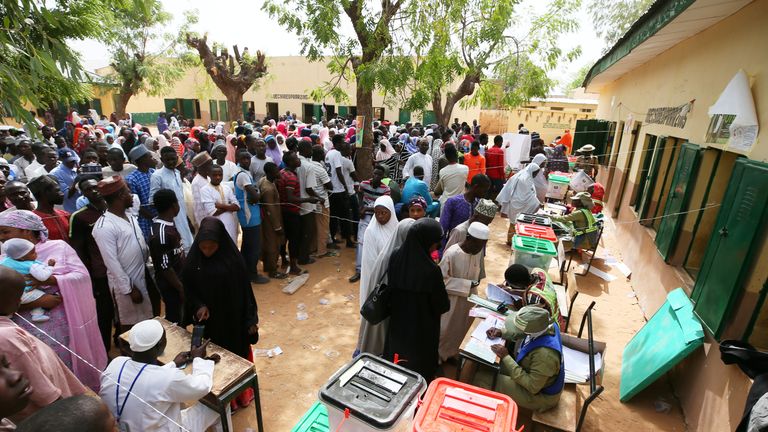 Mr Buhari said the voting process had been smooth but a coalition of civic groups said many polling stations had not opened more than four hours after voting was due to officially start.
Delays were reported in Delta, Anambra and Akwa Ibom states as well as in Nigeria's largest city Lagos.
Observers say preliminary results of the election are expected within two to four days.