Pope Francis arrives in United Arab Emirates for first papal visit to Arabian Peninsula | UK News
Pope Francis has arrived in the United Arab Emirates where he is seeking to improve Christian-Muslim relations.
His visit marks the first papal visit to the Arabian Peninsula, the birthplace of Islam.
The pope will speak at a giant mass in Abu Dhabi's main sports area on Tuesday, which is expected to be attended by around 135,000 people.
Some have said it will be the largest-ever show of Christian worship on the Arabian Peninsula.
The Catholic Church believes there are one million Catholics in the UAE.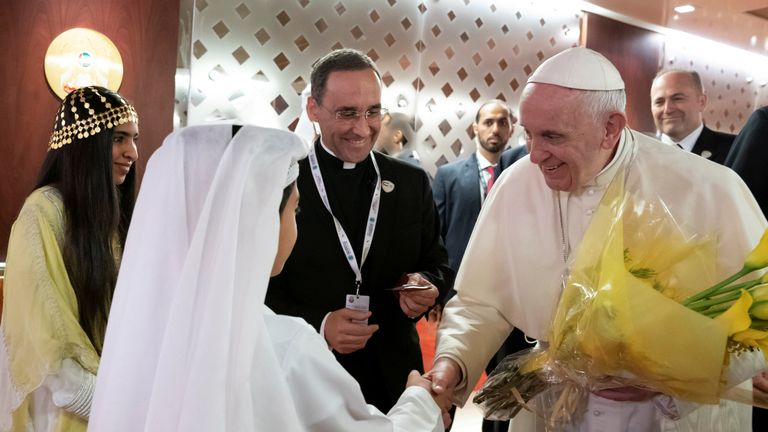 The pontiff will be seeking to build on two of his priorities in the Sunday to Tuesday trip by promoting interfaith dialogue and visiting Catholic areas.
However, diplomatic protocol is likely to dictate that he leaves other concerns behind.
The Emirates' support for Saudi Arabia's war in Yemen, which has caused the world's worst humanitarian crisis, is likely not to be mentioned.
The UAE's problematic record on human rights and labour violations at home are also likely to not be talked about – at least in public.
Unlike his other foreign trips, he will not deliver a political speech.
Pope Francis arrived in the capital Abu Dhabi to take part in a conference on inter-religious dialogue.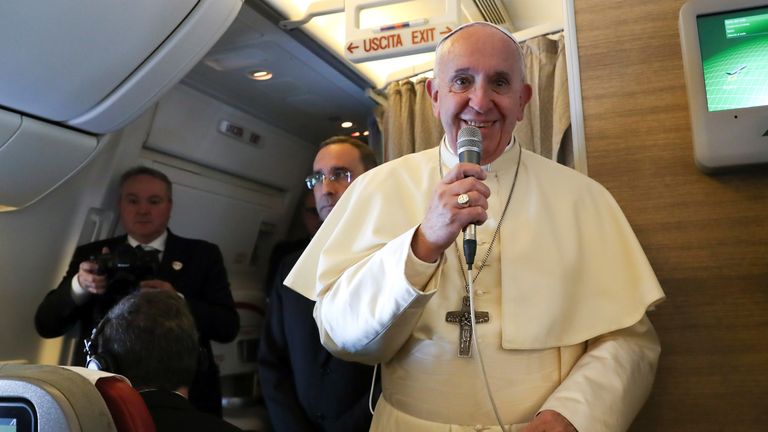 It is sponsored by the Emirates-based Muslim Council of Elders, an initiative that seeks to counter religious fanaticism by promoting a moderate brand of Islam
It is the brainchild of Sheikh Ahmed el-Tayeb, the grand imam of Egypt's Al-Azhar, the 1,000-year-old seat of Sunni Islam learning that trains clerics and scholars from around the world.
The meeting will be the fifth between the pontiff and the sheikh.
There had been a freeze in relations between the Al-Azhar and the Vatican after Pope Benedict XVI linked Islam to violence.
The upcoming meeting between Pope Francis and Sheikh Ahmed el-Tayeb suggests relations have thawed.
The pontiff paid homage to his "friend and dear brother" in a video message to the Emirates on the eve of his trip, and praised the sheikh's courage in calling the meeting to assert that "God unites and doesn't divide".
He added: "I am pleased with this meeting offered by the Lord to write, on your dear land, a new page in the history of relations among religions and confirm that we are brothers despite our differences."
The sheikh has described the upcoming meeting as "historic" and praised the "deeply fraternal relationship" between its imam and the pope, which it said even includes birthday greetings.
The pair are to address the Human Fraternity Meeting on Monday that has drawn not only Christian and Muslim representatives but hundreds of Jewish, Hindu, Buddhist and other Christian faith leaders.
It is all part of the Emirates' Year of Tolerance and its effort to show its openness to other faiths in a region otherwise known for severe restrictions on religions outside of Islam.
Russia: Villagers living close to 'nuclear' rocket accident site urged to leave homes | World News

Villagers in Russia living close to where a rocket engine exploded last week, causing a sixteen-fold rise in radiation levels, have been urged to leave their homes while tests are carried out.
Residents of the village of Nyonoksa, in northwest Russia, were urged to leave from Wednesday.
The recommendation came from officials in the nearby port of Severodvinsk, where the accident happened at a military test site, Interfax news agency reported, quoting local officials.
Authorities said in a statement: "We have received a notification… about the planned activities of the military authorities.
"In this regard, residents of Nyonoksa were asked to leave the territory of the village from 14 Aug."
Five nuclear scientists working for Rosatom, Russia's state atomic energy body, were killed in the blast at a military test site on Thursday, in which three others were injured.
Radiation levels in Severodvinsk spiked by up to 16 times afterwards, Russia's state weather service said.
With fears of another Chernobyl, medical staff who treated victims of the accident have been sent to Moscow for tests, Russia's state-run news agency, TASS, said, quoting an unnamed medical source.
The medics had signed non-disclosure agreements about the nature of the accident, the agency added.
:: Listen to the Daily podcast on Apple Podcasts, Google Podcasts, Spotify, Spreaker
TASS initially said the incident began onboard a ship, but Rosatom later admitted the experts had been testing a nuclear-powered missile at a naval test range on an offshore platform in the White Sea.
Experts believe the tests were in reality part of Russia's attempts to build a nuclear-powered cruise missile, the 9M730 Burevestnik (Storm Petrel), nicknamed the SSC-X-9 Skyfall by NATO.
Last year, Russian president Vladimir Putin boasted the missile will have an "unlimited range" and be able to overcome almost any defences.
On Tuesday, the Kremlin claimed it was winning the nuclear arms race against the US, despite last week's setback.
The United States is learning much from the failed missile explosion in Russia. We have similar, though more advanced, technology. The Russian "Skyfall" explosion has people worried about the air around the facility, and far beyond. Not good!

— Donald J. Trump (@realDonaldTrump) August 12, 2019
US president Donald Trump claimed on Twitter Washington is "learning much from the failed missile explosion in Russia", adding that the US has "similar, though more advanced, technology".
His tweet has provoked an online storm, with critics accusing him either of revealing state nuclear secrets or bluffing about a nuclear weapons programme the country does not have.
It is a bad idea for the President to tell the world the U.S. has secret nuclear powered super-weapons and that we've been lying about that for years. Especially if we don't actually have them, which we almost certainly do not. https://t.co/pK0sNPRpeg

— David Burbach (@dburbach) August 12, 2019
Tensions between Moscow and Washington over arms control have grown since the US formally withdrew from the Intermediate-Range Nuclear Forces Treaty (INF) with Russia earlier this month in order to test new weapons.
Fate of Iranian supertanker held by Gibraltar to be decided | World News
A court hearing in Gibraltar on Thursday could pave the way for the release of an Iranian super tanker after Iran said Britain would soon release the vessel.
A source close to the Gibraltarian government on Tuesday dismissed reports in Iran that the Grace 1 would be set free later in the day.
However, the British territory said last month a hearing on the tanker's fate would take place on 15 August.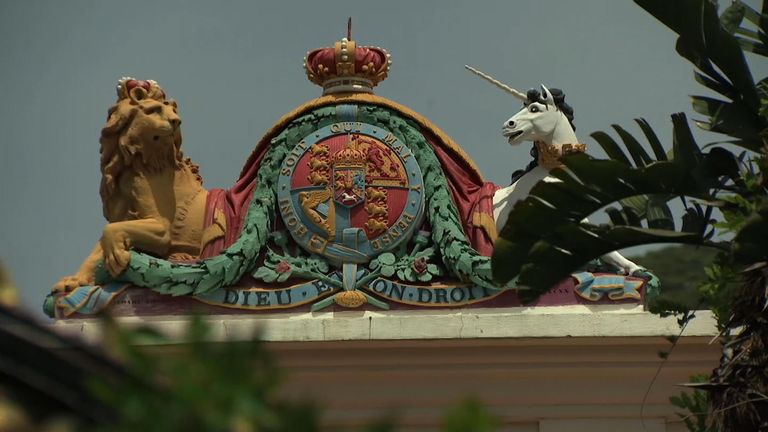 That followed a decision by the Supreme Court in Gibraltar to extend the period of detention for the tanker by a month, a deadline which expires on Saturday.
This time around the court could order a further extension, it could find that an offence was committed, or it could say the tanker is free to go.
The commandeering of the Grace 1 on 4 July exacerbated friction between Tehran and the West and led to the retaliatory seizure of a UK-flagged tanker in the Gulf a fortnight later.
Britain accused the Iranian vessel of violating European sanctions by taking oil to Syria, a charge Tehran denies.
The deputy head of Iran's Ports and Maritime Organisation, Jalil Eslami, said on Tuesday that Britain was thinking of freeing the Grace 1 following an exchange of documents.
"The vessel was seized based on false allegations," Eslami said in comments reported by state news agency IRNA. "We hope the release will take place soon."
Iran's semi-official Fars news agency, quoting unidentified authorities in Gibraltar, said the tanker would be freed by Tuesday evening.
However, a senior source in the government of British overseas territory denied that would happen on Tuesday.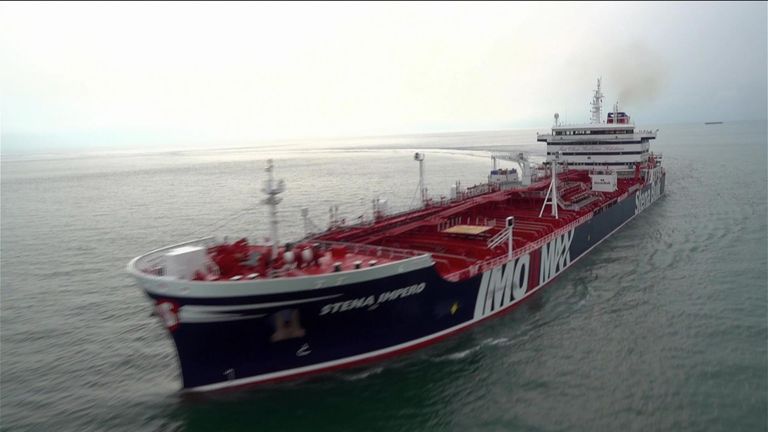 Britain said that investigations into the Grace tanker were a matter for Gibraltar. The territory has denied Iran's claim that the action was taken on the orders of Tehran's longtime foe Washington.
"As this is an ongoing investigation, we are unable to comment further," a British Foreign Office spokesman said.
The Gulf tanker crisis has added to worsening hostilities since Washington pulled out of Iran's 2015 nuclear deal with six powers, under which Tehran agreed to curb its nuclear work in return for most international sanctions being lifted on it.
The Iranian capture of the Stena Impero drew condemnation from Britain and other European parties to the nuclear deal that have been trying to salvage it by shielding Iran's economy from reimposed and toughened US sanctions.
60 old TVs dumped outside homes… by man dressed as an old TV | World News
Old television sets have been dumped outside the homes of dozens of people in the US… by a man wearing an old TV on his head.
According to NBC12, at least 60 residents in Virginia have woken up in the morning to see the retro screens sitting outside their front door.
Adrian Garner, who caught the culprit on a home security camera, said: "It was a guy dressed in a jumpsuit with a TV for a head. It's the weirdest thing. He squats down, puts the TV there and walks off. It's really weird.
"My first reaction was: 'Did we order this?' Not in an Amazon box, it was just kind of strange."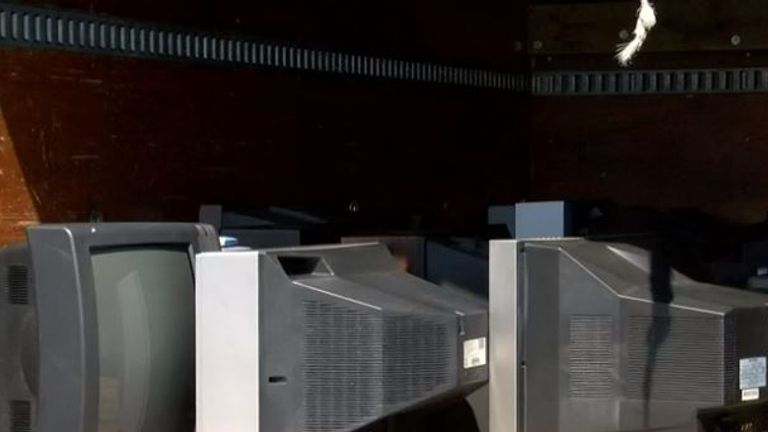 Police officers have been doing the rounds to collect the abandoned TV sets.
"We have a team of officers out here working together, collecting the TVs. We're upwards of 60 TVs so far," Lieutenant Matt Pecka said.
Another resident Michael Kroll told NBC12 the prank was "kind of funny".
He said: "I'm thinking it's a senior prank, maybe senior year going in high school, or bored college kids before they go back to school trying to create a big buzz before they go back to college and say 'Hey, look what I did."
Police reportedly say they believe there is more than one culprit – and warn they could face charges of littering on private property or illegal dumping.