Britons feared dead in Cuba bus crash that killed seven

Seven people are dead and five are in critical condition after a bus crashed in Cuba.
More than 20 British tourists are thought to have been on board, according to local media.
State media reported that the bus was carrying 18 Cubans and 22 tourists from the UK, the Netherlands, France, Mexico and Canada when it crashed on a wet road between the eastern cities of Baracoa and Guantanamo.
The driver told Radio Guantanamo he lost control on the wet and winding road.
Thursday's wreck is the fourth major bus accident in a month.
More follows…
Abu Bakar Bashir: Cleric linked to Bali bombings must renounce radicalism to win release | World News
The alleged mastermind of the Bali bombings will not be released from prison early unless he renounces radicalism, Indonesia's president has said – backtracking from plans to free him imminently without conditions.
Joko Widodo said radical cleric Abu Bakar Bashir must agree to pledge loyalty to the state to win his parole.
It follows a surprise announcement last Friday that the 80-year-old was being granted early release on humanitarian grounds as the preacher was "old and sick".
The plan immediately drew sharp criticism at home and abroad, with Australia's leader warning Bashir was still a threat.
The 2002 Bali bombings killed 202 people, including 88 Australians and 28 Britons.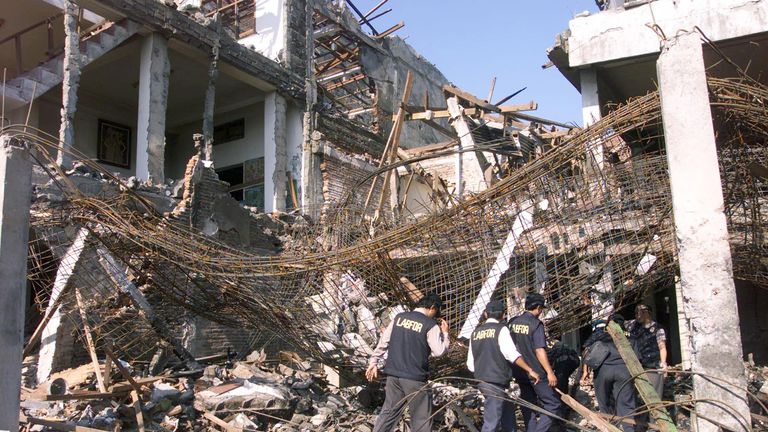 Australian Prime Minister Scott Morrison urged Indonesia's government to show respect to the victims.
"We don't want this character able to go out there and incite the killing of Australians and Indonesians, preaching a doctrine of hate," Mr Morrison said.
Following mounting opposition, Indonesia announced a review of the decision with its president later saying prisoners who wanted early release must fulfil certain criteria such as renouncing extremist ideology.
Bashir insists he is only answerable to God and that Indonesia should be governed by Islamic rather than civil law.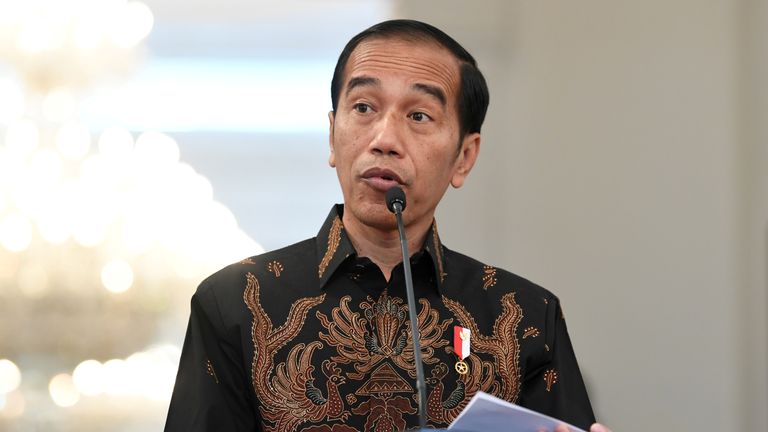 "Abu Bakar Bashir is already old and his health is also deteriorating," Mr Widodo told reporters.
"You can imagine if we as children see our parents sick. However, we also have a legal system here.
"There are legal mechanisms that we must go through. This is parole, not pure release but conditional release, so the conditions must be fulfilled first."
The initial decision to permit Bashir's early release was announced during presidential election campaigning in which opponents of Mr Widodo tried to discredit him as insufficiently Islamic.
Abu Bakar Bashir was sentenced to 15 years in prison in 2011 for helping to fund a paramilitary group training in the conservative Islamic province of Aceh.
He has repeatedly denied involvement in the Bali terror attacks and a previous conviction was quashed on appeal.
Bashir's lawyer Achmad Michdan questioned the apparent official change of heart.
"We have no problem with (the review) but people might wonder why would they announce it in the first place," Mr Michdan told AFP.
Concrete-filled bodies found in Thailand are aides of missing activist, police say | World News
Two mutilated bodies washed up on the shore of the Mekong River in northeast Thailand have been identified as anti-government activists.
Prominent Thai anti-monarchist Surachai Danwattananusorn, 78, and two close aides, known as Phu Chana, 54, and Kasalong, 47, were last seen in Vientiane, Laos, on 11 December 2018.
Two corpses were discovered later that month wrapped in sacks and fishing nets.
Their hands and feet were bound, their faces were disfigured and their bodies had been stuffed with concrete.
Police in Nakhon Phanom province have now confirmed that DNA from the remains match Kasalong and Phu Chana.
The fate of Surachai Danwattananusorn is unknown.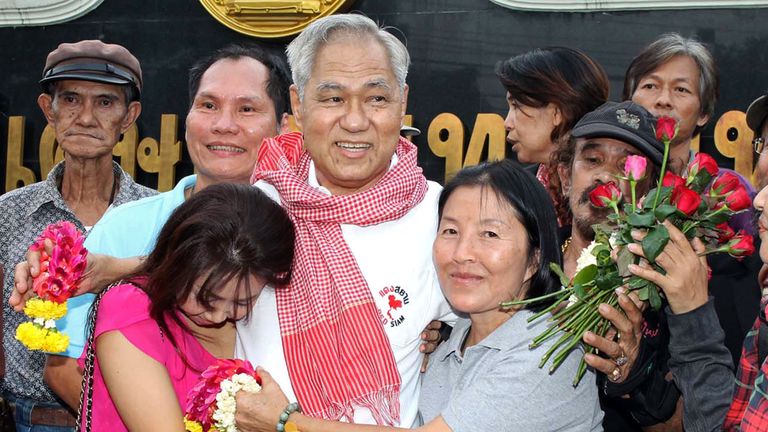 Unconfirmed reports suggest a third body was also found but then lost.
The three men were members of a group which fled to Laos in 2014 during Thailand's military coup.
Their disappearance has raised concerns among fellow activists that they were kidnapped by an official or vigilante death squad and that their deaths were politically motivated.
Surachai Danwattananusorn is a well-known leader of the anti-military Red Shirt movement.
After taking power, Thailand's junta announced defending the monarchy would be a priority.
In total, five Thai government critics have vanished from Laos in the last two years.
Campaign group Human Rights Watch is urging the government to investigate.
"The Lao government seems intent on sweeping the abduction and gruesome murder of Thai activists under the rug," said Brad Adams, Asia director at Human Rights Watch.
"Lao authorities need to credibly investigate and prosecute this heinous case, which has raised alarms for Thai activists in exile in Laos."
Thai officials have denied any involvement.
Emmerson Mnangagwa returns to Zimbabwe as unrest continues | World News
When the scarf-clad Zimbabwean president, Emmerson Mnangagwa, touched down at Harare's scruffy-looking airport, he did not get the sort of reception that I am sure he was hoping for.
He had spent a week in Europe trying to drum up investment and loans to keep his bankrupt administration afloat but he came home with little in the way of financial support.
What's more, he was going have to deal with the fact that tens of thousands of Zimbabweans had been protesting a whopping 150% rise in petrol and diesel.
The protests have been met by a brutal police crackdown which saw 12 people killed and dozens injured.
Mnangagwa's trip, which was supposed to include a stop at the Davos Economic Forum, was always going to be a challenge. The one-time aide to former dictator Robert Mugabe took power in a military coup and won a contentious election last year.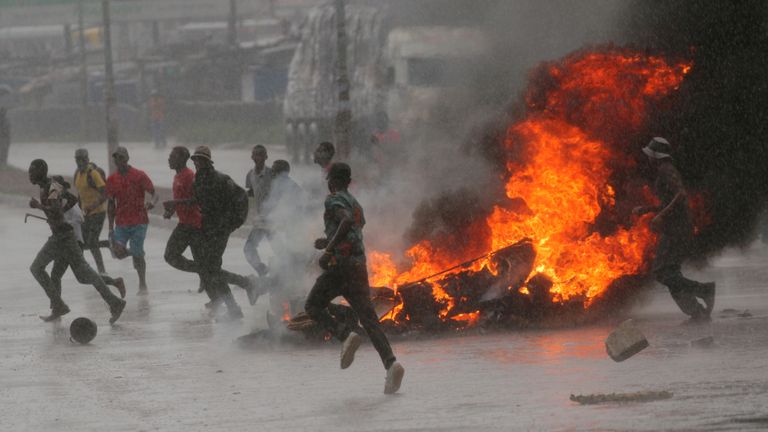 Shortly after that poll, his administration put down anti-government demonstrations – and last week's fuel price protests, characterised as "riots" by government officials, were similarly crushed.
No wonder international organisations and western governments would rather give Zimbabwe a wide berth. Mnangagwa is looking more like Mr Mugabe than the man who said he could engineer the country's new dawn.
The task at hand is immense. The Zimbabwean government is a dysfunctional organisation built on 39-years of gross patronage. An estimated 90% of government revenues is spent on salaries while civil servants use their positions for personal gain.
The currency system – if that is the right way to describe it – is in a something of a death-spiral, based on something called the 'bond note'.
It is a surrogate currency which is supposed to be equal to the US dollar but it is taking more and more bond notes to buy the same thing – like 55 bond note 'dollars' for a yellow pepper in a Bulawayo this week.
A US economist estimated the Zimbabwe's annual inflation rate at 236% this week – as opposed the government's own figure of 42%.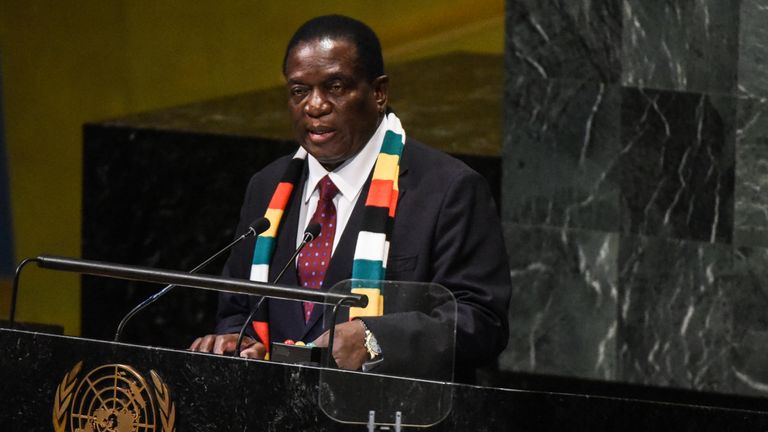 Most importantly perhaps, Mnangagwa and his closest colleagues, like the Vice-President and former army head, Constantino Chiwenga, do not look like people willing to countenance the possibility that they could be voted out of office.
The president knew he was going to win last year's election when he called it (people in rural areas can lose their lives and livelihoods if they vote for the opposition) and it would take a determined attempt at reform to make Zimbabwean elections free.
It is this lack of political and economic change that has resulted in the rapid deterioration of living standards since last year's election.
In Victoria Falls in north-west Zimbabwe, a community once favoured for mass tourism and foreign investment, the hotels are mostly empty and local people are largely unemployed.
Few people will come here to build and develop this place – or even stay for a few nights – when the country is in such a mess.