Hurt and shame over Grace's murder
New Zealand's prime minister has spoken of an "overwhelming sense of hurt and shame over the killing of Grace Millane.
Prime minister Jacinda Ardern's words come just hours after a 26-year-old appeared in a New Zealand court charged with murdering the British backpacker.
Ms Ardern said: "Firstly, I cannot imagine the grief of her family and what they will be experiencing and feeling right now.
"From the Kiwis I have spoken to there is this overwhelming sense of hurt and shame that this has happened in our country, a place that prides itself on our hospitality, on our manaakitanga, especially to those who are visiting our shores.
"On behalf of New Zealand, I would like to apologise to Grace's family, your daughter should have been safe here and she wasn't and I'm sorry for that.
"My thoughts and prayers are with her father David who is in the country, and her mother who cannot be here, and her wider family and friends and loved ones."
Ms Millane's body was found in an area of bush in Auckland's Waitakere Ranges on Sunday.
The man's appearance at Auckland District Court was brief and he has yet to enter a plea to the charge of murdering the British backpacker between 1 and 2 December.
The suspect's lawyer, Ian Brookie, applied for name suppression, saying it was needed for a fair trial.
Judge Evangelos Thomas rejected this argument on the basis of open justice.
Brookie said he would appeal, meaning the man's identity is temporarily suppressed.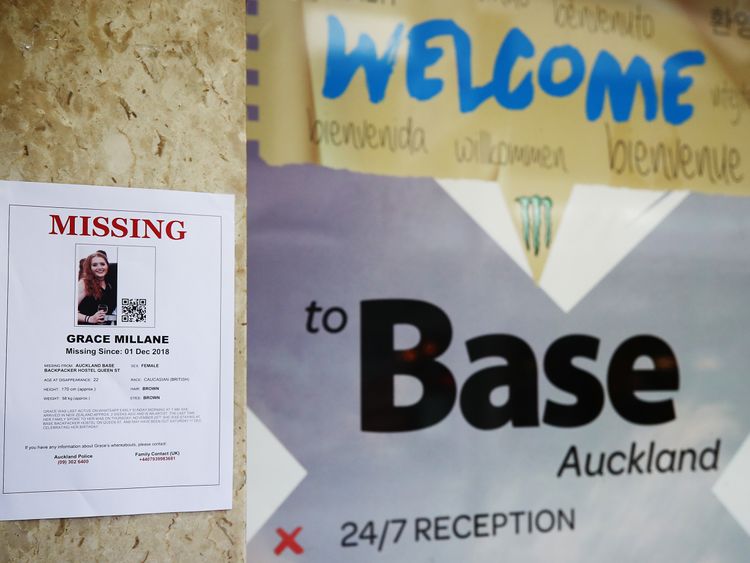 Ms Millane's father David is in New Zealand and, along with other family members, was in court as Judge Thomas addressed them.
In comments reported by Radio NZ, the judge said: "I'd like to acknowledge the presence of Grace's family.
"I don't know what we say to you at this time.
"Your grief must be desperate.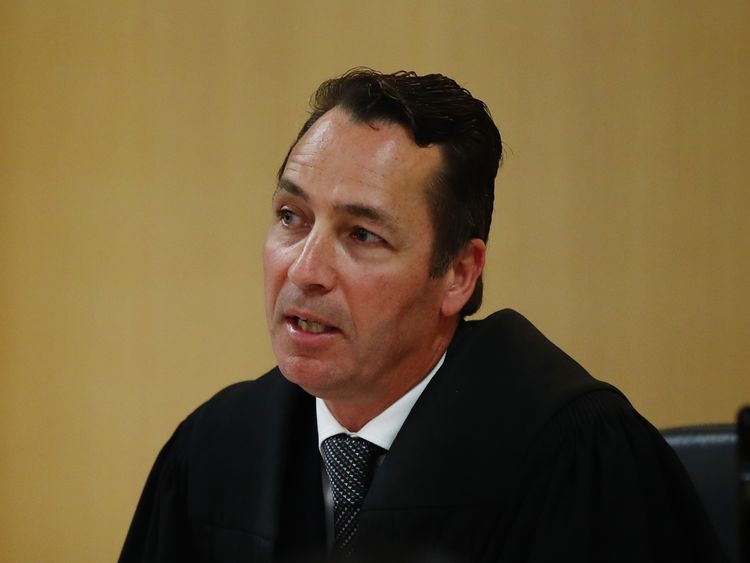 "All of us hope that justice for Grace is fair, swift and ultimately brings you some peace.
"That will not be happening today, there will be no judgement today. It is important there is no judgement today.
"There will be in all likelihood a number of procedural issues we need to deal with today.
"Those are all part and parcel of a process that has judgement as its end goal, not its starting point."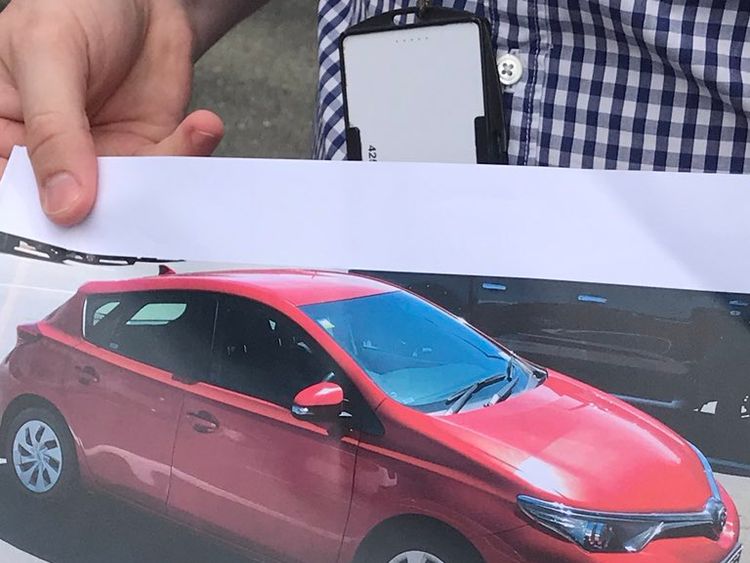 The suspect stood dressed in a blue boiler suit and was told he was being remanded in custody until his next appearance on 23 January.
As the accused was walked out of court, a person in the public gallery yelled: "Scumbag".
Ms Millane's death comes just weeks after she had left her home in Wickford, Essex, to see the world.
After more than a month in South America, she had arrived in New Zealand's largest city, Auckland, on 20 November.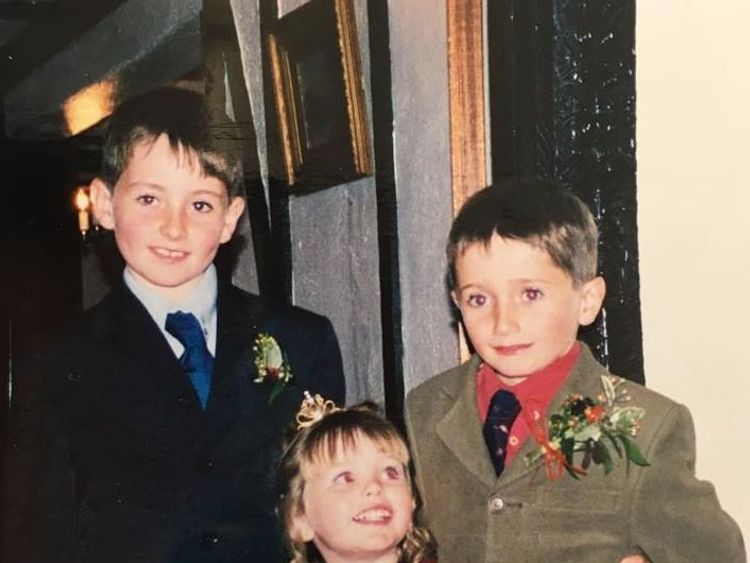 She was last seen entering a central city hotel with a man more than a week ago and police were called after her regular pattern of communication with family was stopped.
Detectives have released images of a red Toyota Corolla hatchback and have asked anyone who saw the vehicle on Monday 3 December between 6.30am and 9.30am to contact them.
The car was rented in central Auckland on Sunday and later found in Taupo, in the centre of the North Island.
Sydney stabbing: British 'heroes' pin down suspect after woman fatally stabbed | World News
Three British men pinned down a knife-wielding man who allegedly attempted to stab several people in Australia.
Police confirmed the man, 21, who witnesses say yelled "Allahu akbar" – or "God is great" – during the incident, has been arrested and is being questioned.
The body of a 21-year-old woman was found in an apartment building near the scene, at a busy intersection in Sydney.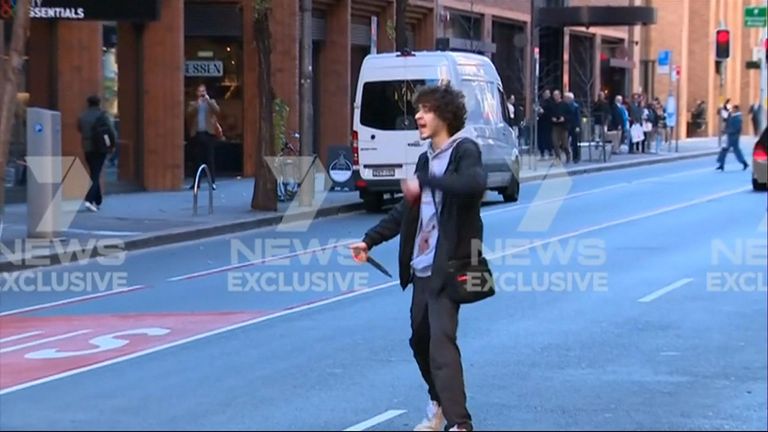 Another woman, aged 41, was stabbed in the back in the street and has been taken to hospital where she is in a stable condition.
Lee Cuthbert, Paul O'Shaughnessy and his brother Luke, all from Manchester, were working in their recruitment company office when they heard shouting in the street and gave chase.
They managed to pin down the man and restrain him until police arrived.
Mr O'Shaughnessy said: "We saw what was going on and chased the man.
"He had a knife, it was covered in blood. He kept saying something in Arabic, he was clearly under the influence of something.
"My brother Luke managed to keep him pinned down until the police arrived. My brother put a crate and a chair to keep him pinned down. He didn't show any remorse at all."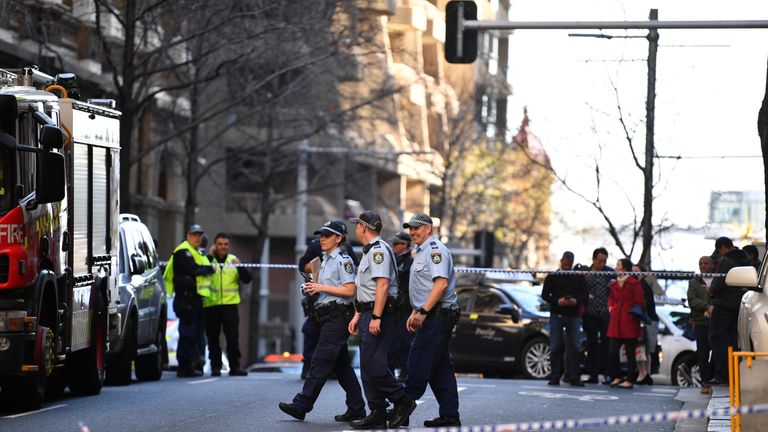 Speaking to reporters near the scene, New South Wales (NSW) Police superintendent Gavin Wood said: "A number of members of the public actually physically restrained the offender.
"And I want to acknowledge those people, those members of the public who got involved. They are brave, and I can only use that word seriously.
"They are significantly brave people. They approach the person… with clear evidence of a stabbing previously.
"These people are heroes, and I want to acknowledge that."
Police minister David Elliott also praised the men. He said: "The city tonight, celebrates three brand-new heroes.
"And I think it would only be appropriate for the commissioner and I to thank those three individual citizens who have acted well and truly beyond the call of any citizen in bringing this offender to bear."
Although the incident is not being treated as terror-related, the knifeman was described by police as a "lone actor" who may have some terrorist ideologies.
NSW police commissioner Mick Fuller said: "Information was found on him that would suggest he had some ideologies related to terrorism… but he has no apparent links to other terrorist organisations."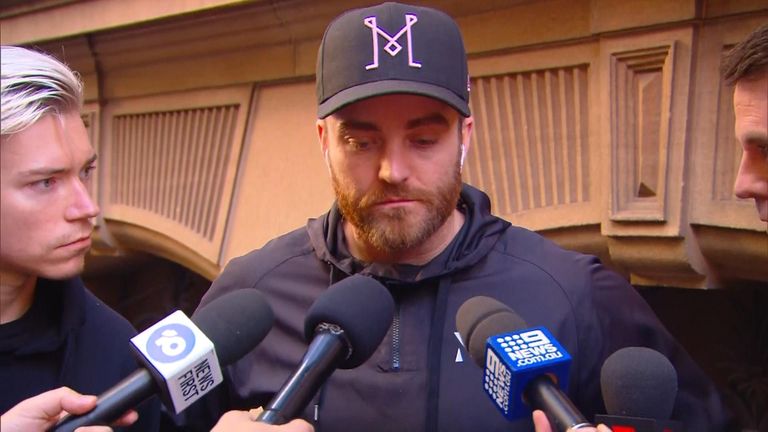 A witness told reporters the man was screaming comments about religion, before yelling to police that he wanted to be shot.
Video footage showed a young man running across a city intersection and jumping on to the hood of a car, waving what appeared to be a long-bladed knife.
Police said he used the Arabic phrase "Allahu akbar".
Australian Prime Minister Scott Morrison said: "The violent attack that took place in Sydney this afternoon is deeply concerning.
"The attacker is now in police custody following the brave actions of those who were present at the scene and were able to able to restrain him."
Cleopatra No 5? Scientists recreate ancient Egyptian queen's perfume | Science & Tech News
Never mind Chanel and Christian Dior, scientists believe they have recreated the perfume worn by Cleopatra.
Myrrh is thought to have formed the basis of the fragrance deemed fit for the last queen of ancient Egypt, with the natural resin – one of three gifts offered to baby Jesus in the nativity – found in a number of thorny tree species spread across the Horn of Africa and the Arabian peninsula.
Researchers at the University of Hawaii mixed it with other ingredients including olive oil and cinnamon to achieve the final result, which was concocted following a decade-long excavation in the city of Thmuis.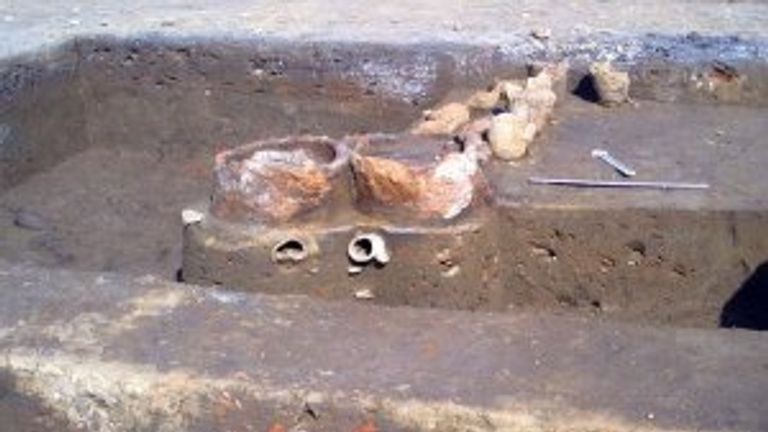 Professors Robert Litman and Jay Silverstein found evidence of an ancient fragrance industry at the site, which had a vast complex of third century kilns – a type of oven.
It was there that ancient Egyptians are believed to have manufactured Mendesian and Metopian scents, which were bottled using clay imported from abroad and then using glass during a later Roman occupation.
The mission to recreate the more than 2,000-year-old perfume of Thmuis began when the professors started to analyse residue left within a number of amphora jars found in the suspected factory.
They approached German researchers and ancient Egyptian perfume experts Dora Goldsmith and Sean Coughlin, who recreated the perfume based on formulas found in Greek texts from the same era.
It turned out to be a far thicker and stickier substance than modern products, unlikely to be suitable for quick test spray on your next trip to Boots.
Mr Litman said: "What a thrill it is to smell a perfume that no one has smelled for 2,000 years and one which Cleopatra might have worn."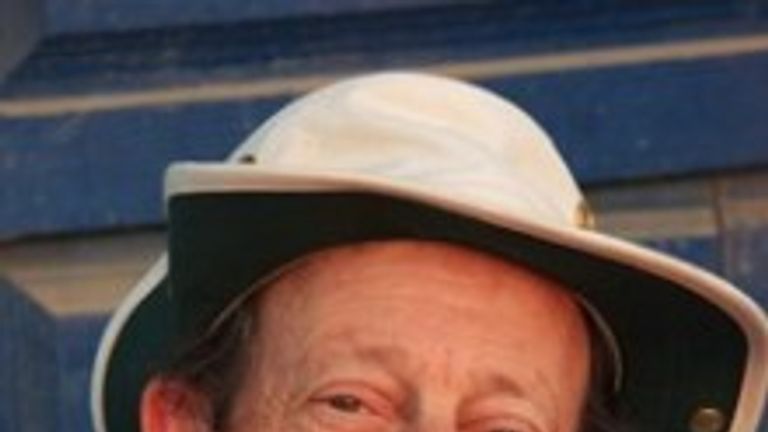 The research is yet another example of the enduring intrigue surrounding Cleopatra, whose legacy has endured through art, literature, theatre and even a Harper's Bazaar cover featuring Kim Kardashian.
Many will closely associate her with the 1963 Hollywood epic starring Elizabeth Taylor, which was the most expensive film of all-time when it was released.
Even if Cleopatra did not wear the perfume of Thmuis, it was likely used by at least some residents of the city.
Those keen to give it a whiff for themselves can do so at a National Geographic Society Queens of Egypt exhibit, running through to 15 September in Washington DC.
Met Police officer faces investigation after appearing on Nigerian Big Brother | World News
A Metropolitan Police officer will be investigated after appearing on the Nigerian version of Big Brother without permission.
Khafi Kareem, 29, is one of the stars on the reality show, taking part while on unpaid leave from the Met.
According to The Sun, Ms Kareem joined the force as a PC based at Lambeth station in 2015, having worked part-time as a special constable for four years.
But the Met has said she was not given permission to go on the show, and said all officers have a requirement to behave professionally, whether on or off duty.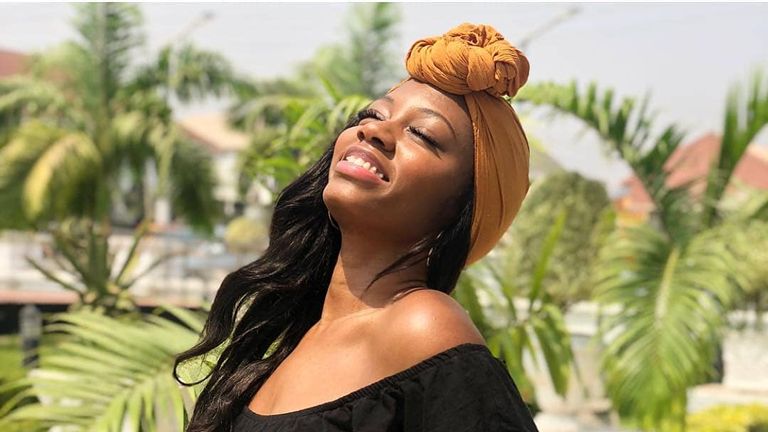 A Met Police statement read: "A PC, attached to the Met's transformation command, requested permission to take part in a reality television entertainment show in Nigeria. Permission was not given.
"The Met is aware that the officer has since appeared on the show without authority.
"The Directorate of Professional Standards has been informed and will be carrying out an investigation into the circumstances.
"The Met does not support the officer's appearance nor does she represent the Met whilst appearing on the show."
They also clarified that Ms Kareem had requested the unpaid leave before she asked if she could go on the show.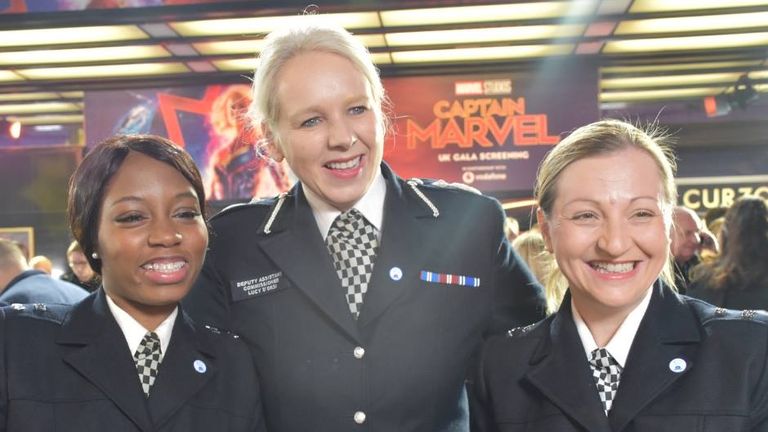 Ms Kareem has hit back since the report in The Sun emerged, calling it "brazenly sensational and defamatory".
In a statement, which said legal options would be considered, she added: "Khafi is a proud black female officer who prides herself in her work and has dedicated her youthful years protecting and serving with her many skills which include the ability to speak at least five international languages."
She also said the story "comes from a repressive culture of shaming and characterizing women for their sexual decisions and life choices".
According to the show's website, Ms Kareem "wants the exposure that being in Big Brother Naija House brings so that she can do societal good".
She told the show she is "secretly talented in spoken word, singing and dancing".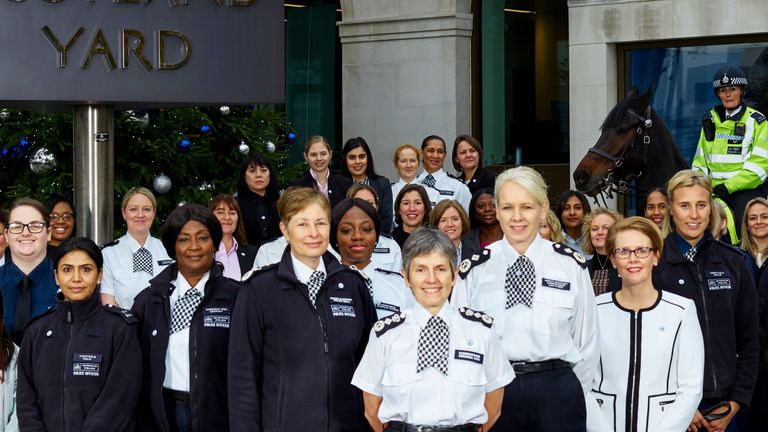 If she wins the prize money, equivalent to £68,000, she said she would hire a camera crew to host a travel show in Nigeria and "invest in charitable causes".
Fans of the show have been particularly taken with her romance with fellow contestant Ekpata Gedoni.
The officer and the 31-year-old fashion entrepreneur have been filmed under the sheets in the house.
Social media accounts have sprung up online committed to sharing fan clips and pictures of her, most of them using her name as a cup of Khafi pun.
In March this year, London News Online reported that Ms Kareem attended the premiere of Captain Marvel, to celebrate her work in Lambeth.
She told the website she wanted to join the police after her friend was murdered in 2007, for straying into another gang's territory in Hammersmith.
Ms Kareem, who speaks French and Italian as well as the Nigerian language Yoruba, also spoke of her previous work in the Met's female genital mutilation team, spotting victims at airports.