Huawei's finance boss says she will fight extradition

Huawei's chief financial officer has denied she covered up her company's alleged links to a firm that tried to sell equipment to Iran in violation of sanctions.
Meng Wanzhou was arrested in Canada on 1 December at the request of the US.
She faces charges of conspiring to defraud multiple financial institutions between 2009 and 2014.
Canadian prosecutors have urged a court in Vancouver to keep her in custody but, according to her sworn affidavit, she suffers from severe hypertension and is worried about her health.
The 46-year-old also denied being a flight risk – a concern raised by prosecutors – adding that she has "significant ties" to Vancouver dating back at least 15 years and property in the city.
Her family plans to seek leave to remain in Canada during the case and her husband said they wanted their daughter to attend school in the country.
Meng said she will fight her extradition to the US, adding that she is "innocent of the allegations that have been levelled" at her and will contest them at a trial in the US if she is surrendered.
It is alleged she used Hong Kong company Skycom to access the Iranian market in deals that violated US sanctions.
She allegedly assured US banks that Huawei and Skycom were different companies but prosecutors say they were one and the same.
It is not yet clear whether Meng will be extradited to the US – American prosecutors have 60 days to formally request this.
If an application is successful she faces a maximum jail sentence of 30 years for each charge if convicted.
China has called for Meng, who is the daughter of Huawei's founder Ren Zhengfei, to be released.
Meanwhile, world markets are watching closely due to fears that the case could escalate the trade war between the US and China.
New Zealand: Prime minister Jacinda Ardern unrattled as earthquake hits during live TV interview | World News
An earthquake that struck near New Zealand's capital had people diving for cover – but not prime minister Jacinda Ardern who continued with a live TV interview.
The 5.8 magnitude earthquake on Monday morning was 23 miles (37km) deep and the epicentre was 18.6m (30km) northwest of Levin, a city in the country's North Island close to the capital Wellington, according to GeoNet.
It lasted for more than 30 seconds and no damage was reported but it caused panic in Wellington as people in offices and homes rushed for cover under tables.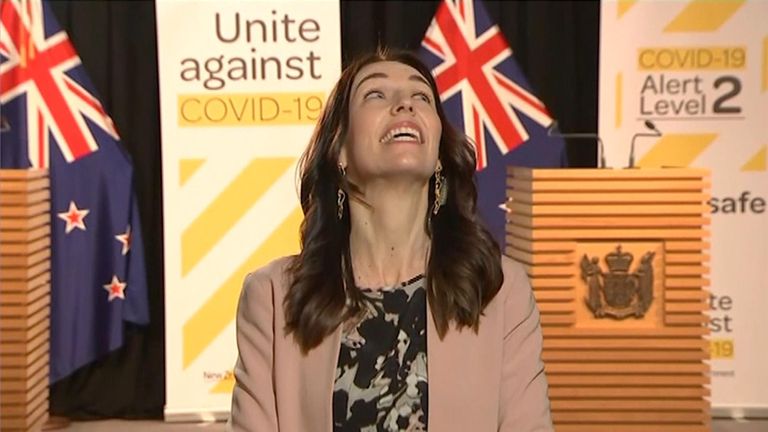 Prime minister Jacinda Ardern was being interviewed live on TV from the parliament building, called the beehive, when the tremors started.
The camera could be seen shaking as the PM looked to the ceiling and said: "We're just having an earthquake here, Ryan.
"Quite a decent shake here if you see things moving behind me.
"The beehive moves a little more than most."
When asked whether she was safe and if she was alright to carry on, Ms Ardern said: "Yes, no, it's just stopped.
"No, we're fine, I'm not under any hanging lights and I look like I'm in a structurally sound place."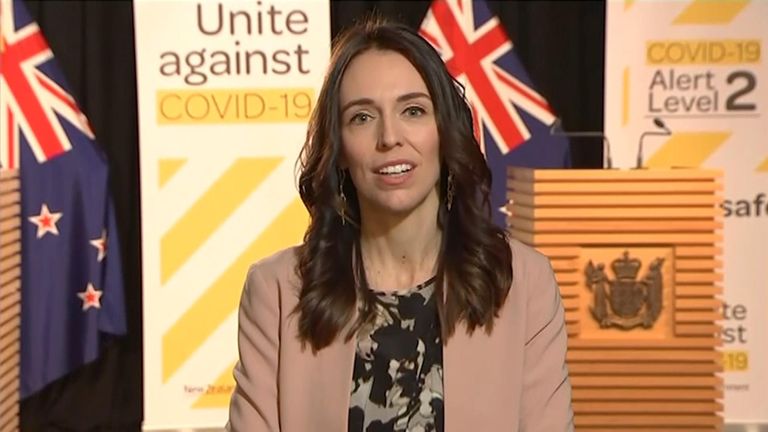 After finding out the strength of the earthquake, she later said it was "not an unreasonable shake".
More than 36,800 people reported feeling the tremor to GeoNet, New Zealand's geological hazard information unit.
The unit said there were 40 aftershocks to Monday's quake, ranging from 1.7 to 4 magnitude.
Wellington's emergency services said there were no immediate reports of damage, while all trains in the city were suspended as engineers assessed the impact.
:: Listen to Coronavirus: In This Together on Apple Podcasts, Spotify, or Spreaker
New Zealanders are fairly used to tremors as the country's islands lie on the "Ring of Fire", a 24,855m (40,000km) series of volcanoes and ocean trenches in the Pacific Ocean.
The city of Christchurch is still recovering from a 6.3 magnitude quake in 2011 that killed 185 people.
In 2016, the South Island town of Kaikoura was hit by a 7.8 magnitude tremor, killing two and causing billions of dollars worth of damage, including in Wellington.
Benjamin Netanyahu: Israeli PM in court accused of fraud, breach of trust and bribery | World News
A defiant Israeli prime minister has appeared in court for the first day of his corruption trial claiming that he is the victim of a conspiracy by media, police, prosecutors and judges to oust him.
In a televised statement made just before he entered the courtroom, Benjamin Netanyahu accused police and prosecutors of conspiring to "depose" him.
"The objective is to depose a strong, right-wing prime minister, and thus remove the nationalist camp from the leadership of the country for many years," he said.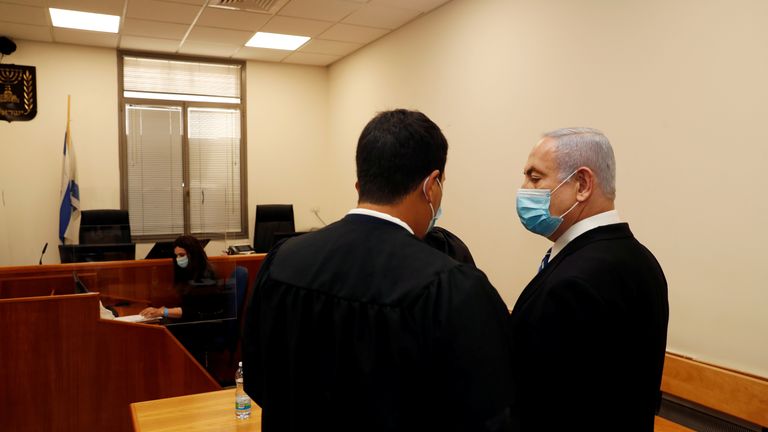 It was the opening day of a trial which could last years and marks a historic moment for Israel.
Mr Netanyahu is the first sitting Israeli leader ever to go on trial. He is accused of fraud and breach of trust in two cases and bribery, fraud and breach of trust in a third case. He denies all the charges.
The three cases against him – Case 1000, Case 2000 and Case 4000 – centre around his relationships with businessmen, media tycoons and a leading Israeli telecoms firm.
Since the charges were first brought against him by police investigators in December 2018, he has sought to avoid prosecution and the spectacle of appearing in the dock, calling the whole process an "attempted coup".
"They are not after the truth. They are after me," he said. "[It is a] terror attack against Israeli democracy."
When the charges were formally announced last year, Israel's Attorney General said he brought them "with a heavy heart – but wholeheartedly".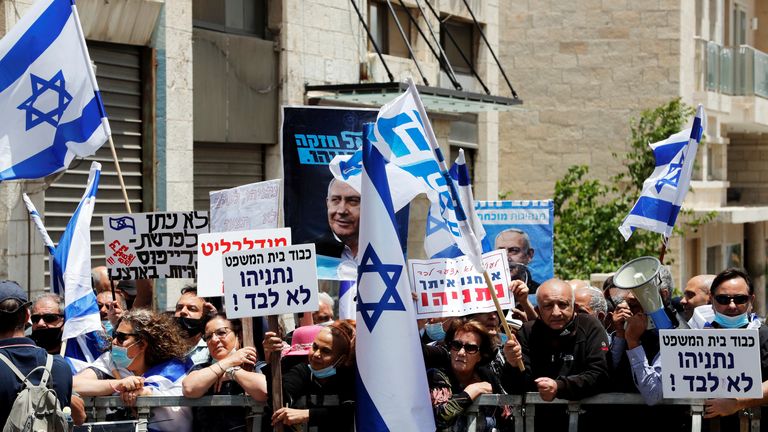 "It is not an issue of left wing or right. Enforcing the law isn't a matter of choice," Avichai Mandelblit said.
An attempt by Mr Netanyahu to secure parliamentary immunity from prosecution last year failed. The trial was then delayed by two months in March because of coronavirus restrictions.
Last week he argued, unsuccessfully, that attending today was unnecessary, costly and would violate social distancing rules.
The trial has hung over him through three election campaigns, none of which he managed to win outright.
This month the country's political deadlock was finally broken with the formation of a coalition government deal in which his political rival, Benny Gantz, will take over as Prime Minister in 18 months' time.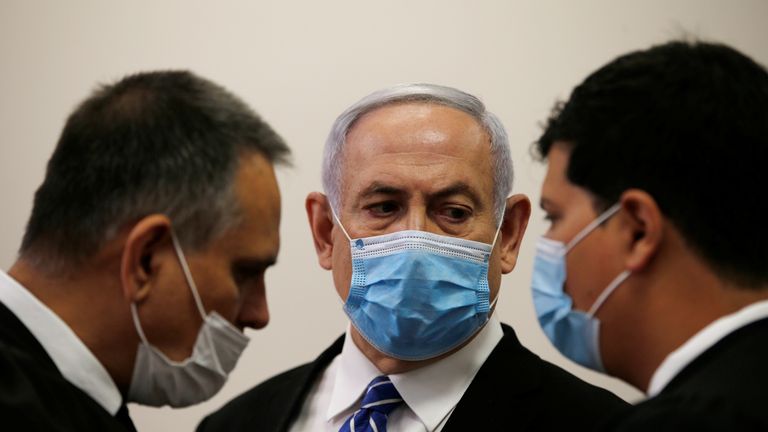 By law, a sitting Prime Minister does not have to resign until a final conviction and all appeals have been exhausted and this trial could go on for years. There are 333 prosecution witnesses.
A clause in the coalition agreement means even after Mr Netanyahu hands over power to Mr Gantz in 18 months, he is still not required to resign while on trial because of his position as the "alternate" Prime Minister.
In the courtroom on the first day, Mr Netanyahu and his co-defendants listened to charges against them. Defendants can enter plea bargain at any point before verdict.
Speaking outside court, Anshel Pfeffer, author of Bibi: The Turbulent Life and Times of Benjamin Netanyahu, told Sky News: "This is certainly a pivotal moment in his life.
"For four years, the investigation has been going on very slowly and finally we have reached the moment when he actually has to sit down in court," Mr Pfeffer said.
"We saw a very telling moment as he went in. For 50 minutes it was the judges and the prosecutors who were in charge of the proceedings. This was a very different Netanyahu sitting on his own on the defendants' bench doing what he was told. It was a metamorphosis for Netanyahu."
As a renowned and extraordinary political survivor, many expect Mr Netanyahu, "the magician", to conjure up some surprises.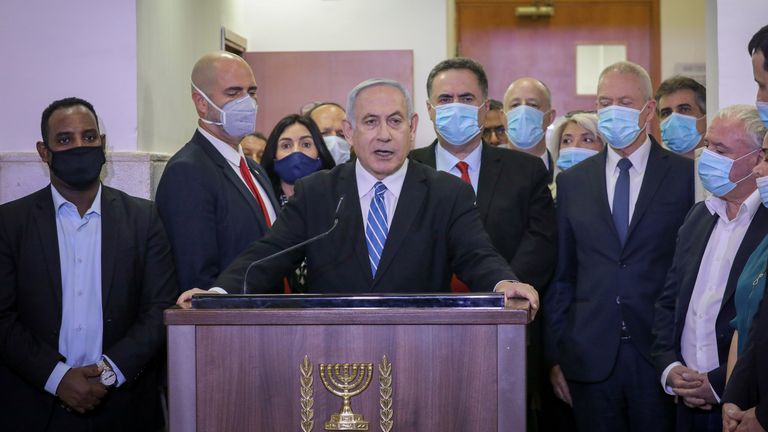 His lawyers complained to the judges that the investigation documents were not presented to them in time. The same complaint was made by the lawyers of the other defendants.
🇮🇱 History will be made in Israel today as Prime Minister @netanyahu walks into Jerusalem's District Court to become the country's first sitting leader to go on trial.
3 years of investigations, 3 separate cases & 3 elections. A witch-hunt says the PM; an attempted coup. pic.twitter.com/vvSI0DOTkG

— Mark Stone (@Stone_SkyNews) May 24, 2020
The three cases against Mr Netanyahu are:
Case 1000 – The Gifts Affair: Fraud & breach of trust. It is alleged that Mr Netanyahu received luxury goods including champagne and cigars totalling the equivalent of £162,000 from two businessmen over a continuous period amounting to a "supply channel". It is alleged that the prime minister "acted for the benefit" of businessmen. He insists gifts were "tokens of friendship" and that he did not act inappropriately.
Case 2000 – The Media Affair: Fraud & breach of trust. It is alleged that Mr Netanyahu held several meetings with Arnon Mozes, controlling shareholder of the Yedioth Ahronoth media group. It is claimed that they discussed promoting their common interests: favourable coverage in return for restrictions of rival paper. Both men deny wrongdoing.
Case 4000 – The Bezeq Affair: Bribary, fraud & breach of trust. It is alleged that there was a "reciprocal arrangement" between Mr Netanyahu and Shaul Elovitch, controlling shareholder in Bezeq, a leading Israeli telecoms firm. It is alleged that the prime minister was involved in the promotion of regulatory decisions that favoured Bezeq.
Proceedings will continue on 19 July in a trial which could last several years.
Western Australia battered by 'once-in-a-decade' storm | World News
Western Australia has been hit by the biggest storm in a decade, leaving around 50,000 homes and businesses without power as it brought wind gusts of more than 60 miles per hour.
Conditions were expected to worsen overnight as the severe storm progressed, officials said.
Jon Broomhall, acting assistant commissioner of Western Australia's department of fire and emergency services, described the storm as a "a once-in-a-decade-type system".
Prepare for an unusually widespread severe weather event along the west coast. Heavy rain and very gusty winds likely with dangerous surf and storm tides. By Sun night, severe weather will be confined to the SW of WA, easing during Mon. Latest warnings – https://t.co/X0UmpCmgQa pic.twitter.com/H8lTPQiTD7

— Bureau of Meteorology, Western Australia (@BOM_WA) May 23, 2020
He added: "Normally our storms come from the south-west, and this will come from the north-west, so it will test people's buildings, sheds and all those unsecured items, so we're asking people to secure property and make sure everything loose is tied down."
A Bureau of Meteorology official, James Ashley, said the weather formation was "dynamic and complex", adding the storm is a result of a system from Cyclone Mangga in the southern Indian Ocean interacting with a cold front.
The bureau warned people to prepare for "an unusually widespread severe weather event along the west coast", adding that "heavy rain and very gusty winds likely with dangerous surf and storm tides".
Electricity supply to around 37,000 homes and businesses was impacted in the Perth metropolitan area, with some households told to expect to remain without electricity overnight, particularly in places where it was not safe for crews to repair the network.
The worst of the storm was due to hit Perth later on Sunday evening and Monday morning, with forecasters warning it would not ease until Monday afternoon.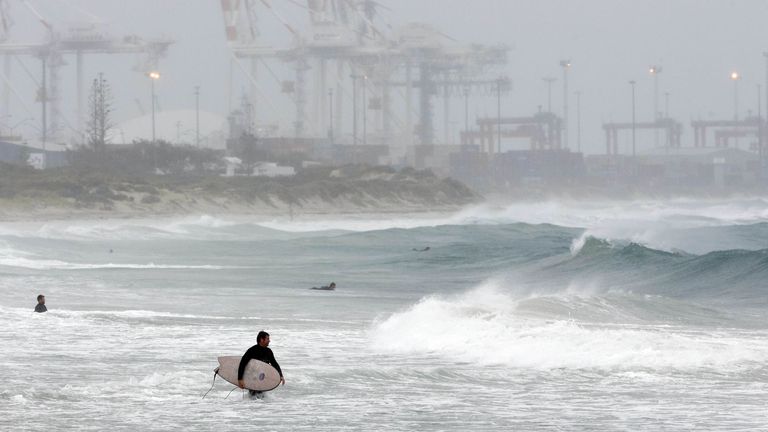 Mr Ashley added: "In a broad area, the south-west of the state will be hit really severely overnight, tonight and into tomorrow."
"Really quite severe conditions will still be experienced in Perth tomorrow morning."
Damage was reported to buildings, homes, fences, electricity infrastructure and trees across Perth as the storm front moved south.