Huawei's finance boss says she will fight extradition

Huawei's chief financial officer has denied she covered up her company's alleged links to a firm that tried to sell equipment to Iran in violation of sanctions.
Meng Wanzhou was arrested in Canada on 1 December at the request of the US.
She faces charges of conspiring to defraud multiple financial institutions between 2009 and 2014.
Canadian prosecutors have urged a court in Vancouver to keep her in custody but, according to her sworn affidavit, she suffers from severe hypertension and is worried about her health.
The 46-year-old also denied being a flight risk – a concern raised by prosecutors – adding that she has "significant ties" to Vancouver dating back at least 15 years and property in the city.
Her family plans to seek leave to remain in Canada during the case and her husband said they wanted their daughter to attend school in the country.
Meng said she will fight her extradition to the US, adding that she is "innocent of the allegations that have been levelled" at her and will contest them at a trial in the US if she is surrendered.
It is alleged she used Hong Kong company Skycom to access the Iranian market in deals that violated US sanctions.
She allegedly assured US banks that Huawei and Skycom were different companies but prosecutors say they were one and the same.
It is not yet clear whether Meng will be extradited to the US – American prosecutors have 60 days to formally request this.
If an application is successful she faces a maximum jail sentence of 30 years for each charge if convicted.
China has called for Meng, who is the daughter of Huawei's founder Ren Zhengfei, to be released.
Meanwhile, world markets are watching closely due to fears that the case could escalate the trade war between the US and China.
Morocco: Police use water cannon on protesting teachers | World News
Thousands of teachers in Morocco have staged a protest amid growing anger over low wages and temporary contracts.
Sunday's march in Rabat, Morocco's capital city, came a day after police used water cannon to disperse teachers who were sleeping outdoors in protest.
The teachers marched from the education ministry to the front of parliament – and demanded permanent contracts that deliver civil service benefits including a better retirement pension.
Some of them shouted slogans such as "this is a corrupt country" and "we are ruled by a mafia" – and urged Prime Minister Eddine El Othmani to resign.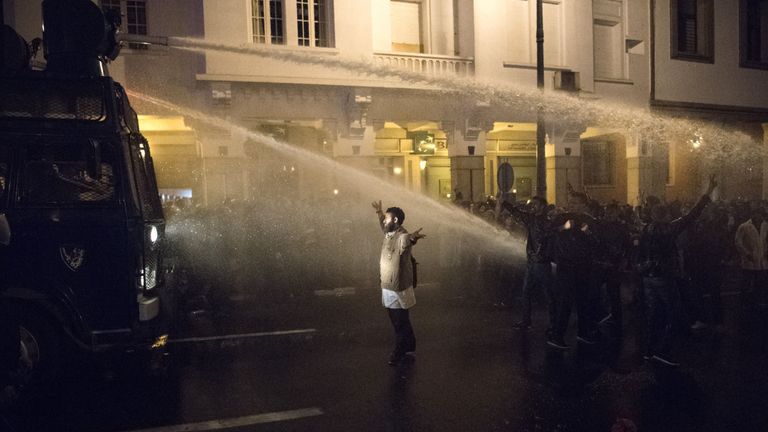 The government insists that teachers on temporary contracts have the same starting salary as those employed permanently, which is about 5,000 dirhams (£395) a month.
However, many protesters are demanding that their monthly pay is raised by 1,500 dirhams (£118) per month.
The government has warned that teachers face the sack unless they return to the classroom.
But one young teacher, Abdelilah Taloua, told Reuters: "We are not intimidated by the threats of the education ministry's because we came to claim our right to be integrated in the civil service and defend the public school."
Teachers have been on strike since 3 March, holding demonstrations for the past three weeks in front of educational institutions across the country.
Nike pays £10.7m penalty over football merchandise sales | Business News
Nike has been fined €12.5m (£10.7m) after falling foul of EU rules regarding cross-border online sales.
The European Commission found that between 2004 and 2017 the US sportswear firm blocked choice and raised prices for consumers by stopping licencees from selling merchandise for many top clubs outside of their direct territory.
It said that Nike had threatened to rip-up contracts if they did.
The case related only to merchandise for FC Barcelona, Manchester United, Juventus, Inter Milan, AS Roma and the French Football Federation, officials said.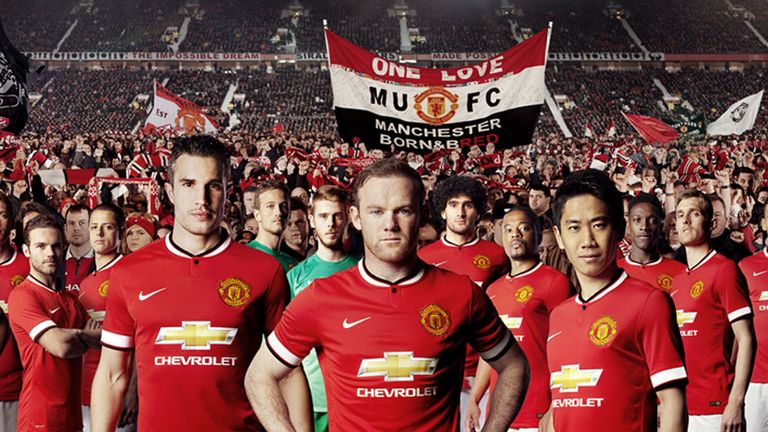 The inquiry formed part of the commission's sector inquiry into e-commerce.
The goods affected included official mugs, bags, bed sheets, stationery and toys.
Competition Commissioner, Margrethe Vestager, said: "Nike prevented many of its licensees from selling these branded products in a different country leading to less choice and higher prices for consumers."
The company, which was yet to give its response to the penalty, had its fine reduced by 40% because it cooperated with the investigation.
UK urged to suspend arms sales to Saudi Arabia over Yemen war | World News
The leaders of Britain's five main opposition parties have demanded the UK government halts arms sales to Saudi Arabia for use in the war in Yemen, stops all British military operations in the kingdom and condemns Riyadh's conduct in the conflict.
The message was due to be delivered to foreign secretary Jeremy Hunt in a letter marking the fourth anniversary of the civil war between Houthi rebels and the Yemeni government, which is backed by a Saudi-led coalition.
"After four years of intolerable suffering and degradation, time is running out. Yemen stands on the brink of catastrophe," wrote the five leaders, who included Labour's Jeremy Corbyn and the SNP's Ian Blackford, whose party organised the letter.
"The UK government must condemn the reckless and barbaric behaviour of the Saudi government, immediately suspend the sale of arms to the regime for use in the war on Yemen pending a comprehensive and independent investigation of all alleged war crimes, and halt all conventional military operations in the country."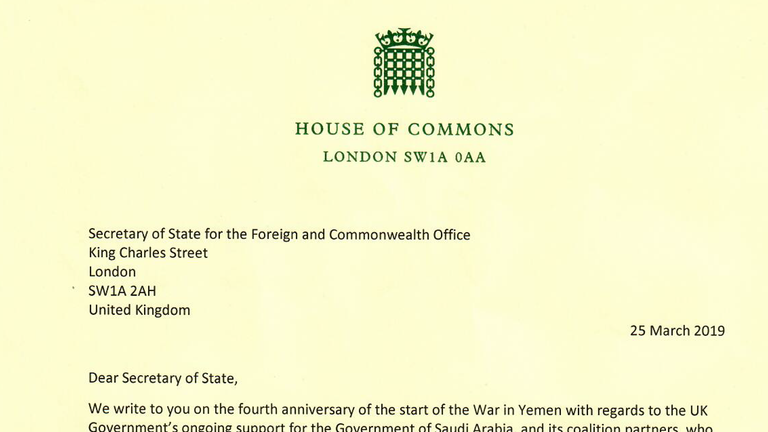 The leaders, also including Sir Vince Cable of the Liberal Democrats, Liz Saville Roberts of Plaid Cymru and the Green Party's Caroline Lucas, said they welcomed a visit by Mr Hunt to Yemen at the start of the month.
He became the first British foreign secretary to visit Yemen in more than 20 years.
But they raised allegations made by colleagues last October of the UK being complicit "in fuelling this conflict for profit" and listed what they described as crimes by the Saudi-led coalition.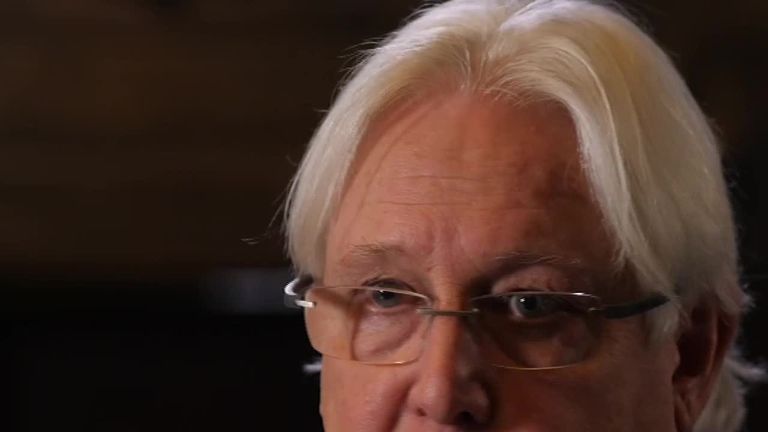 This included 10,852 of the 17,640 UN documented civilian casualties in Yemen.
"There are 20 million people who don't know if they're going to be able to get their next week's supply of food, and 85,000 children are estimated to have died of starvation in the country," the opposition leaders said.
They accused the UK of being unwilling to accept any correlation between the UK's arms trade and support for the Saudi government, a key ally in the region.
The leaders said the UK's £4.6bn of arms export licences to Saudi Arabia "eclipses" the aid given to the people of Yemen.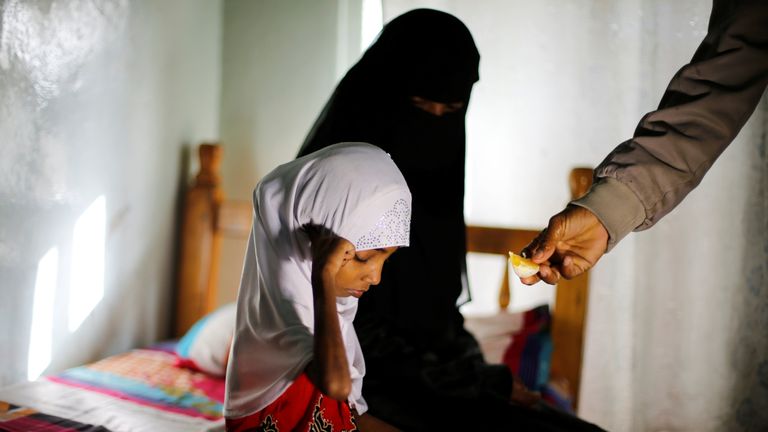 "You and your colleagues in government have often affirmed that the UK's closeness to Saudi Arabia gives the UK influence over them," the letter said.
"Given the extent to which we supply weapons to Saudi Arabia, the leverage we hold over them must be considerable yet their behaviours and appalling human rights abuses have continued unrestrained," it said.
"The UK cannot be a partner for peace if it continues to sell arms to a murderous regime with one hand and give aid – miniscule in comparison – with the other."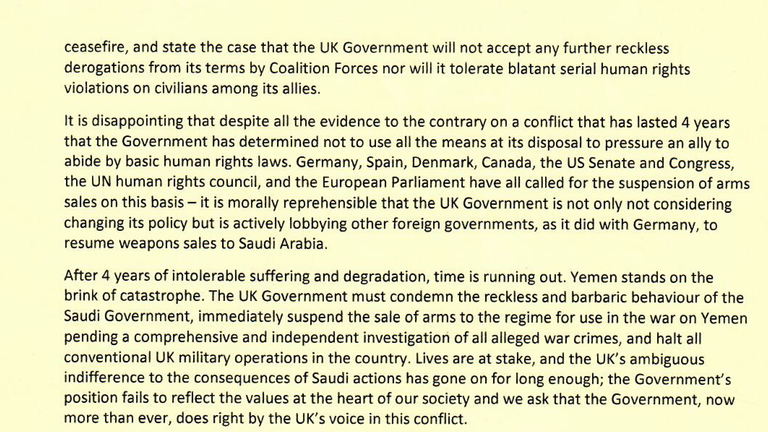 After his visit to Aden, Mr Hunt told Sky News a fragile, United Nations-brokered ceasefire in Yemen would fail – possibly within weeks – unless both sides deliver commitments made at peace talks.
He said it was an "absolutely critical moment" for a nation torn apart by war since 2015.
Saudi Arabia, the United Arab Emirates and other members of a coalition backing the Yemeni government agreed to stop airstrikes against Houthi rebel forces in the port city of Hudeidah as part of negotiations made during the December talks in Stockholm.
In return, Houthi rebels were supposed to leave their positions in the area.