Markets take stock after FTSE's worst day since Brexit result
The latest selling storm to hit world stock markets has petered out after the FTSE 100 suffered its biggest percentage fall since the day after the Brexit referendum.
Asian indices were mostly in positive territory on Friday after a calmer end to trading in New York, while the FTSE opened was 1.5% up in early deals – recovering some of the previous day's 3.2% loss.
Investors took fright when it emerged the chief financial officer at Chinese telecoms giant Huawei had been arrested at the request of the country's trade war foe, the United States.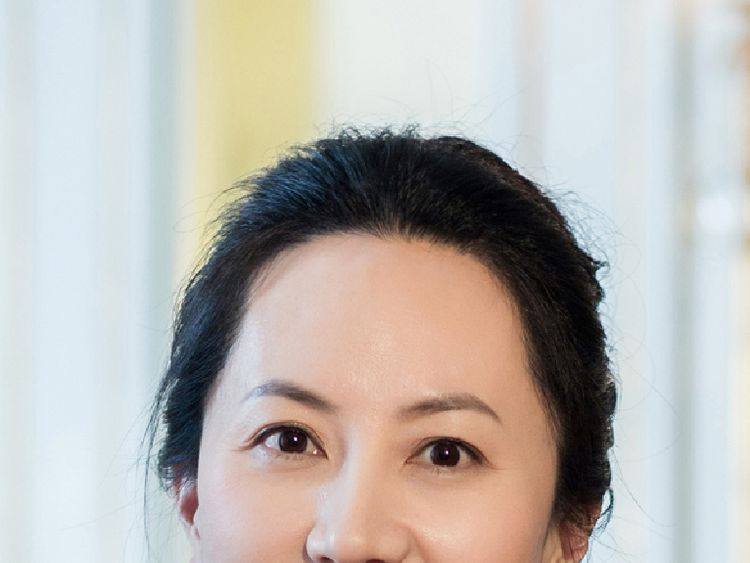 Meng Wanzhou faces extradition from Canada over allegations the global firm broke US sanctions against Iran though a bail hearing was set for later on Friday.
Her detention exacerbated fears that a ceasefire in the trade war agreed between Donald Trump and his Chinese counterpart Xi Jinping at the G20 summit last weekend was not the breakthrough the market had originally thought.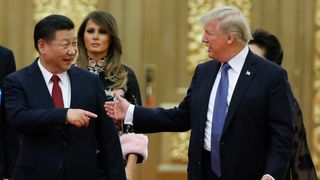 :: 'Bad Trump' to blame as global markets tumble
Add to that issue concerns about the US economy and a recent slump in oil costs – with the OPEC cartel failing to agree production cuts to boost prices – there is a toxic cocktail of factors for investors to consider.
Following the share bloodbath across Europe, the Dow Jones ended Thursday trading just 0.3% lower on Wall Street after an initial heavy sell-off of almost 800 points while the tech-dominated Nasdaq also fought back to close the session slightly up.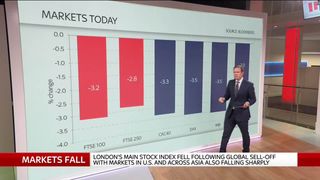 Hong Kong's Hand Seng, the Shanghai Composite and the Nikkei in Tokyo were all up – but not by much – on the final day of the trading week.
The FTSE's gains were tempered by some retail negativity after a pre-AGM statement from the owner of Primark reported "negative" like-for-like store sales in November.
Associated British Foods led the fallers – down 2.1%. Other stock markets in Europe were also seeing tentative gains following Thursday's rout.
Providing some of the market support were hopes the US Central Bank will react to growing fears of a US recession by not raising interest rates as much next year as previously indicated.
Ahead of a key US jobs report on Friday, which was forecast to show steady but not spectacular hiring and wage growth, a report in the Wall Street Journal said the bank was planning a "wait-and-see approach".
Rising rates make it more expensive to borrow to invest and it has been a core reason behind selling on world markets this year following a gradual end to post-crisis central bank stimulus.
Analyst Neil Innes, head of Asia-Pacific trade at OANDA, suggested markets may have overreacted this week.
He told the AP news agency: "The Huawei headline could not have come at a worse time, with the market reeling as confusion reigned over the G20 fallout.
"But when you laminate trade war issues with observed dovish shifts from major central banks, it merely adds a whole new level of unwanted confusion entering year-end."
He added: "I'm trying to suggest… we were going through a market-driven event rather than a meaningful shift to the dark economic side that had all the doom and 'gloomers' coming out of their caves this week."
Why the Oscars is facing a backlash over 'advert awards' | Ents & Arts News
The Academy Awards has announced that the presentations of four Oscars will not be featured live – a move which has not gone down well with many in the industry.
Former best actor winner Russell Crowe, Roma director Alfonso Cuaron and The Shape Of Water filmmaker Guillermo Del Toro are among several stars hitting out at the decision to present the prizes for cinematography, editing, live action short and make-up and hairstyling during advert breaks.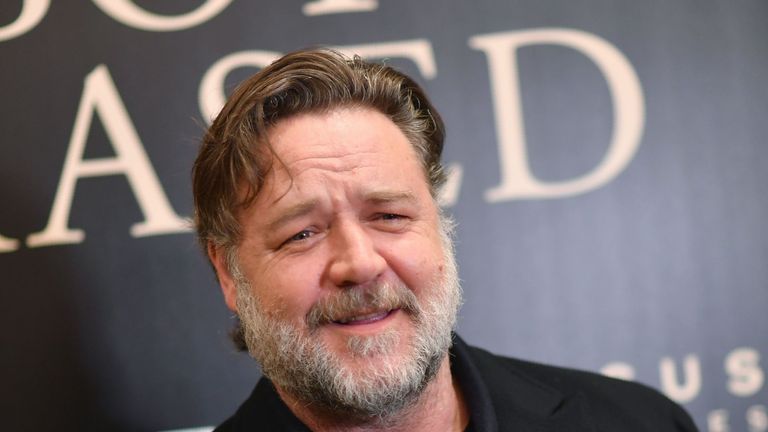 Academy producers say they have made the decision to keep the ceremony to a three-hour timeframe.
Although the presentations will not be shown live, they say the speeches will air later on in the broadcast, and viewers will also be able to see them live if they are streaming online.
In future years, four to six different categories will be selected on rotation to be featured in this way.
The move has angered several stars, with many arguing in particular about the award for cinematography.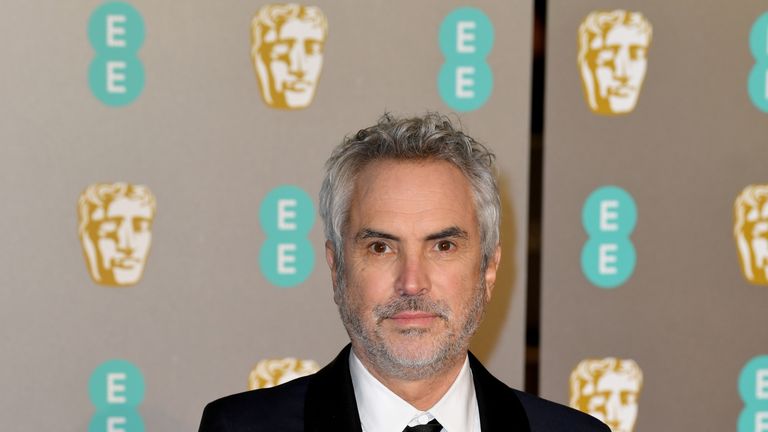 Cuaron, who is nominated in the cinematography category for his Netflix film, as well as for other awards including best picture and best director, wrote on Twitter: "In the history of CINEMA, masterpieces have existed without sound, without color, without a story, without actors and without music.
"No one single film has ever existed without CINEMAtography and without editing."
Crowe, who won the best actor Oscar for Gladiator in 2001, tweeted: "The Academy is removing cinematography, editing and make up from the televised show?
"This is just such a fundamentally stupid decision, I'm not even going to be bothered trying to be a smart arse about it.
"It's just too f****** dumb for words."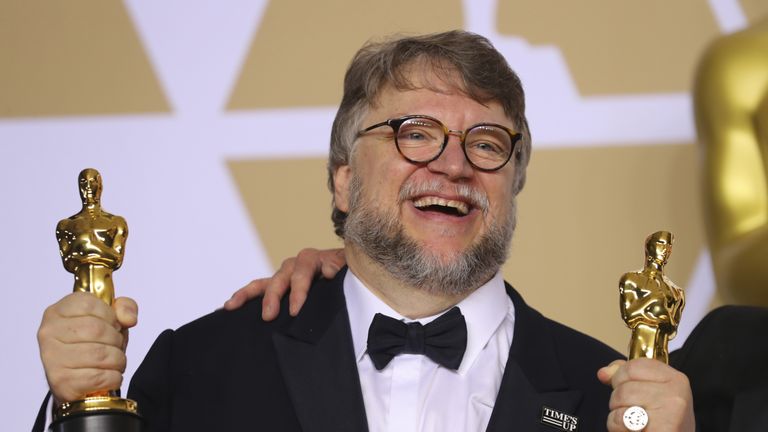 Del Toro, who picked up the Oscars for best picture and director for The Shape Of Water last year, said: "Cinematography & Editing are at the very heart of our craft. They are not inherited from a theatrical or literary tradition: they are cinema itself."
Reposting, revised: I would not presume to suggest what categories should occur during commercials on Oscars night, but, please: Cinematography & Editing are at the very heart of our craft. They are not inherited from a theatrical or literary tradition: they are cinema itself.

— Guillermo del Toro (@RealGDT) February 13, 2019
Wonder Woman director Patty Jenkins agreed, saying: "If we are here to celebrate the craft and medium, it's hard to imagine putting these categories down a tier from any others."
Emmanuel Lubezki, who won consecutive Oscars for his cinematography on Gravity, Birdman and The Revenant and is often referred to as Chivo – the Spanish world for goat (greatest of all time) – said it was "an unfortunate decision".
He wrote on Instagram: "Cinematography and editing are probably the 'elementary particles', the primordial components of cinema."
Many more, including director Nick Murphy and filmmaker Ellie Schneider, have criticised the move on social media.
Let's not forget that after 90 years of the Academy Awards, Best Cinematography is the sole #Oscar category which no woman has won. Can't wait for that future milestone to be celebrated off-air during a bathroom break…

— Elle Schneider (@elleschneider) February 12, 2019
By cutting Cinematography and Editing from the show, the Oscars declare themselves as nothing more than a celebrity and marketing circus.

Photography & editing is filmmaking. It's as simple as that.

— Nick Murphy (@nickmurftweets) February 12, 2019
According to The Hollywood Reporter, the American Society of Cinematographers president Kees van Oostrum has also condemned the Academy, sending a letter to his 380 members saying: "We cannot quietly condone this decision without protest."
The Academy has previously reversed decisions aimed at giving the ceremony more mass appeal, having made a U-turn on a move to introduce a best popular film at this year's ceremony.
The latest controversy comes following the scandal surrounding comedian Kevin Hart, who stepped down from hosting this year's ceremony after old tweets containing offensive language towards the LGBTQ community resurfaced.
It means the film industry's biggest awards night will take place without a host for the first time in 30 years, instead featuring stars including Whoopi Goldberg, Chris Evans, Daniel Craig, Jennifer Lopez and Tina Fey presenting different sections.
The Oscars ceremony takes place on Sunday 24 February, with The Favourite and Roma leading the way with 10 nominations each.
:: Get Sky Cinema to watch the Oscars live ceremony and more than 1,000 movies on demand. Find out more here
Australia reopens Christmas Island migrant centre in anticipation of new arrivals | World News
Australia is to reopen a detention camp on Christmas Island after its parliament passed a new law which critics claim will encourage more asylum seekers to arrive by boat.
The legislation – described by prime minister Scott Morrison as "foolish" – gives sick migrants easier access to mainland hospitals.
Mr Morrison's conservative government claims the bill, which was passed by 75 to 74 in the house of representatives on Tuesday, will undermine Australia's tough refugee policy.
Asylum seekers who attempt to reach Australia by boat are currently banished to camps on Pacific islands.
Immigration Minister David Coleman claimed the change would bring back a time when thousands of asylum seekers travelled to Indonesia and then paid smugglers to take them on to Australia by boat.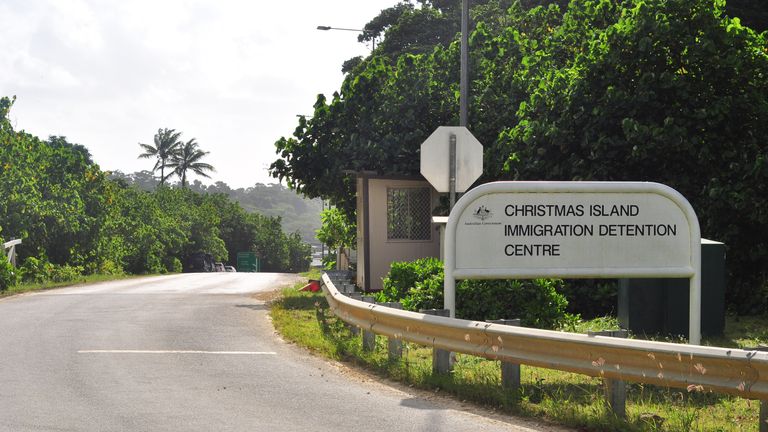 The Christmas Island centre – northwest of Australia and off the coast of Indonesia – was mothballed last year after being in operation for a decade.
Mr Morrison told reporters in Canberra he had approved the reopening of the Christmas Island centre "both to deal with the prospect of arrivals as well as dealing with the prospect of transfers".
The opposition Labor Party and independents voted to amend main legislation to give doctors the right to transfer migrants to the mainland if they need treatment.
One of the independents, Kerryn Phelps, said the new measure was "confined to the current cohort of people on Manus Island and Nauru".
She added: "It does not provide any kind of attraction to people to leave where they are and to try to make the journey to Australia because they will not be considered as part of this legislation."
But it is a blow to the government, which is trailing heavily in the polls ahead of an election in May.
Christmas Island is an external Australian territory despite sitting in the Indian Ocean around 960 miles north-west of the closest point on the Australian mainland.
Shares surge as Trump signals hope of China trade war truce | Business News
US and Asian stock markets have surged on growing hopes negotiations to end the US/China trade war will result in a truce.
Values rose in New York on Tuesday – especially in technology and banking stocks – when US President Donald Trump confirmed he would be willing to relax the 2 March deadline for a deal, if one is close.
A new round of US tariffs, on $200bn of imports from China, is due to kick in on 1 March without an agreement.
Speaking about the deadline as further talks prepared to get underway, Mr Trump told reporters he might let it "slide for a little while".
Earlier, the White House had called 2 March a "hard deadline".
Seven months of tit-for-tat tariffs has seen the countries place additional costs on goods worth over $400bn in total to date, while the US president has threatened to target all $500bn of Chinese imports.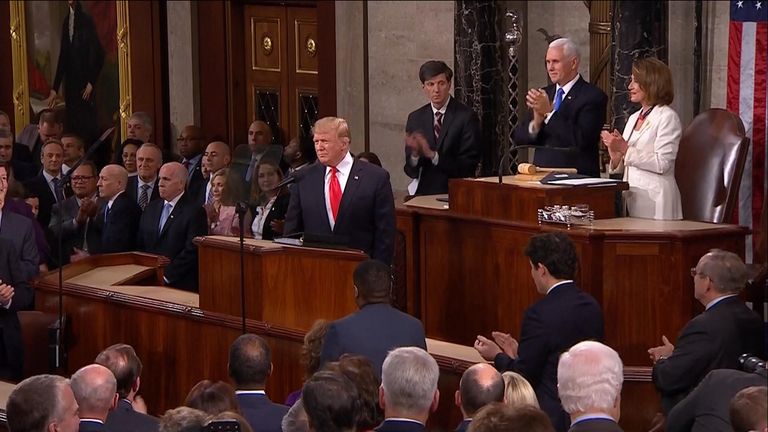 The main stumbling block has been Washington's demand that Beijing scale back plans for state-led champions in technology including robotics – seen by the US as threatening its dominance and the country's intellectual property.
Economists have blamed the row between the world's two largest economies for driving the slowdown in the world economy.
It has been a major factor behind a collapse in values on world stock markets in the final quarter of 2018.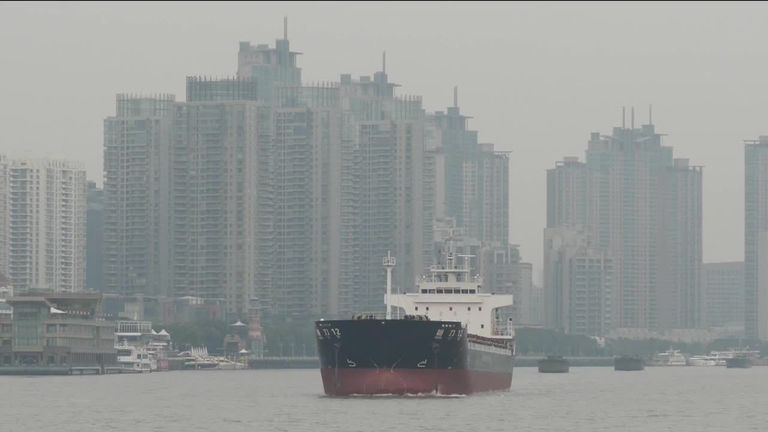 There has been a tentative recovery so far in 2019 though Brexit uncertainty and the recent partial US government shutdown have also helped put a lid on sentiment.
Traders said political progress in Washington on the shutdown issue was another positive for investors on Tuesday after Mr Trump signalled further disruption was unlikely because of a tentative deal with Democrats over funding for his controversial border wall plan.
The S&P 500 closed 1.3% up while the Dow Jones Industrial Average was 1.5% higher.
The mood extended to Asia on Wednesday as China's Shanghai Composite hit levels not seen since November while the Nikkei in Japan was 1.5% up.
European markets were more cautious, with the FTSE 100 up 0.5% in late morning trade.
Jasper Lawler, head of research at London Capital Group, said: "Whilst there have been positive reports regarding the trade talks investors were getting nervous of the nearing deadline and no solid evidence of progress.
"Negative sentiment is unwinding, and investors are showing that they are prepared to put risk back on the table.
"For sentiment to remain positive we will need to see evidence of a deal in March. However, for now markets are willing to let this pass."