Imran Khan accuses Donald Trump of 'pushing Pakistan away'
Imran Khan has accused the US of "pushing Pakistan away" despite the country's help to bring the Afghan Taliban to peace talks.
Reflecting on the two nations' changing relationship, the Pakistani prime minister said his country would no longer want to be "treated like a hired gun", referring to the war against the Soviet Union in the 1980s and the ongoing US "war on terror".
Mr Khan and Donald Trump were involved in a Twitter spat last month after the American president suggested Pakistan had harboured Osama bin Laden despite receiving billions in US aid.
Mr Khan told The Washington Post: "I would never want to have a relationship where Pakistan is treated like a hired gun – given money to fight someone else's war.
"We should never put ourselves in this position again. It not only cost us human lives, devastation of our tribal areas, but it also cost us our dignity. We would like a proper relationship with the US."
The United States has foolishly given Pakistan more than 33 billion dollars in aid over the last 15 years, and they have given us nothing but lies & deceit, thinking of our leaders as fools. They give safe haven to the terrorists we hunt in Afghanistan, with little help. No more!

— Donald J. Trump (@realDonaldTrump) January 1, 2018
Trump's false assertions add insult to the injury Pak has suffered in US WoT in terms of lives lost & destabilised & economic costs. He needs to be informed abt historical facts. Pak has suffered enough fighting US's war. Now we will do what is best for our people & our interests

— Imran Khan (@ImranKhanPTI) November 19, 2018
He added: "For instance, our relationship with China is not one-dimensional. It's a trade relationship between two countries. We want a similar relationship with the US."
When asked if Pakistan was trying to hedge its bets using China, Mr Khan replied: "The US has basically pushed Pakistan away."
Bin Laden, the mastermind of the 9/11 terror attacks and the head of al Qaeda, was killed in 2011 during a raid by US special forces on his compound in Abbottabad, Pakistan. The raid strained relationship between America and long-time ally in the region.
On Twitter last month following the bin Laden accusations, Mr Khan said Mr Trump needed to be "informed about historical facts", adding that Pakistan had "suffered enough fighting US's war [on terror]".
The former cricketer told the newspaper he was merely "setting the record straight" with Mr Trump "saying Pakistan was the reason for these sanctuaries [for Taliban leaders]". The Pakistani leader insisted there "are no sanctuaries in Pakistan".
He said: "The exchange was about being blamed for deeply flawed US policies – the military approach to Afghanistan."
The comments come as Pakistan's army backed US efforts for a political settlement with the Afghan Taliban to end 17 years of fighting. Major General Asif Ghafoor urged the US to leave Kabul as a "friend of the region" rather than a "failure".
Mr Khan said peace in Afghanistan was in Pakistan's interest and vowed to put pressure on the Afghan Taliban but said it was "easier said than done" with "about 40% of Afghanistan now out of the government's hands".
On Wednesday, he met with a US peace envoy in Islamabad and pledged to help find a political solution to the long-running war.
During last month's exchange with Mr Trump, the Pakistani leader said his country had suffered 75,000 casualties and lost $123bn (£95.7bn) during America's so-called war on terror despite no one from his country being involved in the 9/11 attacks.
He said the US provided a "minuscule" $20bn (£15.6bn) in aid.
In his latest interview, Mr Khan spoke also about his plans to tackle poverty in Pakistan and said he was inspired by the UK's welfare state.
"I went as an 18-year-old to play cricket in England. It was the first time I saw a welfare state," he said. "It cared for the underprivileged, for the people who can't compete in the race."
'I don't trust anyone': The British women who married IS jihadis | World News
Reema Iqbal is talking to us from behind the plastic sheeting which marks the tented area which is now her home in Roj camp in northeast Syria.
She is not wearing the all-covering black Islamic dress and veil that most of the women walking around the camp are dressed in.
She's instead in a T-shirt with shoulder-length hair which is wavy and flowing.
The first thing that strikes me is how healthy she appears. Her hair is shiny; her skin is glowing and flawless, and her teeth are white.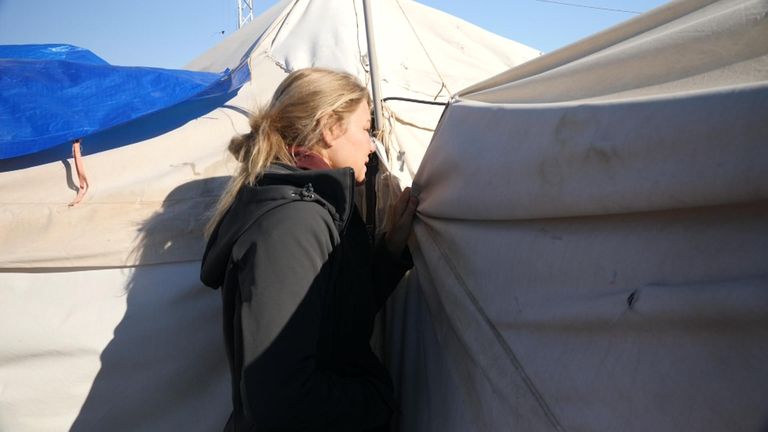 It stands out in this windswept, damp, miserable, shabby tented detention centre where she's been with her two children for the past year.
Her appearance is out of kilter with her surroundings. She looks like she should be watching her sons in a park in east London – which was her home before she travelled to Syria to live in the Islamic State caliphate five years ago.
Instead she is now viewed as an IS family member and held under armed guard with her children, along with about a thousand other mainly women and children.
They are all relatives – wives and children – of men suspected of being IS fighters and now in prisons guarded by soldiers from the US-led coalition which has been fighting the extremists.
Their lives are pretty miserable. There is no running water. They're living on top of each other in small tents which look grubby.
Some of them have been given small heaters to take the chill away. Their small bits of washing are hung on bits of string.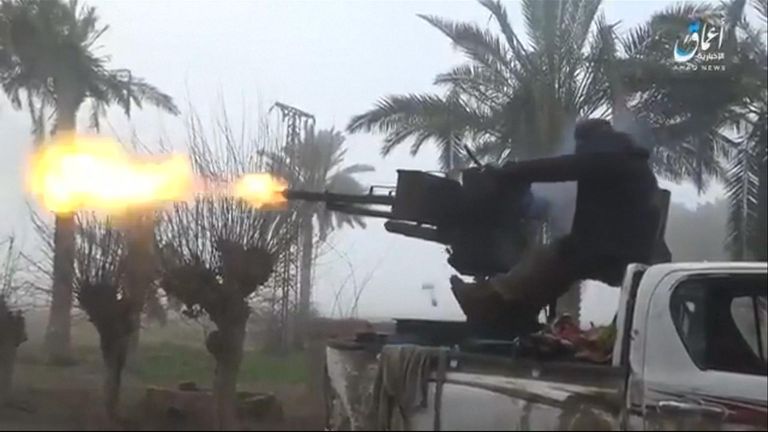 They are utterly reliant on the guards from the Syrian Democratic Force (SDF) for pretty much everything. And they are under armed guard 24/7 with no-one allowed in without express permission and no-one allowed out.
Reema Iqbal, who is around 30 years old, and her two sisters, Zara, aged 28 and Samila, 32, upped and left their homes in London, where they had previously had university educations, and set off to live in the caliphate at the height of the extremists' power and influence.
At that time, the extremists were taking over swathes of land in Iraq and Syria.
By 2014, they had control of more than 34,000 square miles, an area bigger than Ireland or Austria.
Many of those I've spoken to – men and women – seemed to have been lured to join the caliphate, believing it was their Islamic duty; hoping to lend support and help to persecuted civilians who were being bombed by Syrian President Bashar al Assad and being killed and injured daily.
But the extremists went on to kill Yazidi men and enslave thousands of Yazidi women, buying and selling them at markets.
They instilled an extreme form of Islam over their controlling population, and executions and amputations were commonplace.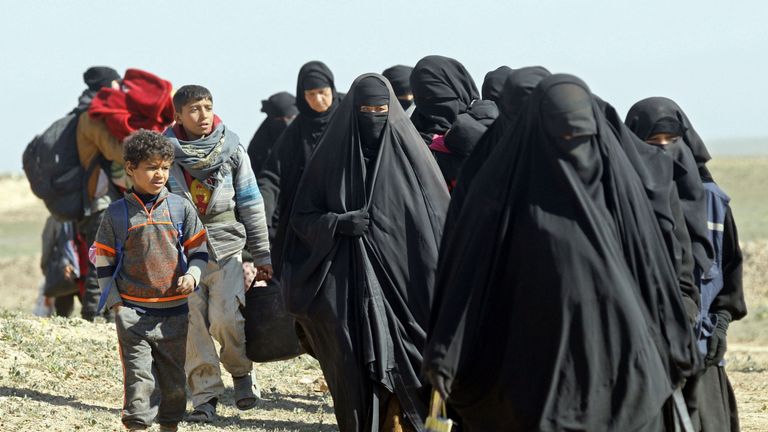 But Reema Iqbal does not want to talk about this. She is polite, friendly and smiles frequently, but she is adamant she is not going to talk to anyone right now.
"I don't trust anyone. I'm sorry. I've been burned before," she said.
She admits life is hard for her in the camp.
Despite her smiles, she's obviously desperate to leave and there's a flash of anger and bitterness when I suggest maybe she has been forgotten by the outside world.
"I have NOT been forgotten", she insists.
"I am not forgotten."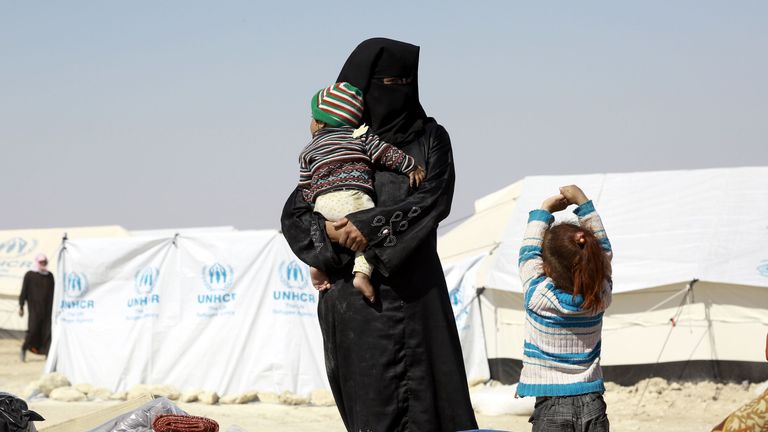 The camp organisers tell me she has changed her name to Saqina, although no explanation is provided and she certainly is not saying.
Previous reports suggest she was once married to an IS fighter called Celso Da Costa, who died fighting with IS.
Every reference to the women and girls who went to Syria is accompanied by the description "jihadi bride" which I suspect may be one reason she's not inclined to talk to a journalist right now.
She knows the SDF is attempting to exert pressure on governments to repatriate their nationals. The French authorities have yielded.
Every man or woman captured by the coalition is viewed as potentially dangerous.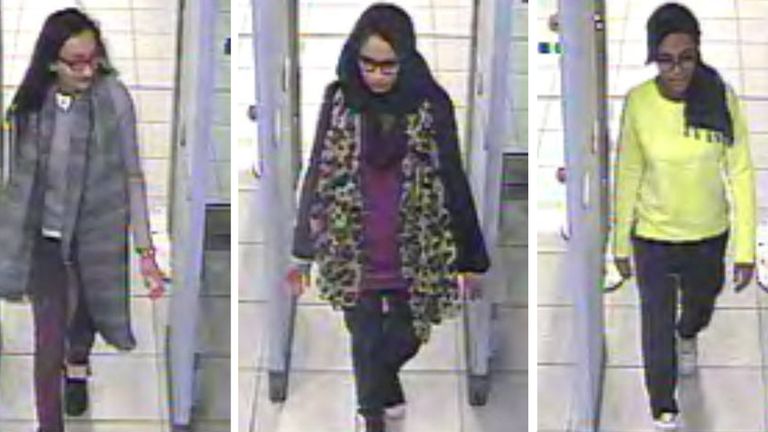 The men are separated and kept in prisons. The women and children are spread around a handful of detention centres and placed in tents which are surrounded by fencing and guards with weapons.
In this camp alone there are about five British women and their children.
Reema Iqbal's sister Zara, whose husband was also killed in the battles, has been separated from her and is in another camp, we are told.
The third sister, Samila, is thought to have been married to a doctor called Shajul Islam, who was accused of being involved in the kidnapping of the British journalist John Cantlie in 2012.
Nothing is known about either Samila, her husband or Mr Cantlie's whereabouts, although there are persistent but unconfirmed indications that they are all still alive.
According to the camp guards, there are about a thousand people here – roughly about 400 families and among them there are French, German, Swedish, Belgium, Russian, Turkish, Tunisian, Algerian and American women as well as the British.
A few tents away from Reema Iqbal is Naseema Begum, who has four children she is looking after alone in the tent.
She too is from London and complains about being coerced into interviews organised by her SDF captors for Kurdish television.
She also appears nervous about being interviewed for fear it might make their position even worse.
Both women appear resigned to the fact it's going to take some time to get out of this camp. They've been here a year already and there's no sign anyone is rushing to help them or bring them back home.
Charles and Camilla to make history with royal trip to Cuba | World News
The Prince of Wales and the Duchess of Cornwall will make a historic visit to Cuba next month as the UK government continues "frank and open" discussions about the country's human rights record.
Clarence House confirmed they will be the first members of the Royal Family to carry out an official trip to the country as they revealed details of the couple's spring tour to the Caribbean from 17 to 29 March.
A palace spokesperson said: "Their royal highnesses' visit to St Lucia, Barbados, St Vincent and The Grenadines, St Kitts and Nevis and Grenada will celebrate the monarchy's relationship with these Commonwealth realms.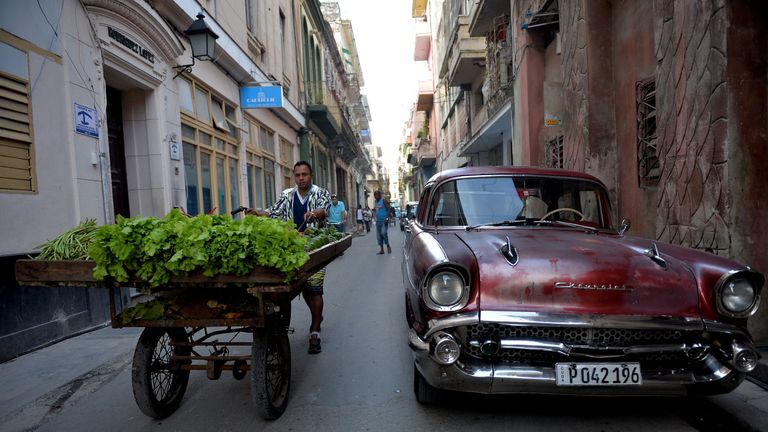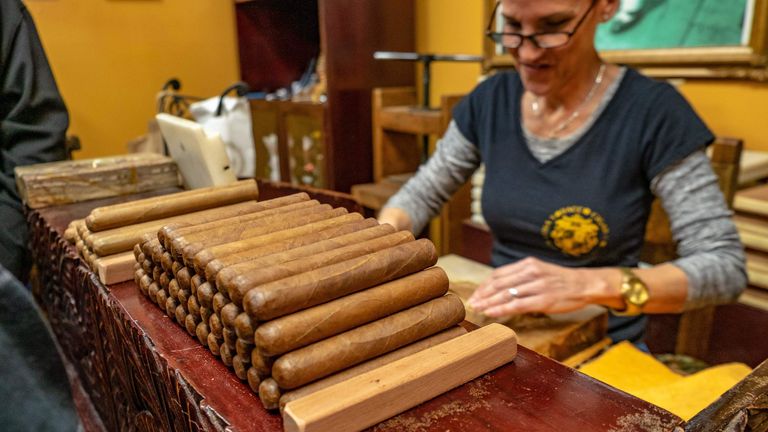 "Furthermore, at the request of the British government, their royal highnesses will also visit Cuba to highlight the growing bilateral relationship with the UK and showcase some of the cultural links between the two countries.
"Their royal highnesses will also visit the British overseas territory of the Cayman Islands to celebrate its place within the British family."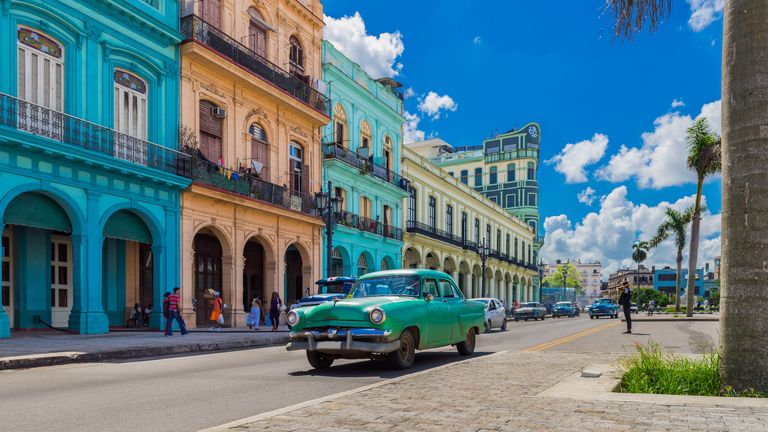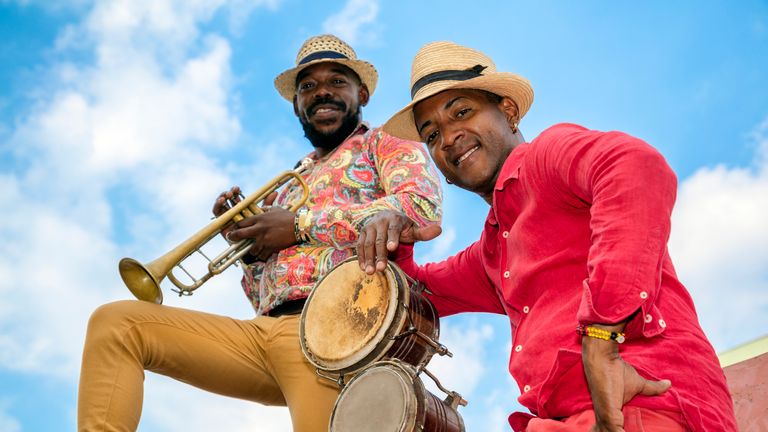 Cuba has been criticised by organisations such as Human Rights Watch and Amnesty International for its poor human rights record, lack of free speech and detaining activists.
Explaining why they had agreed to the royal visit, a spokesman for the Foreign and Commonwealth Office said: "There was an invitation to the Prince of Wales when the (Cuban) president visited the UK back in November, and the British government requested that their royal highnesses accept the invitation.
"This is part of our longstanding approach towards Cuba of engagement and open and frank dialogue over the issues that divide us like human rights, but also the engagement towards progress on the matters that bridge us together."
Asked if it was anticipated that human rights would be something the Prince of Wales would raise specifically, the spokesman added: "Human rights is a subject that we discuss government to government with the Cubans. We've done so regularly over the years and we continue to do so, there is also an EU dialogue with the Cubans which we support."
Prime Minister Theresa May has not visited Cuba.
Philip Hammond visited in 2016 when he was foreign secretary, and the Foreign Office says there have been regular ministerial visits since.
The full itinerary for their visit to Cuba has not been announced, but will primarily be based in Havana and involve meeting the President Miguel Diaz-Canel and focus on engagements looking at environmental issues and Cuba's vibrant culture.
It's understood there are currently no plans to meet Raul Castro, the first secretary of the communist party of Cuba and brother of Fidel Castro.
All royal visits are made at the request of the government and the Foreign Office.
The destinations chosen for royal tours are an indicator of which countries the UK government want to keep on side and promote closer ties with.
The "soft power" of the Royal Family is seen as an important diplomatic tool that can open doors that politicians cannot.
Now that the Queen no longer carries out overseas tours, any visits carried out by her heir, the Prince of Wales, are now seen to have an increased significance.
On a recent visit to the Supreme Court in London, the prince and duchess let slip that they were looking forward to their trip to Cuba.
Speaking after the visit, Baroness Hale, the president of the Supreme Court, said: "It will be quite an event for members of the Royal Family to visit Cuba.
"She said she loved the music and was interested in the architecture. And she did make a remark about she wasn't so sure about the food."
<a href='https://news.sky.com/story/elon-musks-malicious-ai-too-dangerous-to-release-say-developers-11638381'>Elon Musk's 'malicious' AI too dangerous to release</a>


<a href='https://news.sky.com/story/elon-musks-malicious-ai-too-dangerous-to-release-say-developers-11638381'>Elon Musk's 'malicious' AI too dangerous to release</a>

Source link