'Dark day' as MSF terminates Mediterranean search and rescue
Medicins San Frontiers has been forced to terminate search and rescue operations on the deadly central Mediterranean migration route .
The charity and its partner SOS Méditerranée has said Europe will "condemn people to drown" and accused the Italian government of a smear campaign aimed at preventing and discrediting rescue operations in the Mediterranean.
"This is a dark day," Nelke Manders, MSF's general director said.
"Not only has Europe failed to provide search and rescue capacity, it has also actively sabotaged others' attempts to save lives. The end of Aquarius means more deaths at sea, and more needless deaths that will go unwitnessed."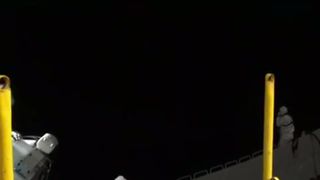 Some 2,133 people are believed to have died in the Mediterranean this year, the majority having departed on dangerous and overcrowded crafts from Libya in the hope of reaching Europe.
The Aquarius, which has assisted nearly 30,000 people since 2016, was the last ship working to rescue stricken migrants in the region, after crackdowns by the Italian government forced several others to halt operations.
Since its saved 58 people over two months ago it has been docked at the Port of Marseilles after being stripped of its Panamanian registration.
It now faces allegations of criminal activity, with the Italian government investigating the vessel for trafficking and wrongful handling of toxic waste.
In recent months ships carrying migrants have found it impossible to dock at ports in Italy and Malta, and several have been left floating at sea for weeks at a time or forced to return to Libya.
Italy's interior minister Matteo Salvini has said other European countries need to accept migrants who arrive in Italy, and has threatened to return them to Libya.
"Europe needs to seriously decide to help Italy in concrete terms," he said in August.
For other European states, preventing people reaching their shores is also a priority.
EU member states are supporting Libyan authorities to intercept boats and return migrants to Libya, where they face continued danger in camps where torture, rape and slavery are rife.
MSF says this constitutes supporting forced returns while "claiming success" on migration.
"Let's be clear about what that success means: a lack of lifesaving assistance at sea; children, women and men pushed back to arbitrary detention with virtually no hope of escape," Karline Kleijer, MSF's head of emergencies, said.
"As long as people are suffering at sea and in Libya, MSF will look for ways to provide them with the vital medical and humanitarian care they desperately need."
The International Organisation for Migration says 15,000 migrants have drowned in the central Mediterranean since 2013.
Joe Root suggests Shannon Gabriel 'might regret' on-field comments | World News
Joe Root has suggested West Indies bowler Shannon Gabriel said something he "might regret" during an on-field exchange.
England's captain appeared to tell Gabriel "there's nothing wrong with being gay" while batting on day three of the third Test in St Lucia, with the comments apparently picked up on television via the stump microphone.
Gabriel's part of the conversation did not seem to be audible but the Trinidadian was spoken to by at least one of the on-field umpires, Kumar Dharmasena and Rod Tucker, about his language.
Following the close of play, Root was asked to explain the tussle with Gabriel.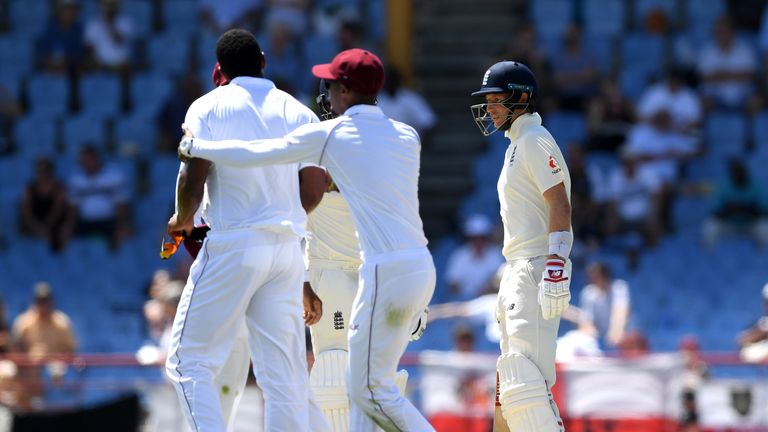 "It's Test cricket. He's an emotional guy trying to do everything he can to win a Test match.
"Sometimes people say things on the field that they might regret, but they should stay on the field.
"He's a good guy who plays hard cricket and is proud to be in the position he is. The battle was a good contest. He's had a wonderful series and he should be proud."
West Indies coach Richard Pybus was unaware of any potential controversy at close of play but told the BBC: "Nothing has been reported to me but if a comment was made we'll review it and if it was untoward we'll be addressing it."
'I hope I can inspire others' British teen youngest person to row solo across any ocean | UK News
A British teenager has become the youngest person to row solo across any of the world's oceans.
Lukas Haitzmann – The Wild Oarsman – rowed 3,000 miles (4,800km) from the Canary Islands to English Harbour in Antigua as part of the Talisker Whisky Atlantic Challenge.
Arriving in Antigua on Saturday, the 18-year-old, from Windsor, Berkshire, beat two world records by becoming the youngest person to row across any ocean solo, and the first Austrian – his father is from Austria – to row solo across the Atlantic.
He was also the fastest solo rower from the 2018 challenge, completing it in 59 days, eight hours and 22 minutes.
While most young people leaving school last summer were thinking about the universities they would be going to, the jobs they could get or where they would travel, Lukas decided he needed a serious challenge.
Having grown up rowing and sailing, he decided to put university off for a year to row across the Atlantic.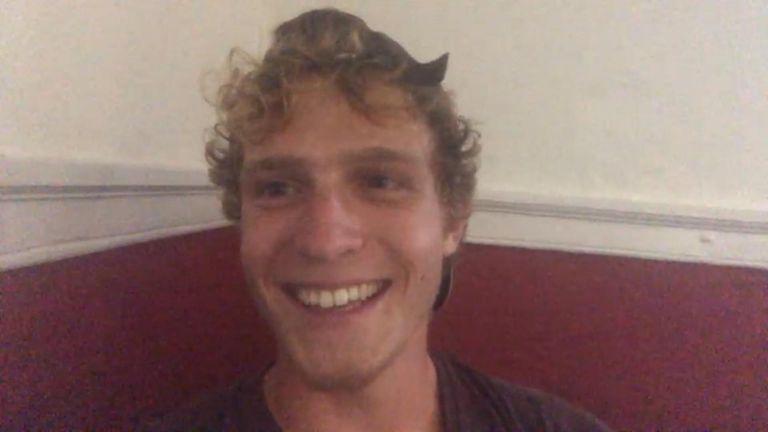 His dyslexia was put to the test trying to fundraise enough money to buy a specially-built ocean rowing boat and everything he would need, from food to suncream.
He told Sky News: "To be honest, the fundraising bit was harder for me than the training – I already had the fitness from rowing for the past five years.
"I really like to challenge myself and think it's important to. My mum wasn't so impressed when I first told her but I managed to persuade her eventually.
"I didn't realise I was going to be the youngest person to ever cross an ocean solo until I started doing a bit of digging, because others who have done it have broken some records.
"It wasn't why I did it, but that did help push me along during the row."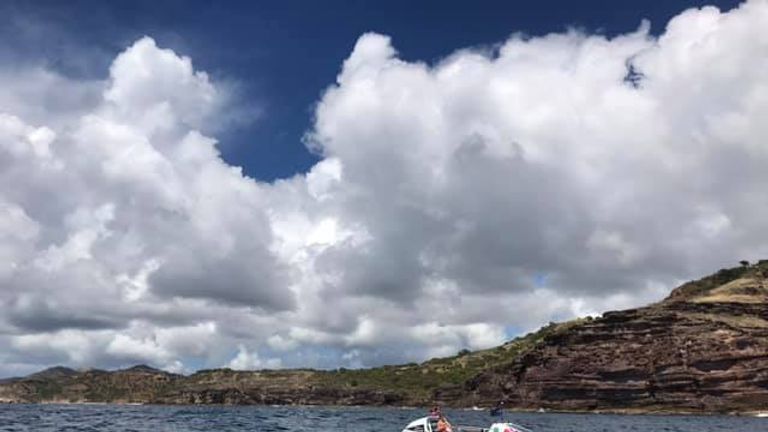 Many people who do the Atlantic Challenge hallucinate and struggle with the loneliness, but Lukas said he felt it was quite peaceful.
He would sleep for about five hours in the middle of the night as his boat drifted, then a couple of hours around lunchtime to get his energy back up in the heat of the day.
"I didn't really talk to myself, it was more talking my thoughts out loud. My music ran out after a month so that was a bit hard for the second half.
"I think the most difficult part was my water changer broke after 10 days so I had to use a manual pump to change sea water into drinking water which was very tiring, but I finally managed to fix it."
During his nearly two months at sea Lukas said he saw dolphins, which he swam with, a whale swam under his boat, and he saw a turtle and fish.
"I had a storm petrel, a type of bird, following me for a while which was really great, he kept me company, although he wasn't great at conversation!
"I thought I'd see a lot more though, it wasn't like there was wildlife every single day, which was quite sad.
"I did see a lot of pollution, some which had been there for a long time, which was awful.
"Being out on the ocean for that long made me really respect it. There's no messing around, and you really have to have your wits about you."
The teenager is hoping his feat will help inspire other youngsters to push themselves at whatever they want.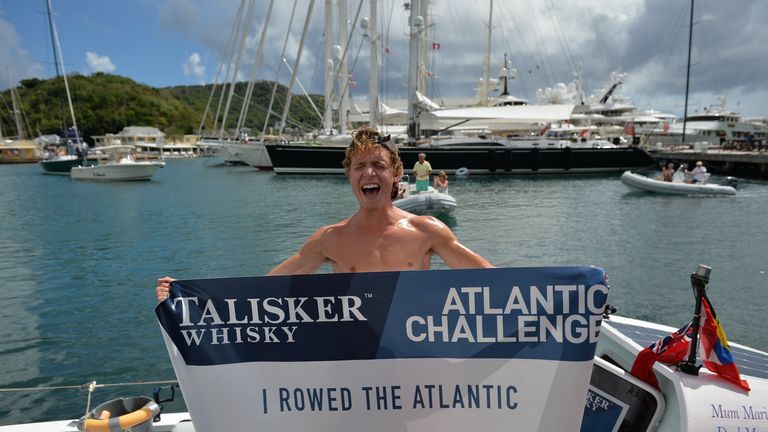 "I'm just a normal kid really, I'm not Superman, I just really enjoy a challenge and this was a way of really pushing myself," he added.
"I hope it shows people that no matter what age you are, you really can do more than you think. If you don't succeed, it doesn't matter, just keep trying and try something else to challenge you if that doesn't work."
Not one to remain on terra firma for long, Lukas is going to use his time in Antigua to go sailing with his family before going back to the UK where he wants to go to university.
"After uni, we'll see, I want to get an education, and actually being at sea really made me appreciate learning more because I couldn't Google what fish that was, or why the clouds were forming like they were.
"I did miss not being able to pick up my phone all the time, but actually I really relished it because it made you appreciate the ocean."
Seventeen people killed and more injured in fire at New Delhi hotel | World News
Seventeen people have been killed in a fire at a hotel in western New Delhi and at least four others are injured, police said.
The blaze at the Arpit Palace Hotel has been extinguished and authorities are investigating what caused it.
"We have to check the stability of the structure, check every room," deputy police commissioner Mandeep Singh Randhawa said.
Twenty-five fire engines responded to the fire, which had engulfed every floor of the five-story hotel but the ground floor, fire officer Vijay Paul said.
Around three dozen people were evacuated from the hotel and the injured were taken to local hospitals.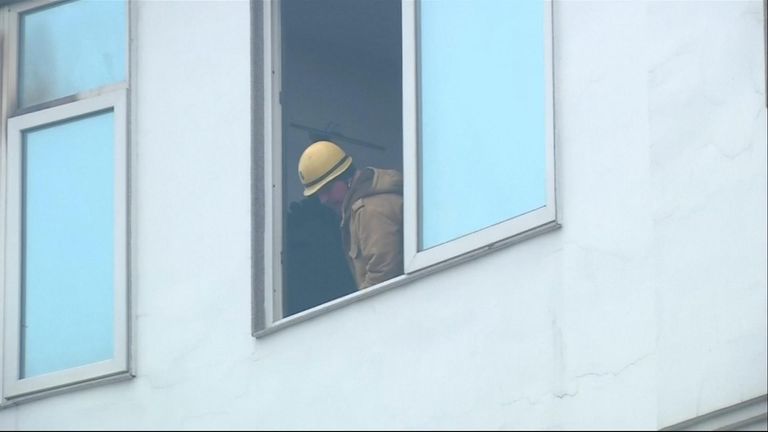 The hotel is located in Karol Bagh, an area full of shops and budget hotels that is popular with tourists in India's capital.
Most of the victims were sleeping when the fire broke out, which is believed to have been caused by a short circuit, Reuters reported.
The fire may raise fresh questions about safety standards in poorly regulated budget hotels.
Frequent raids by civic authorities to enforce building codes and fire safety measures have failed to curb violations in the rapidly expanding city of more than 18 million people.
More follows…