Angela Merkel loyalist Annegret Kramp-Karrenbauer has been elected the new leader of the German chancellor's party.
The Christian Democratic Union (CDU) elected the former chief minister of Saarland on Friday to replace Mrs Merkel as party leader.
Her election puts her in pole position to succeed the current German chancellor, who is considered one of Europe's most influential leaders.
Ms Kramp-Karrenbauer, 56, who is considered a protege of Mrs Merkel, was the candidate favoured by senior figures in the party.
She won the race with 517 votes of the 999 cast by party delegates. Her rival Friedrich Merz won 482 votes.
The politician, who led a three-way coalition in Saarland, is known for her ability to unite support across the conservative CDU and for her ability to strike alliances with other parties.
More follows…
Oil prices jump on OPEC-led production cut deal
Global oil prices have surged after a tentative deal was reportedly cut to ease production and tackle a fresh supply glut.
US crude and Brent crude prices entered bear market territory last month – only weeks after hitting their highest level for four years – as growing supplies of US shale oil combined with fears around a slowing global economy.
On Friday, following a tough round of talks in Vienna, the Organisation of Petroleum Exporting Countries (OPEC) signalled output would fall next year – and by a greater margin than some market experts had predicted.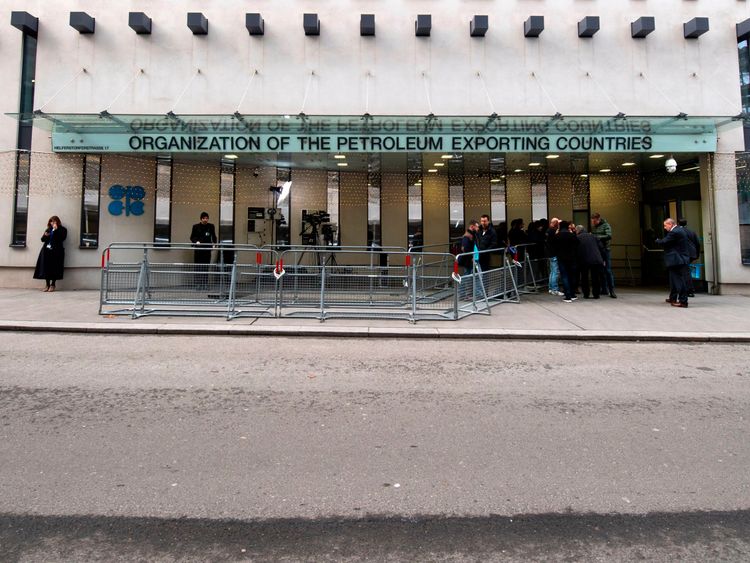 It was understood that a combined cut of 1.2 million barrels per day (bpd) was agreed by OPEC with Russia, which is not a member, also joining the effort.
However, the Reuters news agency said Russia's output figure was yet to be fully nailed down.
:: Oil bear market shows US shale has teeth
A major sticking point had proved to be a demand by sanctions-hit Iran that it be exempt from some of the reduction restrictions, though Tehran later indicated it was happy with the outcome.
BNP Paribas strategist Harry Tchilinguirian told the Reuters Global Oil Forum: "(A cut of) 1.2 million bpd, if implemented promptly and fully, should be enough to largely attenuate, but not eliminate, expected implied global inventory builds in the first half of next year."
Competition to Brent from US shale output has weighed on prices at a time when financial markets are worried about the health of the global economy and the fallout of the US-China trade war.
Production from the US, Russia and OPEC nations grew by more than three million bpd in 2018 – the majority of the gain a result of US output growth.
The outcome of the OPEC meeting will disappoint Donald Trump.
The US president had urged OPEC not to put economic growth at risk by cutting output and raising prices.
US light crude was trading up 4% at $53 a barrel on Friday afternoon while Brent was 5% higher at $63.
The shift higher is unlikely to have a big effect on petrol prices over the Christmas holiday period for UK motorists as pump costs have been slow to come down since the dramatic fall in oil prices began in October.
Eleven dead including hostages in bank hold-up


Eleven people, including five hostages, have been killed in a bank hold-up in northeast Brazil, the town's mayor has said.

Source link
Imran Khan accuses Donald Trump of 'pushing Pakistan away'
Imran Khan has accused the US of "pushing Pakistan away" despite the country's help to bring the Afghan Taliban to peace talks.
Reflecting on the two nations' changing relationship, the Pakistani prime minister said his country would no longer want to be "treated like a hired gun", referring to the war against the Soviet Union in the 1980s and the ongoing US "war on terror".
Mr Khan and Donald Trump were involved in a Twitter spat last month after the American president suggested Pakistan had harboured Osama bin Laden despite receiving billions in US aid.
Mr Khan told The Washington Post: "I would never want to have a relationship where Pakistan is treated like a hired gun – given money to fight someone else's war.
"We should never put ourselves in this position again. It not only cost us human lives, devastation of our tribal areas, but it also cost us our dignity. We would like a proper relationship with the US."
The United States has foolishly given Pakistan more than 33 billion dollars in aid over the last 15 years, and they have given us nothing but lies & deceit, thinking of our leaders as fools. They give safe haven to the terrorists we hunt in Afghanistan, with little help. No more!

— Donald J. Trump (@realDonaldTrump) January 1, 2018
Trump's false assertions add insult to the injury Pak has suffered in US WoT in terms of lives lost & destabilised & economic costs. He needs to be informed abt historical facts. Pak has suffered enough fighting US's war. Now we will do what is best for our people & our interests

— Imran Khan (@ImranKhanPTI) November 19, 2018
He added: "For instance, our relationship with China is not one-dimensional. It's a trade relationship between two countries. We want a similar relationship with the US."
When asked if Pakistan was trying to hedge its bets using China, Mr Khan replied: "The US has basically pushed Pakistan away."
Bin Laden, the mastermind of the 9/11 terror attacks and the head of al Qaeda, was killed in 2011 during a raid by US special forces on his compound in Abbottabad, Pakistan. The raid strained relationship between America and long-time ally in the region.
On Twitter last month following the bin Laden accusations, Mr Khan said Mr Trump needed to be "informed about historical facts", adding that Pakistan had "suffered enough fighting US's war [on terror]".
The former cricketer told the newspaper he was merely "setting the record straight" with Mr Trump "saying Pakistan was the reason for these sanctuaries [for Taliban leaders]". The Pakistani leader insisted there "are no sanctuaries in Pakistan".
He said: "The exchange was about being blamed for deeply flawed US policies – the military approach to Afghanistan."
The comments come as Pakistan's army backed US efforts for a political settlement with the Afghan Taliban to end 17 years of fighting. Major General Asif Ghafoor urged the US to leave Kabul as a "friend of the region" rather than a "failure".
Mr Khan said peace in Afghanistan was in Pakistan's interest and vowed to put pressure on the Afghan Taliban but said it was "easier said than done" with "about 40% of Afghanistan now out of the government's hands".
On Wednesday, he met with a US peace envoy in Islamabad and pledged to help find a political solution to the long-running war.
During last month's exchange with Mr Trump, the Pakistani leader said his country had suffered 75,000 casualties and lost $123bn (£95.7bn) during America's so-called war on terror despite no one from his country being involved in the 9/11 attacks.
He said the US provided a "minuscule" $20bn (£15.6bn) in aid.
In his latest interview, Mr Khan spoke also about his plans to tackle poverty in Pakistan and said he was inspired by the UK's welfare state.
"I went as an 18-year-old to play cricket in England. It was the first time I saw a welfare state," he said. "It cared for the underprivileged, for the people who can't compete in the race."