Afghan boy who went viral after wearing plastic bag Messi shirt flees Taliban
An Afghan boy who went viral over his love of the Argentinian footballer Lionel Messi has had to flee his home after being hunted by the Taliban.
Murtaza Ahmadi, now aged 7, was pictured wearing a homemade Messi shirt that his brother fashioned out of a blue and white plastic bag in 2016.
The colours matched the jersey of the Argentinian national side, and the footballer's name and shirt number were scrawled on the back in pen.
Murtaza, who later met his idol after the image went viral, had to flee Afghanistan's southeastern Ghazni province with his family in November.
The UN has said 4,000 families left amid intense fighting after the Taliban launched an offensive in the previously safe area.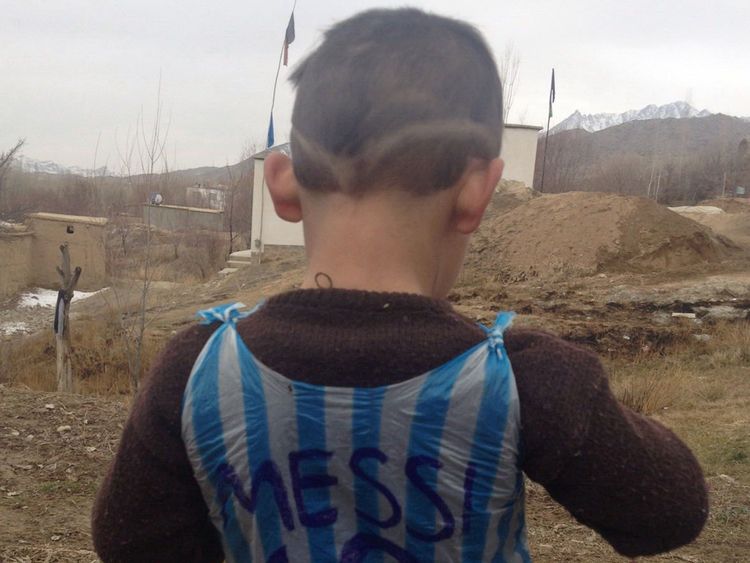 Witnesses have described "absolute terror" as hundreds of civilians, soldiers and insurgents were killed in the fighting.
Murtaza's family belongs to the Shiite-denominated Hazara ethnic group, who were targeted by the Sunni Taliban in the attacks.
The boy is now living in a cramped room in the capital Kabul with his mother and brother.
His father Arif has remained in Jaghori where he works as a farmer.
Shafiqa has said the Taliban have been searching for her son by name.
She said: "(They) said if they capture him, they will cut him into pieces."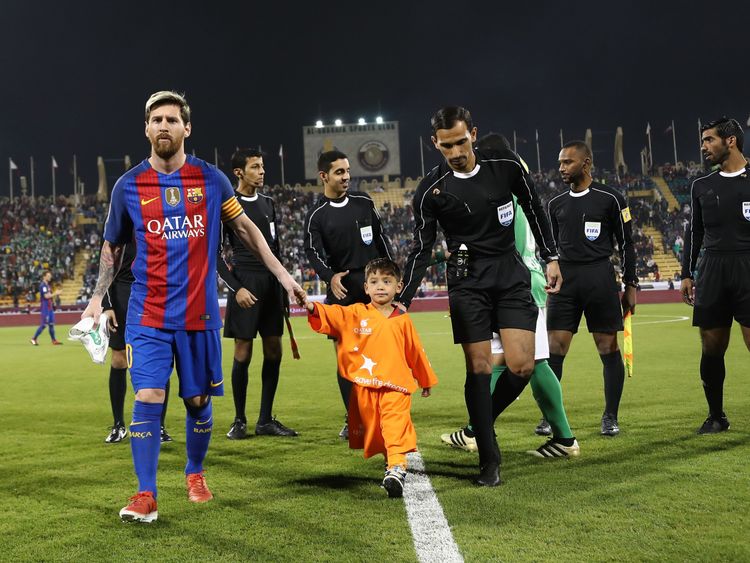 Murtaza's older brother Houmayoun, who made the Messi plastic bag jersey, said: "We are worried something bad will happen if they know who Murtaza is."
Shafiqa added that she hid her famous son's face with a scarf to prevent him from being recognised as they fled Ghazni.
She also told how they left their home district of Jaghori in the night after hearing gunshots.
Shafiqa said: "We couldn't take any of our belongings, we left only with our lives."
Barcelona forward Messi, a UNICEF goodwill ambassador, met with the youngster after the image emerged 2016.
Murtaza clutched the footballer's hand as he walked out onto the pitch with him for a Barcelona friendly in Qatar.
Messi gave him a signed shirt and ball, which were among the possessions left behind when the family fled Jaghori.
Murtaza said: "I want them back so I can play."
"I miss Messi.
"When I meet him (again), I will say, 'Salaam' and 'How are you?' Then he will reply saying thank you and be safe, and I will go with him to the pitch where he will play and I will watch him."
Sports were rarely tolerated under the 1996-2001 Taliban regime, and the Kabul football stadium was a well-known venue for stonings and executions.
Afghan security forces have beaten back the Taliban in Jaghori, but Shafiqa has said she doesn't feel her family is safe there.
She said: "The danger of the Taliban coming back is high, going back is not an option."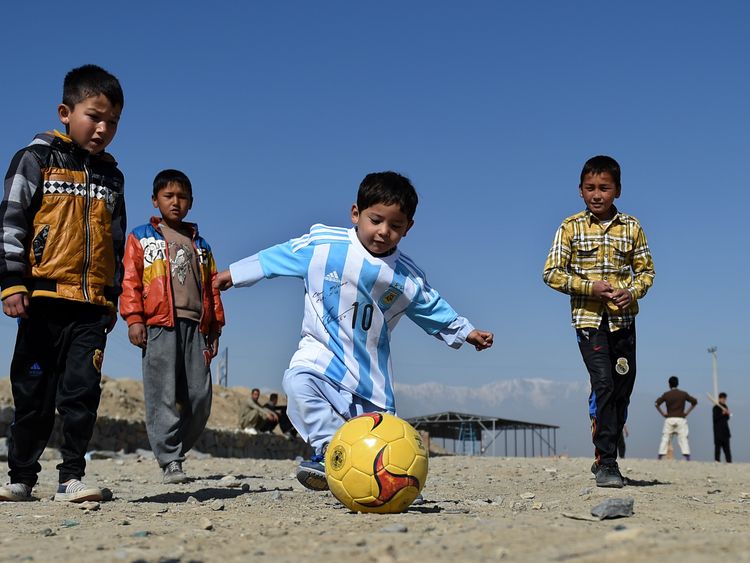 Shafiqa has also told how her family received unwanted attention from the image of Murtaza in the makeshift Messi shirt.
She said: "Local strongmen were calling and saying, 'You have become rich, pay the money you have received from Messi or we will take your son'.
"At night we would sometimes see unknown men, watching and checking our house, and then the calls.
"During the days, we wouldn't dare let him outside home to play with other children."
The family have already fled once before when they sought asylum in Pakistan in 2016.
They returned reluctantly after their money ran out.
The family are among more than 300,000 Afghans who have fled their homes due to violence since the beginning of 2018 alone, according to the UN's agency for humanitarian affairs.
Chimps spotted cracking open tortoises' shells and eating reptiles for first time | World News

Chimpanzees have been spotted cracking tortoise shells against tree trucks and then eating the animals.
Scientists say this behaviour shows the apes' impressive mental abilities.
It is thought to be the first time chimps have been seen preying on the reptiles in this way.
After smashing their shells, they scooped out the meat and shared it with other chimps.
The behaviour was spotted in the Rekambo chimpanzee community in Loango National Park in Gabon between July 2016 and May 2018.
One reason they do this could be that the region also has an abundance of hard-shelled fruit, like that from the strychnos tree, which also needs to be hit against trees to open.
This has led some enterprising chimpanzees to try the same on tortoises, said Tobias Deschner, one of the researchers.
"They see this is a hard-shelled object with some interesting thing inside and they need to crack it open," said Mr Deschner, a primate researcher at the Max Planck Institute for Evolutionary Anthropology in Leipzig, Germany.
"If they can do that with the fruit and have the same problem with a hard-shelled animal with something inside that they want to get access to, then they can say 'OK, why not do it in exactly the same way?'"
A "distinct smashing technique" was used, researchers from the University of Osnabruck and Max Planck Institute said.
They saw 10 animals, mainly male, hunting hinge-back tortoises on 38 occasions, 34 of which were successful.
They said: "Similar to nut cracking in chimpanzees – a percussive technology which is only mastered at the age of approximately nine to 10 years – the acquisition of a successful tortoise smashing technique may rely on a certain amount of strength.
"In addition, it may also involve a relatively long period of time to learn, practice and refine."
It amounted to "further support for their exceptionally large and flexible cognitive tool kits", the scientists said.
In two cases in which adolescent chimpanzees were trying to smash open a tortoise, the authors said they were unsuccessful.
Healthy dog put down because owner wanted to be buried together | US News
A healthy dog was put down because her owner requested she be buried with her in her will.
Emma, a Shih Tzu mix, was euthanized two weeks after arriving at a shelter in Chesterfield County, Virginia on 8 March.
Her owner had died and her will stipulated she be buried with her dog.
Staff at the shelter where Emma was staying were in contact with the executors of the will in the hope of convincing them to sign over the animal so they could have her adopted.
Carrie Jones, the manager of the animal services, said: "We did suggest they could sign the dog over on numerous occasions, because it's a dog we could easily find a home for and re-home."
According to WWBT in Richmond, Virginia, the dog was taken to a vet, euthanized and the ashes were placed in an urn and returned to the woman's estate.
The process is legal in Virginia, by a law which came into force in 2014. But cemeteries have to allocate a separate part of the land for pets, and they can't be in the same niche as humans.
Other states allow pets to be buried with owners.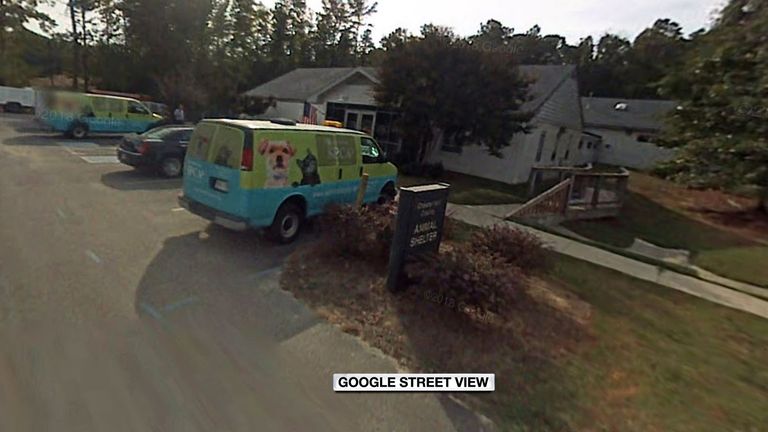 Speaking to AP, vet Dr Kenny Lucas said his clinic would not do it, but admitted it was an "emotional decision".
Larry Spiaggi, president of the Virginia Funeral Directors Association, said it was abhorrent.
He told WWBT: "It's not legal to put a dog's cremated remains – or any animal – in a casket and bury them."
The state is considering legislation to address the problem.
UN tells Britain to end 'colonial administration' of Chagos Islands | World News
Britain should end its "colonial administration" of the Chagos Islands and return them to Mauritius within six months, the UN has demanded.
The 193-member world body approved a resolution supporting a finding by the International Court of Justice that the Indian Ocean island chain be given back to Mauritius.
The General Assembly resolution, like the court's ruling, is not legally binding but it does carry weight as it came from the UN's highest court, and the vote – 116-6 with 56 abstentions – reflects world opinion.
The court said in its opinion Britain had unlawfully carved up Mauritius, which the Chagos Archipelago was a part of, in 1965 when Mauritius was a British colony.
It said: "The United Kingdom is under an obligation to bring to an end its administration of the Chagos Archipelago as rapidly as possible."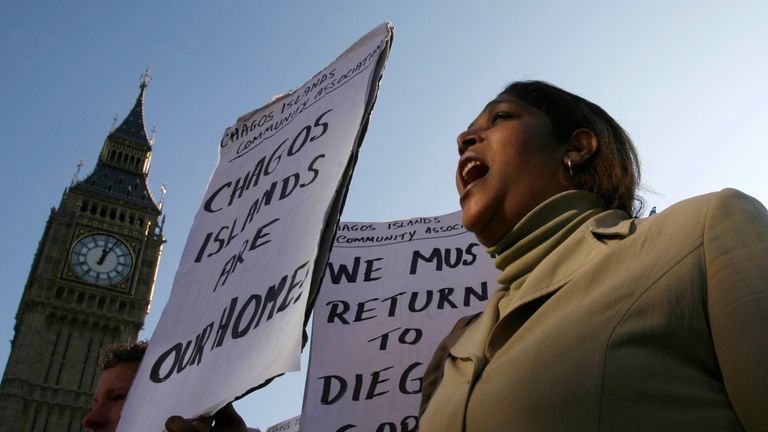 Britain evicted about 2,000 people from the Chagos Archipelago in the 1960s and 1970s so the US military could build its air base on Diego Garcia.
Many resettled in the UK and have fought in British courts to return to the islands.
Britain's UN ambassador, Karen Pierce, told the assembly: "British Indian Ocean Territory has been under continuous British sovereignty since 1814. Mauritius has never held sovereignty over it and we do not recognise their claim."
She added that the government stands by the 1965 agreement with the Mauritian Council of Ministers to detach the British Indian Ocean Territory in exchange for fishing rights and other benefits and a commitment "to cede the territory when it is no longer needed for defence purposes".
Mauritius Prime Minister Pravind Kumar Jugnauth told the assembly his country "is extremely disappointed" in the position of the British government.
Mr Jugnauth said the 1965 agreement on the Chagos Archipelago "was carried out under duress" and labelled the forcible eviction of islanders as "a very dark episode of human history akin to a crime against humanity".