Woman 'filmed in shower' sues Hilton for $100m as footage used on porn sites
A woman is suing Hilton Worldwide for $100m (£78.6m) after secretly recorded footage of her naked in a hotel shower was placed on porn sites by a blackmailer.
The hotel giant is being sued by the unnamed woman for negligence, citing "severe and permanent psychological injures, severe mental anguish, emotional distress and other damages", including medical expenses and loss of earnings.
She was staying at a Hampton Inn and Suites hotel, owned by Hilton Worldwide, in Albany, New York state, in July 2015 while taking a bar exam after graduating from law school.
While having a shower she was recorded, fully nude, by a hidden video camera, the 19-page lawsuit claims.
She had no idea it had happened until September 2018, more than three years later, when she received an email saying "this is you right?" with a link to the video on a porn site published with her full name.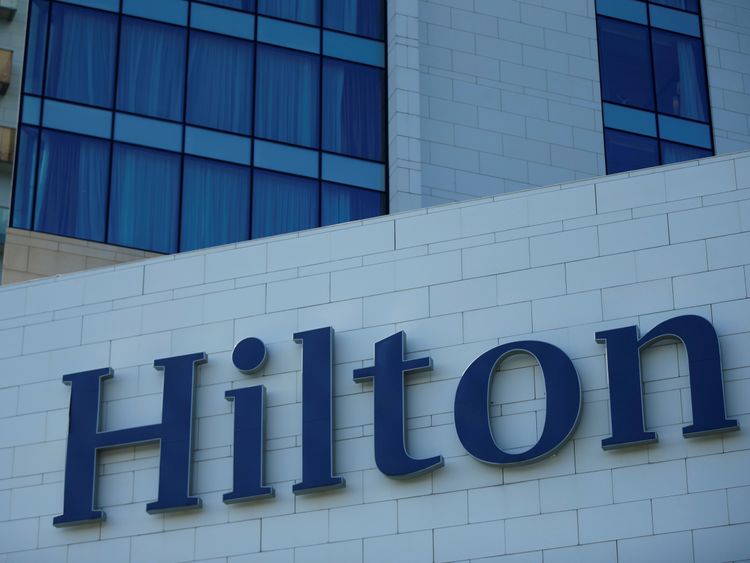 The same person, who claimed "I'm a perv", then sent multiple threatening emails, saying they knew where she went to university and where she worked.
She did not reply, which led to the video appearing on a variety of porn sites.
Friends, former classmates and colleagues then received a new version of the video sent from a fake email address set up in her name.
The blackmailer demanded an immediate payment of $2,000 (£1,570) then $1,000 (£785) a month for a year for them to keep quiet, the lawsuit claims.
They also claimed other people were recorded in the same room at the hotel.
"We take the safety and wellbeing of our guests incredibly seriously, and find the details included in the civil filing distressing," said a spokesman for Hilton, Hampton Inn's parent company.
"We commit to supporting the independent ownership and management of the property as they investigate, respond and co-operate with any law enforcement investigations."
A spokesman for the Hampton Inn Albany Downtown said they were "shocked and stunned to learn of the allegations" on Monday, and added no recording devices "of any kind" had been discovered at the hotel.
"The safety and security of our guests is our highest priority, and we emphatically do not condone any form of this type of invasion of privacy," the hotel said in a statement.
"Recently, the hotel underwent a complete renovation. During that process, no recording devices of any kind were uncovered," it added.
Shares surge as Trump signals hope of China trade war truce | Business News
US and Asian stock markets have surged on growing hopes negotiations to end the US/China trade war will result in a truce.
Values rose in New York on Tuesday – especially in technology and banking stocks – when US President Donald Trump confirmed he would be willing to relax the 2 March deadline for a deal, if one is close.
A new round of US tariffs, on $200bn of imports from China, is due to kick in on 1 March without an agreement.
Speaking about the deadline as further talks prepared to get underway, Mr Trump told reporters he might let it "slide for a little while".
Earlier, the White House had called 2 March a "hard deadline".
Seven months of tit-for-tat tariffs has seen the countries place additional costs on goods worth over $400bn in total to date, while the US president has threatened to target all $500bn of Chinese imports.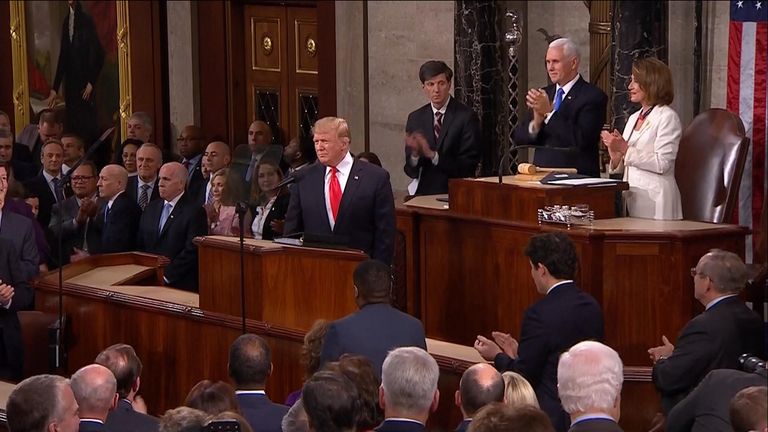 The main stumbling block has been Washington's demand that Beijing scale back plans for state-led champions in technology including robotics – seen by the US as threatening its dominance and the country's intellectual property.
Economists have blamed the row between the world's two largest economies for driving the slowdown in the world economy.
It has been a major factor behind a collapse in values on world stock markets in the final quarter of 2018.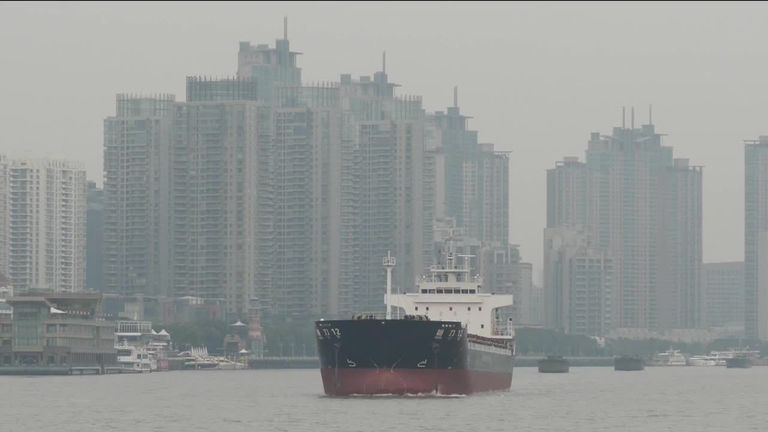 There has been a tentative recovery so far in 2019 though Brexit uncertainty and the recent partial US government shutdown have also helped put a lid on sentiment.
Traders said political progress in Washington on the shutdown issue was another positive for investors on Tuesday after Mr Trump signalled further disruption was unlikely because of a tentative deal with Democrats over funding for his controversial border wall plan.
The S&P 500 closed 1.3% up while the Dow Jones Industrial Average was 1.5% higher.
The mood extended to Asia on Wednesday as China's Shanghai Composite hit levels not seen since November while the Nikkei in Japan was 1.5% up.
European markets were more cautious, with the FTSE 100 up 0.5% in late morning trade.
Jasper Lawler, head of research at London Capital Group, said: "Whilst there have been positive reports regarding the trade talks investors were getting nervous of the nearing deadline and no solid evidence of progress.
"Negative sentiment is unwinding, and investors are showing that they are prepared to put risk back on the table.
"For sentiment to remain positive we will need to see evidence of a deal in March. However, for now markets are willing to let this pass."
'Four' killed in stampede at election rally for Nigeria president Muhammadu Buhari | World News
Several people have been killed in a stampede at an election rally for Nigerian president Muhammadu Buhari.
The current Nigeria leader, who is running for re-election in Saturday's presidential poll, had already finished speaking at the rally, according to reports.
Up to four people died, according to Nigerian media.
Video footage purporting to be of the scene showed at least five people on the ground before ambulances arrived.
The Daily Post news website said thousands of supporters of Mr Buhari's APC party were trying to leave a stadium in Igwuruta, near the southern city of Port Harcourt, when the incident happened.
The website said the APC supporters were in a "hurry to leave" over fears of being attacked by a rival faction within their own party.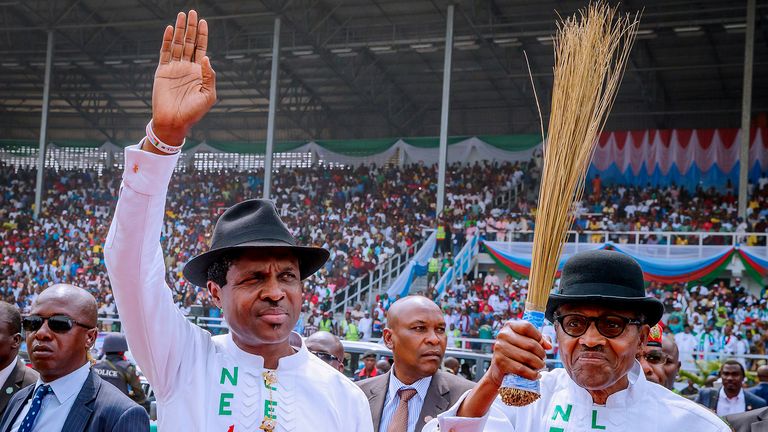 Other reports said the crowd was trying to force its way through a locked gate to follow Mr Buhari.
Nigeria's election campaign has been dogged by allegations of violence and interference.
Mr Buhari is seeking a second term and trying to face down a challenge from Atiku Abubakar, a businessman and former vice president, who is from the People's Democratic Party (PDP).
In a statement, Judith Amaechi, who runs the women and youth team in support of Mr Buhari in the Rivers State region for APC, expressed "deep shock over the death of APC members who were in a stampede".
The Nigerian Tribune newspaper said, according to a statement issued by the president's media and publicity assistant, that Mr Buhari was deeply saddened by the loss of life and extended his condolences to the friends and family of the victims.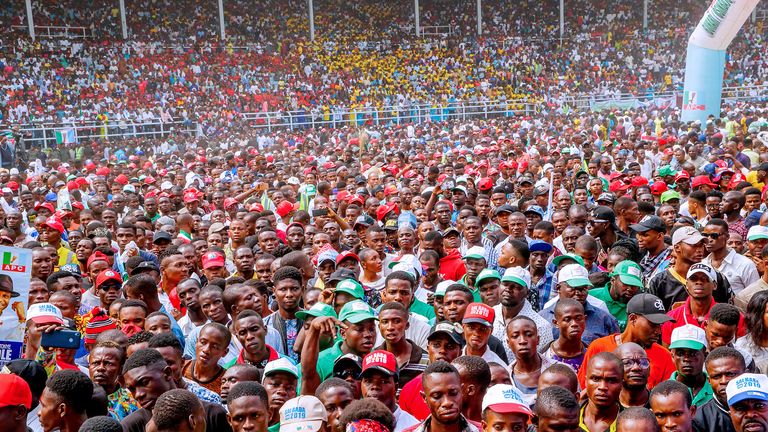 Accidents occasionally happen at political rallies in Nigeria, which are often crowded.
Last week, Mr Buhari offered his condolences after supporters were killed in a stampede at a rally in the eastern state of Taraba.
But the run-up to Saturday's presidential vote is also taking place amid considerable insecurity, which is rampant across Africa's most populous nation and largest oil producer.
In the northeast, a surge in attacks by militant group Boko Haram and its offshoot Islamic State West Africa (ISWA), has thrown election plans into chaos.
The threat of violence has forced thousands of people from their homes and election observers worry that people streaming into displacement camps could exacerbate vote-rigging.
Vote-buying was widespread in such camps at the last presidential poll in 2015.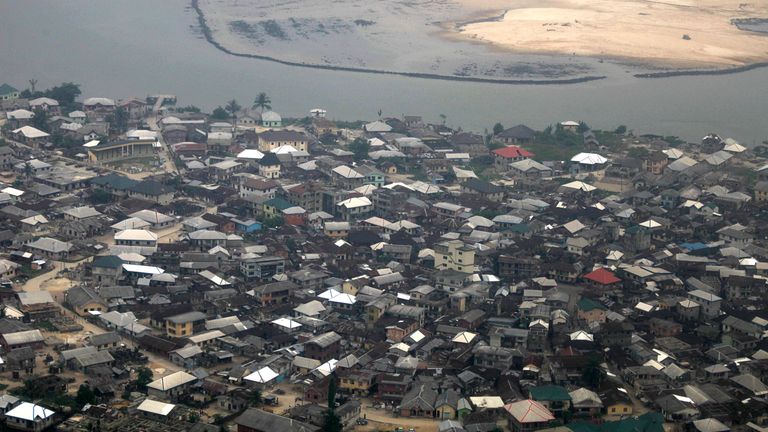 A decision by Mr Buhari to suspend Nigeria's most senior judge, who would have adjudicated in the event of a contested election result, was criticised by a UN expert last week for breaking international human rights standards.
The Nigerian Observer newspaper reported on Tuesday that six people had lost their lives in pre-election violence in Warri, another Niger River delta town.
The UK and US governments were forced a few weeks ago to threaten retaliatory action against anyone found attempting to intervene in Nigeria's electoral process.
The Foreign Office said in a statement: "We continue to provide significant support to Nigeria's Independent National Electoral Commission and to Nigerian civil society to help them deliver credible elections.
"We also regularly engage with actors across the political spectrum to encourage them to respect electoral rules and maintain an atmosphere of peace and calm.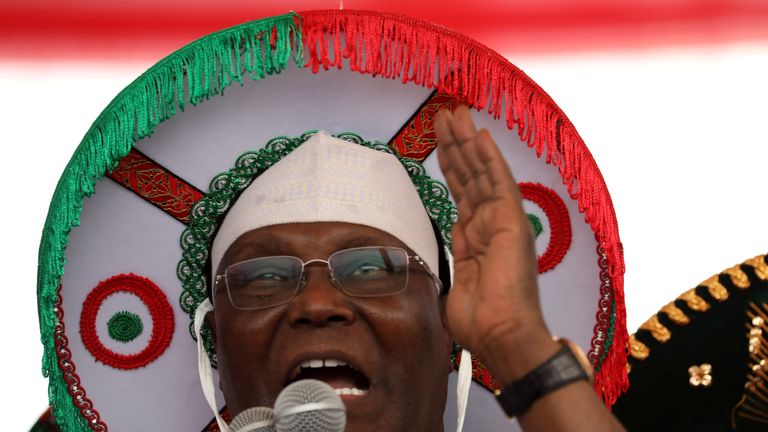 "We will be deploying an extensive observation mission for the forthcoming elections, including coordinating with the EU's Election Observation Mission.
"Our monitors will in particular be looking out for any attempts to encourage or use violence to influence the elections, including on social media.
"We would like to remind all Nigerians that where the UK is aware of such attempts, this may have consequences for individuals.
"These could include their eligibility to travel to the UK, their ability to access UK based funds or lead to prosecution under international law."
A few days after the statement was released, a key ally of Mr Buhari said people from overseas who sought to intervene in the country's election would go back in body bags.
Nigeria's population is rapidly increasing.
The UN expects it to be the world's third most populous country by 2050 with 400 million inhabitants.
Michael Jackson statue reinstalled after attracting complaints amid fresh abuse claims | World News
A shopping centre has reinstalled a statue of Michael Jackson after it was removed following numerous complaints it would offend customers.
The statue was taken away after the Roedovre Centrum in Copenhagen, Denmark, received about 15 online complaints, mostly from families with children.
They feared it may be vandalised due to fresh allegations the singer molested boys.
A Channel 4 documentary, to be aired next month, features two men who claim Jackson abused them as children.
The late singer's estate have complained and claimed the makers of "Leaving Neverland" made no attempt to get a response from Jackson's family and friends.
But Channel 4 have highlighted how the film, which premiered at the Sundance Film Festival last month, includes footage of Jackson's own denials during his life.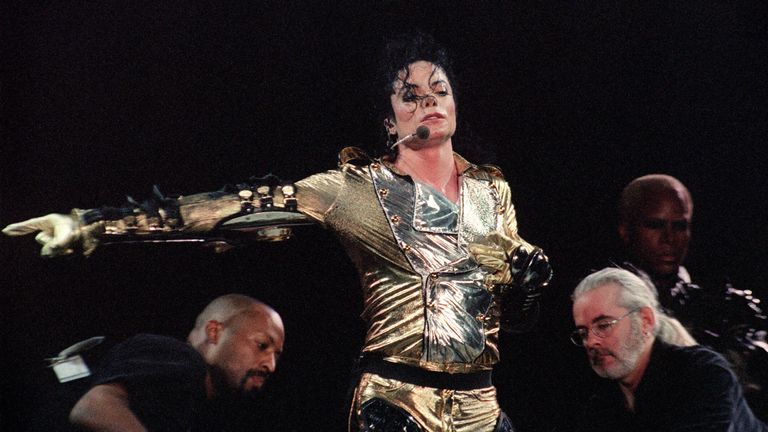 A post on the Roedovre Centrum's Facebook page from director Jesper Andreasen said it was an "overreaction" to remove the Jackson statue.
He added the star has "never been found guilty of any of the accusations against him" and the removal was an "expression of unnecessary cautiousness".
The shopping centre is currently displaying wax statues of a number of celebrities, including actresses Marilyn Monroe and Julia Roberts, on a central square.
Jackson's statue was briefly replaced with a model of actor Brad Pitt, but was reinstated on Wednesday.
The Roedovre Centrum is the oldest shopping centre in Denmark and spans 90,600 sq ft (75,500 sq m).