British yachtswoman Susie Goodall must wait until Friday to be rescued after her boat was "destroyed" while she competed in a 30,000-mile round-the-world race.
The 29-year-old was about 2,000 miles west of Cape Horn in the southern Pacific Ocean when she lost her mast during a "ferocious" storm.
She was lying in fourth place in the Golden Globe Race when 60-knot winds and "massive seas" damaged her Rustler 36 yacht DHL Starlight on Wednesday.
She said she was "thrown across the cabin and was knocked out for a while".
Goodall, from Falmouth in Cornwall, tweeted the boat was "unbelievably roly" and she was "totally and utterly gutted".
She later added: "This motion is just horrible! Clinging on in my bunk."
"In need of a good cuppa tea! But sadly no cooker."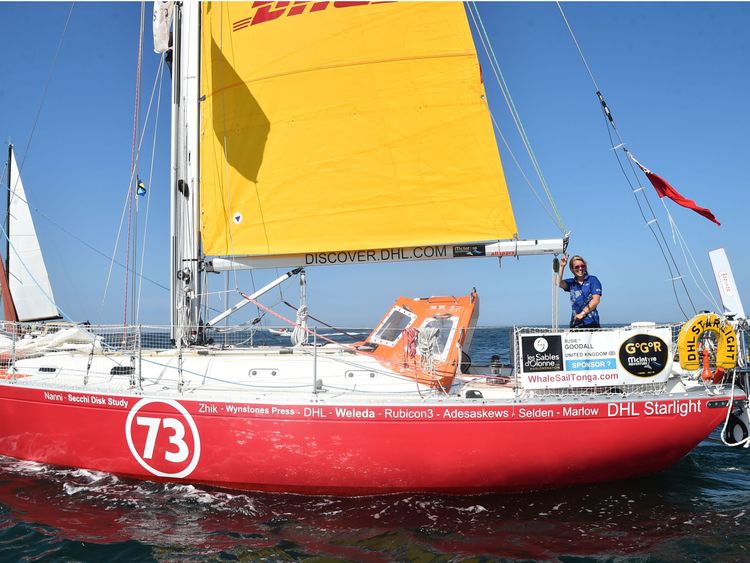 A distress signal from her yacht was first picked up by the Falmouth coastguard.
They alerted race control and the Chilean maritime search and rescue authorities who are responsible for that sector of the Pacific.
The authorities have contacted a ship 480 miles south-west of Goodall's position and asked for help. The crew expects to reach the area on Friday.
Goodall has been contacted on her emergency satellite phone by race officials who said she was "safe and secure onboard".
She said: "I have been dismasted. Thought I had holed the hull because the boat filled with water, but the hull is not holed. The hull is OK.
"The boat is destroyed. I can't make up a jury rig. The only thing left is the hull and deck which remain intact.
"We were pitchpoled [rolled end over end] and I was thrown across the cabin and knocked out for a while."
Goodall is the youngest and only female competitor taking part in the non-stop around the world yacht race, which sees competitors sail single-handedly, abandoning any form of modern technology or satellite navigation equipment.
Competitors set off from France on 1 July and it is expected to take around nine months to complete.
The last time the race took place was in 1968. Sir Robin Knox Johnston was the only person to finish back then.
Eighteen sailors took part in this year's 30,000-mile race.
But more than half of the competitors have now dropped out, with many being dismasted.
NASA invites Stephen Curry to tour its lunar lab after NBA star claims moon landings were faked
NASA has offered a top US basketball player a tour of its lunar lab after he claimed the moon landings were faked.
Stephen Curry, regarded by many as one of the best shooters in NBA history, made the comments in the Winging It podcast on Monday.
During the episode, Curry's teammate Andre Iguodala asked the basketball player and presenters Vince Carter and Kent Bazemore if they believed the moon landings were real.
All three of them replied "no".
In an apparent reference to Men In Black-style secret agents, Curry added: "They're going to come and get us.
"Sorry I don't want to start conspiracies."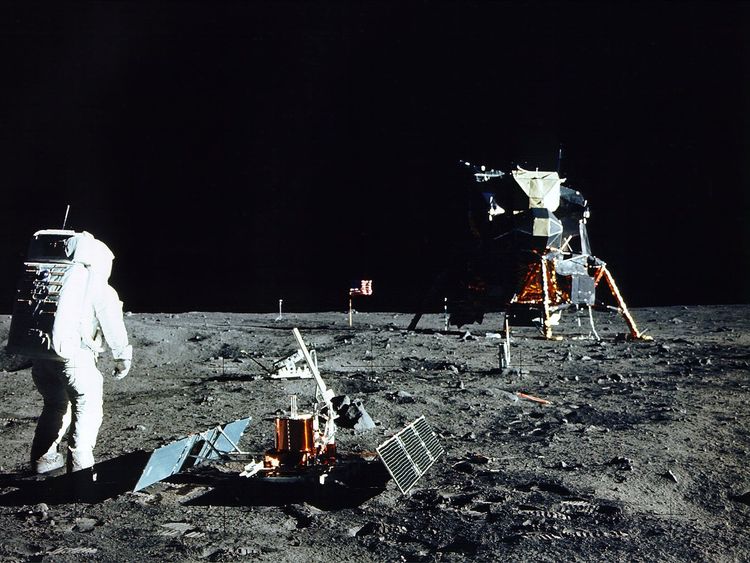 Another guest on the show Annie Finberg, a digital content coordinator for the Atlanta Hawks basketball team, then asked him to clarify.
Curry, who plays for the Golden State Warriors, confirmed that he did not believe the US had ever landed on the moon.
The group then had a short discussion about popular conspiracy theories, including one that the film director Stanley Kubrick staged the whole thing.
NASA in fact led six missions that put 12 astronauts on the moon between 1969 and 1972.
Allard Beutel, a spokesman from the space agency, told the New York Times: "We'd love for Mr Curry to tour the lunar lab at our Johnson Space Center in Houston, perhaps the next time the Warriors are in town to play the Rockets.
"We have hundreds of pounds of moon rocks stored there, and the Apollo mission control.
"During his visit, he can see firsthand what we did 50 years ago, as well as what we're doing now to go back to the moon in the coming years, but this time to stay."
Curry is far from alone when it comes to denying the legitimacy of the moon landings.
DIY SOS presenter Nick Knowles shocked viewers of I'm A Celebrity… Get Me Out Of Here! when he claimed the lunar expeditions were faked.
EU risks bank crisis from 'no-deal' Brexit, say UK officials
UK officials have been warning EU27 nations that a "no-deal" Brexit places a high risk of financial disruption to their banks, Sky News understands.
It forms part of a move seen by some close observers as a perceived form of attempted leverage over the Brexit negotiation.
Dozens of banks, including some of Europe's biggest in Germany and France, have complex outstanding financial contracts, known as derivatives, notionally worth tens of trillions of pounds, operated through the City of London.
The bulk of them will mature after March 2019.
Sky sources say that the names of specific EU mega-banks especially exposed to and reliant on UK cleared derivatives have been mentioned in discussions.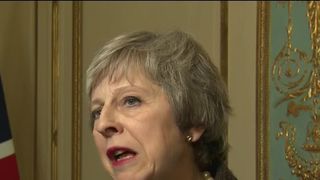 Last month, the Bank of England warned there was high risk of disruption to the EU financial system from both "cleared" and "uncleared" derivatives markets, while it said risks to the UK itself were low and declining.
The European Commission has acted on some concerns to say it will temporarily continue to recognise UK "central counterparties" even after a no-deal Brexit.
But officials have warned that the lack of detail means that contracts need to be closed or transferred from the UK before March 2019, a process that needs to start this month, now that the deal has not passed the House of Commons.
Furthermore, the European Commission indicated to the Bank of England that risks from "uncleared" derivatives would not be dealt with at EU level, and was being left to individual EU nations to handle.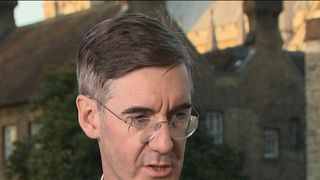 In a recent report, the Bank of England concluded: "The movement of a large volume of contracts in a short time frame would be costly to, and disrupt the derivatives positions of, EU businesses and could strain capacity in the derivatives market."
An EU source told Sky News: "We have not dealt with it yet but we have the mechanisms."
The European Commission is waiting to ramp up no-deal preparations at the EU summit this week.
Sky News understands an emergency implementing act is being prepared for the EU Council and Parliament to consider as soon as next week.
One dead in French Christmas market shooting

One person has died and three people are seriously injured after shots were fired at a Christmas market in Strasbourg.
Just after 7pm on Tuesday gun shots were heard at the market in Place Kleber, in the centre of the city in eastern France.
Police armed with machine guns were seen running into the square moments later and it was evacuated.
Emmanuel Foulon, a press officer for the European Parliament, which is based in the city, said there was panic and everyone got to the ground in restaurants around the square.
More follows…