Thousand Oaks residents know latest mass shooting unlikely to change US gun laws
Sarah Silikula, like all of the residents of Thousand Oaks, know their community will now be forever associated with the blight of gun violence.
Sarah's children often go along to the Borderline Bar. She will be eternally grateful that they didn't this week.
"Will we ever see an end in sight?" she asked, on that question of whether her fellow Americans will ever stop gun violence.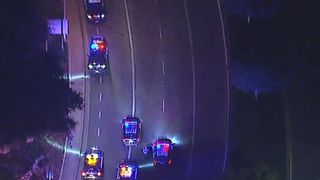 You sense she knows the answer already. And it's not good.
The killings at Thousand Oaks are America's deadliest mass shooting since that at Parkland in Florida in February.
Again – young victims cut down with their lives ahead of them.
The Parkland students' campaign to change attitudes to guns generated more momentum than many in the past.
But ever since the killing of 20 small children at Sandy Hook – and the failure of politicians to make even the tiniest tightening of the laws – it has been horribly clear America will not change.
The power of the National Rifle Association is well known as a lobbying force but the American people hold the real power at election time.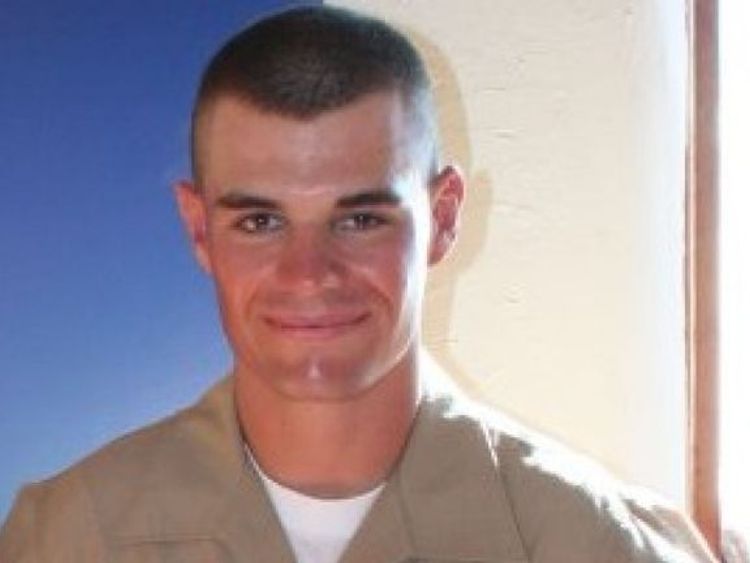 Gun owners, most of them reasonable and law abiding, and gun opponents have not moved the needle.
Yet every subsequent mass shootings brings the same questions and the same lack of answers.
There are those who see mental health as the problem, not firearms.
It isn't too much of a stretch to see that it could be both.
The question of post traumatic stress figured in the discussions between police and mental health care workers when called to gunman Ian Long's home in April.
They saw no reason to "5150" him – the California law that allows authorities to confine someone who is a danger to themselves or others – but his irrationality was a concern.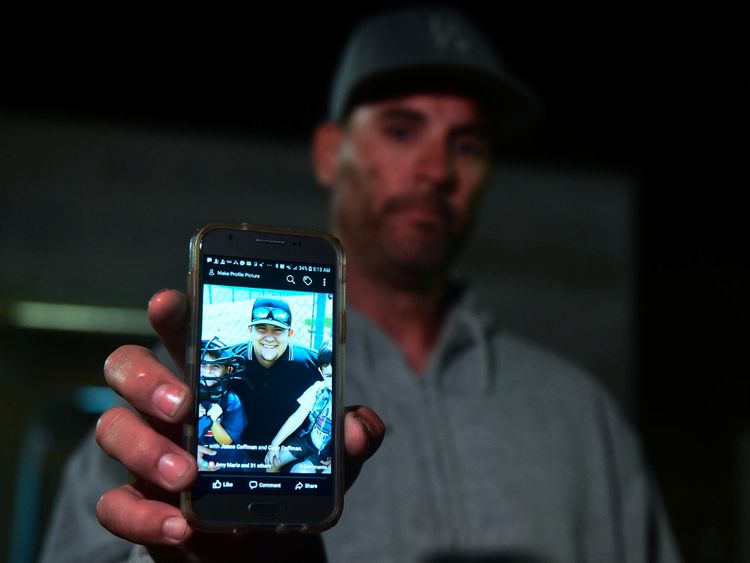 As elsewhere in the world, support for those with mental health needs is lacking in America. Often those who have seen combat are in the greatest need.
Long had served with distinction in the US Marine Corps, including in Afghanistan, but had clearly suffered troubles on his return to civilian life.
What an awful irony that one of those this military veteran killed was 22-year-old Cody Coffman.
He was just about the fulfil his lifetime ambition – joining the US Army.
Jet Airways flying just seven planes amid rescue talks | Business News
Jet Airways is flying just seven planes as bosses and lenders try to work out a solution to its growing debt problem.
The airline is only running some domestic flights in India but international flights are scheduled for Tuesday, said Jet Airways spokesman Gaurav Sahni.
Last week the carrier's lenders grounded nearly all of its aircraft, leaving thousands of passengers stranded, amid a search for investors to buy 75% of the company.
UAE-based Etihad Airways owns 24% in the company.
Around 80% of its fleet of 120 aircraft had already been seized as the company struggled to find buyers willing to take on more than £900m in debt it owes to multiple banks.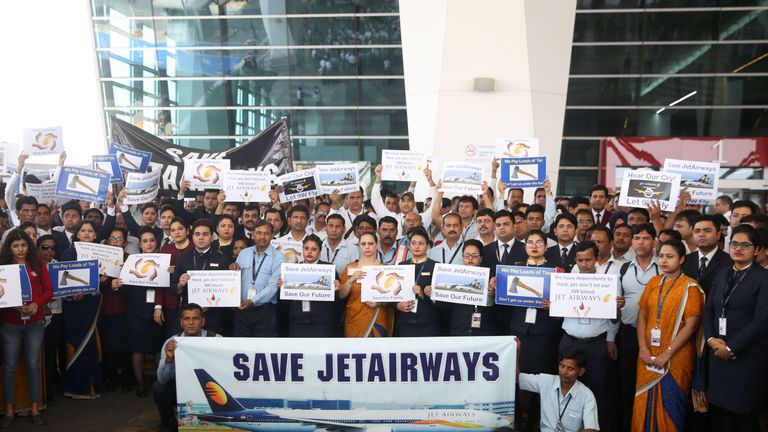 India's aviation minister Suresh Prabhu said on Friday that Jet Airways had sufficient funds to operate only six to seven aircraft until 15 April.
The airline's chairman, Naresh Goyal, resigned from the board last month as part of a recovery plan structured by government-owned State Bank of India and other creditors.
But Indian news reports said he submitted an expression of interest for a controlling stake in the airline on Friday.
Meanwhile, Jet Airways pilots have been protesting in Mumbai over a lack of pay.
Brain-damaged Christchurch shooting victim, five, 'cannot speak' | World News
A father-of-four injured in the Christchurch shootings has posted pictures of his five year-old daughter who was left brain damaged after she was also shot.
Wasseim Alsati was approaching the Al Noor mosque with Alen, his youngest daughter, when alleged gunman Brenton Tarrant walked out and shot them both.
Mr Alsati told Daily Mail Australia the attacker, who appeared to be wearing a New Zealand military uniform, pointed his weapon at his daughter's head and shot her despite his attempts to protect her.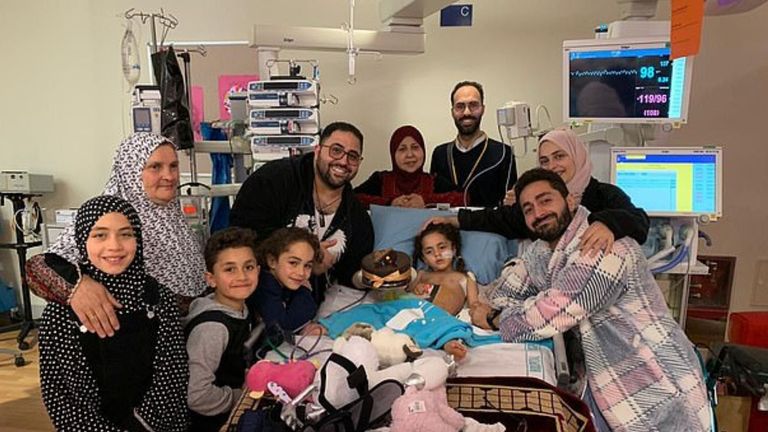 "And then the second bullet, he shot her in the foot, in the toes. And then I got a shot in my tummy. And then I got two shots in my bum."
Despite multiple operations, doctors at the Starship Children's Hospital in Auckland are still unsure of the extent of Alen's brain injuries.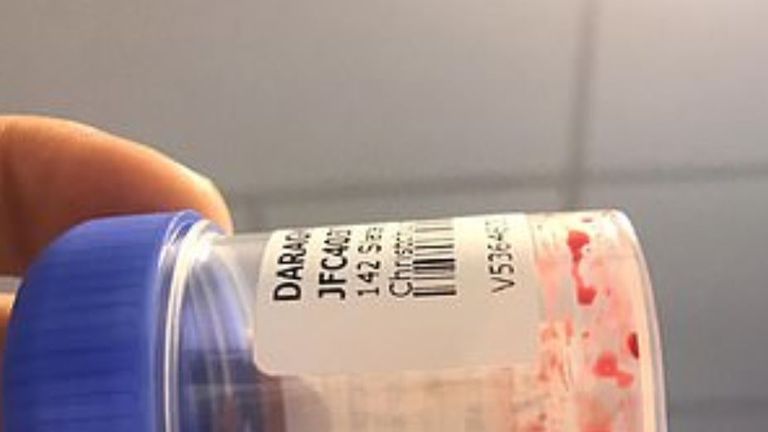 Mr Alsati, who owns a barber shop in the southern New Zealand city, shared images of his young daughter in hospital surrounded by family and New Zealand Prime Minister Jacinda Ardern.
A GiveALittle page, which has raised more than $47,000 (£24,000) for the family, said "Wassiem is recovering from gunshot wounds in his hip area. He is not currently walking but is expecting to walk again when fully recovered.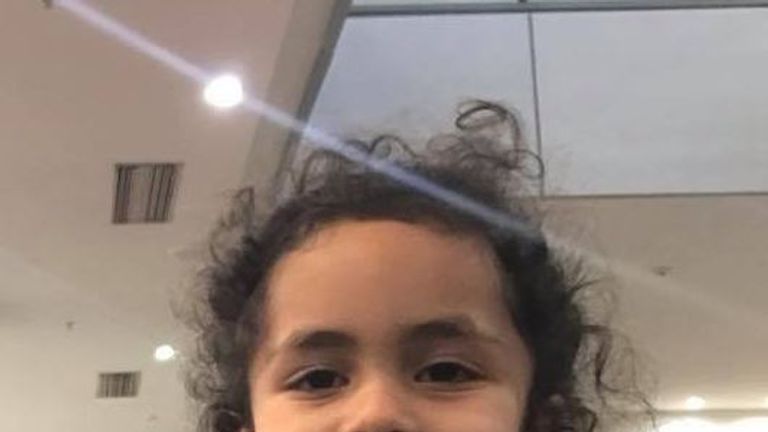 "Alen has suffered damage to the brain, she is making daily progress, but at this stage she cannot speak or see people. She has begun so say the odd word and recognises her mother's voice."
It asks for donations "for supporting the family in future if Wassiem is out of work, or if they have to pay money for on-going nursing and medical care for Alen".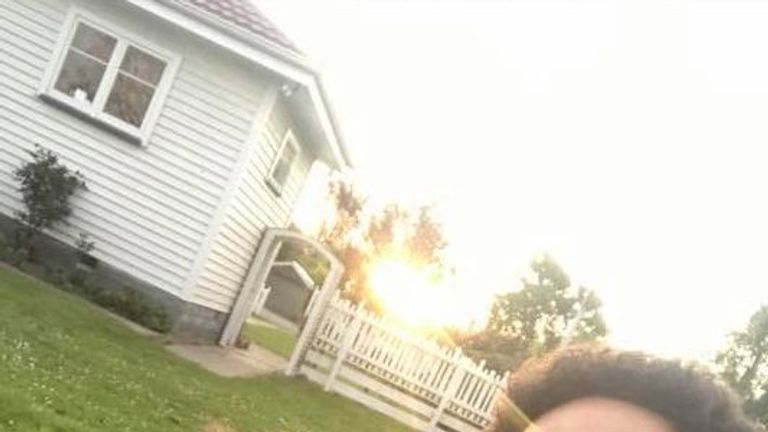 Tarrant, a 28-year-old Australian, has been charged with 50 counts of murder after last month's terror attack.
A month on from the massacre, Mr Alsati, a Muslim, said: "I don't feel anything about him shooting me, I am really angry that he shot my daughter."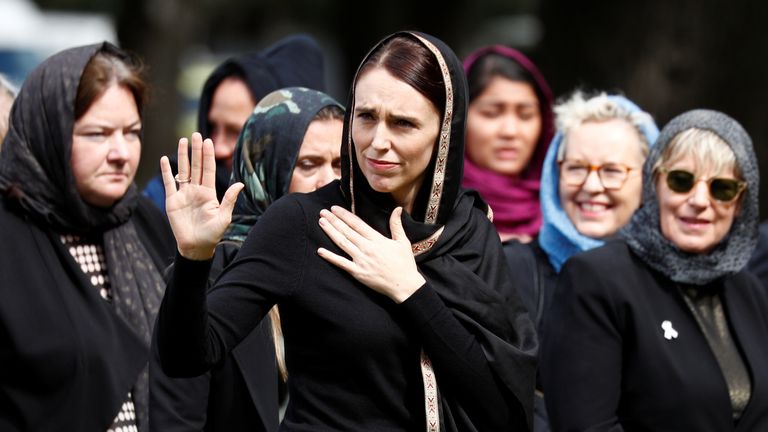 "I understand the hate against Islam, Muslims. But that doesn't give anybody the right to shoot kids."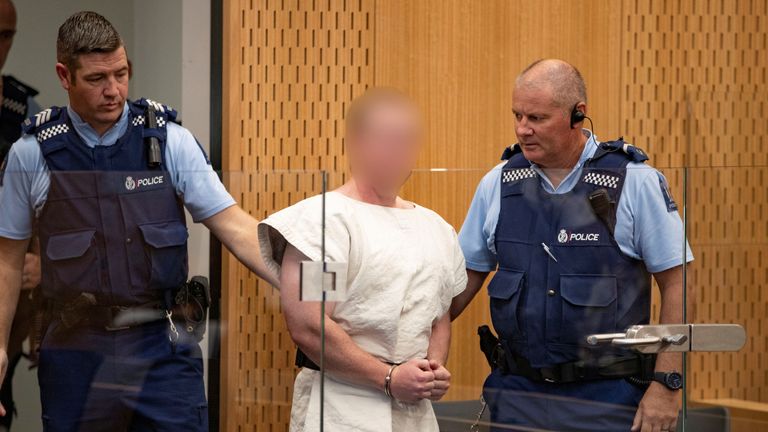 In a video posted on Facebook, Mr Alsati said it will be "six months to know how bad the damage [to his daughter Alen] is".
Speaking from his hospital bed, he broke down as he said: "My daughter woke up and she doesn't know us and she can't see us and hear us at all. I don't know if she is cold or warm.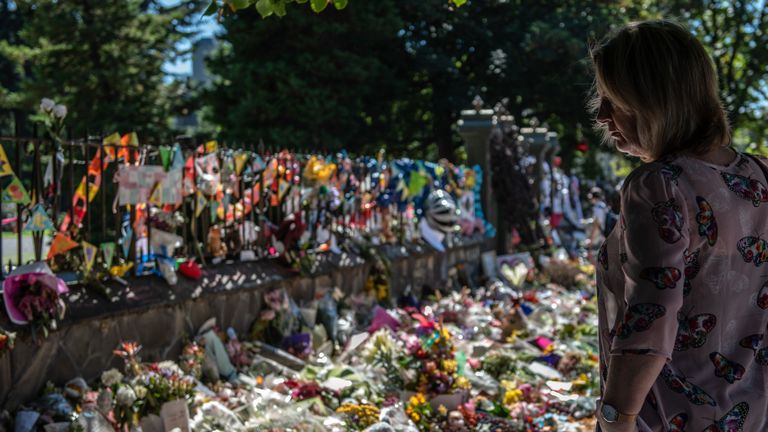 "We are all waiting. Alen woke up five days ago. She had seven or eight surgeries," he added.
Volodymyr Zelenskiy: Ukraine presidential candidate 'to attend next debate' after 'missing' first | World News
The surprise victor in the first round of Ukraine's presidential elections is expected to attend a future TV debate, officials have said.
It comes a day after he failed to turn up to what his opponent hoped would be the first event.
On Sunday, spectators were left bemused by the sight of incumbent president Petro Poroshenko standing next to an empty podium after Volodymyr Zelenskiy was a no-show.
Mr Zelenskiy, who won 30% of the votes in the first round of the election despite being a political novice and a comedian and actor by profession, had not said he would take part in Sunday's event.
He had told Mr Poroshenko's office he intended to take part in the official debate on 19 April.
According to Ukraine's election law, presidential candidates must have a televised debate by the last Friday before the run-off vote, which will take place on 21 April.
Mr Poroshenko, who had wanted Sunday's event to be the debate, effectively turned it into a rally, answering questions from journalists in front of a bank of TV cameras.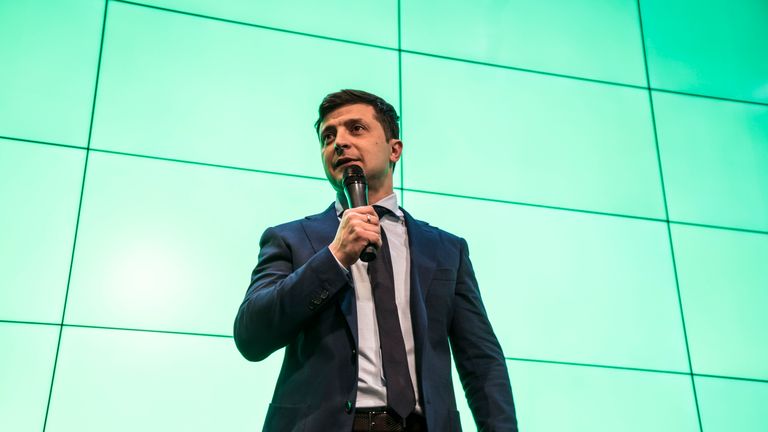 He used the question and answer session to mock Mr Zelenskiy, who is yet to spell out his full political agenda.
Mr Poroshenko said: "I do not like that a presidential campaign in Ukraine looks like a silent movie. I must say: Ukraine's fate is in danger."
Apparently addressing Mr Zelenskiy, he added: "You told me on Sunday – We'll go to the debate together. I came, you didn't – You tricked me, let me down."
The event was held at the Olympic Stadium in the capital Kiev, where thousands of Mr Poroshenko's supporters watched on big screens.
Mr Poroshenko stood next to an empty lectern bearing Mr Zelenskiy's name, but there was no sign of the comedian, who made his name in a TV drama about a teacher who runs for political office.
The incumbent then went on to address the crowd directly.
Mr Poroshenko's adviser Yury Biryukov said he still expected his boss to go face to face with Mr Zelenskiy on the 19th.
He wrote on Facebook: "So that no one has any illusions – this was a warm-up today.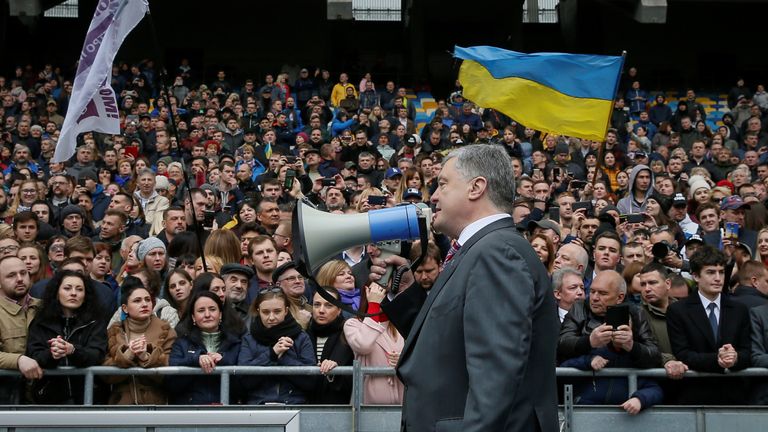 "Now there is a serious discussion with Zelensky's headquarters about the time of the debate at the stadium and in the studio.
"That is, if they can decide. 19/04 we are waiting for (the second) round. We are ready."
Mr Zelenskiy's campaign Twitter account also appeared to confirm he would be attending, saying: "Volodymyr Zelenskiy … carefully watched the debate. It's like in sports. Before an important fight it is necessary to carefully examine the opponent's tactics and see weaknesses."
Mr Zelenskiy is currently way ahead in the polls, but his victory might concern Western governments as his priorities are unclear.
Ukraine has been the site of a proxy war between Russia and the West since pro-Russian president Viktor Yanukovych was topped following the Euromaidan protests.
Eastern Ukraine remains a battleground, with Russia-backed separatists locked in a stalemate with government-backed forces.
The war in Donbass broke out in the wake of Russia annexing Crimea, which the UN regards as Ukrainian territory.
Among policies Mr Zelenskiy has proposed are plans to end war with Russia, according to the Kyiv Post.