'Hero' policeman Sergeant Ron Helus among 12 killed
Colleagues of a policeman who died after being among the first to respond to a mass shooting at a packed California bar have hailed him as a "hero".
Sergeant Ron Helus died of gunshot wounds as he moved in to try to stop Ian David Long's killing spree at the Borderline Bar and Grill in Thousand Oaks, about 40 miles west of Los Angeles.
The married father-of-one was among 12 people to have been killed by the 28-year-old US Marines veteran, who is believed to have later turned the gun on himself.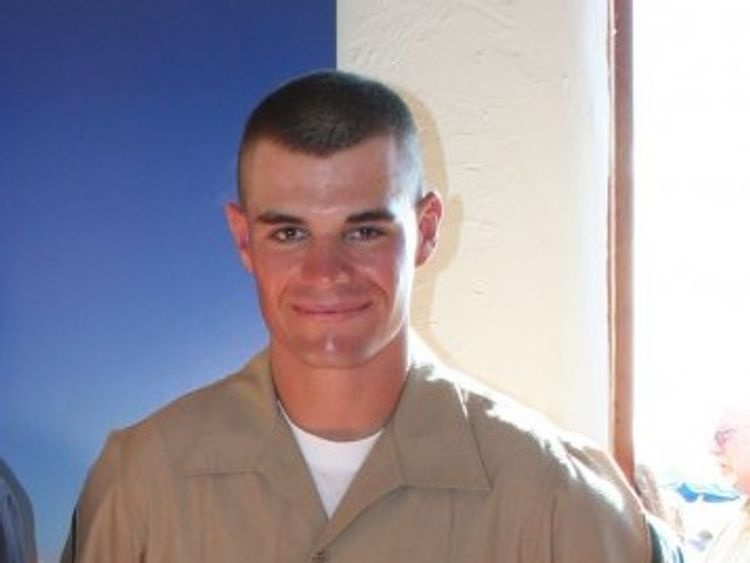 Fellow officers from the Ventura County Sheriff's Office described Sergeant Helus – who died from his injuries in hospital – as an "exceptional friend and man".
"The fact that he was the first in the door doesn't surprise me at all," said Sergeant Eric Buschow.
"He's just one of those guys that wouldn't hesitate in a situation."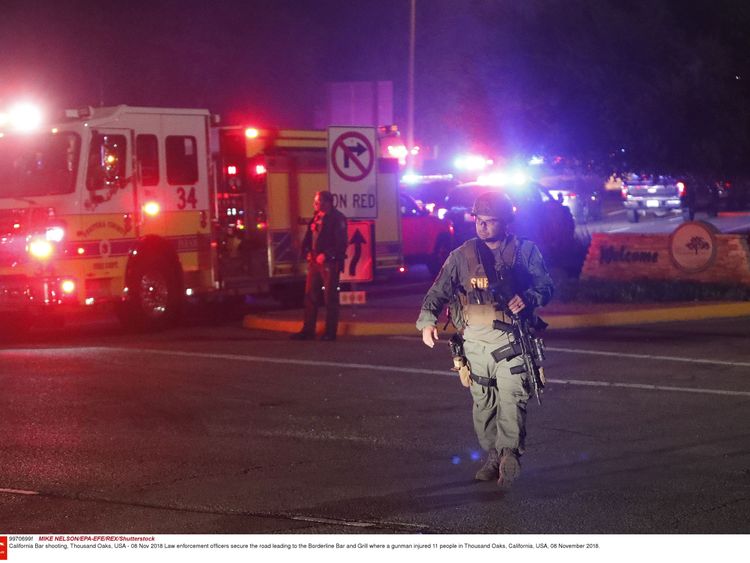 The intervention at the crowded venue late on Wednesday night was the final act of a 29-year career in law enforcement for Sergeant Helus, who was due to retire next year.
The 54-year-old had a grown-up son and was heralded by several colleagues as one of the most committed and hard-working officers on the local force.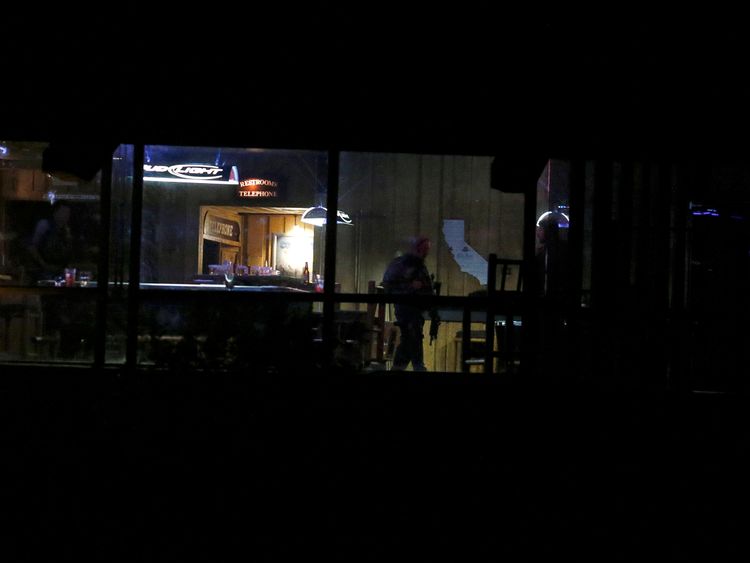 "When you call 911, he's one of the guys you want showing up," said Sergeant Buschow.
"If you were a victim of a crime, you want him investigating the case. He would go to the ends of the Earth to find a suspect. Just an awesome investigator."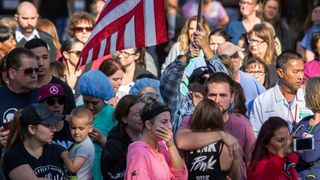 Sergeant Buschow said he had "no doubt" that Sergeant Helus and a highway patrol officer who joined him at the scene of the shooting had saved lives.
He described them both as heroes who had "paid the ultimate price".
Ventura County Sheriff Geoff Dean added of his former colleague: "He was totally committed, he gave his all, and tonight, as I told his wife, he died a hero."
:: Who were the other victims?
Cody Coffman, 22, was confirmed to have died during the attack by his father, Jason.
Mr Coffman told reporters that his son – who had two younger brothers, aged eight and six – had been planning to join the military and was also looking forward to the arrival of a baby sister later this month.
Speaking through tears, Mr Coffman said: "I talked to him last night, before he headed out the door. First thing I said was, 'please don't drink and drive'. Last thing I said was, 'son, I love you'. That was the last thing I said."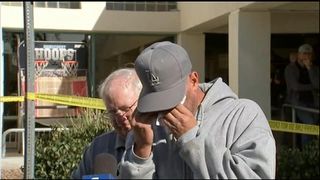 Another of those killed was 23-year-old Justin Meek.
California Lutheran University President Chris Kimball confirmed in a statement that he was among the dead, adding that he had "heroically saved lives in the incident".
He said: "We will pray, begin to comfort one another in our grief, and hold the families, friends and loved ones of the victims in our hearts.
"California Lutheran wraps its arms around the Meek family and other families, and around every member of this community of caring."
Alaina Housley – the niece of actress Tamera Mowry-Housley and husband Adam Housley – also died.
In a joint statement, the couple said: "Alaina was an incredible young woman with so much life ahead of her and we are devastated that her life was cut short in this manner.
"We thank everyone for your prayers and ask for privacy at this time."
Mowry-Housley found fame on the US sitcom Sister, Sister alongside her twin Tia back in the 1990s.
She is now one of the hosts of The Real talk show on Fox.
Trump recognises Venezuelan opposition leader as interim president amid unrest | World News
Venezuela's opposition leader has declared himself the new president amid riots which have led to several deaths.
Juan Guaido was met with cheering support after naming himself interim president, raising his right hand as he said he was "formally assuming the responsibility of the national executive".
Soon after, US president Donald Trump formally recognised Mr Guaido as the interim president of Venezuela.
A statement from the White House encouraged other western nations to make the same move.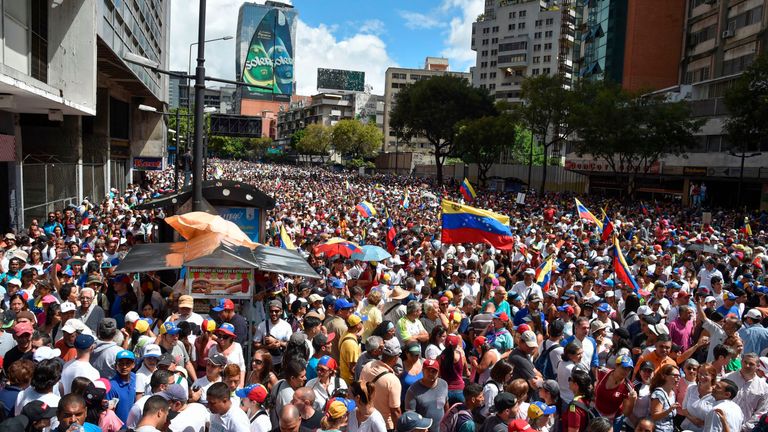 Nicolas Maduro was sworn in for a contested second term two weeks ago but has been met by international condemnation.
Thousands of Venezuelans have protested against Mr Maduro, accusing him of usurping power and demanding he step down.
Millions have fled as the country reels from a crushing economic crisis. Those who are forced to stay are going hungry.
The Venezuelan parliament is not likely to convene until Thursday at the earliest.
Stuart Ramsey, Sky correspondent in Venezuela, said: "He was surrounded by people screaming 'president, president' as he walked through a rallying point.
"This will end in violence, I can guarantee that, but it has already been violent.
"We know of six dead, two relatively recently, in different parts of the country.
"This question now is what does the president Maduro do?"
He added: "The opposition is hoping the international community will give the support that they need.
"Perhaps proper action, more sanctions, worse. The international community has condemned the leadership here as unelected, Maduro was called a usurper, but we now have two presidents and there is of course, chaos coming."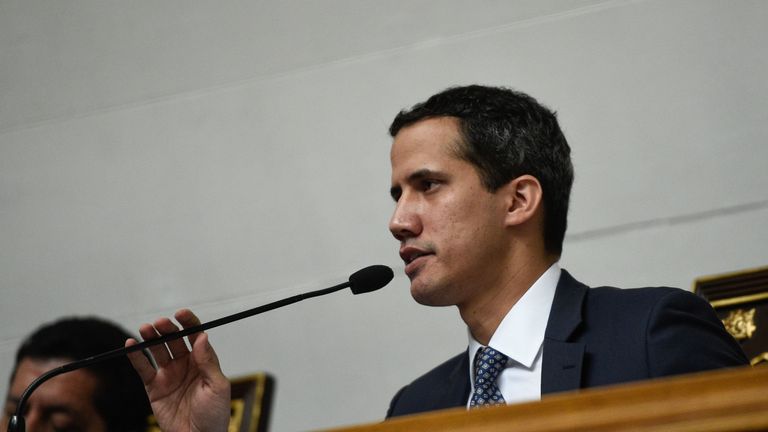 Mr Maduro was re-elected last month but the country's opposition does not recognise the election and says it was fraudulent.
The US recognition of Mr Guaido will mount pressure on Mr Maduro to step down.
Four people died in overnight clashes between opposition supporters and regime loyalists as they prepared for rival rallies on Wednesday after a failed military mutiny.
According to the Social Conflict Observatory a 16-year-old who suffered a firearm injury during a demonstration was among the dead.
Much of the unrest took place in Bolivar state on the border of Brazil. Police said there were three deaths during a looting in the capital Bolivar City.
A statue of revolutionary leader Hugo Chavez was torched by protesters in San Felix.
More follows…
French nappies found to contain weedkiller and other potentially toxic chemicals | World News
Potentially toxic substances, including a widely-used weedkiller linked to cancer, have been discovered in nappies made and sold in France.
Environment agency ANSES revealed its findings in a new study published on Wednesday, with scientists testing 23 types of nappies as they were worn by children.
The tests uncovered butylphenyl methylpropional – used in beauty products – and some aromatic hydrocarbons.
The weedkiller chemical found was glyphosate, which has been linked to cancer and had been subjected to attempts by some European leaders to have it banned.
Regarding its discovery in nappies made in the country, the government said it was vital that manufacturers and retailers ensured the substance was removed.
In a joint statement, the health, environment and finance ministries said: "We call on manufacturers and retailers to take measures within the next 15 days to eliminate these substances from babies' nappies."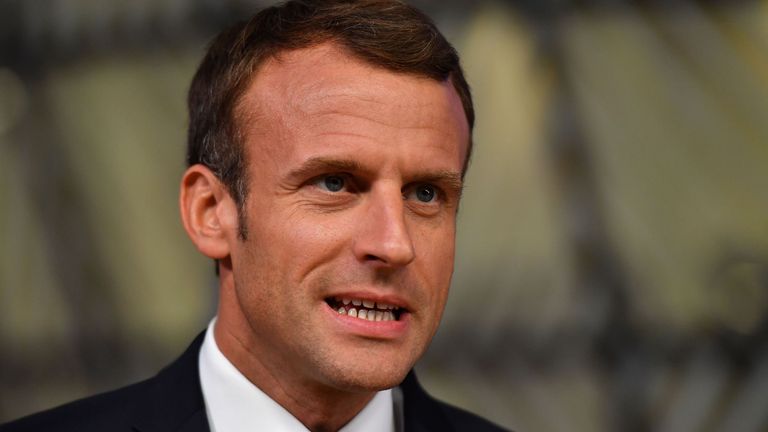 Health minister Agnes Buzyn also moved to assure parents that there was no immediate risk to their children, and said the report was "a precaution to protect our children from possible effects".
She added: "Obviously we should continue putting nappies on our babies – we've been doing that for at least 50 years."
President Emmanuel Macron has previously said he wanted the glyphosate to be completely phased out, but farmers are likely to be exempt as there are no credible alternatives.
As well as being potentially dangerous to humans, scientists have warned that the controversial pesticide could also be killing bees.
But it remains registered in around 130 countries, including the UK, where it is commonly used to spray pests.
'I can't say I'm sorry': Trump hat teen Nick Sandmann defends himself over Native American encounter | US News
A US high school student has said he wished he "walked away and avoided" his encounter with a Native American protester.
Nick Sandmann was filmed apparently smirking while standing just a few feet from Nathan Phillips at the Lincoln Memorial in Washington on Friday in a video that has gone viral.
But the teenager said he did not intend to be disrespectful, insisting "I'd like to talk to [Mr Phillips]"
"I mean, in hindsight, I wish we could've walked away and avoided the whole thing. But I can't say that I'm sorry for listening to him and standing there," he told NBC's Today programme.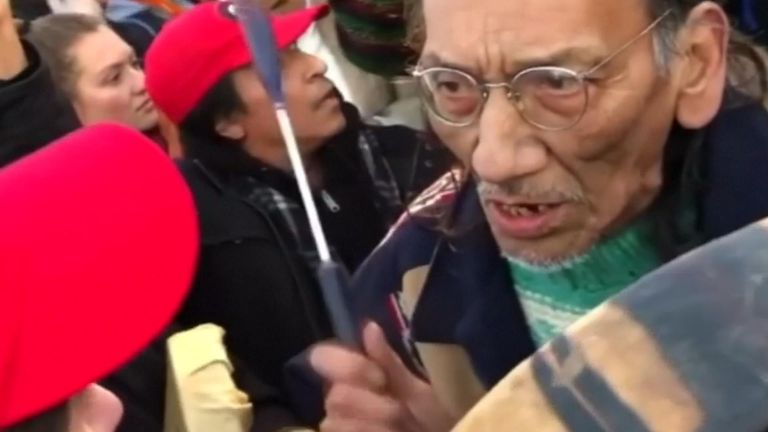 Asked if he felt he owed anyone an apology or has assumed fault for the clash, he instead blamed a group of black men styling themselves as Hebrew Israelites who were also there.
The men were filmed taunting and insulting both the indigenous people gathered with Mr Phillips and the boys, many of whom, including Sandmann, wore red hats bearing President Trump's "Make America Great Again" slogan.
"They started shouting a bunch of homophobic, racist, derogatory comments at us. I heard them call us incest kids, bigots, racists. They called us f*****s," Nick Sandmann said.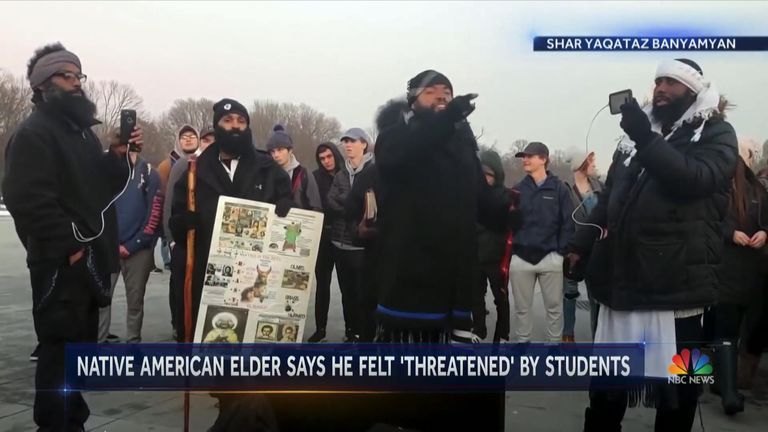 The Covington Catholic High School students, who were in Washington for an anti-abortion rally, outnumbered their aggressors but the teenager said he "definitely felt threatened."
Nathan Phillips, a tribal elder, activist and Vietnam War veteran, was singing and playing a drum as he took part in an indigenous people's march.
He locked eyes with Nick Sandmann while around them some of the teenager's classmates from the private, all-male school in Kentucky, were seen dancing and jumping around, apparently mocking Mr Phillips.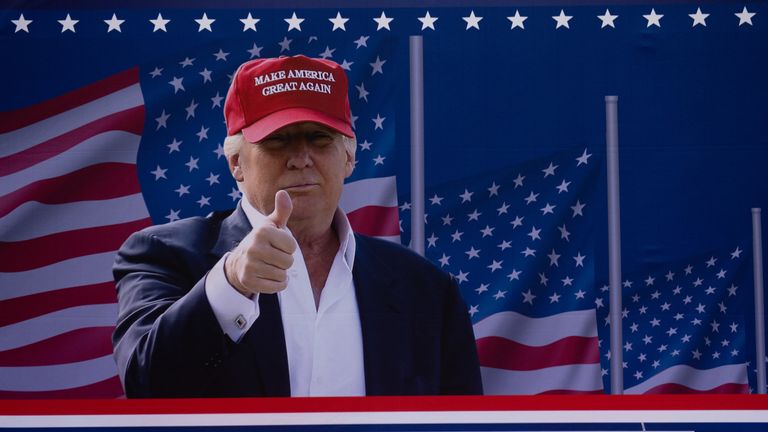 Some were also wearing "Make America Great Again" hats and sweatshirts and one removed his top.
President Trump's press secretary Sarah Huckabee Sanders said on Wednesday the White House has "reached out and voiced our support" to Nick Sandmann and his fellow students.
She said no one understands better than Donald Trump when the media jumps to conclusions and "attacks you for something you may or may not have done."
On Tuesday, Mr Trump defended the students, tweeting that they had been "smeared by the media" and had become "symbols of Fake News and how evil it can be".