Hamas warns of 'bloodier' Gaza protests and demands easing of economic blockade
A senior Hamas leader has warned that protests at Gaza's border fence with Israel will get bigger and "bloodier" unless there is an easing of the 10-year economic blockade of the coastal strip.
Planned demonstrations this week are set to be further inflamed after 21-year-old medic, Razan al Najar, was shot dead at the border last Friday.
The United Nations has called the incident "reprehensible".
Clearly there is no end in sight to the protests and the intensity of the confrontation along the Gaza-Israel border is not easing.
The air is thick with choking CS gas and the sporadic crack of passing bullets overwhelms ones senses. We filmed at one of the latest demonstrations against the economic blockade of Gaza by Israel and Egypt.
Crowds ran towards waiting paramedics and ambulances metres from the front lines. It's chaotic as they carry the injured on stretchers or in their arms. Some are shot high on the body and are in terrible shape. Others wincing in pain are hit in the leg.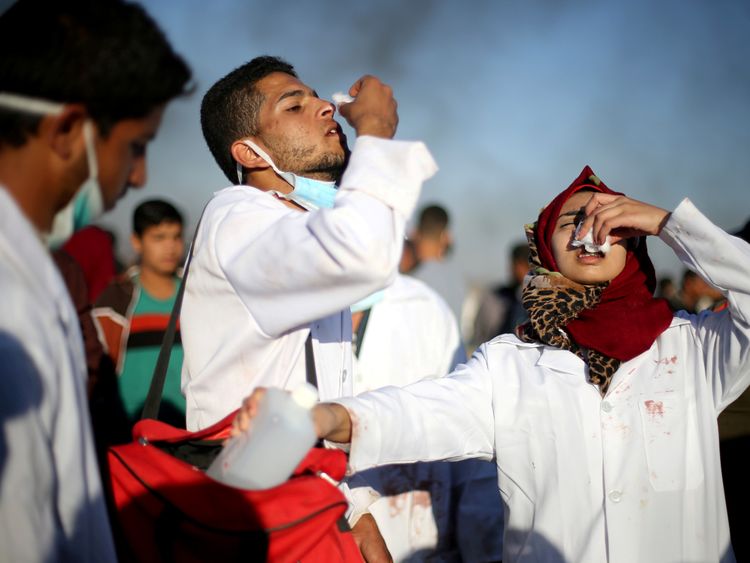 Everyone knows that Israel will protect its border. Everyone knows they will use lethal force if they try to cross or threaten the lives of Israeli soldiers.
Many here would contest that the soldiers keep to those rules, but regardless, the protesters still keep coming and thousands have been hurt, over a hundred killed.
Many end up in hospitals and clinics across Gaza – an enormous logistical and medical response to what is now quite clearly a crisis akin to an actual battle.
In the Medicine Sans Frontiers clinic in Gaza city, where they are treating those with long-term injuries, they are receiving 20 new patients a day – it used to be 20 a month.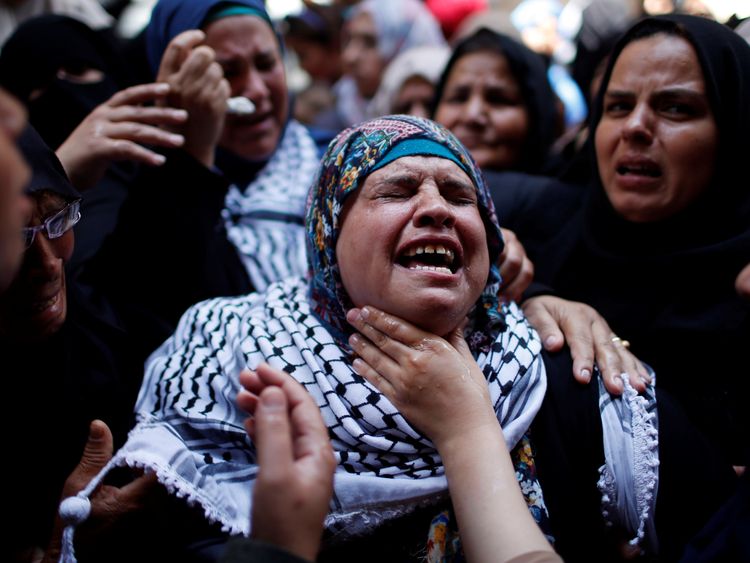 As it stands, they have 1,295 long-term casualties to deal with, they are almost stretched to the limit now. The reception area is full of young men, all on crutches or hoping to seats and beds, waiting to be seen by teams of doctors and nurses.
"The injuries we see are very difficult to treat and the risk of not healing is really very high," Elisabeth Gross, an MSF coordinator, told me.
"We have a generation of young men, 24 years old, who will not be able to walk properly, who will not be fully functional and will have long-term consequences for the rest of their lives. It is very sad," she said.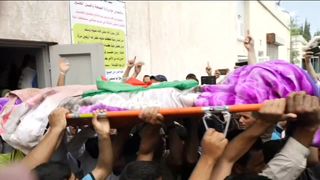 More demonstrations for this week have been fuelled with anger by pictures of medics walking towards the Israeli border fence to retrieve an injured protester. They have their arms in the air and are wearing paramedic vests.
As they walked, one of the group, Ms Najar, was shot and fatally wounded. The funeral of the 21-year-old volunteer in the southern Gazan city of Khan Younes brought thousands onto the streets.
An Israeli investigation into the incident will not quell the anger here and it has all but guaranteed that on the 51st anniversary of the start of the Six Day War, when Israel took over Gaza, there will be more demonstrations and more violence.
Israel holds Hamas responsible for the demonstrations and the violence, and insists they are a cover for attacks on Israeli soldiers and citizens.
Hamas blames Israel and warns that if there is no relaxation of the economic blockade here, things will deteriorate even further.
Amid tight security I met top-ranking Hamas leader Mahmoud al Zahar at his office in Gaza city. The best hope for a relaxation of the tensions here, he said, would be a relaxation of the economic blockade.
"If you, in the west, find a solution for the people, we can, in two months, build a transit sea port to allow our people to be treated outside and allow the social and financial aid to come through these channels to be distributed for the poor people," he told me.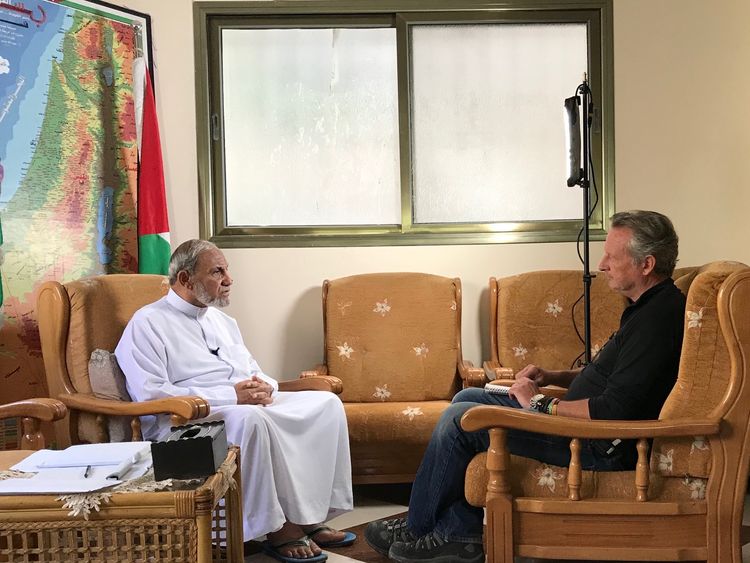 "I think this will ease this state of confrontation on the border. But if that (situation) will continue, I think the next wave will be more bloody," he said.
For most observing this crisis, it would seem that after ten years some sort of negotiation about the economic blockade of Gaza and a discussion about the relations of the vast majority of the people here in Gaza with the state of Israel are needed.
But there are no negotiations. So it goes on. And the violence will most likely get worse.
Coronavirus: 'We're facing a war' – Italy's frontline doctors fear losing control as hospital cases increase | World News
Watching Dr Silvana Di Florio ready herself to enter an intensive care ward where every bed currently set aside for COVID-19 patients is already full reminds you of the seriousness of the virus.
With the help of another staff member she layers herself in protective clothing: A mask, overalls, and then a vast hood with a clear visor, looking other-worldly to the untrained eye.
She is the head of ICU nursing at the Tor Vergata Hospital in Rome and is feeling the intense pressure of a second wave of COVID.
We get a chance to speak to her before she enters the area where day by day the demands on staff increase dramatically. And these are medical professionals still trying to recover from the physical and mental stresses of the spring outbreak.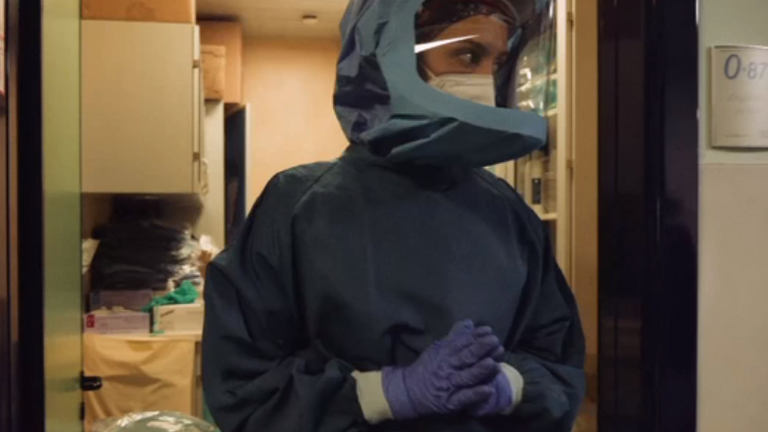 She seems calm as she starts to speak: "At the beginning we were those who were facing a global health emergency."
She then pauses and starts to sob, telling us: "Now we are facing a war. We are tired. We are few. Some are sick, and with few resources.
"But we are always present, always prepared, always really careful."
As she composes herself, she says: "I believe that sometimes we are able to go on even just for the 'thank you' that the patient tells us."
It is clear that Dr Di Florio and others dealing with the second wave of COVID are struggling physically and emotionally.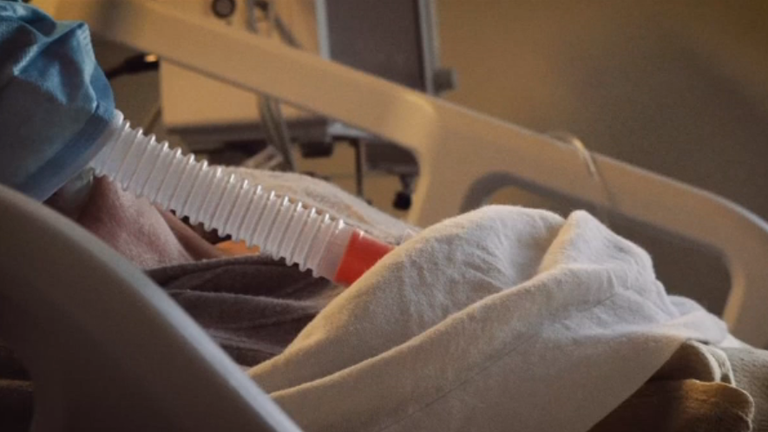 She tells us that her staff get tested regularly in order not to miss a shift. Demand is growing and scared as they might be, they feel like "missionaries" doing a job.
Tor Vergata Hospital is one of the largest in the Italian capital and doctors and nurses are blunt about the reality facing them – that it will not be able to cope if COVID numbers continue to rise.
From the safety of a corridor in the infectious diseases department we are shown rooms all now occupied by COVID patients.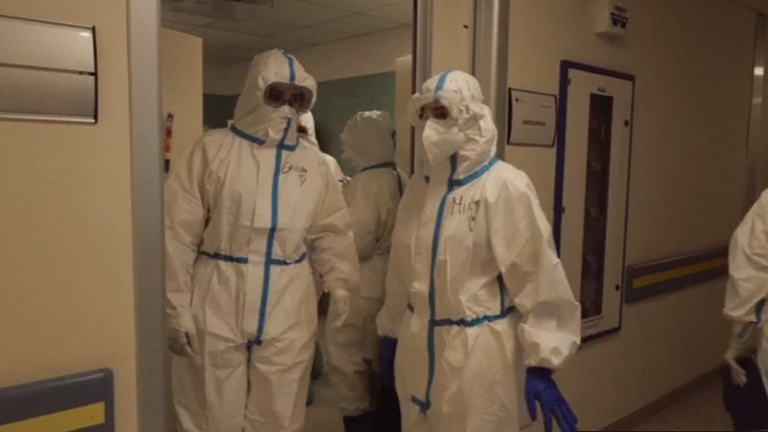 Just days ago, ambulances queued for up to nine hours to admit patients.
Looking through the glass into the rooms one can only imagine what it is like for the sick here; cut off from family, unable to have visitors, wondering if they will even be aware when and if the day comes when they will deteriorate far enough that they will need to be moved to ICU.
Professor Massimo Andreoni, who heads the department, warns things are going to get worse and there is, he says, only one solution – a national lockdown.
"So I think that it is very important to start quickly in lockdown and to stop the pandemic," he says.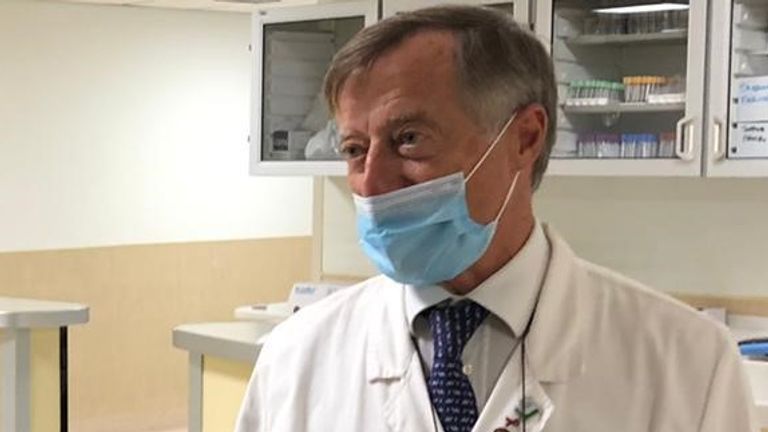 "This is the only possibility because there is not the capacity to have sufficient beds in the hospital for these patients."
It is a stark warning from a man who fears impossible pressures on the health service.
For now though, it is a move the Italian government resists. What happens in the nation's hospitals in the coming days may force a change in political strategy.
Two British teenagers killed and one seriously injured in Greece parasailing accident | UK News
Two British teenagers have been killed and another is in a serious condition after a parasailing accident in Greece.
The trio are said to have been found on rocks near Lindos on the island of Rhodes.
The Greek coastguard said the rope holding their parachute had snapped.
One of the group, a 15-year-old boy, is in hospital with multiple injuries, but his 13-year-old brother and 15-year old female cousin died.
The bodies were found after the driver of the boat called emergency services, said the coastguard.
"They were following a speedboat. The rope was cut," it added in a statement.
"The boy and the girl were killed and another was heavily injured and brought to hospital. It is under investigation about how the rope was cut."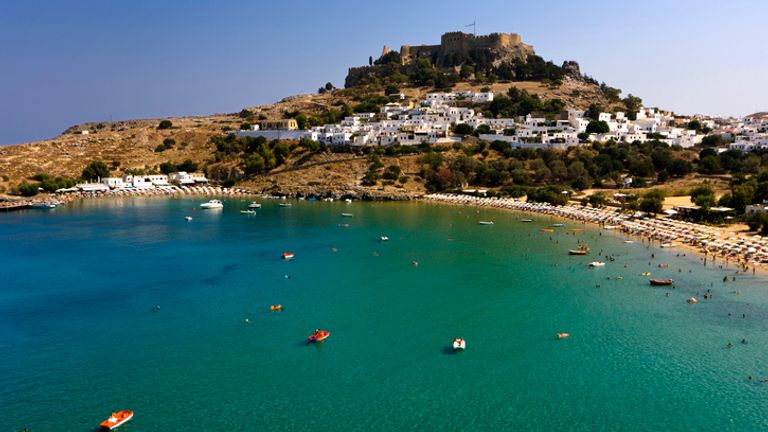 Greek media reported that Wednesday's incident happened in high winds.
The boat's driver and another person have been arrested.
The Foreign, Commonwealth & Development Office (FCDO) said: "We are supporting the family of two British people following their death in Rhodes, and are in contact with the Greek authorities."
Son of Walter Wallace Jr says 'white racist cops' killed his father | US News
The eight-year-old son of a black man shot dead by Philadelphia police has said he believes the officers involved were racist.
Zamir, the eldest son of Walter Wallace Jr, said on Wednesday that "white racist cops" had killed his father as he told reporters what he would remember about him.
"We used to always hang out and we'd always go places, and we used to always play around," Zamir said, adding: "He used to always teach me how to be a man.
"These white racist cops got my own dad. Black lives still matter."
Moments before black man's shooting by police

Mr Wallace was shot dead in the street on Monday in an incident caught on camera and later widely shared on the web.
The footage, filmed by a bystander, shows police officers firing several times at the 27-year-old after yelling at him to drop a knife.
According to the family lawyer, Shaka Johnson, Mr Wallace's relatives had called an ambulance to help the father of nine rather than police as they believed he was experiencing a mental health crisis.
Mr Johnson said it was also believed the officers knew about the crisis because they had visited the family home three times on the day of the shooting.
The incident has since sparked two consecutive nights of protesting in Philadelphia that began with peaceful marching and the chanting of Mr Wallace's name, before being taken over by violence.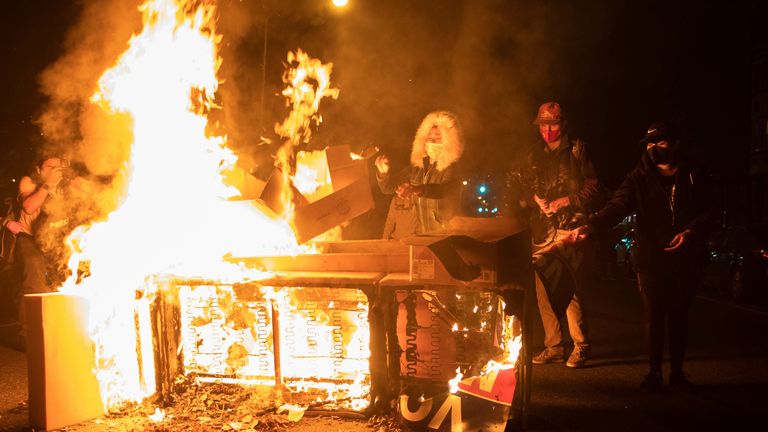 On Tuesday evening, several protesters threw rocks, light bulbs and bricks at officers near a police station in the city, while looters were also spotted ransacking shops.
It followed a night of unrest on Monday, where more than 90 people were arrested and 30 police officers were injured.
Speaking on behalf of the family, Mr Wallace's father criticised the violence and looting, which has resulted in the National Guard being deployed.
He said he was haunted by the way his son was "butchered" but said he wanted protesters in Philadelphia to show his family and the city "some kind of respect".
"It's uncalled for," Mr Wallace said of the violence. "It really is."
State and local officials are now calling for a transparent investigation into Mr Wallace's death, while Philadelphia police commissioner Danielle Outlaw said she was reviewing what information could be made public.
This includes whether the officers were aware of the possible mental health crisis mentioned by the family.
Mr Wallace Jr's death is the latest killing of a black person by US police officers, and comes after months of Black Lives Matter protests, sparked initially by the death of George Floyd.
Mr Wallace Jr's wife Dominique is pregnant and is due to have her labour induced later today.