Russian pilot found three decades after going missing in Afghanistan
A Russian pilot believed to have been shot down and killed 30 years ago during the Soviet invasion of Afghanistan has been found alive.
The pilot was shot down in 1987 and is likely now to be in his 60s, according to Vyacheslav Kalinin, deputy head of a Russian veterans' organisation.
Mr Kalinin said the pilot could be in Pakistan, where Afghanistan had camps for prisoners of war.
Valery Vostrotin, head of the Russian paratroopers' union, told state media: "He is still alive. It's very astonishing. Now he needs help."
The pilot has not been named for reasons of confidentiality.
During the course of the conflict between 1979 and 1989, 125 Soviet planes were shot down in Afghanistan, according to RIA Novosti news agency.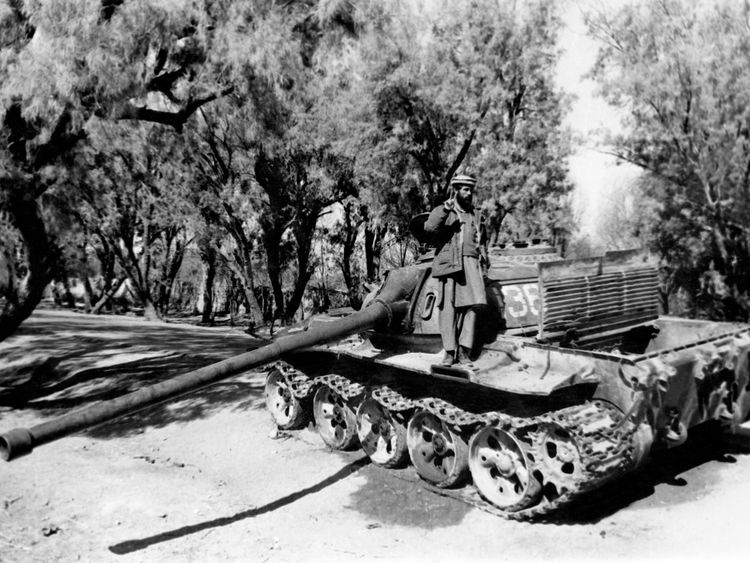 When Soviet troops pulled out of the country in 1989, around 300 soldiers were listed as missing and since then some 30 have been found and most returned to their home countries.
Russian newspaper Kommersant reports that just one Soviet pilot was shot down in 1987, naming him as Sergei Pantelyuk, from the Rostov region in southern Russia.
He went missing along with his plane after taking off from Bagram airfield, now a US air base, north of Kabul.
The head of a local veterans' organisation said Mr Pantelyuk's mother and sister are both still alive.
The Komsomolskaya Pravda newspaper also traced Mr Pantelyuk's 31-year-old daughter, who was born just months before her father went missing.
Retired colonel Frants Klintsevich told RIA Novosti that the discovery of the pilot is not the only such case, adding that he had met an ex-Soviet soldier during a trip to Afghanistan a few years ago.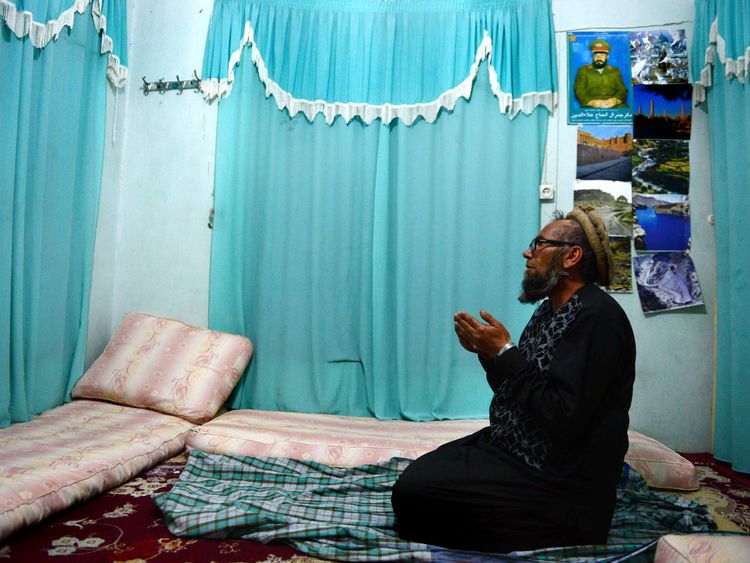 Mr Klintsevich claimed the soldier refused to give his name, spoke Russian with difficulty and said it was too late for him to return.
In 2013, it was revealed that a former Red Army conscript who disappeared on the battlefield in 1980 was still alive and well in Afghanistan.
Bakhretdin Khakimov was presumed dead by his superiors after being seriously wounded, but was nursed back to health by locals near Herat before converting to Islam.
"I stayed in Afghanistan because Afghans are very kind and hospitable people," he told the AFP news agency.
Near-indestructible beetle is so tough it can survive being run over by a car | Science & Tech News
The key to making stronger buildings and planes could lie in the anatomy of a crush-resistant insect that can survive being run over by a car, scientists have found.
To understand the secret behind the impressive strength of the inch-long diabolical ironclad beetle, researchers tested how much squishing it could take – and discovered it could handle about 39,000 times its own weight.
The study, led by engineers at the University of California, Irvine (UCI) and Purdue University, found the insect has two armour-like elytron that meet at a line, called a suture, which runs through the abdomen.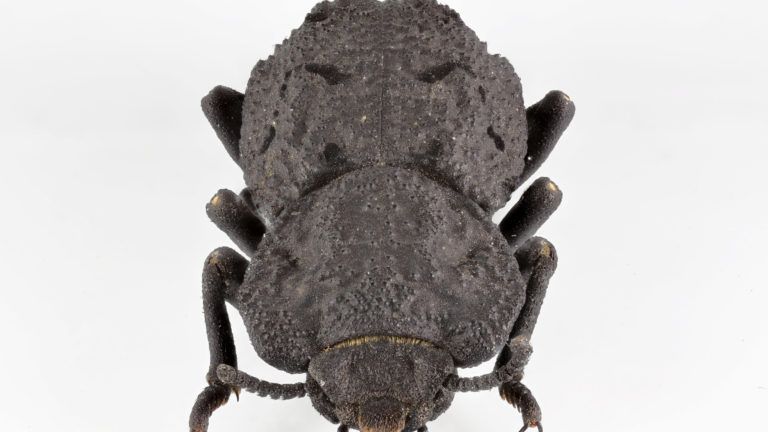 This unusual structure is layered and pieced together like a jigsaw, said Purdue civil engineer Pablo Zavattieri, who was part of a group of researchers that used CT scans to inspect the insect and run it over with a car.
The exoskeleton is thought to be one of the toughest structures known to exist in the animal kingdom.
Professor Zavattieri said that when compressed, it fractured slowly instead of snapping simultaneously.
"When you pull them apart, it doesn't break catastrophically. It just deforms a little bit," he said.
"That's crucial for the beetle.
"This work shows that we may be able to shift from using strong, brittle materials to ones that can be both strong and tough by dissipating energy as they break. This beetle is super tough."
The findings could inspire stronger structures and vehicles made with materials such as steel, plastic and plaster.
That's because engineers currently rely on pins, bolts, welding and adhesives to hold everything together – techniques that are prone to degrading.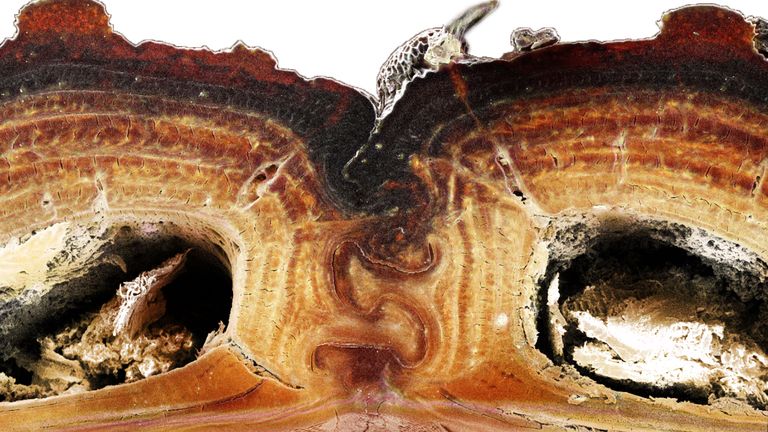 Diabolical ironclad beetles are commonly found in Southern California's woodlands and can withstand pressure such as bird pecks and animal stomps.
Other local beetles were crushed by a third of the weight it could hold, previous research had found.
The study, published in Nature, is part of an $8m project funded by the US Air Force to explore how the biology of creatures such as mantis shrimp and bighorn sheep could help develop impact-resistant materials.
Brown University evolutionary biologist Colin Donihue, who was not involved in the study, said it was the latest effort to solve human problems with secrets from the natural world.
Velcro, for example, was inspired by the hook-like structure of plant burrs, while artificial adhesives took a page from super-clingy gecko feet.
Professor Donihue said endless other traits found in nature could offer insight, saying: "These are adaptations that have evolved over millennia."
Coronavirus: Oxford vaccine trial will continue in Brazil after death of volunteer | World News
The University of Oxford says it will continue its COVID-19 vaccine trial in Brazil, following the death of a volunteer.
The Brazilian health authority said on Wednesday a volunteer in the clinical trial of the potential vaccine – which has been licenced to pharmaceutical giant AstraZeneca – had died.
But the university said an independent review had revealed no safety concerns.
"Following careful assessment of this case in Brazil, there have been no concerns about safety of the clinical trial and the independent review in addition to the Brazilian regulator have recommended that the trial should continue," a spokesman said.
Sky News has approached AstraZeneca for comment.
The volunteer, who is understood to be Brazillian, didn't receive the vaccine, it is understood.
While, Brazilian newspaper O Globo reported that the volunteer had been given a placebo and not the trial vaccine, although this hasn't been officially confirmed.
AstraZeneca shares turned negative and were down 1.7% after the news broke on Wednesday evening.
A spokesperson from the company said: "We cannot comment on individual cases in an ongoing trial of the Oxford vaccine as we adhere strictly to medical confidentiality and clinical trial regulations, but we can confirm that all required review processes have been followed.
"All significant medical events are carefully assessed by trial investigators, an independent safety monitoring committee and the regulatory authorities.
"These assessments have not led to any concerns about the continuation of the ongoing study."
AstraZeneca and Oxford University are thought to be among the front runners in a global race to produce a coronavirus jab. The UK Government have signed a deal for 100 million doses.
The vaccine is in phase 3 trials – the last stage before a drug is declared safe – in multiple countries.
In September the UK trial was paused over possible dangerous side effects but it was later restarted when the Medicines Health Regulatory Authority declared it safe to continue.
Brazil has the second deadliest outbreak of coronavirus, with more than 154,000 killed by COVID-19, following only the United States.
It is the third-worst outbreak in terms of cases, with more than 5.2 million infected, after the United States and India.
Spain becomes first country in western Europe to record one million COVID cases


Spain has become the first country in western Europe to record one million coronavirus cases – marking a doubling of its tally in just six weeks.

Source link