Incurable 'bat virus' Nipah sparks alert in India's Kerala state
A deadly virus that causes fever, vomiting and convulsions – and for which there is no vaccine – has sparked a health alert in India.
Nipah is mainly carried by fruit bats and has a mortality rate of around 75%.
It can also be passed on by pigs and from human-to-human contact and can lead to coma or swelling of the brain.
At least three people from the same family have died from the virus in Kerala, said state health minister K K Shailaja.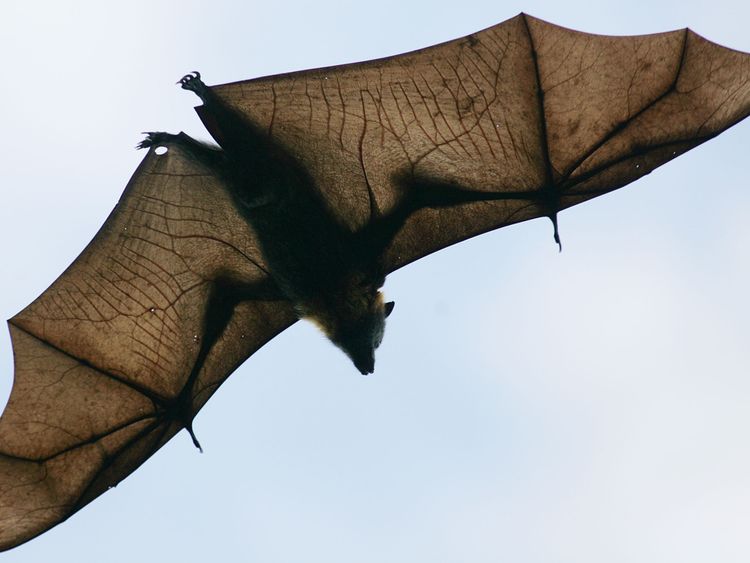 Eight other deaths are also being linked to the virus, including a nurse who is said to have treated the victims.
Neighbours told local media that two of the people who died had eaten fruit from land where they were building a home.
A bat was reportedly found in a well on the property, according to the Press Trust of India.
The only treatment for Nipah is care to contol the symptoms and keep patients comfortable.
"The health department is doing everything possible to save the lives of the infected & prevent the advance of virus," said the office of Kerala's chief minister Pinarayi Vijayan.
The victims who tested positive for the virus all died in Calicut district, and India's health minister has rushed experts to the area amid reports of panic.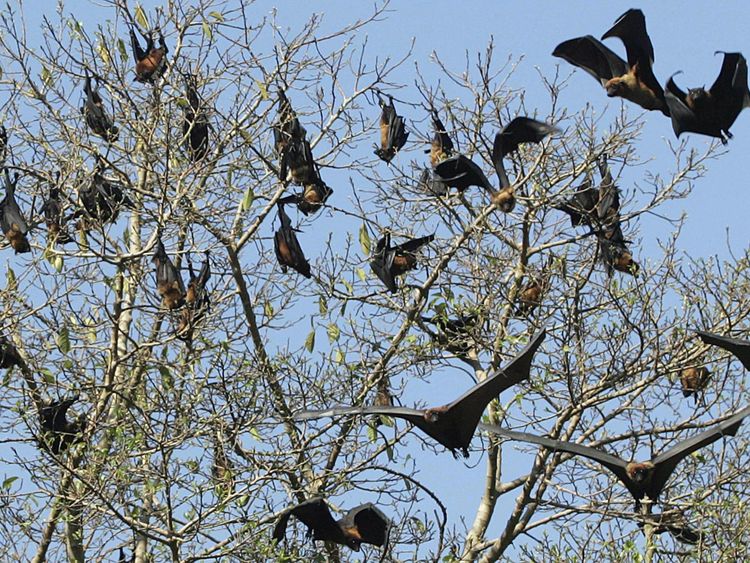 Nipah was first identified in Malaysia in 1998, before spreading to Singapore and killing more than 100 people.
Fifty people were also killed in India's West Bengal state during outbreaks in 2001 and 2007.
The virus has killed more than 100 in Bangladesh – with a 2004 outbreak blamed on people eating date palm sap that had been contaminated by infected bats.
Nice knife attack: More details revealed about knifeman as one victim named | World News
French authorities have revealed that the Nice attacker who killed three people is Tunisian and was unknown to security services.
France's chief anti-terrorist prosecutor, Jean-Francois Ricard, said the young man, born in 1999, arrived in the city by train and changed his clothes at the station, before walking 400 metres to the Notre Dame church.
He entered France from Italy – travelling through the southern Italian city of Bari on 9 October – after reaching the Mediterranean island of Lampedusa on 20 September.
Shots fired as police storm church

He was carrying an Italian Red Cross identity document and two phones, while a bag containing two unused knives was found.
The blade used in the attack was 30cm long, with a cutting edge of 17cm.
Following the attack at the church he moved towards police in a "threatening way", shouting Allahu Akbar [God is greatest] before being shot and seriously wounded by officers, who fired at least 14 bullets at him.
He is being treated in hospital, Mr Ricard said.
One of the three people stabbed to death has been named as church worker Vincent Loques.
Local politician Eric Ciotti tweeted a picture of Mr Loques dressed in a t-shirt, looking relaxed and smiling.
Macron: France is 'under attack'

He said Mr Loques was a "devoted employee" of the Notre Dame church.
Mr Ricard described the scene of the attack. He said a 60-year-old woman suffered a "very deep throat slitting, like a decapitation".
She and Mr Loques died at the scene, while a 44-year-old woman made it out of the church and died at a local cafe.
Mr Loques was 55 and a father of two, Le Parisien newspaper reported.
Members of the parish said he had been church warden for ten years and was "expansive and sympathetic".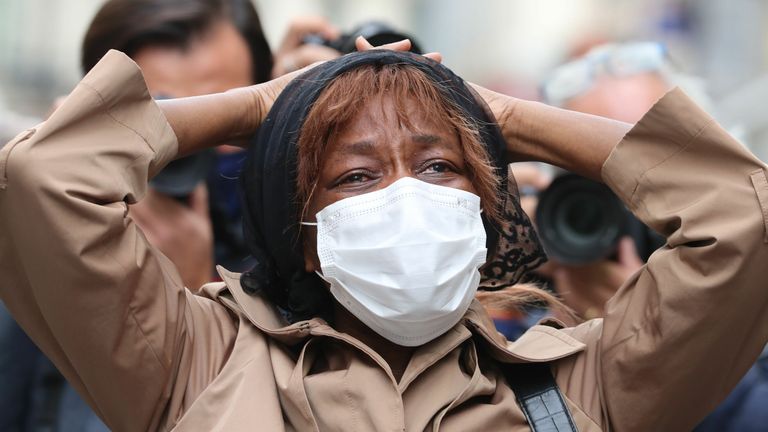 President Emmanuel Macron, who visited Nice on Thursday afternoon, said his country had been "attacked" and expressed the "support of France towards the Catholic community".
He added that the number of soldiers deployed to protect schools and religious sites would be increased from about 3,000 at the moment to 7,000.
Reuters journalists at the scene said police armed with automatic weapons put up a security cordon around the church, which is on Nice's Jean Medecin avenue, the city's main shopping thoroughfare.
Sounds of explosions could be heard as sappers detonated suspicious objects.
Prime Minister Jean Castex has told residents of Nice only to leave home for food shopping, commuting to work, medical reasons or pressing family matters.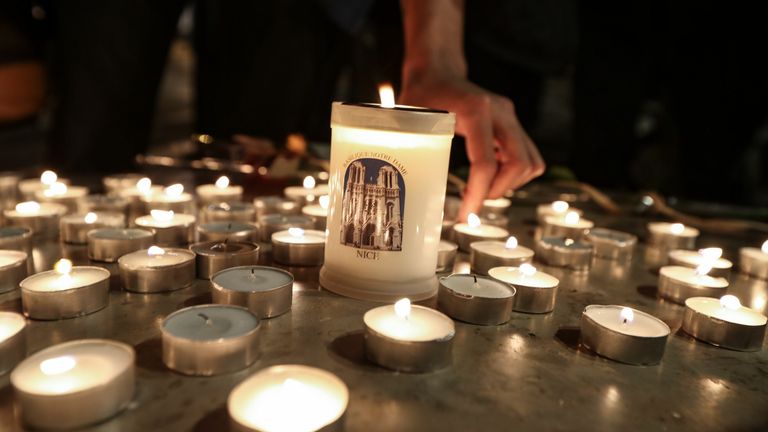 A representative of the French Council for the Muslim Faith condemned the attack, saying: "As a sign of mourning and solidarity with the victims and their loved ones, I call on all Muslims in France to cancel all the celebrations of the holiday of Mawlid [Prophet Muhammad's birthday]."
In a separate incident shortly after, French police confirmed a man was shot dead near Avignon, after threatening passers-by with a handgun in the district of Montfavet.
In Jeddah, Saudi Arabia, a man was arrested after stabbing and wounding a guard at the French consulate, state media reported.
It comes as the country remains under high alert for terrorist attacks following the beheading earlier this month of French middle school teacher Samuel Paty in Paris.
The attacker had said he wanted to punish Mr Paty for showing pupils cartoons of the Prophet Mohammad in a civics lesson.
:: Subscribe to the Daily podcast on Apple Podcasts, Google Podcasts, Spotify, Spreaker
Nice's mayor, Christian Estrosi, said the victims had been killed in a "horrible way".
"The methods match, without doubt, those used against the brave teacher in Conflans Sainte Honorine, Samuel Paty."
He added: "Attack in Nice, attack in Avignon, attack on the French consulate in Saudi Arabia. It is not a coincidence."
Since Mr Paty's killing, French officials – backed by many ordinary citizens – have re-asserted the right to display the cartoons, and the images have been widely displayed at marches in solidarity with the killed teacher.
That has prompted an outpouring of anger in parts of the Muslim world, with some governments accusing President Macron of pursuing an anti-Islam agenda.
US hospitals facing 'increased and imminent cybercrime threat', FBI warns | World News

Cybercriminals could soon paralyse the US healthcare system with a ransomware attack, which has already hit five hospitals and four other facilities, the FBI has warned.
In an alert on Wednesday, the FBI said it had credible evidence of an "increased and imminent cybercrime threat" to healthcare providers nationwide.
They warned the fraudsters behind the ransomware, which is called Ryuk, want to steal data and disrupt healthcare services.
They do this by scrambling their victims' data, making it impossible to understand, then demanding money to decode it again, the alert from the FBI, Department of Homeland Security and Department of Health and Human Services said.
The attack, which has already affected five hospitals this week, as well as four other healthcare institutions, could spread further in the coming days, they added.
It coincides with a nationwide rise in coronavirus cases and the US election on 3 November.
But there is currently no evidence the cybercriminals have any political motive, the alert stressed.
Previous ransomware attacks have resulted in ambulances being diverted to different hospitals and medics left to keep track of patient care with just pen and paper.
One in Dusseldorf, Germany, in September, resulted in a critically-ill patient being rerouted to another hospital in the city, which ultimately led to their death.
So far the current US attack has not seen any care compromised.
But Charles Carmakal, chief technical officer of security firm Mandiant, says the cyber threat could be the "most significant" the US has ever seen.
He warned criminals are "deliberately targeting and disrupting US hospitals, forcing them to divert patients to other healthcare providers" and producing prolonged delays in critical care.
So far this year 59 US healthcare providers or systems have been impacted by ransomware, which has resulted in care at 510 facilities being compromised, cybersecurity analysts at Emisisoft added.
Typhoon Molave: Landslides leave at least 15 people dead in Vietnam | World News
Soldiers and heavy machinery are being used to search for survivors in Vietnam after landslides triggered by Typhoon Molave killed at least 15 people.
Vietnamese officials said the typhoon, which brought winds of up to 150km (93 miles) per hour, is the worst to hit the country in decades.
The landslides hit remote areas in the central province of Quang Nam late on Wednesday.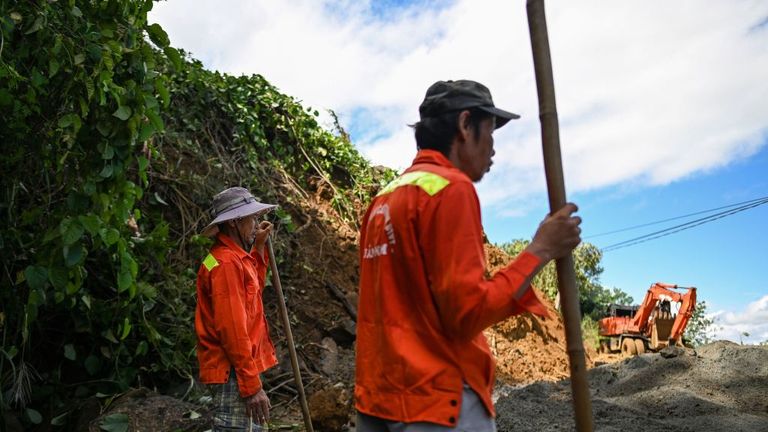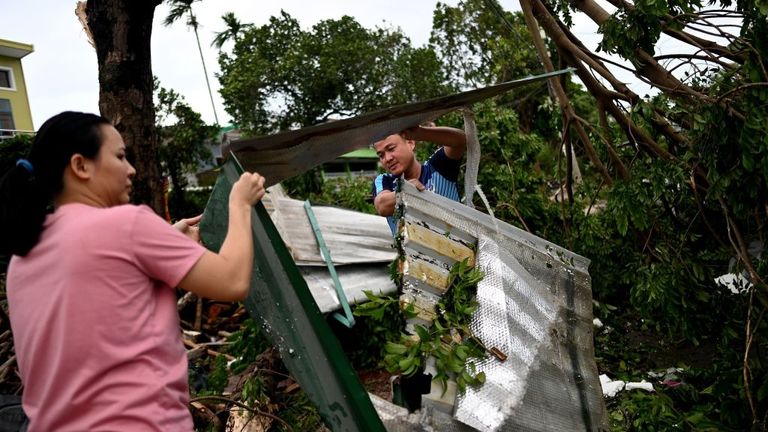 State television said the bodies of 12 fishermen have also been found after their boats sank while trying to return to shore two days ago.
Two navy vessels were mobilised to find them and 14 people are still missing.
Details of possible casualties and damage in other typhoon-hit regions have not yet been reported amid the stormy weather and could cause the toll to rise.
Rescuers dug up eight bodies in Tra Van village in south central Quang Nam province where a hillside collapsed on houses.
In Tra Leng village, about 45km (28 miles) from Tra Van, another landslide buried a community with several houses occupied by about 45 people, including four who managed to escape.
"We can forecast the storm path or the amount of rain, but can't predict when landslides happen," deputy prime minister Trinh Dinh Dung said in a statement.
"The road is covered under deep mud and heavy rains are still lashing the area, but rescue work has to be carried out
quickly."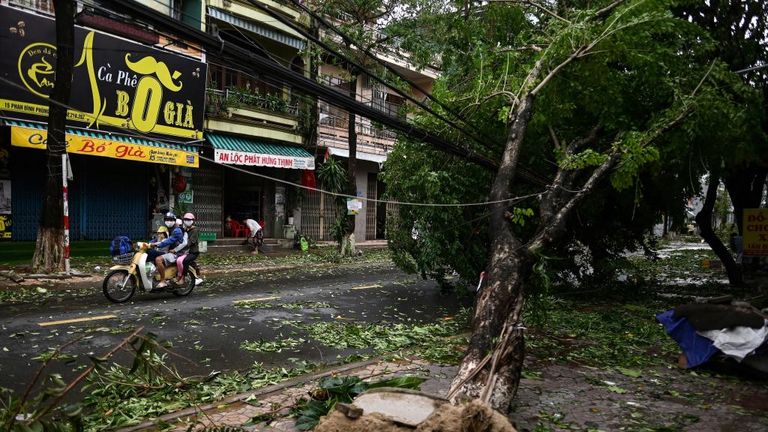 Many villages in the remote region remain inaccessible due to damaged roads and further landslides.
Mr Dung said helicopters would be used to reach the most difficult areas if necessary.
Tra Leng and Tran Van lie in the mountains of Quang Nam, in a coastal region still recovering from floods that killed 136 people and destroyed hundreds of houses earlier this month.
The typhoon blew off roofs of about 56,000 houses and caused a massive blackout in Quang Ngai province, where 1.7 million people endured the typhoon onslaught overnight in darkness, according to local media.
At least 40,000 people were evacuated to emergency shelters and authorities shut down offices, factories and schools.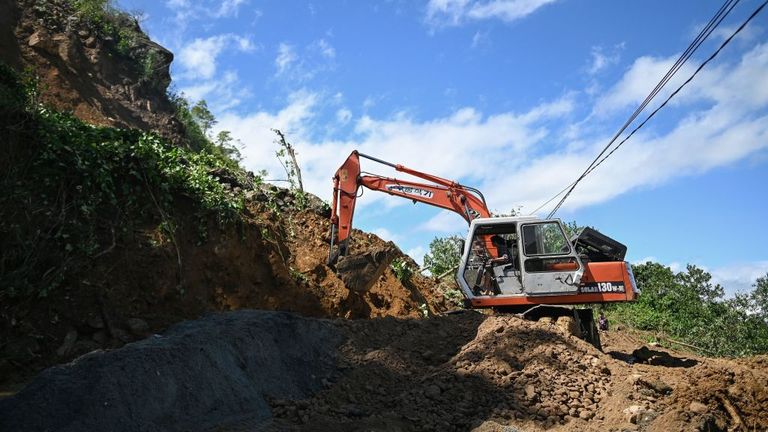 Forecasters have said heavy rain of up to 700mm (27.5in) will continue in parts of central Vietnam until Saturday.
The typhoon left at least 16 people dead in the Philippines before blowing across the South China Sea to Vietnam.