failed rebrands, fleeing clients and Nerf basketball
Cambridge Analytica found modest success in its quest for commercial clients. Though the company's client list is confidential, interviews with former employees and previously unreported online records show they attracted a number of high-profile customers, including New York University's Langone hospital, insurance giant Hiscox, and an environmental-focused Maltese cryptocurrency called Poseidon, among others. Previous media reports have listed media brands The Economist and the Financial Times, womenswear company ECI New York, and Goldline, a company once heavily pushed by right-wing commentator Glenn Beck that sells gold and silver coins.
But nearly all of Cambridge Analytica's 50 or so clients abandoned the data analytics company once the scandal hit, former employees said.
Relationship Enrichment Collaborative, an agency that manages advertising for churches and nonprofits, "dropped us like a rock," a former senior employee said, adding the agency had given Cambridge Analytica more than $1 million over two years. Relationship Enrichment Collaborative did not respond to emails and Facebook messages requesting comment.
The companies who purchased Cambridge Analytica's services were granted confidentiality as part of their agreement, a senior executive at the company said.
But remnants of Cambridge Analytica's client list, its attempts to penetrate the U.S. consumer market, and hints at the specifics of its rebrand are detailed in the company's website certificates, which log communications between servers and are issued by an independent third party.
NBC News discovered some of these clients by using a publicly available search for website certificates. Cambridge Analytica's client portals were located on eponymous websites, like nyulangone.clients.cambridgeanalytica.org for NYU Langone hospital.
When NYU Langone came calling in March, they didn't just sever ties, a former Cambridge Analytica employee said. The hospital — Cambridge Analytica's biggest corporate client, with a contract to pay $3 million phased over three years — wanted its money back.
"They threatened legal action, but we knew they wouldn't do anything," a former senior employee said. "They'd be too scared to follow through. They'd be too embarrassed to be linked to us."
An NYU spokesperson acknowledged the refund request but denied that there had been any discussion of a lawsuit. That refund never came.
The spokesman said NYU began work with Cambridge Analytica in June of 2017, but quickly halted its relationship after the data firm's salacious political consulting practices became front-page news.
The NYU spokesperson said Cambridge Analytica never offered them any of its controversial Facebook data, but provided "market research to better understand how different audiences consume media, and digital marketing based on these learnings," and was adamant that the university "did not give CA any of NYU Langone's data."
After NYU ran a four-week advertising campaign that ended on March 18, Cambridge Analytica provided NYU with preliminary results of the market research study and "an incomplete report on the results of our advertising."
"We don't know if they were effective because we pulled our ads so quickly once we heard the news, and Cambridge Analytica has yet to give us the results," the spokesperson said.
Representatives for Hiscox and for the cryptocurrency Poseidon did not return requests for comment, but a senior executive at Cambridge Analytica confirmed the company's relationship with the firms.
Trademarks and Rebrands
The website certificate search also turned up a portal for a product called LiveSpend, which prompted a login page.
Cambridge Analytica touted LiveSpend as its own product on its website, calling it a "transparent advertising reporting dashboard that does all the work for you" that would "keep your agency honest."
The assets on the page, such as the LiveSpend logo, are hosted on the website Datorama, an analytics company that advertises many of the same services LiveSpend claims offer.
Emerdata, the name of a new umbrella company that a Cambridge Analytica senior staffer claimed would have enveloped Cambridge Analytica and its parent company SCL, filed a trademark for LiveSpend in December of 2017.
Datorama's spokesperson said that the company "immediately" terminated its relationship with Cambridge Analytica "upon learning of CA's malfeasance," and that it "has no relationship with the Cambridge Analytica tool LiveSpend." The Datorama spokesperson repeatedly said that "no consumer data was used or viewed through our platform."
The login page for LiveSpend, Emerdata's sole trademark filing, mirrored login pages of other Datorama clients, and was still accessible until May 8.
"Many Datorama clients, including Cambridge Analytica, 'white label' our dashboard by customizing the branding with their logo and graphics," said Datorama's spokesperson. "White labeled" products are services that have been rebranded by a company other than the manufacturer, then sold as if it were their own.
Coronavirus: US could have 500,000 COVID-19 deaths but universal mask use may save 130,000 lives – study | US News
The number of coronavirus deaths in the US may reach half a million by the end of February – but universal mask wearing could save nearly 130,000 lives, according to a study.
Researchers from the University of Washington looked at non-pharmaceutical ways of minimising COVID-19 fatalities.
Their analysis examined how the disease has spread in different states, and projected the effects of varying levels of social distancing and mask use from mid-September 2020 until the end of February 2021.
The risk from coronavirus and the strain on hospitals will stay high through the winter under all scenarios, they said, especially in populous states such as Florida and California.
But if 95% of people were to wear a mask in public, researchers say 129,574 lives could be saved – or 96,000 lives if 85% of people take it up.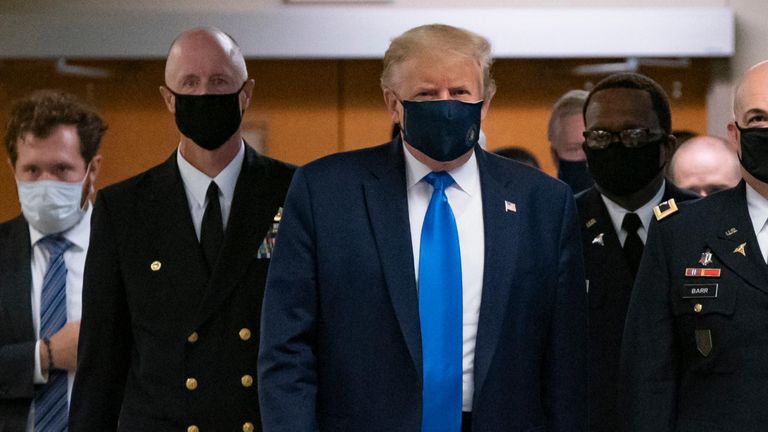 More than 223,000 coronavirus-linked deaths have so far been recorded in the US since the crisis began, according to Johns Hopkins University.
"Our findings indicate that universal mask use, a relatively affordable and low-impact intervention, has the potential to serve as a priority life-saving strategy in all US states," says the research – published in the Nature Medicine journal.
:: Subscribe to Divided States on Apple podcasts, Google Podcasts, Spotify, and Spreaker
The authors quote one recent study that suggested only 49% of Americans said they "always" wear a mask in public.
However, citing a New York Times article, they add that 95% mask use had already been observed in some neighbourhoods of the city.
Final US presidential debate – highlights

Donald Trump famously shunned the use of masks earlier in the pandemic, but eventually began wearing one.
His election rival, Democratic candidate Joe Biden, has stressed the importance of face coverings, insisting that "masks matter" and "save lives".
Clashing with Mr Trump during the final presidential debate on Thursday, Mr Biden waved his black face mask as a prop and stated: "If we just wore masks, we could save 100,000 lives."
In the UK, face coverings were made mandatory in many public settings after initial conflicting reports over their effectiveness.
John Gilligan: Irish crime boss arrested in Spain during drug trafficking raid | World News
Notorious Irish criminal John Gilligan has been arrested in Spain after an international drug trafficking investigation.
The crime boss was one of six people arrested during the raid on a residence in Alicante on Friday following an operation by Spanish, Irish and UK authorities.
Police seized four kilograms of cannabis, 15,000 pills, cash, documents and mobile phones, which are all said to be linked to drug trafficking.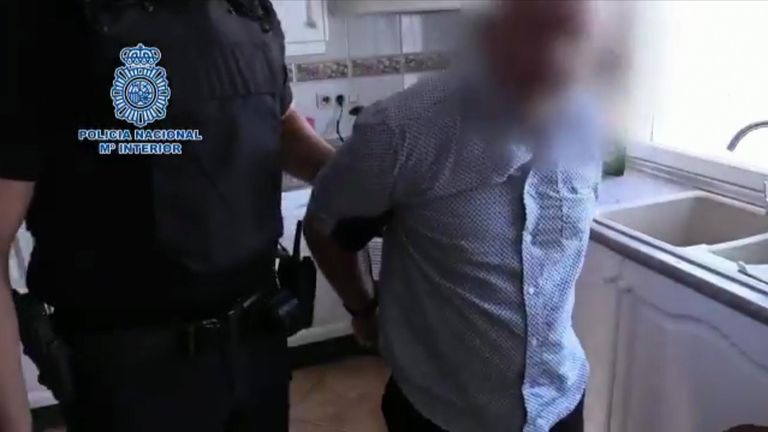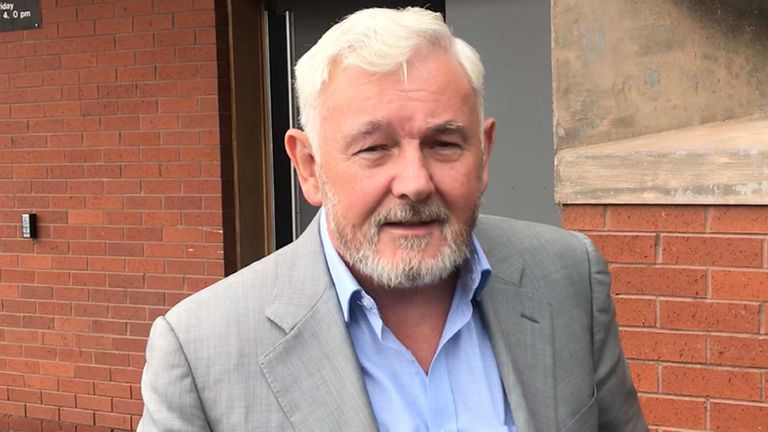 A Colt Python revolver was also discovered buried in the garden, and is believed to be the same make and model used to murder journalist Veronica Guerin in 1996.
Spanish police say they are now investigating with Irish counterparts whether this gun is the actual murder weapon.
Footage of Friday's raid was posted to Twitter by police, and shows 68-year-old Gilligan being led away in handcuffs.
It also shows officers unearthing the revolver outside.
In a statement, Policia Nacional said the people arrested were led by a "well-known Irish criminal" and were also part of "a violent group of drug and arms traffickers".
The force added that the group had specialised in "sending illegal merchandise from Spain to the United Kingdom and Ireland through parcels."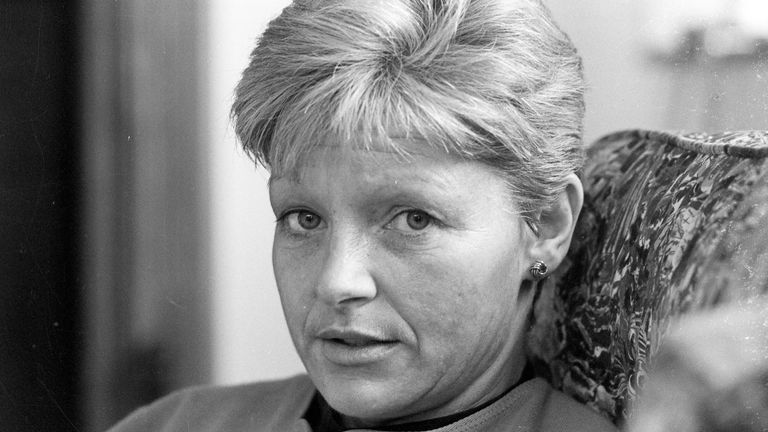 According to Spanish authorities, the investigation began last year after the settling of a gang led by "a well-known Irish criminal" in Alicante.
They said on Friday this investigation had resulted in "the total dismantling of the criminal organisation".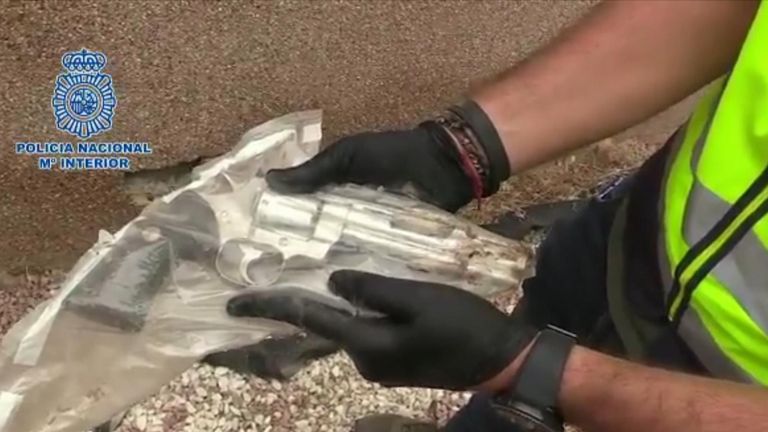 Meanwhile, Ms Guerin's brother Jimmy said he was "surprised" over the discovery of the revolver, but was sceptical about the link with his sister's death.
He said: "I think it's speculative but I don't think the Spanish authorities are irresponsible. I'm just sceptical.
"I was informed of the developments before they became public and it has come as a surprise.
"But I'd be sceptical if a gun that was used on the Naas Road turned up in a garden in Spain. Why would you take the risk of bringing it out of the country?"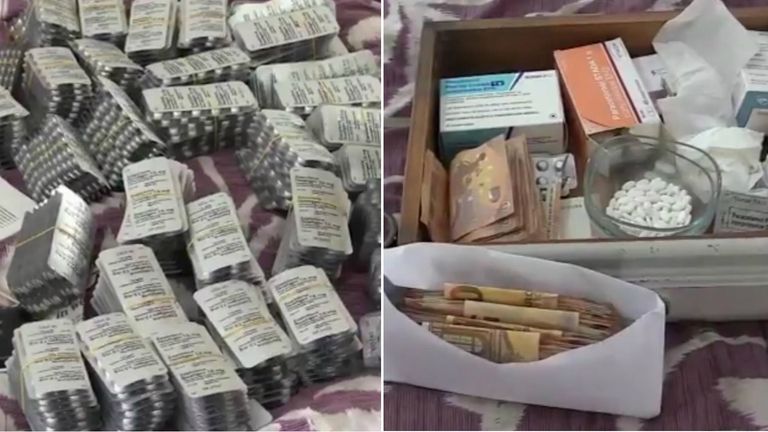 Gilligan, who was sentenced to 28 years in prison for drug trafficking in 2001, was acquitted of the journalist's murder in the same year after a 43-day trial at the Special Criminal Court.
He was released from prison in 2013.
Judge Diarmuid O'Donovan said at the time of the trial that there were "grave suspicions" about Guerin's involvement in Ms Guerin's death, but said there was not enough evidence produced to bring about a conviction.
US Election 2020: Biden and Trump argue over COVID-19, race and Russian interference in final debate | US News
Joe Biden has renewed his attack on President Donald Trump's handling of the coronavirus pandemic during the final debate ahead of the presidential election on 3 November.
The Democratic candidate told the debate in Nashville, Tennessee: "Anyone who's responsible for that many deaths should not remain president of the United States of America.
"He says we're, you know, learning to live with it. People are learning to die with it."
Mr Trump responded by saying: "We're rounding the corner. It's going away," adding that "we can't close up our nation or we won't have one".
The pair also clashed in the second section of the debate, on national security. They were both asked about the news that Iran and Russia had obtained US voter registration information in an attempt to interfere in the election.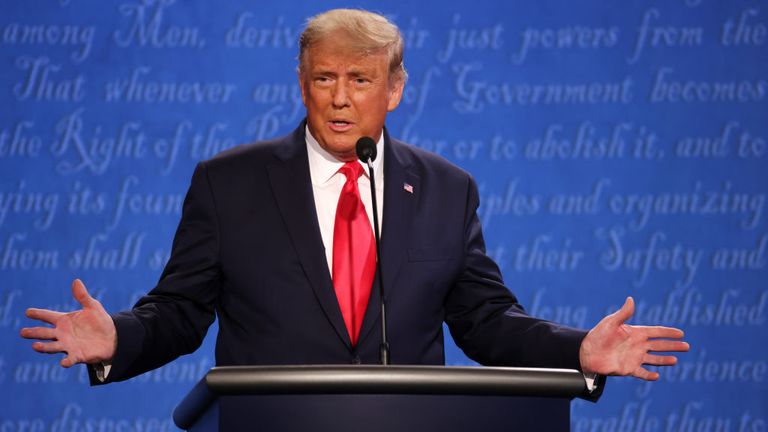 Biden clashes with Trump over COVID-19 shutdowns

Mr Biden said such countries "will pay a price if I'm elected" and claimed that Moscow did not want him elected because "I know them and they know me".
Mr Trump alleged that Mr Biden received $3.5m (£2.7m) from Russia and insisted that "there's been nobody tougher than me on Russia".
He added: "You were getting a lot of money from Russia… you probably still are."
Candidates on Russian interference in US election

Mr Biden responded: "I have not taken a penny from any foreign source in my life." He called on Mr Trump to release his tax returns or "stop talking about corruption", with the Republican candidate claiming he was told he had "prepaid tens of millions of dollars" and that $750 (£574) in taxes he was claimed to have paid in 2017 was a "filing fee".
Mr Trump raised the issue of Mr Biden's son Hunter and claims he drew a large salary from a Ukrainian firm.
Mr Biden responded that the accusation had been investigated repeatedly and did not link him to any wrongdoing. He also pointed out that impeachment proceedings were started over the president's attempt to pressure the president of Ukraine to find potentially damaging information on the Biden family.
:: Subscribe to Divided States on Apple podcasts, Google Podcasts, Spotify, and Spreaker
Race relations in America was also one of the topics, with both men clashing over immigrants held in control facilities after crossing the border, including children who were separated from parents.
Mr Biden called the current president "one of the most racist presidents we've had in modern history", with Mr Trump claiming he was the "least racist person in this room".
The discussion on race stretched for several minutes with Mr Biden accusing his rival of race baiting, adding the president "has a dog whistle about as big as a foghorn".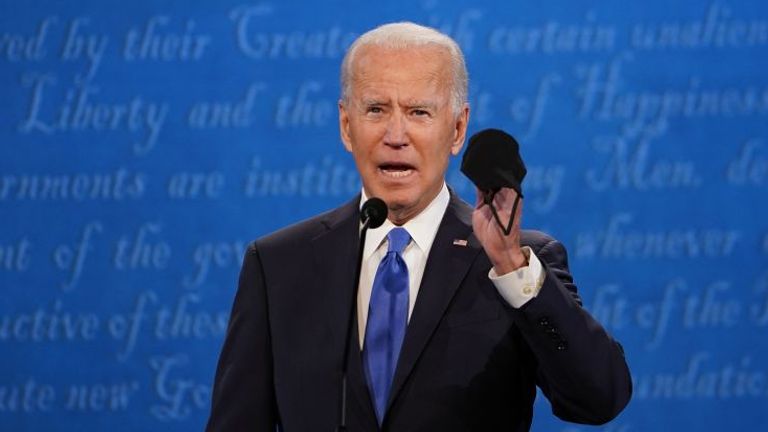 Mr Trump said the Democrat had four years as vice president to combat racism but failed to do so, adding: "You're all talk and no action, Joe."
The two also sparred on climate change and US reliance on oil. Mr Biden said the US needed to embrace clean energy and gradually transition away from oil, with Mr Trump seizing on the remark and asked if voters in oil-producing states like Texas, Oklahoma and Pennsylvania were listening.
Opinion polls show most Americans disapprove of Mr Trump's response to the virus.
The final debate is one of the final opportunities for both candidates to make gains in a campaign dominated by the COVID-19 pandemic, which has killed more than 221,000 people in the US and devastated the economy.
Mr Biden leads Mr Trump by eight percentage points in the latest Reuters/Ipsos national poll, conducted between 20 October and 22 October. That lead has narrowed slightly over the last few weeks.
Trump: 'I am the least racist person in the room'

This final debate was far more civil and substantive than when the candidates clashed in September, where Mr Trump made constant interruptions and exchanges of personal insults between the two men largely dominated the event.
But both men differed in their approach to the subjects, with Mr Biden staring down the camera and appearing confident on the key questions and Mr Trump attacking his opponent or appealing to his core support as he came under scrutiny.
It contained six sections including the COVID-19 response, national security, American families, race in America, climate change and leadership
The candidates' microphones were switched off this time while their rival made a two-minute introductory statement on the six topics.