Mueller doesn't plan to indict Trump because of DOJ rules, Giuliani says
Katyal repeated Wednesday that the rules "permit Mueller to depart from DOJ policy."
Referring to Deputy Attorney General Rod Rosentein, who is acting as attorney general in the context of the Russia investigation because Attorney General Jeff Sessions recused himself, Katyal said on MSNBC's "All In With Chris Hayes": "The way to do this is to ask the acting attorney general, so he does have a way forward."
Robert Costa, national political reporter for The Washington Post and a political analyst for MSNBC, said Wednesday night on Twitter that Giuliani told him that the statement didn't come from Mueller.
"One of his assistants broke in," Costa quoted Giuliani as saying. "But a day or two later, they called back and acknowledged it, which put it to bed as far as I'm concerned."
According to Costa, when he was asked which member of Mueller's team made the comment, Giuliani said: "I'll check with Jay and let you know tomorrow. Jay got a call and they said we acknowledge that we are bound by Justice Department policy."
Jay Sekulow is another member of Trump's personal legal team.
Giuliani, meanwhile, suggested Wednesday that Mueller may not even interview Trump.
"I don't think they need an interview, particularly if the interview is only for the purpose of giving explanations again that the president has already given," he told NBC News.
Giuliani said Mueller's office has not responded to questions that Trump's team has about a possible interview. He said those inquiries included issues like: "Why do they need an interview, what kind of questions, when are you going to resolve the investigation, show us the authority."
On Tuesday, Giuliani told NBC News that he had spoken by phone with lawyers for the special counsel's office and that talks about a potential presidential interview were in a "holding pattern."
On Wednesday, he also called on Mueller ahead of the one-year mark of the investigation on Thursday to "get it over with."
The special counsel's office had no comment.
Typhoon Molave: Landslides leave at least 15 people dead in Vietnam | World News
Soldiers and heavy machinery are being used to search for survivors in Vietnam after landslides triggered by Typhoon Molave killed at least 15 people.
Vietnamese officials said the typhoon, which brought winds of up to 150km (93 miles) per hour, is the worst to hit the country in decades.
The landslides hit remote areas in the central province of Quang Nam late on Wednesday.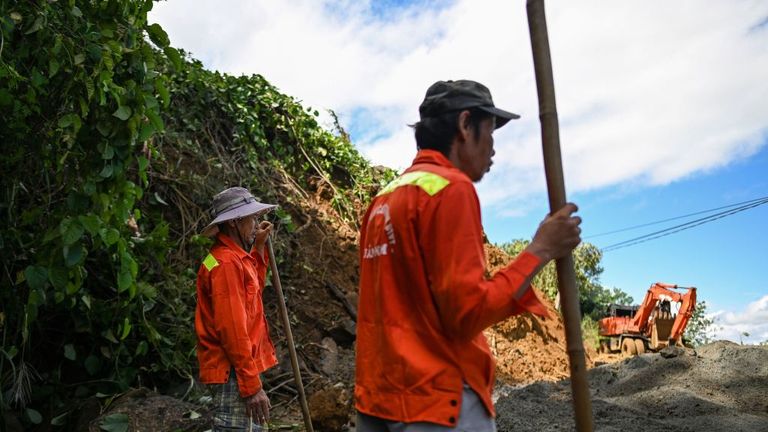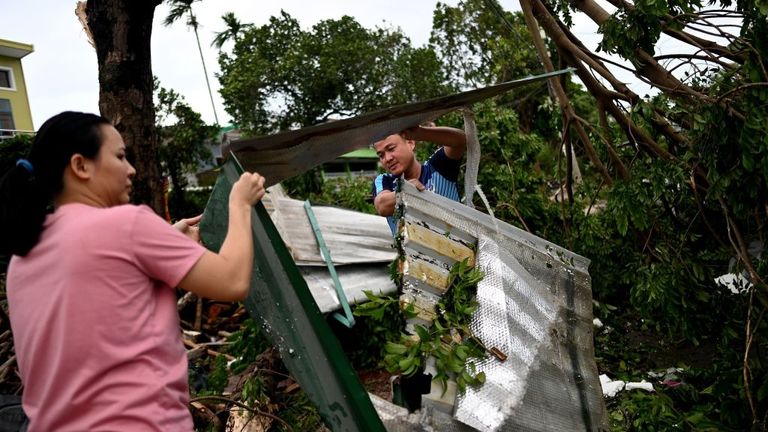 State television said the bodies of 12 fishermen have also been found after their boats sank while trying to return to shore two days ago.
Two navy vessels were mobilised to find them and 14 people are still missing.
Details of possible casualties and damage in other typhoon-hit regions have not yet been reported amid the stormy weather and could cause the toll to rise.
Rescuers dug up eight bodies in Tra Van village in south central Quang Nam province where a hillside collapsed on houses.
In Tra Leng village, about 45km (28 miles) from Tra Van, another landslide buried a community with several houses occupied by about 45 people, including four who managed to escape.
"We can forecast the storm path or the amount of rain, but can't predict when landslides happen," deputy prime minister Trinh Dinh Dung said in a statement.
"The road is covered under deep mud and heavy rains are still lashing the area, but rescue work has to be carried out
quickly."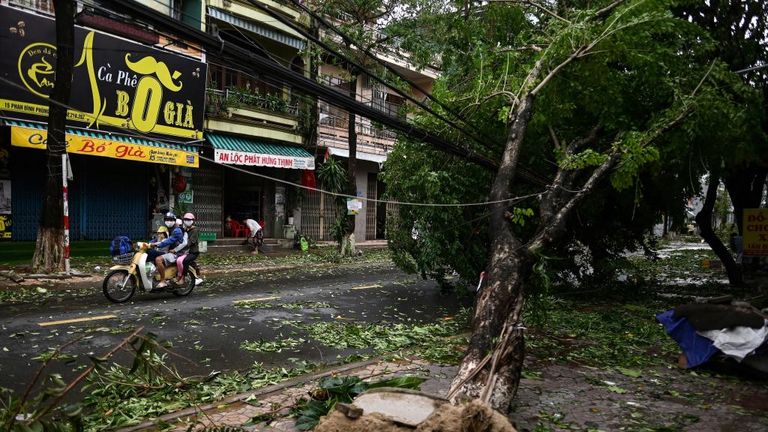 Many villages in the remote region remain inaccessible due to damaged roads and further landslides.
Mr Dung said helicopters would be used to reach the most difficult areas if necessary.
Tra Leng and Tran Van lie in the mountains of Quang Nam, in a coastal region still recovering from floods that killed 136 people and destroyed hundreds of houses earlier this month.
The typhoon blew off roofs of about 56,000 houses and caused a massive blackout in Quang Ngai province, where 1.7 million people endured the typhoon onslaught overnight in darkness, according to local media.
At least 40,000 people were evacuated to emergency shelters and authorities shut down offices, factories and schools.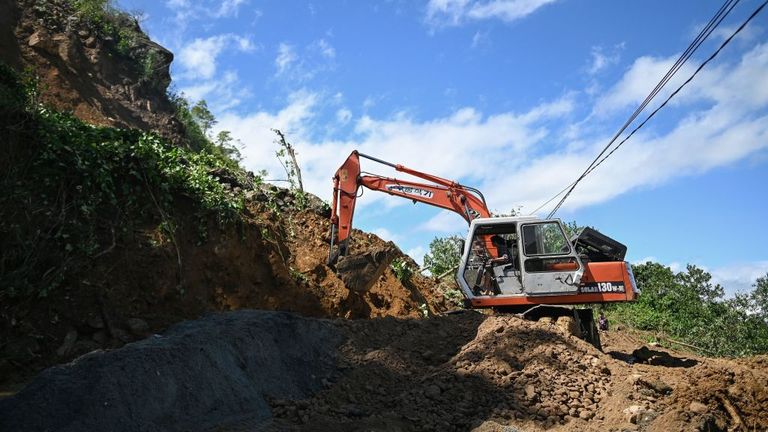 Forecasters have said heavy rain of up to 700mm (27.5in) will continue in parts of central Vietnam until Saturday.
The typhoon left at least 16 people dead in the Philippines before blowing across the South China Sea to Vietnam.
Clash of cultures in France between freedom of expression and Islamic blasphemy beliefs | World News
A clash of cultures is gripping France and impacting French interests in the Muslim world.
It has pitched the right to freedom of expression – including viewing cartoons of the Prophet Muhammad – against what that means for Muslims who regard such actions as blasphemous.
The motivation for the triple murders in Nice by a knifeman shouting "Allah Akbar" and why someone else threatened people with a handgun close to the city of Avignon is not yet known.
Same too for a separate knife attack against the French consulate in the Saudi city of Jeddah.
Three people killed in France – live updates as separate incidents unfold in Nice and Avignon
Shots fired as police storm church

Yet these incidents – which all happened on Thursday – come almost two weeks after a teenager beheaded a school teacher on the outskirts of Paris after Samuel Paty, 47, showed his students caricatures of the Prophet Muhammad during a lesson.
President Emmanuel Macron, a strong supporter of secularism and free speech in his country, praised Mr Paty as a "quiet hero".
The teacher's violent death gave added impetus to a plan unveiled by the French leader at the start of October aimed at reforming the practice of Islam in France and creating – as Mr Macon described it – "an Islam of Enlightenment".
This kind of language triggered anger among Muslim countries, in particular from Turkey.
President Recep Tayyip Erdogan went as far as calling his French counterpart mentally damaged.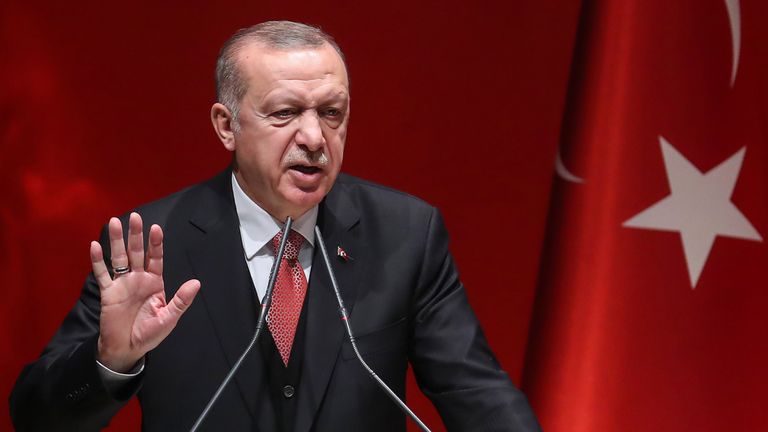 Mr Erdogan has also called for a boycott of French products.
Lord Ricketts, a former UK ambassador to Paris and former national security adviser, described what is happening in France as a "big cultural clash".
In the wake of the attacks, he said the French authorities should be reaching out to Muslim leaders in the country to condemn the violence and help bring people together.
France needs a "calming voice from the Muslim community", he said.
Coronavirus: India hits eight million COVID cases amid fears festival season could cause further spike | World News
India has become the second country to record more than eight million coronavirus cases amid fears of a further spike due to a series of upcoming Hindu festivals – including Diwali.
The health ministry's most recent figures reported 49,881 infections and 517 deaths in the past 24 hours – bringing the overall case count above 8.04 million and the death toll to 120,527.
While nationally the daily infection rate is dropping, India's capital of New Delhi saw its worst day on record on Wednesday, with 4,853 new coronavirus cases – having managed to get below 1,000 per day last month.
Live coronavirus updates from the UK and around the world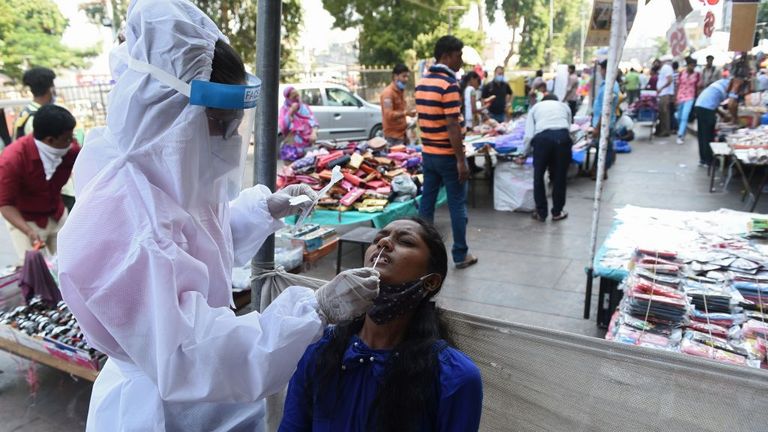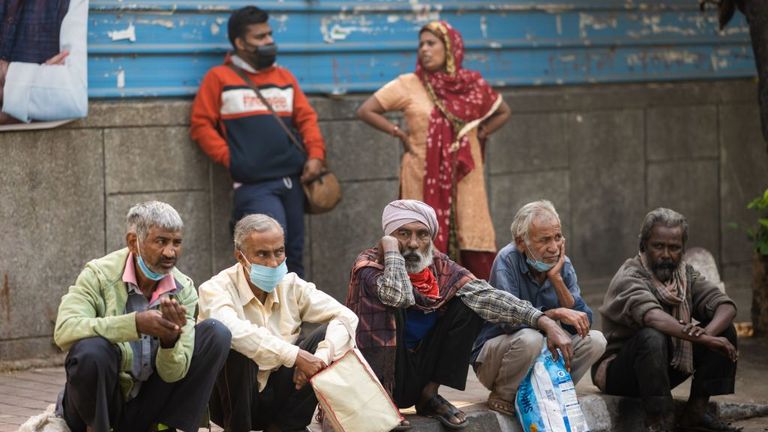 Dr T Jacob John, a retired virologist who was head of the virology department at CMC Hospital, Vellore, southern India, warned that in most parts of the country the infection curve was never flattened.
He added that the festival season was likely to cause an uptick in the rate of infections as people gathered without masks and social distancing.
Arvind Kumar, a doctor in the capital city, said: "I am shocked, but not surprised. There seems to be a sense of complacency in adhering to mask and distancing norms."
Shops, businesses, trains and cinemas have all been reopening, and the country's third-largest state of Bihar – with its population of 122 million – has been holding elections.
And as well as it currently being the month of Kartika – the holiest month in the Hindu calendar, with festivals including the five days of Diwali upcoming – winter will bring cooler and drier weather.
There are concerns that the conditions – and the associated increase in pollution levels – will lead to an increase in COVID-19 cases and other respiratory illnesses in the world's most populous democracy.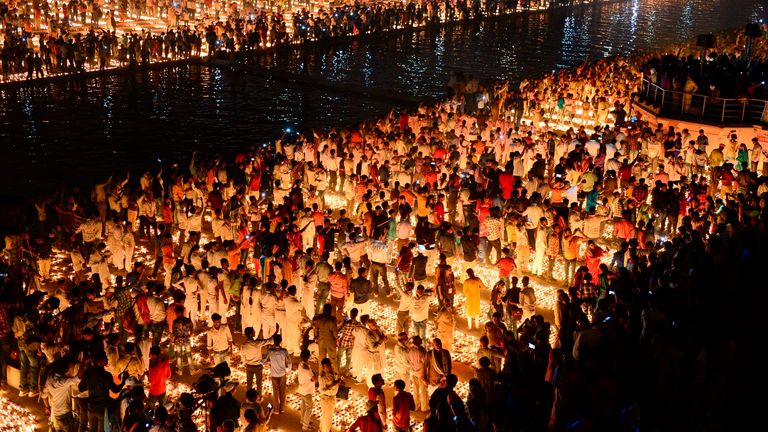 India reported few cases of the coronavirus at the start of the pandemic, but saw a steep rise once summer started.
In August alone, the country added more than two million new cases, and in September another three million people caught the virus.
On the worst day, there were 97,894 new infections – and the most deaths recorded in 24 hours was 1,275.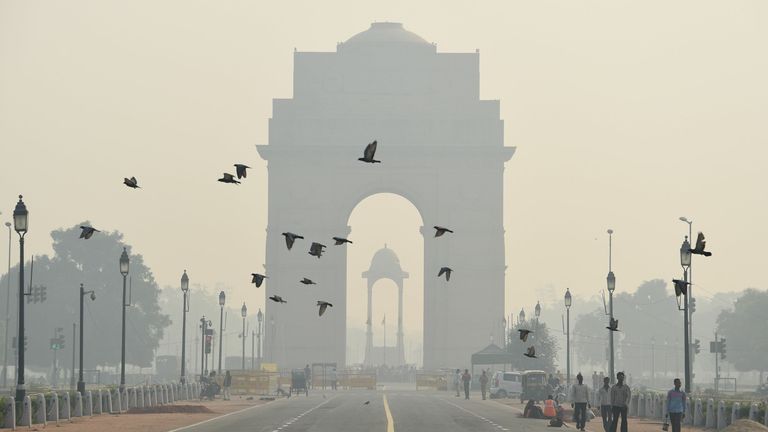 Only the US has more confirmed cases of COVID-19, with more than 8.8 million, while India sits third worldwide to America and Brazil's death counts of 227,700 and 158,456 respectively.
The Indian government has promised to provide a coronavirus vaccine to 250 million people by July of next year.