Chicago bishop Michael Bruce Curry to speak at royal wedding
Curry is the first African-American to have served as presiding bishop of the Episcopal Church, an offshoot of the Church of England in the United States. It is part of the worldwide Anglican Communion. He was elected and confirmed on June 27, 2015.
Curry has been active on social justice issues throughout his ministry, including speaking out on immigration policy and supporting marriage for same-sex couples, according to his biography on the Episcopal Church's website.
In 2016, Curry said the U.S. Episcopal Church would not roll back its acceptance of gay marriage, despite three-year sanctions imposed on it by Anglican leaders. The top Episcopal legislative body had voted overwhelmingly to authorize marriage for same-sex couples in church ceremonies. Anglican leaders then stripped the Episcopal Church of any role in deciding doctrine or determining how the Anglican Communion operates for three years.
"They heard from me directly that that's not something that we're considering," Curry said. "They basically understand we made our decision, and this is who we are, and we're committed to being a house of prayer for all."
During his time as Bishop of North Carolina, he was one of the first bishops to allow same-sex marriages to be performed.
Curry was born in Chicago in 1953 to Dorothy Curry and her husband, Rev. Kenneth Curry.
Curry's father was a Baptist before becoming an Episcopalian priest. The bishop says his father decided to become a part of the church after he and his mother had been allowed to drink from the same chalice being passed among white parishioners in racially segregated Ohio.
"He was dumbfounded," Curry said. "Years later he would say he joined the Episcopal Church because he really hadn't imagined that could happen in America. He said, any church where blacks and whites drink out of the same cup knows something about the Gospel I want to be a part of."
When he was initiated as presiding bishop, Curry spoke of racial reconciliation, calling it "some of the most difficult work possible."
He said racial reconciliation was "just the beginning for the hard and holy work of real reconciliation that realizes justice across all the borders and boundaries that divide the human family of God."
Curry said he would "celebrate and pray for" the royal couple ahead of their wedding next Saturday.
"The love that has brought and will bind Prince Harry and Ms. Meghan Markle together has its source and origin in God, and is the key to life and happiness," Curry said in a statement.
Welby, who baptized Markle ahead of her marriage to Harry, said on Twitter that he was thrilled that the royal couple asked Curry to preach at the wedding, calling the bishop "a brilliant pastor, stunning preacher and someone with a great gift for sharing the good news of Jesus Christ."
Too scared to go back inside their homes: Aftermath of Turkey's deadly earthquake | World News
The neighbourhood of Bayrakli in the Aegean city of Izmir is new compared to the rest of the century-old city.
Developed at the start of the 2000s, it's a mixture of middle class housing and swanky office towers.
But 20 of those buildings have now collapsed. Most on their sides, four just crumbled in on themselves. They are all just a few hundred metres from each other.
With several others seriously damaged, people are being warned by police officers to stay away from cordoned-off areas, fearing a tremor could cause another collapse.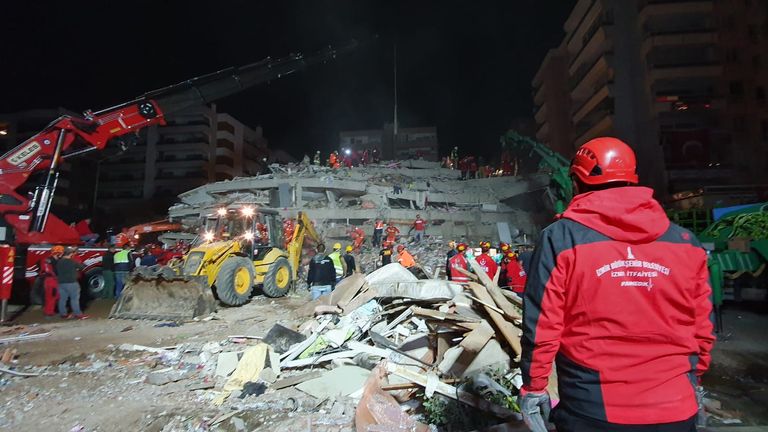 It seems like a regular Friday night, but as I get closer, the crowds of people and cars parked both sides of the road to get closer to the rescue site are striking.
People are stood outside and sat in nearby cafes, packing up their cars to spend the night with relatives or at second homes in resort towns nearby.
One small family-of-three chose to stay in their car with their seven-year-old daughters.
Their building was so severely damaged they couldn't get back into their apartment.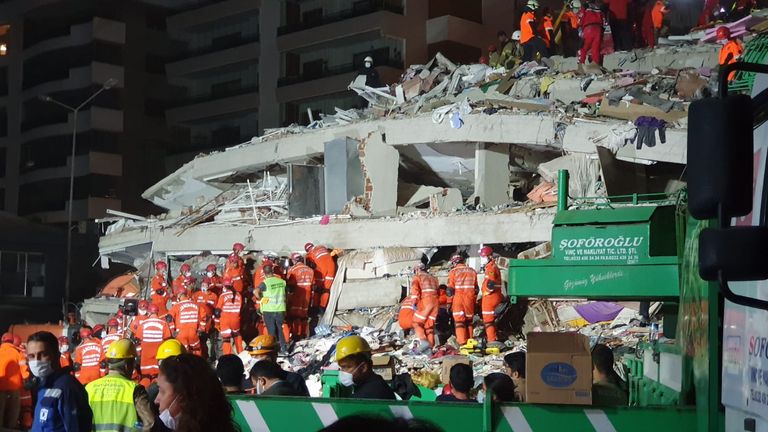 Everyone seems scared to go back inside their homes – especially those who live close to the areas that suffered the most damage.
I arrive at one block and only rubble remains of the seven-floor building.
Before there were 28 apartments, but now nothing but a mountain of dust and concrete can be seen.
A young father and his son are watching the rescue operation closely and attract my attention.
Asked if he lived in the building, the father said: "No I live just next door but our friends live here and they are missing their daughter."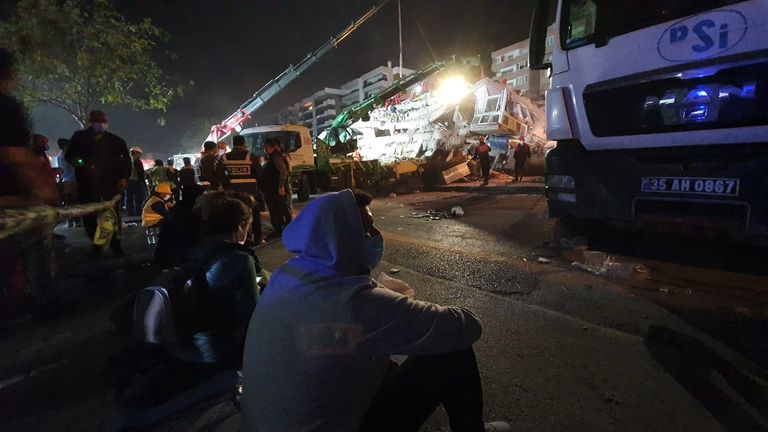 Elif Inan is nine and was home alone when the earthquake hit.
Her parents were at work and there was no one else with her.
Her mother is in deep distress, she sits on a folded chair, held by her friend and relatives.
She sees pieces of furniture in the rubble and rushes to the teams on the ground asking if Elif could be close by.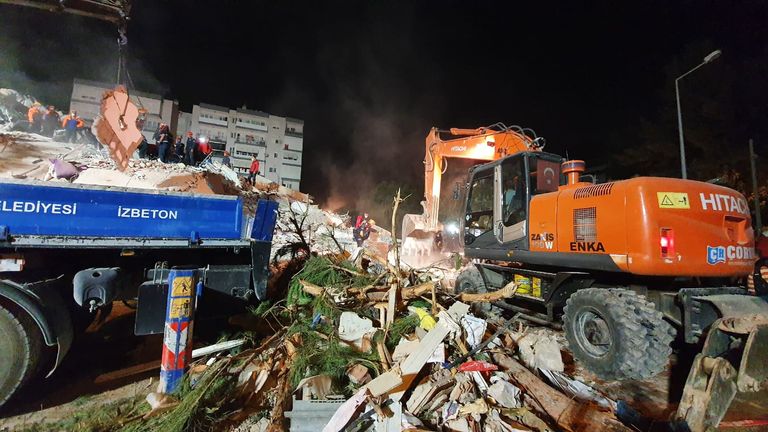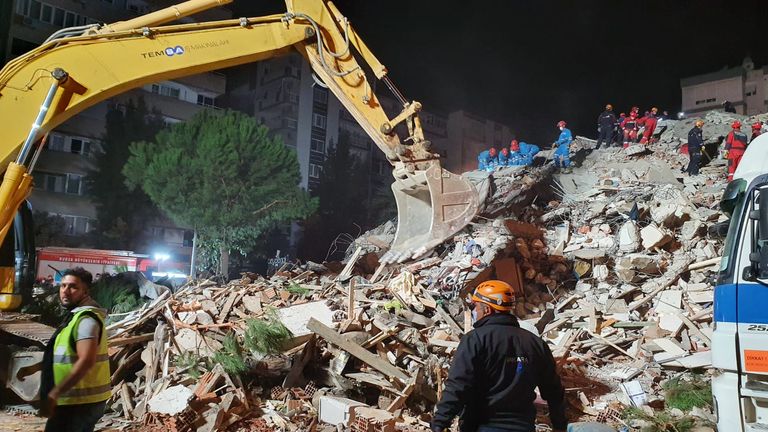 She is sent back to safety, but all she wants is just one glimmer of hope, some information about what could have happened.
Could Elif still be down there? Maybe she got out and is in hospital.
An official from the rescue operation comes to tell her that her daughter might have been taken to one of the two hospitals where those found in the rubble are being sent.
She stays on the folding chair outside the building while her husband goes to check the hospitals.
Further away I could see small groups scattered along the street sitting on chairs and looking at the same building.
Moment building collapses after quake

This 75-year-old man is called Yaşar Koza,
He had just stepped out to buy some bread. But when he came back his home was gone.
"I just saw a huge cloud of dust and my home was gone," he told Sky News.
His wife could still be alive, he hopes.
"No one gives me any information, she might be in the hospital but I do not know. I cannot leave, she could still be under the concrete," he says.
Tens of thousands protest against Poland's near-total ban on abortion | World News
Thousands of people defied coronavirus restrictions to protest against a near-total ban on abortion in Poland in the largest show of defiance against the new law so far.
The centre of Warsaw was overwhelmed by protesters on Friday, with mayor Rafal Trzaskowski claiming around 100,000 took part in the march.
It was the culmination of nine days of protests against a ruling by Poland's constitutional court earlier this month that abortion in cases of severe foetal abnormalities are unconstitutional.
Poland's near-total ban on abortion explained

The 22 October decision tightens the already strict laws on abortions in Poland, which ban them unless they are the result of rape or incest, they put the mother's life at risk, or there are foetal deformities.
Activists see it as an almost complete ban on the right to a termination – as the overwhelming majority of abortions in the country are carried out because of foetal abnormalities.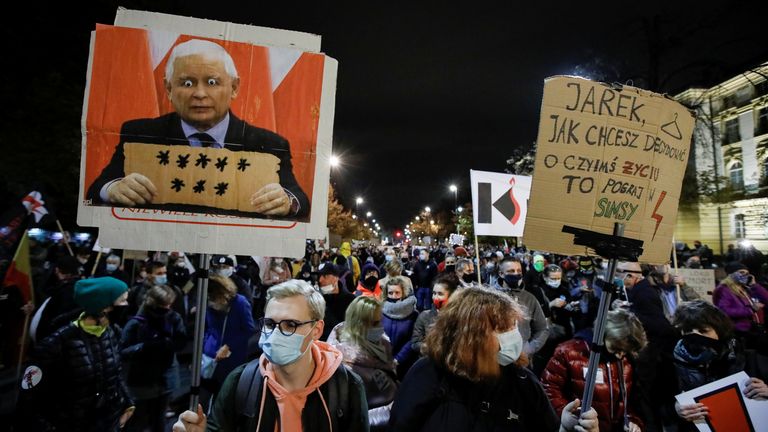 After night fell on Friday, women marched through the Polish capital with placards saying "I wish I could abort my government" and "even Shrek wouldn't want to live in such a swamp".
The demonstration was due to end outside the house of Jaroslaw Kaczynski – the leader of the ruling Law and Justice party – but police blocked off the street some distance from his home.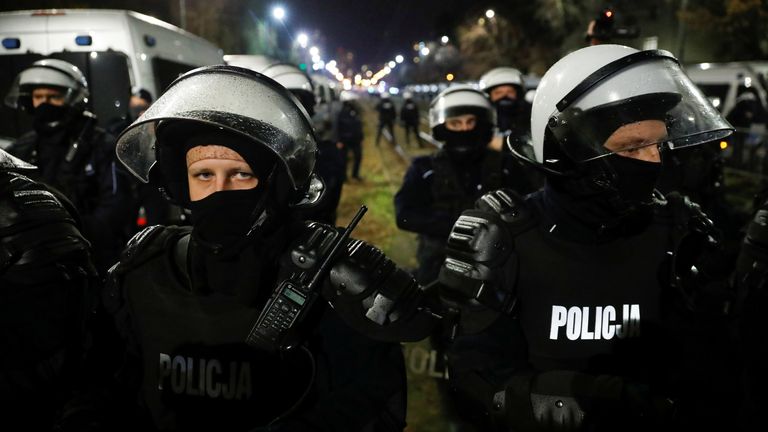 There was a large police presence as far right activists and football hooligans emerged to stage a counter-protest.
Twelve people were arrested, local police said.
Over the past week, church services have been disrupted and priests confronted as activists hit out at the new Roman Catholic-influenced policy.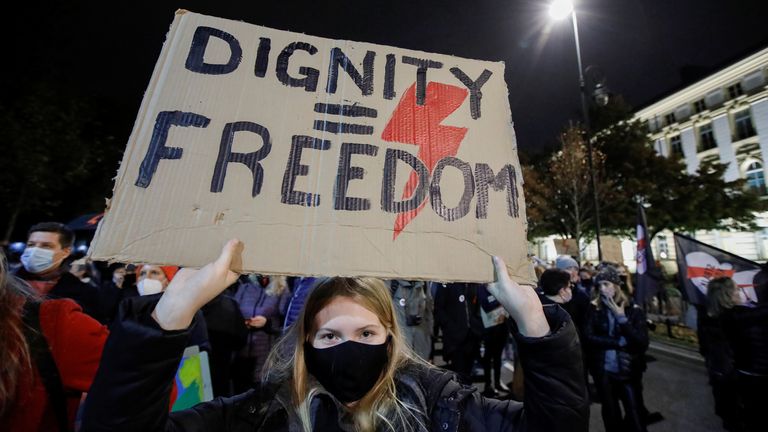 But the vast majority of the protests have passed peacefully, with music, dancing and men showing up in solidarity, sporting the red lightning bolt symbol that has come to represent the movement.
Klementyna Suchanow, one of the key organisers of the Poland's Women's Strike initiative, said she and many others refuse to be deterred by COVID-19 rules that ban groups of more than five.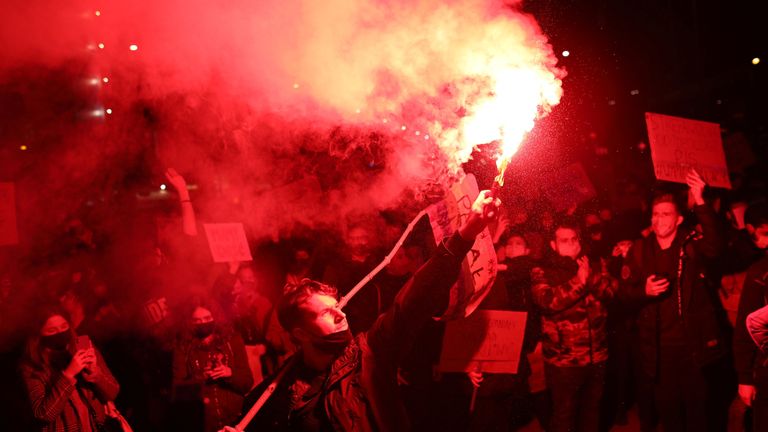 She said the ruling is a breach of human rights, adding: "This is about the freedom and dignity of people. The will of people to protest should be a lesson for anyone who wants to impose authoritarian ways."
The government denies any human rights breaches. Poland's abortion law – among the strictest in the world – was forged by political and Catholic church leaders in 1993 after the fall of communism.
Nineteen dead and more than 700 injured after earthquake strikes Turkey and Greece | World News
An earthquake has killed at least 19 people and injured 700 in Turkey and on the Greek island of Samos.
In Izmir, Turkey's third largest city, 17 people died after the tremor.
Latest updates from Turkey and Greece after major earthquake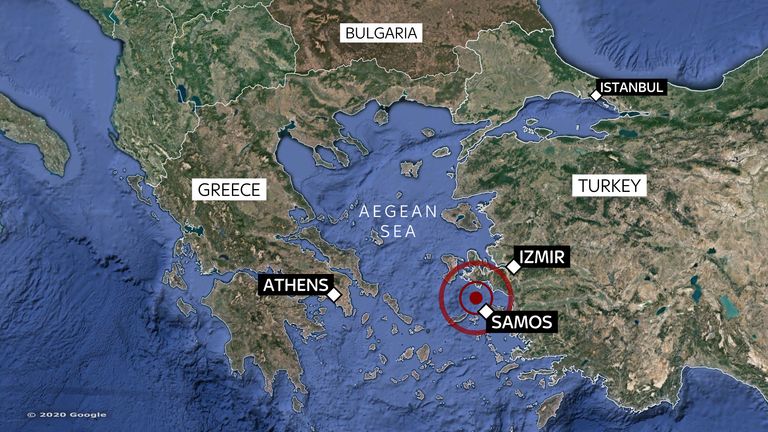 The two people killed by the magnitude 7 quake on Samos were a teenage boy and girl found near a collapsed wall.
The epicentre of the tremor was in the Aegean Sea, 11 miles (17 km) off the coast of Turkey's Izmir province, at a depth of 10 miles (16km).
The shock was felt across the region, including in Istanbul, the Greek islands, and as far as the Greek capital Athens and also in Bulgaria.
Water surged into the Seferihisar district south of Izmir, the city home to around 4.5 million people and worst hit by the earthquake.
In Izmir, witnesses said people poured onto the streets in panic following the quake. The city's mayor said nearly 20 buildings had collapsed.
Aerial footage shows extent of quake damage

Turkey's health minister Fahrettin Koca said that 38 ambulances, two helicopters and 35 medical rescue teams were involved in the operation.
Footage from the area showed flattened buildings and survivors being pulled from the rubble by emergency workers.
Izmir's governor said 70 people had been rescued from the ruins.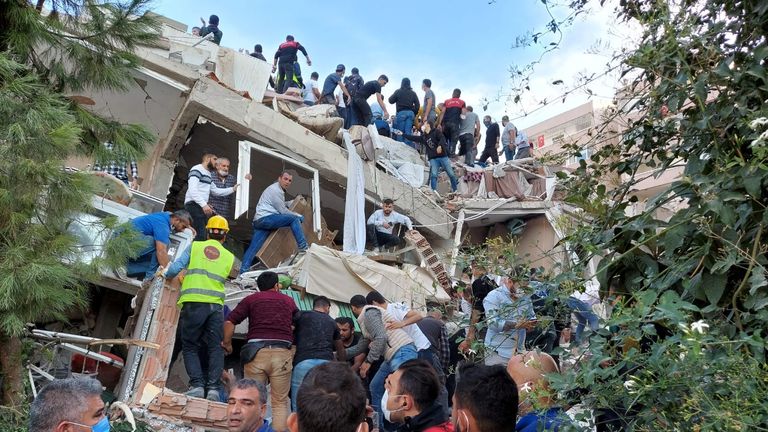 Student Ilke Cide said he went inland after waters rose following the quake.
"I am very used to earthquakes… so I didn't take it very seriously at first," he said.
"But this time it was really scary."
Quake reduces building to rubble in Izmir

A tsunami warning has been issued, with residents on the nearby Greek island of Samos, which has a population of about 45,000, told to stay away from the coast.
Water rose above the dock in the main harbour of Samos and flooded the street, and residents were also told to stay away from buildings as aftershocks rattled the area.
Plumes of dust thrown up by collapsing buildings

Local officials reported damage to buildings and part of the popular holiday island's road network, while eight people were slightly injured and the two teenagers were pronounced dead after being found unconscious in the town of Vathy.
Samos' vice-mayor George Dionysiou said: "We have never experienced anything like it. People are panicking."
Strong quake flattens buildings in Turkey


In a statement, UK Foreign Secretary Dominic Raab said he is "deeply distressed by the scenes of destruction" caused by the earthquake.
"We stand ready to support our Turkish and Greek friends in any way they need," he said.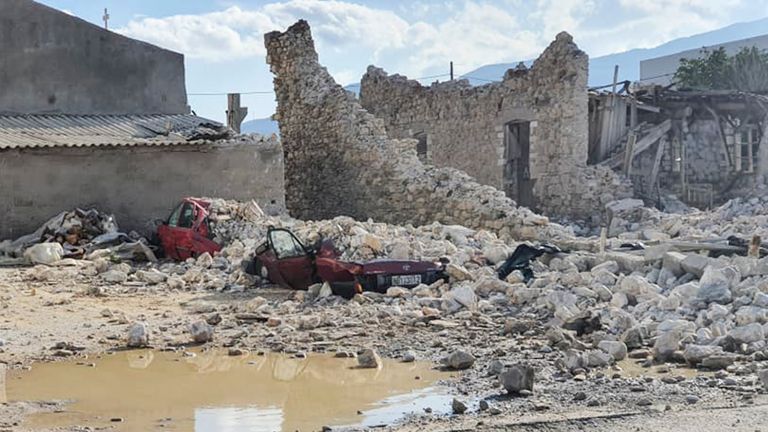 Greek seismologist Efthymios Lekkas described the tremor as a "very big earthquake", adding that it was "difficult to have a bigger one".
On Twitter, Greek Prime Minister Kyriakos Mitsotakis said he had called Turkish President Recep Tayyip Erdogan to offer condolences over the death toll in Izmir.
Flood carries furniture through Turkish street

"Whatever our differences, these are times when our people need to stand together," he tweeted.
The president of the European Council, Charles Michel, said the EU also "stands ready to provide support".
"Closely following the developments of the strong earthquake that hit the Aegean Sea off Greece and Turkey. My thoughts are with all the people affected. EU stands ready to provide support," he tweeted.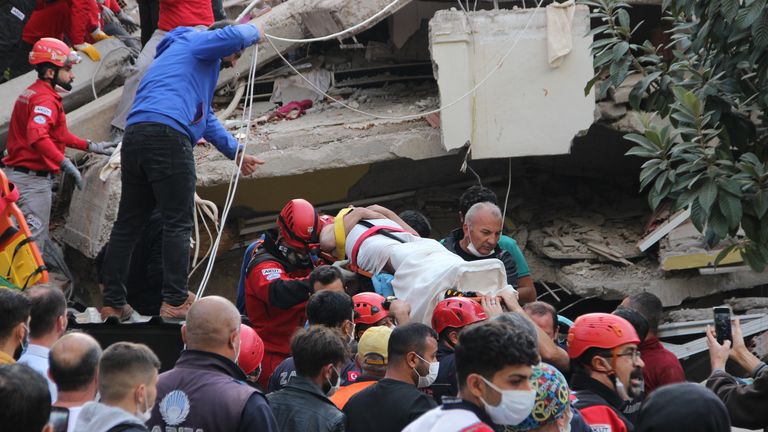 Crisscrossed by major fault lines, Turkey is among the most earthquake-prone countries in the world.
More than 17,000 people were killed in August 1999 when a 7.6 magnitude quake struck Izmit, a city southeast of Istanbul.
In 2011, a quake in the eastern city of Van killed more than 500.