Song, dance and LGBTQ visibility reign supreme at Eurovision Song Contest
The over-the-top pop music extravaganza known as the Eurovision Song Contest has long been something of an annual holiday for European gays, one where camp reigns and flamboyance is queen, as the nations of Europe (and now Australia) battle it out for tuneful supremacy.
But in recent years, the pan-continental competition has increasingly also become more than that —openly showcasing a broad range of LGBTQ identities, and serving as a powerful beacon of equality to audiences across Europe and far beyond, while courting a fair bit of controversy in the process.
Eurovision 2018 is arguably the most broadly and unapologetically LGBTQ edition to date, with both the first-ever out lesbian contestant (Finland's Saara Aalto) and an on-stage gay romance (courtesy of Ireland's Ryan O'Shaughnessy).
"Ryan's on-stage performance is the clearest depiction of gay love that we've ever seen at Eurovision," William Lee Adams, founder of popular Eurovision Song Contest website Wiwibloggs, told NBC News. "His two dancers, who hold hands and caress, perform opposite Ryan and a female pianist, whose romance is implied through the camera angles. He's allowing gay love and straight love to share the stage."
Earlier this week during the contest's semifinal round, the unabashedly queer staging of O'Shaughnessy's song "Together" was enough for the broadcaster of the competition in China, Mango TV, to censor it. Eurovision's producer, the European Broadcast Union, swiftly responded by terminating its relationship with the Chinese network.
Meanwhile Russia, no friend of LGBTQ visibility in recent years with its notorious "gay propaganda" laws, seems to have blinked in the face of openly queer representation at Eurovision this year. Though rumors circulated that it too might censor O'Shaughnessy's performance, it thus far has not.
Launched back in 1956, the Eurovision Song Contest has grown from just seven competing countries to this year's 43. Along the way, it's served as the international career springboard for the likes of Celine Dion and ABBA — and well more than a thousand also-rans, who, as they try to grab the audience's attention during their allotted three minutes per song, have used every showy stage trick in the book.
"Gay people — even if they aren't fully aware of their sexual orientation — can identify with the glitz and glam and flamboyance of Eurovision stars," Adams said. "Perhaps they represent a sense of freedom and emancipation that gay men and women crave. Eurovision is like gay pride — a safe place to let it all hang out."
The contest's first real LGBTQ groundbreaker was Israel's Dana International, who, a full two decades ago in 1998, boldly became the contest's first trans entrant — and winner — with her song "Diva". In 2014, Austrian "bearded drag queen" Conchita Wurst was crowned Eurovision's second out LGBTQ champion with "Rise Like a Phoenix".
"Conchita was a target of abuse not only from straight people, but also gay people who said she presented a 'freakish' image of the LGBT community," said Adams. "Now people don't bat an eyelid when they see her. It's proof that having role models — from across the spectrum — can normalize supposedly strange or bizarre aspects of people. She's my favorite for making the gay community look at itself and what it considers normal."
Marija Šerifović of Serbia won Eurovision in 2007 with her fairly obviously lesbian-themed performance of "Molitva" and has come out as a lesbian herself since her triumph — but Finland's Saara Aalto marks another queer milestone this year.
"Saara is perhaps the most 'out' lesbian at Eurovision ever," Adams said. "She speaks openly about her manager and fiancée [Meri Sopanen]. Her song 'Monsters' could be read as a reckoning with her own sexuality. Self-hatred, homophobia, the various bigots she's encountered in her life — she's dancing past them and tearing down the walls inside her head."
"Monsters" is actually Finland's second patently LGBTQ entry — in 2013, singer Krista Siegfrids stirred controversy by including a lesbian kiss in the performance of her song "Marry Me", which she said was to protest Finland's lack of marriage equality. The Finnish Parliament voted to allow same-sex marriages the following year.
Social undertones actually abound at this year's Eurovision, from Israel's #MeToo-esque entry "Toy" to France's refuge-crisis-themed "Mercy." But if the bookies are to be believed, Cyprus' sexy and completely apolitical "Fuego" may walk away as the winner.
Still, O'Shaughnessy is quickly gaining ground, having jumped to third place this week in pre-contest wagering. And Eurovision is nothing if not always full of surprises.
The 2018 Eurovision Song Contest final begins at 8 p.m. local time on Saturday in Lisbon, Portugal, and will be broadcast live in the U.S. on the Logo network at 3 p.m. EDT, 12 p.m. PDT.
Jamal Khashoggi: Journalist's fiancee sues Saudi Crown Prince Mohammed Bin Salman over his killing | World News
The fiancée of murdered journalist Jamal Khashoggi is suing Saudi Crown Prince Mohammed Bin Salman over his "brutal execution".
Hatice Cengiz, a Turkish national, filed the lawsuit in Washington DC on Tuesday, accusing the Saudi leader of the "brutal and brazen crime" of killing her fiancée after "weeks of planning".
Ms Cengiz had been planning to marry Mr Khashoggi when he disappeared inside the Saudi consulate in Istanbul on 2 October 2018.
She was waiting outside for him, but he never emerged and officials later ruled he died as a result of a "rogue operation".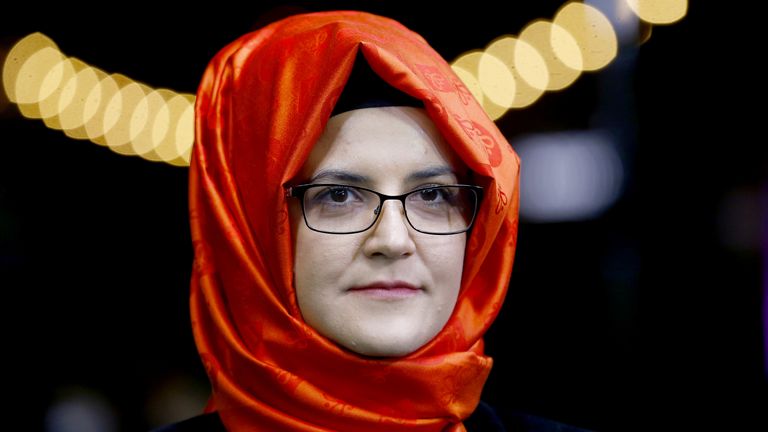 Last month, five people were sentenced to 20 years in prison over Mr Khashoggi's death, but they escaped the death penalty and Mr Bin Salman was not implicated in any way.
Three others were sentenced to lesser jail terms. None of the eight convicted have been identified.
Turkish intelligence officials say the operation was too big for the Saudi leader not to have known about it.
Ms Cengiz said in a statement on Tuesday: "Jamal believed anything was possible in America and I place my trust in the American civil justice system to obtain a measure of justice and accountability."
The Saudi-born journalist founded a human rights organisation called Democracy for the Arab World Now (DAWN) soon before he died.
He was living in exile in the US and had written articles for the Washington Post criticising the Saudi government.
The lawsuit claims that those responsible for Mr Khashoggi's death "saw his actions in the United States as an existential threat".
"Defendants resolved to put an end to Mr Khashoggi's efforts by any means necessary," it adds.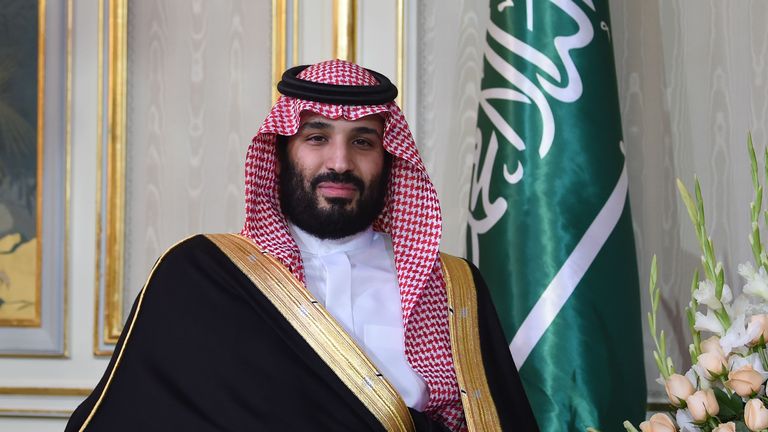 Turkish officials claim that 15 Saudis were waiting inside the consulate in Turkey, where Mr Khashoggi had travelled to pick up documents for his upcoming wedding.
Saudi Arabia deny he was murdered, but his body is believed to have been dismembered and removed from the building.
Intelligence officials had the consulate bugged and recordings appeared to capture Mr Khashoggi's last words, which were: "Don't cover my mouth. I have asthma, don't do it."
Woman found alive at funeral home dies in Detroit hospital two months later | World News
A woman discovered breathing at a funeral home in August – just as she was about to be embalmed – has died in hospital.
Timesha Beauchamp died on Sunday at Children's Hospital in Detroit, a family lawyer confirmed.
The family said they were "devastated", adding: "This is the second time our beloved Timesha has been pronounced dead, but this time she isn't coming back."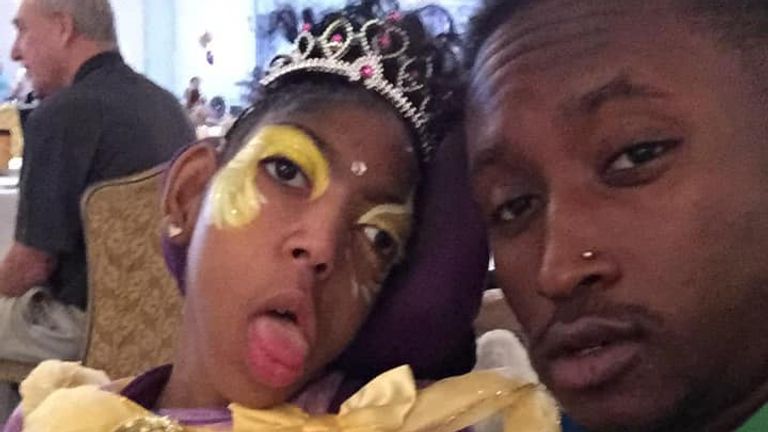 Ms Beauchamp was found unresponsive at her home in Southfield, Michigan, on 23 August.
Paramedics tried to revive her for 30 minutes but she showed no signs of life, and an A&E doctor not at the scene subsequently pronounced her dead over the phone.
Her body was released to her family without a post-mortem examination, but an hour later she was found to still be alive at the funeral home.
"You can see a chest going up and down," a spokeswoman for the James H Cole funeral home told NBC News at the time.
Ms Beauchamp – who had cerebral palsy and other medical issues – had been in a critical condition in hospital since the incident.
Her family have filed a $50m (£38m) lawsuit against the city of Southfield and the first four responders who were with their daughter.
Lawyer Geoffrey Fieger said she had been denied oxygen.
He said: "She died as a result of massive brain damage that was suffered when Southfield paramedics wrongly declared her dead, and failed to provide her much needed oxygen".
Mr Fieger added: "Instead, she was sent to a funeral home which then discovered that her eyes were open, and that she was alive."
Southfield Fire Chief Johnny Menifee said the case of "Lazarus syndrome" – where people come back to life without assistance after resuscitation attempts fail – was being investigated.
Google accused of being a monopoly by US in largest antitrust lawsuit in two decades | Science & Tech News
The US Department of Justice has filed an antitrust lawsuit against Google's parent company Alphabet for using "illegal means" to keep its monopoly power.
The lawsuit is set to be the biggest in almost two decades and has drawn comparisons to a 1974 case against AT&T, which – after a six-year legal battle – was forced to divest its subsidiaries into individual companies.
The last comparable antitrust lawsuit was filed against Microsoft in 1998, which Reuters said cleared the way for "the explosive growth of the internet" as the scrutiny the company received prevented it from thwarting the competition.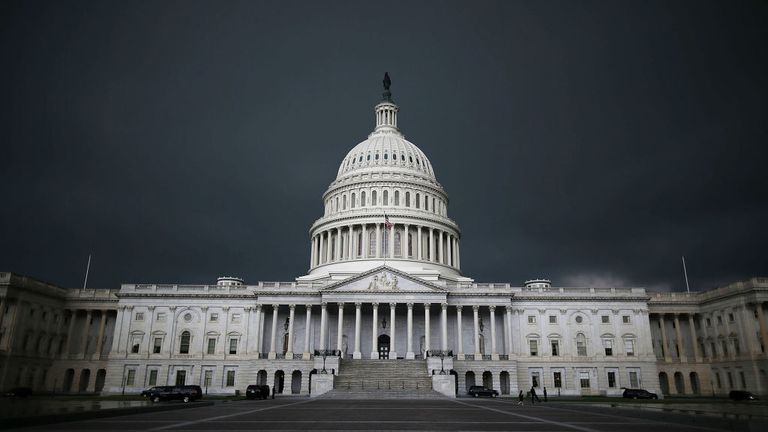 Google has not responded to the charges, brought by the Department of Justice and 11 states, which include "unlawfully maintaining monopolies in the markets for general search services".
The complaint against the company states: "Two decades ago, Google became the darling of Silicon Valley as a scrappy startup with an innovative way to search the emerging internet. That Google is long gone.
"The Google of today is a monopoly gatekeeper for the internet, and one of the wealthiest companies on the planet, with a market value of $1 trillion and annual revenue exceeding $160 billion.
"For many years, Google has used anticompetitive tactics to maintain and extend its monopolies in the markets for general search services, search advertising, and general search text advertising – the cornerstones of its empire."
"Google is now the unchallenged gateway to the internet for billions of users worldwide," the report adds of the company whose name had become a by-word for web searches.
"As a consequence, countless advertisers must pay a toll to Google's search advertising and general search text advertising monopolies; American consumers are forced to accept Google's policies, privacy practices, and use of personal data; and new companies with innovative business models cannot emerge from Google's long shadow.
"For the sake of American consumers, advertisers, and all companies now reliant on the internet economy, the time has come to stop Google's anticompetitive conduct and restore competition."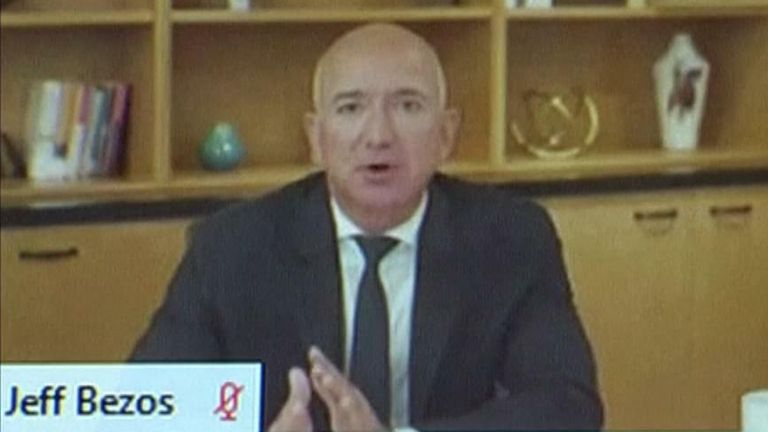 It follows a congressional report which accused Amazon, Apple, Facebook and Google of monopolising the digital market and recommended antitrust laws be used to break up these companies.
The lawsuit marks a rare topic which has bipartisan support between the Trump administration and the Democrats.
All of the 11 states' attorneys general are Republicans, but the move was also praised by progressive Democrat Elizabeth Warren, who had previously tweeted that she wanted "swift, aggressive action" to "#BreakUpBigTech".
However it also comes weeks before the US election and, according to Reuters, could be seen as a political gesture by Donald Trump who has often accused the large technology companies of suppressing conservative views.
Separate lawsuits are also expected into Google's broader business outside of search, including its digital advertising businesses.