The world's best singing competition gears up for an emotional, political Grand Final
Get the Think newsletter.
Saturday, May 12 is the Grand Final of the Eurovision Song Contest, a live talent show that airs either in part or in full across nearly 50 countries. Started in 1956 with contestants from seven countries, the Guinness Book of World Records recognizes it as the longest running annual TV music competition. (Wait, did you think "American Idol" was original?)
Eurovision's original dream was to bring the European continent together through music. More than 60 years later, Eurovision works hard to preserve its image as an apolitical entertainment event. But while it is certainly entertaining, to pretend that Eurovision has ever been anything but a political phenomenon is to miss half the point.
Eurovision works hard to preserve its image as an apolitical entertainment event. But to pretend that Eurovision has ever been anything but a political phenomenon is to miss half the point.
When Eurovision started, it was based on the idealistic notion that a new technology called television could bring the world together. (Decades later, this same idealism would be used to describe the potential of the World Wide Web.) Indeed, in early shows the power of telecommunication was on display as much as performances were; the entire second half of the broadcast was dedicated to the production making long distance phone calls to each of the competing countries live on-screen to receive the scores from the officially appointed juries. (A more democratic system was introduced later.)
Eurovision represented "joining hands around Europe" decades before the European Union was born, promoting the idea of one world together. Along the way, it produced hit artists too, from ABBA to Celine Dion.
Today, the EU is more fragile than at any point since its founding in 1993, and yet Eurovision is still one of the highest rated global events of the year, beating out more U.S.-centric events like the Oscars and the Super Bowl handily. Eurovision encourages songs to stay "universal" in their messaging. (There was even a send-up of the stereotypical Eurovision song called "Love, Love, Peace, Peace" in 2016.) But most that perform are chosen by country-wide "Idol" style contests, and the winning songs often betray their fans' more political preferences.
The show's producers have gone back and forth on whether it should be mandatory for entry songs to be performed in the competitor's native tongue, but since 1999 the "free language" rule has relaxed this policy. For a while singing in English was the trend, with many convinced performing in a common language gave them an advantage. But since Brexit and Trump, the tide has turned. The last two winners have sung in their native languages, and this year over a third of the entries have at least some non-English lyrics.
For a while singing in English was the trend, with many convinced performing in a common language gave them an advantage. But since Brexit and Trump, the tide has turned.
Though the show started out with jury-based selection, the advent of mobile technology has brought true democracy (and a two-pronged voting system) to Eurovision. The addition of a popular vote seems also to have made the show even more political. In 2016, for example, the Eurovision jury selected Australia's not-very-controversial number, "Sounds of Silence," as the winning entry. But when the popular vote was counted, Australia fell to third place. (After all, they're not Europeans!) Instead, Ukraine's explicitly anti-Russian anthem inspired by the Crimean War took home the top prize (and the job of hosting the next year).
This set up 2017 to become a proxy war between the two literally warring countries, with Ukraine banning Russia's contestant Yulia Samoylova because she had entered Crimea to give a concert to the Russian troops without a visa. Russia, in retaliation, withdrew from the competition, taking their viewing households with them. This year, to make a point of it, Russia sent the same contestant, with Putin's public blessing (though armed with a brand new song), only to see her roundly snubbed. Meanwhile, Ukraine's piano-on-fire performance not only had the prime final performance slot in the second semi-final round, but is through to the Grand Final. Russia is headed home.
Russia's glaring absence last year was not mentioned during the broadcast, as Eurovision's powers that be attempted in vain to maintain its love and peace façade. Likewise, Eurovision announcers are unlikely to mention the UK's Brexit struggles this year, even though British performer SuRie's song "Storm" speaks of "holding hands together" and "weathering" it as one. Whatever could SuRie be talking about?
Indeed, unlike in pop music, Eurovision songs live or die based on their lyrics. Ireland made the Grande Final for the first time in nearly a decade not because its song was any better than last year's, but because their message is. Finland is making a go of it this year with a song including every participant country's language. Italy's song, "Non Mi Avete Fatto Niente," is inspired by the 2015 Paris bombing. France's song, "Mercy," is about the refugee crisis.
Interestingly, the latter two aren't favored to win. Known as the "Big Five," Italy, France, the UK, Germany and Spain do not compete in the semi-final rounds but rather pass directly to the Grand Final (along with the host country) because they collectively pay the bulk of Eurovision's expenses. It sounds cushy, but anyone who's watched enough of "Idol" or "The Voice" will tell you a lack of TV time ahead of the final is actually a detriment, both in terms of practice and audience investment.
Meanwhile, the juggernaut that is Eurovision keeps growing. This year, the show has 43 participant countries, matching its highest number since 2008. And the admission of Australia after a fabulous guest turn in 2015 suggests the contest might be open to expanding its reach to one day become a true worldwide contest. (Australia is not the first non-European country to be allowed in. Israel has been regularly competing since 1973, and its entry this year is a song that includes clucking like a chicken. Oh by the way, did I also mention Eurovision is hilarious?)
While acknowledging in big or small ways the global turbulence of the last few years, nearly all of this year's entrants sound notes of unity and hope in their numbers. After six decades, perhaps the secret to Eurovision's success is that people still want to believe music can bring us together. That's not an apolitical message, but it is a surprisingly hopeful one. And despite everything that's going on, it's reassuring that hope is still one thing people want to believe in.
Ani Bundel has been blogging professionally since 2010. Regular bylines can be found at Elite Daily, WETA's TellyVisions, and Ani-Izzy.com.
Read more: 'Westworld' season two shakes off its disappointing first attempt. Maybe it really is HBO's heir to 'Game of Thrones.'
Instagram investigated over potential leak of children's data | Science & Tech News

Instagram is being investigated for a potential leak of children's personal information by the Irish privacy watchdog, which is the EU's lead authority on Facebook.
The Data Protection Commissioner (DPC) is investigating whether Instagram's parent company Facebook has been illegally processing children's data.
"The DPC has been actively monitoring complaints received from individuals in this area and has identified potential concerns in relation to the processing of children's personal data on Instagram which require further examination," it said in a statement.
If the social media company is found to have violated European privacy regulations then it could face a fine of up to 4% of its global turnover, although a fine of that scale has never been issued.
The complaints stem from Instagram requiring business accounts to provide public contact information – and potentially allowing some children on its platform to change their accounts into business ones.
Back in 2019, data scientist David Stier found that millions of personal accounts on Instagram which had been switched to business accounts were leaking phone numbers.
Mr Stier reported to Facebook his discovery that accounts apparently belonging to minors were leaking the children's phone numbers and their email addresses.
"Speaking as a parent, I want to be assured that the experience Instagram offers to teens is as 'adult-overseen' as possible," he added.
The Irish DPC said its investigation "will also consider whether Facebook meets its obligations as a data controller with regard to transparency requirements in its provision of Instagram to children".
The complaint also follows Facebook admitting that the coronavirus pandemic meant images of child nudity and sexual exploitation have been spreading on its platforms.
The tech giant said moderation levels dropped when content moderators were sent to work from home in March during the height of the COVID-19 outbreak.
Migrant found on Calais beach 'almost certainly' died trying to reach UK | World News
A man found dead on a beach near Calais was "almost certainly" a migrant who drowned trying to reach the UK by crossing the English Channel in a small boat, French officials have said.
The man, whose body was found on a beach near Sangatte, outside Calais, at around 8am on Sunday, was wearing a life jacket, a local prosecutor said.
An initial examination of the body found no evidence of third party involvement, nor did it appear he had been in the water long, Pascal Marconville, prosecutor of the nearby town of Boulogne-sur-Mer, told local media.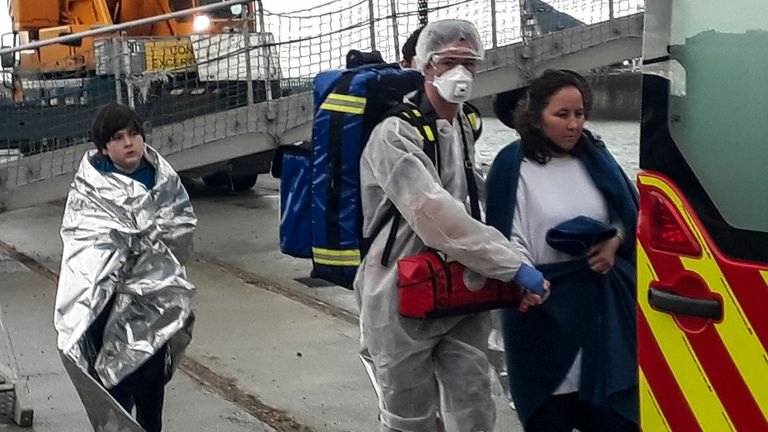 It was likely the victim had drowned trying to make the crossing at the weekend and that his body had washed up on the shore just a few hours later, Mr Marconville said.
Officers investigating the incident would work with the migrant communities based in Calais and Dunkirk to try to find out who he was and how he died, the prosecutor added.
Local news site La Voix du Nord reported that several other vessels, including one containing 17 people, had been intercepted on Sunday morning and made to return to Calais.
The group included a mother and three children suffering from hypothermia, La Voix du Nord said, adding that another 30 migrants were brought back to Boulogne on Sunday on a "hectic" day for rescuers.
According to Home Office figures, 170 migrants crossed the Channel in just 12 small boats on Saturday, while a further 222 were prevented from crossing by the French authorities.
The Home Office's clandestine Channel threat commander, Dan O'Mahoney, said that the French had stopped 188 people making the crossing on Sunday.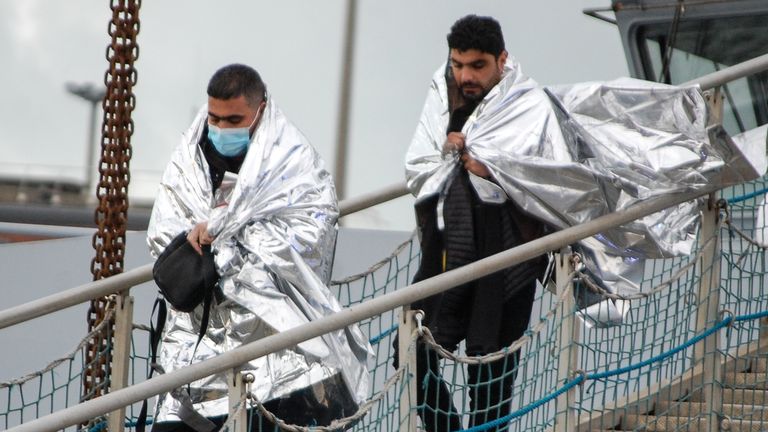 The Home Office has yet to comment on the death in France or the number of people who managed to cross successfully despite the journey being extremely dangerous.
The co-founder of refugee charity Care4Calais, Clare Moseley, said: "Refugees take this risk because they are frightened, fleeing appalling horrors in some of the most dangerous places on earth.
"They do it because of the grim and unsanitary conditions in Calais, where they are constantly harassed and abused by the authorities."
September: Migrants arrive on Dover beach

On Saturday, UK authorities warned that favourable conditions in the Channel were likely to encourage migrants to try before winter weather makes it impossible.
Record numbers of migrants have crossed the English Channel in small boats in 2020, with a new single-day record, 416, reaching the UK in early September.
More than 6,100 migrants have arrived in the UK on small boats so far this year.
Woman missing for 12 days found alive in Utah national park | US News
The family of a woman who went missing for 12 days in a national park in Utah have said they are "overjoyed" after she was found safe and well.
Holly Suzanne Courtier, 38, was dropped off at Zion National Park on 6 October, but did not appear for her scheduled pick-up time later that day.
The National Park Service said Ms Courtier was found by search and rescue teams after it received a "credible tip" from another visitor.
It said: "Search and rescue crews found Holly Suzanne Courtier today within Zion National Park. Park Rangers received a credible tip from a park visitor that they had seen Courtier within the park. Courtier has been reunited with and has left the park with her family."
Local media reports said Ms Courtier, who is an experienced hiker, had set off on a road trip to visit national parks after losing her job due to the coronavirus pandemic.
It is not known how she managed to survive for so long in the park.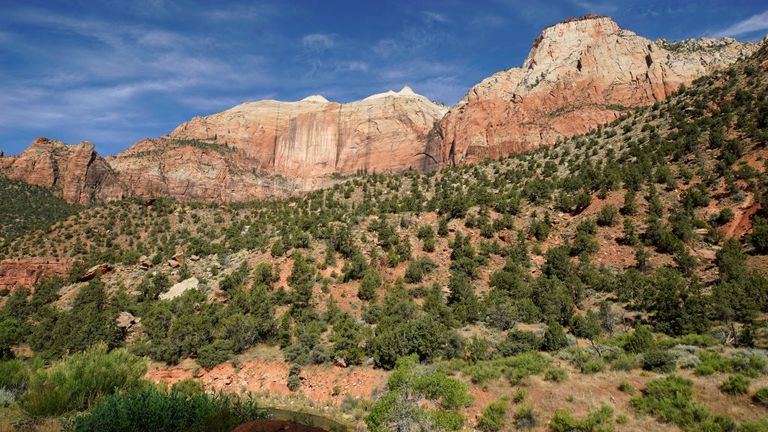 In a statement her family said: "We are overjoyed that she was found safely today.
"We would like to thank the rangers and search teams who relentlessly looked for her day and night and never gave up hope. We are also so grateful to the countless volunteers who were generous with their time, resources and support.
"This wouldn't have been possible without the network of people who came together."
The search included K-9 units and federal, state and local rescue teams and volunteers.
A GoFundMe page initially set up to cover the cost of the search raised more than $10,400 (£8,018) and the money will also be used to pay for any treatment Ms Courtier needs.
Describing the Zion National Park, the park service said: "Within its 232 square miles are high plateaus, a maze of narrow, deep, sandstone canyons, and the Virgin River and its tributaries."