Jared Leto on movies, tech and the Met Gala
Get breaking news alerts and special reports. The news and stories that matter, delivered weekday mornings.
Few people in Hollywood have just one job. Jared Leto, however, has at least five.
The actor-musician, who played The Joker in "Suicide Squad" and received an Academy Award for his performance as a transgender woman in "Dallas Buyers Club," is also a filmmaker, a fashion aficionado, and a tech investor.
That is, of course, when he isn't on tour with his band, "30 Seconds to Mars."
And then there's Fandor. A year ago, Leto took on the role of chief creative officer at the streaming movie service, which specializes in independent movies and award-winning international pictures. Leto spoke with NBC News on a range of topics, including whether streaming movies should be able to compete at the Cannes Film Festival. Netflix didn't attend this year since the competition rules required new movies to debut in French cinemas first.
He's also an investor in a variety of tech companies including Uber, Spotify and Airbnb, and shares some thoughts about his next bet, whether Facebook deserves its current bad rap, and creativity at The Met Gala — which he recently attended, clad in a Gucci suit topped by a gold-colored crown. This interview has been lightly edited for clarity.
Q: The Cannes Film Festival just started. Any thoughts on whether it should admit streaming movies or how the Academy of Motion Pictures should deal with streaming movies that have a limited theatrical run?
A: I think it's probably a mistake to tell the French how to run their festival. They're doing a good job of protecting culture in France. That's something to listen to a bit before the knee-jerk reaction. Accusations, calling the French antiquated or whatever else, that may be true, but it may be interesting to talk about how to create a different solution at the film festival. Maybe they'd be open to other types of films that weren't in theaters. Maybe that's a suggestion that would make people rest a bit easier — a section of Cannes where these films can be celebrated and appreciated.
The issue is, though, what is a film? Some of the series are more like movies that you watch. When they're making eleven [sequels], virtually, it's hard even count sequels to some of these films out there. And does that make them a giant TV show?
Some of the limited series are incredibly filmic and really well done and have given a home to dramatic actors whether it's the "Handmaid's Tale," or whatever your favorite film is. Some are better than most movies.
Thank God for streaming or I wouldn't have done very many films over the past few years.
Thank God for streaming or I wouldn't have done very many films over the past few years.
There may be a few missing silos [when it comes to streaming.] I think that people will figure out they can create a film festival where there is a business, an economy. Anyone who doubts the French respect for their culture, they know what they're doing. You only have to drive to the South of France.
Thank God for streaming or I wouldn't have done very many films over the past few years. Everyone has incredibly busy lives. Time is really precious. We can stream where and when we want to — the incredible luxury. It's kind of a bit of "television killing the radio" fear. There will always be a place for the community experience of films [in cinemas]. That's a fun thing to go do. It's not like people don't want physical experiences, but more people want to watch this content in the comfort of their homes, or on the move.
Q: Let's talk about your tech investments. You own stakes in Uber, Spotify, Airbnb, or have sold out of any of those holdings?
A: It's something I've been doing quite some time now, nearly a decade. I get to work with some of the smartest people in the world. To witness some of these transformative technologies that change the way we live, work.
Slack [a workplace messaging service] is an interesting one. I've been an investor in Slack for quite some time, and the company has made our lives more cohesive and more a community and made it a bit more fun and killed our email stacks.
Robinhood [a stock trading app] is a fascinating company. I'm an early investor in Robinhood, and I've watched it become valued at $5 billion. It's a stock trading app. It has a future that is exciting, and I decided to come along for the ride.
I would put Airbnb on the list too. It's a smart company, showing us the opportunities that are right under our noses to have more inclusive experiences around the world, the act of sharing your home and being able to open up travel and hospitality in a way that was unheard of. Brian [Chesky, Airbnb CEO] has built a beautiful company.
Q: I'd like to ask you about Facebook. Social media has had a powerful effect on society, but recently Russian-backed actors invaded the platforms with fake content. How do you feel about the social media environment now and Facebook in particular?
A: Propaganda has been a tool for regimes, political parties, bad actors for, I would say, thousands of years in some form or another. That's nothing new. I'm not so shocked at it. If you can do it, someone is going to take advantage of data on Facebook to serve their cause. If I'm a bad actor, yeah, I'm going to do it. If you leave your keys in your car on the street, then someone may steal it.
I think that Facebook is going to make sure it doesn't happen again. If I was going to bet on someone, I'd bet on [Facebook chief executive] Mark Zuckerberg. It doesn't seem like he likes to f— around. He's going to get s— done.
It's absolutely insane that anyone interfered with democracy in the U.S. It's a mind-blowing concept in general. We are still in the wild west, fake news, spammers using advertising to fool people into anything and everything.
We are still in the wild west, fake news, spammers using advertising to fool people into anything and everything.
We are still in the wild west, fake news, spammers using advertising to fool people into anything and everything.
It's a digital and social revolution in the way people are able to communicate quickly and easily to spread an idea and a message. And it can be a beautiful thing like the Arab Spring, or a nasty thing like interference with the truth. I guess it's a representation of who we are. Hopefully we'll see more kindness and meaning and a little bit less of the other things.
Q: You have been chief creative officer at indie movie streaming service Fandor for a year. Can you tell us what you've been doing in that role?
A: I'm proud to be associated with people that are helping us get connected to the content we want to spend our time consuming. There is a bit of a cereal box syndrome that is happening now in the world, where we are stuck in the aisle in the supermarket; the amount of choices that you have. Fandor has done a really good job of curation and giving people that are cinephiles a home.
Q: What are your new projects at Fandor?
The next steps would be to continue to create awareness that there's this great home for film lovers. There's many times I've opened up a platform and I've been at a loss as to where to go and what to focus on. When I'm at Fandor, the issue is how to find the time to watch all of the great content.
I've been focused on the topic of how we make it more of a social experience. I always think it's incredibly important to be celebrating filmmakers, people who have taken an independent, brave path and highlighting filmmakers and giving filmmakers a chance to speak directly to audiences.
Take the idea of a playlist and push it to the forefront, I'm sure the world would love to know what Darren Aronofsky's top ten films are, or would love to hear from David Fincher what are the most underappreciated movies of the past ten years. Those are some of the things I'd love to see be brought to life.
Q: You were at the Met Gala's "Heavenly Bodies: Fashion and the Catholic Imagination" earlier this week? Did you have any favorite outfits?
A: It was good to support the cause, and to support The Met [Museum] and to work with the Gucci family. It's good to have fun with the Gucci gang, as we say. You see some of the craftsmanship that goes into what people do. Some of that gets lost by the power of celebrity and a photograph. It is a fascinating thing to be at. I talked to Chadwick Boseman, who looked great. I thought Rihanna looked fantastic. People have fun with it: it's incredible; it's fun; it's funny and it's fashion.
Coronavirus: 'We're facing a war' – Italy's frontline doctors fear losing control as hospital cases increase | World News
Watching Dr Silvana Di Florio ready herself to enter an intensive care ward where every bed currently set aside for COVID-19 patients is already full reminds you of the seriousness of the virus.
With the help of another staff member she layers herself in protective clothing: A mask, overalls, and then a vast hood with a clear visor, looking other-worldly to the untrained eye.
She is the head of ICU nursing at the Tor Vergata Hospital in Rome and is feeling the intense pressure of a second wave of COVID.
We get a chance to speak to her before she enters the area where day by day the demands on staff increase dramatically. And these are medical professionals still trying to recover from the physical and mental stresses of the spring outbreak.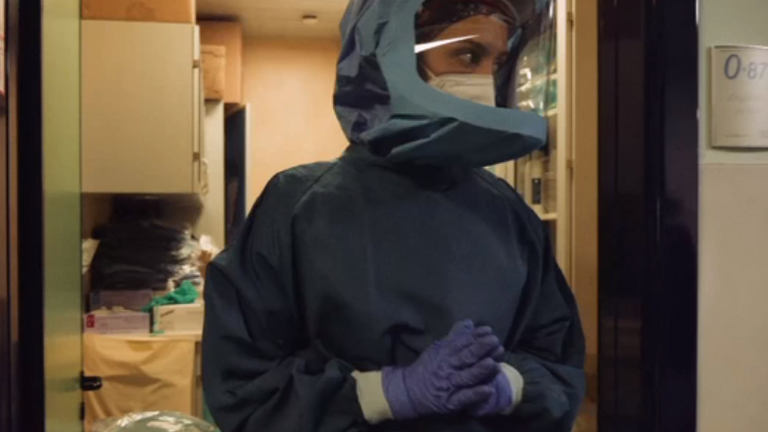 She seems calm as she starts to speak: "At the beginning we were those who were facing a global health emergency."
She then pauses and starts to sob, telling us: "Now we are facing a war. We are tired. We are few. Some are sick, and with few resources.
"But we are always present, always prepared, always really careful."
As she composes herself, she says: "I believe that sometimes we are able to go on even just for the 'thank you' that the patient tells us."
It is clear that Dr Di Florio and others dealing with the second wave of COVID are struggling physically and emotionally.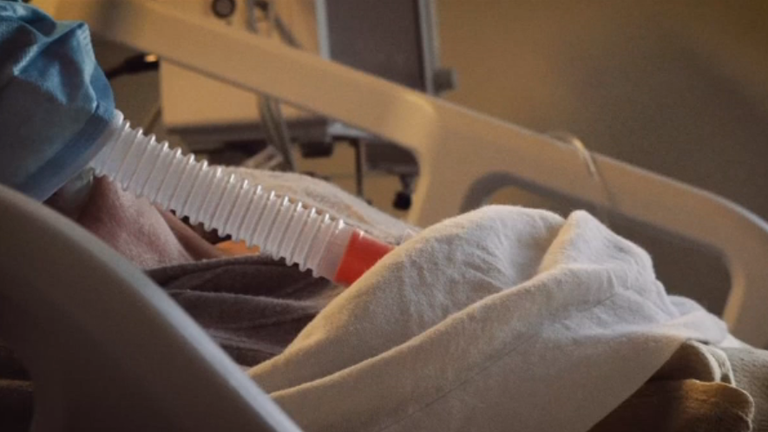 She tells us that her staff get tested regularly in order not to miss a shift. Demand is growing and scared as they might be, they feel like "missionaries" doing a job.
Tor Vergata Hospital is one of the largest in the Italian capital and doctors and nurses are blunt about the reality facing them – that it will not be able to cope if COVID numbers continue to rise.
From the safety of a corridor in the infectious diseases department we are shown rooms all now occupied by COVID patients.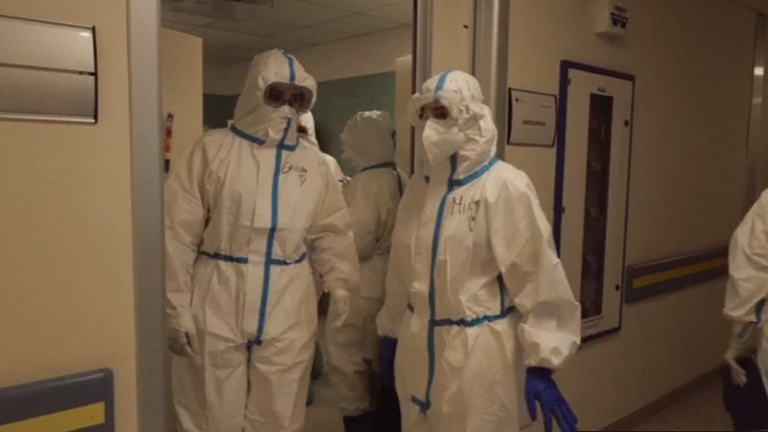 Just days ago, ambulances queued for up to nine hours to admit patients.
Looking through the glass into the rooms one can only imagine what it is like for the sick here; cut off from family, unable to have visitors, wondering if they will even be aware when and if the day comes when they will deteriorate far enough that they will need to be moved to ICU.
Professor Massimo Andreoni, who heads the department, warns things are going to get worse and there is, he says, only one solution – a national lockdown.
"So I think that it is very important to start quickly in lockdown and to stop the pandemic," he says.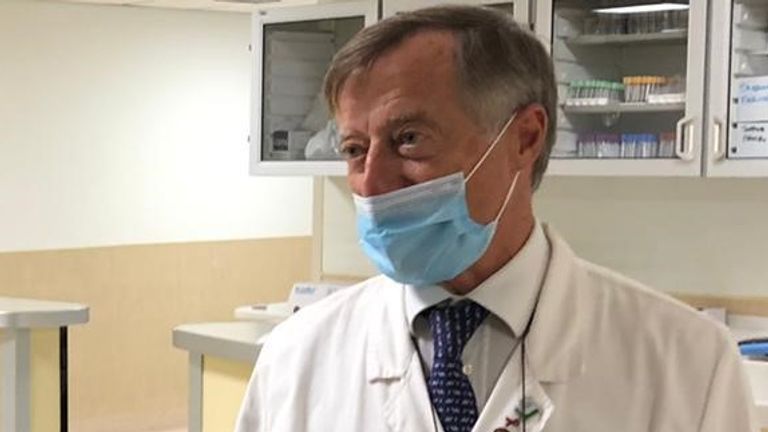 "This is the only possibility because there is not the capacity to have sufficient beds in the hospital for these patients."
It is a stark warning from a man who fears impossible pressures on the health service.
For now though, it is a move the Italian government resists. What happens in the nation's hospitals in the coming days may force a change in political strategy.
Two British teenagers killed and one seriously injured in Greece parasailing accident | UK News
Two British teenagers have been killed and another is in a serious condition after a parasailing accident in Greece.
The trio are said to have been found on rocks near Lindos on the island of Rhodes.
The Greek coastguard said the rope holding their parachute had snapped.
One of the group, a 15-year-old boy, is in hospital with multiple injuries, but his 13-year-old brother and 15-year old female cousin died.
The bodies were found after the driver of the boat called emergency services, said the coastguard.
"They were following a speedboat. The rope was cut," it added in a statement.
"The boy and the girl were killed and another was heavily injured and brought to hospital. It is under investigation about how the rope was cut."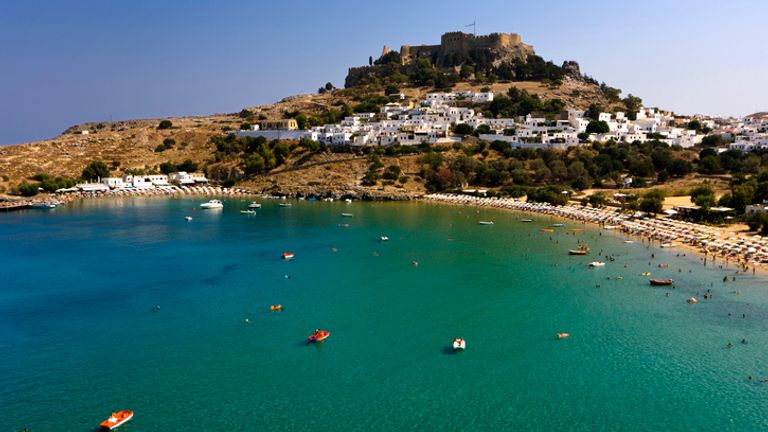 Greek media reported that Wednesday's incident happened in high winds.
The boat's driver and another person have been arrested.
The Foreign, Commonwealth & Development Office (FCDO) said: "We are supporting the family of two British people following their death in Rhodes, and are in contact with the Greek authorities."
Son of Walter Wallace Jr says 'white racist cops' killed his father | US News
The eight-year-old son of a black man shot dead by Philadelphia police has said he believes the officers involved were racist.
Zamir, the eldest son of Walter Wallace Jr, said on Wednesday that "white racist cops" had killed his father as he told reporters what he would remember about him.
"We used to always hang out and we'd always go places, and we used to always play around," Zamir said, adding: "He used to always teach me how to be a man.
"These white racist cops got my own dad. Black lives still matter."
Moments before black man's shooting by police

Mr Wallace was shot dead in the street on Monday in an incident caught on camera and later widely shared on the web.
The footage, filmed by a bystander, shows police officers firing several times at the 27-year-old after yelling at him to drop a knife.
According to the family lawyer, Shaka Johnson, Mr Wallace's relatives had called an ambulance to help the father of nine rather than police as they believed he was experiencing a mental health crisis.
Mr Johnson said it was also believed the officers knew about the crisis because they had visited the family home three times on the day of the shooting.
The incident has since sparked two consecutive nights of protesting in Philadelphia that began with peaceful marching and the chanting of Mr Wallace's name, before being taken over by violence.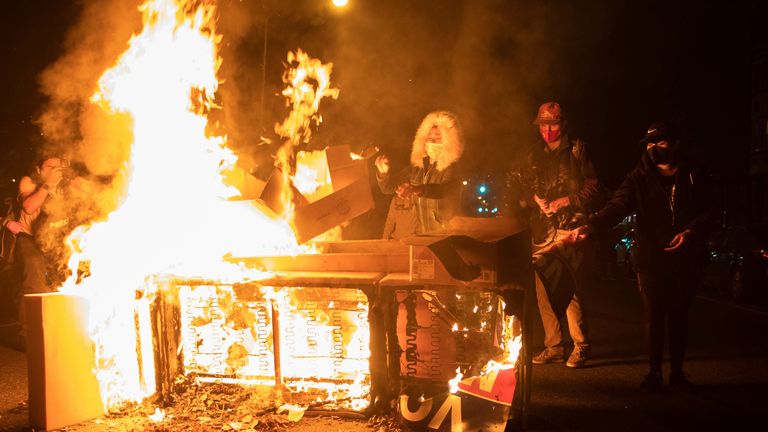 On Tuesday evening, several protesters threw rocks, light bulbs and bricks at officers near a police station in the city, while looters were also spotted ransacking shops.
It followed a night of unrest on Monday, where more than 90 people were arrested and 30 police officers were injured.
Speaking on behalf of the family, Mr Wallace's father criticised the violence and looting, which has resulted in the National Guard being deployed.
He said he was haunted by the way his son was "butchered" but said he wanted protesters in Philadelphia to show his family and the city "some kind of respect".
"It's uncalled for," Mr Wallace said of the violence. "It really is."
State and local officials are now calling for a transparent investigation into Mr Wallace's death, while Philadelphia police commissioner Danielle Outlaw said she was reviewing what information could be made public.
This includes whether the officers were aware of the possible mental health crisis mentioned by the family.
Mr Wallace Jr's death is the latest killing of a black person by US police officers, and comes after months of Black Lives Matter protests, sparked initially by the death of George Floyd.
Mr Wallace Jr's wife Dominique is pregnant and is due to have her labour induced later today.