Eurovision's history of political voting
Tom Gillespie, News Reporter
Eurovision Song Contest rules explicitly ban countries or performers from scoring political points.
Despite that, regular viewers have often seen the work of voting blocs and revenge plots unfold before their eyes.
Sky News take a look at the political history of the Eurovision Song Contest.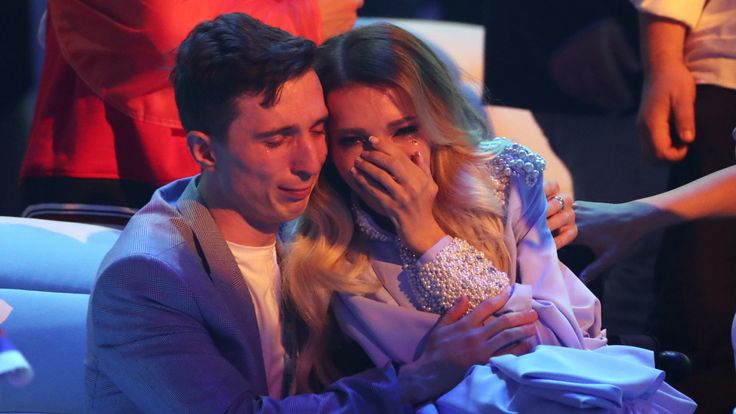 Standing up to Russia
The Ukraine banned Russia's performer from entering the country when they hosted Eurovision in 2017.
This likely enraged Kremlin officials who have earned a reputation for taking the contest rather seriously.
Ukraine's SBU security service banned Russia's entry Yulia Samoylova from country for three years after she had performed at a 2015 concert in Crimea.
Vladimir Putin's forces had annexed the region when Samoylova gave her performance.
This wasn't the Ukraine's first foray into Eurovision politics.
The Eastern European nation won the 2016 contest with Jamala's song 1944, which covered Joseph Stalin's enforced wartime deportation of the Tatar people to Central Asia.
The song narrowly pipped Russia's entry that year, inspiring Kremlin officials to claim there was an "information war" against their country.
Alexey Pushkov, head of the State Duma foreign affairs committee, wrote on Twitter that the contest had become "a field for political battles".
Ukraine won the contest for the first time in 2004 with Ruslana's song Wild Dances.
The performance was said to have helped Ukraine establish its post-Soviet national identity, with references to the Hutsuls people who inhabited the Carpathian mountains.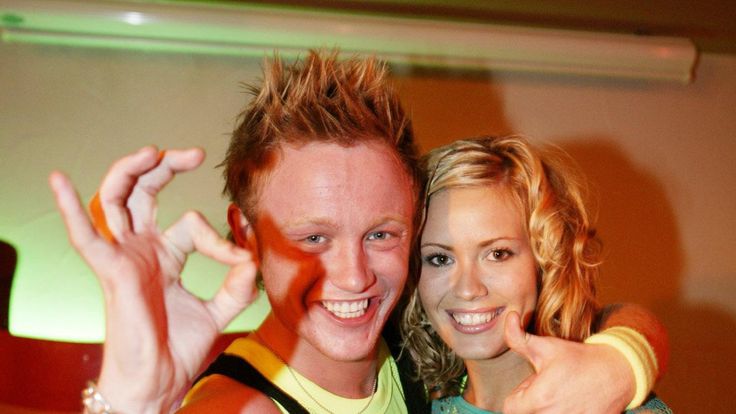 "Nul Points"
The UK has not won Eurovision for more than 20 years – and our last winning entry was Love Shine A Light by Katrina and the Waves all the way back in 1997.
Liverpool duo Jemini famously achieved "nul points" (no points) after their performance of Cry Baby in 2003.
The Eurovision humiliation was blamed, among other things, on the UK's involvement in the invasion of Iraq.
TV legend Terry Wogan, who provided the BBC's commentary on the night, famously said: "I think the UK is suffering from post-Iraq backlash."
Britain's participation in Eurovision 2018 will mark the second time it has competed since the vote to leave the European Union.
Many feared the UK was facing a 2003-style "nul points" snub after the Brexit referendum.
The nation breathed a sigh of relief when former X Factor contestant Lucie Jones finished in 15th place.
Some fans were anxious that the UK would no longer be able to participate in Eurovision after the referendum result.
But Alasdair Rendall, the president of the UK Eurovision fan club, has reassured fans that the UK's place is not under threat once the negotiations are over.
He said: "No, we would not be barred. All participating countries must be a member of the European Broadcasting Union.
"The EBU, which is totally independent of the EU, includes countries both inside and outside of the EU, and also includes countries such as Israel that are outside of Europe."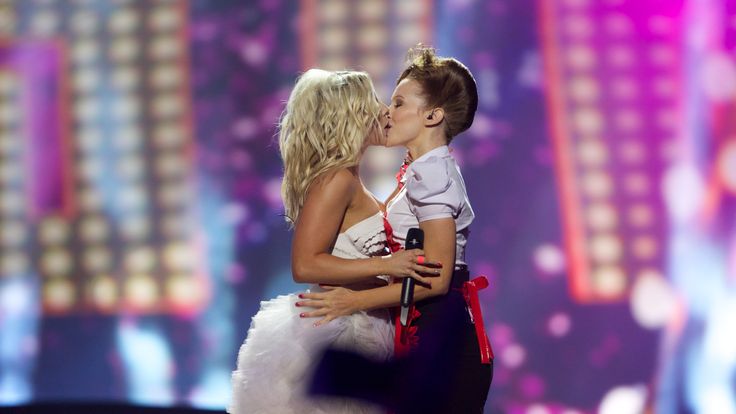 Rainbow nations
Flamboyant performers and elaborate props have helped shape Eurovision's reputation as the "Gay Olympics".
The performers' embracing of progressive and liberal ideas has rankled media outlets and radical groups across the world.
The first lesbian kiss took place in the competition in 2013, when Finnish entry Krista Siegfrids kissed a female dancer after her song Marry Me.
Turkish and Greek newspapers are said to have reacted negatively to the performance.
Austria's bearded drag queen Conchita Wurst won the competition in 2014, but only after radical groups from Russia, Belarus and Azerbaijan campaigned against her entry.
Mango TV, one of the China's most popular channels, blurred a rainbow flag that could be seen in the crowd during the first Eurovision semi-final in 2018.
Despite the occasional backlash, the contest has maintained its reputation for celebrating LGBT culture.
Same-sex couple traffic lights were erected in Vienna when Austria hosted the contest in 2015.
The lights showed loved-up red and green couples holding hands.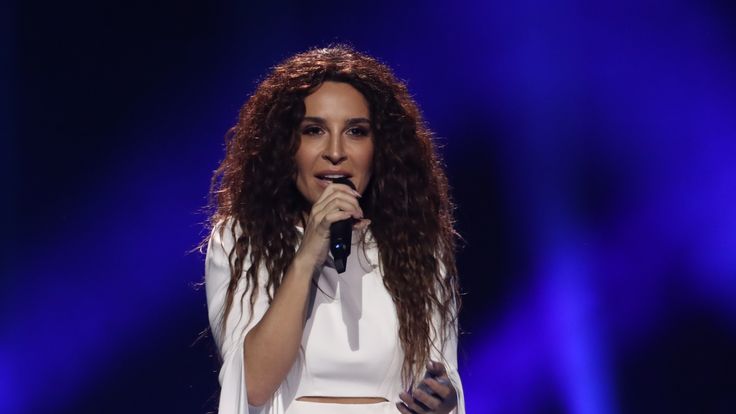 Bloc party
It's well documented that different "voting blocs" exist within the crop of Eurovision finalists each year.
Derek Gatherer, a lecturer at Lancaster University, has established a list of them which include the Viking Empire of Scandinavian countries and the Balkan Bloc made up of former Yugoslavian countries – as well as Romania, Serbia and Albania.
Mr Gatherer also cited The Pyrenean Axis which includes Andorra and Spain.
A surprise bloc is an apparent informal alliance between the UK, Ireland and Malta, which have consistently voted for each other over the years.
Eurovision expert Dr Paul Jordan explained: "Every year the UK depends on those seven or eight points from Ireland, to save us from the dreaded nul points."
He added that Greece and Cyprus have typically voted for each and not for Turkey.
Mr Jordan said the members of the Balkan bloc, typically one of the largest in the competition, tend to vote for each other for cultural reasons rather than loyalty.
He explained: "Bosnia and Serbia and don't really get on, and Albania and Serbia don't really get on, but they tend to vote for each other in Eurovision."
Although Russia failed to make it to the final in 2018, it has tended to do well in the competition thanks to its former Soviet satellite countries.
William Lee Adams, founder of the Eurovision-worshipping Wiwibloggs, said: "Everyone pays allegiance and homage to the mother Russia still.
"Russia could show up without a song and they could still make the final.
"It's not political, it's cultural.
"These people have a shared cultural heritage, so naturally there's going to be an affinity for the Russian song, which was probably made by Russian people."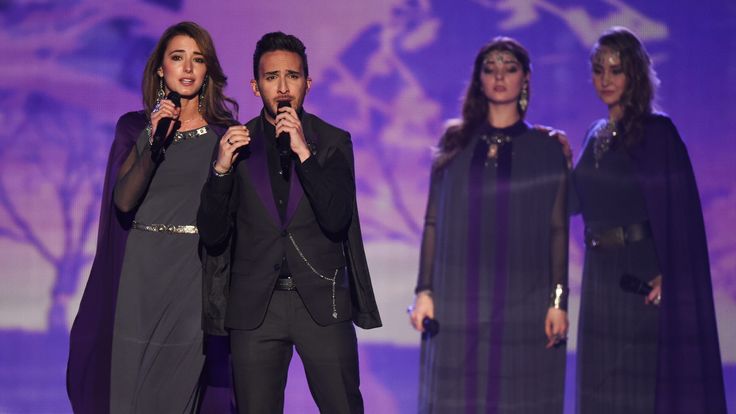 Remembering genocide
Eurovision has a reputation for joyful and extravagant performances, but occasionally entrants strike a more sombre tone.
Armenia has twice used Eurovision to remind Europe of the mass killing of 1.5 million Armenians during the decline of the Ottoman Empire.
Many countries recognise the massacre as genocide, but Armenia's neighbours Turkey and Azerbaijan don't see it that way.
Armenian act Genealogy sent out a group of its natives from across five continents into the crowd for their song Face The Shadow in 2015.
They dealt with the same topic with their 2010 entry Apricot Stone.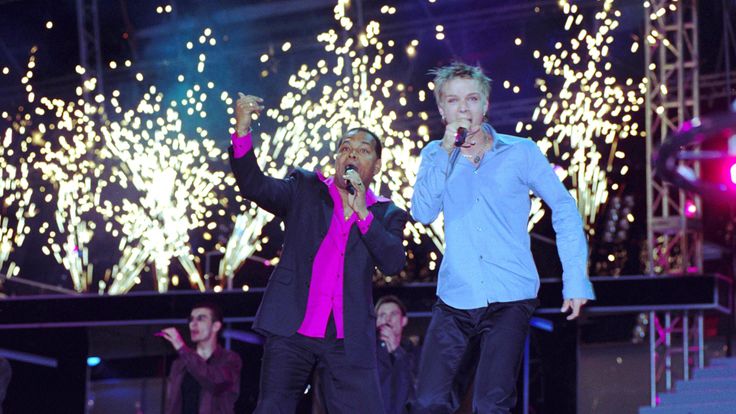 Post-Soviet identity
Estonia became the first post-Soviet nation to win Eurovision in 2001.
Dr Paul Jordan, who wrote the book The Modern Fairy Tale: Nation Branding, National Identity And The Eurovision Song Contest In Estonia, said: "The Estonian case is an interesting example of the 'return to Europe' and the othering of the Soviet occupation.
"It was the opportunity for them to control their image for the first time since independence."
Estonia's winning entry was "Nordic with a twist", with the country's prime minister telling crowds afterwards: "We freed ourselves from the Soviet Empire through song.
"Now we will sing our way into Europe."
Instagram investigated over potential leak of children's data | Science & Tech News

Instagram is being investigated for a potential leak of children's personal information by the Irish privacy watchdog, which is the EU's lead authority on Facebook.
The Data Protection Commissioner (DPC) is investigating whether Instagram's parent company Facebook has been illegally processing children's data.
"The DPC has been actively monitoring complaints received from individuals in this area and has identified potential concerns in relation to the processing of children's personal data on Instagram which require further examination," it said in a statement.
If the social media company is found to have violated European privacy regulations then it could face a fine of up to 4% of its global turnover, although a fine of that scale has never been issued.
The complaints stem from Instagram requiring business accounts to provide public contact information – and potentially allowing some children on its platform to change their accounts into business ones.
Back in 2019, data scientist David Stier found that millions of personal accounts on Instagram which had been switched to business accounts were leaking phone numbers.
Mr Stier reported to Facebook his discovery that accounts apparently belonging to minors were leaking the children's phone numbers and their email addresses.
"Speaking as a parent, I want to be assured that the experience Instagram offers to teens is as 'adult-overseen' as possible," he added.
The Irish DPC said its investigation "will also consider whether Facebook meets its obligations as a data controller with regard to transparency requirements in its provision of Instagram to children".
The complaint also follows Facebook admitting that the coronavirus pandemic meant images of child nudity and sexual exploitation have been spreading on its platforms.
The tech giant said moderation levels dropped when content moderators were sent to work from home in March during the height of the COVID-19 outbreak.
Migrant found on Calais beach 'almost certainly' died trying to reach UK | World News
A man found dead on a beach near Calais was "almost certainly" a migrant who drowned trying to reach the UK by crossing the English Channel in a small boat, French officials have said.
The man, whose body was found on a beach near Sangatte, outside Calais, at around 8am on Sunday, was wearing a life jacket, a local prosecutor said.
An initial examination of the body found no evidence of third party involvement, nor did it appear he had been in the water long, Pascal Marconville, prosecutor of the nearby town of Boulogne-sur-Mer, told local media.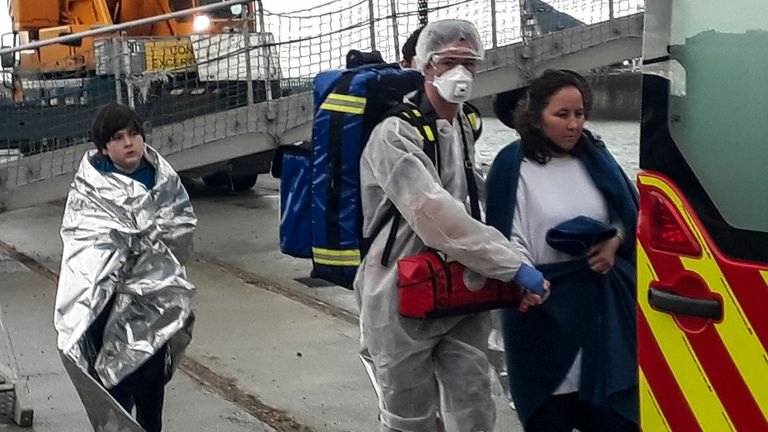 It was likely the victim had drowned trying to make the crossing at the weekend and that his body had washed up on the shore just a few hours later, Mr Marconville said.
Officers investigating the incident would work with the migrant communities based in Calais and Dunkirk to try to find out who he was and how he died, the prosecutor added.
Local news site La Voix du Nord reported that several other vessels, including one containing 17 people, had been intercepted on Sunday morning and made to return to Calais.
The group included a mother and three children suffering from hypothermia, La Voix du Nord said, adding that another 30 migrants were brought back to Boulogne on Sunday on a "hectic" day for rescuers.
According to Home Office figures, 170 migrants crossed the Channel in just 12 small boats on Saturday, while a further 222 were prevented from crossing by the French authorities.
The Home Office's clandestine Channel threat commander, Dan O'Mahoney, said that the French had stopped 188 people making the crossing on Sunday.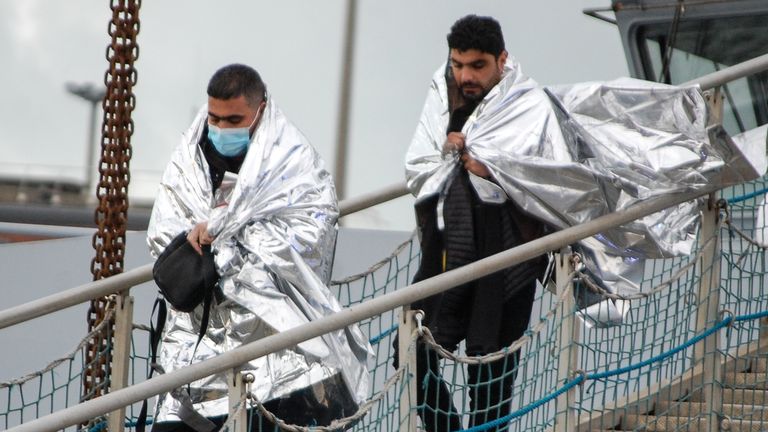 The Home Office has yet to comment on the death in France or the number of people who managed to cross successfully despite the journey being extremely dangerous.
The co-founder of refugee charity Care4Calais, Clare Moseley, said: "Refugees take this risk because they are frightened, fleeing appalling horrors in some of the most dangerous places on earth.
"They do it because of the grim and unsanitary conditions in Calais, where they are constantly harassed and abused by the authorities."
September: Migrants arrive on Dover beach

On Saturday, UK authorities warned that favourable conditions in the Channel were likely to encourage migrants to try before winter weather makes it impossible.
Record numbers of migrants have crossed the English Channel in small boats in 2020, with a new single-day record, 416, reaching the UK in early September.
More than 6,100 migrants have arrived in the UK on small boats so far this year.
Woman missing for 12 days found alive in Utah national park | US News
The family of a woman who went missing for 12 days in a national park in Utah have said they are "overjoyed" after she was found safe and well.
Holly Suzanne Courtier, 38, was dropped off at Zion National Park on 6 October, but did not appear for her scheduled pick-up time later that day.
The National Park Service said Ms Courtier was found by search and rescue teams after it received a "credible tip" from another visitor.
It said: "Search and rescue crews found Holly Suzanne Courtier today within Zion National Park. Park Rangers received a credible tip from a park visitor that they had seen Courtier within the park. Courtier has been reunited with and has left the park with her family."
Local media reports said Ms Courtier, who is an experienced hiker, had set off on a road trip to visit national parks after losing her job due to the coronavirus pandemic.
It is not known how she managed to survive for so long in the park.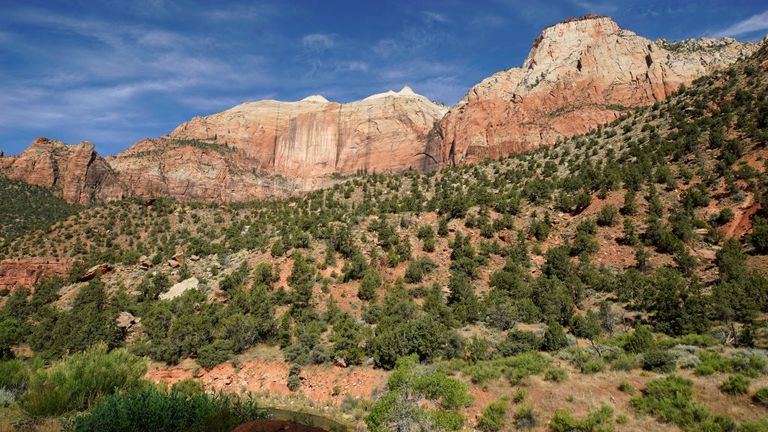 In a statement her family said: "We are overjoyed that she was found safely today.
"We would like to thank the rangers and search teams who relentlessly looked for her day and night and never gave up hope. We are also so grateful to the countless volunteers who were generous with their time, resources and support.
"This wouldn't have been possible without the network of people who came together."
The search included K-9 units and federal, state and local rescue teams and volunteers.
A GoFundMe page initially set up to cover the cost of the search raised more than $10,400 (£8,018) and the money will also be used to pay for any treatment Ms Courtier needs.
Describing the Zion National Park, the park service said: "Within its 232 square miles are high plateaus, a maze of narrow, deep, sandstone canyons, and the Virgin River and its tributaries."