Trump says he will hold summit with North Korean leader Kim Jong Un in Singapore on June 12
The deal to meet is a notable shift in what has been, at times, a tense and confrontational relationship between the two men, marked by caustic language.
Trump has repeatedly derided Kim as "Rocket Man" or "Little Rocket Man," and said in August that if North Korea threatened the U.S., "they would be met with fire and fury like the world has never seen."
Kim has referred to Trump as "a gangster" and previously said he would "tame the mentally deranged U.S. dotard with fire."
Trump, however, says the U.S. is developing a better relationship with the North Korean leader. Secretary of State Mike Pompeo recently visited North Korea and met with Kim.
Vice President Mike Pence said Thursday that the release of Americans was "all a direct result of the strong and clear leadership that President Trump has provided on the world stage in this moment. Think about how far we've come in the last year."
"From very early in this administration, President Trump changed the policies of the United States from an era of strategic patience with North Korea to move toward the kind of campaign that would bring economic and diplomatic pressure to bear while reserving all other options, with the clear objective — of achieving the denuclearization of the Korean peninsula," Pence told NBC's Andrea Mitchell in an interview.
"We appreciate Kim Jong Un's efforts so far," Pence said, but noted the administration has "no illusions" about the challenges ahead.
The announcement of the summit comes after punishing sanctions were leveled against North Korea in response to its missile and nuclear tests.
Last month, Kim said he would suspend nuclear and missile tests, stating further ones were unnecessary. He also met South Korean President Moon Jae-in at a historic summit in late April.
The White House has credited its campaign of "maximum pressure" for creating an atmosphere for dialogue with North Korea.
But it is unclear what may come out of the talks. Trump has stated that his goal is the denuclearization of the Korean Peninsula, but added, "If the meeting, when I'm there, isn't fruitful, I will respectfully leave the meeting."
Earlier Thursday, Trump expressed gratitude to Kim for the return of the detainees and said he was optimistic about their planned talks.
"We want to thank Kim Jong Un," the president said as he greeted the returning Americans. "I really think he wants to do something … and bring his country into the real world. I really think we have a very good chance of doing something very meaningful."
The detainees, Kim Hak-song, Kim Dong-chul and Kim Sang-duk, who is also known as Tony Kim, were granted amnesty from North Korean labor campsby Kim after spending up to two years in detention accused of crimes against the regime.
"It is like a dream. We are very, very happy," Kim Dong-chul told reporters through a translator after arriving back in the U.S.
Jamal Khashoggi: Journalist's fiancee sues Saudi Crown Prince Mohammed Bin Salman over his killing | World News
The fiancée of murdered journalist Jamal Khashoggi is suing Saudi Crown Prince Mohammed Bin Salman over his "brutal execution".
Hatice Cengiz, a Turkish national, filed the lawsuit in Washington DC on Tuesday, accusing the Saudi leader of the "brutal and brazen crime" of killing her fiancée after "weeks of planning".
Ms Cengiz had been planning to marry Mr Khashoggi when he disappeared inside the Saudi consulate in Istanbul on 2 October 2018.
She was waiting outside for him, but he never emerged and officials later ruled he died as a result of a "rogue operation".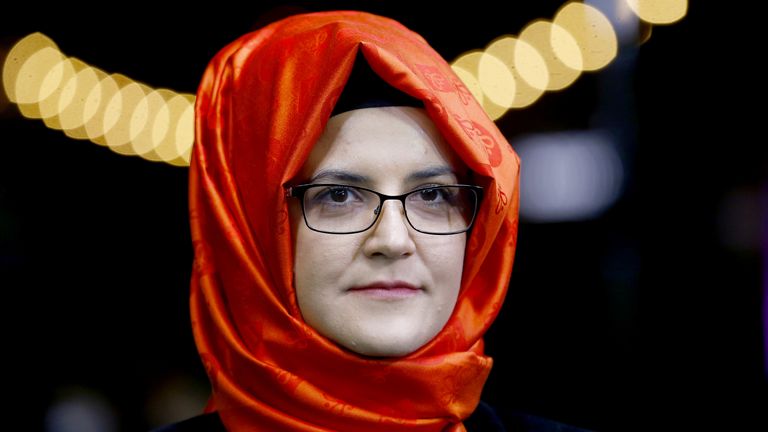 Last month, five people were sentenced to 20 years in prison over Mr Khashoggi's death, but they escaped the death penalty and Mr Bin Salman was not implicated in any way.
Three others were sentenced to lesser jail terms. None of the eight convicted have been identified.
Turkish intelligence officials say the operation was too big for the Saudi leader not to have known about it.
Ms Cengiz said in a statement on Tuesday: "Jamal believed anything was possible in America and I place my trust in the American civil justice system to obtain a measure of justice and accountability."
The Saudi-born journalist founded a human rights organisation called Democracy for the Arab World Now (DAWN) soon before he died.
He was living in exile in the US and had written articles for the Washington Post criticising the Saudi government.
The lawsuit claims that those responsible for Mr Khashoggi's death "saw his actions in the United States as an existential threat".
"Defendants resolved to put an end to Mr Khashoggi's efforts by any means necessary," it adds.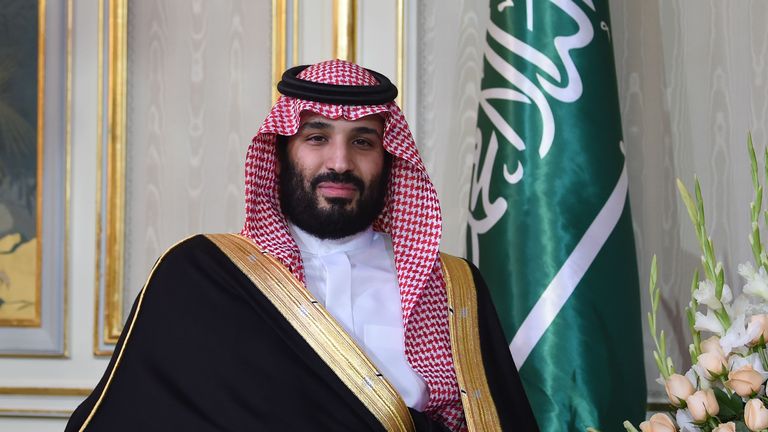 Turkish officials claim that 15 Saudis were waiting inside the consulate in Turkey, where Mr Khashoggi had travelled to pick up documents for his upcoming wedding.
Saudi Arabia deny he was murdered, but his body is believed to have been dismembered and removed from the building.
Intelligence officials had the consulate bugged and recordings appeared to capture Mr Khashoggi's last words, which were: "Don't cover my mouth. I have asthma, don't do it."
Woman found alive at funeral home dies in Detroit hospital two months later | World News
A woman discovered breathing at a funeral home in August – just as she was about to be embalmed – has died in hospital.
Timesha Beauchamp died on Sunday at Children's Hospital in Detroit, a family lawyer confirmed.
The family said they were "devastated", adding: "This is the second time our beloved Timesha has been pronounced dead, but this time she isn't coming back."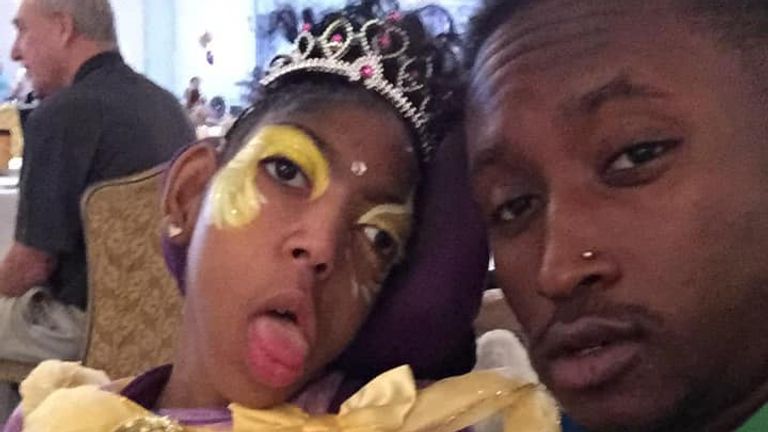 Ms Beauchamp was found unresponsive at her home in Southfield, Michigan, on 23 August.
Paramedics tried to revive her for 30 minutes but she showed no signs of life, and an A&E doctor not at the scene subsequently pronounced her dead over the phone.
Her body was released to her family without a post-mortem examination, but an hour later she was found to still be alive at the funeral home.
"You can see a chest going up and down," a spokeswoman for the James H Cole funeral home told NBC News at the time.
Ms Beauchamp – who had cerebral palsy and other medical issues – had been in a critical condition in hospital since the incident.
Her family have filed a $50m (£38m) lawsuit against the city of Southfield and the first four responders who were with their daughter.
Lawyer Geoffrey Fieger said she had been denied oxygen.
He said: "She died as a result of massive brain damage that was suffered when Southfield paramedics wrongly declared her dead, and failed to provide her much needed oxygen".
Mr Fieger added: "Instead, she was sent to a funeral home which then discovered that her eyes were open, and that she was alive."
Southfield Fire Chief Johnny Menifee said the case of "Lazarus syndrome" – where people come back to life without assistance after resuscitation attempts fail – was being investigated.
Google accused of being a monopoly by US in largest antitrust lawsuit in two decades | Science & Tech News
The US Department of Justice has filed an antitrust lawsuit against Google's parent company Alphabet for using "illegal means" to keep its monopoly power.
The lawsuit is set to be the biggest in almost two decades and has drawn comparisons to a 1974 case against AT&T, which – after a six-year legal battle – was forced to divest its subsidiaries into individual companies.
The last comparable antitrust lawsuit was filed against Microsoft in 1998, which Reuters said cleared the way for "the explosive growth of the internet" as the scrutiny the company received prevented it from thwarting the competition.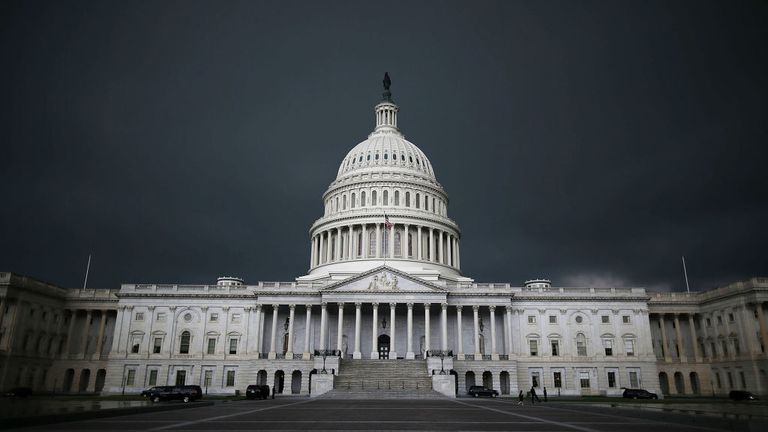 Google has not responded to the charges, brought by the Department of Justice and 11 states, which include "unlawfully maintaining monopolies in the markets for general search services".
The complaint against the company states: "Two decades ago, Google became the darling of Silicon Valley as a scrappy startup with an innovative way to search the emerging internet. That Google is long gone.
"The Google of today is a monopoly gatekeeper for the internet, and one of the wealthiest companies on the planet, with a market value of $1 trillion and annual revenue exceeding $160 billion.
"For many years, Google has used anticompetitive tactics to maintain and extend its monopolies in the markets for general search services, search advertising, and general search text advertising – the cornerstones of its empire."
"Google is now the unchallenged gateway to the internet for billions of users worldwide," the report adds of the company whose name had become a by-word for web searches.
"As a consequence, countless advertisers must pay a toll to Google's search advertising and general search text advertising monopolies; American consumers are forced to accept Google's policies, privacy practices, and use of personal data; and new companies with innovative business models cannot emerge from Google's long shadow.
"For the sake of American consumers, advertisers, and all companies now reliant on the internet economy, the time has come to stop Google's anticompetitive conduct and restore competition."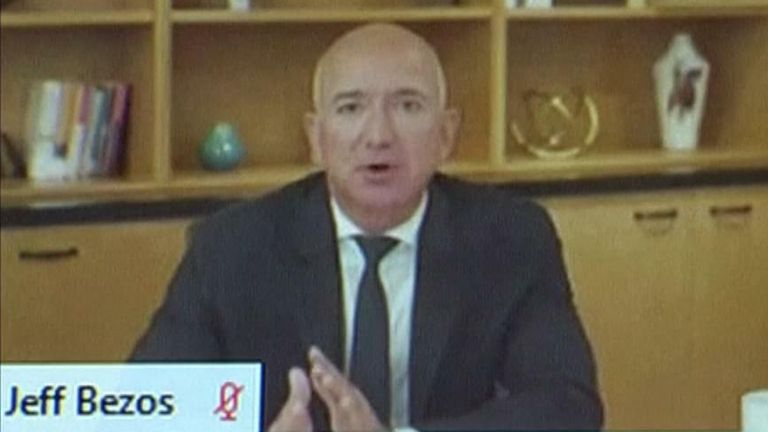 It follows a congressional report which accused Amazon, Apple, Facebook and Google of monopolising the digital market and recommended antitrust laws be used to break up these companies.
The lawsuit marks a rare topic which has bipartisan support between the Trump administration and the Democrats.
All of the 11 states' attorneys general are Republicans, but the move was also praised by progressive Democrat Elizabeth Warren, who had previously tweeted that she wanted "swift, aggressive action" to "#BreakUpBigTech".
However it also comes weeks before the US election and, according to Reuters, could be seen as a political gesture by Donald Trump who has often accused the large technology companies of suppressing conservative views.
Separate lawsuits are also expected into Google's broader business outside of search, including its digital advertising businesses.