Malaysia to swear in world's oldest leader Mahathir Mohamad, aged 92
Malaysia's former authoritarian ruler Mahathir Mohamad is set to become the world's oldest elected leader – after making a stunning comeback that has toppled the country's government of 60 years.
The 92-year-old has steered the first opposition party to victory since the country was liberated from British rule in 1957.
Mr Mohamad, leader of the Pakatan Harapan coalition, is expected to be made prime minister despite concerns his opponents are trying to cling to power.
However, anxiety has stirred among his supporters as he was not sworn in by the king this morning as expected.
He insists he will be made leader once again.
"We expect today for me to be sworn in as prime minister," he told a news conference.
"There is an urgency here. Currently there is no government in Malaysia."
The veteran politician previously ruled the country for 22 years as leader of the Barisian National coalition (BN) before stepping down in 2003.
He came out of retirement and defected to Pakatan Harapan, formed in 2015.
Mr Mohamad's unexpected victory has now toppled the BN, which had ruled the country for 60 years.
Malaysia's defeated prime minister Najib Razak said after his loss: "I accept the verdict of the people and BN is committed to the principles of democracy."
However, he did not give a clear concession, saying it was up to the king to decide as no single party was the outright winner.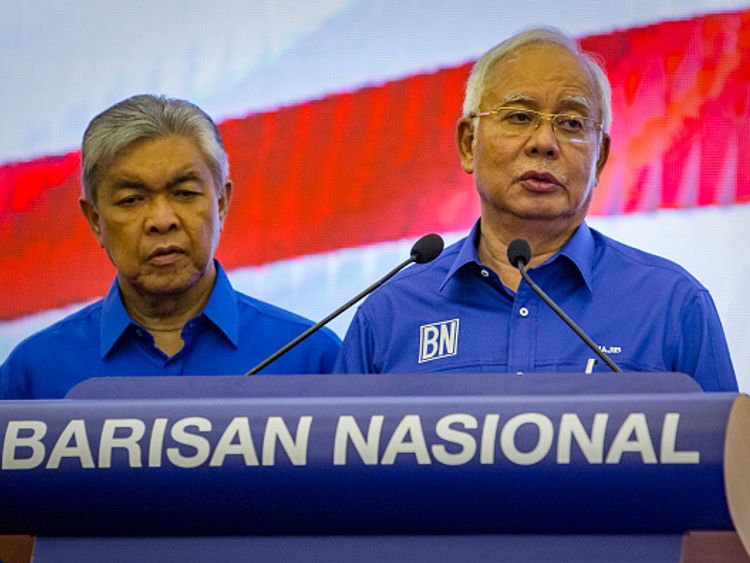 Despite Pakatan Harapan picking up the most votes, no party won an overall majority.
Official results show Mr Mohamad secured 113 of the 222 seats available, while the BN took 79 seats.
Political analysts have warned that Mr Razak could be trying to buy time to win defections from other parties so he can stay in power.
During his previous tenure, Mr Mohamad was credited with modernising Malaysia, but also imprisoned opponents and subjugated the courts.
He emerged from political retirement after being angered by a scandal at the state-owned investment fund 1MDB.
The US justice department claims $4.5bn (£3.3bn) was looted from 1MBD by associates of Mr Razak between 2009 and 2014, including $700mn (£514m) that landed in the prime minister's bank account.
Mr Razak has denied any wrongdoing.
Mr Mohamad says the new government will not conduct a witch-hunt, but that his predecessor will have to face the consequences if he has broken the law.
His victory is expected to inspire hope for wholesale change on rights protections, press freedom, anti-corruption measures, changes to divisive race-based policies, and true democratic rule.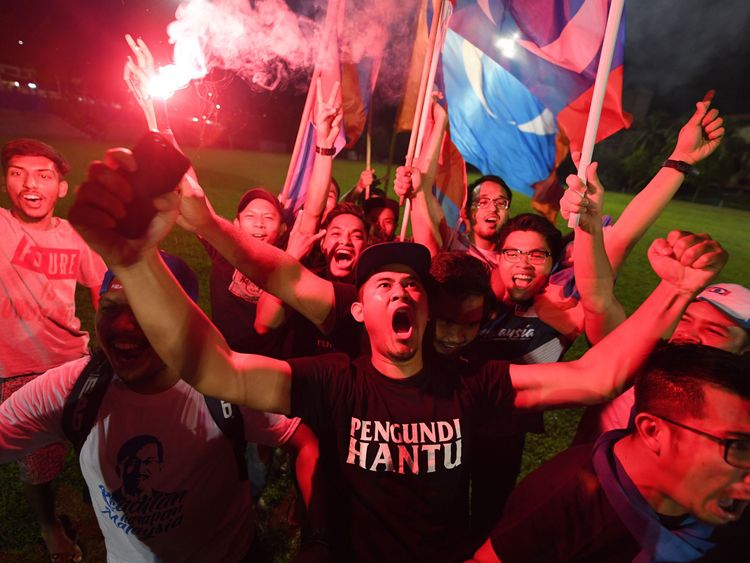 After the votes were counted, he made a lively speech, saying Malaysia had been left in a "mess" by Mr Razak and his coalition.
Mr Mohamad competed in the election in an alliance of opposition parties he crushed while in power, which included jailed opposition icon Anwar Ibrahim.
He has pledged to get Mr Ibrahim, who is due out of jail in June, a royal pardon.
Mr Mohamad reportedly plans to eventually pass the premiership on to the man who is one of the country's most charismatic and popular politicians.
Supporters of the incoming government took to the streets of Kuala Lumpur to celebrate the unexpected victory.
The world's oldest elected leader is currently Tunisia's 91-year-old president Beji Caid Essebsi.
Zimbabwe's Robert Mugabe was the holder of the title until he resigned aged 93 in 2017.
Queen Elizabeth II, who is 92, is the world's oldest-serving head of state, but was not elected.
US election 2020: 'I voted for a guy named Trump' – President casts his ballot in Florida | World News

The president has cast his ballot in the US election, telling reporters: "I voted for a guy named Trump."
After voting in West Palm Beach, Florida, Mr Trump also took the opportunity to attack mail-in ballots – warning that they can never be as secure as voting in person.
Describing his experience at the polling station as "perfect and very strict", he added: "It was a very secure vote – much more secure than when you send in a ballot, I can tell you that."
The president said that that he will be holding "three big rallies" today, and claimed: "I hear we're doing very well in Florida and every place else."
To secure the White House, winning in Florida is essential.
The state has consistently voted for the victor in every election except one since 1964 – and no Republican has won without the state in almost a century.
With 29 electoral college votes up for grabs, it's the largest swing state and crucial for gathering the 270 votes needed.
Most polls show Mr Biden narrowly ahead in Florida. History suggests that, if Mr Trump loses here, he'll likely lose the White House.
The election will take place on Tuesday 3 November – just under two weeks away.
Coronavirus: Police find suspected illegal pub – complete with bar, 70in TV, toilet, pool table and smoking area | World News
Police in Ireland have searched a suspected illicit pub, or "shebeen", on suspicion of breaching coronavirus measures.
The property near Athy in County Kildare was targeted by Gardai officers on Friday evening.
The force had launched an investigation after they became aware of the premises, and the fact people were congregating in a breach of social distancing rules, through social media.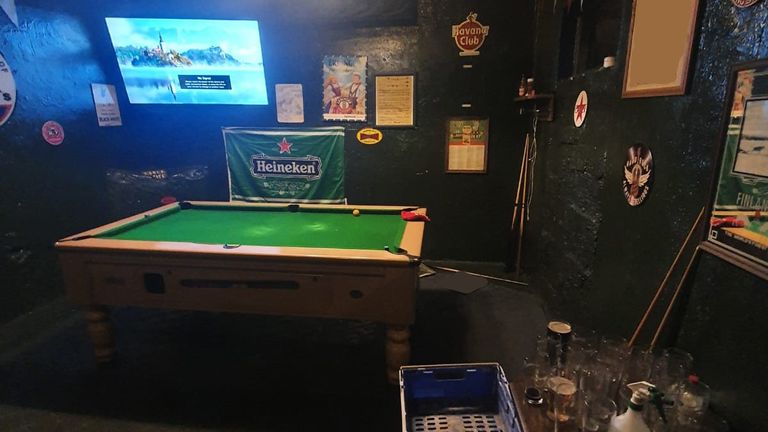 Gardai searched the suspected shebeen at about 8pm and found a fully operational bar in a repurposed state.
Shebeen is an Irish term which refers to an illicit bar or club where alcoholic drinks are sold without a licence.
The premises was fitted with a bar, stools, tables, chairs, a 70in flat-screen television, and a full-size pool table.
There were several beer taps on the bar, along with an under bar cooler and kegs.
There was also a smoking area, store room and toilet on the premises.
Officers seized five kegs of beer, a significant amount of spirits and bottled beers, and various bar equipment including the taps, gas and coolers.
A full investigation is now under way and files will be prepared for the Director of Public Prosecutions (DPP).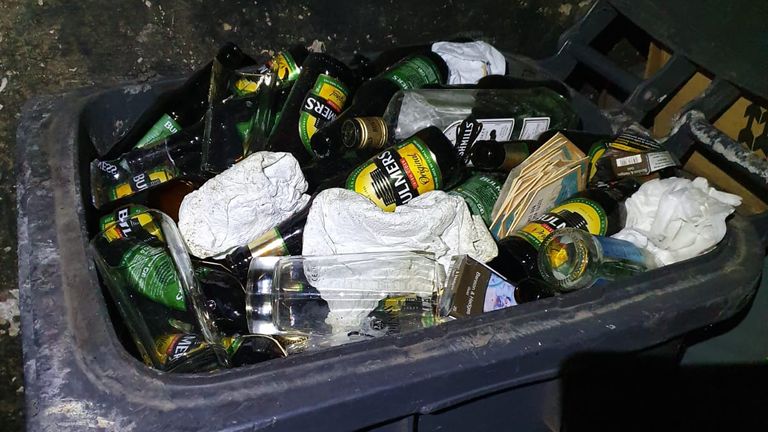 The investigation in Ireland comes as a man in Manchester has been given a £10,000 fixed penalty notice after officers closed down a party with over 50 people in attendance.
Officers were called to a report of a party at a flat on Simpson Street in Angel Meadows shortly after 11.20pm on Friday night.
DJ mixing decks, industrial speakers and a buffet was found by officers on arrival.
A total of 52 fines have been handed out since Greater Manchester went into Tier 3 restrictions.
Assistant Chief Constable Mabs Hussain, of Greater Manchester Police, said: "This party was a blatant disregard of the rules and for public health. It is totally unacceptable in the current crisis the whole world is facing and is not what we want our officers to be spending their time doing.
"We had no alternative but to issue the maximum penalty for breaching the legislation on large gatherings and I hope this serves as a reminder to those considering to flout the rules – we will take action."
It comes after a wedding attended by around 250 guests was shut down by police last week.
Officers were first called to the venue on Old Kent Road at 20:20hrs on Sunday 18 October, after concerned residents suspected the address was being burgled.
It appeared that those attending the ceremony had closed the shutters at the front of the venue, in an attempt to mask the celebration.
Police dispersed crowds at the scene.
Two people at the event were advised that they had been reported for consideration of a fixed penalty notice.
Detective Superintendent Nicky Arrowsmith, said: "This event was a blatant breach of the regulations and could have been a breeding ground for transmitting the virus.
"There were over 200 people inside, no social distancing and indeed no attempts to make the venue COVID secure, in line with the government guidelines."
Terminator star Schwarzenegger feels 'fantastic' after latest heart surgery | Ents & Arts News

Terminator star Arnold Schwarzenegger has told fans he feels "fantastic" after undergoing heart surgery.
The 73-year-old former governor of California said he had been given a new aortic valve.
In 2018 he was given a new pulmonary valve to replace one he received in 1997 due to a congenital heart defect.
In a social media post, he thanked doctors from the Cleveland Clinic in Ohio and told the city's residents he had been out and about enjoying the sights since his operation.
Thanks to the team at the Cleveland Clinic, I have a new aortic valve to go along with my new pulmonary valve from my last surgery. I feel fantastic and have already been walking the streets of Cleveland enjoying your amazing statues. Thank you to every doc and nurse on my team! pic.twitter.com/hmIbsEMHtA

— Arnold (@Schwarzenegger) October 23, 2020
Photos showed him giving a thumbs-up from his hospital bed and exploring Cleveland.
Schwarzenegger talked in May about the surgery.
In the online graduation video, he admitted he could have died, adding: "The reason why I'm telling you all this is because no matter how successful you are, life will throw obstacles in your path, like it was with my heart surgery or your graduation now.
"But if you have a very clear vision like I talked about earlier, of exactly what you want to do and who you want to be, you can go and find a way around all of these obstacles.
"That's what life is all about, overcoming obstacles."