Four new suspected Ebola cases in the Democratic Republic of the Congo
Four more cases of suspected Ebola have been reported in the Democratic Republic of the Congo.
The main hospital in the northwestern town of Bikoro received the new cases on Thursday, according to the hospital's director.
A total of 25 are now thought to have been infected since the start of the year. At least 17 of those have died.
Only two cases have been confirmed as Ebola, by a laboratory in the capital Kinshasa.
Hospital director Serge Ngaleto said that among the four cases, two were health workers who had come into contact with people suspected of being infected.
It is the ninth time Ebola has been recorded in the DRC. Last year, eight people were infected and four people died after an outbreak of the disease, according to the Centres for Disease Control.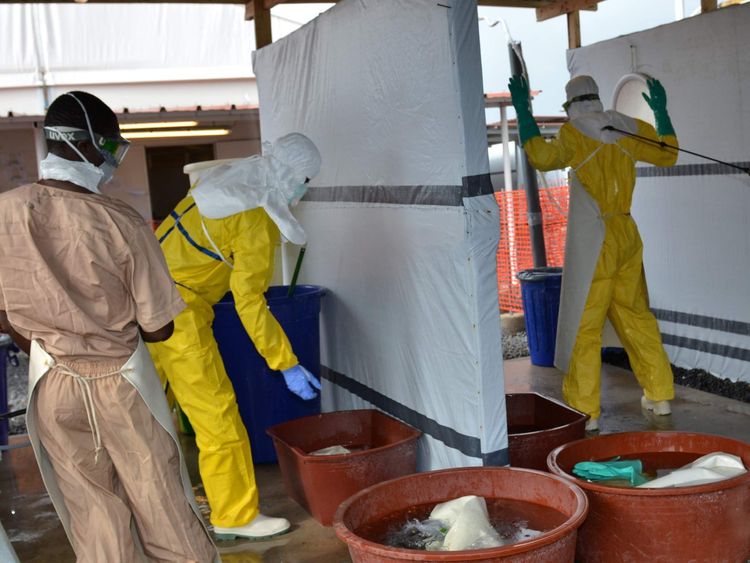 Ebola virus disease, formerly known as Ebola haemorrhagic fever, is a severe, often fatal illness in humans.
The virus is transmitted to people from wild animals and spreads in the human population through human-to-human transmission.
Cases of haemorrhagic fever were reported as far back as December and the first deaths were reported in January, a spokesman for the World Health Organization said.
A timespan as long as five months since the first infection would give the virus a head start in infecting lots of people before action was taken to contain it.
"According to our early information, the cases have been reported since December and the first deaths were reported in January, but the link between the deaths and the epidemic has not yet been established," WHO Congo spokesman Eugene Kabambi told Reuters.
The worst Ebola epidemic in history ended in west Africa just two years ago after killing more than 11,300 people and infecting 28,600 in Guinea, Sierra Leone and Liberia.
Nice terror suspect and second victim named – as man with links to attacker arrested | World News
The Nice attacker who killed three worshippers in a church has been identified – and a second victim has been named.
Police sources said Thursday's terror suspect – 21-year-old Tunisian Brahim Aouissaoui – arrived in Europe by boat last month and was unknown to security services.
A judicial source told Reuters news agency on Friday a 47-year-old man was detained late last night on suspicion of having been in contact with Aouissaoui, confirming an earlier report on BFM TV.
Shots fired as police storm church

It comes as France's interior minister warned further attacks are likely on French soil while the country is engaged in a "war against Islamist ideology".
"We are in a war against an enemy that is both inside and outside," Gerald Darmanin told RTL radio.
"We need to understand that there have been and there will be other events such as these terrible attacks."
After reaching the Mediterranean island of Lampedusa on 20 September, Aouissaoui entered France, travelling through the southern Italian city of Bari on 9 October.
He arrived in Nice by train yesterday morning and changed his clothes at the station, before walking 400m to the Notre Dame church where he killed a 60-year-old woman and 55-year-old church worker Vincent Loques, a father-of-two.
She and Mr Loques died at the scene, while a 44-year-old Brazilian-born woman made it out of the church to a nearby cafe and raised the alarm before dying from her wounds.
Aftermath of 'knife attack' near French church

Simone Barreto Silva had lived in France for 30 years and had three children, according to Brazilian media reports, which said although being a trained cook she was a care worker who looked after the elderly.
The mayor of her home city of Salvador, the capital of the Brazilian state of Bahia, paid tribute to her in a tweet, saying she was born in Lobato, a suburb of the city.
Prosecutor details Nice attack timeline

France's chief anti-terrorist prosecutor, Jean-Francois Ricard, said after the attack at the church, the suspect moved towards police in a "threatening way", shouting "Allahu Akbar" [God is greatest] before being shot and seriously wounded by officers, who fired at least 14 bullets at him.
He remains in a critical condition in hospital.
The suspect had with him an Italian Red Cross identity document, a Koran and two phones, while a bag containing two unused knives was also found.
The blade used in the attack was 30cm long, with a cutting edge of 17cm.
:: Subscribe to the Daily podcast on Apple Podcasts, Google Podcasts, Spotify, Spreaker
Witnesses described hearing "screams" after the attack and being told to run away quickly by police at the scene.
President Emmanuel Macron, who visited Nice on Thursday afternoon, said his country was "under attack" and expressed the "support of France towards the Catholic community".
He added that the number of soldiers deployed to protect schools and religious sites would be increased from about 3,000 at the moment to 7,000.
It comes as the country remains under high alert for terrorist attacks following the beheading earlier this month of French middle school teacher Samuel Paty in Paris.
US election 2020: Rival Trump and Biden supporters hurl insults at each other outside rally – some resort to spitting | US News
In the tightly contested state of Florida, emotions are running high.
Outside a Joe Biden rally in Tampa, small but vocal groups of Democrats and Republicans are facing off.
"Why are you so dumb?" a Biden supporter shouts out of his car window, with an equally furious Trump fan yelling back.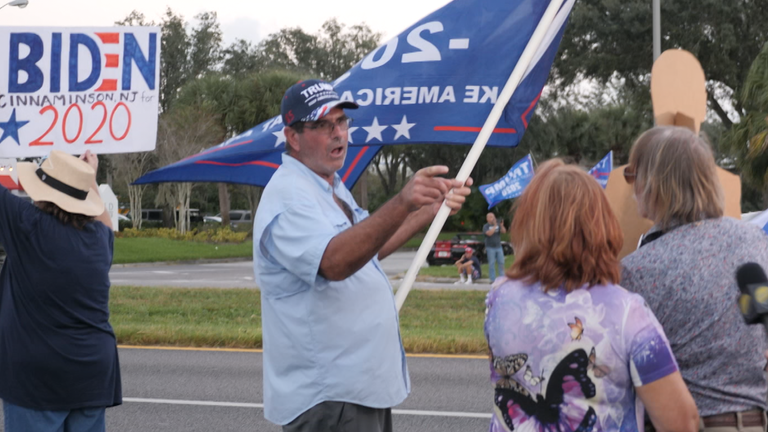 On Thursday, both presidential candidates went head to head at rallies in the US – and so too did some of their supporters.
Separate tribes line either side of a busy highway, each armed with brightly coloured opposing banners backing their man.
"Vote for Trump like true Americans. You want socialism move to Cuba," a heavily tattooed biker named Ghost shouts to the chorus of beeping trucks.
"We've been getting middle fingers showed at us [by Democrats] for the past hour and a half that we have been here," he tells me.
He's passionate and angry – saying he's voting Republican for the first time to protect his children's futures.
A towering figure with huge muscles, he's an imposing sight.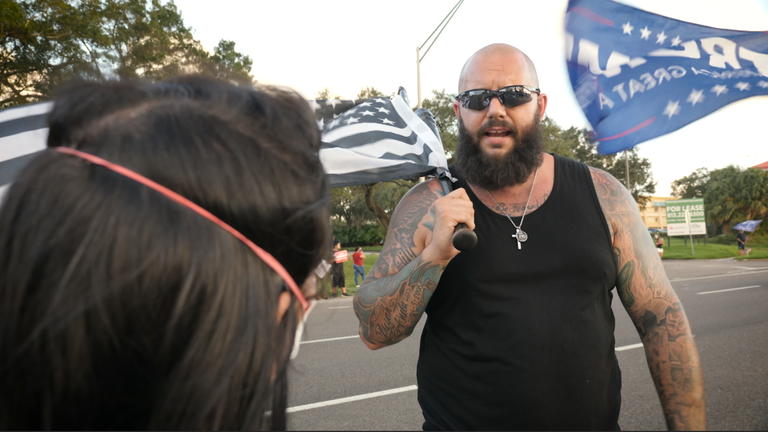 He disputes that he could be accused of being intimidating, saying everyone has the right to choose who they vote for.
And he claimed that, when Biden supporters showed up at Donald Trump's rally earlier in the day, no one abused them.
In fact, we saw a Democratic voter being heckled that morning, and Trump fans are definitely unwelcome guests at the evening's Biden rally.
We watch as one man leans into Democrats' cars to question them.
Eventually, aggregation sparks confrontation and a driver spits at him.
"He kept coming in our car. We told him not to, we had to do something to get him away," Dee and driver Phil say as another argument breaks out in the background.
What if the US election result is contested?

"My president is a racist," one man shouts.
"Trump is not a racist," someone chants back.
The polls in Florida are uncomfortably close and divisions are deepening.
"This is not going to be the worst," warns Phil.
"When Biden wins next week, Trump's going to say that it's rigged and he's going to tell all his people with guns to go out and start protecting their liberties," Dee claims.
If there was any doubt about just how bitter this election fight has become, this teatime showdown makes it brutally clear.
There are just a few days to go until the election and in a battle this tight, tensions are growing.
New Zealand votes to legalise euthanasia – but not marijuana | World News

New Zealand has voted to legalise euthanasia, but looks set to reject a legal bid to allow the recreational use of marijuana.
Two referendums took place at the same time as the general election that saw Prime Minister Jacinda Ardern win a second term this month.
The first vote on assisted dying has already secured enough "yes" ballots – 65.2% – to become law, meaning New Zealand will become the seventh country in the world to legalise euthanasia.
But with almost half a million postal votes yet to be counted, 53.1% of New Zealanders have voted against joining Canada and Uruguay in making cannabis legal, the electoral commission said on Friday.
As a result of the vote on assisted dying, from November 2021, terminally ill patients with less than six months to live will be allowed to arrange their own death.
They must be 18 and have the approval of two doctors, newly passed legislation states.
The final results of both referendums will be announced on 6 November.
In 2017, Ms Ardern supported a referendum on cannabis in order to form a coalition government.
She refused to say which way she would vote, until Friday when her spokesman said she supported both referendums.