Vladimir Putin has been sworn in as Russian president
Vladimir Putin has been sworn in for his fourth term as president of Russia at a ceremony in the Grand Kremlin Palace in Moscow.
Video footage released by Russian television showed Mr Putin's distinctive walk along the Great Kremlin Palace's long corridors, thanking supporters as they applauded him.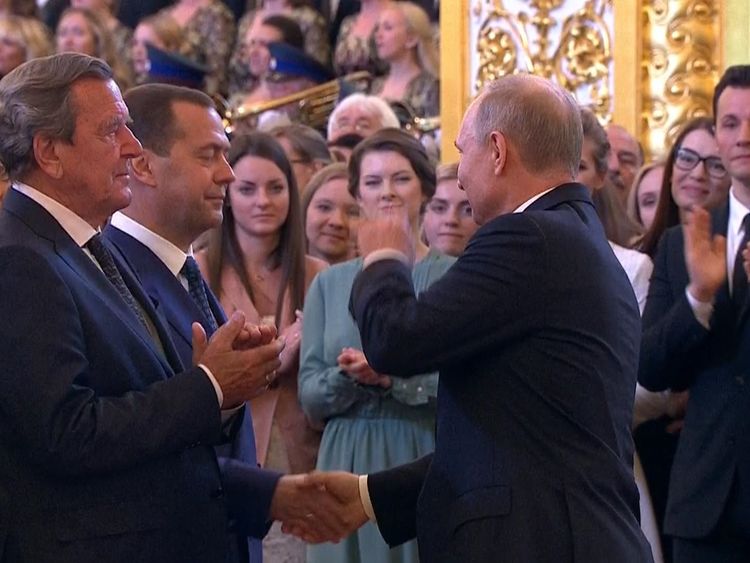 Mr Putin has been in power in Russia since 1999, whether as prime minister or president, and is Russia's longest-serving leader since Soviet dictator Joseph Stalin.
After winning a landslide victory in March, Mr Putin, 65, is expected to continue to control Russia until at least 2024, despite protests on Saturday amid a crackdown on encrypted messaging app Telegram.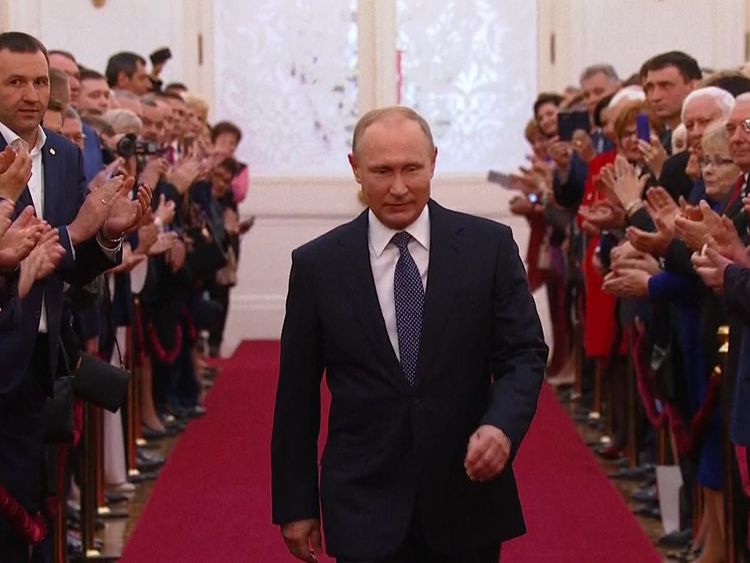 Supporters see Mr Putin as a father-of-the-nation figure who has restored national pride and expanded Moscow's global power.
He has pledged new economic reforms that would boost living standards across Russia.
:: Diana Magnay – Have Russia's anti-Putin protests gone stale?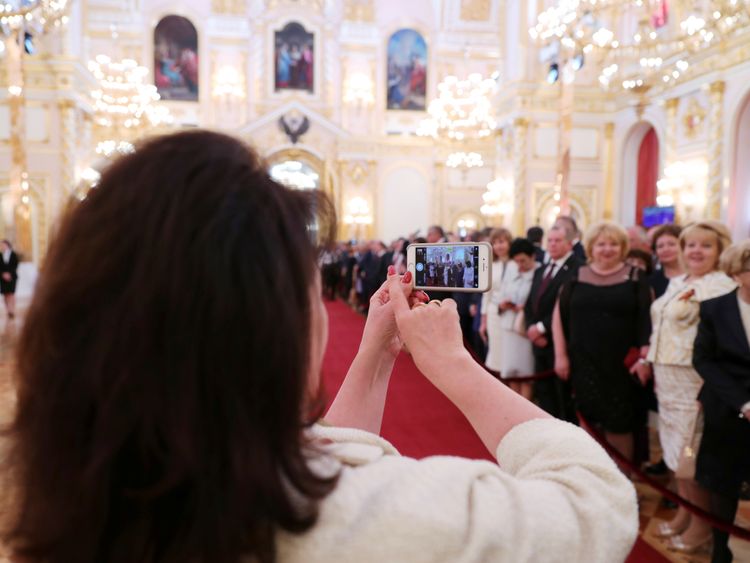 The Kremlin has planned a low-key inauguration ceremony that will not include a lavish Kremlin reception in an apparent effort to eschew any bad publicity.
A respectful gun salute was held outside the Kremlin at Mr Putin was sworn in.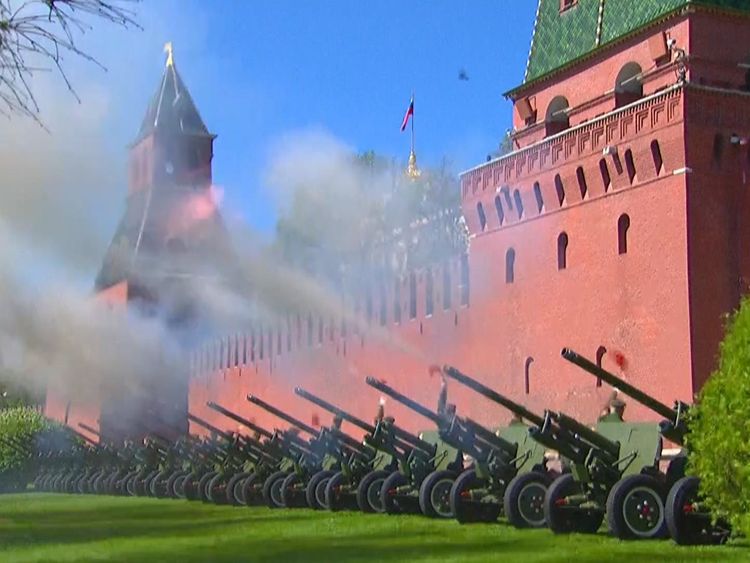 The ceremony is being watched across the world as the Russian leader finds himself increasingly at odds with much of the international community.
Russia's annexation of Crimea and Mr Putin's support for Syria's Assad, as well as the use of a chemical weapon it manufactured in an attempted assassination in Salisbury, have resulted in sanctions against the country.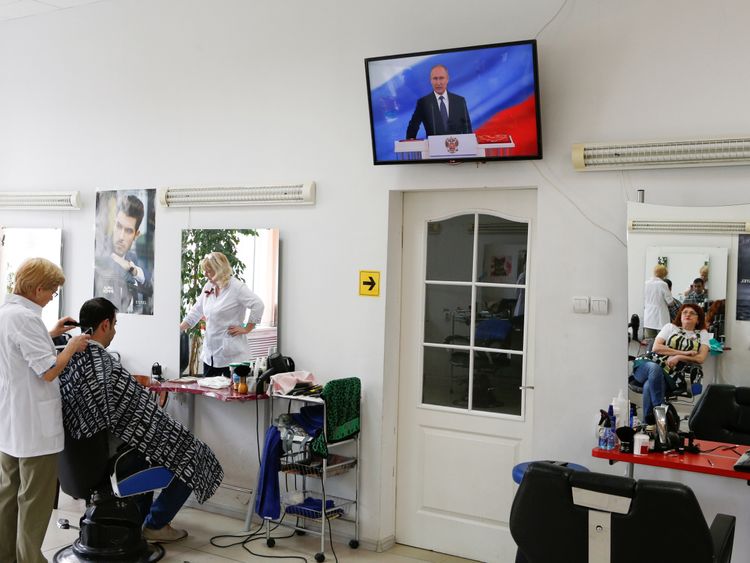 His inauguration follows nationwide rallies and protests which resulted in the arrests of at least 1,200 demonstrators.
Russia's interior ministry said about half of the 1,200 arrests happened in Moscow, but monitoring group OVD-Info put the number at more than 1,600 across 20 cities.
Protest leader Alexei Navalny was arrested in Moscow's Pushkin Square on Saturday, but he later tweeted that he had been released and will face charges of organising an unauthorised meeting and of resisting police.
Mr Putin's inauguration comes ahead of Russia hosting the World Cup 2018 this summer.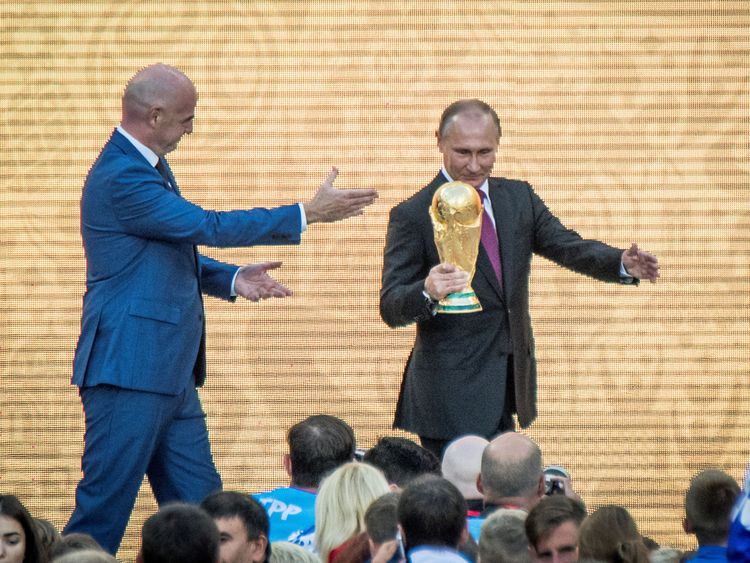 In a widely expected win in March, Mr Putin secured more than 76.66% of the vote and a turnout of 67.47%, the Central Election Commission said.
The result came amid allegations of election violations, including ballot-box stuffing and forced voting.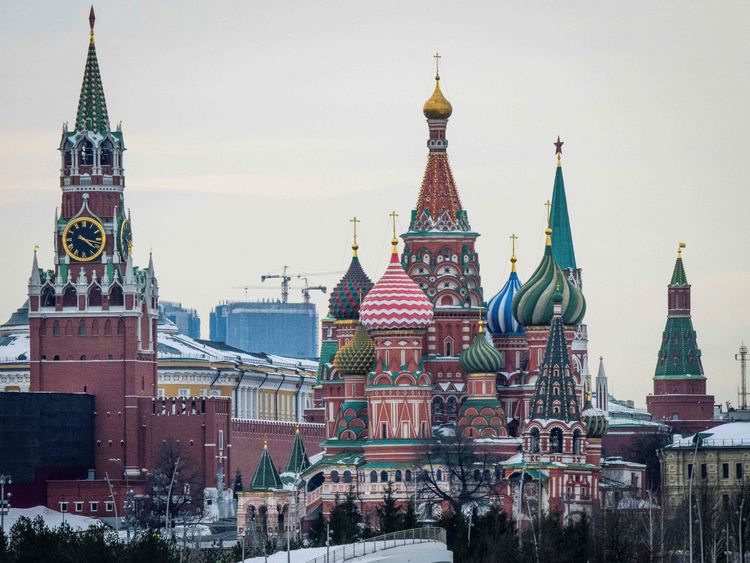 Addressing a crowd near Moscow's Red Square shortly after the count, Mr Putin said his victory was a vote of confidence in his achievements.
"It's very important to maintain this unity," he said.
"We will think about the future of our great Motherland," he said, before leading the crowd in repeated chants of "Russia!"
Asked later if he could seek the presidency again in 2030, Mr Putin replied: "It's ridiculous. Do you think I will sit here until I turn 100?"
More follows…
Beatings and intimidation but Belarus demonstrators are still full of street spirit | World News
There is an inevitability now to Sunday evenings in Minsk.
A burst of police violence to put an end to hours of peaceful marching – to make sure those who stayed until what becomes a bitter end go home with the ring of stun grenades in their ear, the adrenaline from running from rubber bullets – if they go home at all.
This Sunday, first estimates are that more than 100 people were detained, but that number may rise.
Stun grenades used on streets of Belarus

There is video of police breaking into apartments and beating people as they beg for mercy. In a police state there really is nowhere to hide.
No wonder the majority of people in Belarus want this regime gone.
The spirit of those on the street is at such odds with the police cruelty. Over and again, Belarusians will tell you "we are a peaceful people".
They march in their tens of thousands – 100,000 plus in Minsk this Sunday – waving their red and white flags, mostly masked, as a second COVID-19 wave creeps up here too. But the Belarusian people have other preoccupations.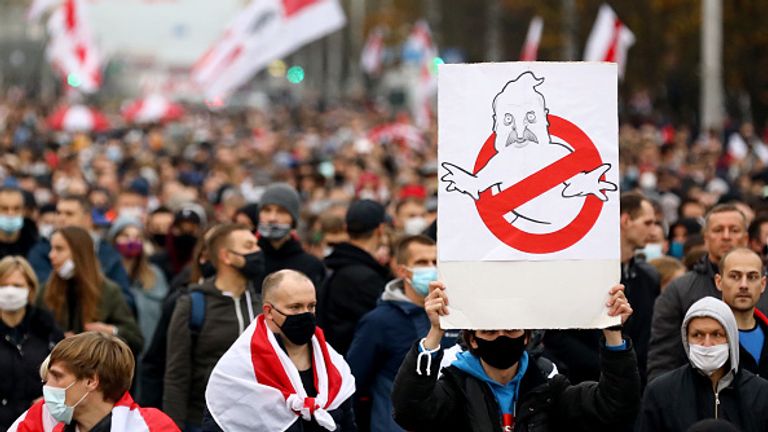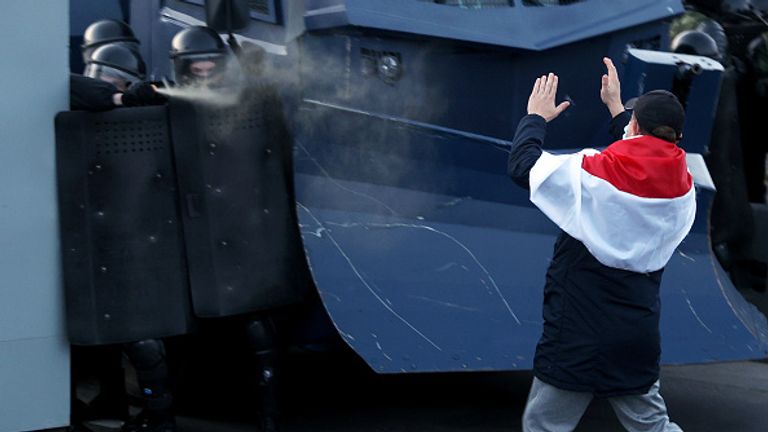 Today's march was called the 'people's ultimatum'.
They have had three simple demands from the start: that President Alexander Lukashenko step down, for there to be fresh elections and that all political prisoners are released. Those demands have not been met.
From exile, presidential candidate Svetlana Tikhanovskaya has called for a general strike as of Monday, but that may not take off.
I was told repeatedly that people are scared, they have families to feed.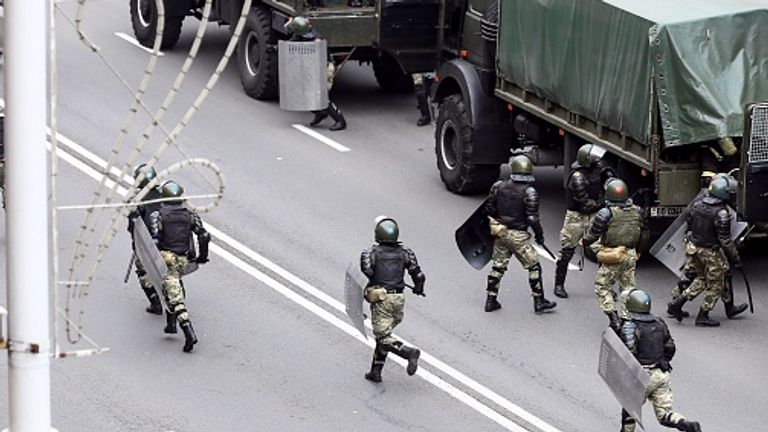 Strike leaders we were in touch with were hesitant to reveal their plans. The secret chats on Telegram fell silent. Intimidation works, especially for state workers.
We spent a few hours in police custody on Saturday. They were civil, for which we should count our blessings.
For many Belarusians, civility is not a feature of the detention centres. As we sat waiting, people started trickling in in dribs and drabs.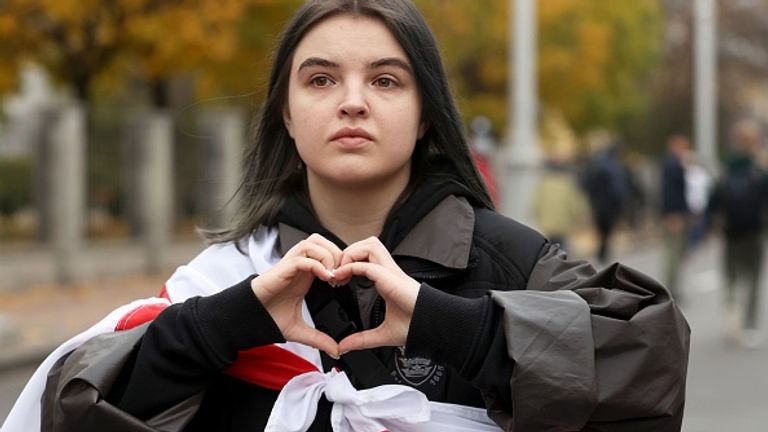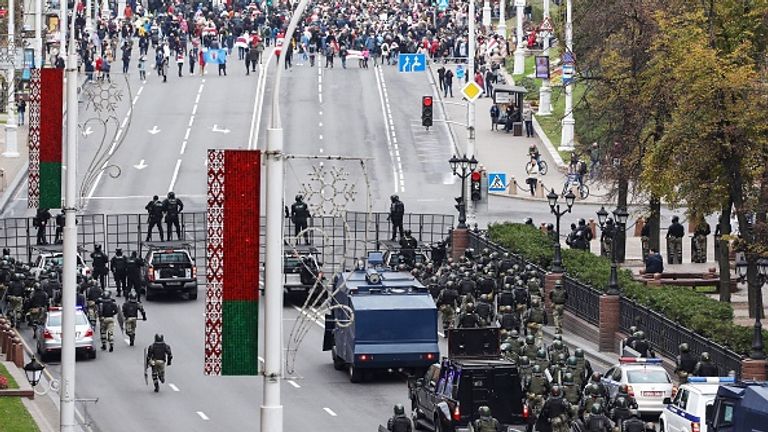 'Druzhinniki?' the girl at reception would ask, and they would nod. It is an old Soviet phenomenon where volunteers help out with policing.
The squads cannot make arrests, but they can keep watch and this regime likes to keep an eye on everyone and everything.
The first group of men were older. They looked as though they had grown up on a diet of state TV and could do with some extra cash.
More surprising perhaps were the younger cohorts, grinning with their comrades, sharing out the squad's red armbands.
It is supposedly voluntary. If so, there are clearly still a fair few beyond the security establishment who are willing to uphold the political status quo.
The demand for change from the street is loud and insistent – the impressive turnout each and every Sunday is testament to that.
It is almost incomprehensible that a progressive, democratically minded people in the heart of Europe should have the kind of leadership their neighbours, certainly to the West, could not even imagine.
But dictatorships have deep foundations. And for now in Belarus, they're holding.
Gun possibly used to kill Irish journalist was hidden 'like a souvenir' in drug baron's garden, say police | World News
Spanish police say a gun potentially used to kill Irish journalist Veronica Guerin had been hidden "like a souvenir" in the garden of a drug baron's Costa Blanca villa.
Detectives conducted a raid on the home of infamous Irish criminal John Gilligan this week and found a gun of the same make and model as the one used to murder Ms Guerin in 1996.
They say the Colt Python .357 Magnum seized from Gilligan's home in Torrevieja, near Alicante, is very rare – although it will take "months" to determine whether it is the murder weapon.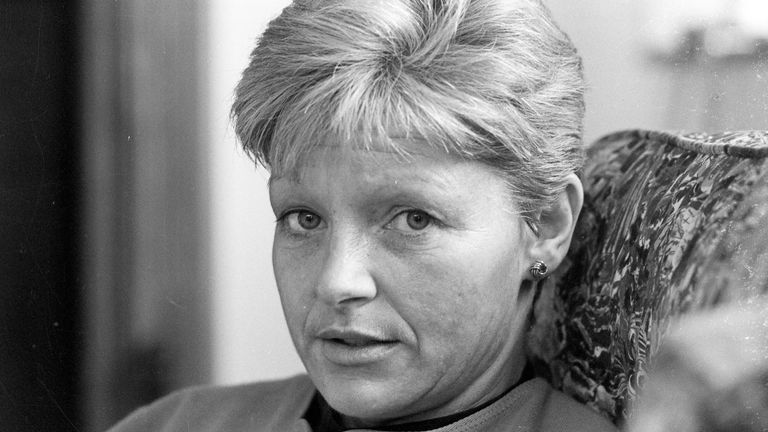 Ms Guerin was working for the Sunday Independent when she was shot dead at a red traffic light on the Naas dual carriageway on the outskirts of Dublin 24 years ago.
The gun used in her killing was never found.
The crime led to Gilligan's trial and acquittal for masterminding her murder and a 28-year prison sentence for importing two tonnes of cannabis resin worth £32m.
He has always denied involvement in the murder.
One well-placed Spanish source said: "On one hand, it wouldn't make sense for Gilligan to keep the murder weapon at his home because it would incriminate him. But this gun was not being kept to use, quite the contrary.
"It had been hidden by someone who had placed the gun in a hole they dug in the ground and covered with gravel and a type of cloth you use to stop weeds coming through before more gravel was piled on top.
"Normally criminals keep their guns in places they can easily reach them like a bedside drawer but this one was being kept as if it were a souvenir by someone who didn't want to part company with it, outside rather than inside where it could easily be found."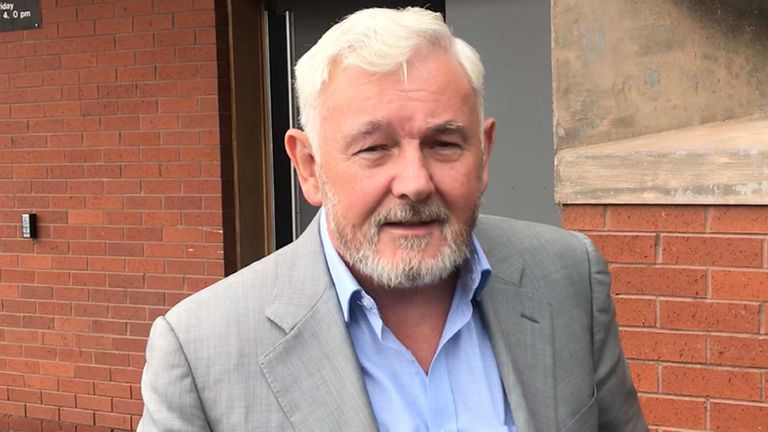 Another insider said the .357 Magnum is a "very large, cumbersome revolver which is not easy to hide and the sort of weapon you see very rarely".
One highly-experienced Spanish officer specialising in fighting organised crime revealed he had only seen two guns of the type confiscated from Gilligan's garden in the past 20 years.
"It will take months for the police involved in this case to determine whether or not the weapon was used to kill the Irish journalist," he said.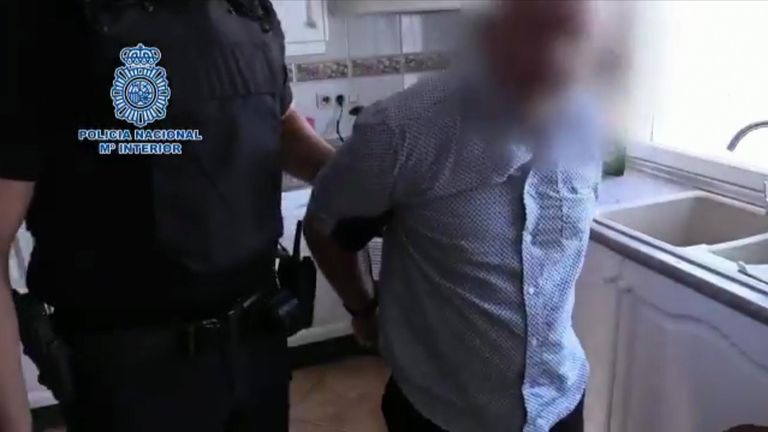 "Spanish police will already be in contact with Garda and they will obtain the projectiles recovered from Veronica Guerin's autopsy.
"Each weapon is unique, just like a fingerprint and when you fire off a cartridge you leave micro identifications which are characteristic of a specific weapon and in ballistics differentiate one projectile from another and one weapon from another."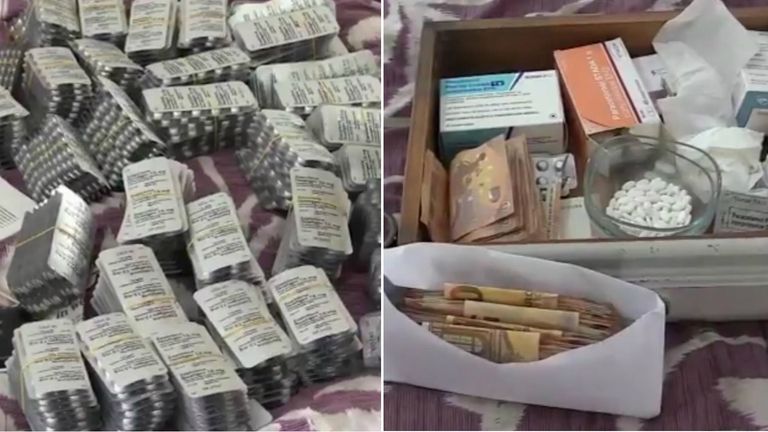 He added the fact the gun was so rare made it "very possible" it is the murder weapon.
Well-placed sources said the raid on the drugs baron's villa took place as he was preparing a delivery to Ireland of marijuana and prescription-only powerful sleeping pills.
Gilligan has not yet been formally charged with any crime as charges are only laid shortly before trial in Spain, but he is in custody along with five other suspects for crimes against public health, unlawful possession of firearms and membership of a criminal gang.
Former friend Brian Meehan was convicted of Ms Guerin's murder in 1999 and remains in prison.
Coronavirus: Republic of Ireland could begin vaccinations in early 2021, says Leo Varadkar | World News

The Republic of Ireland could start vaccinating vulnerable people against coronavirus early next year, deputy prime minister Leo Varadkar has said.
Mr Varadkar, who is a qualified doctor, said a COVID-19 inoculation could be approved in a couple of months.
He told RTE radio: "I'm increasingly optimistic, as is government, that we will see a vaccine approved in the next couple of months and that in the first half or first quarter of next year it'll be possible to start vaccinating those most at risk."
:: Subscribe to Sophy Ridge on Sunday on Apple podcasts, Google podcasts, Spotify, Spreaker
According to government figures, the Republic of Ireland had 1,025 cases and no deaths in the latest 24-hour period.
The total number of confirmed cases is 57,128, with 1,882 fatalities.
On Wednesday, the Irish Republic moved back to the highest level of lockdown, with Prime Minister Micheal Martin saying the country could celebrate Christmas "in a meaningful way" if the measures are taken seriously.