Rapper Meek Mill in 'Dateline' special says focus after freedom is #JusticeReform
In the nearly two weeks since Meek Mill was released on bail from a state prison in Pennsylvania, the rapper has found little time to himself: He was celebrated courtside at two Philadelphia 76ers games, held a news conference with the governor and state lawmakers, and continued filming an Amazon docuseries chronicling his ongoing journey through the criminal justice system.
How he got there — and the new path he's charting to reform the U.S. prison system and how it treats people of color — are the subject of NBC's "Dateline" special "Dreams and Nightmares: The Meek Mill Story," which airs at 7 p.m. ET/6 p.m. CT Sunday.
Mill, who also turned 31 on Sunday, sat down for an exclusive in-depth interview with NBC News' Lester Holt after his release from prison on April 24 following an order from the Pennsylvania Supreme Court.
"Have you slept since you got out of prison?" Holt asked Mill.
"No, I haven't slept one minute since I've been out of prison," the rapper replied. "It's actually, like, a culture shock, comin' from a small cell back into the real world."
Mill, who was born Robert Rihmeek Williams, was not quite a household name before his sentencing last November to two to four years in prison for a parole violation.
He garnered some success on the hip-hop charts, including with his 2012 debut studio album, "Dreams and Nightmares," and grabbed headlines for dating hip-hop star Nicki Minaj.
But even as his status climbed, he said, he lived in fear that one perceived misstep could send him back to prison after an initial conviction in 2008 on drug and firearms charges. His probation was extended several times, and he's now spent nearly a third of his life under the control of the court system.
"I had eight years of probation that turned to 16 years of probation," Mill said. "Something is not working."
Mill and his legal team plan to fight for his release next month when he goes back to court. Even Philadelphia prosecutors are siding with him, and said his initial charges should be vacated because of alleged corruption involving his arresting officer.
Supporters, including rap mogul Jay-Z, who is executive producing the docuseries, helped to make the hashtag #FreeMeekMill trend on social media in recent weeks. Now, Mill said, he wants a new call to arms — #JusticeReform — to take center stage.
"If I think about how much the world has changed as a result of the Me Too movement, I think Meek Mill will be to criminal justice reform, you know, in a lot of ways what's happened with the Me Too Movement," Michael Rubin, the businessman and co-owner of the Sixers and Mill's friend, told "Dateline."
"So I think he's gonna shine a giant light on this incredible problem that we have," Rubin said, "and I think he's gonna help to make it significantly better."
New invention will help astronauts jump in zero gravity to maintain bone density in space | UK News
Astronauts can lose as much as 10% of bone density during six months in space, according to NASA, because there's no gravity for their body to push against.
To offset the effect, they exercise for two hours a day, at least six days a week. But a London engineer says a machine he invented could reduce those gruelling workouts to just six minutes a day, by enabling astronauts to jump in zero gravity.
"It allows a person, when they're repeatedly jumping, to load their skeletal system, their bones then start to lay down more bone density and more to the point prevent astronauts losing their bone density and muscle mass," inventor John Kennett, who used to work on the Concorde aircraft programme, says.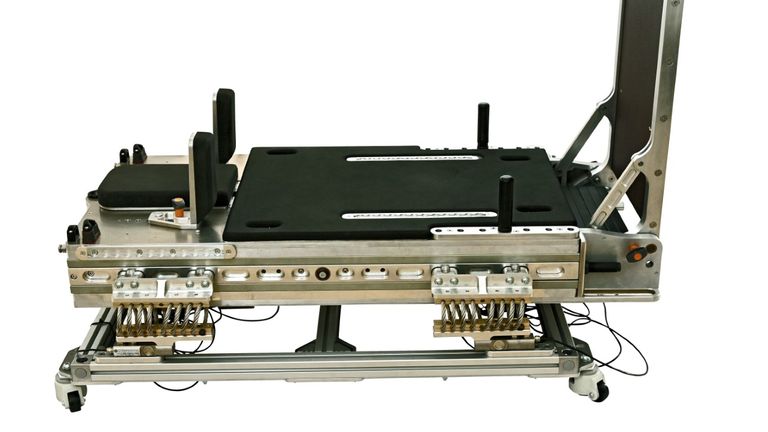 "Nothing exists like this at the moment. Jumping is really important for helping to build bone density and muscle mass, but jumping in zero gravity is very difficult," he adds.
His High Frequency Impulse for Microgravity machine has won grants from the UK and European Space Agencies.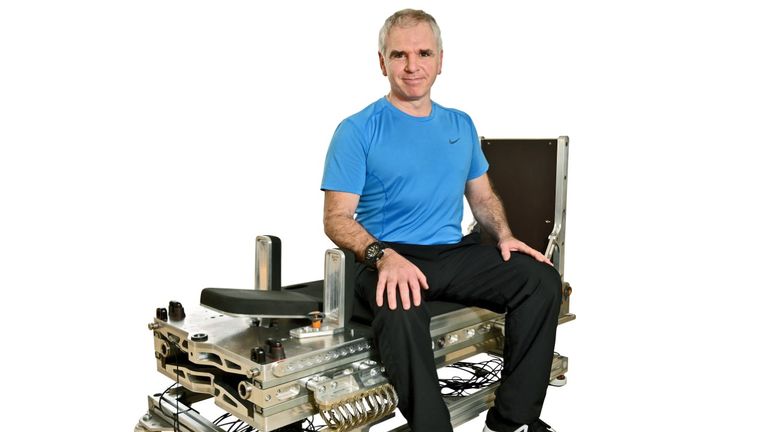 Experts say the key advantage is that it is a single device that could replace several which astronauts currently use, which could be crucial in long, deep space missions where every inch of the craft will be packed with supplies and equipment.
"We're not going to have the room or the mass or the ability to bring different exercise devices there," says Libby Jackson, human exploration programme manager at the UK Space Agency.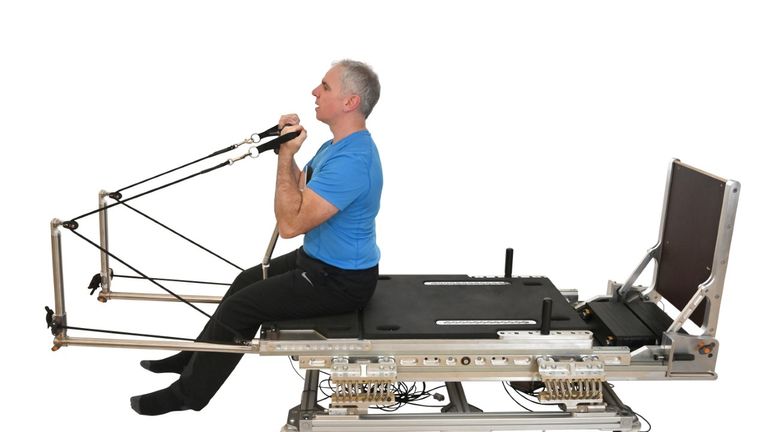 "The machine that John has designed excited me because when I looked at it I could see that it had the potential to combine the cardio and the muscle conditioning that's needed for astronauts to stay fit and healthy in a small footprint," she adds.
Former NASA astronaut Leroy Chiao says that keeping fit in space is central to ensuring a successful recovery back on Earth, but he would welcome shorter workouts which could free up those on board to have more time for their core duties.
"We'd like to use as much of the time as possible for research work and of course there are maintenance repairs logistics work that has to be done as well, so two hours a day for exercise is a pretty big overhead," he adds.
:: Subscribe to Sophy Ridge on Sunday on Apple podcasts, Google podcasts, Spotify, Spreaker
Mr Kennett says his machine has different settings so that it works equally well for both men and women.
King's College London aerospace physiology PHD student Tess Morris-Paterson, who is one of those testing the device, says the short, intense workout gives her a full body benefit.
"When you're jumping on this you can really feel it from your toes right through your shoulders, your bone mineral density right through your ankle, your knees, your hips, right through your spine as well, and from a muscular perspective you can really feel it working almost everything really," she says.
Next year, Mr Kennett's team will test the machine on board a zero-gravity flight.
He hopes to see it in use on a space mission in 2024.
Beatings and intimidation but Belarus demonstrators are still full of street spirit | World News
There is an inevitability now to Sunday evenings in Minsk.
A burst of police violence to put an end to hours of peaceful marching – to make sure those who stayed until what becomes a bitter end go home with the ring of stun grenades in their ear, the adrenaline from running from rubber bullets – if they go home at all.
This Sunday, first estimates are that more than 100 people were detained, but that number may rise.
Stun grenades used on streets of Belarus

There is video of police breaking into apartments and beating people as they beg for mercy. In a police state there really is nowhere to hide.
No wonder the majority of people in Belarus want this regime gone.
The spirit of those on the street is at such odds with the police cruelty. Over and again, Belarusians will tell you "we are a peaceful people".
They march in their tens of thousands – 100,000 plus in Minsk this Sunday – waving their red and white flags, mostly masked, as a second COVID-19 wave creeps up here too. But the Belarusian people have other preoccupations.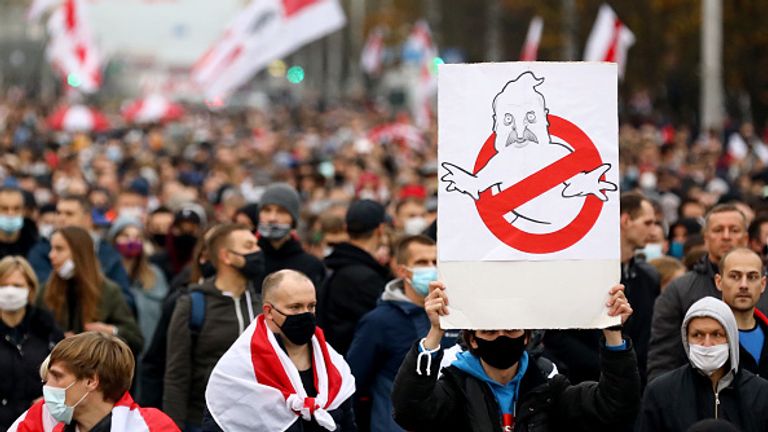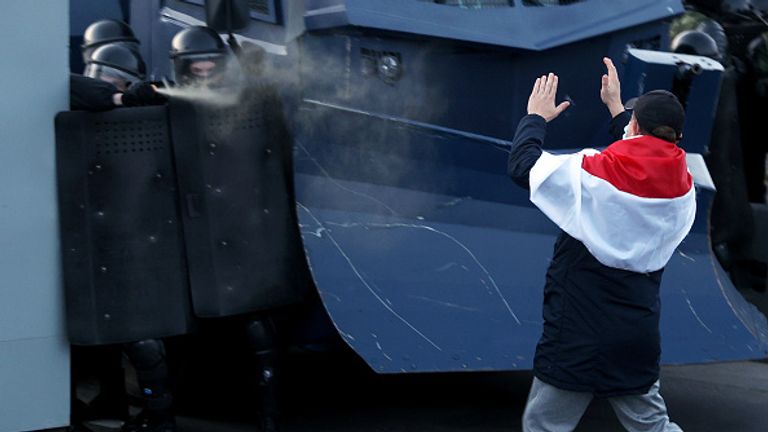 Today's march was called the 'people's ultimatum'.
They have had three simple demands from the start: that President Alexander Lukashenko step down, for there to be fresh elections and that all political prisoners are released. Those demands have not been met.
From exile, presidential candidate Svetlana Tikhanovskaya has called for a general strike as of Monday, but that may not take off.
I was told repeatedly that people are scared, they have families to feed.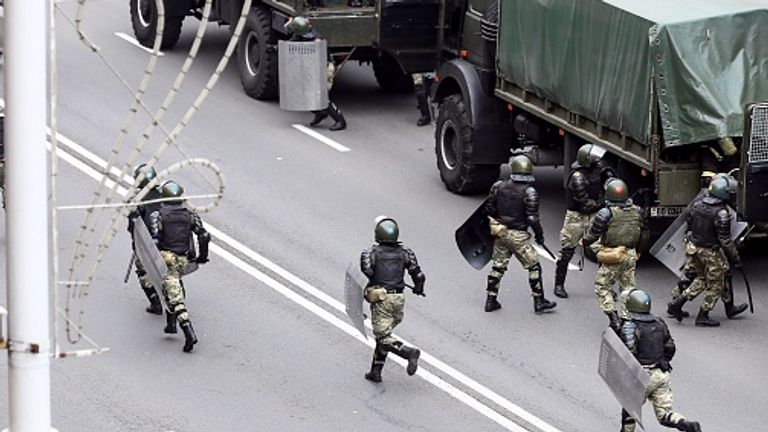 Strike leaders we were in touch with were hesitant to reveal their plans. The secret chats on Telegram fell silent. Intimidation works, especially for state workers.
We spent a few hours in police custody on Saturday. They were civil, for which we should count our blessings.
For many Belarusians, civility is not a feature of the detention centres. As we sat waiting, people started trickling in in dribs and drabs.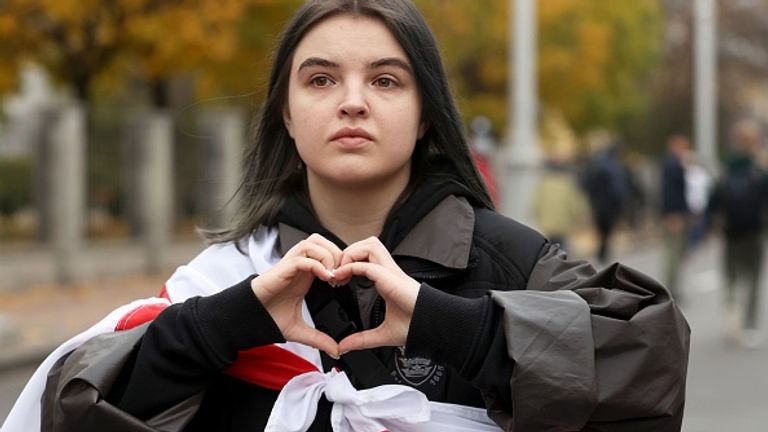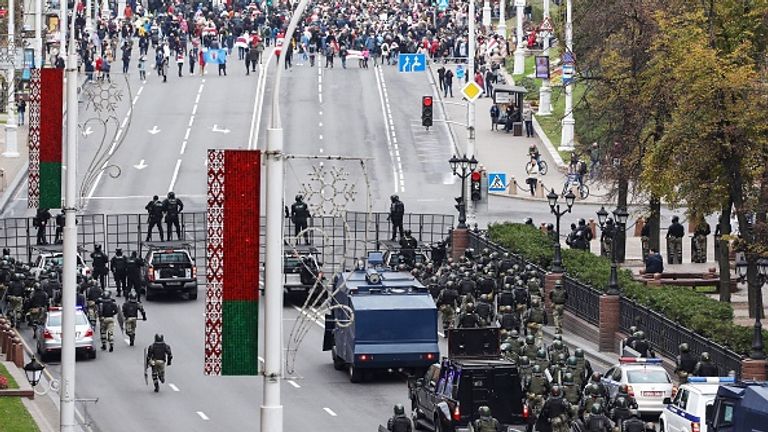 'Druzhinniki?' the girl at reception would ask, and they would nod. It is an old Soviet phenomenon where volunteers help out with policing.
The squads cannot make arrests, but they can keep watch and this regime likes to keep an eye on everyone and everything.
The first group of men were older. They looked as though they had grown up on a diet of state TV and could do with some extra cash.
More surprising perhaps were the younger cohorts, grinning with their comrades, sharing out the squad's red armbands.
It is supposedly voluntary. If so, there are clearly still a fair few beyond the security establishment who are willing to uphold the political status quo.
The demand for change from the street is loud and insistent – the impressive turnout each and every Sunday is testament to that.
It is almost incomprehensible that a progressive, democratically minded people in the heart of Europe should have the kind of leadership their neighbours, certainly to the West, could not even imagine.
But dictatorships have deep foundations. And for now in Belarus, they're holding.
Gun possibly used to kill Irish journalist was hidden 'like a souvenir' in drug baron's garden, say police | World News
Spanish police say a gun potentially used to kill Irish journalist Veronica Guerin had been hidden "like a souvenir" in the garden of a drug baron's Costa Blanca villa.
Detectives conducted a raid on the home of infamous Irish criminal John Gilligan this week and found a gun of the same make and model as the one used to murder Ms Guerin in 1996.
They say the Colt Python .357 Magnum seized from Gilligan's home in Torrevieja, near Alicante, is very rare – although it will take "months" to determine whether it is the murder weapon.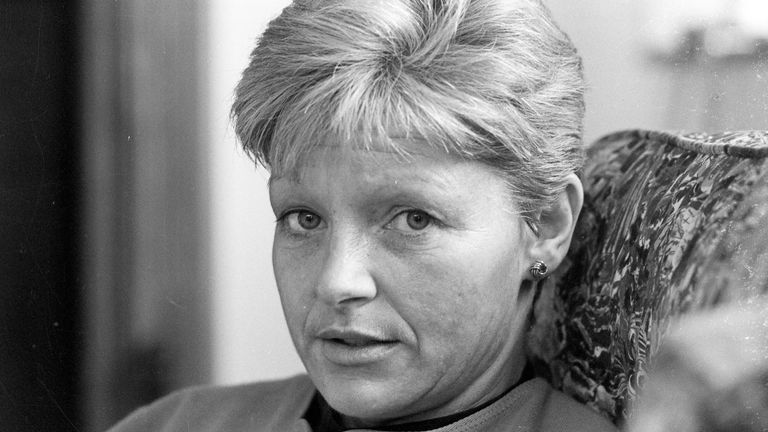 Ms Guerin was working for the Sunday Independent when she was shot dead at a red traffic light on the Naas dual carriageway on the outskirts of Dublin 24 years ago.
The gun used in her killing was never found.
The crime led to Gilligan's trial and acquittal for masterminding her murder and a 28-year prison sentence for importing two tonnes of cannabis resin worth £32m.
He has always denied involvement in the murder.
One well-placed Spanish source said: "On one hand, it wouldn't make sense for Gilligan to keep the murder weapon at his home because it would incriminate him. But this gun was not being kept to use, quite the contrary.
"It had been hidden by someone who had placed the gun in a hole they dug in the ground and covered with gravel and a type of cloth you use to stop weeds coming through before more gravel was piled on top.
"Normally criminals keep their guns in places they can easily reach them like a bedside drawer but this one was being kept as if it were a souvenir by someone who didn't want to part company with it, outside rather than inside where it could easily be found."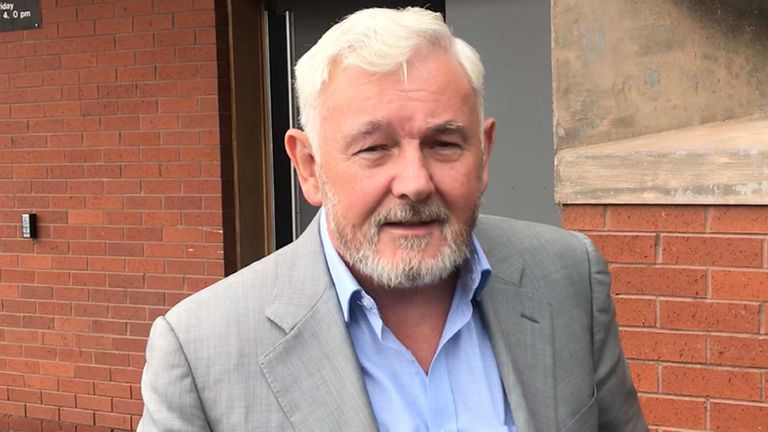 Another insider said the .357 Magnum is a "very large, cumbersome revolver which is not easy to hide and the sort of weapon you see very rarely".
One highly-experienced Spanish officer specialising in fighting organised crime revealed he had only seen two guns of the type confiscated from Gilligan's garden in the past 20 years.
"It will take months for the police involved in this case to determine whether or not the weapon was used to kill the Irish journalist," he said.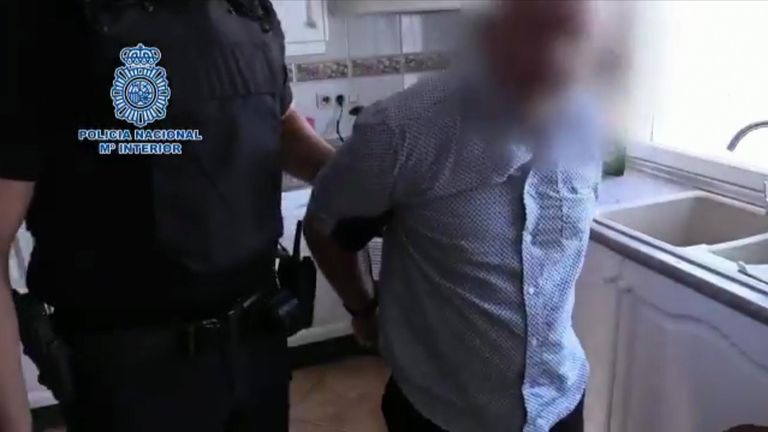 "Spanish police will already be in contact with Garda and they will obtain the projectiles recovered from Veronica Guerin's autopsy.
"Each weapon is unique, just like a fingerprint and when you fire off a cartridge you leave micro identifications which are characteristic of a specific weapon and in ballistics differentiate one projectile from another and one weapon from another."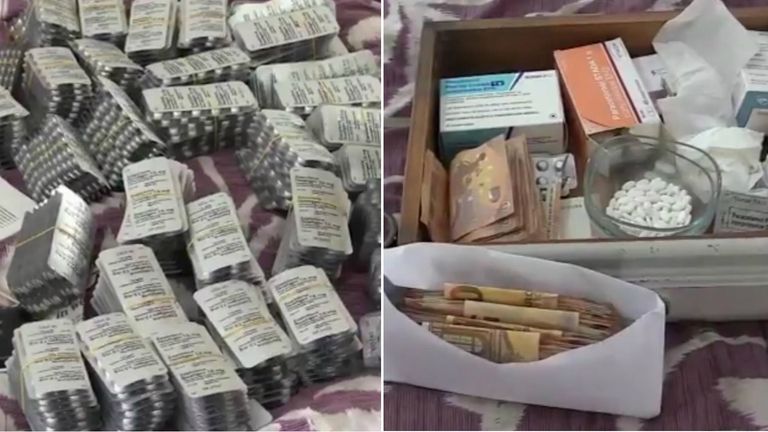 He added the fact the gun was so rare made it "very possible" it is the murder weapon.
Well-placed sources said the raid on the drugs baron's villa took place as he was preparing a delivery to Ireland of marijuana and prescription-only powerful sleeping pills.
Gilligan has not yet been formally charged with any crime as charges are only laid shortly before trial in Spain, but he is in custody along with five other suspects for crimes against public health, unlawful possession of firearms and membership of a criminal gang.
Former friend Brian Meehan was convicted of Ms Guerin's murder in 1999 and remains in prison.