Parkland's seniors celebrate prom, but four are missing
Everything changed after Feb. 14. Once tasked with planning a festive night marking the end of her and her classmates' high school careers, Cordover suddenly found herself walking a tightrope to plan an event that would strike a balance between memorializing those who were lost and allowing her fellow students to let loose after weeks spent mourning and planning walkouts to keep gun reform in the national spotlight.
"It's not the same anymore," Cordover said. "With all the grief and healing we've been doing, it's another way to take in the reality of everything. It's not necessarily a celebration, but also a remembrance."
You do everything in your power to make sure it's the best it can be.
You do everything in your power to make sure it's the best it can be.
Many seniors were initially hesitant to attend prom — a moment of such lightness wasn't even imaginable in the days after the shooting. But as the weeks passed, the senior class grew determined to keep their traditions intact.
"People were saying, 'We didn't let this ruin our year. We came back,'" said Demitri Hoth, 18, a senior who was friends with Schentrup as well as senior Nicholas Dworet and junior Helena Ramsay, who were also killed. "It'll be different, obviously," Hoth said a couple weeks before the event, "and it won't be the thing it was supposed to be, but it doesn't mean we won't get to go."
Senior Allyson Adak, 18, agreed. Her friend from band, Alex Schachter, 14, had died in the shooting, and she planned to attend prom with a group of band friends. She hoped the energy of the evening would lift her spirits.
"You have this vision for a perfect senior year, and when you don't get it, you do everything in your power to make sure it's the best it can be," Adak said.
Still, for the students, memories of Feb. 14 are never far from the surface.
When the fire alarm blared that day, Saripalli initially figured a culinary class had burned a batch of brownies.
It wasn't until she saw SWAT teams and Broward Sheriff's officers race by, and the texts began to come through, that she realized Stoneman Douglas had a shooter on campus.
Immediately, Saripalli texted her friends, asking where they were and if they were OK.
"The only person who wasn't responding was Carmen Schentrup," Saripalli said.
When she learned of her best friend's death hours later, she couldn't stop crying.
Prom was the last thing on her mind — and weeks later, when other students started talking about it, Saripalli was unsure if she should attend, since Schentrup, who had been so eager to go, couldn't.
"In our entire friend group, she was the one that was most excited about this and the fact that we're going and she really wanted to go is just hard," Saripalli said.
'The best prom ever'
The February shooting hit close to home for Arielle Nielsen, a makeup artist who lives just minutes from Stoneman Douglas.
In the days that followed, she wanted to find a way to support the students, so she reached out to the school to see if she could donate her services as a makeup artist. When she learned that nearly 600 seniors were expected to attend prom, Nielsen tapped a network of industry professionals and asked for help.
What started as an idea for a handful of students quickly evolved into the Beautifully Strong Douglas Prom Makeover Event, where more than 100 volunteers worked to give about 150 students, including Saripalli and Cordover, a bit of glamour Saturday ahead of the dance. A photobooth and makeup gift bags added to the pre-prom fun.
Belarus: Nationwide strike looms after stun grenades used against protesters | World News
Police in Belarus have fired stun grenades to disperse protesters ahead of a nationwide strike called by opposition leader Svetlana Tikhanovskaya.
Ms Tikhanovskaya, who is in exile in neighbouring Lithuania, had previously set out a "people's ultimatum" for President Alexander Lukashenko to step down by Sunday night, pledging industrial action if that did not happen.
"The regime once again showed Belarusians that force is the only thing it is capable of," she said.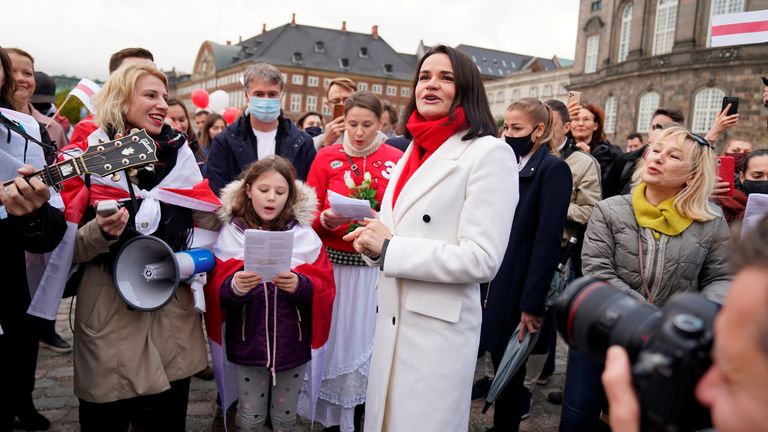 "That's why tomorrow, 26 October, a national strike will begin."
Belarusians have been protesting each weekend since Mr Lukashenko, who has been in power since 1994, won a presidential election on 9 August.
Opposition politicians claim the ballot was rigged, and the president's main opponents have either joined Ms Tikhanovskaya in exile or been jailed.
Tens of thousands again took to the streets of the capital Minsk on Sunday.
Explosions and white smoke were seen amid the white and red flags of the opposition movement.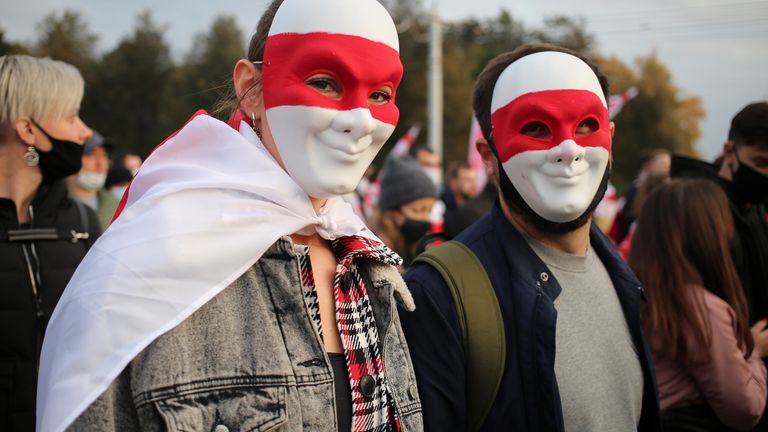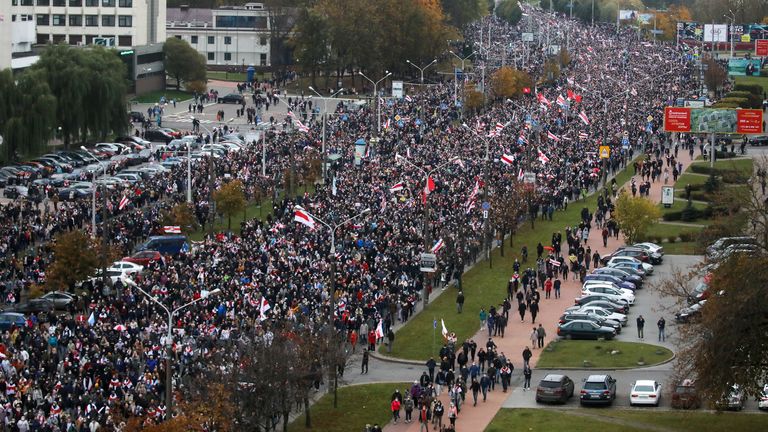 A dozen metro stations were closed, and there were reports of mobile phone internet connections not working.
According to human rights group Vesna-96, at least 216 people were detained on Sunday.
A government spokesperson said an official figure would not be available until the morning.
The US, EU, UK and Canada have all imposed sanctions on the Lukashenko regime.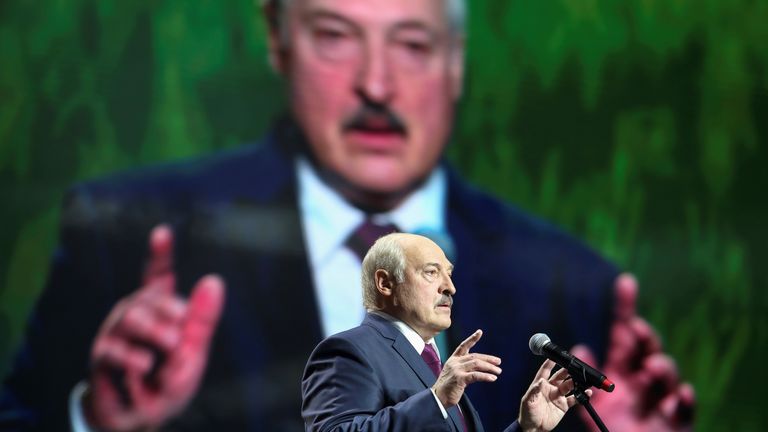 In return, he has accused western countries of interfering in the internal affairs of Belarus.
In a telephone call with US Secretary of State Mike Pompeo on Saturday, Mr Lukashenko said Belarus and Russia were ready to respond to external threats.
New invention will help astronauts jump in zero gravity to maintain bone density in space | UK News
Astronauts can lose as much as 10% of bone density during six months in space, according to NASA, because there's no gravity for their body to push against.
To offset the effect, they exercise for two hours a day, at least six days a week. But a London engineer says a machine he invented could reduce those gruelling workouts to just six minutes a day, by enabling astronauts to jump in zero gravity.
"It allows a person, when they're repeatedly jumping, to load their skeletal system, their bones then start to lay down more bone density and more to the point prevent astronauts losing their bone density and muscle mass," inventor John Kennett, who used to work on the Concorde aircraft programme, says.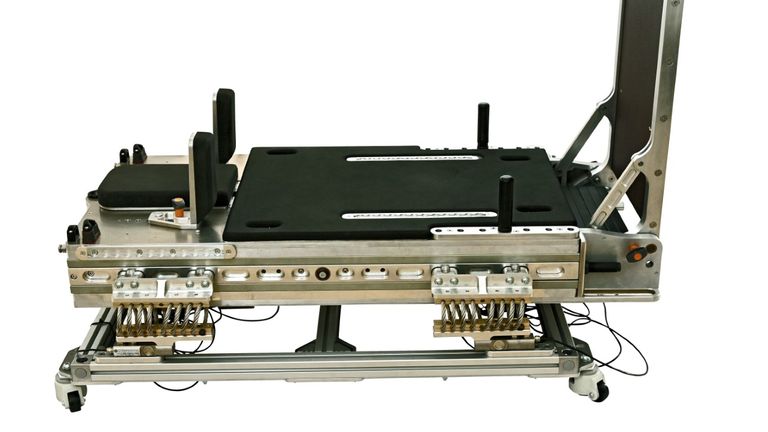 "Nothing exists like this at the moment. Jumping is really important for helping to build bone density and muscle mass, but jumping in zero gravity is very difficult," he adds.
His High Frequency Impulse for Microgravity machine has won grants from the UK and European Space Agencies.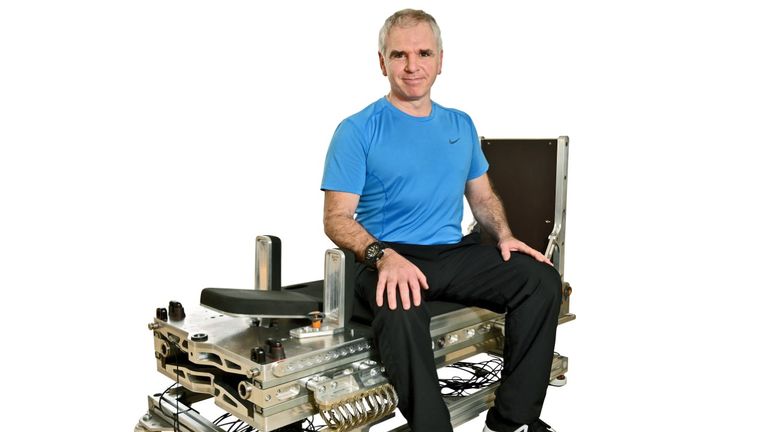 Experts say the key advantage is that it is a single device that could replace several which astronauts currently use, which could be crucial in long, deep space missions where every inch of the craft will be packed with supplies and equipment.
"We're not going to have the room or the mass or the ability to bring different exercise devices there," says Libby Jackson, human exploration programme manager at the UK Space Agency.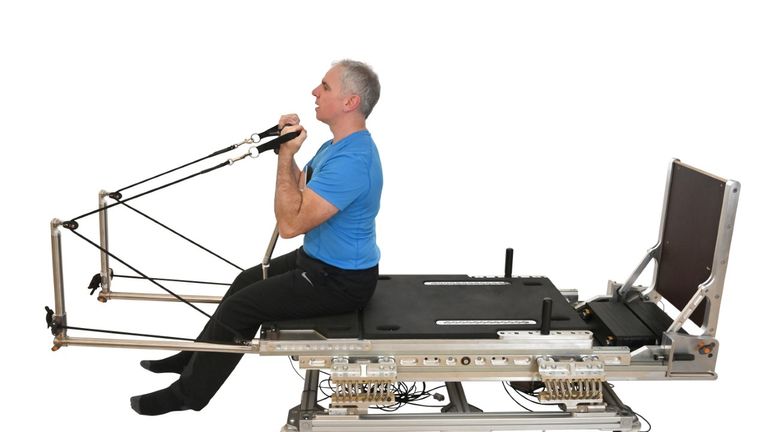 "The machine that John has designed excited me because when I looked at it I could see that it had the potential to combine the cardio and the muscle conditioning that's needed for astronauts to stay fit and healthy in a small footprint," she adds.
Former NASA astronaut Leroy Chiao says that keeping fit in space is central to ensuring a successful recovery back on Earth, but he would welcome shorter workouts which could free up those on board to have more time for their core duties.
"We'd like to use as much of the time as possible for research work and of course there are maintenance repairs logistics work that has to be done as well, so two hours a day for exercise is a pretty big overhead," he adds.
:: Subscribe to Sophy Ridge on Sunday on Apple podcasts, Google podcasts, Spotify, Spreaker
Mr Kennett says his machine has different settings so that it works equally well for both men and women.
King's College London aerospace physiology PHD student Tess Morris-Paterson, who is one of those testing the device, says the short, intense workout gives her a full body benefit.
"When you're jumping on this you can really feel it from your toes right through your shoulders, your bone mineral density right through your ankle, your knees, your hips, right through your spine as well, and from a muscular perspective you can really feel it working almost everything really," she says.
Next year, Mr Kennett's team will test the machine on board a zero-gravity flight.
He hopes to see it in use on a space mission in 2024.
Beatings and intimidation but Belarus demonstrators are still full of street spirit | World News
There is an inevitability now to Sunday evenings in Minsk.
A burst of police violence to put an end to hours of peaceful marching – to make sure those who stayed until what becomes a bitter end go home with the ring of stun grenades in their ear, the adrenaline from running from rubber bullets – if they go home at all.
This Sunday, first estimates are that more than 100 people were detained, but that number may rise.
Stun grenades used on streets of Belarus

There is video of police breaking into apartments and beating people as they beg for mercy. In a police state there really is nowhere to hide.
No wonder the majority of people in Belarus want this regime gone.
The spirit of those on the street is at such odds with the police cruelty. Over and again, Belarusians will tell you "we are a peaceful people".
They march in their tens of thousands – 100,000 plus in Minsk this Sunday – waving their red and white flags, mostly masked, as a second COVID-19 wave creeps up here too. But the Belarusian people have other preoccupations.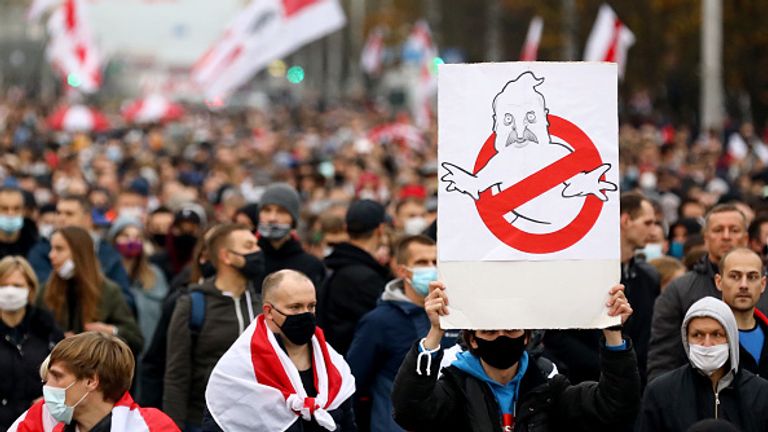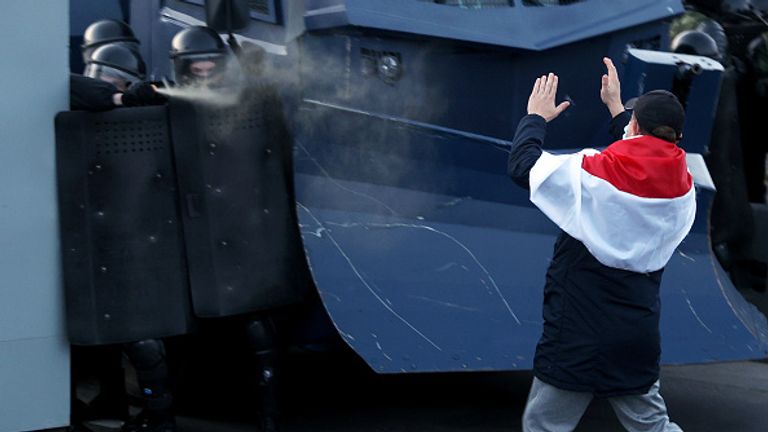 Today's march was called the 'people's ultimatum'.
They have had three simple demands from the start: that President Alexander Lukashenko step down, for there to be fresh elections and that all political prisoners are released. Those demands have not been met.
From exile, presidential candidate Svetlana Tikhanovskaya has called for a general strike as of Monday, but that may not take off.
I was told repeatedly that people are scared, they have families to feed.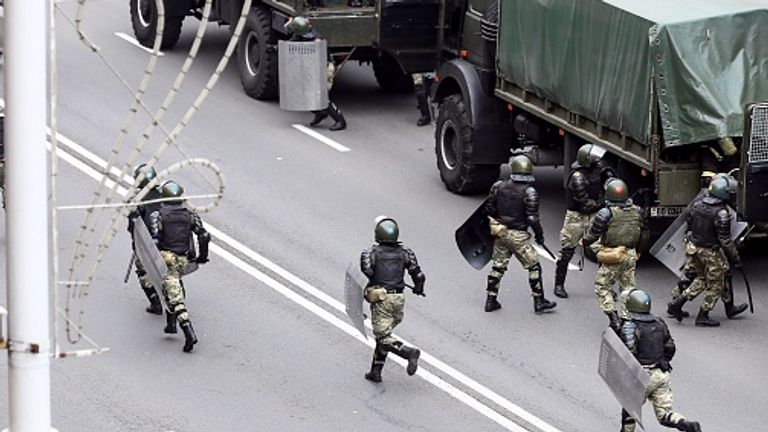 Strike leaders we were in touch with were hesitant to reveal their plans. The secret chats on Telegram fell silent. Intimidation works, especially for state workers.
We spent a few hours in police custody on Saturday. They were civil, for which we should count our blessings.
For many Belarusians, civility is not a feature of the detention centres. As we sat waiting, people started trickling in in dribs and drabs.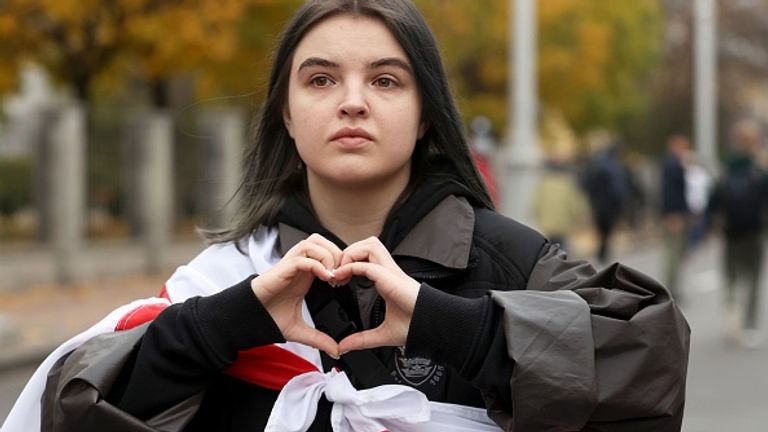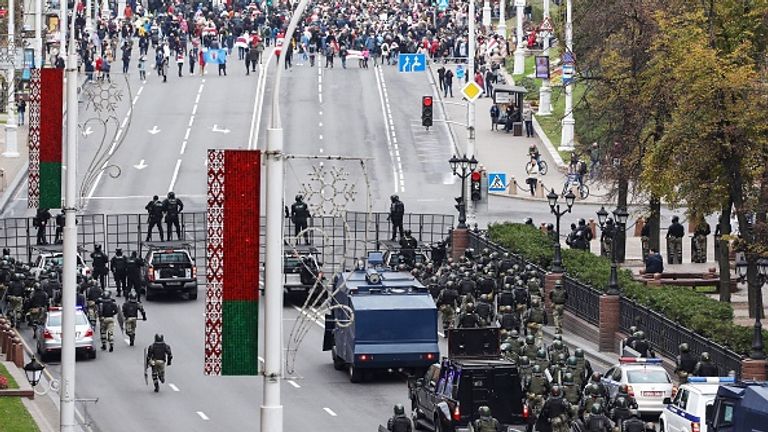 'Druzhinniki?' the girl at reception would ask, and they would nod. It is an old Soviet phenomenon where volunteers help out with policing.
The squads cannot make arrests, but they can keep watch and this regime likes to keep an eye on everyone and everything.
The first group of men were older. They looked as though they had grown up on a diet of state TV and could do with some extra cash.
More surprising perhaps were the younger cohorts, grinning with their comrades, sharing out the squad's red armbands.
It is supposedly voluntary. If so, there are clearly still a fair few beyond the security establishment who are willing to uphold the political status quo.
The demand for change from the street is loud and insistent – the impressive turnout each and every Sunday is testament to that.
It is almost incomprehensible that a progressive, democratically minded people in the heart of Europe should have the kind of leadership their neighbours, certainly to the West, could not even imagine.
But dictatorships have deep foundations. And for now in Belarus, they're holding.