Gina Haspel is the rare CIA director nominee that both parties should love
Get the Think newsletter.
Nearly 16 years ago, as Americans were watching images of the World Trade Center towers collapse and smoke rising from the Pentagon and a Pennsylvania field, a mid-career CIA officer named Gina Haspel walked into the agency's Counterterrorist Center, turned on her computer and went to work. Trained in operations, Haspel was respected by her colleagues for being soft-spoken yet direct, confident yet humble, and committed to the mission of the CIA in those harrowing hours after 9/11: preventing another catastrophic attack on the United States.
Haspel is now the nominee to lead the CIA, the first woman to be so nominated but, more important, the first career CIA officer to rise directly to the post since Richard Helms was confirmed 52 years ago.
Haspel has served as agency's deputy director for the past year, having previously served in senior roles in the directorate of operations and as chief of station in a major allied capital. During the years after 9/11, she worked on a range of sensitive counterterrorism missions. Quite simply, she is among the most qualified people ever nominated to lead the CIA.
In 2007, I was serving as the Democrats' chief counsel to the House Intelligence Committee, and as such was assigned to investigate the destruction of videotapes by the CIA documenting the interrogation of two suspected Al Qaeda operatives. We looked at Haspel's role in that decision. She was serving as chief of staff to CIA Director of Operations Jose Rodriguez when the tapes were destroyed in 2005. What we found was that Haspel was not depicted on the videotapes and that she did not make the decision to destroy the videotapes. At the request of Rodriguez, she drafted a brief cable directing CIA officers in the field to destroy the videotapes. Rodriguez sent the cable to the field; Haspel believed Rodriguez had the legal authority to do so.
But importantly, Haspel believed that Rodriguez was going to seek the CIA director's permission to send the cable. While Rodriguez had the legal authority, and while I believe his intentions were honorable — he wanted to protect the identities of agency personnel who were depicted on the interrogation tapes — the decision belonged to then-CIA Director Porter Goss.
Haspel was not depicted on the videotapes and that she did not make the decision to destroy the videotapes.
The investigation by the Intelligence Committee was soon overtaken by a criminal investigation by George W. Bush's administration. The Justice Department assigned a respected assistant U.S. attorney, John Durham, to lead it.
Later, under President Barack Obama, the Durham investigation expanded to review whether any CIA officers had committed crimes as part of the agency's program of rendition, detention and interrogation. Durham concluded his tapes investigation in 2010, finding that no laws had been broken. In 2012, Attorney General Eric Holder concluded the broader investigation and found that no CIA official should be prosecuted. This was the right decision.
The waterboarding of Al Qaeda detainees in 2002 and 2003 is indelibly part of our nation's past, and we cannot escape it. But it is not part of our future. The issue of interrogations is now settled. Obama struck the proper balance. His administration decided it would be unjust to prosecute CIA officers who were trying to protect the country and who believed they were legally authorized to do so — but he resolved that we will never again engage in that conduct.
The waterboarding of Al Qaeda detainees in 2002 and 2003 is indelibly part of our nation's past, and we cannot escape it. But it is not part of our future.
Even if President Donald Trump tried to reverse that policy, such interrogation techniques are now banned by the legislation authored by Sen. John McCain, R-Ariz. And Haspel has stated in no uncertain terms that she would not approve these activities today, even if DOJ said they were legal.
Our future will pivot on our ability to confront the challenges posed by Russia, China, North Korea, Iran and the ever-changing tactics of terrorists all over the world. All of these challenges require intelligence professionals willing to step forward, serve and give our nation's leaders their best and most candid advice. We need more people like Gina Haspel.
Democrats and progressive organizations should be encouraged that a nonpartisan, professional woman has been nominated to be CIA director. Democratic and Republican Senators should welcome Haspel's clear-eyed approach to Russia, her expertise in counterterrorism, her record of nonpolitical service and the fact that she is no crony of the president or anyone at the White House.
Confirming Gina Haspel would send exactly the right signal to the intelligence community and the rest of the country about the importance of professional intelligence and service over self. We need that signal now more than ever.
Jeremy Bash served as Democratic chief counsel to the House Permanent Select Committee on Intelligence and chief of staff at the CIA and the Department of Defense under President Obama. Bash is a national security analyst for NBC News and MSNBC.
Typhoon Molave: Landslides leave at least 15 people dead in Vietnam | World News
Soldiers and heavy machinery are being used to search for survivors in Vietnam after landslides triggered by Typhoon Molave killed at least 15 people.
Vietnamese officials said the typhoon, which brought winds of up to 150km (93 miles) per hour, is the worst to hit the country in decades.
The landslides hit remote areas in the central province of Quang Nam late on Wednesday.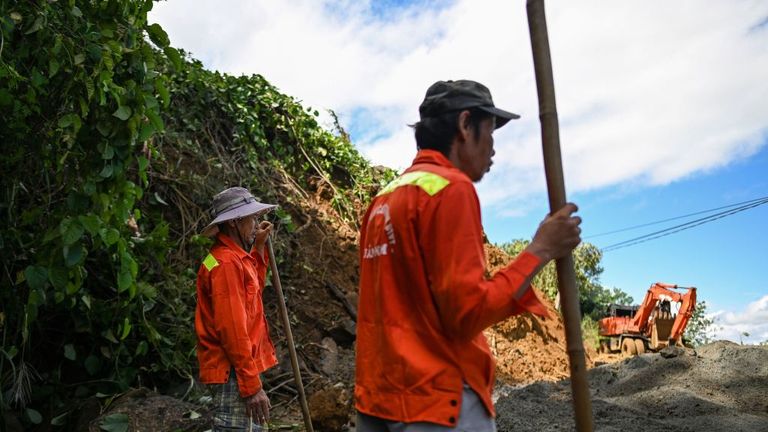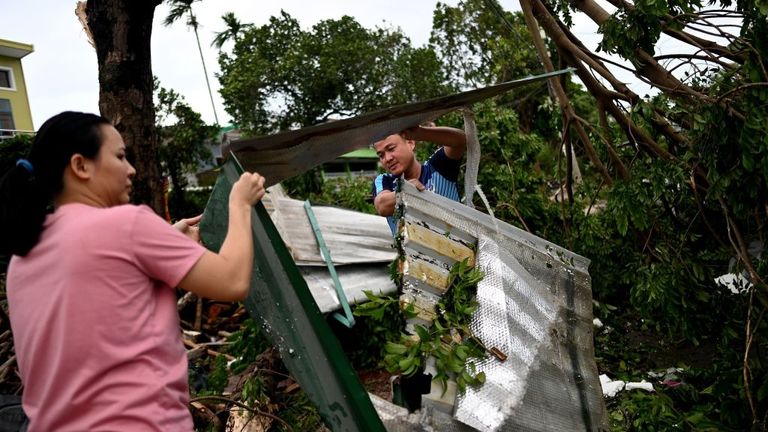 State television said the bodies of 12 fishermen have also been found after their boats sank while trying to return to shore two days ago.
Two navy vessels were mobilised to find them and 14 people are still missing.
Details of possible casualties and damage in other typhoon-hit regions have not yet been reported amid the stormy weather and could cause the toll to rise.
Rescuers dug up eight bodies in Tra Van village in south central Quang Nam province where a hillside collapsed on houses.
In Tra Leng village, about 45km (28 miles) from Tra Van, another landslide buried a community with several houses occupied by about 45 people, including four who managed to escape.
"We can forecast the storm path or the amount of rain, but can't predict when landslides happen," deputy prime minister Trinh Dinh Dung said in a statement.
"The road is covered under deep mud and heavy rains are still lashing the area, but rescue work has to be carried out
quickly."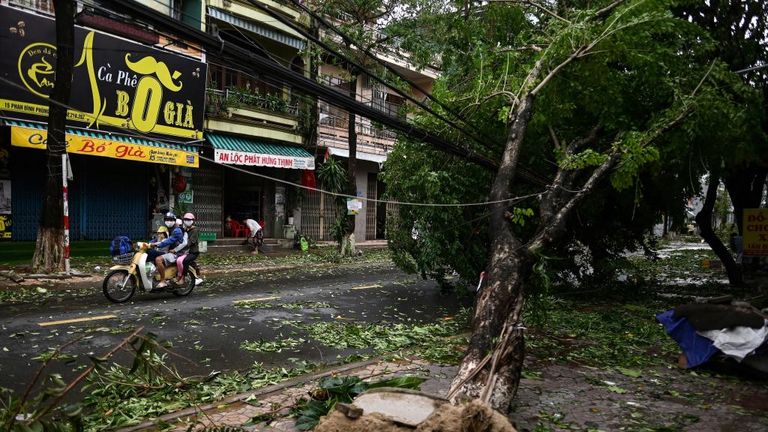 Many villages in the remote region remain inaccessible due to damaged roads and further landslides.
Mr Dung said helicopters would be used to reach the most difficult areas if necessary.
Tra Leng and Tran Van lie in the mountains of Quang Nam, in a coastal region still recovering from floods that killed 136 people and destroyed hundreds of houses earlier this month.
The typhoon blew off roofs of about 56,000 houses and caused a massive blackout in Quang Ngai province, where 1.7 million people endured the typhoon onslaught overnight in darkness, according to local media.
At least 40,000 people were evacuated to emergency shelters and authorities shut down offices, factories and schools.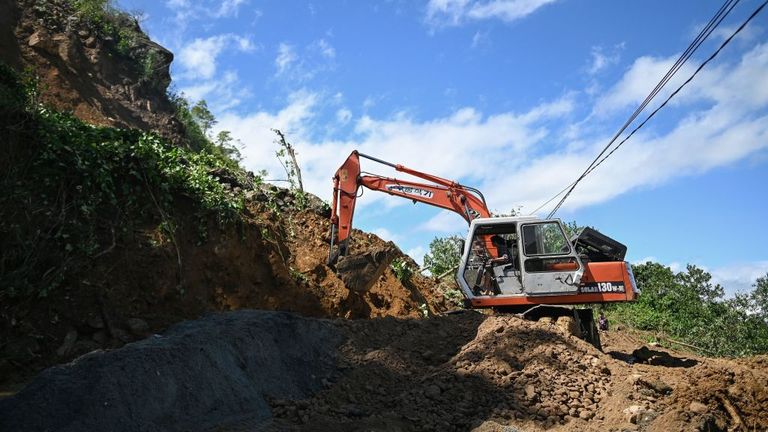 Forecasters have said heavy rain of up to 700mm (27.5in) will continue in parts of central Vietnam until Saturday.
The typhoon left at least 16 people dead in the Philippines before blowing across the South China Sea to Vietnam.
Clash of cultures in France between freedom of expression and Islamic blasphemy beliefs | World News
A clash of cultures is gripping France and impacting French interests in the Muslim world.
It has pitched the right to freedom of expression – including viewing cartoons of the Prophet Muhammad – against what that means for Muslims who regard such actions as blasphemous.
The motivation for the triple murders in Nice by a knifeman shouting "Allah Akbar" and why someone else threatened people with a handgun close to the city of Avignon is not yet known.
Same too for a separate knife attack against the French consulate in the Saudi city of Jeddah.
Three people killed in France – live updates as separate incidents unfold in Nice and Avignon
Shots fired as police storm church

Yet these incidents – which all happened on Thursday – come almost two weeks after a teenager beheaded a school teacher on the outskirts of Paris after Samuel Paty, 47, showed his students caricatures of the Prophet Muhammad during a lesson.
President Emmanuel Macron, a strong supporter of secularism and free speech in his country, praised Mr Paty as a "quiet hero".
The teacher's violent death gave added impetus to a plan unveiled by the French leader at the start of October aimed at reforming the practice of Islam in France and creating – as Mr Macon described it – "an Islam of Enlightenment".
This kind of language triggered anger among Muslim countries, in particular from Turkey.
President Recep Tayyip Erdogan went as far as calling his French counterpart mentally damaged.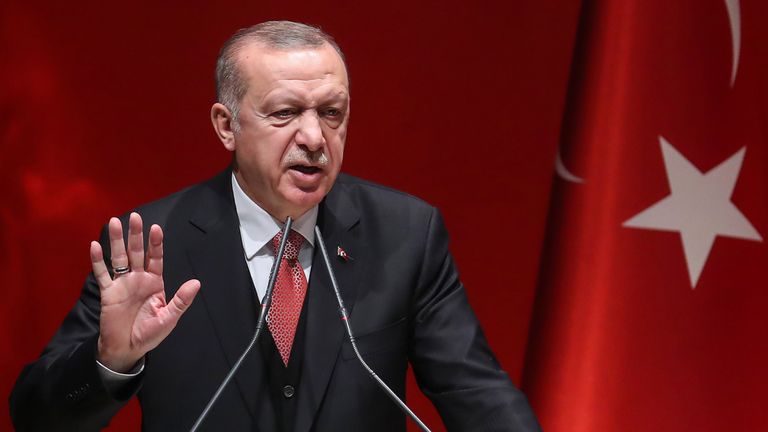 Mr Erdogan has also called for a boycott of French products.
Lord Ricketts, a former UK ambassador to Paris and former national security adviser, described what is happening in France as a "big cultural clash".
In the wake of the attacks, he said the French authorities should be reaching out to Muslim leaders in the country to condemn the violence and help bring people together.
France needs a "calming voice from the Muslim community", he said.
Coronavirus: India hits eight million COVID cases amid fears festival season could cause further spike | World News
India has become the second country to record more than eight million coronavirus cases amid fears of a further spike due to a series of upcoming Hindu festivals – including Diwali.
The health ministry's most recent figures reported 49,881 infections and 517 deaths in the past 24 hours – bringing the overall case count above 8.04 million and the death toll to 120,527.
While nationally the daily infection rate is dropping, India's capital of New Delhi saw its worst day on record on Wednesday, with 4,853 new coronavirus cases – having managed to get below 1,000 per day last month.
Live coronavirus updates from the UK and around the world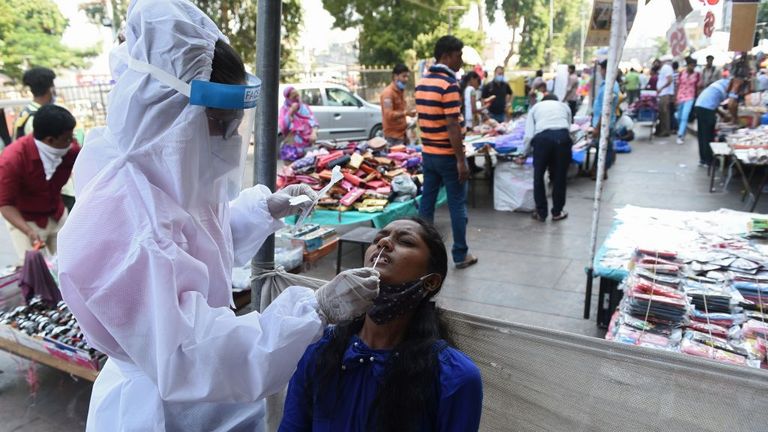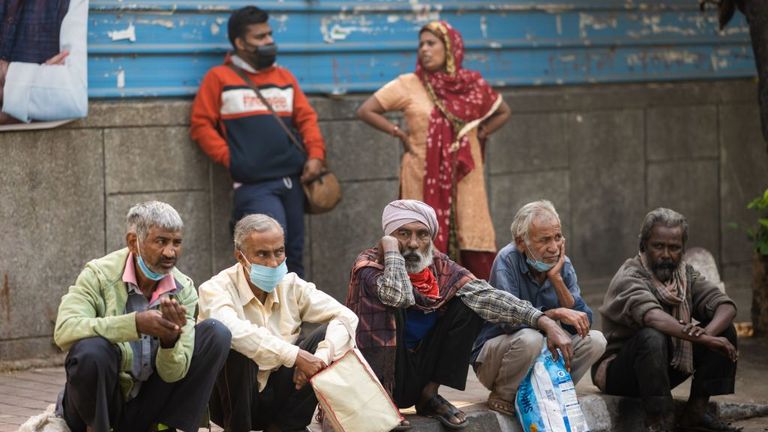 Dr T Jacob John, a retired virologist who was head of the virology department at CMC Hospital, Vellore, southern India, warned that in most parts of the country the infection curve was never flattened.
He added that the festival season was likely to cause an uptick in the rate of infections as people gathered without masks and social distancing.
Arvind Kumar, a doctor in the capital city, said: "I am shocked, but not surprised. There seems to be a sense of complacency in adhering to mask and distancing norms."
Shops, businesses, trains and cinemas have all been reopening, and the country's third-largest state of Bihar – with its population of 122 million – has been holding elections.
And as well as it currently being the month of Kartika – the holiest month in the Hindu calendar, with festivals including the five days of Diwali upcoming – winter will bring cooler and drier weather.
There are concerns that the conditions – and the associated increase in pollution levels – will lead to an increase in COVID-19 cases and other respiratory illnesses in the world's most populous democracy.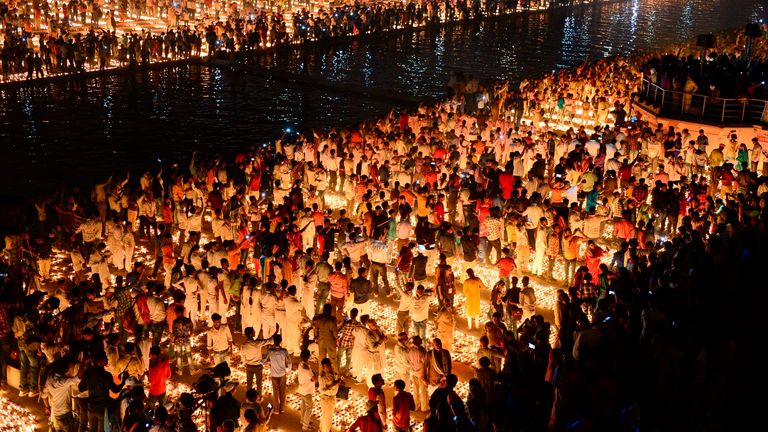 India reported few cases of the coronavirus at the start of the pandemic, but saw a steep rise once summer started.
In August alone, the country added more than two million new cases, and in September another three million people caught the virus.
On the worst day, there were 97,894 new infections – and the most deaths recorded in 24 hours was 1,275.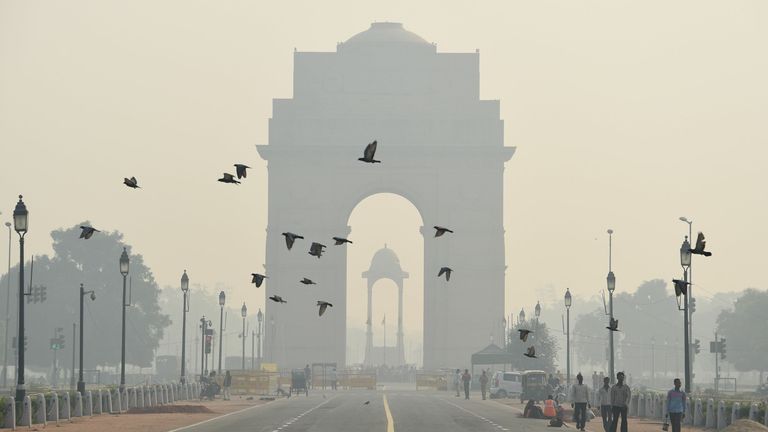 Only the US has more confirmed cases of COVID-19, with more than 8.8 million, while India sits third worldwide to America and Brazil's death counts of 227,700 and 158,456 respectively.
The Indian government has promised to provide a coronavirus vaccine to 250 million people by July of next year.