Kelly thinks he's saving U.S. from disaster, calls Trump 'idiot,' say White House staffers
Get breaking news alerts and special reports. The news and stories that matter, delivered weekday mornings.
WASHINGTON — White House chief of staff John Kelly has eroded morale in the West Wing in recent months with comments to aides that include insulting the president's intelligence and casting himself as the savior of the country, according to eight current and former White House officials.
The officials said Kelly portrays himself to Trump administration aides as the lone bulwark against catastrophe, curbing the erratic urges of a president who has a questionable grasp on policy issues and the functions of government. He has referred to Trump as "an idiot" multiple times to underscore his point, according to four officials who say they've witnessed the comments.
Kelly called the allegations "total BS."
"I spend more time with the president than anyone else and we have an incredibly candid and strong relationship," said Kelly in a statement. "He always knows where I stand and he and I both know this story is total BS. I am committed to the president, his agenda, and our country. This is another pathetic attempt to smear people close to President Trump and distract from the administration's many successes."
Three White House spokespeople said they don't believe it's accurate that Kelly called the president an "idiot," adding that none of them has ever heard him do that or otherwise use that word.
Watch Kristen Welker on Nightly News with Lester Holt for more
Officials said Kelly's public image as a retired four-star general instilling discipline on a chaotic White House and an impulsive president belies what they describe as the undisciplined and indiscreet approach he's employed as chief of staff. The private manner aides describe may shed new light on why Kelly now finds himself — just nine months into the job — grappling with diminished influence and a drumbeat of questions about how long he'll remain at the White House.
"He says stuff you can't believe," said one senior White House official. "He'll say it and you think, 'That is not what you should be saying.'"
Trump, who aides said has soured on his second chief of staff, is aware of some though not all of Kelly's comments, according to the current and former officials.
The White House spokespeople said they haven't heard Kelly talk about himself as the one saving the country, and that if anything he may have spoken in jest along those lines.
Presidential historian Michael Beschloss said Kelly's comments about Trump, when compared to previous White House chiefs of staff, "suggest a lack of respect for the sitting president of a kind that we haven't seen before." Beschloss said the closest similarity would be President Ronald Reagan's chief of staff during his second term, Don Regan, who "somewhat looked down on" his boss and eventually lost the support of the staff and the president. Regan was replaced after two years by Howard Baker.
The last time it became public that one of Trump's top advisers insulted his intelligence behind his back, it didn't go over well with the president. White House aides have said Trump never got over former Secretary of State Rex Tillerson calling him a "moron" in front of colleagues, which was first reported by NBC News. Trump later challenged Tillerson to an IQ test and fired him several months after the remark became public.
Current and former White House officials said Kelly has at times made remarks that have rattled female staffers. Kelly has told aides multiple times that women are more emotional than men, including at least once in front of the president, four current and former officials said.
And during a firestorm in February over accusations of domestic abuse against then-White House staff secretary Rob Porter, Kelly wondered aloud how much more Porter would have to endure before his honor could be restored, according to three officials who were present for the comments. He also questioned why Porter's ex-wives wouldn't just move on based on the information he said he had about his marriages, the officials said.
Some current and former White House officials said they expect Kelly to leave by July, his one-year mark. But others say it's anyone's guess. What's clear is both Trump and Kelly seem to have tired of each other.
"Kelly appears to be less engaged, which may be to the president's detriment," a second senior White House official said.
Kelly has maintained at least two close allies in the West Wing — Kellyanne Conway, counselor to the president, and White House counsel Don McGahn, current and former officials said.
The White House spokespeople conceded that Trump gets frustrated at times with Kelly, particularly when he feels Kelly is not giving him all the information he needs and wants. They said Kelly and Trump have an open, candid relationship.
The spokespeople disputed that staff has lost confidence in Kelly, saying he's still chief of staff so when he issues an order aides comply and that "for the most part the staff still respects and genuinely likes Kelly."
The White House spokespeople said they haven't seen Kelly have a negative effect on the morale of women staffers. If anything, they said during meetings Kelly is the "bigger gentleman" who steps in when aides use foul language to note "a lady is present" and similarly says he shouldn't use foul language in front of a lady if he's used an expletive. The spokespeople, who would not speak for the record, said it's possible Kelly may have said women are more emotional than men, with one of them agreeing that "generally speaking, women are more emotional than men."
"We've got to save him from himself"
Kelly entered the White House with a mandate to instill order in a West Wing where aides regularly had unfettered access to the president. He adopted some key changes, such as shrinking the number of people in meetings and limiting access to the Oval Office.
He has also pushed back against the president on some foreign policy and military issues, current and former White House officials said.
In one heated exchange between the two men before February's Winter Olympics in South Korea, Kelly strongly — and successfully — dissuaded Trump from ordering the withdrawal of all U.S. troops from the Korean Peninsula, according to two officials.
For Kelly, the exchange underscored the reasoning behind one of his common refrains, which multiple officials described as some version of "I'm the one saving the country."
"The strong implication being 'if I weren't here we would've entered WWIII or the president would have been impeached,'" one former senior White House official said.
'Six explosions in Eritrean capital of Asmara' – US State Department report | World News

Six explosions were reported in the Eritrean capital, Asmara, late on Saturday, according to the US State Department.
"At 10.13pm on Nov 28 there were six explosions in Asmara," the state department said on Twitter, although the cause and location were not clear.
There has been no immediate comment from either Eritrean government officials or Tigrayan forces.
Tigrayan forces fighting Ethiopian soldiers have previously fired rockets at Eritrea.
Earlier on Saturday, Ethiopian Prime Minister Abiy Ahmed announced that federal forces had taken "full control" of Mekelle, Tigray's capital, within hours of launching an offensive there.
The Tigrayan People's Liberation Front (TPLF), a political party whose fight against the government began on 4 November, said it was withdrawing from Mekelle.
Thousands of people have fled across the Ethiopian border with Sudan since the fighting erupted in the region.
Sarah Fuller becomes first woman to play in a Power 5 college football game | US News
A college senior in the US has made history as the first woman to ever play in a Power 5 football game.
Sarah Fuller, who can usually be found in goal for Vanderbilt University's soccer team, was called on to the field during the second half of an American football game against the University of Missouri on Saturday.
She had been asked to help with kicking duties for the team, after a number of the side's players were impacted by the coronavirus.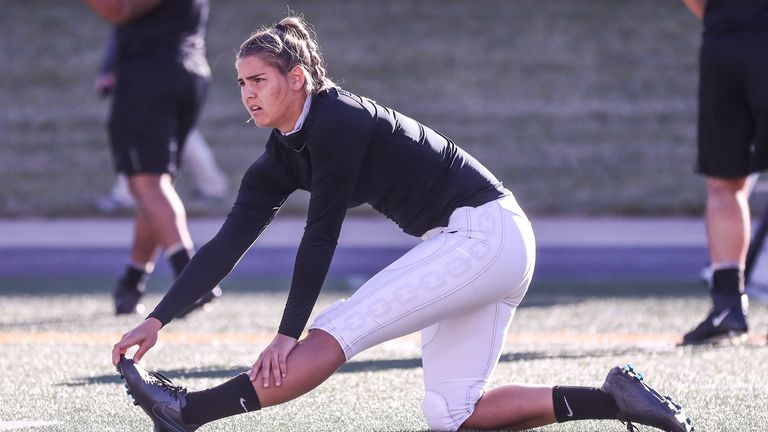 The 21-year-old Texan had just finished playing in the soccer season, where she helped the Vanderbilt Commodores win their first title since 1994.
On the football field, the team went down 41-0 to their opponents but despite the loss, the institution marked Fuller's place in history.
The football team tweeted "Sarah Fuller. Remember the name", alongside a picture of her in her jersey.
Fuller wore the slogan "Play Like A Girl' on her helmet during the game – a nod to the charity I Play Like A Girl, which helps girls gain access to educational and sporting opportunities.
After the match, Fuller told the SEC Network: "Honestly, I was just really calm. The SEC (soccer) championship was more stressful!
"But I was very excited to step out on the field and do my thing. I represent the little girls out there who wanted to do this or have thought about playing football or any sport, really.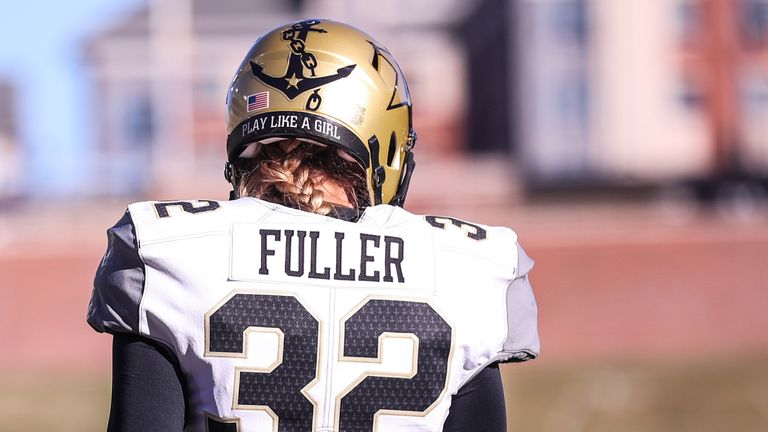 "I just want to tell all the girls out there that you can do anything you set your mind to, you really can. If you have that mentality all the way through, you can do big things."
Although she is not the first woman in the US to play college football, she is the first to play at Power 5 level, which refers to the five leagues that represent the highest level of the sport in US universities.
Ethiopian troops take control of Tigray's capital Mekelle, national government says | World News
Ethiopian troops have taken "full control" of the Tigray region's capital Mekelle, the government has said.
Prime Minister Abiy Ahmed said in a statement posted on his Twitter page police were searching for the leaders of the Tigray People's Liberation Front (TPLF), who have been fighting federal forces in the northern region since 4 November.
"I am pleased to share that we have completed and ceased the military operations in the #Tigray region," Mr Abiy said.
Thousands of people have fled across the Ethiopian border with Sudan in fear of fighting in the Tigray region, the leaders of which have been involved in a long-running power struggle with Addis Ababa.
There was no immediate comment from the TPLF and claims from all sides have been difficult to verify as phone and internet links to the region have been down and access has been tightly controlled.
Millions of civilians have been affected by the fighting that has been going on in the region for nearly a month.
Humanitarian workers confirmed shelling occurred in Mekelle – a city of 500,000 people – and Ethiopia's government had warned residents of the city there would be "no mercy" if they didn't move away in time.
Mr Abiy had said earlier the army was moving in after his 72-hour ultimatum for rebel leaders to lay down their arms expired.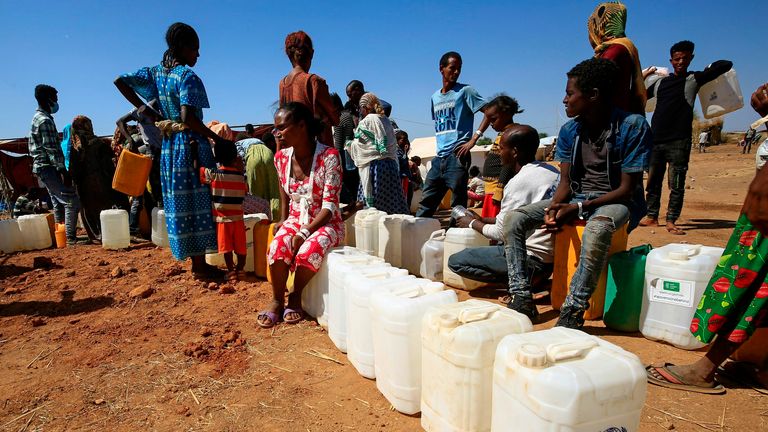 He said on Saturday the army had secured the release of thousands of federal troops in the Northern Command, a military unit based in Tigray that was being held hostage by the TPLF.
The army chief of staff, Birhanu Jula, also claimed government forces had taken control of Mekelle, and state television said that federal forces were in full control of the city by 7pm (local time).
Meanwhile, earlier on Saturday, a diplomat in direct contact with residents and the leader of Tigrayan forces said federal forces had begun an offensive to capture Mekelle.
Sky News has been told a clear and decisive military solution to the conflict is unlikely as Tigrayan forces, who did much of the fighting in Ethiopia's long war with Eritrea, have large stocks of military hardware and number up to 250,000 men.
There have also been fears that, because of Mr Abiy's reliance on state militia from Tigray's southern neighbour Amhara, there is a serious risk of ethnic-based violence.
Tens of thousands of civilians have already fled the region to escape bombing, shelling and ethnic persecution.
There were unconfirmed reports that the Tigray rebels attacked an airport in the northeast Ethiopian city of Axum.
Last week, while reporting from the Sudanese border where many people had fled to, Sky News found a man who said his 12-year-old son was killed as they made their escape.