Israel's Netanyahu claims Iranians liked about nukes and has 'new and conclusive' proof
Get breaking news alerts and special reports. The news and stories that matter, delivered weekday mornings.
Israeli Prime Minister Benjamin Netanyahu claimed Monday that he had "new and conclusive" proof that the Iranians were making nuclear weapons.
The evidence of what he called Project Amad, a program to design, build and test nuclear weapons, is contained in 55,000 pages of documents and 55,000 files on CD's that the Israelis sneaked out of a nondescript storage facility in Tehran where Iran's nuclear secrets are held, Netanyahu said.
Speaking on a platform in front of reporters at Israeli military headquarters in Tel Aviv, Netanyahu swept aside a black curtain to show a shelf filled with copies of the purported files. "Iran lied, big time, after signing the nuclear deal in 2015," he said. "Iran is brazenly lying when it says it never had a nuclear weapons program. The files prove that."
Iran may have shelved Project Amad in 2003, but it didn't "shelve its nuclear ambitions" and continues to preserve and expand its nuclear capabilities, he said.
Netanyahu said the evidence has been turned over to the U.S., including "incriminating blueprints, incriminating photos, incriminating videos and more."
"The United States can vouch for its authenticity," said Netanyahu, repeatedly insisting that Iran "lied" as he buttressed his claims with a PowerPoint presentation.
A U.S. official confirmed to Bloomberg News that Israel had shared the files with the U.S. and that the U.S. had verified the material as authentic.
During a news conference with the president of Nigeria on Monday, Trump said Netanyahu's revelation was "just not an acceptable situation."
"What's happening today," Trump said, "has really shown that I've been 100 percent right." A
After wrapping up his presentation, Netanyahu left without taking any questions from reporters.
There was no immediate response from the Iranians to Netanyahu's dramatic claims.
Netanyahu had alerted reporters earlier Monday that he was going to announce what his office billed as a "significant development" regarding the Iran nuclear deal, which he wants President Donald Trump to scrap.
The announcement came a day after Netanyahu met new Secretary of State Mike Pompeo in Tel Aviv and two days after he spoke with Trump by phone.
It also comes 12 days ahead of Trump's deadline for amending the 2015 agreement or walking away from it.
The Iran nuclear deal, formally known as the Joint Comprehensive Plan of Action, offered Tehran billions of dollars in sanctions relief in exchange for agreeing to curb its nuclear program.
While there is broad consensus that Iran is abiding by the agreement with the U.S., Russia, China and three European powers, Israel has have long opposed the pact, which was one of the main foreign policy achievements of the Obama administration.
The Jewish state says the deal has not curbed Iran's wider aggression, such as its support for Hezbollah — a powerful Lebanese militia and political group — and its role in conflicts in Syria, Yemen, Iraq and Bahrain.
"President Trump's been pretty clear," Pompeo said Sunday in Tel Aviv. "This deal is very flawed. He's directed the administration to try and fix it, and if we can't fix it, he's going to withdraw from the deal."
He added: "We remain deeply concerned about Iran's dangerous escalation of threats to Israel and the region, and Iran's ambition to dominate the Middle East remains."
Pompeo also listed Iran's non-nuclear threats, including the introduction of thousands of proxy fighters to the Syrian civil war — something that has inspired Israel to carry out missile strikes, including a suspected attack late Sunday.
In his previous role as CIA director, Pompeo consistently portrayed Iran as the focus of evil in the Middle East and a worldwide threat.
Afghanistan bombing: At least 18 killed including teenagers in suicide blast at Kabul education centre | World News
At least 18 people have been killed including teenage students following a suicide bombing at an education centre in Afghanistan.
Another 57 people were wounded in the blast which struck in a heavily Shia neighbourhood of western Kabul on Saturday.
Interior ministry spokesman Tariq Adrian said the attacker was trying to get into the centre before he was stopped by guards.
He added that most of the victims were aged between 15 and 26.
Hospitals are still being searched for victims of the blast, so the number of casualties could still rise.
Islamic State has claimed responsibility for the attack on social media, but did not provide any evidence to support this.
The Taliban has rejected being connected to the explosion.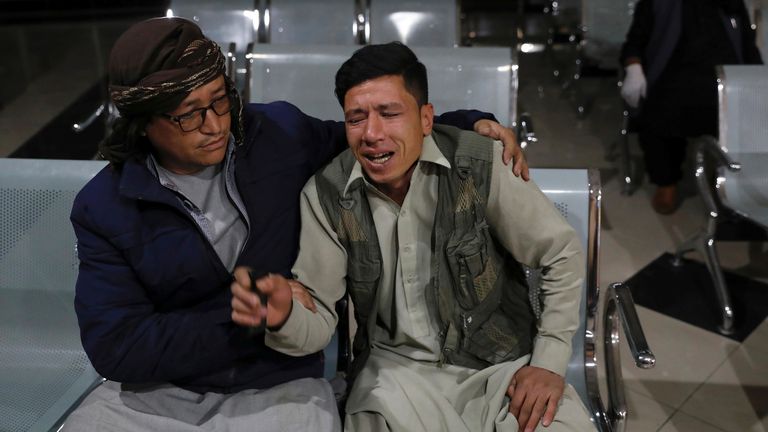 A group associated with Islamic State claimed responsibility for a similar suicide incident in August 2018, which killed 34 students.
In February, the US signed a peace deal with the Taliban as America looks to withdraw troops from the region.
Separately on Saturday, a roadside bomb killed nine people in eastern Afghanistan after a bus full of civilians was struck.
A police spokesman added that a second device was triggered and killed two police officers who were making their way to the scene of the devastated bus.
No-one claimed responsibility for these blasts either, although local police have blamed the Taliban.
Chicago police officer sacked after shooting dead unarmed black teenager | World News
A police officer in the US has been fired after shooting a black couple inside a car – killing a 19-year-old man and injuring his girlfriend.
The Chicago officer shot dead Marcellis Stinnette and wounded Tafara Williams after what authorities described as a traffic stop on Tuesday.
The officer – whose name has not been released – committed "multiple policy and procedure violations", Waukegan police chief Wayne Walles said.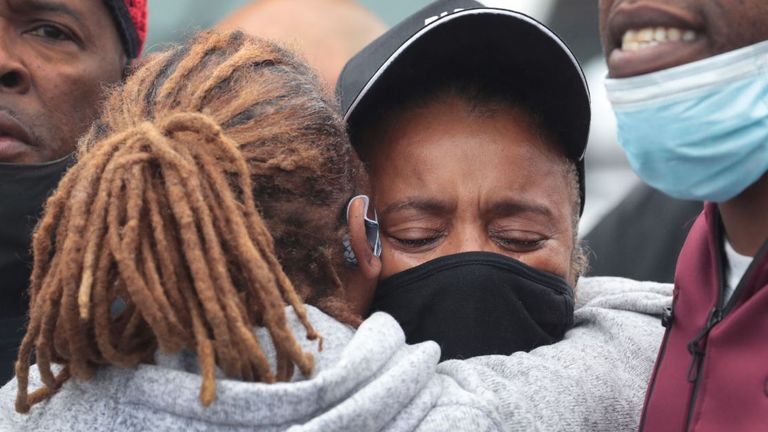 Police said Ms Williams was driving and her partner was a passenger in a car which fled after getting pulled over, before the vehicle was later spotted by another officer.
After the second officer approached, the car moved in reverse and the now-sacked officer opened fire on the couple, who have a child together, according to authorities.
No weapon was found in the vehicle, police said.
The officer who shot the couple is Hispanic and has been with the police department for five years.
Lake County's chief prosecutor said the FBI will work alongside Illinois state police to investigate the incident.
Michael Nerheim, Lake County State's attorney, has asked the US justice department to look into the circumstances around Mr Stinnette's death.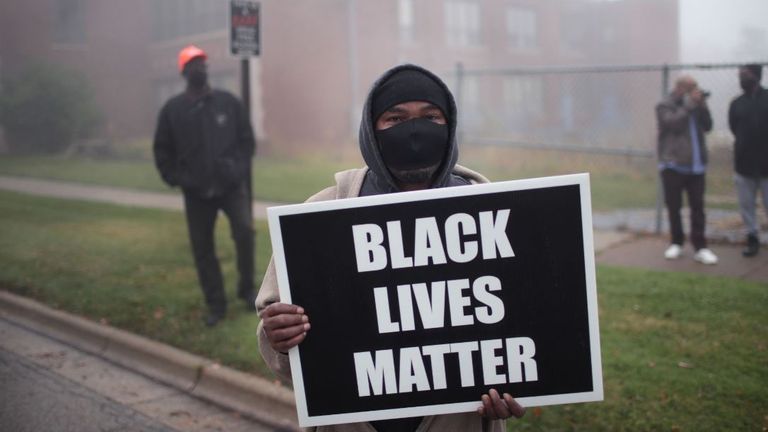 "I am confident in the work being done by the Illinois state police and welcome the assistance of the FBI," Mr Nerheim said in a statement.
"As I have said before, once the investigation is concluded, all the evidence will be reviewed and a final decision will be made with respect to any potential charges."
The couple's family and activists are asking police to release a video of the shooting, which authorities have said is currently with an investigating team.
:: Subscribe to Divided States on Apple podcasts, Google Podcasts, Spotify, and Spreaker
Activist Chris Blanks said video footage is crucial, as the version of events given by the police seems to contradict the version of events told by Ms Williams' mother, Clifftina Johnson.
She says her daughter said they did nothing to provoke the officer that injured her and shot dead her partner.
Mr Nerheim called for calm during the investigation process and has promised transparency.
US election 2020: 'I voted for a guy named Trump' – President casts his ballot in Florida | World News

The president has cast his ballot in the US election, telling reporters: "I voted for a guy named Trump."
After voting in West Palm Beach, Florida, Mr Trump also took the opportunity to attack mail-in ballots – warning that they can never be as secure as voting in person.
Describing his experience at the polling station as "perfect and very strict", he added: "It was a very secure vote – much more secure than when you send in a ballot, I can tell you that."
The president said that that he will be holding "three big rallies" today, and claimed: "I hear we're doing very well in Florida and every place else."
To secure the White House, winning in Florida is essential.
The state has consistently voted for the victor in every election except one since 1964 – and no Republican has won without the state in almost a century.
With 29 electoral college votes up for grabs, it's the largest swing state and crucial for gathering the 270 votes needed.
Most polls show Mr Biden narrowly ahead in Florida. History suggests that, if Mr Trump loses here, he'll likely lose the White House.
The election will take place on Tuesday 3 November – just under two weeks away.