Alfie Evans, British toddler who sparked medical ethics debate, dies
Alfie's case sparked a medical ethics debate that resonated far beyond Britain. Doctors overseeing his care in Liverpool, England, said further treatment was futile and he should be allowed to die. But his parents fought for months to try to convince judges to allow them to take him to Vatican hospital, where life support would be maintained.
Pope Francis, who had publicly supported Evans and James' campaign, wrote a condolence that was posted on Twitter Saturday.
"I am deeply moved by the death of little Alfie," Francis said. "Today I pray especially for his parents, as God the Father receives him in his tender embrace."
The death came after an easing of tensions between the family and the hospital. Evans had pledged to work with doctors to give his son "dignity and comfort," as he called for a truce in the divisive case.
"Our lives have been turned upside down by the intense focus on Alfie and his situation," Evans said Thursday outside Liverpool's Alder Hey Children's Hospital, where Alfie has been treated for more than a year.
He thanked the hospital staff "for their dignity and professionalism during what must be an incredibly difficult time for them too."
It was a strikingly different tone from the one he struck earlier, when he said doctors were wrong about Alfie's prognosis and threatened to resume his fight in court.
Under British law, courts are asked to intervene when parents and doctors disagree on the treatment of a child. In such cases, the rights of the child take primacy over the parents' right to decide what's best for their offspring.
Alder Hey issued a statement to express "heartfelt sympathy and condolences to Alfie's family."
"All of us feel deeply for Alfie, Kate, Tom and his whole family and our thoughts are with them," the statement said. "This has been a devastating journey for them and we would ask that their privacy and the privacy of staff at Alder Hey is respected."
Alfie's case received much attention outside Britain, especially in Catholic countries. Pope Francis, who had met with Evans, appealed for the wishes of the boy's parents to be heeded, saying only God can decide who dies. Italy even granted Alfie citizenship and put a military plane on standby to transport him to Rome if the courts allowed it.
Italian Foreign Minister Angelino Alfano tweeted Saturday: "Goodbye, little Alfie. We loved you."
A leading Italian right-wing politician, Veneto Gov. Luca Zaia, said the "so-called civilized world has supplied the latest proof of enormous incivility."
Officials in largely Catholic Poland and Italy have criticized Britain's courts and state-run National Health Service.
Supporters of the parents staged angry protests regularly outside the hospital, at times trying to storm its entrance. People left floral tributes outside the hospital Saturday, but Alder Hey asked for remembrances to be left in a park next door so the hospital's work wasn't disrupted.
Alfie's mother, 20-year-old Kate James, posted that she was heartbroken over Alfie's death but added, "Thank you everyone for all your support."
US election 2020: 'I voted for a guy named Trump' – President casts his ballot in Florida | World News

The president has cast his ballot in the US election, telling reporters: "I voted for a guy named Trump."
After voting in West Palm Beach, Florida, Mr Trump also took the opportunity to attack mail-in ballots – warning that they can never be as secure as voting in person.
Describing his experience at the polling station as "perfect and very strict", he added: "It was a very secure vote – much more secure than when you send in a ballot, I can tell you that."
The president said that that he will be holding "three big rallies" today, and claimed: "I hear we're doing very well in Florida and every place else."
To secure the White House, winning in Florida is essential.
The state has consistently voted for the victor in every election except one since 1964 – and no Republican has won without the state in almost a century.
With 29 electoral college votes up for grabs, it's the largest swing state and crucial for gathering the 270 votes needed.
Most polls show Mr Biden narrowly ahead in Florida. History suggests that, if Mr Trump loses here, he'll likely lose the White House.
The election will take place on Tuesday 3 November – just under two weeks away.
Coronavirus: Police find suspected illegal pub – complete with bar, 70in TV, toilet, pool table and smoking area | World News
Police in Ireland have searched a suspected illicit pub, or "shebeen", on suspicion of breaching coronavirus measures.
The property near Athy in County Kildare was targeted by Gardai officers on Friday evening.
The force had launched an investigation after they became aware of the premises, and the fact people were congregating in a breach of social distancing rules, through social media.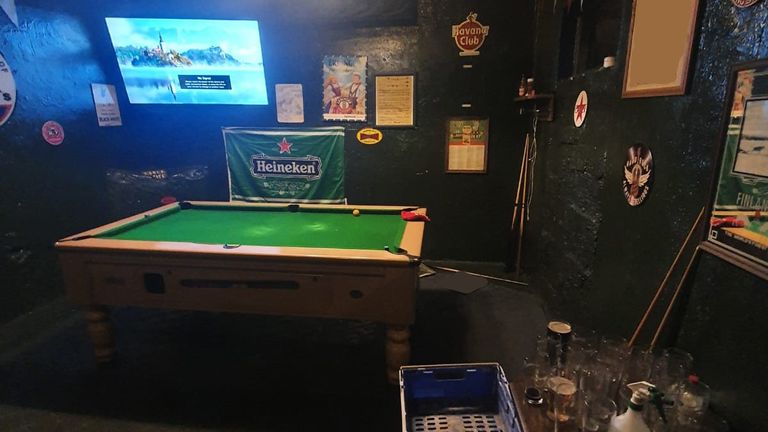 Gardai searched the suspected shebeen at about 8pm and found a fully operational bar in a repurposed state.
Shebeen is an Irish term which refers to an illicit bar or club where alcoholic drinks are sold without a licence.
The premises was fitted with a bar, stools, tables, chairs, a 70in flat-screen television, and a full-size pool table.
There were several beer taps on the bar, along with an under bar cooler and kegs.
There was also a smoking area, store room and toilet on the premises.
Officers seized five kegs of beer, a significant amount of spirits and bottled beers, and various bar equipment including the taps, gas and coolers.
A full investigation is now under way and files will be prepared for the Director of Public Prosecutions (DPP).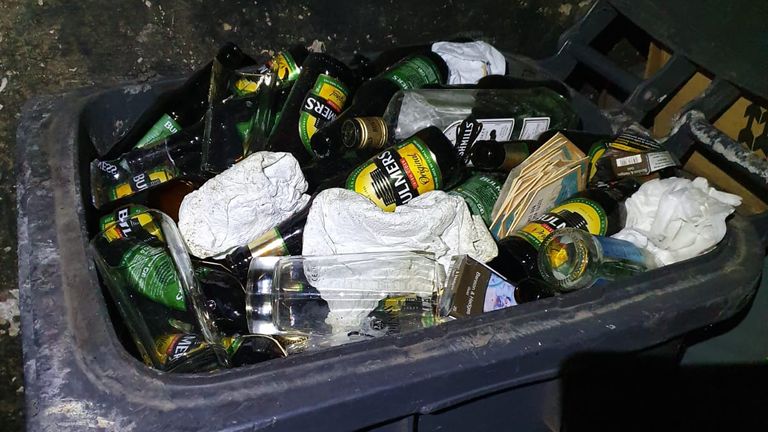 The investigation in Ireland comes as a man in Manchester has been given a £10,000 fixed penalty notice after officers closed down a party with over 50 people in attendance.
Officers were called to a report of a party at a flat on Simpson Street in Angel Meadows shortly after 11.20pm on Friday night.
DJ mixing decks, industrial speakers and a buffet was found by officers on arrival.
A total of 52 fines have been handed out since Greater Manchester went into Tier 3 restrictions.
Assistant Chief Constable Mabs Hussain, of Greater Manchester Police, said: "This party was a blatant disregard of the rules and for public health. It is totally unacceptable in the current crisis the whole world is facing and is not what we want our officers to be spending their time doing.
"We had no alternative but to issue the maximum penalty for breaching the legislation on large gatherings and I hope this serves as a reminder to those considering to flout the rules – we will take action."
It comes after a wedding attended by around 250 guests was shut down by police last week.
Officers were first called to the venue on Old Kent Road at 20:20hrs on Sunday 18 October, after concerned residents suspected the address was being burgled.
It appeared that those attending the ceremony had closed the shutters at the front of the venue, in an attempt to mask the celebration.
Police dispersed crowds at the scene.
Two people at the event were advised that they had been reported for consideration of a fixed penalty notice.
Detective Superintendent Nicky Arrowsmith, said: "This event was a blatant breach of the regulations and could have been a breeding ground for transmitting the virus.
"There were over 200 people inside, no social distancing and indeed no attempts to make the venue COVID secure, in line with the government guidelines."
Terminator star Schwarzenegger feels 'fantastic' after latest heart surgery | Ents & Arts News

Terminator star Arnold Schwarzenegger has told fans he feels "fantastic" after undergoing heart surgery.
The 73-year-old former governor of California said he had been given a new aortic valve.
In 2018 he was given a new pulmonary valve to replace one he received in 1997 due to a congenital heart defect.
In a social media post, he thanked doctors from the Cleveland Clinic in Ohio and told the city's residents he had been out and about enjoying the sights since his operation.
Thanks to the team at the Cleveland Clinic, I have a new aortic valve to go along with my new pulmonary valve from my last surgery. I feel fantastic and have already been walking the streets of Cleveland enjoying your amazing statues. Thank you to every doc and nurse on my team! pic.twitter.com/hmIbsEMHtA

— Arnold (@Schwarzenegger) October 23, 2020
Photos showed him giving a thumbs-up from his hospital bed and exploring Cleveland.
Schwarzenegger talked in May about the surgery.
In the online graduation video, he admitted he could have died, adding: "The reason why I'm telling you all this is because no matter how successful you are, life will throw obstacles in your path, like it was with my heart surgery or your graduation now.
"But if you have a very clear vision like I talked about earlier, of exactly what you want to do and who you want to be, you can go and find a way around all of these obstacles.
"That's what life is all about, overcoming obstacles."