Familial DNA puts elusive killers behind bars. But only 12 states use it.
In the Scottsdale case, the investigation was much more precisely targeted. State crime lab technicians reported that they had only one familial DNA "hit," and it pointed to Mark Mitcham, 54, who had been convicted in the early 1990s of child molestation and sentenced to 40 years in prison.
Scottsdale detectives were told Mitcham was almost certainly a close relative of the person who had been inside Feldman's home.
Armed with that information, Scottsdale detectives quickly turned to Mitcham's closest relatives. His father was dead, and two brothers did not have criminal records.
But his youngest brother, Ian, had a handful of misdemeanor arrests, including a DUI in 2015. Blood had been drawn in that case, so Scottsdale police used it to obtain a DNA sample. They compared it to the DNA from Feldman's home, and the two samples matched perfectly.
I hope it provides some relief to other families, like it has done to us.
I hope it provides some relief to other families, like it has done to us.
Detectives said they could find no evidence of a prior relationship between Mitcham and Feldman. But with the DNA confirmation in hand, they went to the Phoenix delicatessen where Mitcham, 42, worked and arrested him for murder.
He told investigators he didn't know Feldman and had never been inside her home, according to court records cited by the Azcentral.com. He entered a "not guilty" plea Thursday and is being held at the Maricopa County jail.
"As time went by, it had been harder and harder to keep our hopes up," said Kelly Weinblatt, Feldman's sister, who lives in Minnesota, where they were raised. "People ask me now, 'Aren't you so happy?' I don't think 'happy' is the right word. We are glad a match happened and that there is going to be justice."
Harley and Elayne Feldman, Allison's parents, make the trek from Minnesota to Scottsdale a few times a year, staying in the house where their daughter died. They visited again this week, planting a bougainvillea in bloom. Allison loved flowers.
They don't venture into her room and don't keep pictures of her on display. Elayne breaks down any time she sees a photo. Making the pilgrimages might surprise some people, but the Feldmans say it feels right to them. It's a way to stay close to their daughter, Elayne explains.
'We might solve twice as many cases'
At the news conference following the arrest, Scottsdale police thanked the public and the Feldman family for their cooperation, and the Arizona state crime lab, attorney general and governor for clearing the way for familial DNA searching.
Unmentioned was another figure who had been central to advancing the testing in Arizona and many other states: Rockne Harmon, known as Rock, is a former senior deputy district attorney in Alameda County, California, and a longtime proselytizer for DNA evidence.
Harmon presented the DNA evidence in O.J. Simpson's 1995 murder trial. Since his retirement in 2007, he has been buttonholing police, prosecutors, the press and state officials about the potential power of familial matching.
If he visits a city and reads about a long-unsolved murder or series of rapes, Harmon emails local reporters to ask if they know about familial testing. He might call the police department to see if they have considered it. The focus of his efforts in Arizona quickly centered on the Feldman case, with its supply of DNA that had not produced a match.
"He really gave us the hope and confidence we could work through this thing," said Lockerby, the lead detective in the Feldman case.
Arizona joined 11 other states — California, Colorado, Florida, Minnesota, New York, Ohio, Texas, Utah, Virginia, Wisconsin, and Wyoming — that have solved cold cases using familial DNA matching. Illinois and Louisiana are currently pondering whether to use the technique. In many of the states, Harmon pushed for familial search, or for its expanded use. "He has been one of the pioneers in this field," said Frederick Bieber, a Harvard professor of pathology and an expert in DNA analysis.
Harmon said he approached the issue as a veteran prosecutor who saw a tactic that worked and couldn't understand why it wasn't spreading more rapidly, given how many families are waiting for answers. If familial testing were in wider use, he said, "we might solve twice as many cases as we do now."
With this technology, we can bring years of frustration to an end.
With this technology, we can bring years of frustration to an end.
States have typically used existing laws to approve familial search, with state police, officials and prosecutors drawing up guidelines that assure it will be used infrequently, usually only in violent crimes and when all other investigative approaches have failed.
A national norm has been elusive, in part because the FBI has not taken a strong stance, advocates say. The agency's website says only that the FBI is "currently evaluating the possibility of adding a familial search module" to the national computer system, CODIS, that allows local, state and federal labs to exchange and compare DNA profiles. An FBI spokesman declined to discuss the timing of a decision on familial search.
The technique made its biggest splash in 2010, when Los Angeles police announced they had arrested Lonnie David Franklin Jr., 57, in a series of murders in south L.A. that dated to the 1980s. The LAPD had collected saliva at numerous crime scenes, but were unable to match the DNA in any crime database — until they expanded the search to anyone who might be related to the suspect.
A hit came back for Christopher Franklin, Lonny's son, whose DNA was on file because of a felony weapons charge. Detectives surreptitiously obtained DNA from Lonnie Franklin by picking up pizza crusts and utensils that he had used at a restaurant.
That DNA matched perfectly with the crime-scene DNA and — after years of delays and a long trial — a jury convicted the elder Franklin in 2016 of killing nine women and a teenage girl. The so-called Grim Sleeper case was viewed as a watershed in the use of familial DNA testing.
Harmon and another retired prosecutor, Mitch Morrissey, who had been Denver's district attorney, have been pressing for expanding use of the procedure in sex assault cases. They believe evidence waiting in thousands of "rape kits" might provide innumerable leads.
"It's like we have built this Porsche technology, but we use it so sparingly, it's like we are driving a VW beatle," said Morrissey, who left office in 2017 and is now chief financial officer of United Data Connect, a company that sells software that performs the familial DNA screening.
The privacy debate
But the use of familial DNA is not without its opponents. Some civil liberties advocates are uneasy at the prospect of expanding DNA database searches. Maryland and the District of Columbia banned the practice of familial searching, pointing to concerns that such "genetic surveillance" would largely target people of color, who are disproportionately represented in DNA databases.
The opportunity for people being falsely investigated and harassed by the police is very large.
The opportunity for people being falsely investigated and harassed by the police is very large.
Opponents cite the 2015 case of New Orleans filmmaker Michael Usry Jr. as a cautionary tale. Examining DNA in the unsolved murder of a teenager in Idaho Falls, Idaho, investigators got a near match with Usry's father, Michael Usry Sr., then obtained a court's permission to take a DNA sample from the younger Usry. He said he went through a month of deep anxiety before the test results came back, clearing him of involvement in the rape and murder of 18-year-old Kelly Dodge.
Idaho Falls police said they later conducted more detailed DNA analysis, which effectively cleared not only Usry, but his family.
Proponents of expanded searches of government databases for familial data say privately they are concerned that the even broader search employed in the Golden State Killer case could stir up more opposition to DNA searches. Said one lobbyist who has been working for expanded familial DNA investigations, "Privacy groups are going to freak out."
Another state in the forefront of the debate is New York, which cleared the way for familial DNA testing in 2017, largely at the urging of a family whose daughter was murdered the year before while she was out running in the New York City neighborhood of Howard Beach, Queens. Legal Aid Society attorneys filed a lawsuit in February, saying that such an important decision should have been left to state legislators, rather than approved by the state Division of Criminal Justice Services.
"The opportunity for people being falsely investigated and harassed by the police is very large," said Julie Fry, one of the attorneys challenging the policy in New York.
Police managed to arrest a suspect in the Howard Beach jogger case without DNA evidence. But the father of Karina Vetrano, the 30-year-old who was beaten and strangled to death, said he will remain a crusader for familial testing, convinced it will help some other family know who harmed a loved one.
"There is no gain for me in it, other than seeing other families get justice," Vetrano said in an interview.
The unwelcome veil of tragedy has thrown Vetrano together with other families. He has talked to Harley Feldman, Allison's father, a few times.
"It's mostly about how much me miss our daughters," said Feldman, 70, co-founder of a Minneapolis technology firm. But there is also talk about familial DNA.
Feldman understands the privacy concerns, but said DNA should be considered just another piece of evidence, one that police must buttress with other information. He plans to meet with officials in states that aren't fully using the DNA technology, to try to convince them.
Why?
"It's for Allison," Feldman said. "I hope it provides some relief to other families, like it has done to us."
Peter Madsen: Police surround Danish inventor who killed journalist after prison escape attempt | World News
A convicted murderer, who killed a journalist on board his submarine, has been surrounded by police and arrested after trying to escape from prison.
Peter Madsen, 49, tried to flee Herstedvester Prison, where he is serving a life sentence for the murder of Kim Wall in 2017.
Danish police have said a man has been arrested after an attempted escape and the area has been cordoned off.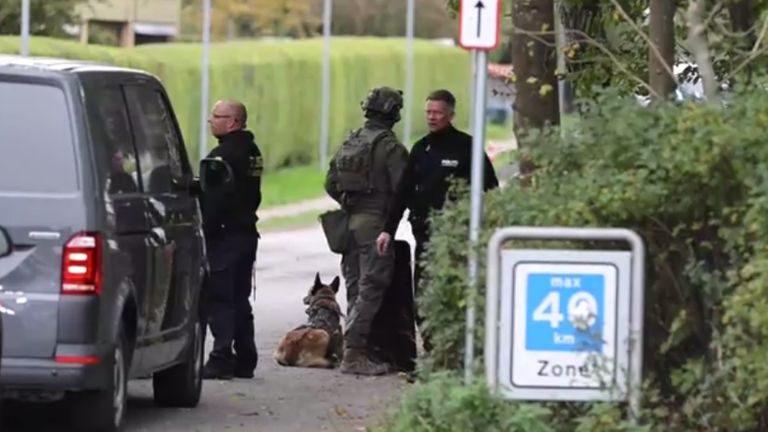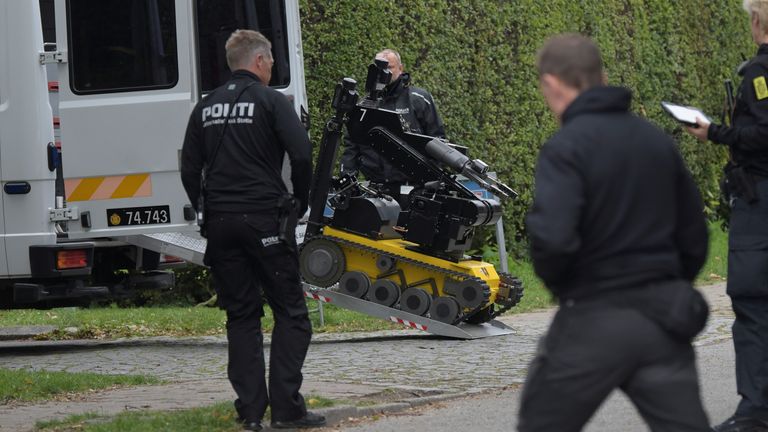 Local media reported the situation continued for at least an hour but the convict has now been driven away by officers.
Photos from the scene in Albertslund, Copenhagen, show Madsen sitting against a fence surrounded by armed police.
Two officers lie on their stomachs on the ground in front of him and it looks like he is wearing a belt-like object around his stomach.
Madsen had threatened prison guards with a "pistol-like object" and also claimed to have a bomb, according to Danish newspaper Ekstra Bladet.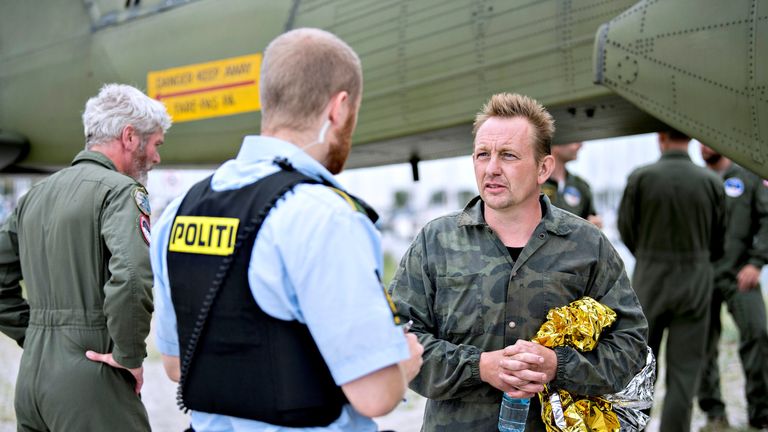 A witness, Frank Jensen, told the newspaper that police suddenly surrounded a white van, opened the door and pulled Madsen out of it.
Later pictures from the scene, which is a few hundred metres from the prison, show vehicles attempting to block the situation from view.
Madsen, who was a minor celebrity in Denmark, was convicted of Ms Wall's murder in 2018.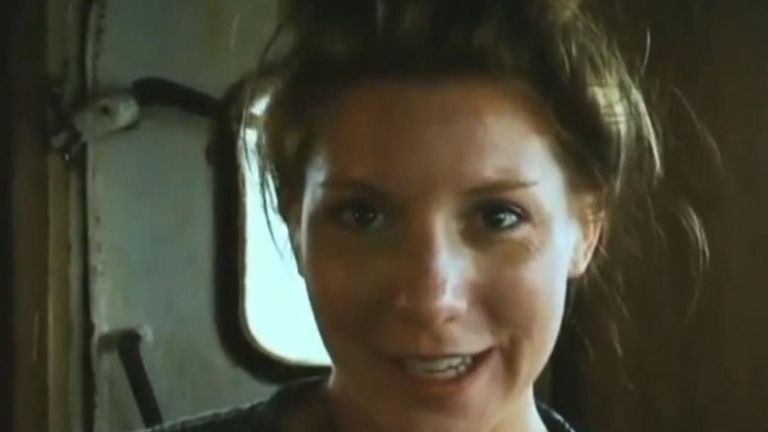 The 30-year-old Swedish journalist had been writing an article about his inventions and was travelling on his submarine when she was killed.
The inventor initially claimed he had dropped her off on shore and did not know what happened to her, but later insisted she had died accidentally after her remains were found.
Madsen admitted dismembering her body and dumping her in the Baltic Sea.
After a 12-day trial that received worldwide attention, he was convicted of the "especially brutal" murder that prosecutors said was sexually motivated.
Coronavirus: Student returning to the UK has unproven £50 COVID vaccine | World News
When Evelyn Wu heard she could get a COVID-19 vaccine, she jumped at the chance – even though it hasn't been scientifically proven. 
"I felt excited actually," she told Sky News. "It's just like a normal vaccine."
The 20-year-old is an economics student at the University of Birmingham and wants to return there in January.
So, as soon as she heard a coronavirus vaccine was available, she went to the hospital in Yongkang, eastern China, last Monday to register. Two days later, she had her appointment.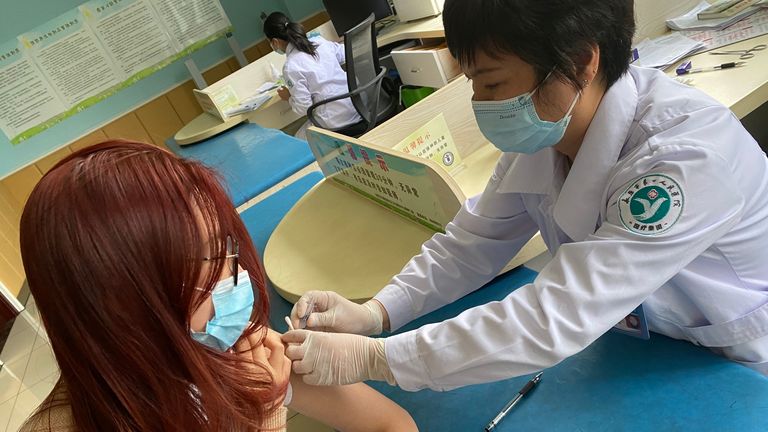 "I needed to sign some contract. It has the details about COVID-19. And it told me that it's very safe, even though it's only stage 3."
Ms Wu signed the form acknowledging that she might experience some mild symptoms and promptly received the first of two doses of the vaccine. In total she will pay 456 RMB – about £52.
The vaccine is made by Sinovac, a Beijing-based biotech company. The company is still carrying out late stage trials in Brazil, Turkey and Indonesia, and has said it could publish preliminary phase 3 trial data in November.
That means it hasn't met the typical safety and efficacy standard for vaccine development – but China has still cleared it for emergency use, saying it had support from the WHO.
"Yes, I'm a little worried about [it being] experimental stage 3," Ms Wu told Sky News.
"And I think I was the one who was the test subject, the one who was treated like a little mouse."
Ms Wu said she felt no side effects, apart from a little sleepiness. The hospital will not monitor her directly but she has been told to visit immediately if she develops any symptoms.
And for Ms Wu, government approval is more important than scientific.
"I trust China and I think it's totally safe to get vaccinated. I trust the government."
Others have been less trusting, according to Ms Wu. She says that, last month, the government asked doctors and teachers whether they would like to take the vaccine too.
"But some doctors and some teachers refused to make the vaccination. They think it's dangerous because they think they are being tested, " she told Sky News.
"They don't want to be the volunteer to get the experimental vaccine."
Starting in July, thousands of employees from Chinese state-owned enterprises have already received the vaccine ahead of foreign travel.
But this new campaign is extending that offer to the general public, in a handful of cities and towns, with some restrictions. Volunteers must be aged 18-59 and be a local resident.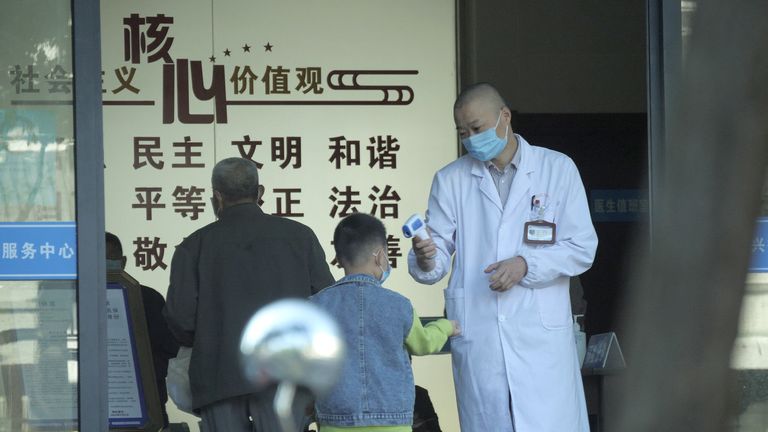 Health authorities in Zhejiang province, in east China, have published notices advertising the vaccine. Priority is given to medical workers, people working at border and quarantine centres, public sector workers travelling to mid to high risk COVID-19 areas, and then those who want to take the vaccine. Ms Wu had to show her university identity documents as proof of her intention to travel.
It is not quite a full roll-out yet. One health clinic in Jiaxing, a city in the same province which has advertised the vaccine, told Sky News it was waiting for doses to arrive but that people could sign up in the meantime.
But taking an experimental vaccine brings risk. Phase 3 trials of competing UK and US vaccines, by AstraZeneca and Johnson & Johnson, were temporarily halted after participants fell seriously ill. No such incidents have been publicly recorded by Chinese companies.
And Ms Wu isn't put off by those interruptions to testing. "I don't think we'll have the same problem," she said. "Because they're totally different experiments I think. China uses different ways to treat the pandemic."
She will have her second dose of the vaccine in November – the hospital recommended a gap of 14-28 days between doses. On her return to the UK, she says she will still wear a face mask, observe social distancing and wash her hands thoroughly.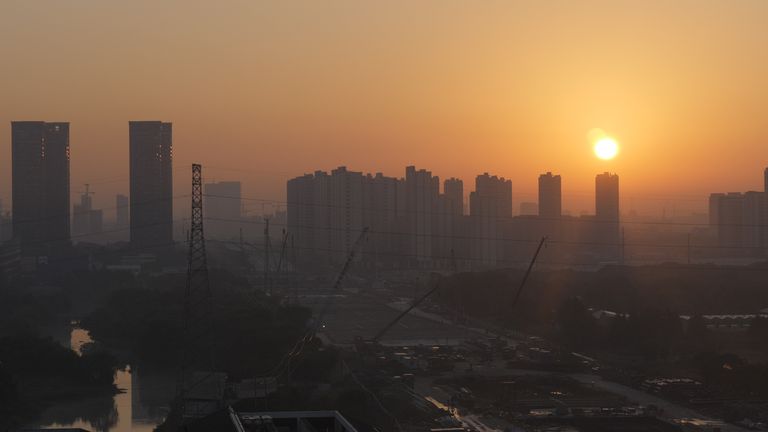 But the vaccination has brought her mother, who insisted she escape the UK back in March, some peace of mind.
"She is happy for me to have the vaccination," she told Sky News. "Because she thinks I am brave. I make an example for others.
"Because there is an old saying, the first one to eat the crabs is the most brave, right?"
A million tonnes of 'lethal' ghost gear left in the seas each year, WWF report claims | World News

Up to a million tonnes of fishing gear is left in the ocean each year, creating "deadly" marine debris for wildlife, WWF has warned.
A report by the conservation organisation said "ghost gear" of lost, abandoned or broken nets, lines and ropes makes up at least 10% of marine litter with fishers unable to locate or retrieve it or discarding it to conceal illegal fishing activities.
It claimed marine debris affects two-thirds of marine mammals, such as porpoises, half of seabirds and all species of sea turtles.
Across all species, ghost gear is the most likely to prove lethal – with many creatures dying slow, painful deaths tangled up in old nets or lines, the conservation group warned.
And when it is made of plastic, it takes decades to break down, with its harmful effects lasting long after it has been lost from the fishing vessel.
The WWF is calling for more governments to join leaders from 40 countries who are supporting a new UN treaty on marine plastic pollution, and for it to include effective measures to control ghost gear.
Sarah Young, head of marine policy at WWF, said: "Our ocean is the unsung hero in the fight against the climate crisis. The planet would today already be 35C hotter without the ocean to protect us.
"But the ocean cannot protect us if we do not protect it in turn, and currently nature is in freefall.
"By polluting our waters with plastic such as ghost gear, we are destroying wildlife and vital marine habitats that could help us tackle climate change.
"To truly protect both marine life and human life we must put ocean recovery into action, and ensure fishing practices are climate- and nature-positive."
A Defra spokesperson said: "Lost, abandoned or discarded fishing gear can cause tremendous damage to some of our most precious and fragile marine life.
"As an active member of the Global Ghost Gear Initiative, we encourage other nations to join and are working internationally to address the problem of ghost gear."