Arizona, Colorado teachers rally; schools close for second day
Also on Friday, a separate group of education advocates say they'll announce a ballot measure for education funding.
The walkout was called after Republican Gov. Doug Ducey proposed a plan to raise salaries by 20 percent by 2020. He said Friday afternoon that he had reached a deal with Republican leaders of the state Legislature that includes the 20 percent raise, but the plan doesn't address other demands of striking educators.
Ducey spokesman Daniel Scarpinato says the budget will fund the raise and an extra $100 million for school districts the governor proposed in January as a start to restoring cuts from the Great Recession.
Some educators seemed less than impressed.
Joe Thomas, president of the Arizona Education Association and Noah Karvelis, a music teacher and Arizona Educators United organizer, said in a joint statement that "We have a press release and a tweet from the governor. We have no bill. We have no deal. The devil is in the details."
Plans for Monday are in flux as educators decide their next step. Organizers have a permit to be at the Capitol if the walkout continues.
In much cooler Colorado, several thousand educators rallied around the Capitol, with many using personal time to attend two days of protests expected to draw as many as 10,000 demonstrators each day.
Lawmakers in Colorado have agreed to give schools their largest budget increase since the Great Recession. But teachers say Colorado has a long way to go to recover lost ground because of strict tax and spending limits.
Colorado Gov. John Hickenlooper says he will help push for the state to pay back about $1 billion borrowed from education during the recession.
The governor spoke Friday to several thousand teachers gathered at a park near the Capitol. He spoke for less than five minutes and didn't offer any more funding than has already been proposed for next year.
Some teachers shouted over him, "We want more," while others applauded him.
In Arizona, teachers voted to walk out after Ducey unveiled his plan, saying that it failed to meet their other demands, including about $1 billion to return school funding to pre-Great Recession levels and increased pay for support staff.
More than 840,000 Arizona students were out of school as a result of Thursday's walkouts, according to figures from The Arizona Republic.
Coronavirus: Ireland may return to full national lockdown for six weeks in 'surprise move' | World News
Ireland's government is considering going back into a full national lockdown for six weeks, Sky News understands.
The lockdown, which would put the country on its highest coronavirus alert level – 5 – has been recommended by health experts to halt the surge in COVID-19 cases.
It is thought that schools and creches will be allowed to stay open, and elite level sports can continue, but that non-essential retail, hairdressers and salons will close.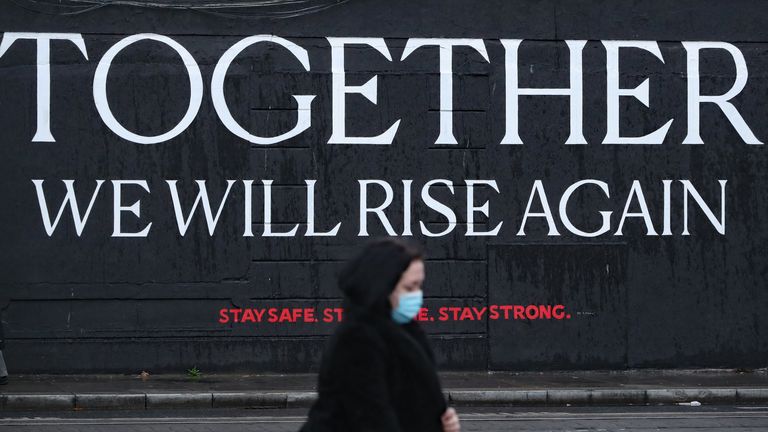 Funerals will reportedly be limited to 10 people, and only six people will be able to attend weddings.
Under the proposals, it is thought that people could be asked to restrict their movements to within five kilometres of their home.
In Ireland, counties Donegal, Cavan and Monaghan are currently all at Level 4, while the rest of the country is at Level 3.
Political leaders had briefings on Saturday in Dublin from health officials, over concerns that the virus was spreading, while the Cabinet's sub-committee met on Monday morning to discuss the plan.
A formal announcement is expected later on Monday evening.
Monday's data shows that there are 298 people with COVID-19 in hospital, 31 of which are in intensive care.
The country reported no coronavirus-related deaths on Monday, and 1,031 cases.
:: Subscribe to the Daily podcast on Apple Podcasts, Google Podcasts, Spotify, Spreaker
Sinn Fein leader Mary Lou McDonald has called for social support to be put in place, as well as cuts to the Pandemic Unemployment Payment (PUP) to be fully restored.
Ms McDonald added that restriction changes must "balanced" and clearly communicated, during an interview with RTE.
Analysis: 'The government is reluctant to impose new measures'
By Stephen Murphy, Ireland correspondent
All day the signs had been that a compromise Level 4 or 'Level Four Plus' response had been on the cards from a government that is privately quite reluctant to impose a draconian lockdown.
However, we now understand that the original proposal from the National Public Health Emergency Team (NPHET) is the one being considered at this afternoon's cabinet meeting.
The news will be met with dismay from retailers and the hospitality sector, which will grind to a halt again if the plan is approved.
The restrictions would be similar to the initial lockdown in March, although it's thought that schools will be kept open and the construction industry protected under the proposals.
It's important to stress that no final decision has yet been made – an anxious nation won't get the official details until Prime Minister Micheal Martin gives a public address sometime around 9pm.
Instagram investigated over potential leak of children's data | Science & Tech News

Instagram is being investigated for a potential leak of children's personal information by the Irish privacy watchdog, which is the EU's lead authority on Facebook.
The Data Protection Commissioner (DPC) is investigating whether Instagram's parent company Facebook has been illegally processing children's data.
"The DPC has been actively monitoring complaints received from individuals in this area and has identified potential concerns in relation to the processing of children's personal data on Instagram which require further examination," it said in a statement.
If the social media company is found to have violated European privacy regulations then it could face a fine of up to 4% of its global turnover, although a fine of that scale has never been issued.
The complaints stem from Instagram requiring business accounts to provide public contact information – and potentially allowing some children on its platform to change their accounts into business ones.
Back in 2019, data scientist David Stier found that millions of personal accounts on Instagram which had been switched to business accounts were leaking phone numbers.
Mr Stier reported to Facebook his discovery that accounts apparently belonging to minors were leaking the children's phone numbers and their email addresses.
"Speaking as a parent, I want to be assured that the experience Instagram offers to teens is as 'adult-overseen' as possible," he added.
The Irish DPC said its investigation "will also consider whether Facebook meets its obligations as a data controller with regard to transparency requirements in its provision of Instagram to children".
The complaint also follows Facebook admitting that the coronavirus pandemic meant images of child nudity and sexual exploitation have been spreading on its platforms.
The tech giant said moderation levels dropped when content moderators were sent to work from home in March during the height of the COVID-19 outbreak.
Migrant found on Calais beach 'almost certainly' died trying to reach UK | World News
A man found dead on a beach near Calais was "almost certainly" a migrant who drowned trying to reach the UK by crossing the English Channel in a small boat, French officials have said.
The man, whose body was found on a beach near Sangatte, outside Calais, at around 8am on Sunday, was wearing a life jacket, a local prosecutor said.
An initial examination of the body found no evidence of third party involvement, nor did it appear he had been in the water long, Pascal Marconville, prosecutor of the nearby town of Boulogne-sur-Mer, told local media.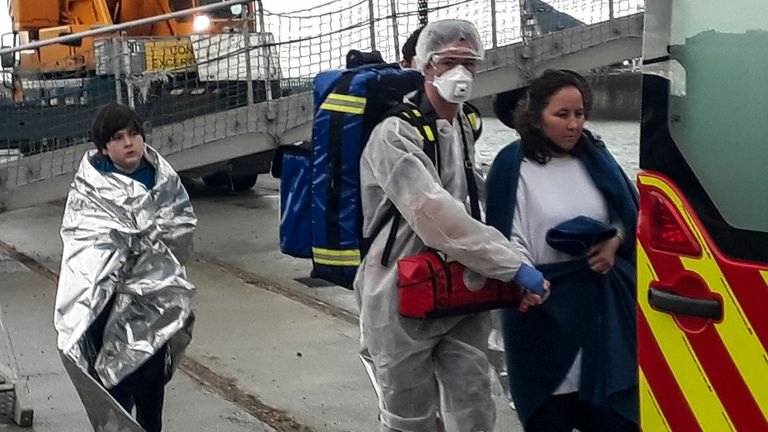 It was likely the victim had drowned trying to make the crossing at the weekend and that his body had washed up on the shore just a few hours later, Mr Marconville said.
Officers investigating the incident would work with the migrant communities based in Calais and Dunkirk to try to find out who he was and how he died, the prosecutor added.
Local news site La Voix du Nord reported that several other vessels, including one containing 17 people, had been intercepted on Sunday morning and made to return to Calais.
The group included a mother and three children suffering from hypothermia, La Voix du Nord said, adding that another 30 migrants were brought back to Boulogne on Sunday on a "hectic" day for rescuers.
According to Home Office figures, 170 migrants crossed the Channel in just 12 small boats on Saturday, while a further 222 were prevented from crossing by the French authorities.
The Home Office's clandestine Channel threat commander, Dan O'Mahoney, said that the French had stopped 188 people making the crossing on Sunday.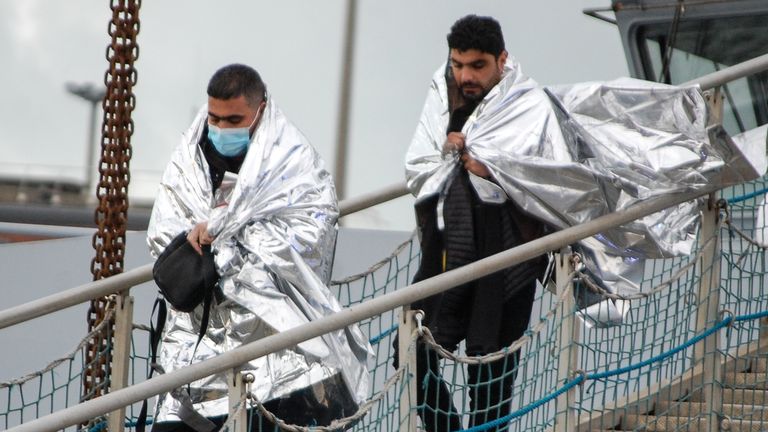 The Home Office has yet to comment on the death in France or the number of people who managed to cross successfully despite the journey being extremely dangerous.
The co-founder of refugee charity Care4Calais, Clare Moseley, said: "Refugees take this risk because they are frightened, fleeing appalling horrors in some of the most dangerous places on earth.
"They do it because of the grim and unsanitary conditions in Calais, where they are constantly harassed and abused by the authorities."
September: Migrants arrive on Dover beach

On Saturday, UK authorities warned that favourable conditions in the Channel were likely to encourage migrants to try before winter weather makes it impossible.
Record numbers of migrants have crossed the English Channel in small boats in 2020, with a new single-day record, 416, reaching the UK in early September.
More than 6,100 migrants have arrived in the UK on small boats so far this year.