Ahead of White House Correspondents' Dinner, two former press secretaries talk shop
Earlier this month, Reporters Without Borders ranked the U.S. 45th out of 180 countries in the world for press freedom. It was 43rd in 2017. (This year Norway was first and North Korea last.)
"A media-bashing enthusiast, Trump has referred to reporters as 'enemies of the people,' a term once used by Joseph Stalin," the report read.
Trump's press secretary Sarah Huckabee Sanders was described by Politico as "the face of the most duplicitous press operation in White House history." And the president's first press secretary, Sean Spicer, debuted in the briefing room by slamming reporters over the crowd size at Trump's inauguration — drawing derision for inaccurately saying it was "the largest audience to ever witness an inauguration, period."
Meanwhile, Josh Earnest, who was press secretary to President Barack Obama from 2014 to 2017 and is a contributor to MSNBC, took Trump's press operations to task on the topic of telling the truth.
"Look, at the risk of being blunt here, protecting the president's ego in the current administration is no small thing and that's why they're willing to tell lies that degrade their credibility," he said. "Protecting the president's ego, in some ways, supersedes the credibility of the people who are speaking for him, and that has eroded their ability to effectively make arguments to the press corps and to the American people. So they've paid the price for it."
Earnest added that transcripts of his press briefings were annotated with corrections if he got things wrong from the podium.
McCurry faced some challenging moments during his tenure, too — including responding to questions from the podium about Clinton's relationship with White House intern Monica Lewinsky. Fielding difficult, at times awkward, questions appears to be a necessary part of the job since the White House and press can naturally be adversaries.
But is it the role of a press secretary to speak on behalf of the president when reporters probe into personal matters, such as the allegations around Lewinsky or Stormy Daniels, the adult film star who alleges she had sex with Trump?
When it came to personal matters involving the president, McCurry said, he was often forced to rely on lawyers. Still, he said it was not his role to be a personal cheerleader: "Remember the person who speaks on behalf of the president is there because they're paid by the American people."
McCurry added, "The role of the press secretary is not to get out there and try to be the defense attorney."
Earnest said the idea of telling "white lies" for the president, as former communications director Hope Hicks admitted doing for Trump, simply erodes credibility for any press secretary.
He also reflected on how future presidents will return relations to some form of normality. "There is now an unfortunate tolerance for saying things that everybody knows isn't true. It's important for people to remember: that is new," Earnest said. He added that the next person to become press secretary after Trump's time in office will need to reassert a "100% commitment to the facts."
"You can not lead people away from the truth," said McCurry, who later added: "You can wink and nod and do a little shuck and jive on the way, but I don't think you can actually say something that's not true."
After all, the stakes are high.
"It's fundamentally corrosive to our democracy when the president in the White House doesn't respect the role of the independent press," McCurry added. "If you don't respect the role that the free press plays and call them enemies of the people, then you are doing something that is fundamentally destructive in our democracy. And I think that is a very, very troubling thing that's happening."
Chicago police officer sacked after shooting dead unarmed black teenager | World News
A police officer in the US has been fired after shooting a black couple inside a car – killing a 19-year-old man and injuring his girlfriend.
The Chicago officer shot dead Marcellis Stinnette and wounded Tafara Williams after what authorities described as a traffic stop on Tuesday.
The officer – whose name has not been released – committed "multiple policy and procedure violations", Waukegan police chief Wayne Walles said.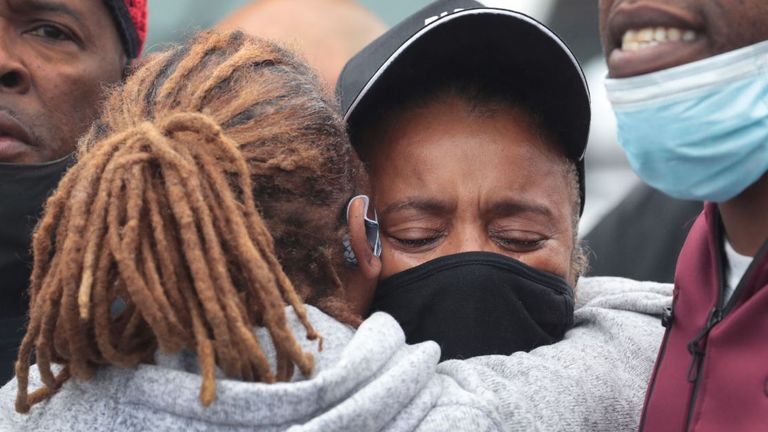 Police said Ms Williams was driving and her partner was a passenger in a car which fled after getting pulled over, before the vehicle was later spotted by another officer.
After the second officer approached, the car moved in reverse and the now-sacked officer opened fire on the couple, who have a child together, according to authorities.
No weapon was found in the vehicle, police said.
The officer who shot the couple is Hispanic and has been with the police department for five years.
Lake County's chief prosecutor said the FBI will work alongside Illinois state police to investigate the incident.
Michael Nerheim, Lake County State's attorney, has asked the US justice department to look into the circumstances around Mr Stinnette's death.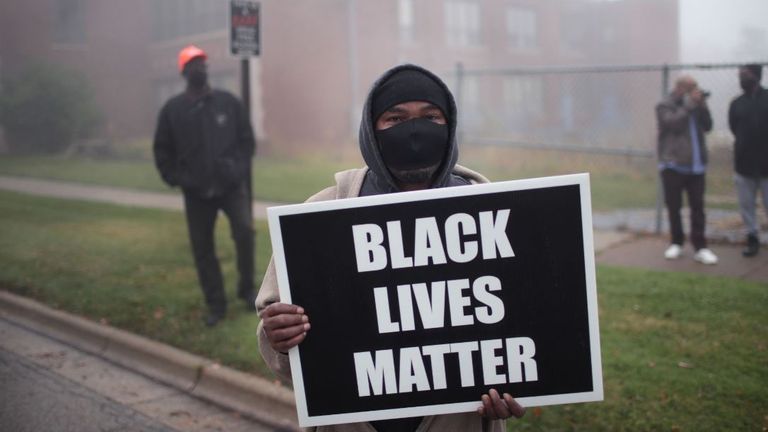 "I am confident in the work being done by the Illinois state police and welcome the assistance of the FBI," Mr Nerheim said in a statement.
"As I have said before, once the investigation is concluded, all the evidence will be reviewed and a final decision will be made with respect to any potential charges."
The couple's family and activists are asking police to release a video of the shooting, which authorities have said is currently with an investigating team.
:: Subscribe to Divided States on Apple podcasts, Google Podcasts, Spotify, and Spreaker
Activist Chris Blanks said video footage is crucial, as the version of events given by the police seems to contradict the version of events told by Ms Williams' mother, Clifftina Johnson.
She says her daughter said they did nothing to provoke the officer that injured her and shot dead her partner.
Mr Nerheim called for calm during the investigation process and has promised transparency.
US election 2020: 'I voted for a guy named Trump' – President casts his ballot in Florida | World News

The president has cast his ballot in the US election, telling reporters: "I voted for a guy named Trump."
After voting in West Palm Beach, Florida, Mr Trump also took the opportunity to attack mail-in ballots – warning that they can never be as secure as voting in person.
Describing his experience at the polling station as "perfect and very strict", he added: "It was a very secure vote – much more secure than when you send in a ballot, I can tell you that."
The president said that that he will be holding "three big rallies" today, and claimed: "I hear we're doing very well in Florida and every place else."
To secure the White House, winning in Florida is essential.
The state has consistently voted for the victor in every election except one since 1964 – and no Republican has won without the state in almost a century.
With 29 electoral college votes up for grabs, it's the largest swing state and crucial for gathering the 270 votes needed.
Most polls show Mr Biden narrowly ahead in Florida. History suggests that, if Mr Trump loses here, he'll likely lose the White House.
The election will take place on Tuesday 3 November – just under two weeks away.
Coronavirus: Police find suspected illegal pub – complete with bar, 70in TV, toilet, pool table and smoking area | World News
Police in Ireland have searched a suspected illicit pub, or "shebeen", on suspicion of breaching coronavirus measures.
The property near Athy in County Kildare was targeted by Gardai officers on Friday evening.
The force had launched an investigation after they became aware of the premises, and the fact people were congregating in a breach of social distancing rules, through social media.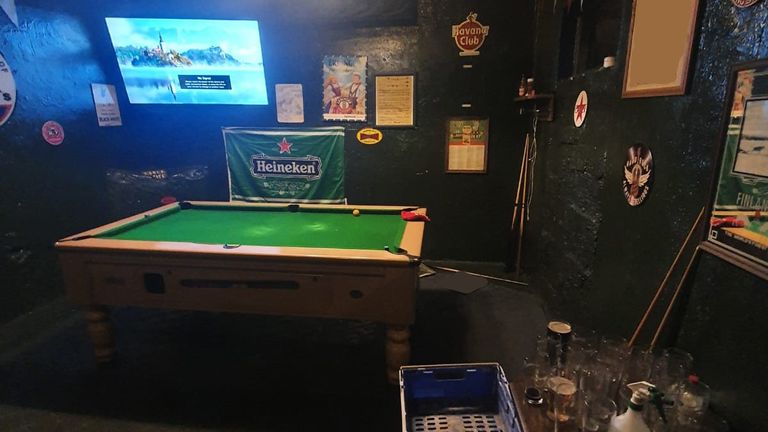 Gardai searched the suspected shebeen at about 8pm and found a fully operational bar in a repurposed state.
Shebeen is an Irish term which refers to an illicit bar or club where alcoholic drinks are sold without a licence.
The premises was fitted with a bar, stools, tables, chairs, a 70in flat-screen television, and a full-size pool table.
There were several beer taps on the bar, along with an under bar cooler and kegs.
There was also a smoking area, store room and toilet on the premises.
Officers seized five kegs of beer, a significant amount of spirits and bottled beers, and various bar equipment including the taps, gas and coolers.
A full investigation is now under way and files will be prepared for the Director of Public Prosecutions (DPP).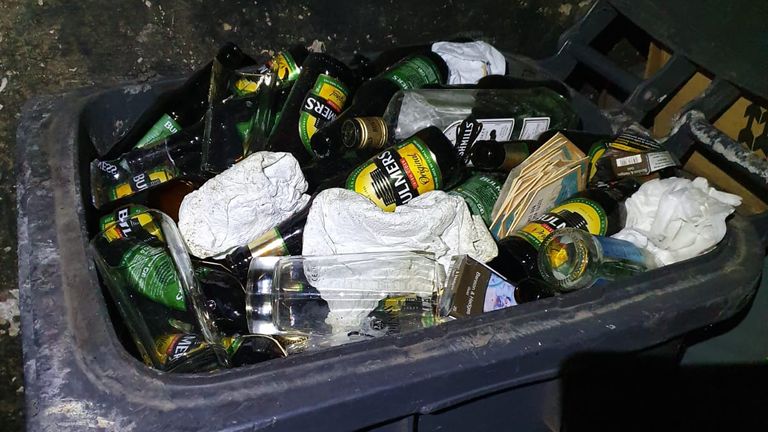 The investigation in Ireland comes as a man in Manchester has been given a £10,000 fixed penalty notice after officers closed down a party with over 50 people in attendance.
Officers were called to a report of a party at a flat on Simpson Street in Angel Meadows shortly after 11.20pm on Friday night.
DJ mixing decks, industrial speakers and a buffet was found by officers on arrival.
A total of 52 fines have been handed out since Greater Manchester went into Tier 3 restrictions.
Assistant Chief Constable Mabs Hussain, of Greater Manchester Police, said: "This party was a blatant disregard of the rules and for public health. It is totally unacceptable in the current crisis the whole world is facing and is not what we want our officers to be spending their time doing.
"We had no alternative but to issue the maximum penalty for breaching the legislation on large gatherings and I hope this serves as a reminder to those considering to flout the rules – we will take action."
It comes after a wedding attended by around 250 guests was shut down by police last week.
Officers were first called to the venue on Old Kent Road at 20:20hrs on Sunday 18 October, after concerned residents suspected the address was being burgled.
It appeared that those attending the ceremony had closed the shutters at the front of the venue, in an attempt to mask the celebration.
Police dispersed crowds at the scene.
Two people at the event were advised that they had been reported for consideration of a fixed penalty notice.
Detective Superintendent Nicky Arrowsmith, said: "This event was a blatant breach of the regulations and could have been a breeding ground for transmitting the virus.
"There were over 200 people inside, no social distancing and indeed no attempts to make the venue COVID secure, in line with the government guidelines."