Missing Mexican students were killed, dissolved in acid after mistaken identity: authorities
Three Mexican film students who went missing in March in Guadalajara, in the state of Jalisco were kidnapped, tortured and killed, and their bodies were dissolved in acid, authorities said Monday.
State prosecutors said criminals confused them with members of a rival gang.
The grim news led to outrage and strong sentiments on social media from ordinary Mexicans as well as from Academy Award winning director Guillermo del Toro, who is a native of Guadalajara.
"Words can't explain the dimension of this madness. 3 students are killed and dissolved in acid. The "why" is unthinkable, the "how" is terrifying," he tweeted.
Del Toro, whose film "The Shape of Water" won for Best Picture, joined thousands of Mexicans who have been protesting for over a month and calling for help via the Twitter hashtags #NoSonTresSomosTodxs (which means "we're not three, it's all of us") and #LosTresEstudiantesDeCine (which means "the three film students").
Javier Salomón Aceves Gastélum, Daniel Díaz, and Marco Ávalo were last seen on March 19 in the municipality of Tonala. The three aspiring filmmakers from Universidad de Medios Audiovisuales (CAAV), a film school located in Guadalajara, Jalisco, were there filming a class project during their Spring Break. Díaz had crutches and Salomón had brought along his girlfriend, his cousin Alejandra and a friend of hers.
According to Jalisco state prosecutors, their car broke down during the trip and were later kidnapped by at least six people who tortured and killed them.
"Subsequently their bodies were dissolved in acid so that no trace of them remained," the state prosecutors office said.
State prosecutor Raul Sanchez said that two people had been arrested so far in the investigation.
Prosecutors said the youths were confused with members of another gang by gunmen from the Jalisco New Generation Cartel (CJNG), which has become the most powerful in Mexico, according to U.S. authorities.
Criminal groups in Mexico often kidnap, torture, dismember and even dissolve their victims in acid and many of the remains are dumped in clandestine graves.
The three film students join a longer list of young adults and other people who have gone missing in recent years.
As of Feb. 28th, over 5,000 people went missing in Jalisco. As reported by a local publication, 36 percent of all people missing are between 16 and 28 years old — meaning that a third of all the disappeared in Jalisco are young people like Javier Salomón, Marco Ávalo and Daniel Díaz.
In 2014, the case of the 43 missing student teachers in the southern state of Guerrero gained national attention after a group of nearly 100 students from the Ayotzinapa Teacher's College were ambushed by local police on September 26 of that year — leaving six dead and 43 missing.
The case sparked massive protests in Mexico and internationally, as well as calls for the Mexican Government to investigate what happened. The government said they were kidnapped by police who handed them over to a criminal group that killed them and burned their bodies.
The families of the 43 are still demanding answers in that case to this day.
International observers objected to the government's investigation and the case shook the administration of President Enrique Peña Nieto, who has seen his popularity decline sharply amid corruption allegations and a spike in violence.
More than 25,000 people were murdered last year in Mexico. Homicides hit their highest level in records going back 20 years.
Ex-Trump campaign manager in hospital after threatening to hurt himself | US News
Donald Trump's former campaign manager Brad Parscale has been taken to hospital after threatening to hurt himself, police in Florida have said. 
His wife had called police to say he had multiple firearms and was threatening to harm himself at their home in Fort Lauderdale on Sunday.
However, police said he was alone in the house at the time and officers had managed to negotiate with him to leave the property.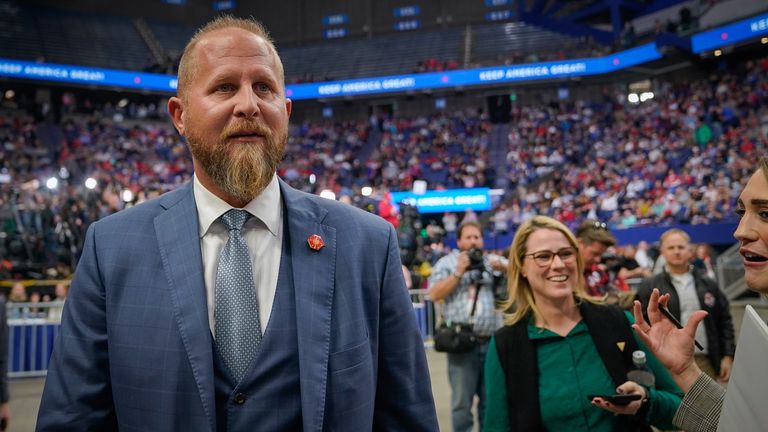 Mr Parscale was taken to hospital under the state's Baker Act, which allows anyone believed to be a threat to themselves or others to be detained for 72 hours for psychiatric evaluation.
Trump campaign communications director Tim Murtaugh said: "Brad Parscale is a member of our family and we love him.
"We are ready to support him and his family in any way possible."
Mr Parscale was demoted from the role of campaign manager in July, although had remained part of the campaign and helped run its digital operation.
He attracted media attention earlier this year due to his extravagant lifestyle on the Florida coast that kept him far from the Virginia campaign headquarters.
Shortly before he was demoted, Mr Parscale had claimed hundreds of thousands of people were signed up to a Trump comeback rally in Tulsa – only for about 6,000 to show up.
Mr Trump was said to be "furious" at the "underwhelming" crowd, according to NBC News, and Mr Parscale was replaced by Bill Stepien as campaign manager.
Anyone feeling emotionally distressed or suicidal can call Samaritans for help on 116 123 or email jo@samaritans.org in the UK. In the US, call the Samaritans branch in your area or 1 (800) 273-TALK.
Joe Montana: Ex-NFL star and wife grab grandchild from arms of intruder | US News
Former NFL quarterback Joe Montana and his wife confronted a home intruder who attempted to kidnap their nine-month-old grandchild over the weekend, law enforcement officials say.
Montana told officers his grandchild was sleeping in a playpen on Saturday when an unknown woman entered their home in Malibu and grabbed the child.
According to the Los Angeles County Sheriff's Department, the former San Francisco 49ers star and his wife, Jennifer, confronted the woman, tried to "de-escalate the situation" and asked her to give back their grandchild.
After a tussle, officials said Jennifer Montana removed the child from the intruder who was later identified as Sodsai Dalzell.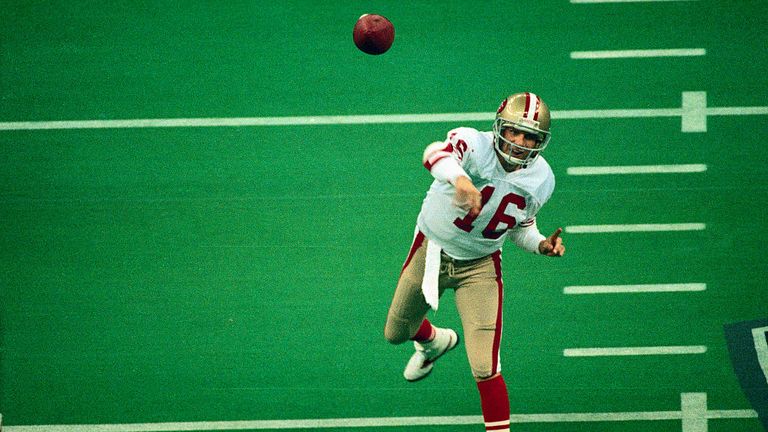 "Thank you to everyone who has reached out," Montana tweeted.
"Scary situation, but thankful that everybody is doing well. We appreciate respect for our privacy at this time."
The sheriff's office said Dalzell fled the home but was later arrested. She faces kidnapping and burglary charges.
Montana, 64, retired after the 1994 season, playing 13 years of his 15-year career with the San Francisco 49ers, who won four Super Bowls with him as starting quarterback.
Belarus protests: Great-grandmother forcibly arrested as women take to streets to demand Lukashenko's removal | World News
Hundreds of women have taken to the streets of Belarus' capital to demand authoritarian leader Alexander Lukashenko step down – with a great-grandmother who has become an icon of the protest movement among scores of people arrested.
Police blocked off the centre of Minsk and detained more than 80 demonstrators on Saturday, according to the Viasna human rights organisation
It was the latest in a series of major rallies that have rocked the country since early August, by far the largest and most persistent protest movement it has seen since it separated from the Soviet Union in 1991.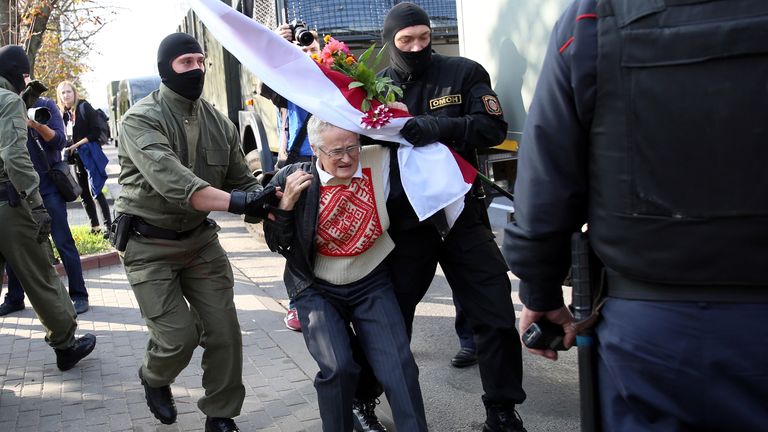 And among those arrested was Nina Bahinskaya, a 73-year-old great-grandmother who has become a hero of the opposition to the Belarussian president.
While Mr Lukashenko's officials say he won 80% of the vote in the 9 August election that triggered the protests, opponents and some poll workers say the results were manipulated.
He further angered opponents this week by taking the oath of office for a new term in an unexpected ceremony, and protesters on Saturday carried placards denouncing him as "the secret president".
Sviatlana Tsikhanouskaya, Mr Lukashenko's main election opponent, who went into exile in Lithuania after the election, praised the female demonstrators and derided the police in a statement.
She said: "What about the men themselves, who, hiding their faces, use force against women? Is it possible to live peacefully with such men?"
A large protest is also expected on Sunday, typically the day that sees the biggest demonstrations – attracting crowds estimated at up to 200,000.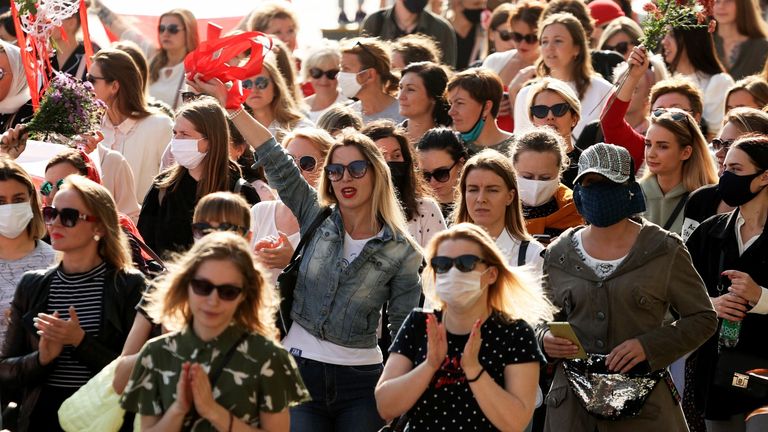 The election and Mr Lukashenko's defiance of the protesters have faced widespread condemnation from the West, and Ms Tsikhanouskaya this month urged the United Nations to send monitors to Belarus.
US President Donald Trump, however, has remained largely silent on the matter – prompting an attack from Democratic presidential contender Joe Biden.
"President Trump refuses to speak out against Lukashenko's actions or to offer his personal support for the pro-democracy movement," Biden said.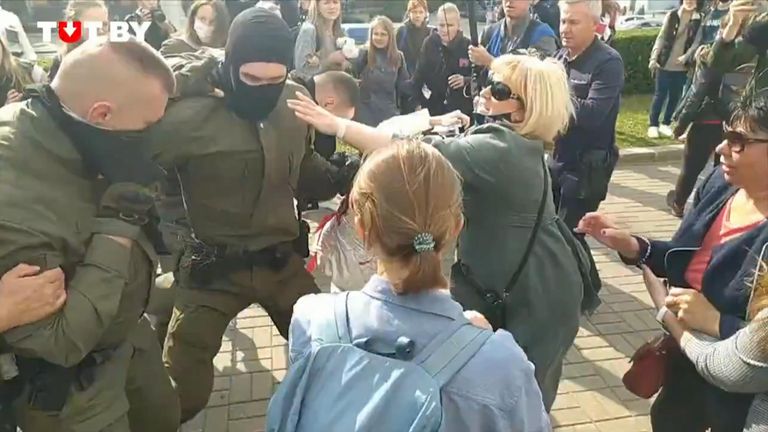 Mr Biden referred to the Belarussian politician's inauguration as a "sham ceremony".
The inauguration came on the same day that Mr Trump's refused to commit to a peaceful transfer of power should he lose November's US election.
"A president hiding in fear from his own citizens, refusing to accept the will of the people is a sign of a weak, illegitimate autocrat, not a strong leader," said Mr Biden.
Mr Lukashenko, a former collective farm manager, has been in office since 1994.
During the time since then, he has repressed opposition and independent news media and kept most of the country's economy under Soviet-style state control.