McKayla Maroney says she tried to raise sex abuse alarm in 2011
Maroney is one of more than 265 girls and women — including a half-dozen Olympians — who say Nassar molested them under the guise of medical procedures.
She told her story as part of a months-long Dateline investigation, airing Sunday night at 7 p.m. ET, into allegations that USA Gymnastics could have stopped Nassar earlier and tried to silence his victims when they finally spoke up — accusations the organization denies.
Read USA Gymnastics' full statement
For two years, Maroney said, she believed Nassar when he said his uncomfortable, invasive pelvic treatments — performed at the ranch owned by legendary coaches Bela and Martha Karolyi and at competitions around the world — were legitimate.
But after that night in Tokyo, she knew that something was wrong.
Nassar, she said, had given her a sleeping aid on the long-haul flight to Japan for the world championships. By the time she got to his hotel room that night, she wasn't feeling like herself.
She wasn't alone with the doctor — at first. Maroney says two-time Olympian Aly Raisman was getting worked on, Jordyn Wieber had her foot in an ice bath, and a trainer was fighting off sleep.
One by one, Nassar dismissed them until only Maroney, then 15 years old and not yet an Olympic champion, was left.
"And then I got worked on," she said.
"[It] was very, very hard for me not to acknowledge the fact that … this was not treatment. I was being abused," she said. "I was bawling, naked on a bed, him on top of me, like fingering me.
"I thought I was going to die," she said. "It was escalating."
Maroney barely recognized Nassar.
"I didn't feel like it was him anymore," she explained. "It was this other thing that took over. The dark part of him."
"When he was done, I was so happy that I could walk away from that. I felt like I just escaped something."
In fact, as she hurried to her own hotel room, her main worry was that her coaches would be angry she was up so late.
"I remember waking up the next day and wanting to tell someone — and hoping that someone would see it in my eyes that something really bad just happened to me, that they would ask me."
No one asked.
And after a long day of training, while being driven back to the hotel with other gymnasts and USA Gymnastics coach John Geddert, Maroney couldn't hold in the secret any longer.
"I just said, 'Last night, it was like Larry was fingering me,'" she said. "I said this loud."
Three other people who were there told NBC News they remember the conversation.
In Maroney's telling, gasps filled the car. She said Geddert didn't react, but a gymnast she looked up to rebuked her.
"She was probably as confused as me," Maroney said.
That gymnast told NBC News this never happened.
Geddert, who was suspended by USA Gymnastics in January after gymnasts accused him of physical and verbal abuse, did not respond to NBC News' requests for comment. The coach, who is also the subject of an unspecified criminal investigation in Michigan, said in a recent court filing for a Nassar-related lawsuit that he was "fooled" by Nassar, a longtime friend.
USA Gymnastics said it had no knowledge of the car conversation. It said it first learned of Nassar's "treatment" in the summer of 2015 when a coach heard gymnast Maggie Nichols talking about it with Raisman.
But elite gymnasts say the abuse goes back to the late 1990s. Allegations that USA Gymnastics figures, including legendary coaches Bela and Marta Karolyi, should have known young athletes were at risk will be explored in Sunday's Dateline investigation, which includes an exclusive interview with the Karolyis.
The Karolyis say there is no way they could have known Nassar was molesting the gymnasts they trained. In a statement, USA Gymnastics said it "denies any allegation that it had wide-ranging knowledge of abuse by Nassar or that it concealed or ignored his abuse."
Maroney was just 13 when she first met Nassar during a national training camp at the Karolyi ranch in a forest an hour outside Houston. He was the national team doctor, a volunteer position he had held since 1996.
Maroney knew his name; he was the doctor who kept gold medalists healthy enough to compete. In fact, he was working on an Olympian when he spoke to her for the first time.
"He told me he was going to do a checkup on me, and that was the first day I was abused," she said.
Nassar told her to go put on shorts with no underwear — an instruction that many of his victims have since recounted. Maroney got on a massage table "and that's when he did what he would call 'his treatment,'" she said.
I wished my mom was with me.
I wished my mom was with me.
That first time, it lasted a minute.
"I didn't know how to understand what was happening because I felt so lucky to be with him, so it was obviously a very confusing moment," she said. "I wished my mom was with me."
Nassar apparently sensed her unease because he told her she shouldn't mention his technique to anyone and dangled her childhood dream in front of her.
"He said nobody would understand this and the sacrifice that it takes to get to the Olympics," Maroney recalled.
Maroney said she got "the treatment" whenever Nassar saw her. How many times all told? "Hundreds," she said.
"I always felt like Nassar was obsessed with her," Raisman said.
At the time, she and the others didn't realize that attention was part of the grooming process. And Maroney said what she saw as small kindnesses helped sustain her during the demanding camps, where she was often hungry and aching.
Once, she remembered, Nassar bought her a loaf of bread. "It made me so happy," she said. "I was just like, 'Wow, he really likes me and cares about me. And is trying to make sure that I get to the Olympics.'"
McKayla says Nassar's abuse often took place in a space Karolyi camp attendees called "the end room." Nassar would put Maroney's name last on the signup list for post-workout sessions so the other girls would already be back in their rooms, she said.
"He would work on me for like an hour and a half. And just like full abuse… And I'd be crying," she said.
Fred Perry stops selling polo shirt after it becomes associated with far-right group | World News
Fred Perry has pulled one of its famous polo shirts after it became associated with a neo-fascist organisation. 
The British clothes maker said it was "incredibly frustrating" that the Proud Boys had adopted its black and yellow shirt – and announced it would no longer be selling the item in North America and Canada.
"To be absolutely clear, if you see any Proud Boys materials or products featuring our Laurel Wreath or any Black/Yellow/Yellow related items, they have absolutely nothing to do with us, and we are working with our lawyers to pursue any unlawful use of our brand," it said in a statement on its website.
Fred Perry does not support and is in no way affiliated with the Proud Boys. Read our statement here.

— Fred Perry (@fredperry) September 25, 2020
The brand was founded by Wimbledon champion Fred Perry in 1952 and has been adopted by various British subcultures since.
It has long been associated with the Skinheads, who originally denounced fascism – although the group divided in the 1970s as a small number of its members swung to the far right.
The clothes brand has spoken out against far-right views on numerous occasions after its wreath-emblazoned polo shirts were used by controversial groups.
"The Fred Perry shirt is a piece of British subcultural uniform, adopted by various groups of people who recognise their own values in what it stands for," the brand said.
"We are proud of its lineage and what the Laurel Wreath has represented for over 65 years: inclusivity, diversity and independence…
"Despite its lineage, we have seen that the Black/Yellow/Yellow twin-tipped shirt is taking on a new and very different meaning in North America as a result of its association with the Proud Boys. That association is something we must do our best to end."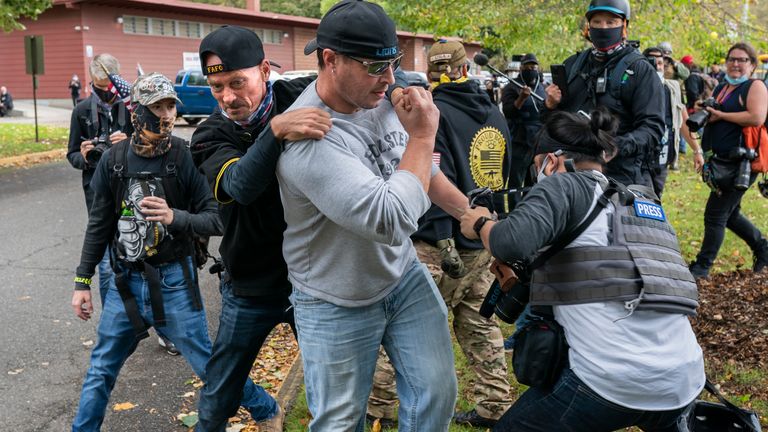 The brand revealed it had discontinued the shirt in North America and Canada since September last year, and would not be selling it there again "until we're satisfied that its association with the Proud Boys has ended".
The Proud Boys is a far-right group that admits only men and promotes political violence.
When asked in 2017 about the association, Fred Perry chairman John Flynn said the group was "counter to our beliefs and the people we work with".
"Fred was the son of a working-class socialist MP who became a world tennis champion at a time when tennis was an elitist sport. He started a business with a Jewish businessman from Eastern Europe," he said.
"It's a shame we even have to answer questions like this. No, we don't support the ideals or the group that you speak of."
Ex-Trump campaign manager in hospital after threatening to hurt himself | US News
Donald Trump's former campaign manager Brad Parscale has been taken to hospital after threatening to hurt himself, police in Florida have said. 
His wife had called police to say he had multiple firearms and was threatening to harm himself at their home in Fort Lauderdale on Sunday.
However, police said he was alone in the house at the time and officers had managed to negotiate with him to leave the property.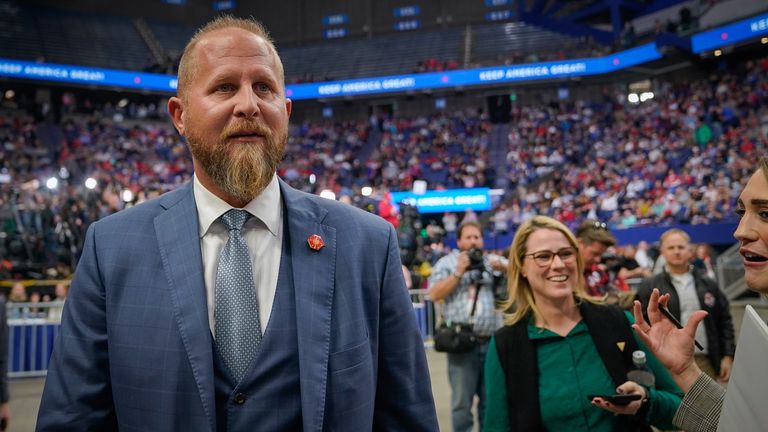 Mr Parscale was taken to hospital under the state's Baker Act, which allows anyone believed to be a threat to themselves or others to be detained for 72 hours for psychiatric evaluation.
Trump campaign communications director Tim Murtaugh said: "Brad Parscale is a member of our family and we love him.
"We are ready to support him and his family in any way possible."
Mr Parscale was demoted from the role of campaign manager in July, although had remained part of the campaign and helped run its digital operation.
He attracted media attention earlier this year due to his extravagant lifestyle on the Florida coast that kept him far from the Virginia campaign headquarters.
Shortly before he was demoted, Mr Parscale had claimed hundreds of thousands of people were signed up to a Trump comeback rally in Tulsa – only for about 6,000 to show up.
Mr Trump was said to be "furious" at the "underwhelming" crowd, according to NBC News, and Mr Parscale was replaced by Bill Stepien as campaign manager.
Anyone feeling emotionally distressed or suicidal can call Samaritans for help on 116 123 or email jo@samaritans.org in the UK. In the US, call the Samaritans branch in your area or 1 (800) 273-TALK.
Joe Montana: Ex-NFL star and wife grab grandchild from arms of intruder | US News
Former NFL quarterback Joe Montana and his wife confronted a home intruder who attempted to kidnap their nine-month-old grandchild over the weekend, law enforcement officials say.
Montana told officers his grandchild was sleeping in a playpen on Saturday when an unknown woman entered their home in Malibu and grabbed the child.
According to the Los Angeles County Sheriff's Department, the former San Francisco 49ers star and his wife, Jennifer, confronted the woman, tried to "de-escalate the situation" and asked her to give back their grandchild.
After a tussle, officials said Jennifer Montana removed the child from the intruder who was later identified as Sodsai Dalzell.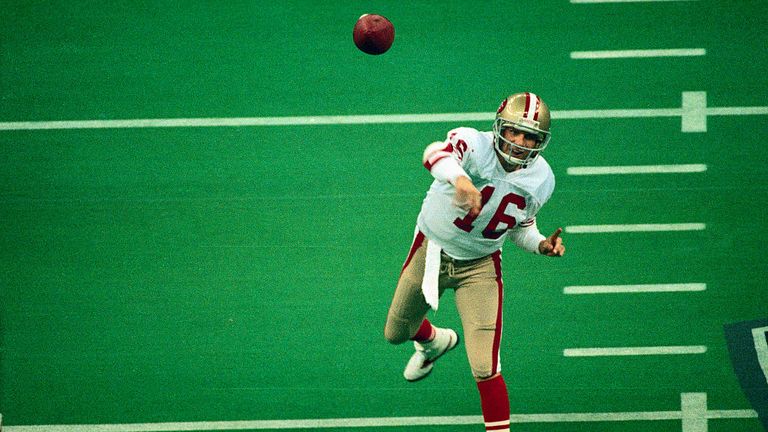 "Thank you to everyone who has reached out," Montana tweeted.
"Scary situation, but thankful that everybody is doing well. We appreciate respect for our privacy at this time."
The sheriff's office said Dalzell fled the home but was later arrested. She faces kidnapping and burglary charges.
Montana, 64, retired after the 1994 season, playing 13 years of his 15-year career with the San Francisco 49ers, who won four Super Bowls with him as starting quarterback.