After air accidents, survivors grapple with flying again
Get breaking news alerts and special reports. The news and stories that matter, delivered weekday mornings.
Hundreds of hands grappling with oxygen masks. Flight attendants warning passengers to brace for impact. The plane hurtling toward the unforgiving ground.
Survivors of air accidents often proclaim that their survival was a miracle. But what follows is another kind of miracle: Many survivors manage to get past the horror and onto planes again.
How do they do it?
It's a question facing survivors of this week's Southwest Airlines accident, which killed one woman who was sucked partway out of the plane after the engine exploded and shattered a window.
Authorities said 148 passengers walked away, underscoring an important point: Plane crashes are rare, but when they happen, people often survive them. Between 1983 and 2000, 95.7 percent of people involved in commercial airline accidents survived, according to government data. In 2013, 304 of the 307 passengers survived an Asiana Airlines crash in San Francisco. And the horrific 1989 crash of a United Airlines flight in Sioux City, Iowa, had 185 survivors.
For guidance, survivors of Southwest Flight 1380 might look to those others who have survived air disasters. Some of them say it's critical to get back in the air quickly; they suggest counseling, prayer and even calming apps. But others never get over the fear.
Dave Sanderson was the last passenger to exit US Airways Flight 1549 after its emergency landing in the Hudson River in January 2009. He spent one night recovering from hypothermia at a New York hospital. The next day he had to make a decision: Could he fly back home to North Carolina?
Sanderson steeled himself; flying was the fastest way home. When he arrived at the gate, the captain and first officer got off the plane, listened to his story and reassured him. A flight attendant cleared a row of seats for him.
"If you don't get back immediately, you may never get back on that plane," said Sanderson, who now travels around the country giving inspirational speeches.
Sanderson makes it a habit to talk to the crew when he boards a plane. He also learns about the plane, including the exit strategy and what kind of doors it has.
Others lean on faith. Helen Young Hayes survived the crash of United Flight 232 in Sioux City, which killed 111 people. Hayes, a lifelong Catholic, closed her eyes and prayed as the plane went down; later, as she recovered from her burns, she thought a lot about why her life was spared.
Hayes started flying again about two months after the crash, confident that God would hold her whatever the outcome of the flight. She has since flown more than 1 million miles.
"I would never have stepped on a plane again if I didn't firmly believe I had been totally saved by a miracle," said Hayes, who heads a Denver workforce development company that helps low-income people.
Hayes says survivors need to take time to heal. Their bodies will never forget, she says; every time she hits turbulence, she remembers what it felt like when the plane went down. But she also sees the crash as a gift that helped her find a higher purpose for her life.
Jennifer Stansberry Miller, a clinical social worker and crisis consultant, has been an advocate for survivors since her brother died in a plane crash in 1994. She says every survivor must find his or her own way. Some have trouble eating and sleeping and may need professional guidance. Others use apps that talk passengers through flying or forecast the amount of turbulence they might encounter.
Others take classes at airports that help people master their fears. Milwaukee's Mitchell Airport offers a $200, five-session class that culminates with a short commercial flight.
Miller has her own ways to fight fear. She won't travel on Halloween — the day her brother's plane crashed — or on major holidays, when she assumes the most experienced pilots aren't flying. She only flies on jets, not propeller planes.
"It's not perfect science, but it's what I reconcile in my brain to fly," she said.
Some survivors can't bring themselves to fly again. In 2008, drummer Travis Barker of the band Blink-182 was involved in a small plane crash that killed four of the six people aboard. Eight years later, when his band toured Europe, Barker was still unable to fly. He crossed the Atlantic on the Queen Mary 2 cruise ship.
Eric Zilbert, who was aboard Tuesday's Southwest flight, said the experience has been most difficult for his wife, who had to deal with the thought of almost losing him. On future flights, he says, he'll look more closely at the plane's equipment and choose seats in front of the wing.
Zilbert, a statistician, says he knows it's unlikely that another plane he boards will ever experience a similar emergency. He and his mother even flew home after the accident.
"We just didn't sit by the window, and they were fine flights," he said.
North Korea troops shot dead South Korean official and burned his body, Seoul claims | UK News
A South Korean government official was shot and killed by troops in North Korea who set his body on fire over fears he might be carrying coronavirus, officials in Seoul have claimed.
The South's defence ministry said the 47-year-old government official had been killed and his corpse burned after disappearing from an inspection boat in waters off the western border island of Yeonpyeong on Monday.
South Korea's President Moon Jae-in called the killing a "shocking" and "unpardonable" act and demanded the North punish those responsible.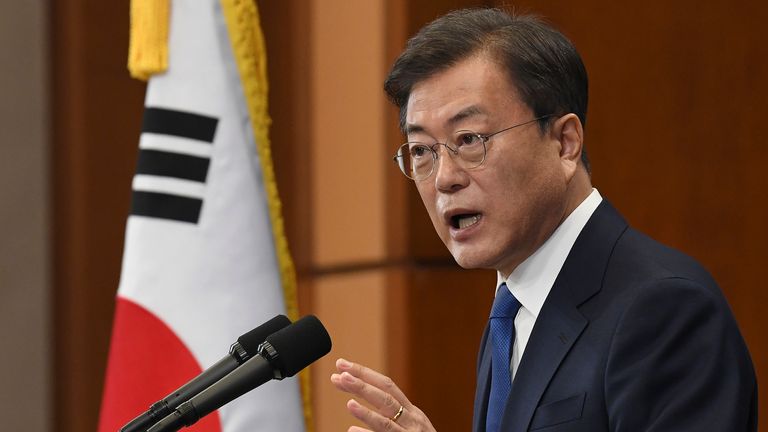 North Korea sent staff in gas masks aboard a boat near the man to find out why he was there on Tuesday afternoon, South Korea's Defence Ministry said.
Later in the day, a North Korean navy boat arrived and opened fire at him, they added.
Sailors from the boat, wearing gas masks and protective suits, then poured petrol on his body and set it on fire, the ministry said, citing intelligence gathered by surveillance equipment and other assets.
It is unclear what caused the official's death and whether he died after being shot.
Citing intelligence sources, the South's military said the unidentified man appeared to have been questioned at sea – north of the border and around 24 miles from where he went missing – before he was executed on an "order from a superior authority".
If confirmed by the North's officials, it would be the first time that North Korea has killed a South Korean citizen in its territory since 2008.
The South Korean government did not know how he came to have crossed the border, but a defence official said the man may have been trying to defect to the North.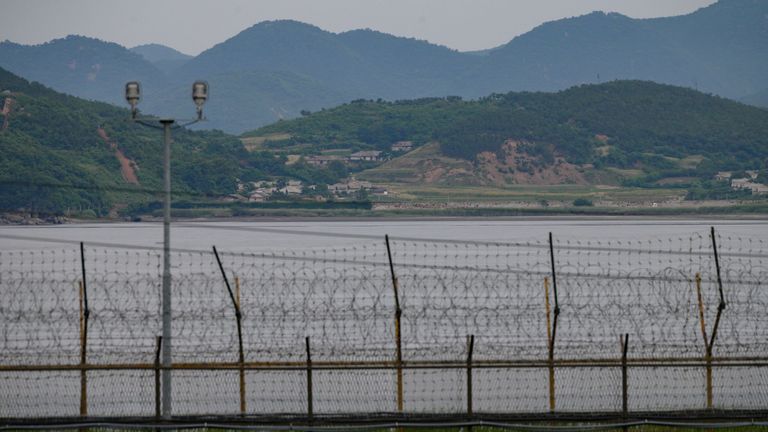 The official said the man was wearing a life jacket on a small floating object and that the military had obtained information that he wanted to go to North Korea.
"Our military strongly condemns such an atrocity, and strongly demands North Korea provide explanations and punish those who are responsible," General Ahn Young-ho, who is in charge of operations at the South's Joint Chiefs of Staff, said.
Officials believe that military in Pyongyang may have decided to kill the man in line with stringent anti-coronavirus rules that involve shooting anyone illegally crossing the border.
North-South relations are expected to sour further as a result of the killing.
In June, North Korea blew up an inter-Korean liaison office on its territory in protest against South Korean civilians sending anti-North leaflets across the border.
Trump booed and heckled by mourners while paying respects to Ruth Bader Ginsburg | US News
Donald Trump has been booed and heckled while paying his respects to Ruth Bader Ginsburg, whose death has triggered a political row.
The president and wife Melania, both wearing masks, stood a few metres behind the late Supreme Court Justice's coffin in Washington DC as her body lay in repose at the country's highest court.
On Friday, she will be moved to lie in state at the US Capitol – the first woman to receive such an honour, before being buried next week in a private service at Arlington National Cemetery.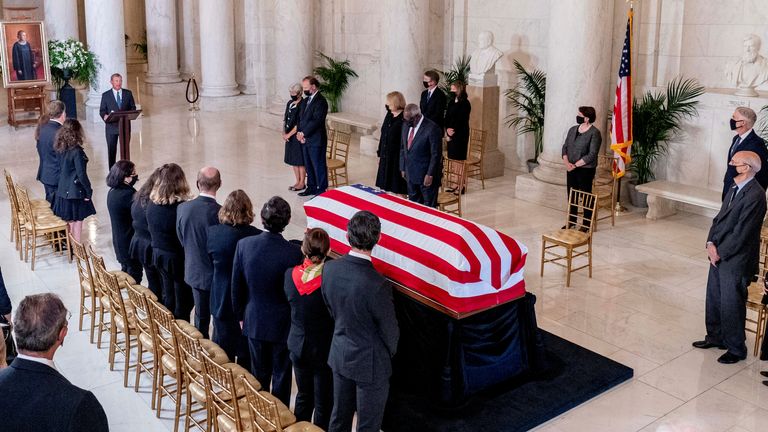 Mr Trump has sparked controversy by planning to replace her on the court before November's presidential election.
Moments after he arrived at the court, booing could be heard from some in the crowd who then briefly chanted: "Vote him out".
He is set to announce on Saturday his nominee to fill the seat of the liberal-leaning justice and women's rights champion.
The 87-year-old, also known as RBG, had sat on the Supreme Court since 1993 until her death on Friday due to complications from pancreatic cancer.
Her dying wish was reportedly that she would not be replaced until a new president was installed.
Democratic presidential nominee Joe Biden has accused Mr Trump of an "abuse of power" over his plans to replace her before the 3 November poll.
Mr Biden urged Senate Republicans to delay any vote on her replacement until after the election.
Democrats argue that voters should have their say first on election day and the winner of the White House battle should fill the post.
The procedure for appointing a Supreme Court justice allows the president to nominate a candidate and then requires the Senate to confirm them.
This would give Mr Trump the opportunity to expand the court's conservative majority to 6-3, from 5-4.
It had previously been made up of an even balance of four liberal justices and four conservatives, with Anthony Kennedy considered a more neutral member of the court who would frequently become the swing vote in 5-4 decisions.
Mr Trump replaced him with conservative judge Brett Kavanaugh when he retired in 2018.
Democrats have pointed to the Republican Senate's refusal in 2016 to act on then president Barack Obama's Supreme Court nominee.
Conservative Antonin Scalia had died 10 months before that year's election, and Senate majority leader Mitch McConnell then said the Senate should not act on a nominee during an election year.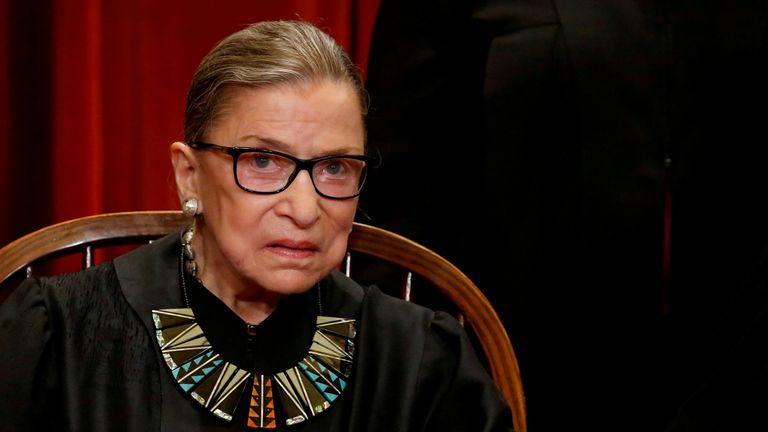 But McConnell has reversed his stance this time and is pushing ahead with plans to begin the confirmation process, vowing to vote this year on Mr Trump's nominee.
It would take four Republicans to break ranks to keep Mr Trump's nominee off the court.
The president has refused to commit to a peaceful transfer of power if he loses November's election and said he believes the Supreme Court could end up deciding the result.
:: Subscribe to Divided States on Apple podcasts, Google Podcasts, Spotify, and Spreaker
Announcing a nominee on Saturday would leave less than 40 days for the Senate to hold a confirmation vote before the election.
No nominee has won confirmation that quickly since Sandra Day O'Connor became the first woman to serve on the Supreme Court in 1981.
Coronavirus: Italy president fires back at Boris Johnson over COVID remark | Politics News
Italy's president has hit back at Boris Johnson after he suggested the UK had higher coronavirus infection rates because it was a more "freedom-loving country".
In parliament this week, the prime minister was quizzed about why Germany and Italy appeared to have lower COVID-19 rates than the Britain.
Mr Johnson disputed a claim that the relative success of different countries' test and trace schemes was a factor.
And the PM added that there was "an important difference between our country and many other countries around the world: our country is a freedom-loving country".
"If we look at the history of this country over the past 300 years, virtually every advance, from free speech to democracy, has come from this country," he continued.
"It is very difficult to ask the British population uniformly to obey guidelines in the way that is necessary."
Asked about Mr Johnson's comments, Italian President Sergio Mattarella said on Thursday: "We Italians also love freedom, but we also care about seriousness."
The Reuters news agency reported Mr Mattarella was asked about Mr Johnson during a private conversation, but his words were swiftly reported in the local media and his office confirmed the remarks.
According to a tally by the Johns Hopkins University, the UK has been the worst-affected country in Europe from COVID-19 in terms of death, ahead of Italy, France and then Spain.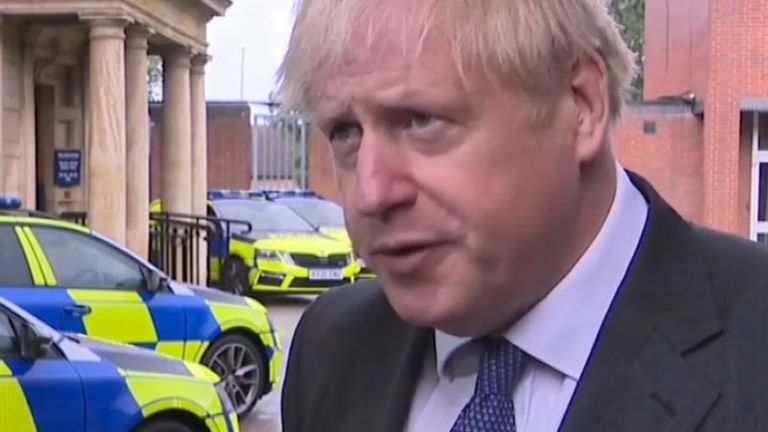 Germany has suffered less than one-quarter of the number of deaths the UK has, according to the tally.
It is not the first time Mr Johnson's comments have prompted a response from an Italian politician.
In 2016, Mr Johnson – then foreign secretary – was accused of "insulting" the country's government by claiming Italy should support a generous post-Brexit trade deal in order to prevent a decline in its exports of prosecco.
:: Subscribe to the Daily podcast on Apple Podcasts, Google Podcasts, Spotify, Spreaker
The prime minister's fiancee, Carrie Symonds, was this week photographed in Lake Como, northern Italy, with the Daily Mail website reporting she had been spending a few days with the couple's baby, WIlfred, and friends.
Downing Street recently condemned "completely untrue" claims that Mr Johnson travelled through Perugia airport on a secretive trip this month.
And the president of the airport said on Monday there had been an "error" in a previous statement and that Mr Johnson did not recently land there.