Democratic Party sues Trump, Russia, WikiLeaks over 2016 email hack
But the DNC's lawsuit could force the Trump campaign and WikiLeaks to reveal internal communications about the hack through the legal discovery process.
"During the 2016 presidential campaign, Russia launched an all-out assault on our democracy, and it found a willing and active partner in Donald Trump's campaign," DNC Chair Tom Perez said in a statement. "This constituted an act of unprecedented treachery: the campaign of a nominee for president of the United States in league with a hostile foreign power to bolster its own chance to win the presidency."
Trump has repeatedly denied any collusion with the Russian government and his campaign manager summarily dismissed the lawsuit Friday as a "conspiracy theory," saying the discovery process would backfire on Democrats by airing their dirty laundry.
"This is a sham lawsuit about a bogus Russian collusion claim filed by a desperate, dysfunctional, and nearly insolvent Democratic Party," said Brad Parscale, who is running Trump's reelection campaign. "While this lawsuit is frivolous and will be dismissed, if the case goes forward, the DNC has created an opportunity for us to take aggressive discovery into their claims of 'damages' and uncover their acts of corruption for the American people."
Trump himself tweeted about the lawsuit late Friday night.
The civil suit follows a playbook the DNC successfully deployed in 1972 after Republican operatives broke into the party's headquarters in the Watergate office complex. Allies of President Richard Nixon initially dismissed the $1 million suit as frivolous, but the president's re-election campaign later settled for $750,000 on the day Nixon left office, according to The Washington Post, which first reported Friday's lawsuit.
The DNC has retained the law firm Cohen-Milstein, which has been involved in settlements for large data breaches in the past, including one against health insurer Anthem, which affected 80 million people.
After the 2016 hack, the DNC spent millions to replace IT equipment, hire outside cybersecurity consultants and otherwise clean up the damage. Beyond the financial cost, the publication of the hacked emails forced the party's chairwoman to resign, infuriated donors, traumatized staffers and contributed to the party's loss of the White House.
"They successfully hacked the Democratic Party in 2016 and they will be back. We must prevent future attacks on our democracy, and that's exactly what we're doing today," said Perez, a former top official in the Obama Justice Department. "This is not partisan, it's patriotic. If the occupant of the Oval Office won't protect our democracy, Democrats will."
The DNC's 66-page complaint lays out in the detailed the alleged conspiracy among Trump, WikiLeaks and hackers working for the Russian government. "Each defendant knowingly aided, abetted, encouraged, induced, instigated, contributed and assisted" the hack and subsequent publication of the emails, the complaint alleges.
The lawsuit is unusual in several ways, especially because it names foreign organizations that would be difficult to bring to court in the U.S.
Foreign governments are generally immune from U.S. prosecution, but the DNC claims this suit falls into one of the exemptions to that law, since the hack amounted to the Russian government trespassing on the committee's private property.
Improvised explosive device targets British vehicles in Baghdad | World News
An improvised explosive device has targeted British diplomatic vehicles in Iraq's capital Baghdad.
The British embassy said the blast targeted an embassy convoy on the airport road, close to the Umm al-Tabool Mosque in Baghdad on Tuesday morning.
There were no injuries and no one immediately claimed responsibility for the bombing.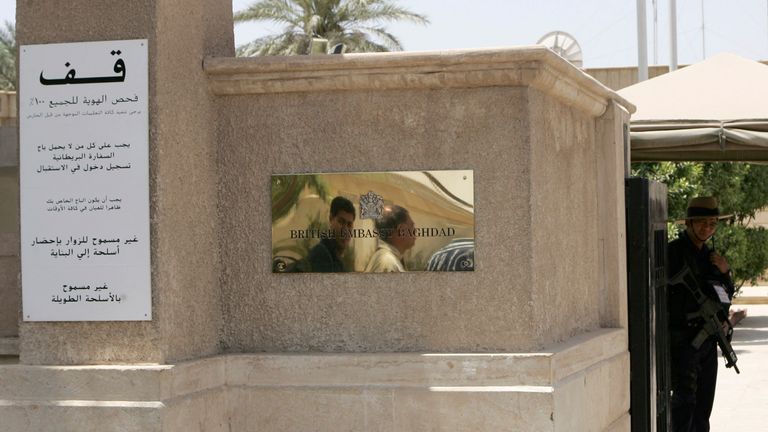 "The safety and security of our staff is of paramount importance and we are in close touch with the Iraqi authorities," said a statement from the British Embassy.
The area of the attack, between the airport and the heavily fortified Green Zone, are often used by diplomatic missions, an Iraqi official said.
The attack is the first in months to target a diplomatic convoy and comes amid near daily rocket attacks aimed at the Green Zone and Iraqi army bases hosting U.S. troops.
It follows a rocket attack on US and British buildings at 1am.
Two Katyusha rockets landed inside Baghdad's heavily fortified Green Zone, which houses government buildings and foreign missions, but caused no casualties or damage, the military said in a statement.
Rocket attacks against US targets have increased over the past few weeks.
Washington blames such attacks on Iranian-backed militia groups.
Iran has not directly commented on the incidents but little-known groups believed to be connected to Iran-aligned
militias have claimed responsibility some attacks.
Iraq, often the scene of spillover violence from U.S.-Iran tensions, seeks to avoid being drawn into any regional conflagration.
The Middle East came close to a full conflict in January after a U.S. drone strike killed Iranian General Qassem
Soleimani and Iraqi paramilitary chief Abu Mahdi al-Muhandis at Baghdad airport.
Iran-aligned militias have sworn to avenge their deaths.
The US military has announced that 2,200 of its troops will be withdrawing from Iraq this month.
The US has around 5,200 troops in the country that were deployed to fight the Islamic State militant group.
This will be cut to 3,000.
In June, the US and Iraq affirmed their commitment to the reduction of troops in the country, with no plans by Washington to maintain permanent bases or a permanent military presence.
The rocket attacks surged at an alarming pace when Prime Minister Mustafa al-Kadhimi traveled to the U.S. last month to conclude strategic talks.
They have put pressure on his administration, which has promised to stop armed groups acting outside of state authority.
Japanese military given instructions on UFOs | Science & Tech News
The Japanese military have been given instructions to record and report sightings of unidentified aerial objects which could pose a potential threat to the country's security.
Taro Kono, the country's minister for defence, issues the instruction following the US department of defence founding its Unidentified Aerial Phenomena Task Force.
While the popular imagination has been excited by UFOs, the military takes UAPs – as they are formally known – very seriously.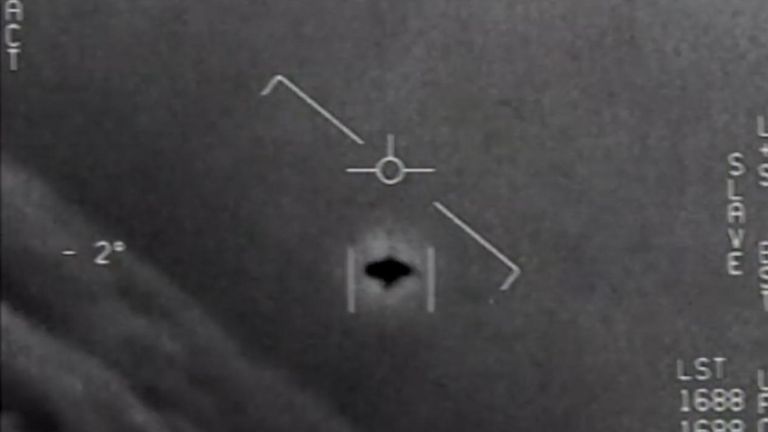 The risk for security officials is that the spotted aircraft are something which an untrained observer is unable to identify, but which could be a foreign incursion into domestic airspace.
But sometimes the UAPs appear to be even more mysterious.
Earlier this year the Pentagon declassified three videos of strange elliptical objects racing across the sky.
The black and white videos were recorded by Navy pilots – one in November 2004 and two in January 2015, according to the US Department of Defence.
One of the clips shows a dark circular object flying in front of a jet, another shows a small object speeding over land and the third shows a circular object racing and then appearing to slow down as it approaches the camera.
Mr Kono cited these videos and explained that while the Japanese defence force pilots are not believed to have ever encountered a UAP, his intention wast to develop a procedure in case such an encounter ever took place.
It is not the first time that members of the Japanese government have broached the topic.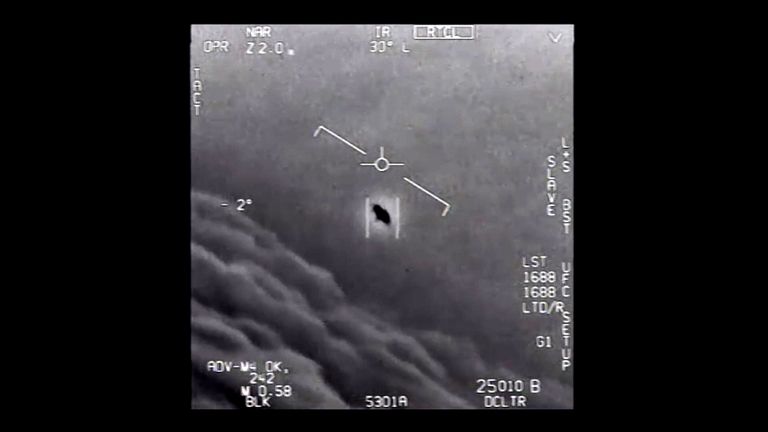 The defence ministry previously stated in 2015 that it had never encountered alien spacecraft although the country's then chief cabinet secretary, Nobutaka Machimura, said: "Personally, I absolutely believe they exist."
Then-defence minister Shigeru Ishiba added that in his personal opinion there were "no grounds" to deny that there are UFOs controlled by alien life-forms, although this was not the official government position.
Celebrities fascinated by UFOs include rock star Tom DeLonge, who spoke to Sky News about his work on the subject earlier this month, saying he would not have put music on the backburner just "to chase monsters and ghosts".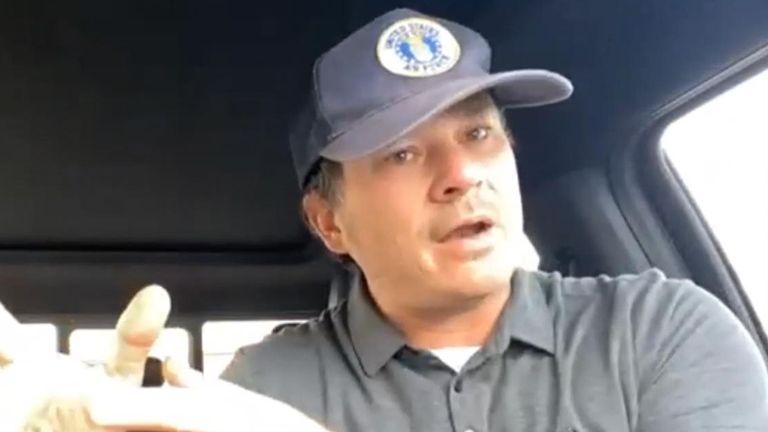 Astronaut Edgar Mitchell, the lunar module pilot for Apollo 14, publicly stated he was personally 90% sure that many reports of unidentified flying objects, or UFOs, "belong to visitors from other planets".
He suggested that he had met officials from foreign countries who had personal encounters with alien beings, and suggested that governments were covering up such contacts.
That said, he always maintained that he had never seen a UFO, and that he had never been threatened regarding those claims. He also said that UFOs being covered up was his own personal speculation.
Putin critic Alexei Navalny shares photo from hospital after novichok poisoning | World News

A vocal critic of Russian President Vladimir Putin has shared a picture from his hospital bed as he recovers from being poisoned with novichok.
Alexei Navalny said he has managed to breathe for an entire day without requiring medical assistance, and told his Instagram followers: "I miss you all."
On Monday, two independent laboratories in Sweden and France confirmed German findings that the opposition leader had been poisoned with the nerve agent.
Accompanying the photograph, where he is surrounded by his family, Mr Navalny wrote: "Hi, this is Navalny. I miss you 😍. I still can hardly do anything myself, but yesterday I was able to breathe on my own all day long.
"I did not use any outside help, not even the simplest valve in my throat. I liked it very much. An amazing, underestimated by many process. I recommend it."
Mr Navalny, 44, is being treated in Berlin and was put in an induced coma after falling ill on 20 August during a flight in Russia.
It has been claimed the novichok was put in his tea at the airport.
Russia has denied any involvement and says it has so far seen no evidence that Mr Navalny was poisoned.
Samples from Mr Navalny have also been sent to the Organisation for the Prevention of Chemical Weapons (OPCW) in The Hague for tests.
Novichok is the same substance used to poison former spy Sergei Skripal and his daughter in Salisbury in 2018 – an attack that Russia denies orchestrating.
Western powers, NATO and the EU have strongly condemned the suspected assassination attempt.
German Chancellor Angela Merkel said the use of novichok showed the "dangerous" attack was attempted murder and an attempt to silence Mr Navalny.