New Zealand's prime minister is unmarried, pregnant and going on maternity leave
In June, Ardern, the world's youngest female leader, will become just the second woman in history to give birth while an elected head of state. She'll become the first elected leader ever to take maternity leave.
"I don't want to ever give the impression that I'm some kind of wonder woman," said Ardern, an unpretentious wunderkind with an ever-ready smile. "Or that women should be expected to do everything because I am. I'm not doing everything."
She'll have help with childcare from the baby's father, Clarke Gayford, her partner of four years. Gayford, host of a popular fishing show called Fish of the Day, is planning to be a stay-at-home dad.
The couple's unwed status, she said, was not a "deliberate decision."
"It sounds terrible, because we're very committed to each other. [Marriage is] just not something we've really gotten around to."
"We haven't correctly sequenced, perhaps," she laughed.
"A girly swot"
Ardern describes herself as a nerdy overachiever — an "absolute girly swot" in Kiwi speak — from an early age. The daughter of a police officer and a school lunch lady from a farm town on the North Island, she threw herself into left-wing activism, joining the Labour Party at just 17.
"My whole reason for getting into politics was because I had this strong duty to care for other people," said Ardern.
She cast her first vote for Helen Clark, who became the nation's second female prime minister in 1999. In 2008, Ardern became the head of the International Union of Socialist Youth, as well as the youngest member of the New Zealand's parliament.
Because of the women who came before her, Ardern said, she never had the sense she couldn't reach her goals.
"The sentiment in New Zealand," she said, is that "people should have a fair go. They should have a shot, they should have a chance to prove themselves."
Jacindamania
Another lesson New Zealand might be able to teach the U.S. about public life is how to disagree without demonizing.
Ardern became leader of the Labour Party just seven weeks before the September 2017 election. With an appealing political natural at the helm, Labour began a rapid rise from the depths of the polls, but on election day no party won a majority.
To form a coalition government, Ardern teamed up with the very conservative New Zealand First party. In American terms, that would be like Bernie Sanders joining forces with Ted Cruz.
Ardern agreed to give the leader of New Zealand First, Winston Peters, the post of deputy prime minister. He will be in charge of the country during Ardern's maternity leave.
New Zealand has an image as a South Pacific paradise, with breathtaking mountains and beaches and unique wildlife, but it has political problems that would be familiar to Americans, such as homelessness and soaring housing prices. Like the U.S., New Zealand also has political divisions — deep ones — and more than half of voters chose a party other than Labour last fall.
But unlike the U.S., the country isn't polarized. Even many of the people who didn't vote for Ardern seem to be rooting for her now, won over by her humor and candor.
Dubbed "Jacindamania," the post-election honeymoon is an added perk for the prime minister, who delights in the reactions of the little girls she meets. "If they see a woman in a job like this and it has an effect," she said, "then that's wonderful."
Ardern's priorities as PM include fighting child poverty and climate change, and she was critical of the recent U.S., French and British strike on Syria.
Yet as a candidate she engaged some issues similar to those in the divisive U.S. 2016 presidential campaign, albeit with a very different tone. She ran on cutting immigration, and has proposed making it harder for non-resident foreigners to buy local real estate. Foreign investment helped drive average home prices in the country's biggest city, Auckland, up to $1 million NZ, out of reach for many Kiwis.
But she said she was "infuriated" when the Wall Street Journal compared her immigration policies to Donald Trump's in a tweet. She's not building a wall, she said.
"We're campaigning to double our refugee quota," said Ardern. "We are a nation built on immigration. The suggestion that I was leading something that was counter to that value made me extremely angry."
On Thursday, the Ardern charm will be on display in London, where, among her other duties, she'll meet Queen Elizabeth at Buckingham Palace.
The queen is officially New Zealand's head of state. Headlines during Ardern's campaign suggested she wanted to "Ditch the Queen." She has said she believes New Zealand will become a republic during her lifetime — meaning the tie to the crown would be severed.
Asked how that might go over at the palace, Ardern laughed.
"[The queen's] response has always been these are matters for New Zealand," she said.
She said she won't push the issue, at least not now. Leading the country, having a baby and taking on the Queen might be too much even for her.
Brad Pitt and Jennifer Aniston reunite on screen in read through of Fast Times at Ridgemont High | Ents & Arts News
Former Hollywood couple Brad Pitt and Jennifer Aniston have been reunited on screen in a racy read through of 1982 teen movie Fast Times at Ridgemont High.
Performing together via Zoom, Pitt, 56, and Aniston, 51, took on the roles of amorous high school students Brad Hamilton and Linda Barrett.
The reading – which was packed to the gills with A-list stars – was set up to support charities Core and Reform Alliance in their efforts to alleviate the impact of the coronavirus pandemic.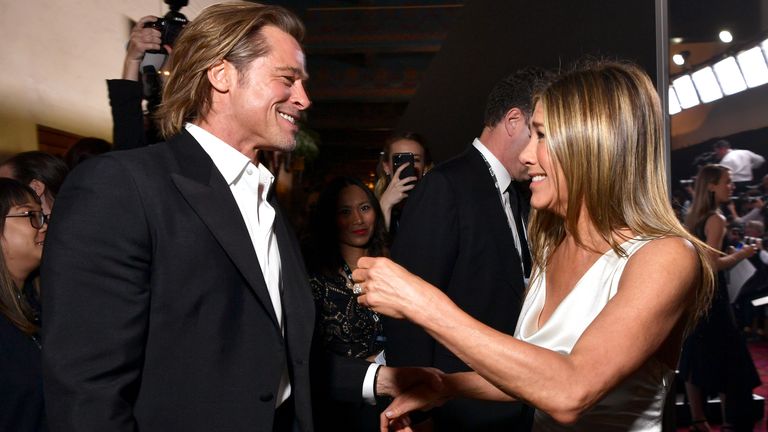 Their X-rated scene kicked off with Aniston's line: "Hi Brad. You know how cute I always thought you were. I think you're so sexy. Would you come to me?"
In the film it's part of a day-dream scenario, where Brad is imagining Linda making a move on him.
The narrator, played by Morgan Freeman, then came in to describe the scene: "He walks to Linda. She reaches out and grabs him for a kiss, pulling him close. Then she pushes him away so he can watch as she carefully unstraps the top of bathing suit.
"The incredible Linda Barrett's breasts fall loose, lord have mercy. She takes Brad's hands and places them on her as she begins unbuttoning his shirt. They're just about to fall into passionate lovemaking when…"
Throughout the scene, Pitt – who is wearing a green T-shirt and wearing his long blonde hair loose around his face – is holding back laughter.
Looking down at his script, at the point his character is interrupted during an intimate moment in the bathroom, he allowed himself a chuckle.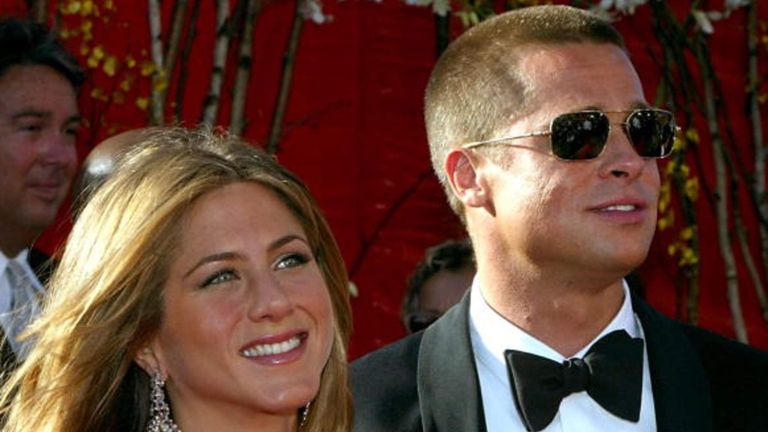 Fellow cast members including Julia Roberts, Matthew McConaughey, John Legend and Sean Penn also giggle throughout.
Always the professional, Aniston, wearing aviator-style glasses and a strappy summer top, remains straight faced throughout, committing to the part whole-heartedly.
Actors Judge Reinhold and Phoebe Cates originally played the roles in the Californian coming-of-age drama.
Henry Golding, Shia LaBeouf, Jimmy Kimmel and Ray Liotta also took part in the reading, along with host Dane Cook.
Despite a very public break up, Pitt and Aniston have rekindled their friendship over recent years and were pictured together in January 2020 at the Screen Actors Guild Awards.
:: Subscribe to the Backstage podcast on Apple Podcasts, Google Podcasts, Spotify, Spreaker
Both took home an award on the night (Pitt for Once Upon A Time In Hollywood and Aniston for The Morning Show) but all eyes were on the couple's backstage meet-up where they embraced and chatted.
Pitt was married to Aniston from 2000 to 2005, before an acrimonious split after which he got together with Angelina Jolie.
Jolie and Pitt, who have six children together, finally married in 2014, but broke up two years later. Their divorce was finalised in 2019.
Aniston married Justin Theroux (cousin of British documentary maker Louis) in 2015, but they separated two years later.
TikTok downloads to be blocked in US within days | Science & Tech News

People in the US will be banned from downloading TikTok from this Sunday.
The US Commerce Department said that starting 20 September, Americans will not be able to get the popular video-sharing app.
The ban will also cover the messaging app WeChat.
President Donald Trump could still withdraw the ban before Sunday evening if a deal is done between TikTok's Chinese owners ByteDance and US technology giant Oracle.
The two firms are in talks to create a new company, TikTok Global, that aims to address the White House's concerns about the security of its users' data.
A statement from the department said: "The Chinese Communist Party (CCP) has demonstrated the means and motives to use these apps to threaten the national security, foreign policy, and the economy of the US.
"Today's announced prohibitions, when combined, protect users in the US by eliminating access to these applications and significantly reducing their functionality."
It went on: "While the threats posed by WeChat and TikTok are not identical, they are similar. Each collects vast swaths of data from users, including network activity, location data, and browsing and search histories.
"Each is an active participant in China's civil-military fusion and is subject to mandatory cooperation with the intelligence services of the CCP.
"This combination results in the use of WeChat and TikTok creating unacceptable risks to our national security."
Bytedance and Oracle have submitted a proposal for a deal in which TikTok would become a separate US company with with an American board.
There would also be a security committee – the head of which would need government security clearance.
Historic books stolen in Mission: Impossible-style raid found buried underground in Romania | UK News
Two hundred "culturally significant" books – including works by Sir Isaac Newton and astronomer Galileo – that were stolen in a Mission: Impossible-style raid in west London have been found buried underground in Romania.
The books, worth more than £2.5m, were taken in a "highly sophisticated" burglary at a warehouse in Feltham in January 2017, the Metropolitan Police said.
Thieves broke in by cutting holes in the roof of the warehouse and then abseiled down, avoiding motion sensor alarms.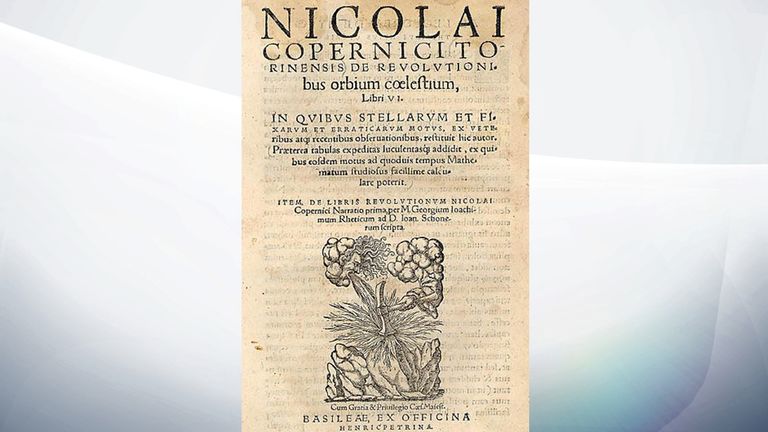 The books – which were due to be flown to a specialist auction in Las Vegas – were stolen in 16 large bags, with the raiders fleeing the warehouse through the roof.
Speaking to Sky News shortly after the raid, book dealer Alessandro Meda Riquier said the stolen works included his 1566 second edition of Nicolaus Copernicus' De Revolutionibus Orbium Coelestium, which was reportedly worth around £215,000 and was described as the "jewel" in the haul.
He said he had also lost important books by Galileo and very rare editions of Dante's Divine Comedy.
An international police operation was launched to recover the "irreplaceable" items and on Wednesday they were discovered buried underground at a rural property in Neamt, Romania.
Detective Inspector Andy Durham said the recovery was "a perfect end" to a police operation involving officers in London, Romania and Italy.
"These books are extremely valuable, but more importantly they are irreplaceable and are of great importance to international cultural heritage," he added.
The Met Police said it had identified suspects who were part of a Romanian organised crime group which was responsible for high-value warehouse burglaries across the UK.
The group is linked to several prominent Romanian crime families called the Clamparu, which has a history of complex high-value thefts but has mainly avoided prosecution by offending outside Romania.
Police found evidence of another 11 offences committed in the UK, in which a further £2m worth of property was stolen – with the offenders generally using the same method of entering through the roof.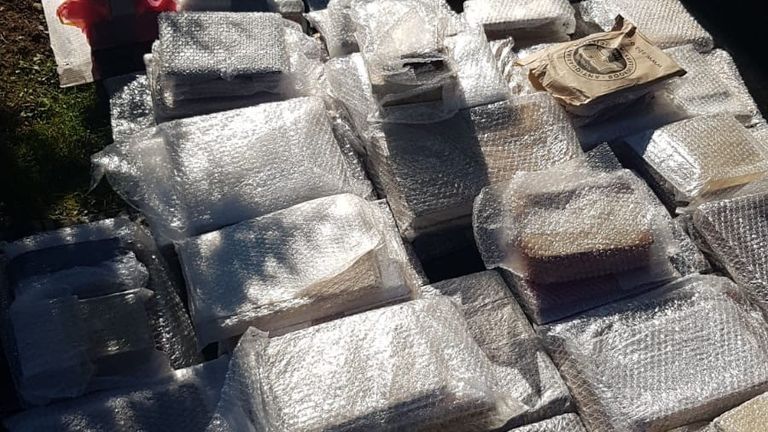 As part of the investigation, there were coordinated arrests and searches of 45 properties across the UK, Romania and Italy in June 2019.
Thirteen people were charged with conspiring to commit burglaries and acquire criminal property between December 2016 and April 2019.
Twelve people have pleaded guilty and are due to sentenced next week, the Met Police said.
A thirteenth defendant is due to face trial in March.