PM's 'deep regret' over Britain's homophobic past
Theresa May "deeply regrets" the criminalisation of same-sex relations in former British colonies, saying they "were wrong then and are wrong now".
Speaking at the Commonwealth Heads of Government Meeting (CHOGM), the Prime Minister said the UK would support any Commonwealth nation seeking to reform "outdated" legislation.
"I am all too aware that these laws were often put in place by my own country," Mrs May said.
"They were wrong then and they are wrong now.
"As the United Kingdom's Prime Minister I deeply regret both the fact that such laws were introduced and the legacy of discrimination, violence and death that persists today.
"As a family of nations we must respect one another's cultures and traditions but we must do so in a manner consistent with our common value of equality – a value that is clearly stated in the Commonwealth Charter.
"Nobody should face discrimination or persecution because of who they are or who they love and the UK stands ready to help any Commonwealth member wanting to reform outdated legislation that makes such discrimination possible."
The Prime Minister had been urged to apologise for Britain's homophobic past.
Human rights and LGBT campaigner Peter Tatchell said ahead of the speech: "UK PM should apologise at @Commonwealth18 for UK imposing anti-gay laws that still remain in most #Commonwealth countries.
"This would highlight that these laws are not indigenous & not originated by most nations that retain them."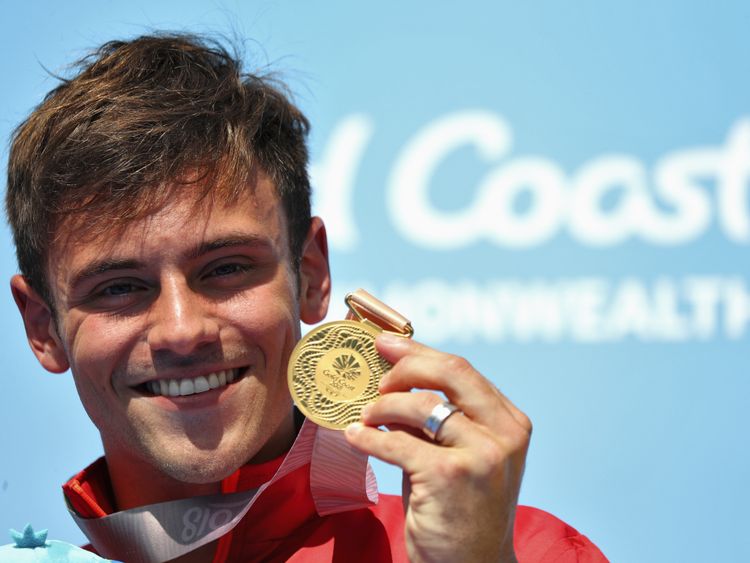 Last week, Tom Daley also made a plea for Commonwealth countries to decriminalise homosexuality.
Speaking at the Commonwealth Games, the gay athlete said: "There are 37 countries in the Commonwealth where it is illegal to be who I am. And hopefully we can reduce that number."
A majority of countries in the Commonwealth of Nations currently have discriminatory laws against same-sex sexual acts, and other discriminatory laws regarding gender expression and sexual orientation, with punishments that include imprisonment and the death penalty.
In most of these countries, anti-gay legislation is a relic of the British Empire, when British colonial administrators imposed discriminatory laws in the territories they ruled in the 19th century.
These systems, and the attitudes associated with them, were then retained by governments after independence.
Last Thursday saw a milestone for LGBT rights in Trinidad and Tobago, where a judge ruled that anti-buggery laws were unconstitutional and discriminatory.
But in other countries the situation for people who aren't heterosexual is getting worse.
In Uganda, an act passed in 2014 increased sentencing for gay sex acts, and also criminalised civil movements relating to LGBT rights.
Claremont killings: Alleged serial killer found guilty of two of three murders from 90s | World News
A man accused of being the Claremont serial killer in Australia has been found guilty of two of three murders of young women in the 90s.
Bradley Robert Edwards was convicted of the killings of Jane Rimmer and Ciara Glennon, but was acquitted of the murder of Sarah Spiers.
The 51-year-old former children's athletics coach and telecommunication technician shook his head after being found guilty of the two murders.
All three women disappeared on separate nights in Claremont between January 1996 and March 1997, with the bodies of Ms Rimmer and Ms Glennon later found in bushland.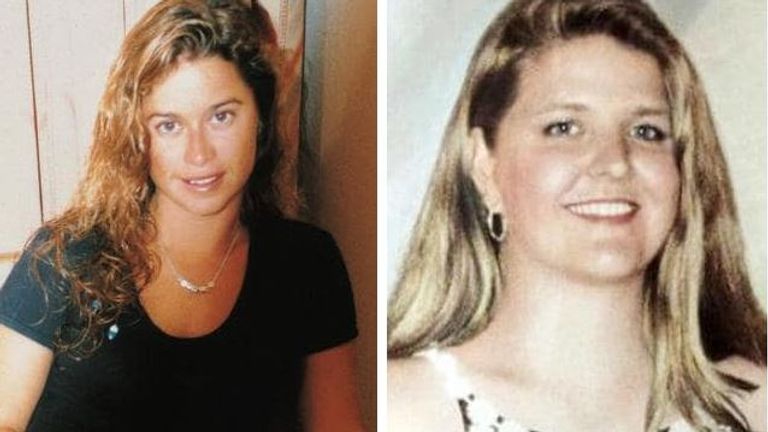 The body of 18-year-old Ms Spier – who was the first woman to be abducted from Claremont's nightlife strip in January 1996 – was never found.
Edwards was charged with their murders 20 years later, along with the rape of a 17-year-old girl in a cemetery near Claremont.
He pleaded not guilty to all counts against him.
Justice Stephen Hall handed down the verdict in a Perth court on Thursday.
He said that while the three murders were similar in timing, location and nature, the circumstances in which Ms Spiers was taken and how she died is unknown.
"The propensity evidence makes it more likely that Edwards was the killer of Ms Spiers, but it cannot prove it beyond reasonable doubt," Justice Hall said.
The trial largely relied on DNA samples taken from the victims, which were flown around the world for testing.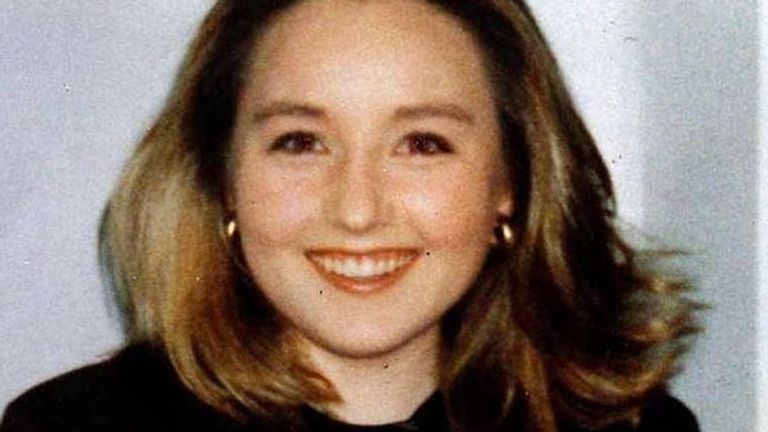 The verdict comes more than two months after the conclusion of a judge-alone trial which sat for 95 days over seven months, costing the Western Australian justice system $11m (£6m).
The majority of the trial was the prosecution case led by Carmel Barbagallo, who called 200 witnesses, news.com.au reported.
Many of them were cross-examined by Edwards' defence team, led by barrister Paul Yovich.
Four witnesses flew in from abroad to give evidence at the trial, including leading British DNA expert Jonathan Whitaker – who made the crucial link between traces of DNA found under Ciara Glennon's fingernails to Edwards.
Ms Glennon, a 27-year-old lawyer, disappeared from the Claremont area in the early hours of 15 March 1997.
The court heard how Edwards struck her with an object that fractured her skull, "momentarily stunning her".
Ms Glennon tried to fight off her attacker and severely damaged her left thumbnail in doing so, while the tip of her right ring fingernail tore off, harvesting Edwards' DNA.
Edwards then slit Ms Glennon's throat, causing a 20cm wound on the right side of her neck. He then left her body face down and covered with vegetation, only for it to be discovered three weeks later.
The case began with the disappearance of Ms Spiers on 27 January 1996 after she left a club in the centre of Claremont. Her disappearance attracted massive publicity and her fate remains unknown.
A few months later, in the early hours of 9 June, 23-year-old Ms Rimmer disappeared from the same part of Claremont.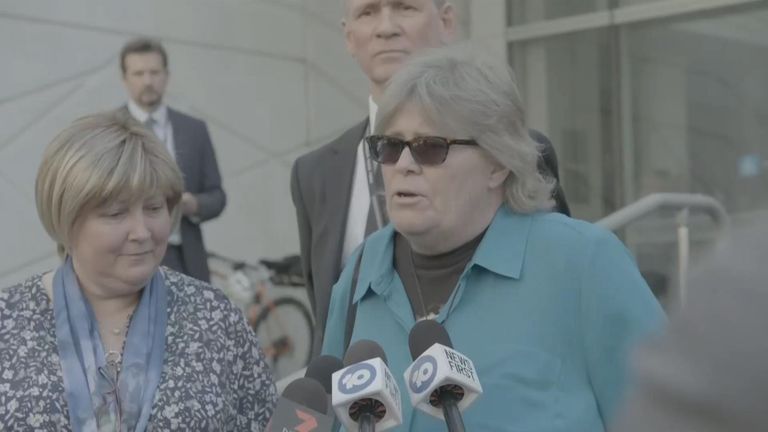 Her naked body was found 40km south in bush-land by a family picking wild flowers.
Edwards, who will be subject to a psychiatric report, will be sentenced on 23 December.
The Pantanal: How wildfire devastated life in the world's largest tropical wetland | World News
A speedboat skims across the waters of the Piquiri river in central Brazil; on board are a group of vets and animal trackers.
The river, the forest and the wetlands are shrouded in a dense fog of smoke.
Wildfires have been burning here for months.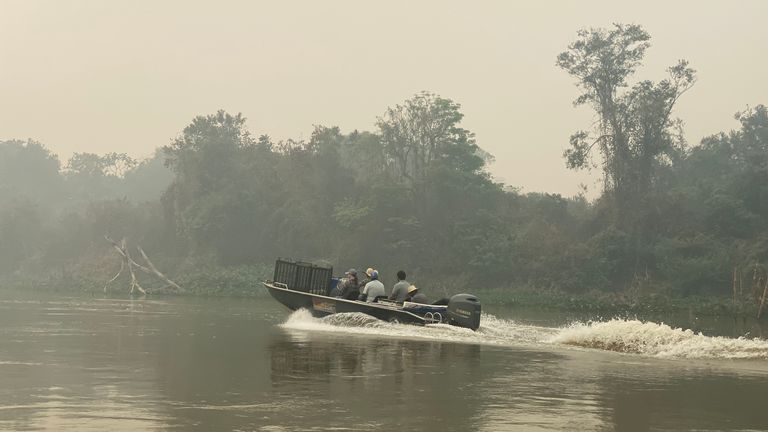 They are looking for injured jaguars, a big cat known for its solitary existence and preference for remaining unseen by humans.
All the inhabitants of the Pantanal, the world's largest tropical wetland, are in dangerously poor shape.
The country's far-right leader, Jair Bolsonaro, prompted widespread derision on Tuesday when he used a speech to the UN to blame indigenous people in the Amazon for fires in the rainforest
While environmental advocates say he has emboldened illegal ranchers and land speculators to deforest land, he accused the media of lying about the Pantanal, without specifying any coverage he believed to be false.
In the region, the animals have been burned out of their natural habitats and their usual prey have been killed or have disappeared.
The animals attempt to make it through the destroyed charred landscape to the riverbanks for water, for food and for safety.
The largest population of jaguars in the world is here. Spotting them is incredibly difficult. Their distinctive beautiful spotted coat ensures they almost disappear with just a step into the undergrowth.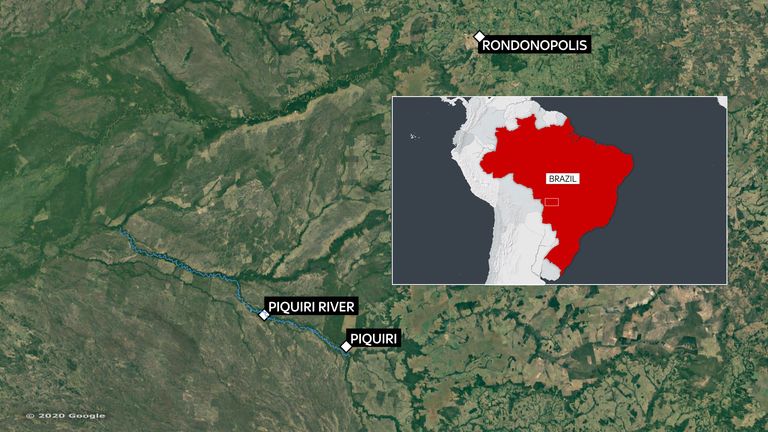 Some of the jaguars who have survived the fire storm are now badly injured and often hungry.
As we pass a burned-out wood, we spot a female jaguar.
To her side, almost completely out of sight, are her two cubs.
As she steps out of the wood we can see she is limping badly, but she has her sights on a family of otters who have just come ashore.
She stalks along the riverbank preparing to pounce, but the otters see her and flee for the safety of the water.
She is now too slow.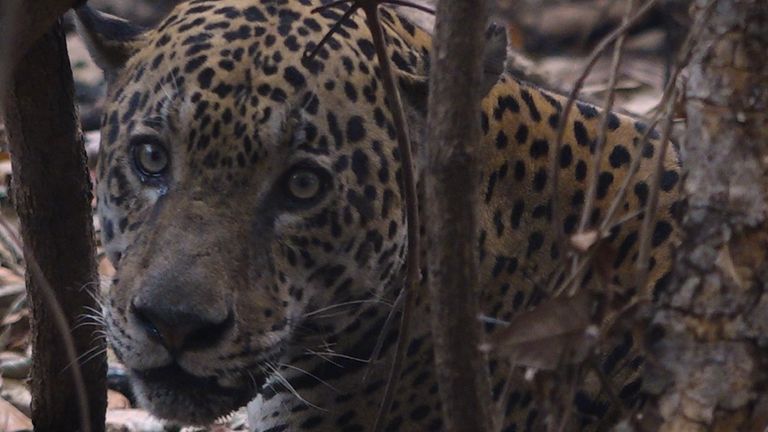 The heads of the otters pop out of the water and they let out a cry, a warning that a predator is nearby.
The jaguar sits down and looks nonchalantly at the otters as they swim away.
She will need to do better next time.
The vets say they have been monitoring this jaguar for the last few days and are unconcerned for her.
She is hunting, she is able to walk and her cubs appear well.
The monitoring will continue but for now they are worried about another jaguar in worse shape.
The tracking and veterinarian teams are specialists in looking after big cats.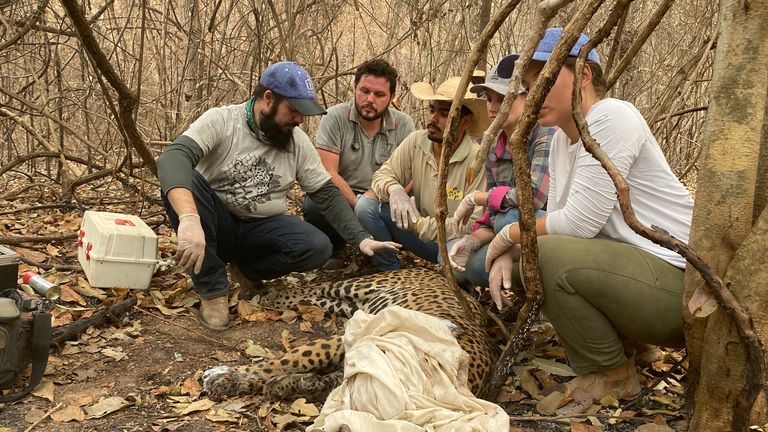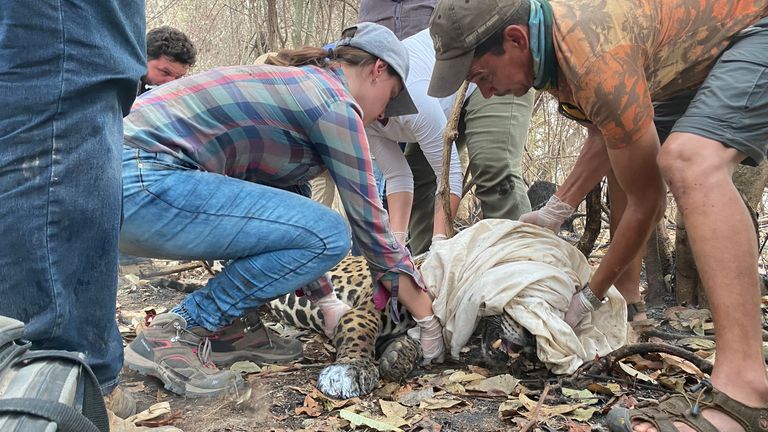 They go out every day looking for the animals who are now suffering because of the fires that have spread throughout the wetlands and grasslands of the Pantanal.
"We hear from fishermen who see the jaguars and tell us if they seem unwell, they take us to where they saw them last," Eduarda Fernandes, the 20-year-old founder of the rescue task force, tells me.
"There is one jaguar we have been watching who we are worried about. That is who we are looking for," she adds, gunning the boat's outboard motor and powering on further down the river.
Reports are coming in from fishermen that they have seen that same injured jaguar nearby.
The team gather themselves and consider their options.
They will tranquillise the animal and assess his injuries.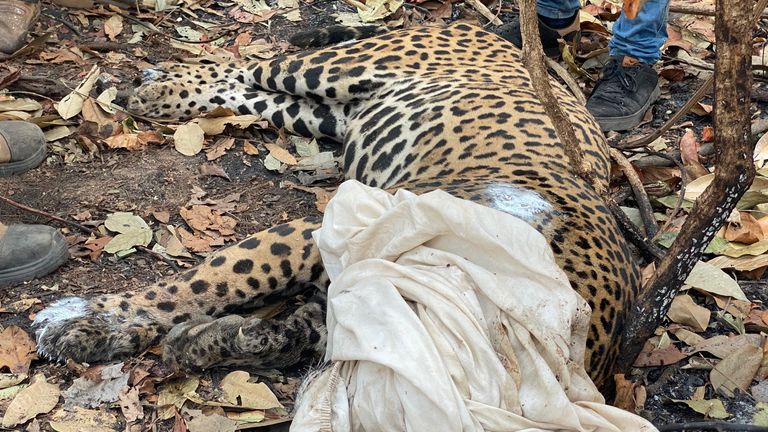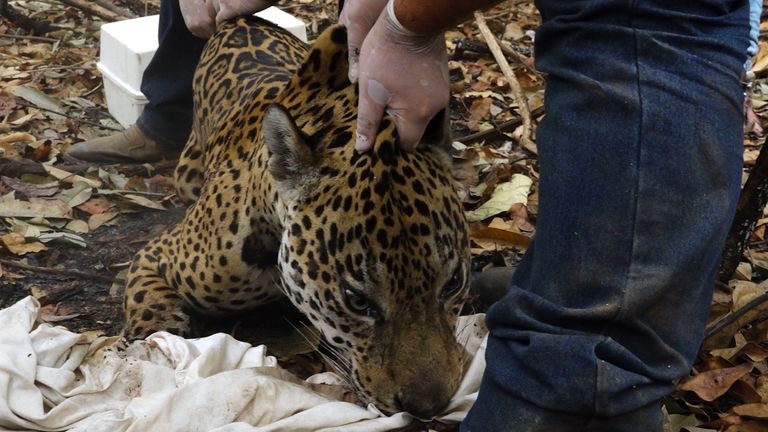 If he can be treated on site they will do so and let him be. If he is worse than expected, a helicopter will be brought into the wetlands and he will be taken to a specialist vet facility.
The team head off.
We catch up with them and find the vets surrounding the jaguar, which is awake but heavily sedated.
He is well over six feet long and powerful – panting but unable to do anything as the vets assess his injuries.
He has a few bite marks and one of his front paws is raw, swollen and sore.
Working as a team, they wash the jaguar's injuries, spraying bite marks with a silver sealant spray.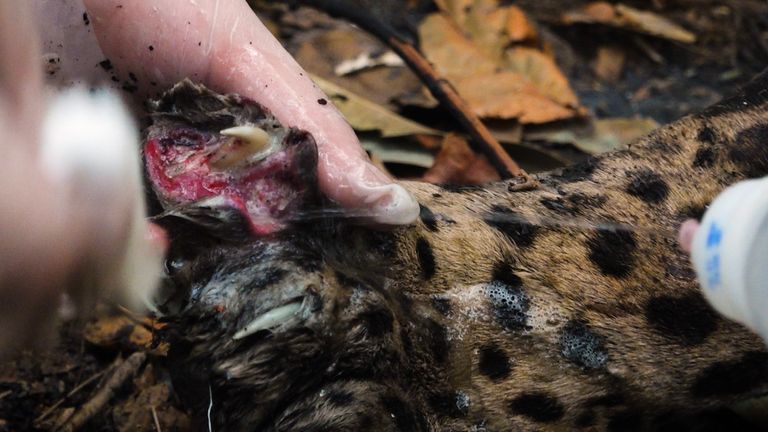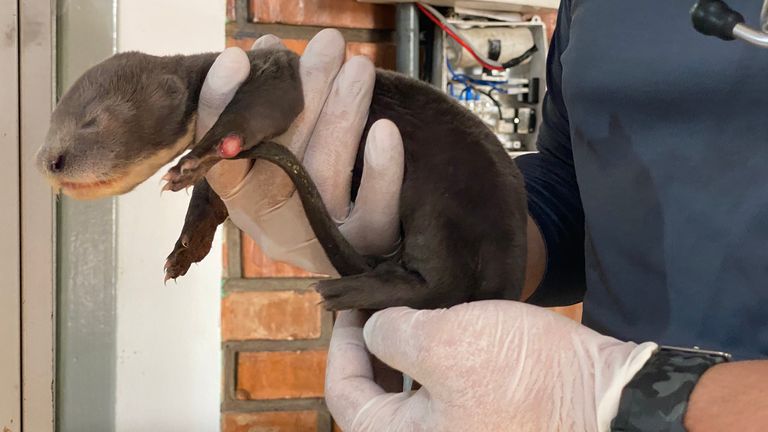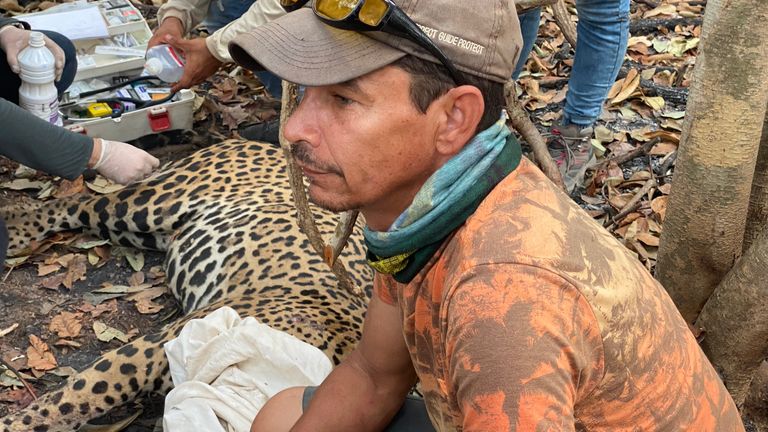 Ms Fernandes says it is likely that the jaguar has been in a fight with another male or injured while hunting.
"Because of the fires the jaguars are changing their territory, and there they can find other jaguars and dispute the territory, so we think that probably this jaguar had this problem because of it, the fires, that maybe [it] fought with another male or female."
They estimate this jaguar is between four and five years old.
Beside him are the remains of a wild pig.
This is a good sign – he is able to hunt – and they determine that after medicine and antibiotics he can be left here.
They patch him up then move him farther into the blackened forest away from the river.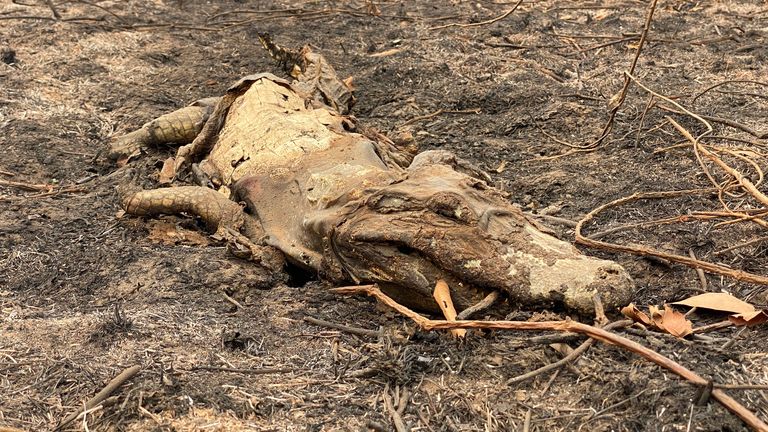 For the next hour they keep an eye on him as he slowly recovers from the tranquiliser and unsteadily, at first, gets to his feet.
He will recover, but so far the Pantanal has not.
Tens of thousands of square kilometres have been destroyed by fire.
A drought and soaring temperatures have left an area the size of Wales burned to the ground.
There are always dry season fires here, but nothing like this.
So far, 466 individual significant fires have been recorded within Encontro das Aguas State Park.
But the Pantanal Biome itself spans two states and more than 15,000 fires have raged here virtually without check since June.
The bodies of caimans, an indigenous alligator, lie where they died attempting to escape the flames.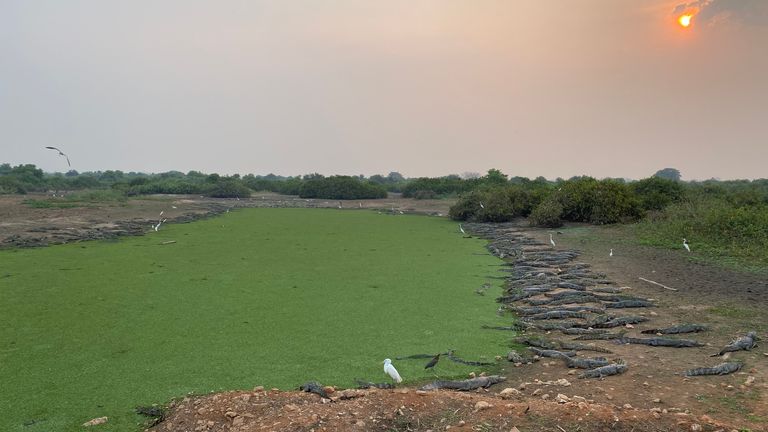 Countless numbers of mammals, birds and insects have been wiped out.
The fact is the Pantanal is an intrinsic part of life in this part of Brazil.
Humans, animals and vegetation depend on the wetland being healthy. All co-exist.
"The Pantanal is now just trash, trash; it's incinerated," our guide Roberto Macedo, tells me as we make our way through the smoky waterways.
"It's very bad, it's bad for everything; for tourism, for animals, for fishing, for local people. This destabilises our culture and everything here."
"Pantanal needs water (but) it's dry for five, six months. No water and the vegetation is dry. It's like gasoline," he says.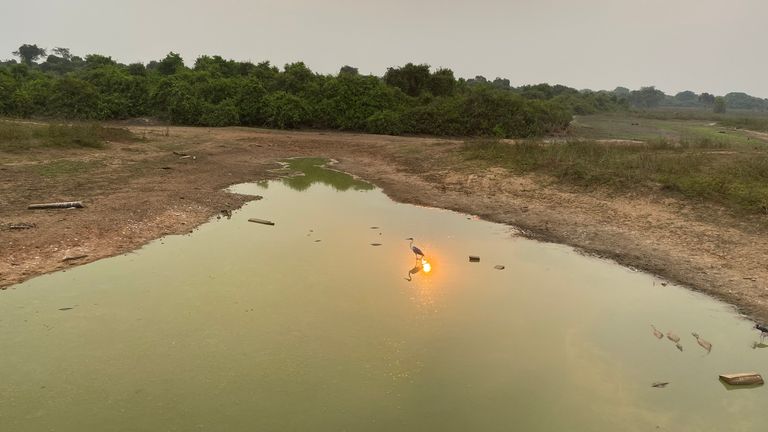 Driving through the Pantanal is certainly depressing.
The scale of the damage is difficult to comprehend.
Large ponds, a vital source of water and food, are almost dry.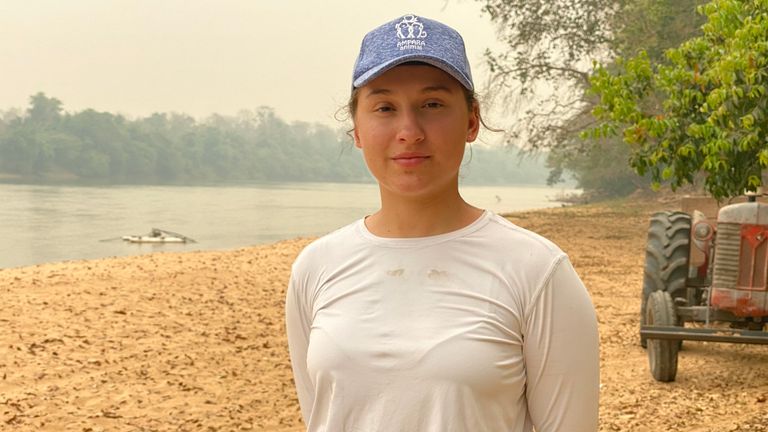 Caimans, hundreds of them at a time, congregate around the dwindling water supply. Birds hop between them looking for fish.
Each day without rain, the situation gets worse.
The Pantanal will survive this drought and the fires for certain. The guides and vets here say when the rains come life will return, and the animals and the park will recover.
But the long-term concern is that these fires could happen again next year, and then the year after that.
These wetlands can survive one devastating year and maybe another, but it cannot survive such devastation indefinitely.
Coronavirus: Madrid in lockdown as doctor warns Britons to follow the new rules or pay the price | World News
A front line doctor in Madrid has urged Britons to stay strong and obey the rules as the country faces a second wave of coronavirus.
"We only have to do this for a few more weeks, not forever," Dr Moreno Santiago told Sky News.
"Things like wearing a mask we only need to do for a few short weeks and in that time we can control the pandemic, if not we are going to pay for this. It will be very, very, very costly."
Live updates on coronavirus from UK and around world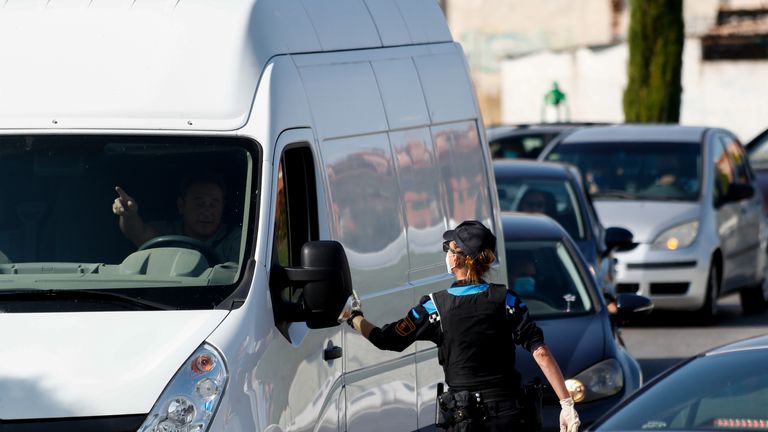 The warning comes as Spain struggles through its own new outbreaks, with data showing it is six weeks ahead of the UK.
Some 27 districts of Madrid went into new lockdown measures this week, in theory preventing inhabitants from leaving unless they have to go to work or need medical care.
We spent the day in one district and saw how few people were obeying it. Police at a checkpoint admitted they could only check every 10 or 15 cars going in or out, meaning citizens would need to self-police – and there is no enforcement on the subway in.
Inside the locked-down zones life appears reasonably normal with shops open and streets busy.
The new measures have largely targeted poorer southern districts of Madrid where many live closer together in smaller apartments. It has further exacerbated the sense of social divide and hit those already struggling the most.
Food banks are busy again with many of the users newly unemployed.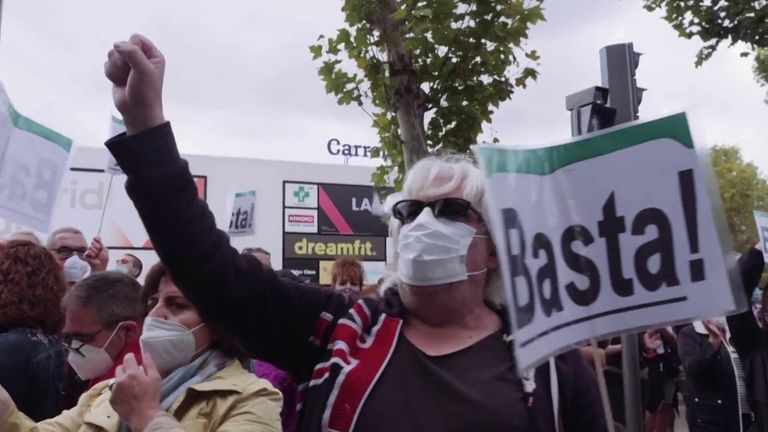 Francisco and Carmel are both out of a job and they are running out of hope.
"We want people to help us to give us a future where we value ourselves because the way we are living has no future, this isn't a life, even if you wanted it to be," Carmel told us.
:: Subscribe to the Daily podcast on Apple Podcasts, Google Podcasts, Spotify, Spreaker
Francisco was equally desperate: "To be honest I am hoping for help from my friends to find work soon because I am of a working age and can work.
"I am hoping for an opportunity because all I want is a chance to keep going ahead just like the rest of the world."